If I Was in LA . . .
By Megan Waldrep
From the snow-capped San Gabriel Mountains to the shimmering Pacific and the neighborhoods as culturally rich as small countries, Los Angeles is a city that needs little introduction. Nor does it require a weighty tome to describe it: the song "California Dreamin'" by the Mamas and the Papas does so in just a few stanzas. Late one night, while living in Manhattan, John Phillips woke his then-wife, Michelle Phillips, to help finish a song that came to him after a cold, snowy day in the city. A beacon of hope for the homesick couple, the song became an anthem for the sixties and future generations of dreamers looking for a new life in the Golden State. I'd be safe and warm if I was in LA.
Settled by indigenous people as far back as 3000 BC and then established in 1781 during the Spanish colonization on the Pacific Coast, the city is said to have been named El Pueblo de Nuestra Señora la Reyna de los Ángeles, or the Town of Our Lady, the Queen of the Angels, to pay homage to the Virgin Mary. The name was later shortened to Ciudad de Los Ángeles (City of Angels), then Los Angeles (the Angels) and, of course, LA. The wide-open terrain was ideal for agriculture, such as wild grain, citrus, livestock, and wine, long before big business and the entertainment industry we now know and love moved in.
But before we dive deep into our favorite places of the present day, here are some pro tips for your time out West: Plan road travel for between ten and three, then take a break poolside, on a rooftop, or at a museum until traffic wanes around seven. The Pacific is much colder than the Atlantic. And cashmere wraps are encouraged year-round. With that said, grab your shades—it's time for a tour.
CITY LIFE
One of the best ways to enjoy downtown Los Angeles is to look up. Landmarks like Union Station, City Hall, and the LA Central Public Library (with docent-led tours) are easily missed but worth the trip. Architectural tours feature design history ranging from Egyptian revival to art deco to postmodern. The City of Hollywood has its own unique skyline of modern edifices and notable buildings, such as the circular Capitol Records Tower (made to resemble a stack of vinyl), the iconic TCL Chinese Theatre on the Hollywood Walk of Fame, and towering, colorful billboards mixed in with it all. Here's a highlight reel of destinations to get you started: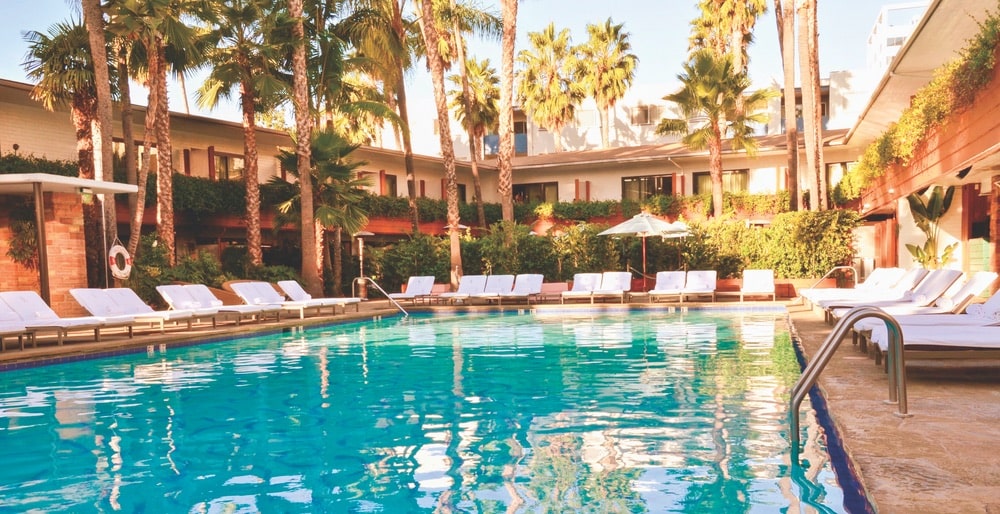 Marilyn Monroe posed for her first professional photo shoot by this Hollywood hotel's pool—the same pool where, years later, David Hockney painted a mural that guests now swim over. The midcentury modern Tropicana Pool & Café sets the stage to see and be seen from breakfast through midnight. The more drinks, the merrier, as noted by a Dean Martin quote printed on the menu: "It's not called slurring your words; it's called talking in cursive, and it's f*cking elegant."
Wanderlust Hollywood
With daily yoga and workshops from internationally renowned teachers, Wanderlust embodies self-love on all fronts. You'll find a café that features "mindful California-inspired cuisine," local handmade jewelry, and even local wine, beer, and kombucha by the glass. They also host film screenings!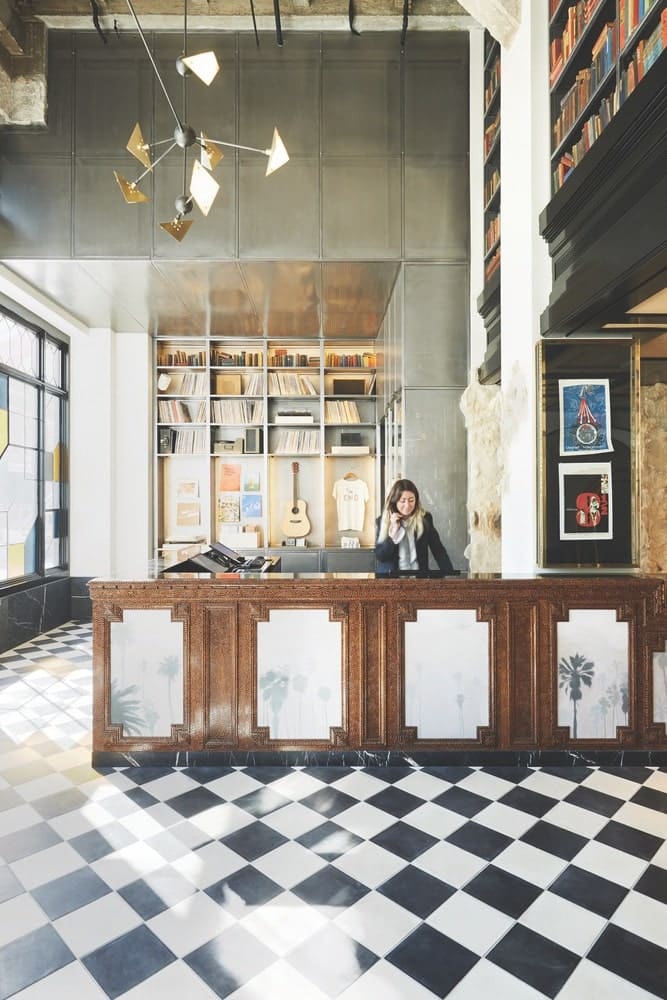 Ace Hotel Downtown Los Angeles
Light renovations kept the integrity of the 1927 building, while pencil drawings of Missy Elliott and Britney Spears etched on the walls bring us to the present at the Ace Hotel DTLA. The adjoining United Artists Theatre—built by the studio founded by actress Mary Pickford, actors Charlie Chaplin and Douglas Fairbanks, and filmmaker D.W. Griffith—is a shrine to Old Hollywood with jaw-dropping Spanish Gothic architecture. It is still in use today, so check out the lineup of performances. Best Girl, named after the first film screened at the theater, is Ace's main restaurant, with James Beard Award–winning chef Michael Cimarusti leading the charge. The daytime menu features American cuisine with brunch favorites like ricotta pancakes, while dinner makes seafood the star of the show.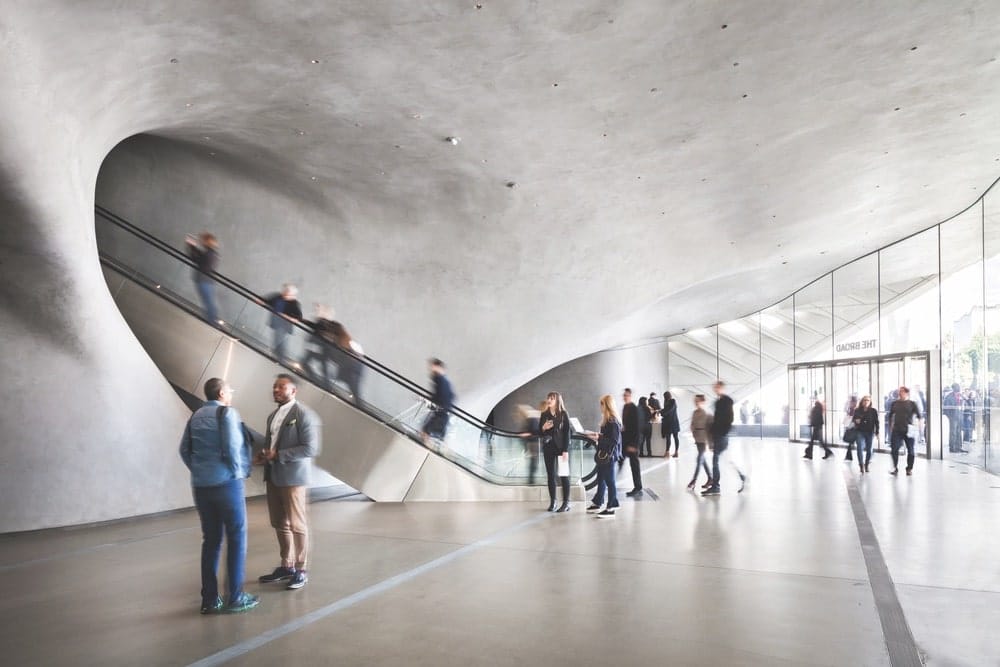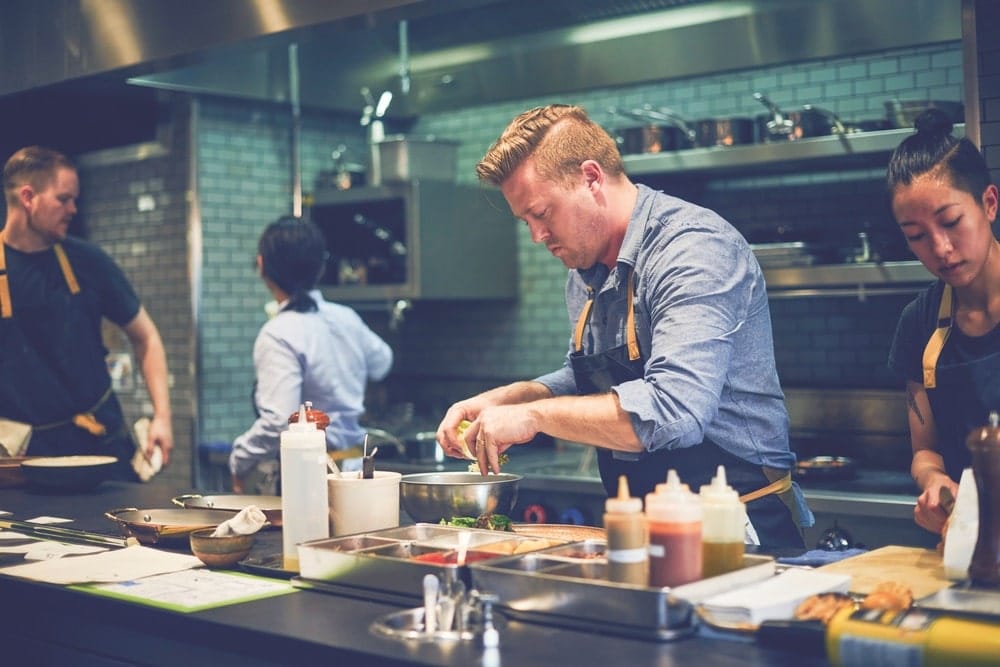 While downtown, pop over to The Broad, LA's home for contemporary art from the 1950s to the present. Basquiat, Koons, Johns, and Warhol are found here alongside the performative photography of Cindy Sherman. Afterward, discuss your favorite exhibits over lunch at Otium, an eclectic restaurant of "elegant rusticity" right across the street.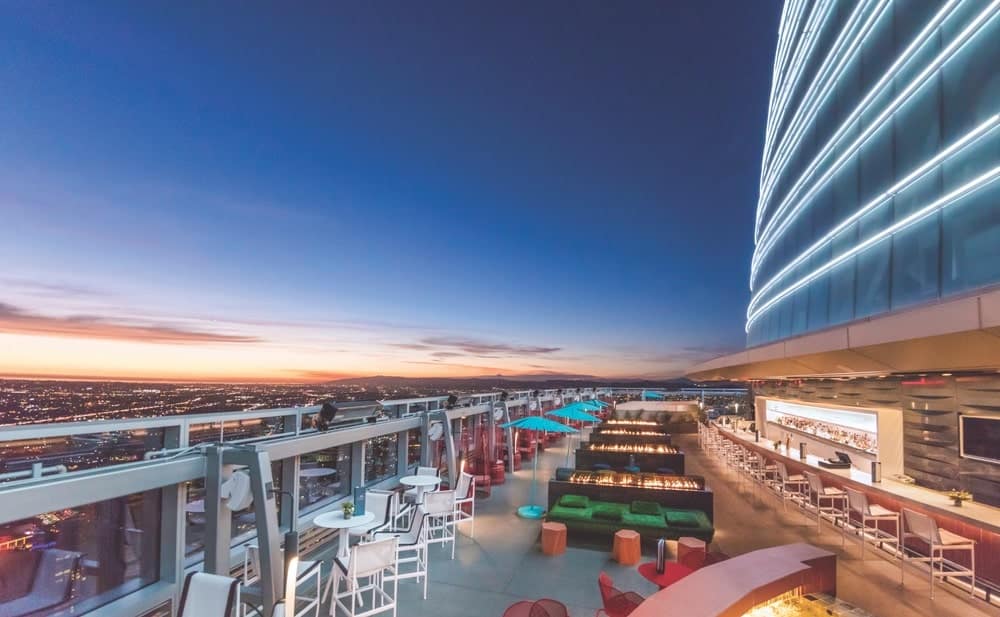 Spire 73 at the InterContinental Los Angeles
A quick elevator ride to the seventy-third floor of the InterContinental LA will lead you to Spire 73, the tallest open-air bar in the Western Hemisphere. Ten dollars will get you in if you're not a guest of the hotel, and it's well worth it. California is laid out as far as the eye can see, from the Hollywood Sign to the edge of Malibu. The Supermoon and Orion's Paloma are house favorites for drinks and are delicious in mocktail versions too. Reserve a table to watch the sun dip into the Pacific as traffic crawls and helicopters pass below.
Ten dollars will get you in if you're not a guest of the hotel, and it's well worth it. California is laid out as far as the eye can see, from the Hollywood Sign to the edge of Malibu.
IN THE NEIGHBORHOOD
The manicured tree-lined streets of Beverly Hills blend mega homes with the high-end retail of Rodeo Drive and premier hotels like the Beverly Wilshire. West Hollywood is more leather and lace, as it's home to famed rock club Whisky a Go Go on Sunset—where the Doors once played as the house band—and high fashion boutiques like Balmain and Oscar de la Renta on Melrose Place. Shopping, street art, and foodie scenes are spread throughout more than four hundred neighborhoods in the city. Although it's almost impossible to visit them all, here are a few that are worthy of a cameo appearance by you: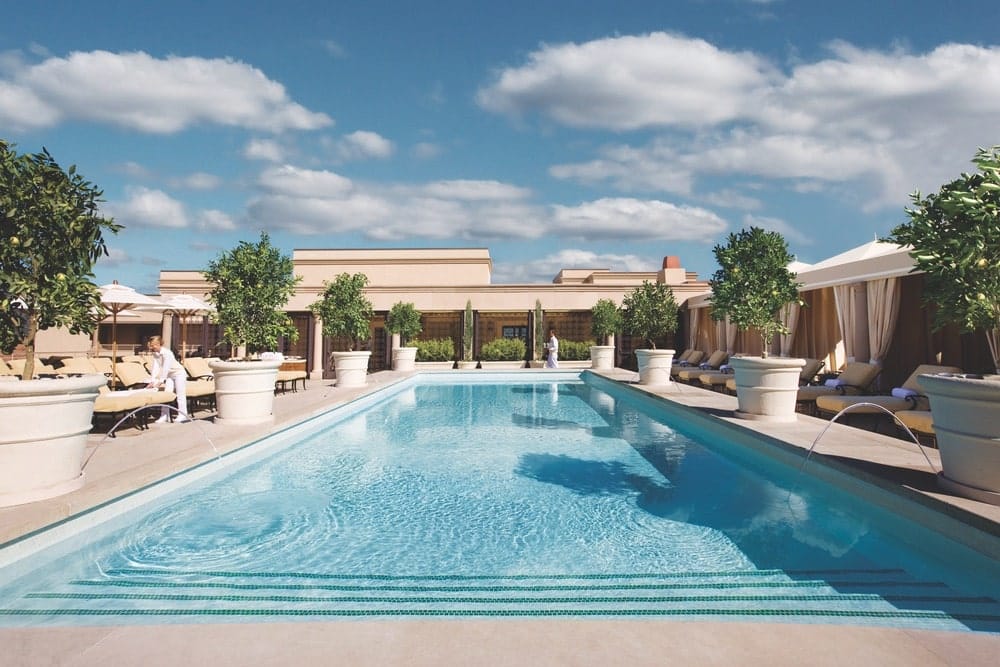 This luxury hotel is a local favorite for its spa. "We are the crown jewel of spas in Beverly Hills," corporate spa director Patrick Huey says, lauding the extensive amenities available. Indulge in the ultrapremium, technologically advanced skin-care treatments from L.RAPHAEL Genève (hello, Beauty Diamond facial!) or soak in the coed mineral pool to unwind. Not feeling social? Plunge pools are found in both the men's and women's locker rooms, as are Turkish steam rooms and redwood saunas.
This luxury hotel is a local favorite for its spa. Indulge in the ultrapremium, technologically advanced skin-care treatments from L.RAPHAEL Genève or soak in the coed mineral pool to unwind.
Viceroy L'Ermitage Beverly Hills
A few blocks away, tucked among the neighborhood streets, is a former residential building turned high-end hotel whose greatest appeal is privacy. Fine French bistro cuisine is found at Avec Nous (once known as the Writers' Bar), the quietly glamorous in-house restaurant and bar that boasts a sizable wine cellar. Catering to celebrities or high-profile guests who need a break from the outside world or a quiet place to seal a movie deal, no pictures are allowed in the building (but selfies are welcome).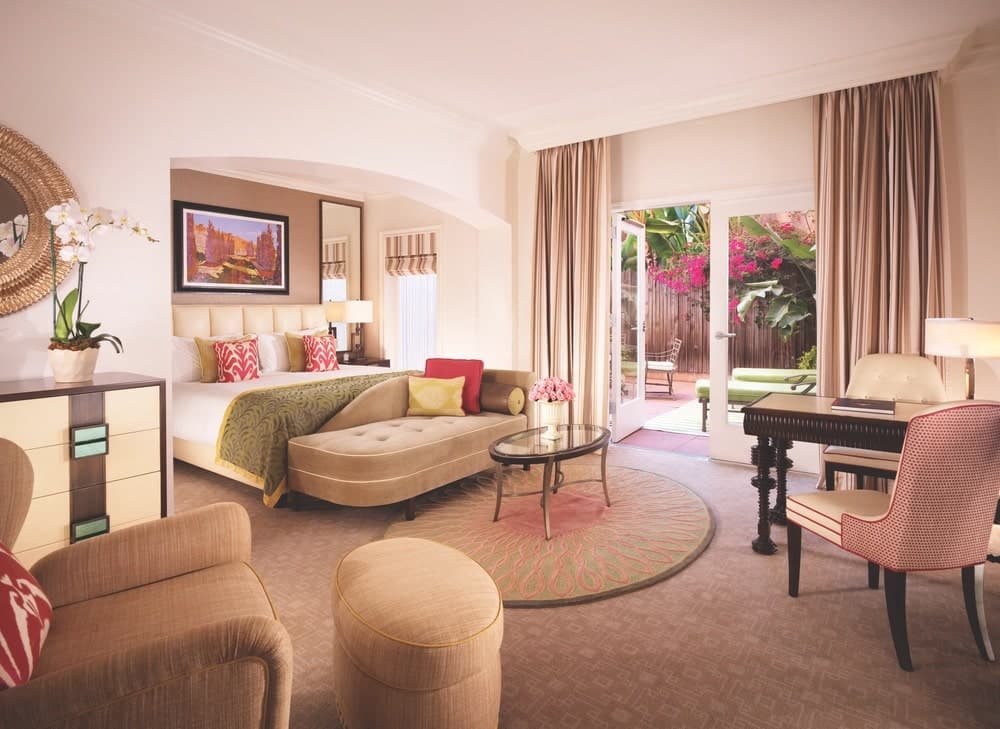 If you visit only one hotel in LA, let this be it. Set among twelve acres of tropical gardens and eighty-year-old palm trees, the Pink Palace is one of the most famous hotels in the world. You'll recognize the deep-green stripes and iconic Martinique banana leaf wallpaper, which was created for the hotel by Don Loper in 1942. Power lunches are frequent at the Polo Lounge, and people watching is abundant at the Fountain Coffee Room on the floor below. The fragrance of fresh flowers permeates the building and follows you as you wander to a private bungalow or cabana by the pool.
Melrose Place
Rodeo Drive may be a premier shopping destination, but what makes Melrose Place stand out are the private courtyards leading to select high-end boutiques. The architecture of The Row pays homage to a modern art museum with the Olsen twins' impeccably tailored designs displayed throughout the showroom. Violet Grey is the beauty shop preferred by the Hollywood elite. The top seller is Augustinus Bader's PPC Cellular Renewal Rich Cream; it's so highly regarded that Victoria Beckham partnered with the brand for her new makeup line, which, at the time of writing, is sold exclusively at Violet Grey. Isabel Marant, Chloé, and Marc Jacobs also call this softly shaded street home. The ivy-covered Alfred Coffee is a must for strong, rich coffee to keep you fueled for your next shopping destination.
Celebs, stylists, and designers shop here not only for the highly curated vintage selection but also to seek underground designers for the next big thing.
Melrose Avenue
Just a mile from Melrose Place is her rebellious sister, Melrose Avenue. Here, vintage lovers rejoice over shops such as World of Vintage T-Shirts, a collection of perfectly worn tees so thin you could read through them. American Vintage offers vintage and reworked treasures at smaller price points. Most notable is Wasteland, a streetwear-forward collection where you'll find a 1984 Michael Jackson T-shirt next to vintage Chanel. Celebs, stylists, and designers shop here not only for the highly curated vintage selection but also to seek underground designers for the next big thing.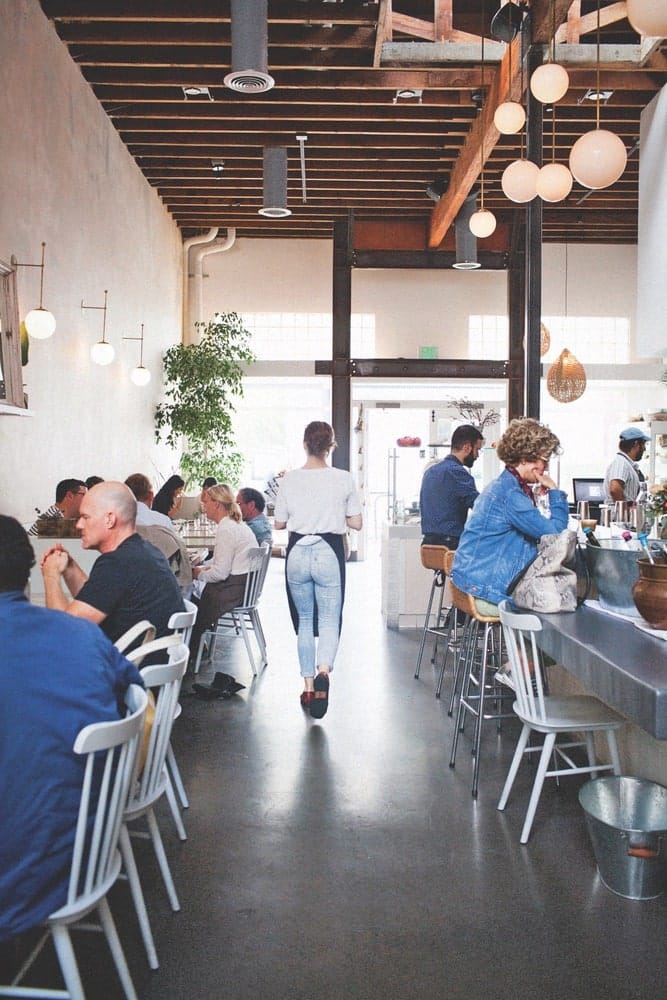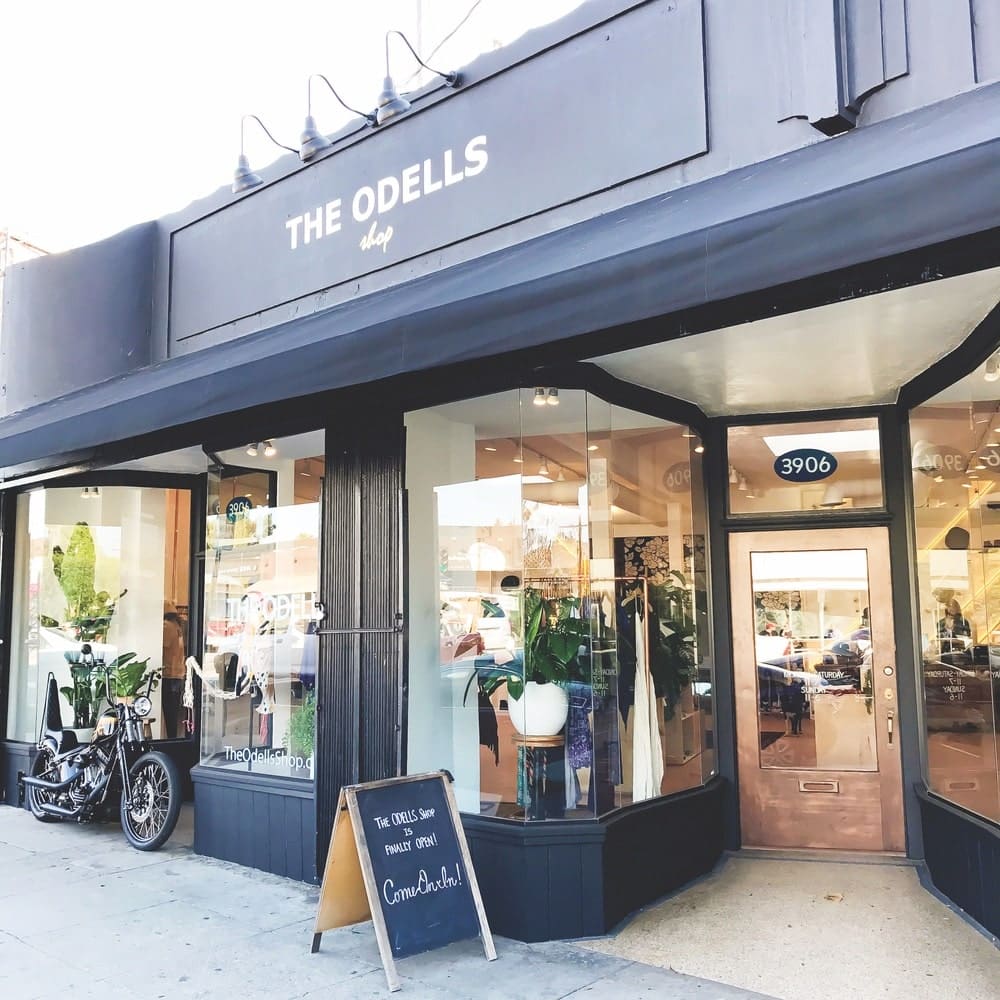 Shopping in Silver Lake
A neighborhood where celebrities come to feel like ordinary people and hipsters reign supreme, this indie town is home to sweet spots such as Skylight Books, where best-selling author readings are frequent. The Odells Shop, complete with a decked-out yurt in the back, has goods for the entire family. Meanwhile, Botanica Restaurant and Market is the go-to spot for grub. It's owned by former food writers and editors Heather Sperling and Emily Fiffer, so you know it's good.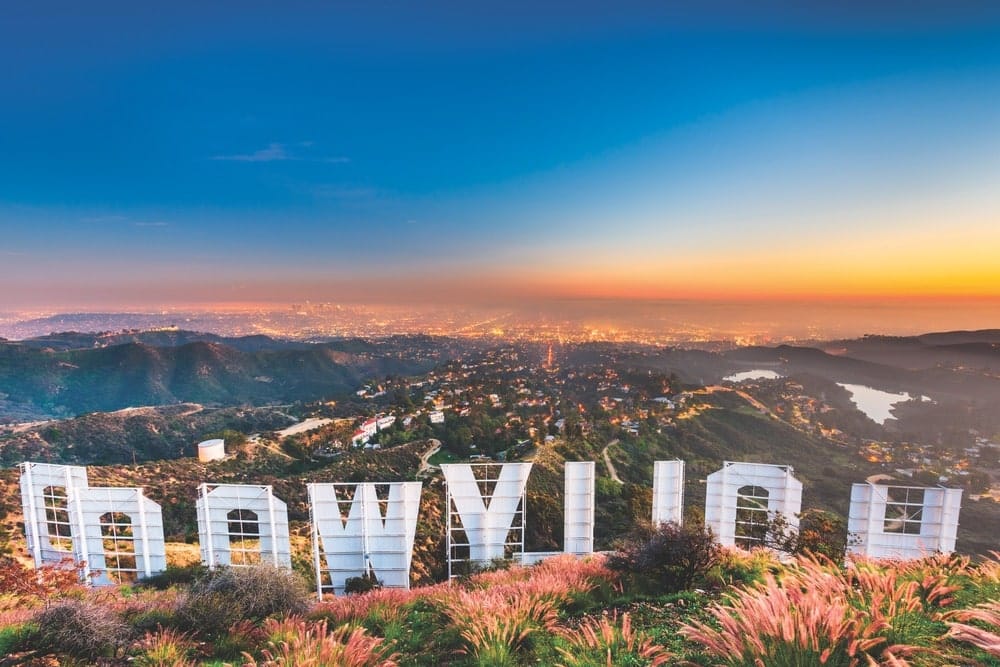 Runyon Canyon
This is possibly the most popular hiking spot in LA, and for good reasons. It offers great people watching and celebrity sightings and is doable for most ages and levels of fitness. Look forward to views of the Hollywood Sign from a distance and the sprawl of LA below for enviable Instagram shots.
BEACH DAYS
It's just like you see in the movies—women and men with surfboards tucked under their arms ride skateboards to the warm beaches of Santa Monica. Pressed juices are held casually while people wander through the Sunday farmers' market in Pacific Palisades, an enclave for the elite. Hit the beaches, from the Venice Canals of Marina del Rey to the far reaches of Malibu surf spot County Line at Yerba Buena Beach, and you'll discover many picturesque moments to make your bohemian California dreams come true.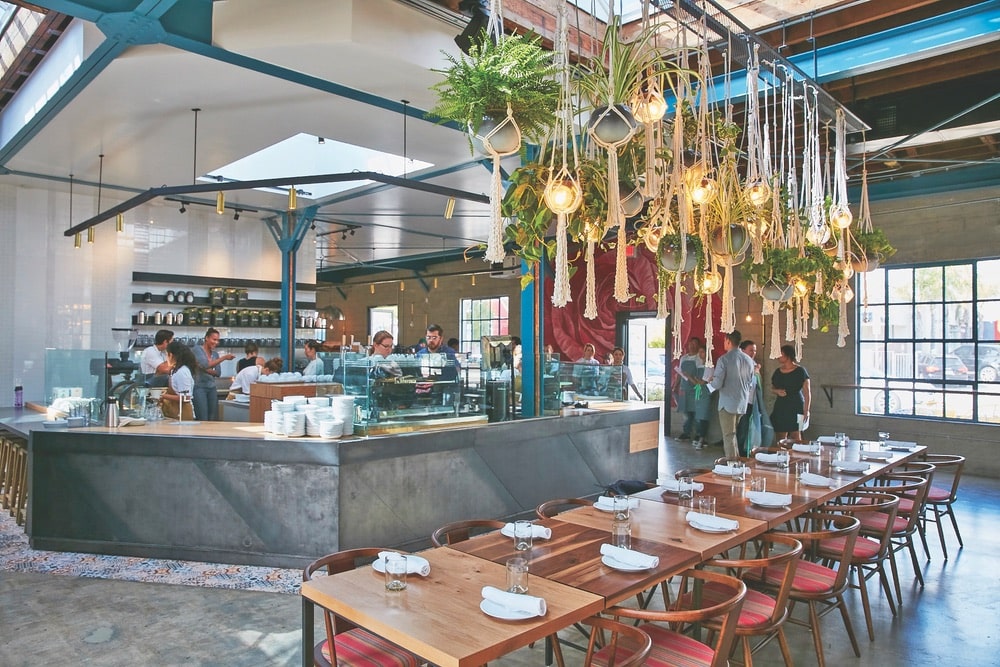 A social club since 1979 where locals, producers, and artists gather to share ideas and sell art, The Rose Venice has an industrial feel softened with hanging plants and pretty people. Partner and chef Jason Neroni reopened the beloved spot, formerly The Rose Café & Market, in 2016 to a SoCal-meets-Eurasian bill of fare with a full bakery, an espresso bar, and an open kitchen that presents inventive dishes. Try such favorites as a grass-fed ten-day-aged prime hanger steak and miso butterscotch pot de crème. The menu lists farms where the ingredients are sourced so you can trace where the heirloom tomatoes and chickens were raised. After you indulge, walk toward the ocean and hang a left to stroll the Venice Beach Boardwalk and visit Animal House for vintage rock apparel. It's about a stone's throw from the well-known Venice sign and the famous Muscle Beach.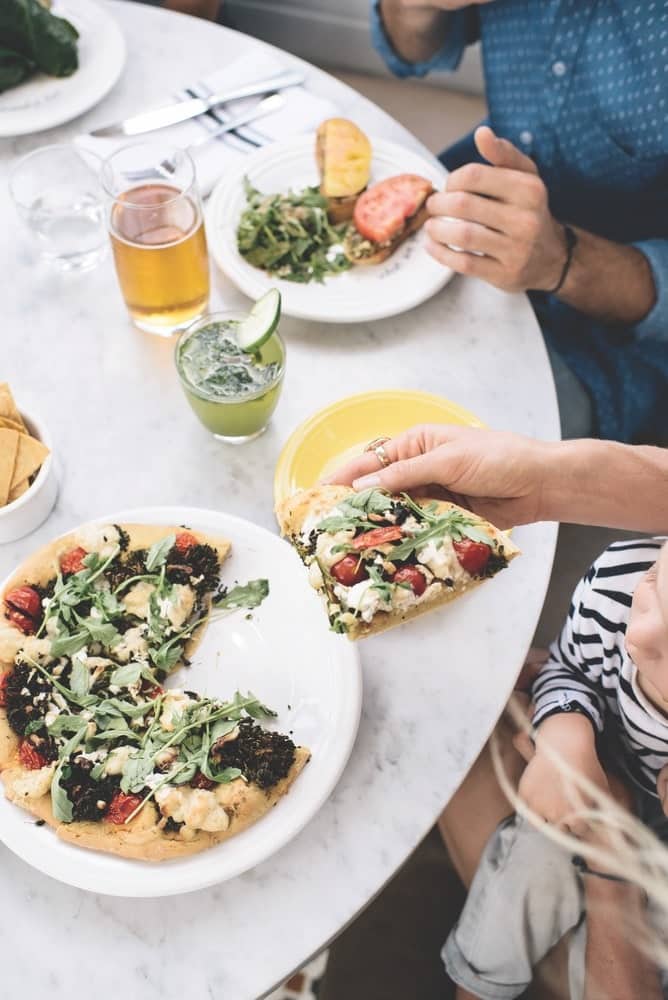 The epitome of California dining with an all-organic and vegan menu, Café Gratitude has each dish listed with a specific intention. For example, the Brilliant (which you order by saying, "I am Brilliant") will give you creamy puttanesca pasta made with capers, kalamata olives, smoky cashew sour cream, tomato confit, roasted red pepper walnut puree, and lacinato kale. They even have a question of the day to ponder while you wait for your meal. (For example, If you had to choose, what would be your spirit animal? or What are you most proud of?) Gracias Madre is the café's sister restaurant in West Hollywood, also organic and vegan, with an extensive mezcal and tequila bar. No intentions required.
Foodies will praise Gjelina for its "grain-and-vegetable-centric, globally inspired cuisine" at the heart of another LA hot spot, Abbot Kinney. Next, travel to James Perse for elevated basic apparel that can take you from the beach to happy hour. The casual-luxe designs evoke a classy surfer vibe with cashmere sweaters, graphic T-shirts, hats, and more. Several home stores have recently opened nearby, so your West Coast–inspired decor can match your new laid-back style.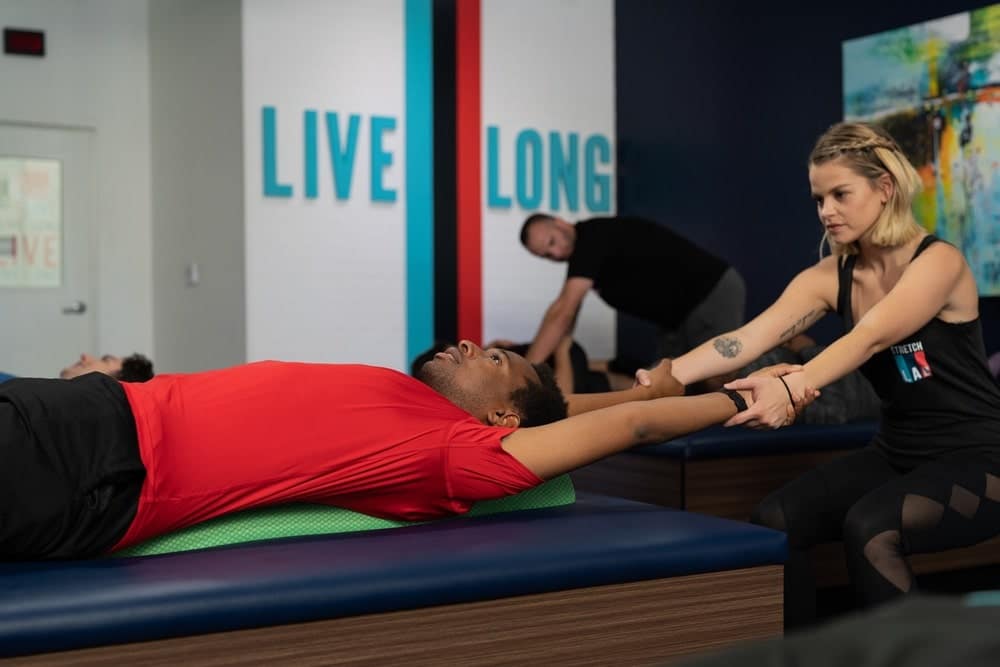 Too tired for yoga or feeling a little sore from your flight? StretchLab is a unique studio for assisted stretching, designed to guide you toward smoother mobility. Similar to how athletes are pampered pre- and post-game, "Flexologists" at StretchLab help you discover your path to maximum flexibility.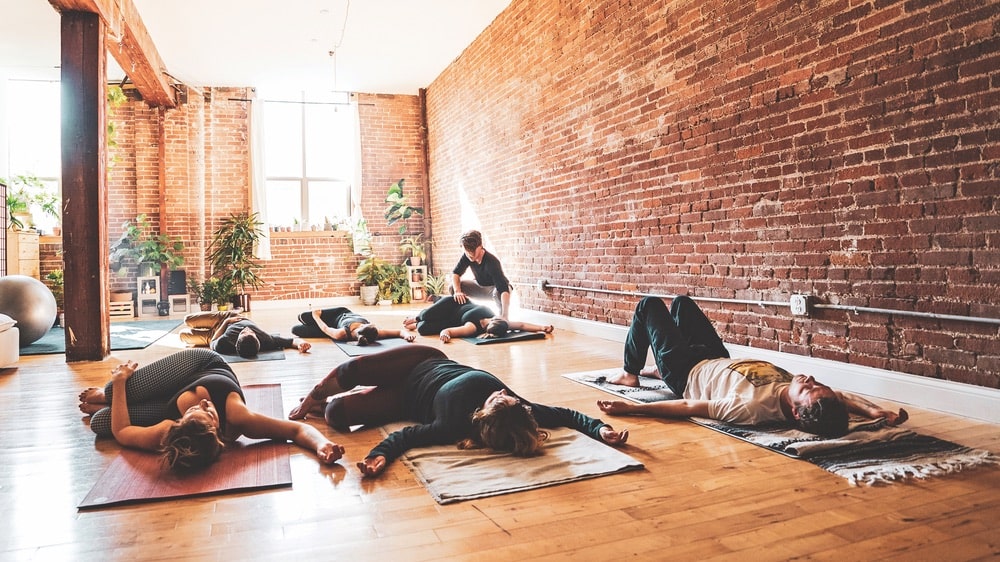 Hosting several community events a year (where you can enjoy cannabis in the presence of others if you so choose), Lit Yoga is where plant medicine and spiritual practice meld as one. Private sessions are available "for those looking to explore cannabis as a tool for enhancing well-being and relieving physical pain during practice," CEO Hannah Mason says. Cannabis consultations for products and dosing to fit your lifestyle are included, and teacher training is also offered.
If you're a true adventurer and a free spirit, rent an RV and claim a spot at the Malibu Beach RV Park on the cliffs above the Pacific Ocean. Open all year, the park is geared toward visitors instead of monthly guests, which gives it a fluid traveler's vibe. Each campsite comes with mountain or ocean views, which are perfect for checking the surf or settling in for one of California's epic sunrises or sunsets.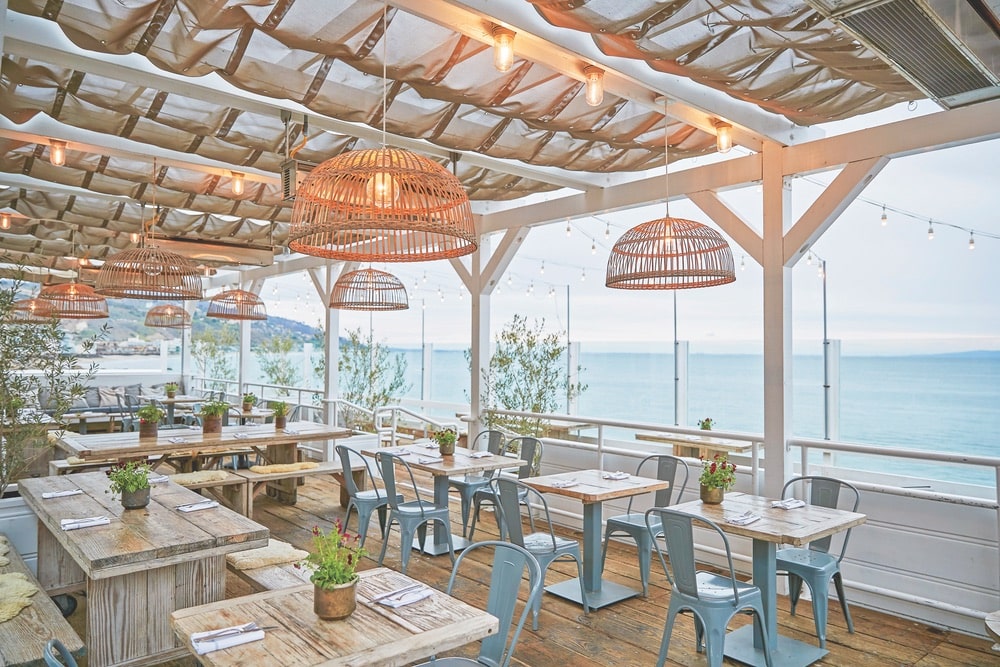 Malibu Farm Restaurant and Cafe
The Malibu Farm Restaurant offers farm-to-table cuisine at the start of the pier, while the Malibu Farm Cafe anchors the end. From the restaurant's menu, order the fish taco, a deconstructed showstopper made with branzino white fish, green cabbage, radish, cucumber tomato pico, pepper jack cheese, and cilantro lime crema. Or, walk to the end of the pier to enjoy quick bites from the cafe as you take in the surf culture in the waters below.
From the restaurant's menu, order the fish taco, a deconstructed showstopper made with branzino white fish, green cabbage, radish, cucumber tomato pico, pepper jack cheese, and cilantro lime crema.
What started as a top-grade leather goods line in an LA garage in 1988 has morphed into a critically acclaimed lifestyle brand. High-end silver jewelry put the brand on the map, but the line has since expanded to clothing, scents, eyewear, and handbags, for starters. Having collaborated with the Rolling Stones, Bella Hadid, and Comme des Garçons, Chrome Hearts can only be described as indefinable, and they like it that way.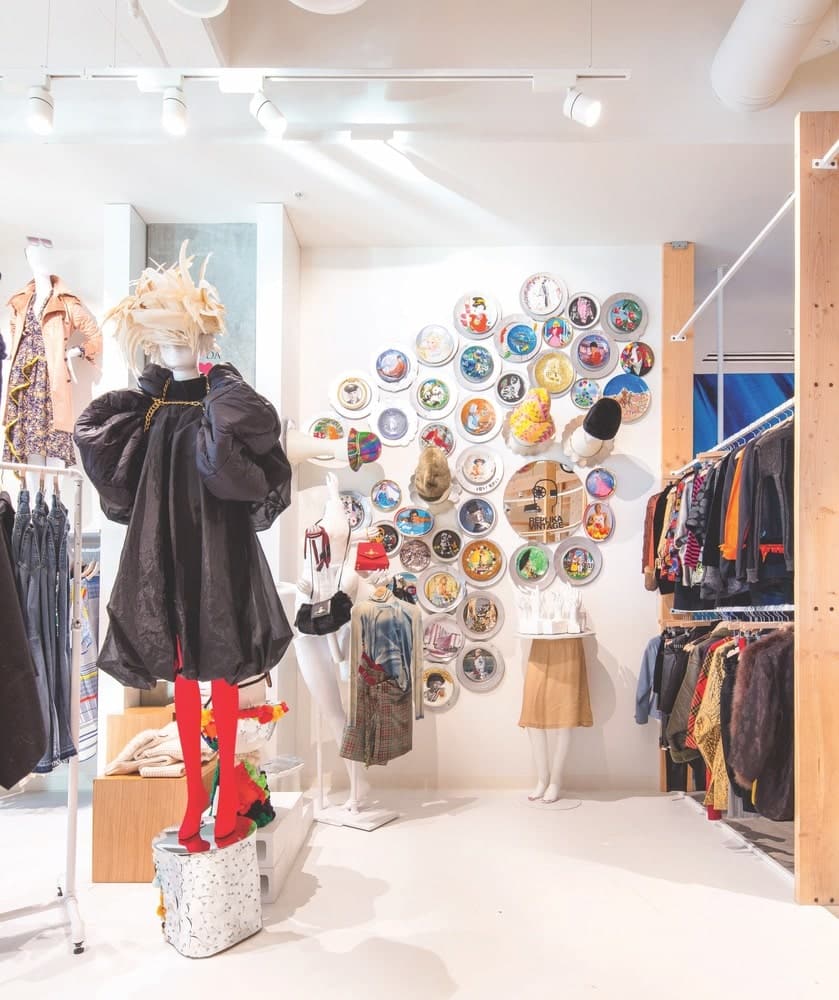 Fred Segal was once the denim king of Hollywood. Even the King of Rock 'n' Roll, Elvis Presley, had custom clothing designed by the man. Bob Dylan, Farrah Fawcett, and the Beatles frequented his shops, which have now grown from being a private label to adding new designers, such as embroidery artist C.Bonz, and established brands, such as Proenza Schouler. Fred Segal locations include the Malibu Village, Sunset Boulevard, and LAX, and they've gone international to Taiwan and Switzerland as well. Wherever you choose to visit, Fred Segal remains a touchstone for the true California style.
No matter where you roam in the City of Angels, keep your eyes peeled for famous faces you might pass on the street and your ears open for the next big screenplay being discussed one table over. A colorful tapestry weaving rich cultures, vibrant creatives, and the natural world into one, this seductive Southern California city has endless experiences to keep you coming back for more.
— V —
---
Head to DiscoverLosAngeles.com to learn more.
Megan Waldrep is a freelance writer who recently traded life on a thirty-four-foot sailboat in Mexico for a vintage Airstream in Carpinteria, California. She also writes a relationship blog called I Heart under the pen name Elizabeth Rose. What does all this mean? Find out at MeganWaldrep.com.
ARTICLE CATEGORIES