Story and photography by Caitlin McGrother
What Is Vegan?
Chances are you know someone who adheres to a vegan lifestyle. But what exactly does vegan mean? Vegan describes a lifestyle in which one abstains from animal products. Most recognizably, a vegan does not eat dairy, eggs, honey, meat, or other ingredients that are derived from animals. A vegan avoids all cosmetic, personal care, and household products that contain animal ingredients, and a vegan does not purchase clothing made from animals. Veganism also tends to coincide with animal rights issues, and followers of this lifestyle avoid products tested on animals and forms of entertainment that involve animal exploitation.
Reasons for becoming vegan are often personal and vary among individuals. Often, veganism is the result of individuals learning about the atrocities of factory farming, in which chickens, cows, pigs, and other livestock are confined to small spaces and unsanitary conditions. Others may adopt a vegan lifestyle due to the catastrophic environmental issues resulting from animal farming. Vegans may also choose this lifestyle because they want to take a stand against the animal exploitation that runs rampant in our culture, including unnecessary animal testing and animals in entertainment. Or, individuals may change to a vegan diet for the vast health benefits, which include weight loss, lower cholesterol, lower blood pressure, and a healthier heart.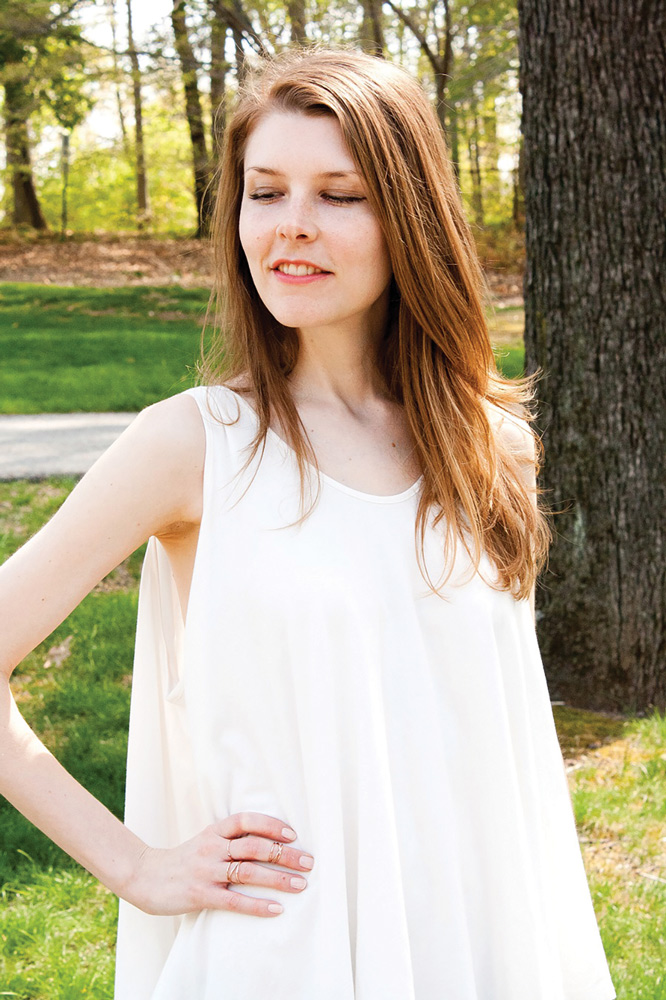 My Vegan Story
When I went vegan ten years ago, I wanted to make a positive contribution to the world. Once I made the connection that animals had the same right to live as humans, it made no sense to sacrifice their lives for my own pleasures. Animals are my friends, companions, and fellow earthlings. What makes me better than them? Nothing.
During my formative years as a vegan, there were very few resources available. Because I was initially only aware of the food politics involved, my first lifestyle change was adopting a plant-based diet. I learned by reading ingredient labels and practicing common sense. I researched veganism and asked questions to those who were more knowledgeable about it. I ate simple, healthful meals comprised of plant-based ingredients. Over time, I also switched to all-natural bath and beauty products and stopped purchasing clothing and accessories made with animal fabric.
Over the years, veganism has become much more mainstream and accepted. A decade ago, there were very few high-quality choices when it came to animal-free alternatives in clothing, food, and personal care products. Now, I love experimenting with the variety of cruelty-free brands available. Vegan clothing and accessories have also become extremely fashionable, and I love discovering new product lines. Thanks to the growing community of individuals, bloggers, cookbook authors, and fashion brands, as well as the cosmetics, personal care, and household product companies all dedicated to the cruelty-free lifestyle, being vegan has never been easier.
---
What Can You Do?
Becoming a vegan can appear overwhelming when one is faced with the necessary lifestyle changes, but it's simply about replacing one product for a similar vegan alternative. Milk, butter, ice cream, yogurt, and even cheese have amazing animal-free alternatives. Protein, which vegans are often accused of being deficient in, is abundant with options including beans, nuts, whole grains, tempeh, tofu, and seitan. Additionally, animal-free fabrics are more innovative and stylish than ever before, making animal skin completely unnecessary.
Below is a simple guide for experimenting with a vegan-friendly lifestyle. Although it is not an exhaustive list, it provides the groundwork for beginning your journey to living cruelty-free. Understand that all changes are positive, whether going meat-free one day of the week, choosing animal-free clothing, or no longer supporting entertainment that exploits animals. Most of all, please take the time to research and find your own truth. There are abundant resources available about the vegan lifestyle, and it is important to educate yourself.
---
Vegan Cheat Sheet
Foods
To avoid: all dairy and dairy by-products (milk, yogurt, ice cream, butter, cream, etc.), eggs, honey, meat, and meat by-products (beef, broth, fish, poultry, pork, seafood, etc.).
To enjoy: all fruits and vegetables, beans, grains, legumes, nuts, seeds, dairy alternatives (almond, cashew, coconut, hemp, soy, etc.), and meat alternatives (tempeh, tofu, seitan, etc.).
Personal care products/cosmetics
To avoid: bee products (honey, pollen, wax, etc.), carmine, dairy, gelatin, lanolin, and shellac.
To enjoy: plant-based oils (almond, coconut, macadamia, etc.) and fruit-derived colorants.
Clothing and accessories
To avoid: leather, suede, silk, and wool.
To enjoy: fabrics made of cotton, hemp, and soy and all man-made materials.
Entertainment
To avoid: aquariums, circuses, SeaWorld, and zoos.
To enjoy: animal-free circuses, animal sanctuaries, parks, and rescue events.
---
Recipes
---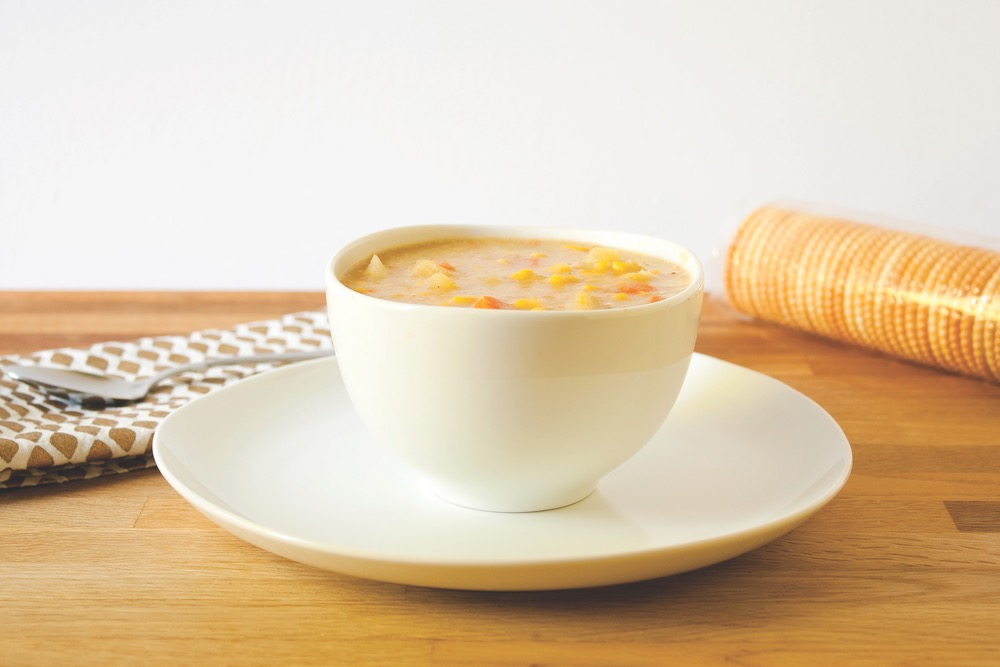 Potato Corn Chowder
Although chowders are traditionally made with cream, the same creaminess can be achieved through dairy-free alternatives. With the combination of almond milk and a partially blended consistency, this soup will make you forget it's missing the dairy. For added texture, crush some of your favorite crackers on top.
Ingredients
1 tablespoon olive oil 1/2 Vidalia onion, finely chopped  2 cloves garlic, minced 1 teaspoon salt 4 cups unsweetened almond milk  8 Yukon Gold potatoes, peeled and cubed into one-inch pieces 3 cups frozen corn kernels 1 cup carrots, sliced
In a large soup pot over medium heat, combine olive oil, onion, garlic, and salt. Sauté until onions are translucent. Add potatoes, corn, and carrots, and lightly salt the mixture. Allow the vegetables to lightly cook, about 5 minutes, stirring well. Add in the almond milk. Allow the soup to begin to bubble, stirring every few minutes. Reduce heat and simmer for 30 to 45 minutes, or until the potatoes are soft.
If you have an immersion blender: Blend approximately 1/3 of the soup while still in the pot.
If you have a regular blender: Remove one cup of the soup and transfer it to a blender. Puree until smooth and then recombine with the rest of the soup, stirring well. 
Ladle soup into bowls, salt to taste, and enjoy!
Yield: 4–6 servings
Total time: 1 hour
---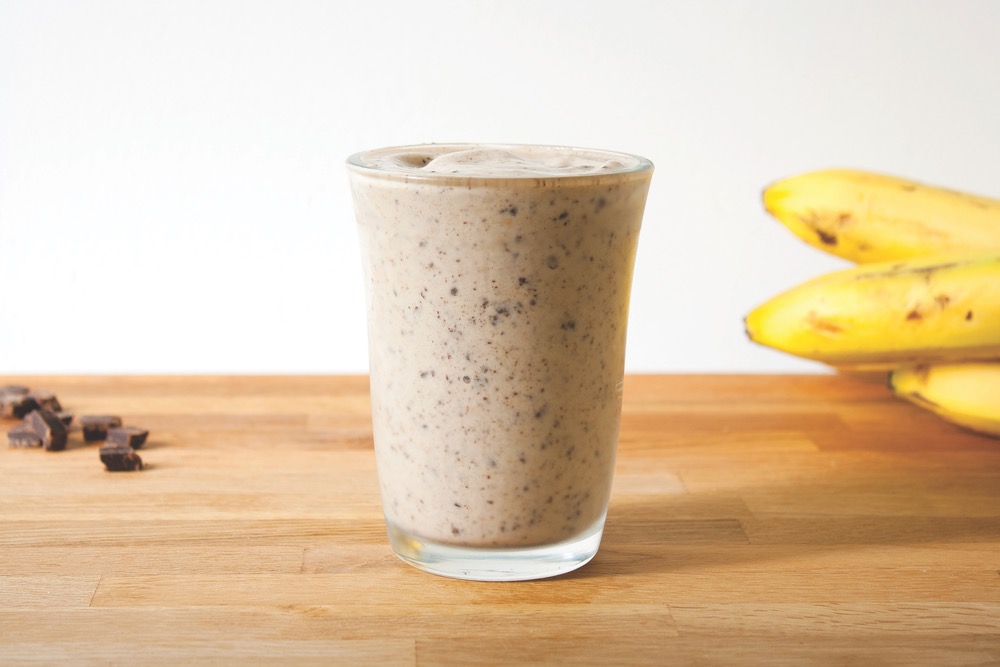 Healthy Banana "Milkshake"
When bananas are frozen and then blended, they become intensely creamy and resemble ice cream. This smoothie is the best of both worlds—extremely healthy and filling (especially with the help of the almond butter) and delicious. It's like drinking a milkshake for breakfast! Feel free to modify the recipe to your liking: add more or less almond milk depending on your desired thickness, or an extra spoonful of almond butter for a creamier consistency.
Ingredients
2 large bananas, sliced and frozen 1 heaping tablespoon almond butter (or nut butter of your choice) 1/4 cup plus 2 tablespoons unsweetened vanilla nondairy milk (such as almond milk) 2 tablespoons chocolate chips (or other desired add-ins)
In a blender, blend bananas and almond butter until bananas are finely chopped. Add almond milk, two tablespoons at a time, until desired consistency is reached. Add in chocolate chips or other desired add-ins. Pour into glass and serve. Enjoy!
Yield: 1 smoothie
Total time: 5 minutes
---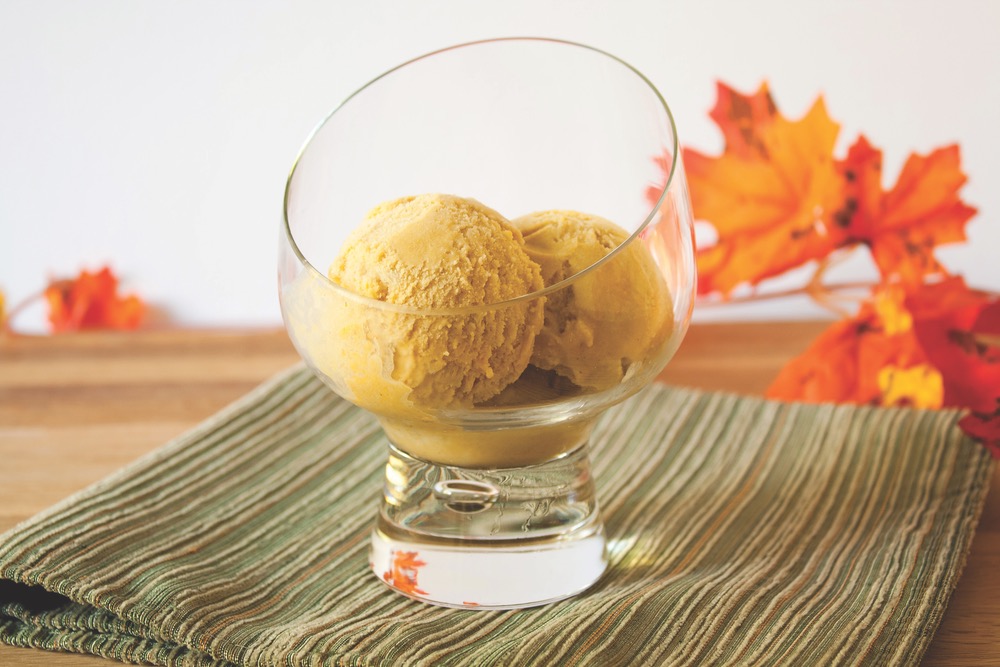 Pumpkin Ice Cream
Coconut milk is perfect for making dairy-free ice cream. When used in place of traditional cream or milk, it churns into a supercreamy and luscious ice cream. In order to keep things lower in fat, I use light coconut milk. However, feel free to use the full-fat variety, if you so desire. The addition of pumpkin and cinnamon creates the perfect seasonal dessert. In the off season, leave out the pumpkin and cinnamon, and enjoy delicious vanilla ice cream instead.
Ingredients
2 cans light coconut milk 3/4 cup vegan granulated sugar 1 cup pumpkin puree (not pumpkin pie filling) 1 tablespoon vanilla extract 1/2 teaspoon cinnamon
In a medium saucepan over medium heat, combine coconut milk and sugar. Whisk until all sugar granules have melted. Add in pumpkin and continue to whisk until mixture is smooth. Remove from heat and whisk in vanilla extract and cinnamon. Pour into a spouted container. Allow to cool on the counter and then place in refrigerator until chilled. Transfer mixture to ice cream maker and process according to instructions. Once ice cream is finished churning (about 25 minutes), transfer to a freezer-safe container and place in freezer. Straight from the ice cream maker, the consistency will be like soft-serve ice cream. But, after freezing for a few hours, it will resemble a hard ice cream. When ready to enjoy, remove from freezer and allow to thaw on counter for about 10 minutes. Enjoy!
You don't have an ice cream maker? Don't worry! There are tons of ways to make ice cream without a machine. Simply look up "how to make ice cream without an ice cream maker" on your search engine and find the method that works best for you.
Yield: 4–6 servings
Total time: 45 minutes
— V —
---
Find more delicious vegan recipes at theveganchickpea.com.
ARTICLE CATEGORIES