By Dale Foster
Just breathe. Down a hundred and ten feet under water, surrounded by spectacular marine coral, colorful fish, and sunken shipwrecks, I enter a Zenlike state of mind. Being in the moment … no past, no future … just the now. Floating, feeling a sense of weightlessness. Hearing only the sound of breathing. Embracing the world around me, being one with it, aware that I cannot control it. It controls me. It is a world in which humans do not naturally fit. Yet, I am here … at this moment … at this place … breathing.
Such was my experience scuba diving off the coast of Roatán, Honduras, one of the most beautiful islands in the Caribbean. Lying about fifty miles from the Honduran mainland, it is not a particularly large island—only thirty-seven miles long and about five miles across. Roatán's lure is that it is located near the exquisite Mesoamerican Barrier Reef, the largest barrier reef in the Caribbean Sea and the second largest in the world after Australia's Great Barrier Reef. As such, the island has become a scuba diving mecca.
Roatán sits on top of an underwater mountain range called the Bonacca Ridge, which includes the other Honduran Bay Islands of Utila and Guanaja. Evidence of its volcanic birth can be seen in the jagged lava fields, cliffs, and coves that make up part of the coastline. Inland is lush mountainous terrain that climbs to about a thousand feet. English is widely spoken by the native islanders, although Spanish is the primary language of the mainland Hondurans who have migrated to the island. Tourism is the island's leading economic sector, and it has become an important cruise ship port of call, although fishing is also a vital source of income for many islanders. But it is the size, diversity, and convenience of the reef, the exceptional water clarity, huge shipwrecks, the Cayman Trench, and the friendly islanders that make Roatán special, particularly for divers.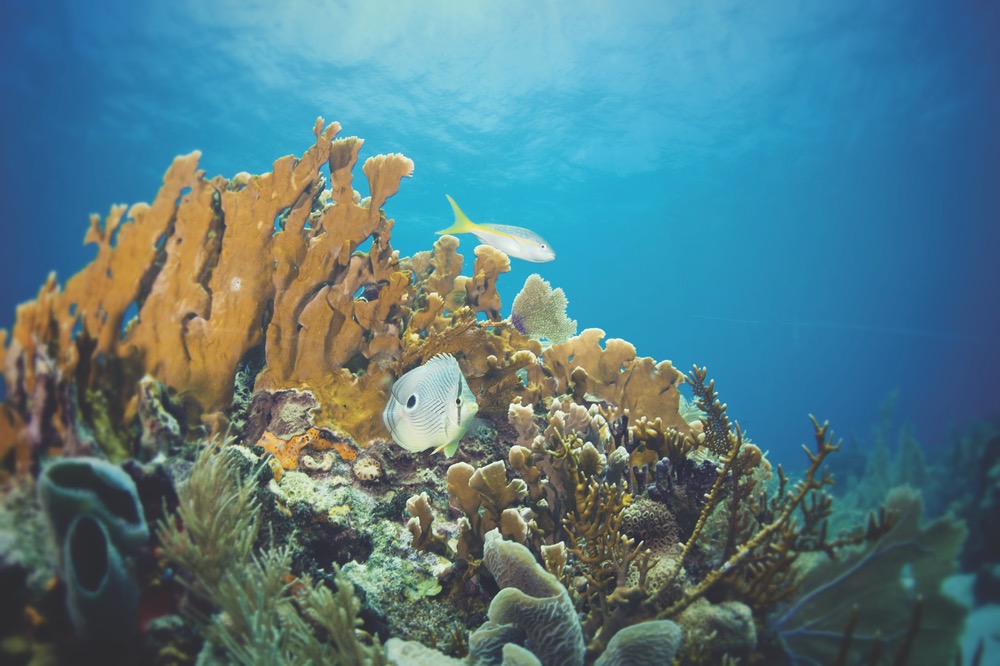 The Reef
The reef forms a magnificent, multihued ring around much of the island and is home to almost two hundred aquatic species. The biodiversity of the reef encompasses nearly every kind of living coral and sponge growing in the Caribbean. Bright white sandy basins, deep canyons, crevices, and caves accentuate the impressive topography of the reef and form a labyrinth within the delicate elkhorn and pillar coral. Conveniently, the reef comes very close to the shoreline. Getting to our dive sites took only minutes by boat, and there were numerous spots for shore diving and snorkeling, too. With almost a hundred moored dive locations and many more unmarked sites, it would take years to visit them all. I met an American diver who had been diving in Roatán for nineteen years straight.
The almost constant ocean currents and trade winds into the Honduran Bay Islands make the water clarity among the best in the Caribbean: crystal clear at the surface, with excellent visibility at depths near one hundred feet, which is the approximate depth of the primary shipwrecks. Visibility was particularly important on our night dive at Grape Escape Reef. With small dive lights, we could witness the reef come alive with nocturnal species we would not ordinarily see in daytime. The most visited reefs are on the leeward side of the island, where the water is usually calm.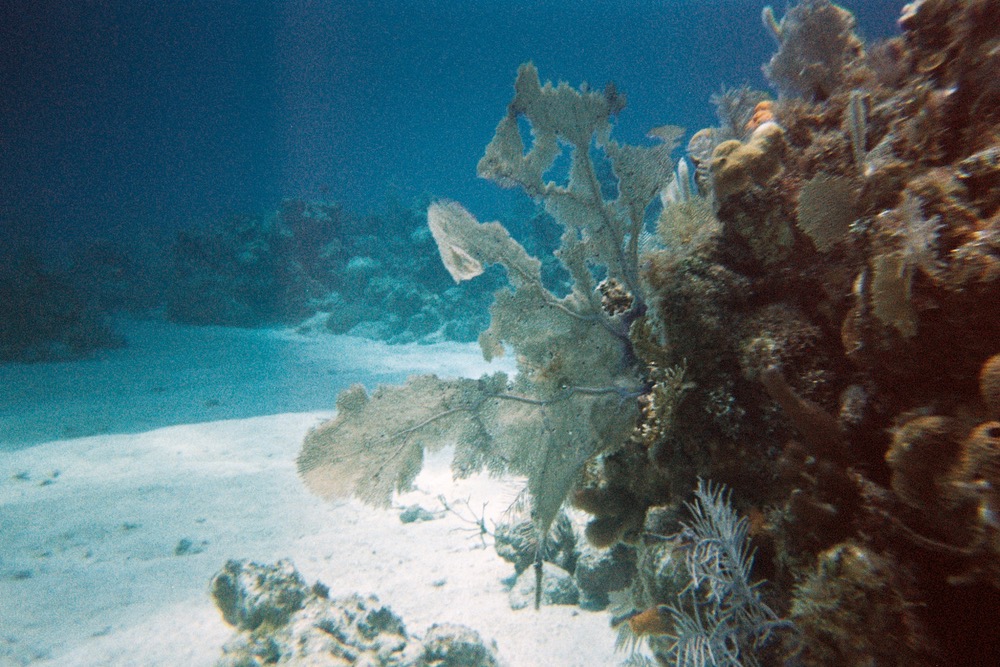 A highlight of our trip was to dive on Roatán's largest wreck, the three-hundred-foot freighter Odyssey, sunk in 2002 near Mud Hole. We also dove on El Aguila, a two-hundred-thirty-foot-long, dual-deck cargo ship sunk in 1997. These are not the only wrecks around the island—the Prince Albert, and Mr. Bud are among the best known.
The Cayman Trench runs very close to Roatán, where the reef's depth ranges from thirty to two thousand feet. "The Wall," as it is called, was an incredible dive experience as we explored the very fringe of the reef while looking down into a seemingly bottomless abyss. The deeper water is home to a variety of pelagic animals such as turtles, dolphins, and rays. Recreational dives are limited to one hundred thirty feet, which is plenty deep, but a tourist submarine located in Half Moon Bay is available for deeper depths (www.stanleysubmarines.com).
West End and West Bay
The West End and West Bay beaches are two of the primary tourist areas. The closeness and splendor of the coral reef give this part of the island a special allure. The majority of hotels are concentrated in West End, West Bay, and Sandy Bay, with a few in Oak Ridge and French Harbour on the east end. All feature an assortment of dive trips and snorkeling excursions. Many amazing reef sites are easily reachable within the protected Roatan Marine Park (www.roatanmarinepark.com), which stretches from the town of Sandy Bay on the north coast to West Bay beach.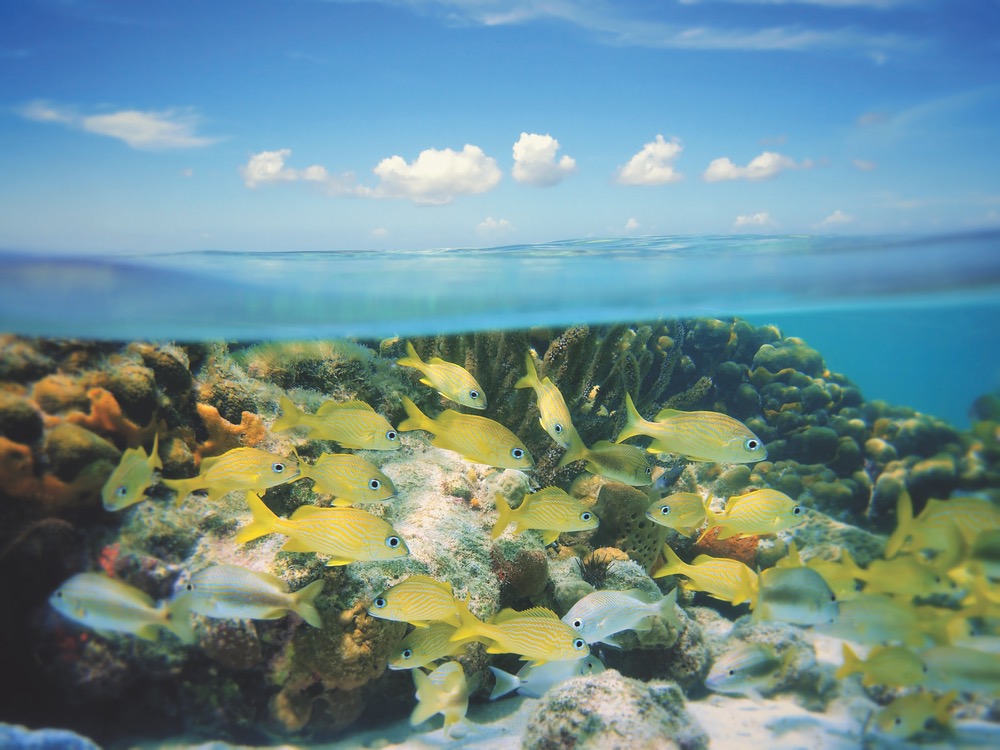 Roatán draws scuba enthusiasts from all over the world.
The diver-friendly West End, where we spent most of our time, is primarily for serious divers, and the hotels reflect that. Most of the hotels here are smaller family-run resorts or lodges affiliated with dive operators. The absence of modern high-rises is part of Roatán's casual charm. The dirt road is narrow, with bulky ship ropes serving as speed bumps. Pedestrians vie for walking space with taxis amid dive shops, souvenir stands, and restaurants. There is a conspicuous lack of pretense on this end of the island, but no lack of adventure. Roatán specializes in adventure.
We lodged at the Seagrape Plantation Resort, a family-run hotel near Mangrove Bight, overlooking the reef. Located just a short walk from the town center, this quiet resort provided us very clean and comfortable hotel-style rooms with air conditioning. Larger bungalows were available close to the water and pool. Having the dive shop on premises was a real convenience, since we did not have to refit for dive equipment every day. After each dive, we just hung our equipment out to dry and it was ready to go the next day.
Eating on the West End was an eclectic experience, from Argentinian Grill to Cannibal Cafe (serving Mexican cuisine) to Creole's Rotisserie Chicken. While the chicken was delicious at Creole's, we found the shrimp, sea bass, and cinnamon rolls to be especially good. Since restaurants on the island are not air conditioned, dining is alfresco. Americans will feel comfortable with the fare in most places, as pizza and hamburgers abound. We discovered three appetizing places for breakfast: the Linga Longa overlooking Half Moon Bay (ask for Nicki), and Janet's The Bakery #2 across the street in a converted metal shipping container. (Don't be fooled by the decor—Janet has some of the best bagels south of New York City.) For a made-to-order special, Douglas will whip you up a scrumptious feast at the Calico Mission House (formerly the Casa Verde Beach House Hostel). Nightlife on the West End is centered at the popular Sundowners Beach Bar.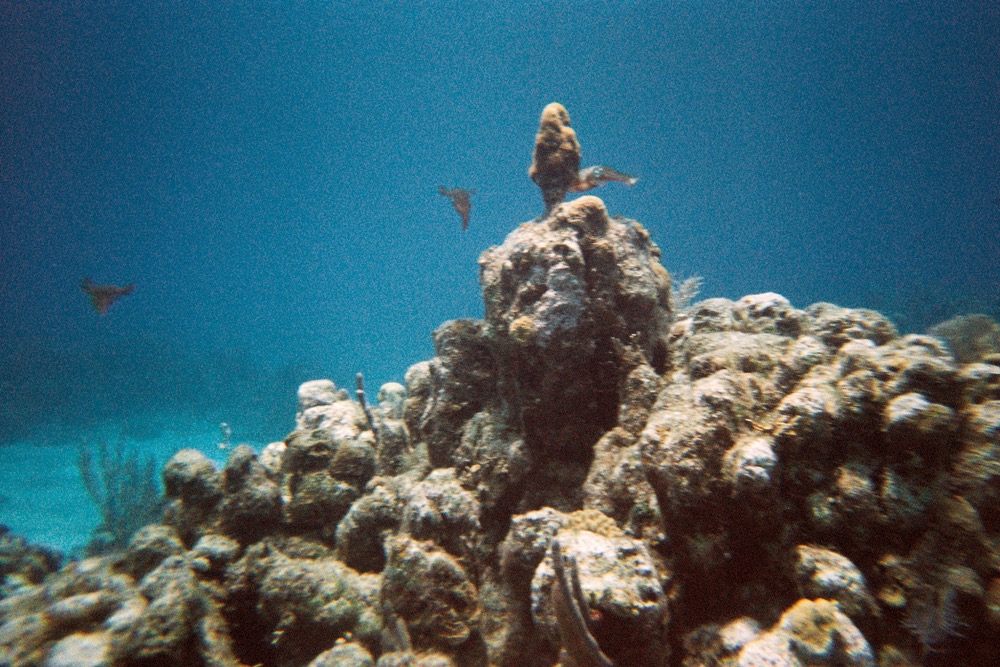 The ambience in Roatán is easygoing and unhurried—so much so that a local radio DJ announced one day that the weather was going to be beautiful that Friday morning, and we should all just "piss away the rest of the day and enjoy it." Being a dive haven, Roatán draws scuba enthusiasts from all over the world, so it is a fascinating crossroads of diverse international cultures and people. During our stay, we met visitors from the United Kingdom, Denmark, Italy, mainland Honduras, Florida, and New York—and a hundred and twenty dentists from Utah!
At the very tip of the island is the more upscale West Bay, where beaches are oriented toward nondiving tourists and offer an assortment of other attractions. While few of the island's hotels are stylish, a notable exception is the elegant Infinity Bay Spa and Beach Resort (www.infinitybay.com). For snorkelers, an easily accessible place to see the reef is Black Rock, located right off the beach at Infinity Bay. Here the fish seem almost tame, coming right up to you. Nearby, the Buffalo Steak House—complete with a giant wall-mounted buffalo head—offers a pleasant atmosphere for lunch or dinner. Roatán is renowned for the intoxicating Monkey La La—a vodka-based drink. Each restaurant has its own variation. In West Bay, Las Rocas has one of the finest.
Transportation between West End and West Bay is primarily by water taxi. For US$3 per person each way, you can enjoy a scenic boat ride over emerald-green waters past moored sailboats, sandy beaches, and the rocky Key Point. Interestingly, the only road running along the shore is the short dirt stretch in the West End, so the water taxi saves time and money. At sunset, this is an especially nice ride and a good way to meet other visitors to the island.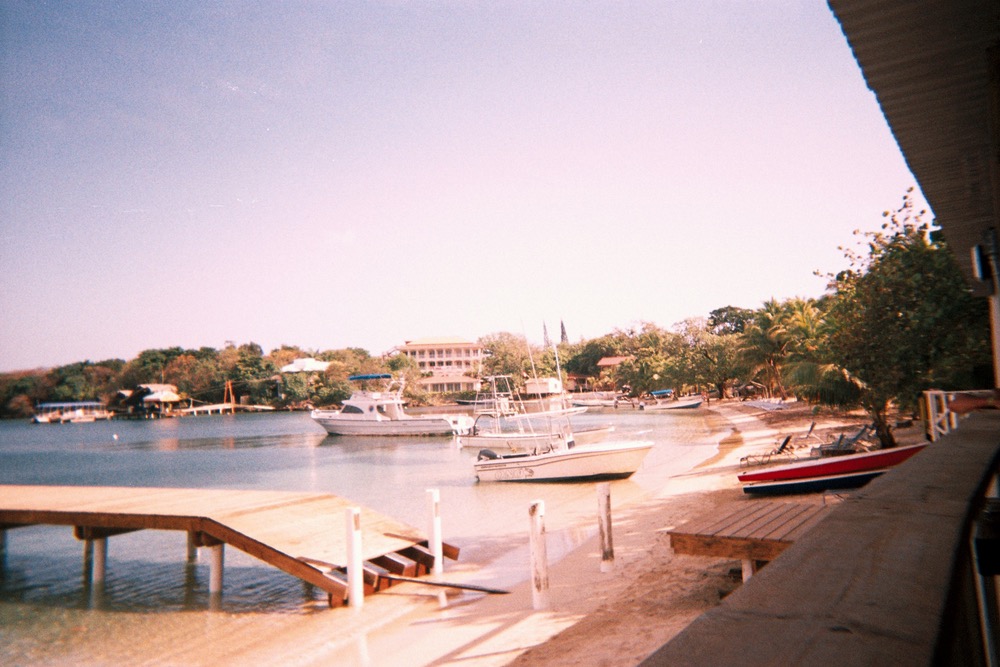 The East End
We took a one-day break from diving to see the terrestrial wonders of Roatán. We rented a Nissan Xterra from Delzie at Roatan Sales and Rentals (www.roatansalesandrentals.com) in West End and, with a couple of American visitors we had met at the hotel, set out to explore the island from top to bottom.
Driving around Roatán was not particularly difficult but could be challenging at times, with people riding bicycles and walking the narrow roads with no sidewalks. Generally, slower vehicles pulled over to let us pass. Traffic stops by local police were not uncommon, happening to us three times on our one-day excursion. Fasten your seat belts if you are driving on Roatán!
Enticed by their ad for the longest and highest zip line in Central America, we could not resist going to the Pirates of the Caribbean Canopy (www.roatanpiratescanopy.com). The "Extremely Extreme Zipline" reached heights of three hundred twenty-eight feet and distances as far as 1,980 feet at the highest and longest points. The overall length of the line was around two miles. Zipping over and through the tree canopy, often upside down, was certainly thrilling, but probably just one "extreme" would have been a more accurate description of the ride.
In Coxen Hole and French Harbour, the island's primary commercial centers, we found banks, specialty shops, and large grocery stores. Leaving French Harbour, the road steadily climbed the island's mountainous and densely forested interior. The upper elevations presented spectacular panoramic views of the Caribbean Sea's turquoise water and the majestic reef that stretched for miles. We passed a number of attractive all-inclusive resorts on the island's south side, including Fantasy Island, CoCo View, Parrot Tree Plantation, and the eco-friendly Palmetto Bay Plantation. Traveling further east, the paved road ended at the Black Carib (or Garifuna) community of Punta Gorda, a sleepy village that is the oldest permanent settlement on the island. The Garifuna have an intriguing culture, having preserved their African roots and language. Our next stop was Marble Hill Farms (www.marblehillfarms.com), a rustic eco-lodge known for its island-made, all-natural fruit jams.
Continuing on the dirt road, we noticed a scarcity of homes and businesses in this less-traveled section of the island. Fortunately, we stumbled upon a delightful restaurant at the secluded Paya Bay Resort (www.payabay.com) just in time for lunch. Perched on a rocky bluff overlooking the northern reef, this tranquil boutique hotel is a blissful alternative for those who want to stroll along the Zen Path or commune with nature on private beaches. Traveling to the far eastern end of the island, we came to Camp Bay, a large tract of unspoiled beaches and rugged terrain. We passed La Sirena restaurant—a thatched-roof palapa built on stilts over the water. Jimmy, the owner, claims to have "Roatán's best seafood." Returning to the West End, we stopped at Anthony's Key Resort near Sandy Bay, a well-known, all-inclusive dive retreat.
Roatán is a comfortable sanctuary from the excesses and distractions of modern-day life.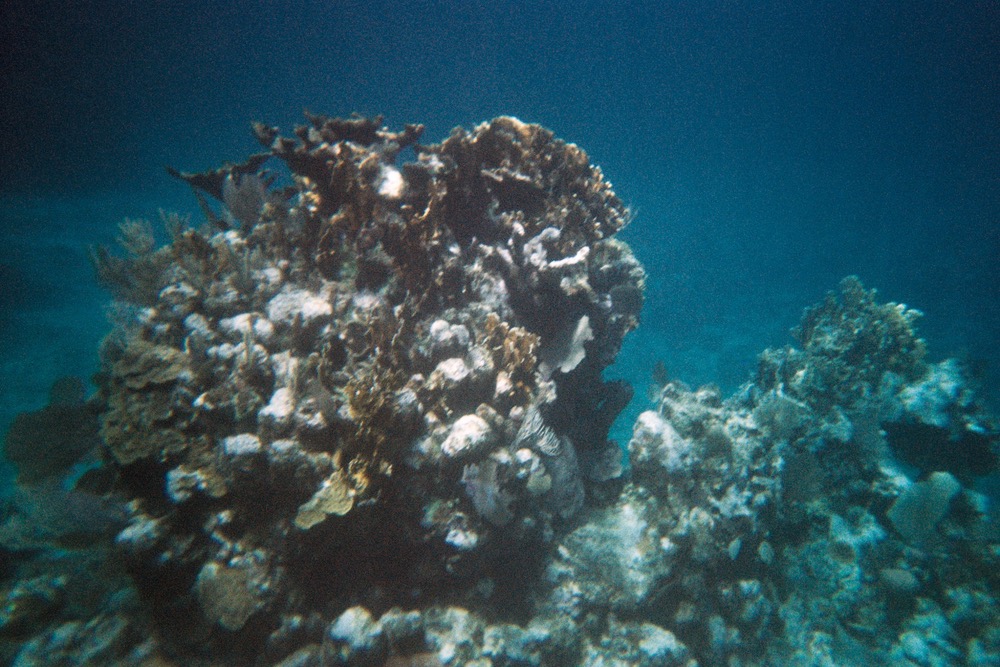 Lasting Impressions
Eight days was not enough to experience all the dive sites and aquatic adventures, much less all the other attractions the island has to offer. Hopefully, return visits will allow time to visit the Carambola Botanical Gardens and to indulge in deep-sea fishing, windsurfing, sailing, horseback riding, and, of course, diving the dozens of yet-to-be-explored underwater reefs and wrecks.
Stepping off the well-traveled tourist path, one sees another side of island life. On our road trip, we turned off the main street in Coxen Hole and saw congested communities with sidewalk vendors and overcrowded living conditions. The native islanders complain of the Honduran mainlanders who have migrated in large numbers to work in the tourism and transportation industries. The mainlanders work for less, and the islanders claim they are taking jobs away from the natives. Honduras is one of the poorest countries in the Western Hemisphere, so the government has little money to spend on education and social services in Roatán. These responsibilities are therefore left to the small island communities, which have extremely limited funds. Several nonprofit support organizations operate on the island, and there are many needs to be met, including schools, libraries, housing, clean water, and sports facilities. Island Friends Roatan (www.islandfriendsroatan.com) helps coordinate many ongoing projects. US-based humanitarian aid organizations and missionary groups are frequent visitors, so there is ample opportunity to volunteer or donate to these worthwhile causes.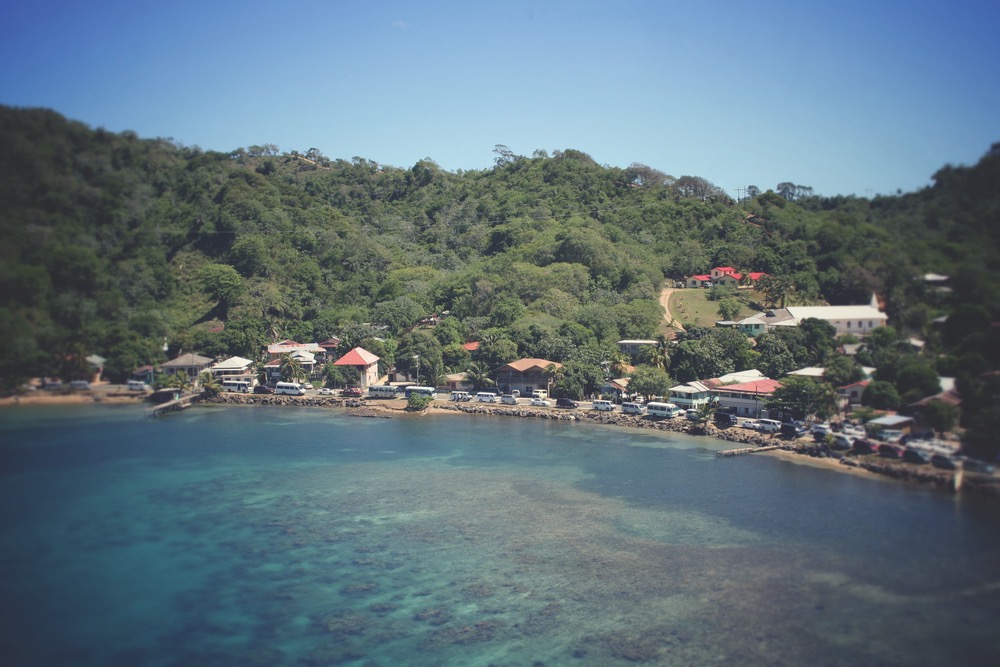 Roatán served as a welcome stop on my continuing journey to many enchanting islands. Traveling to developing countries has taught me many life lessons about happiness, spiritual growth, and a focus on what is truly important. Roatán is a comfortable sanctuary from the excesses and distractions of modern-day life. The island offers easy entry into an extraordinary underwater world, a world that is at once beautiful and dangerous, but where you can find inner peace at a depth of one hundred feet. Both in and out of the water, Roatán is a great place to just breathe.
Just as remarkable as the massive underwater reef are the wonderfully friendly island residents. Their cheerful attitude gives the island a relaxing and welcoming feel. I asked several islanders to describe in one word what life was like on Roatán. They all said, "Paradise."
— V —
---
Blurb
Dale Foster is a certified Advanced Open Water Scuba Diver and frequent contributor to VIE. His island adventures have taken him to Cuba, Haiti, the Galapagos Islands, Roatán, and Australia's Great Barrier Reef, among others.
Tips for Travelers
Roatán is serviced directly by United and Delta airlines, flying out of Houston and Atlanta, respectively. TACA Airlines flies out of Miami. All airlines fly into Juan Manuel Gálvez International Airport in Coxen Hole. It is possible to fly to the Honduran mainland first and then either take a regional air carrier over to the island or travel by ferry.
Taxi trips from the airport to the West End run US$20. US dollars are accepted in most places, but bring small bills. Any change for purchases is given back in Honduran lempiras. The exchange rate is about nineteen lempiras to one dollar. ATM machines are readily available, but they dispense lempiras only. Credit cards are accepted for most large purchases like car rentals, dive trips, and hotels, but not in many of the small restaurants and shops. Currently, the airport departure fee is US$39 and is required in cash, so be prepared. While visas are not necessary for US citizens on short-term stays, a valid passport is required for entry into the country. Traveling in late April and early May was perfect for avoiding the crowds, but be aware that many restaurants are closed on Mondays during the off season.
ARTICLE CATEGORIES