Passion and Pearls Come Together
By Jordan Staggs |
Photography by Dawn Chapman Whitty
"Once upon a time, there was a young girl with a very special gift. She could see life's pulsing heartbeat—the very current that connects us all …"
Thus begins the story of artist and jewelry designer Wendy Mignot, as told through the Pearl Cinéma video series that she recently created with filmmaker Arix Zalace. The videoThe Mignot Tribe follows Wendy's life journey, explaining how she harnessed her passion and talent for making jewelry out of anything she could find. She discovered her love first for the sea and adventure, and then for a man named Jean-Noel, who shared her gift for seeing the energy of the universe and finding its power in pearls, beads, sea glass, coins, and any other interesting objects. Together, the artists strung together their findings with supple leather, weaving stories for other people to wear so they too could feel life's energy.
Today, the Mignot tribe has grown by two. Wendy, Jean-Noel, and their children, Violeta and Zachary, live in Seaside, Florida, where they create exquisite pearl and fine leather jewelry and accessories for visitors to their store, La Vie Est Belle (Life Is Beautiful).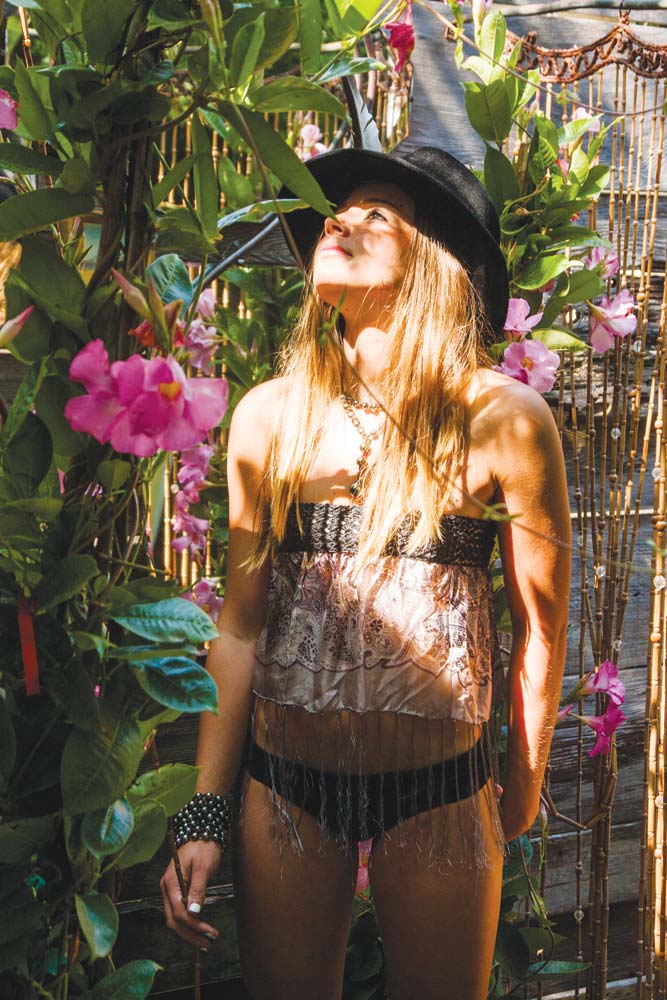 Over the years, many have been inspired by Wendy and have imitated her designs, but hers remain the original pearl-and-leather art. Each necklace, bracelet, ring, or other creation is handmade in her Seagrove Beach home workshop. She and her family still select each pearl, each stone, and each strand of leather meticulously, driven by passion for sharing their love of the life each component holds. "That's what makes us stand out," Wendy says. "We did create this style of jewelry, and it really does become a lifestyle. It's that whole idea of natural beauty and living with nature."
We did create this style of jewelry, and it really does become a lifestyle. It's that whole idea of natural beauty and living with nature.
From the Bella ring to the three-strand Trinity bracelet, Wendy finds inspiration for each piece in everything she sees. "It's about colors, shapes, and sizes for me," she says. "My designs keep evolving and staying ahead of the curve—or maybe on the curve—it's like the wave of life and I'm just riding it."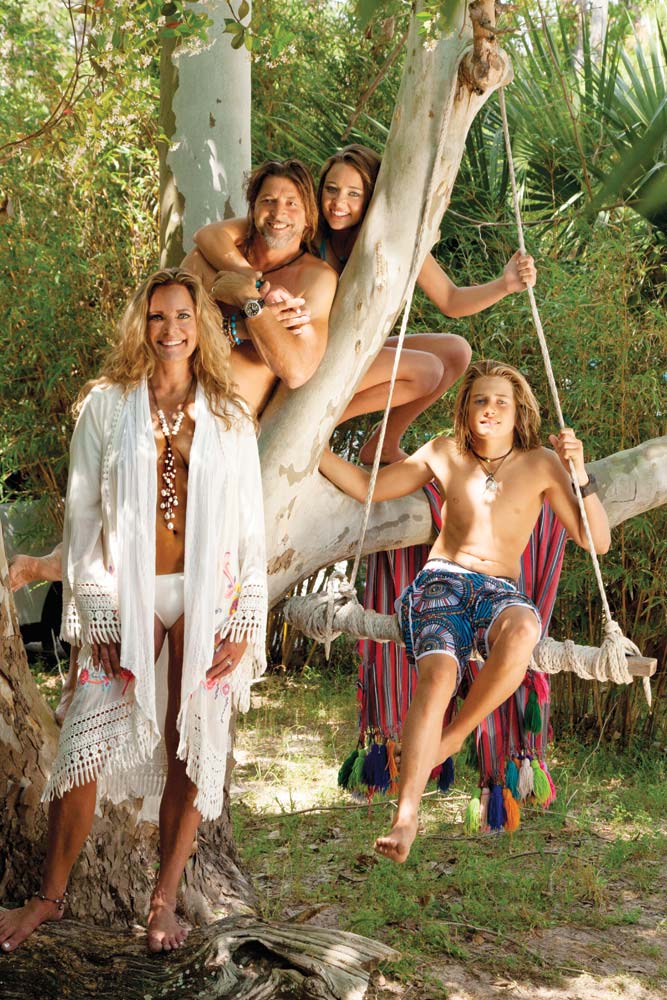 Her family and the team at La Vie Est Belle are right there on the wave with Wendy, helping not just with finding customers their perfect pearl bracelet or ring; Jean-Noel is still her partner in the workshop and Violeta and Zachary have grown up modeling their creations. "I love that my kids are the face of my brand," Wendy shares. The Mignot motto, "Live Your Love," could not be more apparent in their bright eyes and the way they embrace the earthbound spirit that their parents have passed on to them.
The Mignot family, along with about thirty other members of the community, exhibited just how versatile Wendy Mignot's pearl and leather designs can be in the artist's Live Your Love runway show at South Walton Fashion Week in 2014. Pieces from Wendy's signature Coastal Freshwater collection went down the catwalk, along with stunning creations including a black Tahitian pearl bikini, pearl-adorned cowboy boots, and a leather-and-pearl mini dress modeled by Violeta. Each model represented a different lifestyle, showing that Wendy Mignot designs can be worn by anyone "from one year to a hundred years old," Wendy says. "It really makes me happy that I'm able to have this art that everyone can enjoy—I feel truly blessed."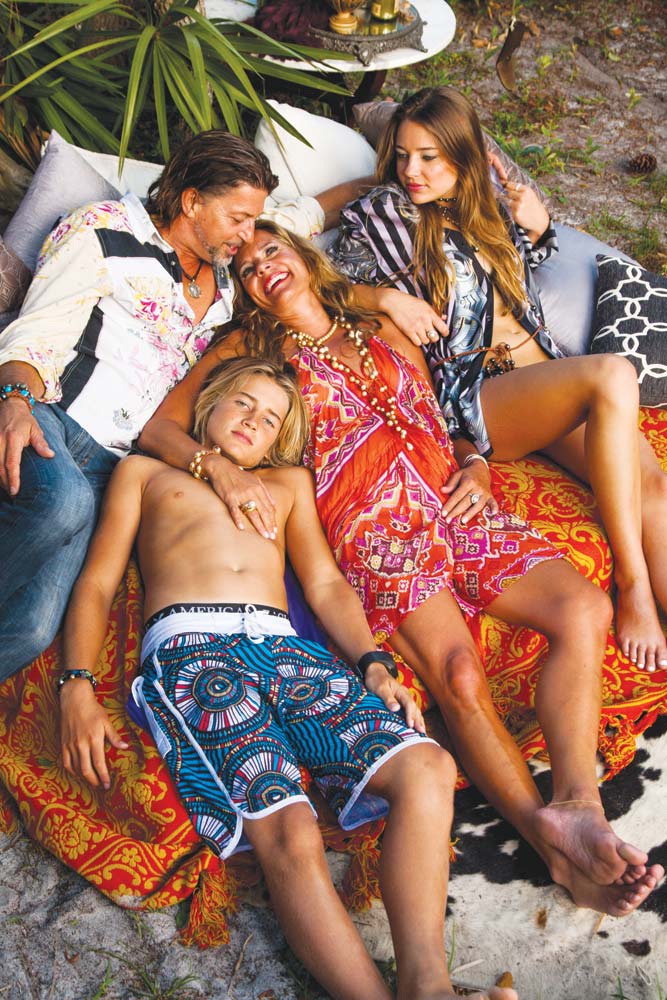 "The theme of 'Live Your Love' is so genuine to Wendy's brand and to her life," adds Claire Moss, who came on board at Wendy Mignot in 2014. "The depth and meaning is far greater than the sheer beauty of Tahitian, South Sea, or freshwater pearls. Her artistic inspiration and creativity come from the real lives of the people who wear her jewelry."
Many of Wendy's custom one-of-a-kind creations include personal mementos or charms—such as coins, stones, or shells—brought to her by the client, who can share his or her connection to the token and talk with her about how to incorporate it into a piece of jewelry. One recent project involved a new mother who was diagnosed with leukemia. The woman, Ellen, is a huge fan of Wendy's jewelry. Her husband wrote to Wendy: "There is no other jewelry in existence that she wears with more pride and confidence than yours. This situation has put a huge strain on our young family, but I'm trying to find any way to keep my beautiful wife's spirits high and positive so that she can win this battle and move on with her life. If you could do anything to make her smile, I would be forever grateful." Moved by the letter, Wendy selected a very special pearl necklace with healing and uplifting energy just for Ellen.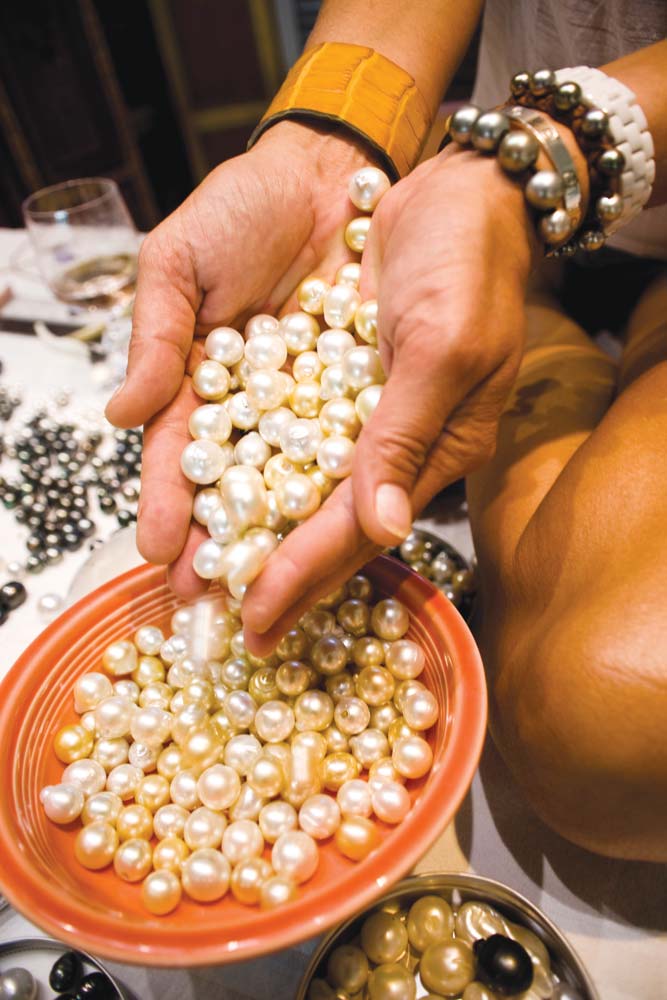 Always riding the wave of life and finding inspiration wherever she goes, Wendy says creating jewelry feels like putting a puzzle together. The perfect pieces seem to fall into place as her hands make magic, and she often stays up to work into the early hours of the morning. "When the moon, the stars, and the planets are all lined up, that's when great things happen in my studio," she says. From pearl bikinis to pearl skirts and anything else she might dream up, Wendy claims that each and every piece she creates is her favorite. "That's what makes it so fun," she laughs. "What's next? I don't know, but I'll think of something."
Until then, visitors can live their love and shop Wendy Mignot collections at La Vie Est Belle or online, and learn more about Wendy, her family, and her art from the Pearl Cinéma video series.
— V —
---
Visit wendymignot.com for videos, shopping, and more. La Vie Est Belle is open daily at 25 Central Square in Seaside, Florida.
ARTICLE CATEGORIES