Timeless Design Comes from Within
By Sallie W. Boyles | Photography courtesy of Lisa Gilmore Design
It's your favorite color, but everyone knows that shade is out. You'd love to display your china plates, but everyone thinks they're old-fashioned.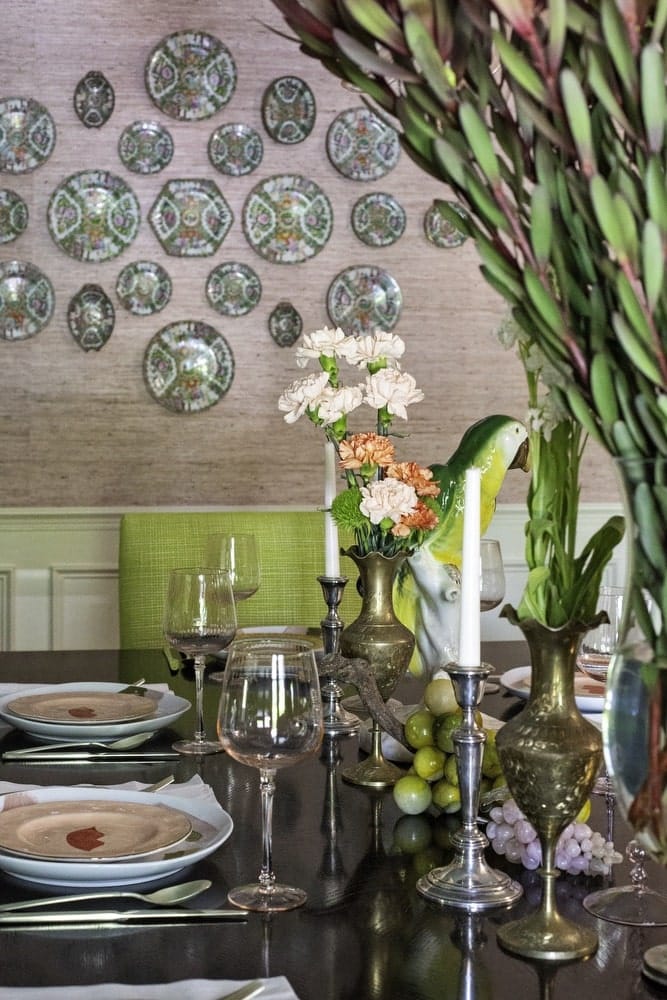 Not everyone. Distinguished among the most gifted interior designers in the Southeast, Lisa Gilmore, who serves clients throughout the US and beyond, thrives on creating original looks that reflect what they love.
"Timelessness comes from within," says Gilmore. "Design should be guided by what attracts you and brings you joy, whether you find a side chair while shopping in Paris or at a garage sale in your mom's neighborhood. As long as you put things in your home that speak to you and with you, that's a timeless approach."
On some days, Gilmore's personal style entails pairing her Doc Martens combat boots with a pencil skirt. Vibrant and expressive, she shares, "People will say, 'This feels like a Lisa Gilmore room.' But, at the same time, I don't have a particular stamp, per se; we just have this energy of color and mixing."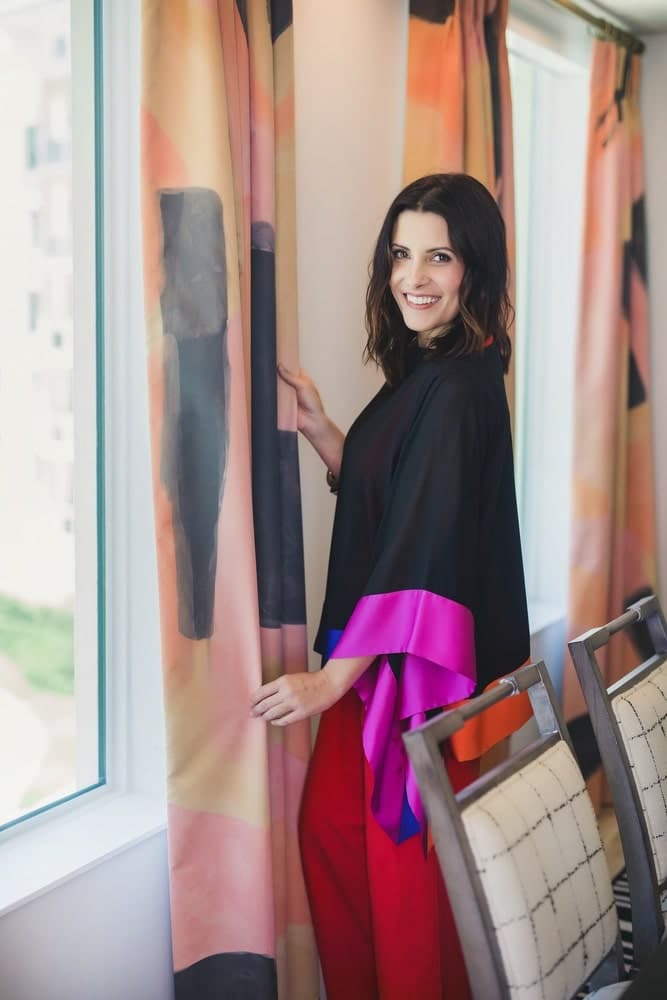 Like the artist who doesn't have a favorite painting, Gilmore can't point to a design she loves more than the others. Nevertheless, she states, "When people ask about the one room in your career you'll never forget, I say it's the bright pink, raspberry room. It changed my business and brand. It represents the first time a client trusted me and allowed me to go full force with so much color and energy. When people come in for new business or inquiries, 90 percent mention that room. Even if it's not their style, they appreciate the design that went into it."
Clients also relate to the Lisa Gilmore brand promise: livable glamour. The concept is not about "crystals and velvet," as Gilmore puts it, but rather what individuals perceive. "Their ideas might be different from mine," she says. "Whatever glamour is to them, we can make it livable.
I want their personality to shine through, not just have their place filled with furniture."
Her clients should desire that, too. "I want to work with people who are inspired by the arts and artful living," Gilmore says. She and her team have a meticulous onboarding process to ensure their prospects are a good fit. "All of our clients are so different from one another." This variety, she explains, grants her and her team "so many exciting things on our design table. There's always something new. I love each project for itself."
Taking exclusivity to another level, Gilmore adheres to a strict, one-time use rule when it comes to furnishings. "With the exception of things like subway tiles, countertops, and go-to, heavy-duty leathers for banquet seating, we don't use anything twice," she explains. After installing a particular wallpaper, fabric, rug, lamp, or other items, she and her team archive it. Gilmore admits, "There are times when my senior designer, Nicole Maldonado, will say, 'I love this!' and I'll say, 'Do you remember so and so in 2013? Sorry, we can't use this.'"
Clients must sign on for such special treatment—and why wouldn't they? No copycat rooms!
If her team can't locate what's needed, Gilmore says, "We have been able to build a phenomenal network of resources to dream up and create anything." She commissioned a local metalworker and electrician, for instance, to fashion an oversize brass banana-leaf light fixture that perfectly fulfilled her vision above a client's dining table.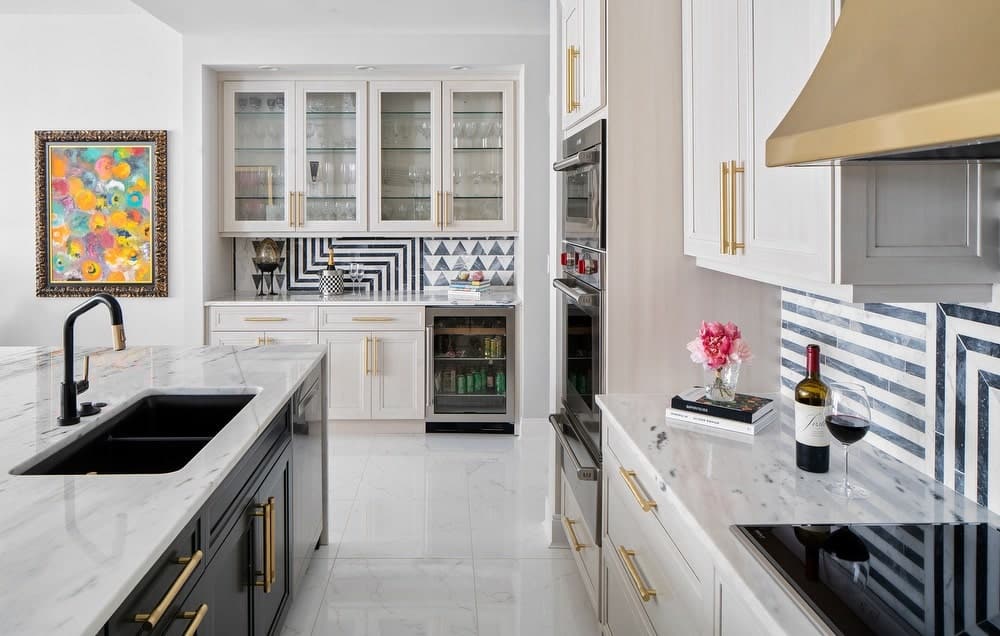 Gilmore also has a knack for curating unique objects and storing them until the right room comes along. While in Paris, she bought a 1960s chandelier—a mod style with green banana leaves—knowing it would be ideal for a client's vacation home someday. Pondering whether she will ever part with it (the odds of ever finding another are slim, and if a replacement showed up, she couldn't use it), Gilmore teases, "In the back of my mind, it's for my fictitious/future baby's room!"
She makes no excuses for accumulating treasures and disagrees with the minimalist philosophy of tossing whatever you've not worn, displayed, or used after some number of seasons. "I just think it's crazy," she states.
"Look at my parakeet heels. I couldn't wear them all the time; they wouldn't be cool. I wear them once a year.
I'm not going to get rid of them because I haven't worn them in six months." Hoping to empower fellow "maximalists," she affirms, "It's okay to have that collection of plates on the wall."
Artistic and spirited, Gilmore comes from a creative family. Her grandmother, an art teacher, taught her to paint when she was five. She remembers her mother always making Halloween costumes and sponge painting a rainbow heart border in her bedroom. Gilmore was a member of the Girl Scouts and a lover of arts and crafts. She credits the organization for helping to develop her leadership skills and influencing her choice to be an entrepreneur.
HGTV opened her eyes to an interior design career. "I was in high school when I used to watch Candice Olson's Divine Design," she says. Observing how Olson would begin with a room sketch, Gilmore recalls drawing floor plans of her bedroom during recess at school and then rearranging its contents over the weekend. Her love of interior design and aptitude for visualizing spaces in 3D prompted Gilmore to enroll in design school after high school.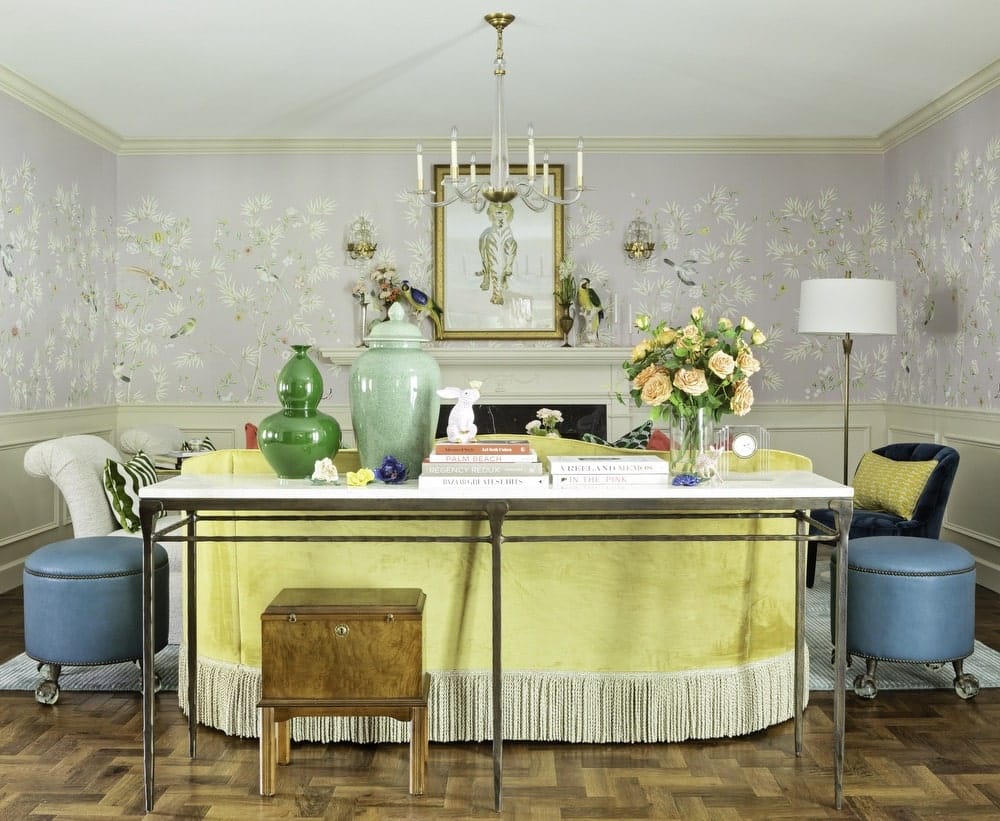 "My first design job was with a small design shop in Lakeland, Florida," Gilmore says. Bored with seaside decor, she found solace in Kelly Wearstler's first book, Modern Glamour: The Art of Unexpected Style. "I was mesmerized by the fact that someone could have a thriving design career using all of these beautifully creative and bespoke elements," Gilmore recalls. When she met the acclaimed designer at a book signing a few years later, Gilmore, who now owns all of Wearstler's titles, says, "I had tears in my eyes!"
Feeling empowered, Gilmore remembers, "I thought that I would be more creative, as I had dreamed in my head." She moved to Chicago and joined the team at a boutique design shop to explore and learn. In 2011, she returned to the Tampa Bay area. "It was an interesting time," she says. "Instagram was just taking off. Blogging was big, and people were becoming more open and being inspired by interior design." Still, she says, the coastal style remained "very gray, white, and blue. I was twenty-five, fighting against my age and confidence, trying to get this idea across of implementing colors and patterns."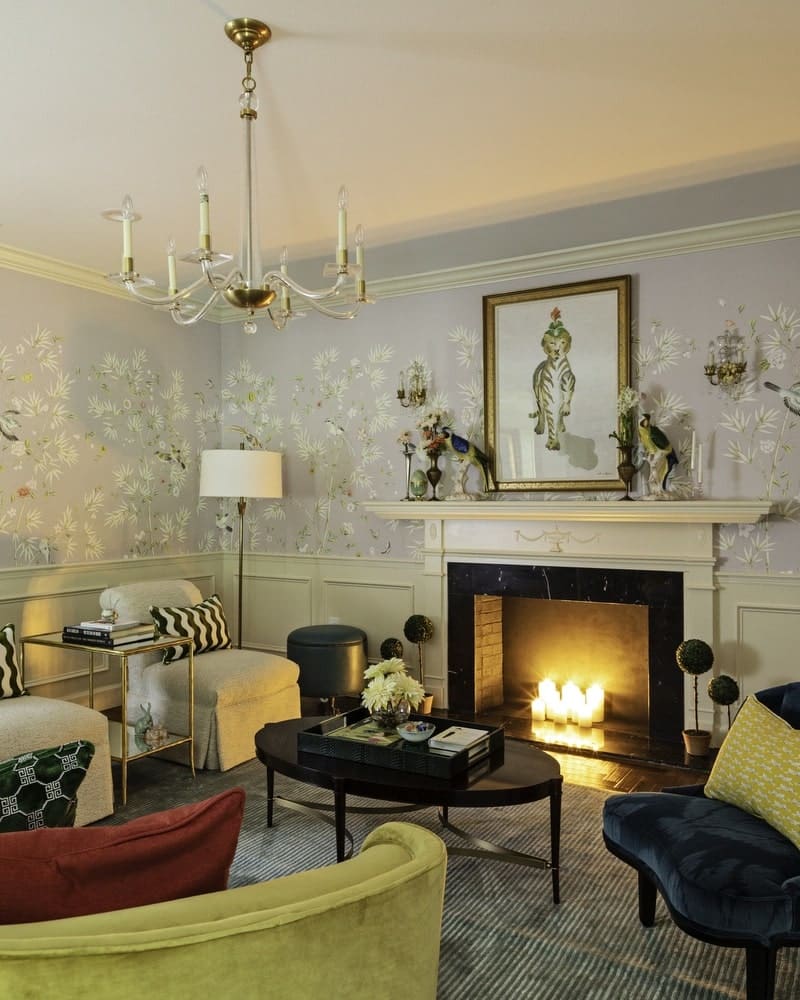 In 2013, when she established her firm in St. Petersburg, she saw the region becoming more of a "thriving and young community. People were hungry for change, and I was hungry enough to get my name out."
Early in 2019, "The lightbulb went on," Gilmore says. Clients were showing up for her distinctive creations. "I didn't have to explain what I was doing anymore." Her most liberating project was a downtown condo in one of the newer high-rises. "I just knew it was going to have a high-fashion feeling without being stuffy, and it was going to be a big deal."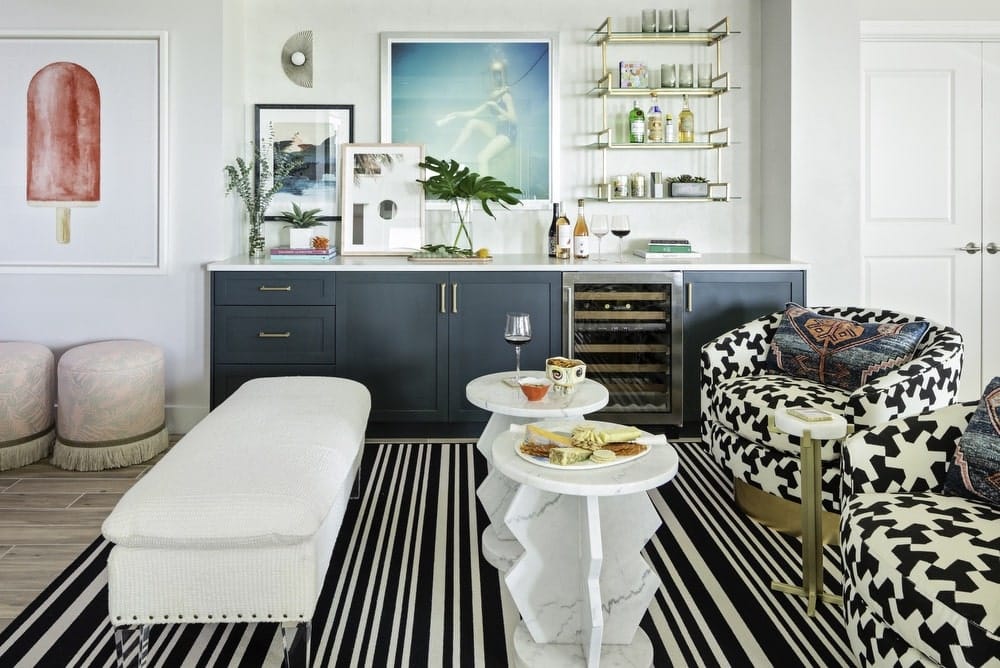 With a long and promising career ahead, Gilmore is now brainstorming ideas for a product line to include wallpaper and rugs. She is also reserving time to mentor others. Reminded by a piece of art on her desk to "leave the ladder down," she says, "I have been doing a lot of speaking on podcasts for female entrepreneurs about finding your voice and paying attention to your finances on the business side, trying to pay it forward."
— V —
---
To view more of Gilmore's portfolio or contact the studio, readers should visit LisaGilmoreDesign.com or call (727) 201-8902. The Lisa Gilmore Design studio at 669 First Avenue North in St. Petersburg, Florida, is open by appointment only.
Sallie W. Boyles works as a freelance journalist, ghostwriter, copywriter, and editor through Write Lady Inc., her Atlanta-based company. With an MBA in marketing, she marvels at the power of words, particularly in business and politics, but loves nothing more than relaying extraordinary personal stories that are believable only because they are true.
ARTICLE CATEGORIES