Seek & You Shall Find
In mid-2007, my branding and marketing firm, The Idea Boutique (TheIdeaBoutique.com), was enjoying its fourteenth year of business. But the business outlook was quickly changing—my husband's architecture work was all but dried up, and marketing accounts were far from plentiful with less on the horizon. I had a staff of ten that was counting on me, and I was losing large, longstanding accounts at the end of the year as they, too, were dealing with their layoffs. With an expansion that began earlier in the year, my office became a bona fide construction site. Despite waning work prospects and less-than-ideal working conditions, I continued to forge ahead as if nothing was wrong. I conducted business meetings amid dust barriers, welding, sheetrock, and a pile of bricks waiting to be installed. Somewhere in there, I miraculously secured two large accounts that would help, but the company would need more than that to sustain. By November, things were looking pretty bleak.
It was during a trip back to my childhood home that Thanksgiving, and after many sleepless nights of running every scenario of how to survive what was ahead, I imagined starting a luxury magazine. It came to me in a dream that I believe was God-inspired. We had great designers, writers, and marketers on staff, so I suggested the idea to my partner and husband. He asked, "What do you know about publishing a magazine?" and I confidently said, "How hard can it be?" Sometimes, a little hubris is a good thing. Only some of the time. That's when my husband and I decided to venture into publishing and launched our flagship magazine, VIE.
Big corporations were bandying that there was no longer any need for print since that was the narrative when everyone was getting into the digital stratosphere. Magazine and newspaper closures were becoming commonplace. Back then, the constant whispers and snickers from almost everybody around me seemed to morph into a dull roar. "Don't you know that print is dead?" people would say with utter condescension and then follow it with an eye roll. A problem solver at heart, I knew this new challenge would be my biggest one to date and felt as if we were either on the precipice of something great or that we would fail big. It was one of the worst and most unlikely times to run a newly launched magazine in less than a year, but that is where we were.
Then, almost a year later, the sky fell—well, almost. The financial crisis that culminated in the market crash of October 2008 sent a wave of fear and uncertainty around the world with such breadth and force that appropriately earned it the moniker "The Great Recession." Labeling an event of such gravitas with such a Great Gatsby-like name was possibly an attempt to romanticize the ordeal's enormity and reduce it to a more human level. At least it wasn't as bad as The Great Depression, but it was a bleak time for many, and the fallout left many thousands with almost nothing, especially those heavily leveraged in real estate.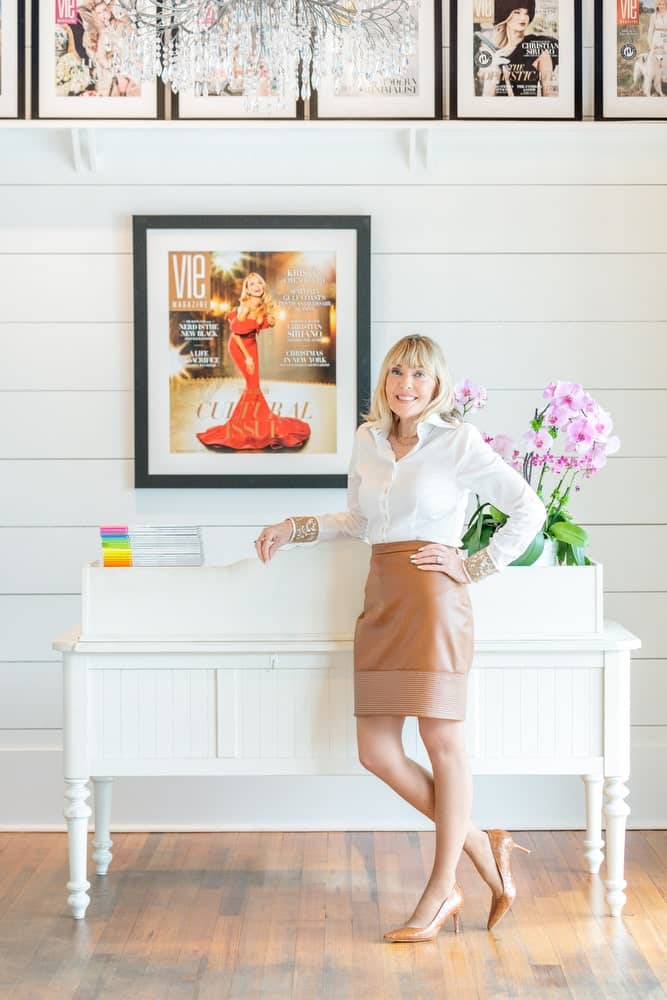 And so, in 2010, after the dust finally settled, our company emerged not as a victim but as a victor. Through His grace, we had been sustained. The rebuilding could begin. A c'est la vie approach to life, a gift of imagination, a tenacious spirit, and courage have been my constant guides, with my faith backing me every step. Along with a brick-by-brick mentality, testing, refining, and digging a deep foundation were all part of a journey not for the faint of heart. I was forging and cutting my path, which has been an uphill battle of determination, and at times, when faced with adversity, my only strategy was not to give up. Dreams are hard to achieve if you don't count the costs, which sometimes means you need to sacrifice more than you ever thought.
I've said for many years that failure was not an option, and when needed, I fought through challenges that came in a myriad of ways. At times, the costs took everything we had. I wanted to succeed with the endeavor set before me. In recent years, however, I had an epiphany that changed my thought process on the definition of failure. When failures come, it doesn't mean the endeavor wasn't meant to be. What we have created these past fifteen years and 120 issues later has touched people's lives and sometimes given them hope, love, and inspiration. To quote Winston Churchill: "Success is not final; failure is not fatal: it is the courage to continue that counts."
I've learned along the journey that we need to be inspired to create and begin to inspire others so that they have a blueprint to follow. What we make might not always be for ourselves as it might be for others. It's humbling and good for me to think this way, as it takes so much ego out of the equation. The world needs so much more, which we must create to manifest. That is the job of a creator.
Thank you to everyone who has supported us along the way. And to my team of collaborators here at VIE, thank you for your talent and spirit of excellence.
To a creative life!

—Lisa Marie
— V —
ARTICLE CATEGORIES