A Treasure on the Gulf Coast
By Jordan Staggs | 
Photography courtesy of Linda Miller Real Estate
A slice of Moroccan paradise isn't something you would expect to find in the American South, and yet here lies Il Paradiso, an immaculately designed residence majestically overlooking the Gulf of Mexico in Northwest Florida.
Homeowner Nossi Taheri, a petrochemical engineer who loves architecture, envisioned the design with the help of his architect. Nossi's wife, Hope Vaziri, had a hand in many of the custom elements as well. The six-bedroom property is perched in the exclusive Paradise by the Sea neighborhood, strategically located adjacent to Alys Beach and within walking distance of Rosemary Beach Town Center via Scenic Highway 30-A or the white-sand beach. From the moment you enter the custom gates, it is clear this place is one of a kind. Il Paradiso was inspired by world travel; its simple but thoughtful lines were first drawn by Nossi on an InterContinental Bangkok notepad at thirty-three thousand feet in the air. The aerial layout, depicted in a painting by talented local artist Allison Wickey, now hangs just inside the front door.
Thanks to its curves and many custom elements, building the residence was no easy feat and took over three years—from 2012 to 2015—to complete. Nossi and Hope worked with builders at Arkon Group of Seacrest, Florida, to achieve their vision. "We had interviewed several builders previously and didn't find anyone who had the ability for this complicated design until Arkon Group—we needed someone with a background in that type of concrete building," Nossi recalls. Throughout the build, the owners came down from their home in Atlanta every couple of weeks to make sure things were on track, and they even rented a condo in nearby Inlet Beach to use as a meeting place for contractors and other partners. Although it was a process they were used to after building their home in Atlanta and renovating a high-rise condo there, they admit it was a laborious (yet pleasurable) experience. In the end, it paid off in spades.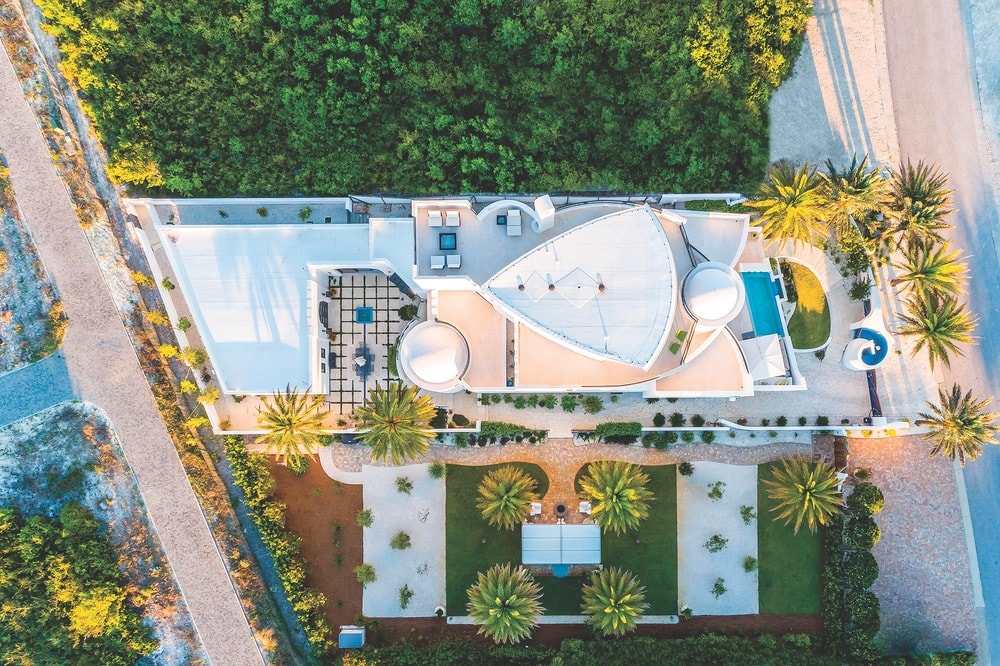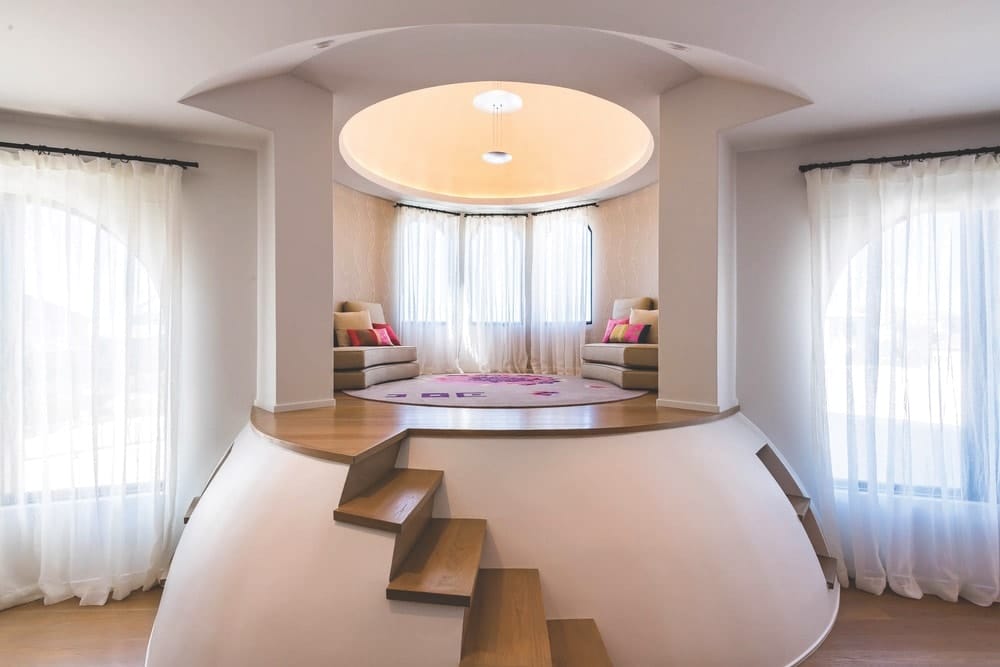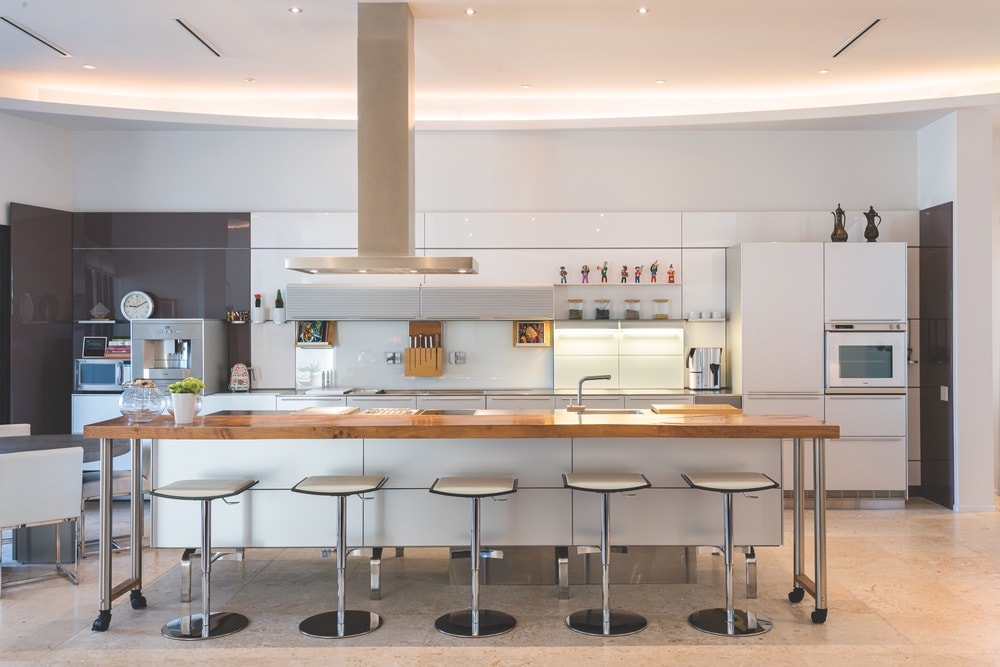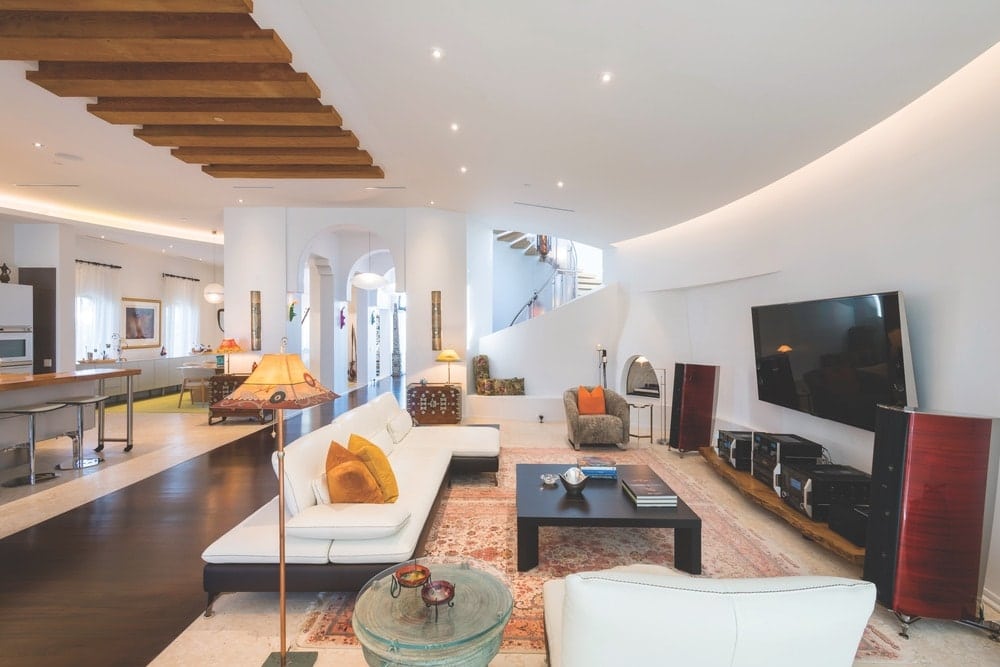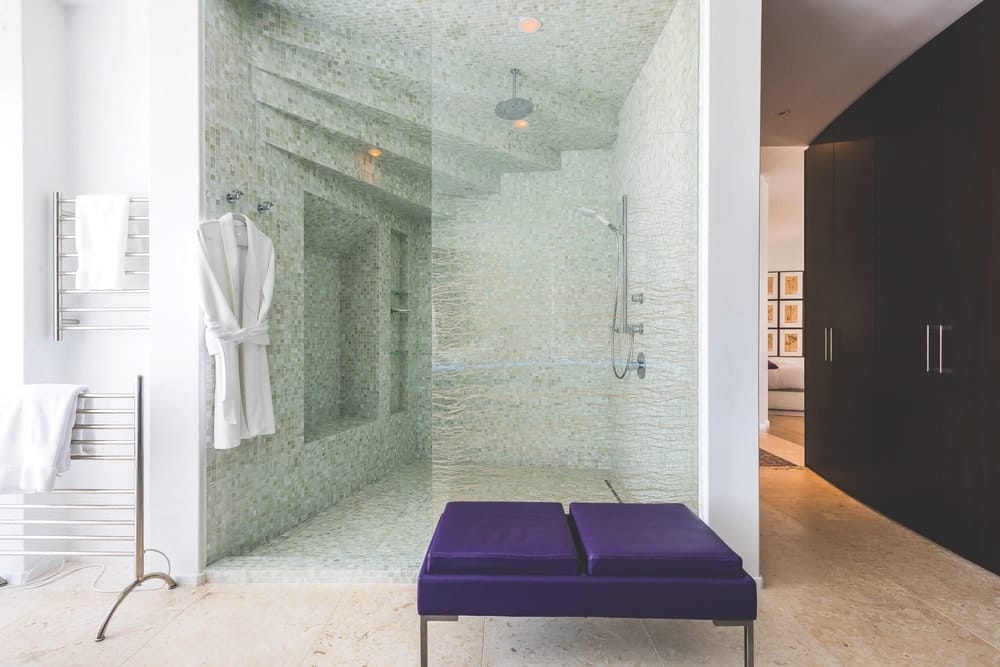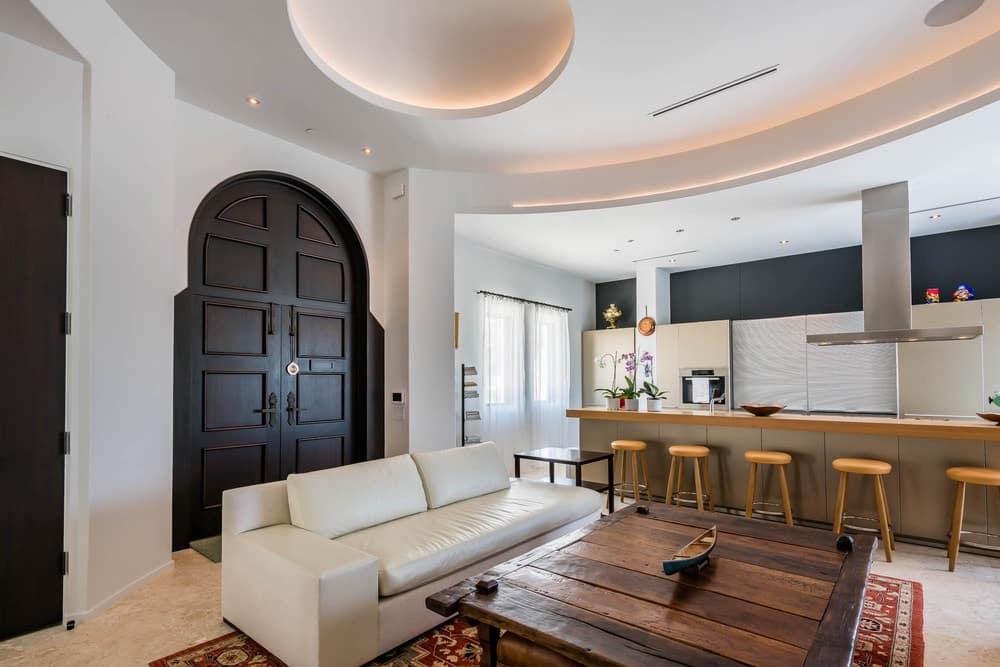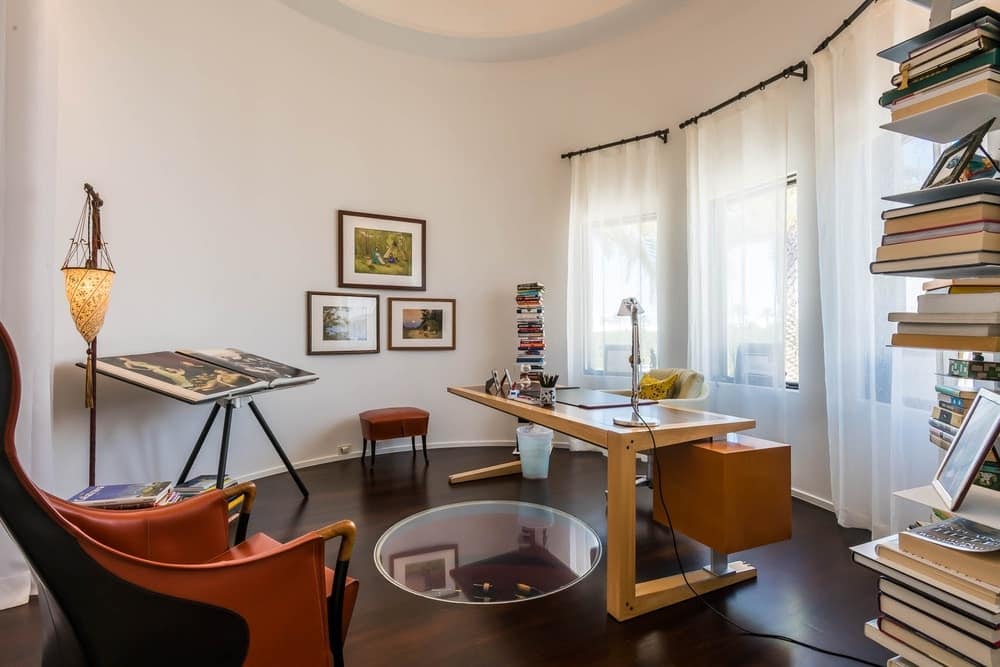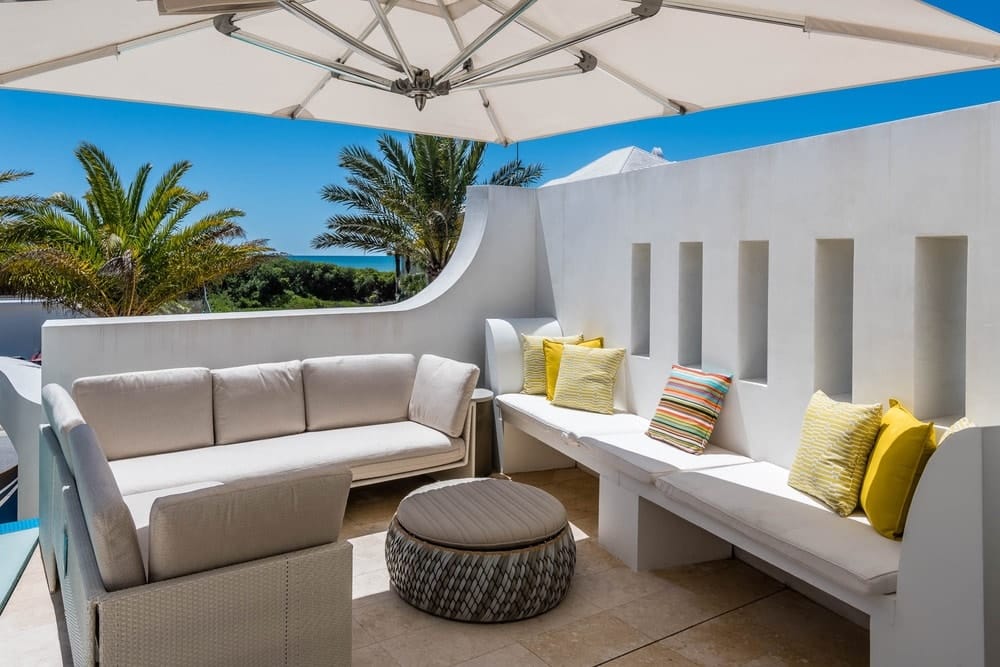 "We put a lot of energy into this place," Nossi says, touting that the location was the first thing that drew them to Paradise by the Sea. "Every day, we look out the windows at the scenery—we always wanted to be near the water but not right on it, because we also wanted to see Alys Beach at night, which was otherwise not possible. Here, we have a view of the Gulf in the daytime, but at night, we can go up to the terrace and see beautiful Alys Beach, the lights, the environment. We are in touch with the world."
Custom-made gates adorn the entry and the garden, whose old-world wooden doors were drafted by Nossi and crafted locally by E. F. San Juan, Inc. The front door is crafted from rare central African wenge wood and adorned with Soss hinges and custom cylindrical tube windows that give the feeling of portholes looking onto the pool deck and beach.
At 6,900 square feet, Il Paradiso was designed for entertaining. The open gourmet kitchen design is by Bulthaup, a leading kitchen manufacturer in Germany.
At 6,900 square feet, Il Paradiso was designed for entertaining. The open gourmet kitchen design is by Bulthaup, a leading kitchen manufacturer in Germany. The couple loved it so much in the showroom, they bought it before the home was completed and kept it in storage until time for installation. The kitchen also features a custom rolling bar made from antique wood—a design created by Hope. The bar is lined with seating and made to pull away from the kitchen island to create a stand-alone table. "I always wanted a long, narrow table," Hope says. An outdoor grilling area is adjacent to the private pool, and the attached two-bedroom guesthouse is equipped with a full kitchen (also by Bulthaup), so visitors will never go hungry!
The remaining antique wood from the bar was used as a media table in the living room, which also has expansive seating with adjustable custom furniture by Roche Bobois.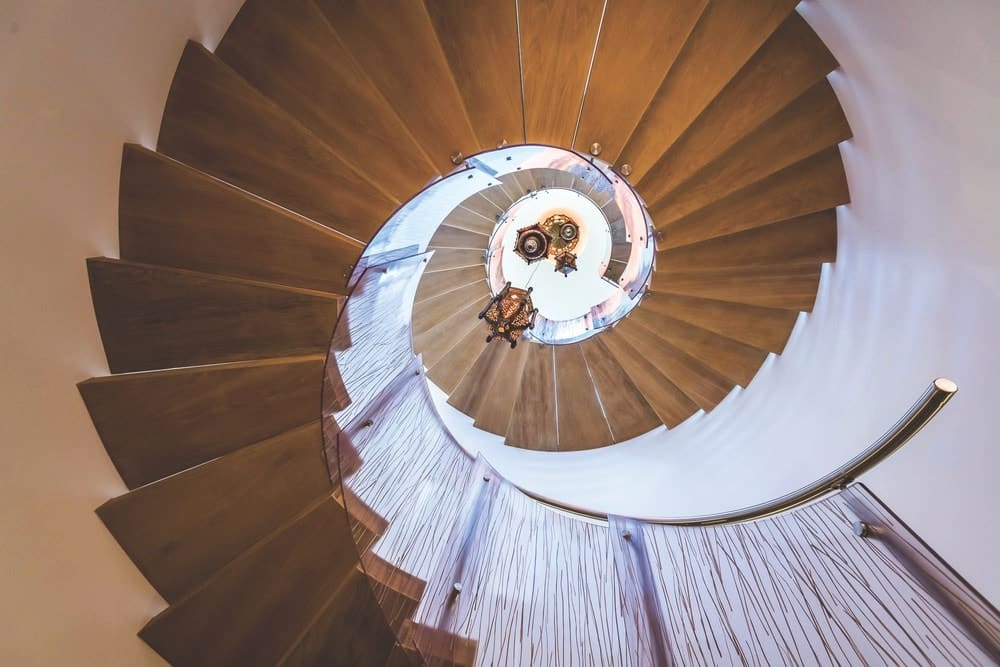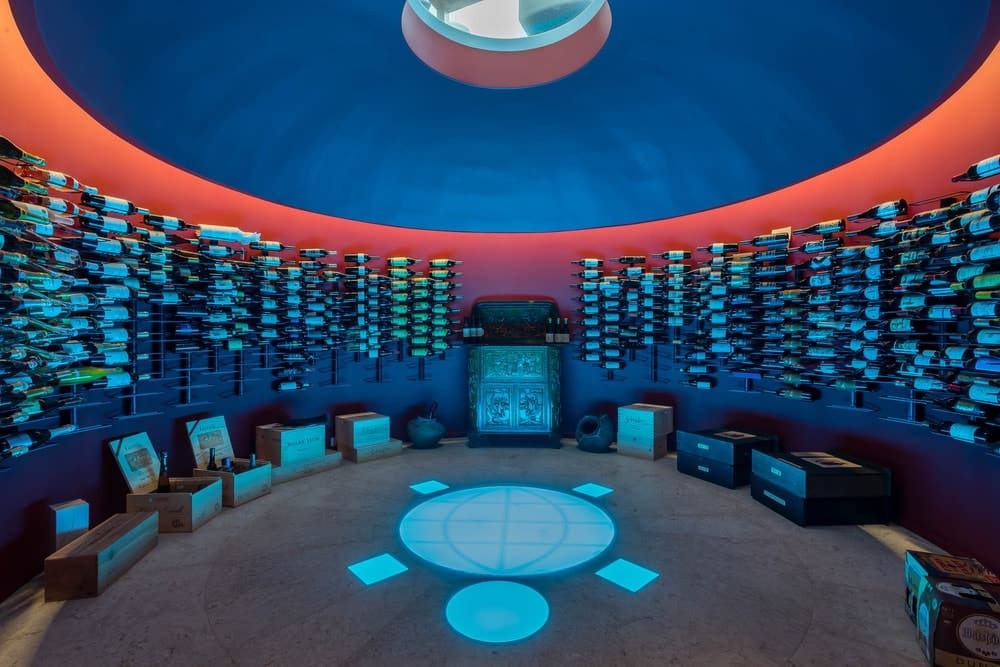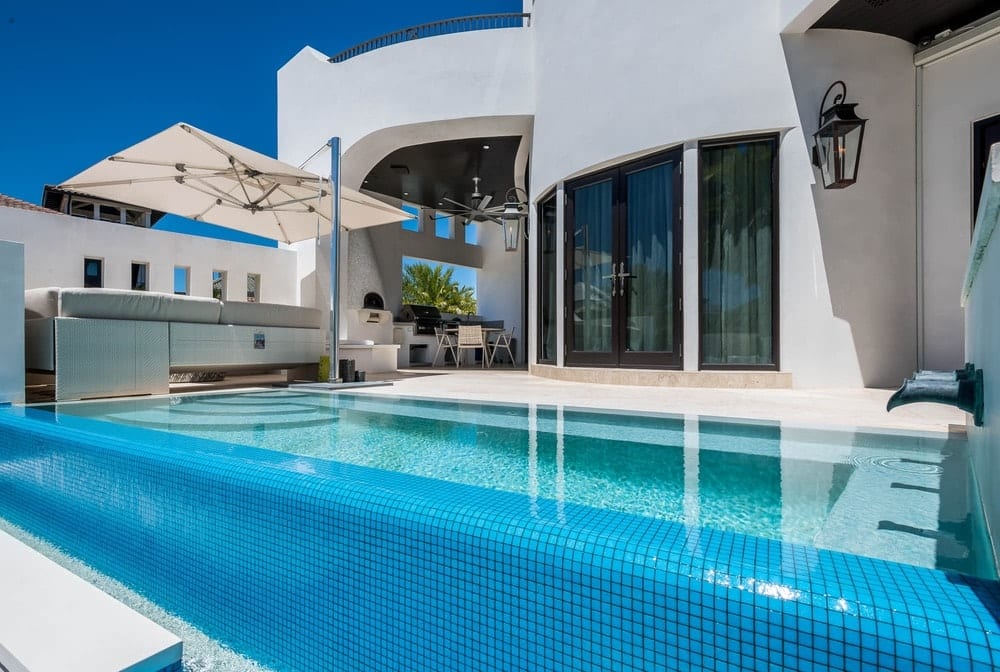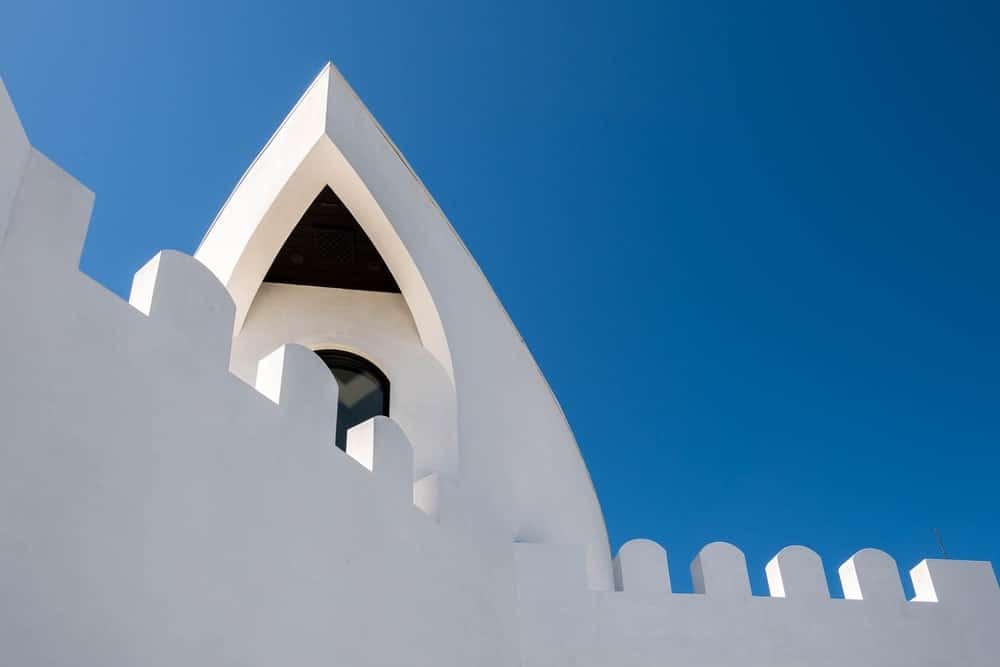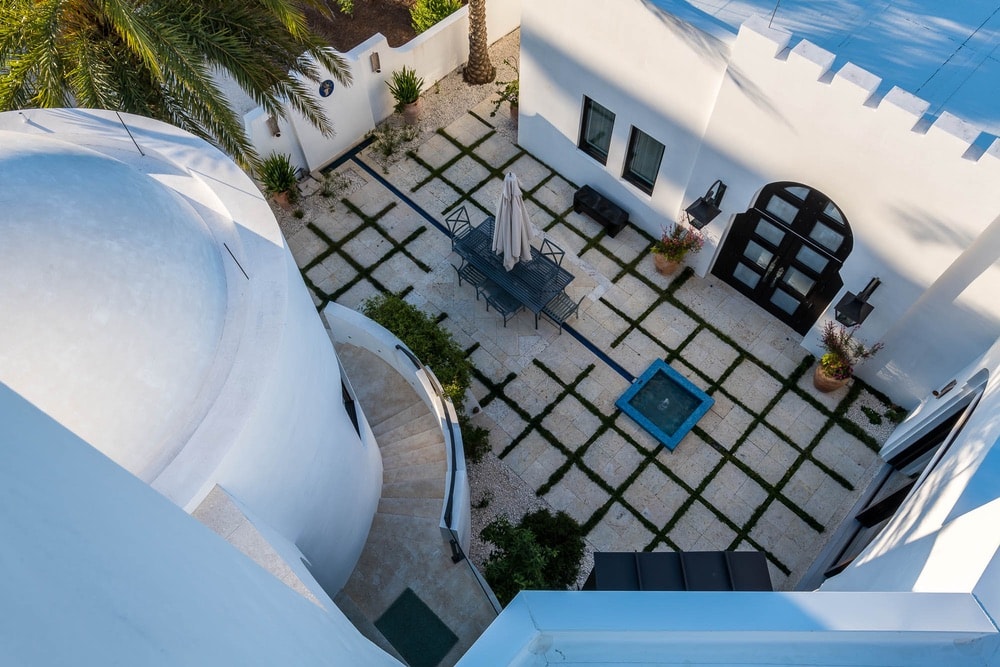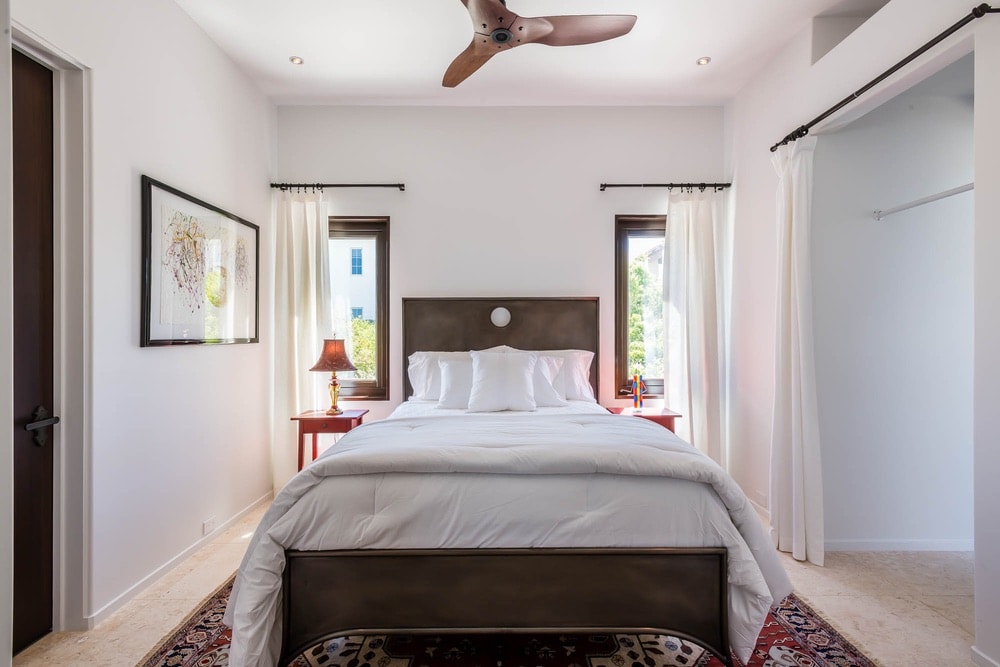 More good news for guests: the home's large, circular wine cellar is always stocked. (Just peek through the porthole window in the floor of Nossi's office and see for yourself.) An antique bar is proudly displayed in the cellar; the beautiful piece was inherited from Nossi's father, a former Iranian representative ambassador to the United Nations in Switzerland.
The home's elegant white walls and custom lighting throughout accentuate the owners' collection of art and artifacts from around the world. A gallery hallway on the main level is set apart by sapele wood flooring and illuminated by custom elliptical fiberglass lighting from Italy. Upstairs, Nossi likes to relax in the cool third-floor theater room: "When I want to listen to louder music and not bother Hope, I come up here," he says with a grin. Other custom features throughout the house include a colorful recycled glass countertop in the master bath, designed by Hope and made in Toronto; curved panels on the spiral staircase that are infused with sea glass; and a screen-printed sliding door to a guest bedroom that was made to look like an antique door Nossi found on his travels and which is now on display in the home's lower level.
The home's elegant white walls and custom lighting throughout accentuate the owners' collection of art and artifacts from around the world.
Just off the basement level is Nossi's favorite spot—a roomy garage that features a black-and-white checkerboard wall, a door that bears a stylized yet unmistakable silhouette of his prized Porsche 911, and even a built-in car wash, which helps relieve his four-wheeled babies of the salt and sand from the coastal environment.
Perhaps one of the home's most unique elements is just off the entry: an elevated, Moroccan-inspired conversation pit that looks out over the pool and features curved banquettes and a custom chandelier similar to one at Richard Branson's Kasbah Tamadot resort in the Atlas Mountains. Nossi recalls a visit to the resort with Hope and how he became so enamored with the chandelier in the lobby that he was too distracted to check in with the front desk. Although the resort staff were tight-lipped about the design because they didn't want it to be replicated, Nossi was persistent. He tipped a local to tell him who the designer was, and the next thing they knew, Nossi and Hope were bumping through the desert in a pickup truck on their way to visit the artist in a nearby village. After much ado, tea, and polite chitchat, the artist agreed to create a similar chandelier for the home, with Nossi changing some design elements to make it different from the one owned by Branson. It took a year to complete, and although some friends insisted that Nossi had been a fool to pay half the cost up front, the artist came through and sent the finished product in pieces to be assembled at the home. The dome ceiling in the front of the house was designed specifically to fit the chandelier.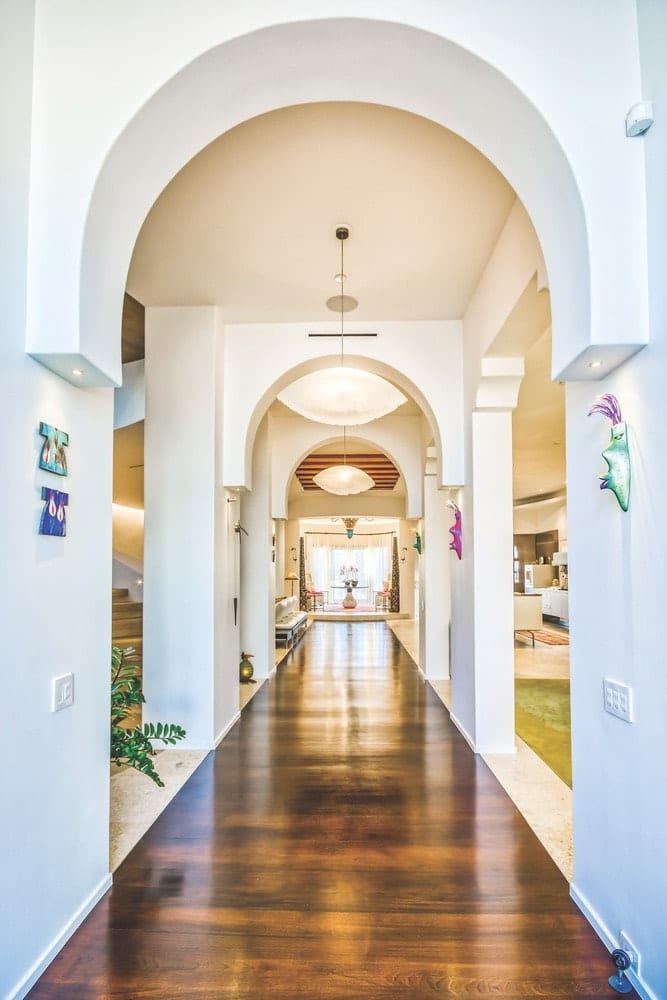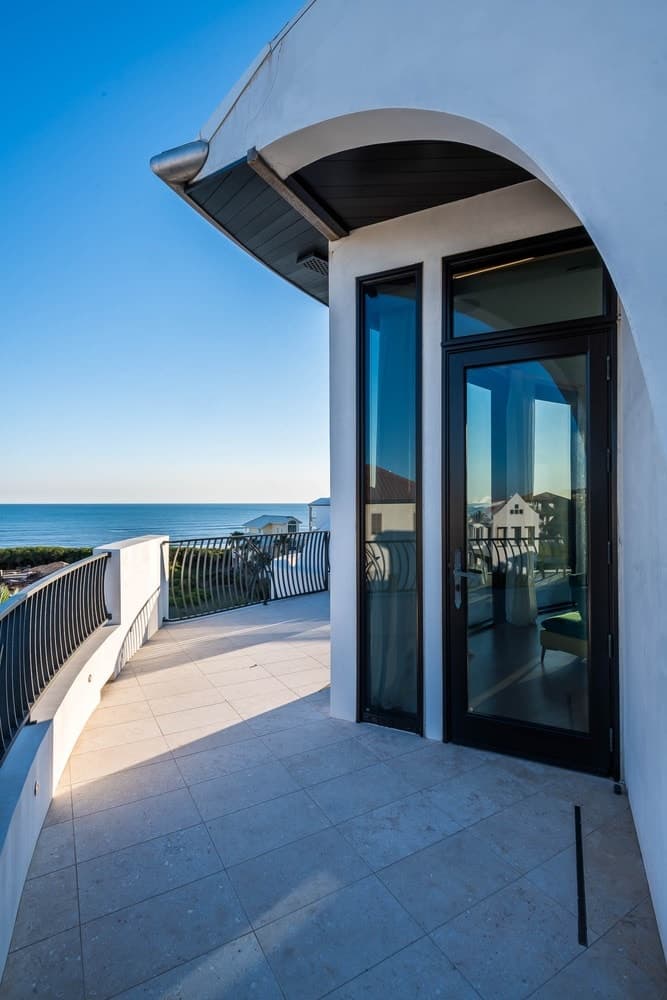 Nossi and Hope admit that although they have considered selling the home, they are reminded at every turn that its highly customized features were created by them, for their unique lifestyle. No other place will ever be the same. "This home was built for living and loving," Nossi says. "I believe that some things are meant to be."
With an expansive garden yard on its west side and plans for a swimming pool in the works, Il Paradiso is nothing short of awe-inspiring—almost as breathtaking as its endless panoramic views.
— V —
---
Photography for this story was provided by Linda Miller Real Estate, a luxury real estate brokerage based on Scenic Highway 30-A in Northwest Florida. Linda Miller Real Estate is proud to have worked with homeowners Nossi and Hope on this project and to represent many out-of-this-world luxury residences in the area. Visit LindaMillerLuxury.com to learn more or see listings!
ARTICLE CATEGORIES