By Jordan Staggs |
Photography by Romona Robbins
Whether it's making a living or just making a life, fashion and style are part of the world.
VIEpublisher Lisa Burwell met stylist Amy Giles at a trunk show at Willow boutique in Rosemary Beach, Florida. After learning about her company, Wardrobe Made Simple, we were inspired to follow a day in the fashionable life: from the stylists of hair, makeup, and clothing to the clients for whom they create these looks.

Amy Giles
Although it seems that multitasking has become a way of life in today's society, sometimes you just don't have time to do it all. Enter the vivacious and stylish Amy Giles, an Alabama native who moved to the Northwest Florida coast with her husband, John, fifteen years ago. Amy is the owner and founder of Wardrobe Made Simple, a personal styling service that provides wardrobe evaluation and cleanout, personal shopping, and styling for clients who need a helping hand to "find their own chic," as Amy says.
"A lot of my clients want several different things," Amy explains. Often, she'll begin with a closet cleanout, helping clients go through the clothing and accessories they own and cleaning out things they no longer need or want, or repurposing things they may not have worn in a while. Then, Amy works with the client to build her (or his) new wardrobe with personal shopping services. "I can show clients how the new pieces will fit into their existing wardrobes."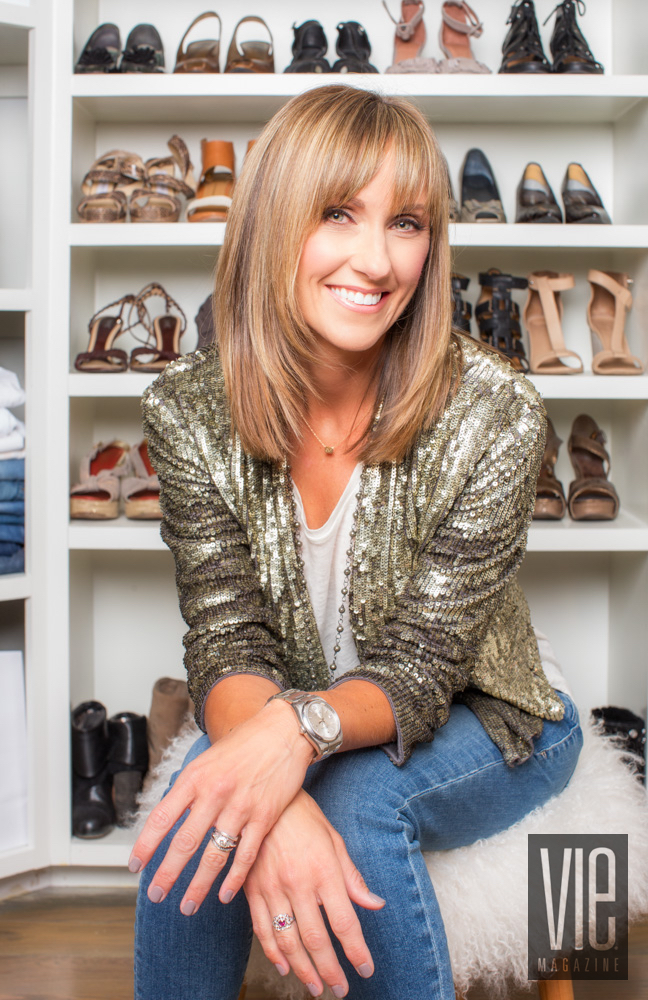 Amy works with local boutiques and other retailers, mostly in the Northwest Florida area, to find pieces that will fit her clients' wardrobes, personalities, and lifestyles. "It's rewarding because I feel that I can empower people and help them get dressed and feel confident every day," she says. "There are a lot of people who feel unsure when they walk out the door, and it's so rewarding to help my clients feel that they are putting their best self forward when they get dressed each day."
For this project, VIE recruited Amy to demonstrate her wardrobe consulting and styling expertise on four beautiful women: Ellen Wolter, a mother of three and coffee shop owner living in Durban, South Africa; Amanda Sause, a photographer and mother who was already a client of Wardrobe Made Simple; Beachy Beach Real Estate owner Hilary Farnum, who is also a previous client of Amy's; and VIE graphic designer Lucy Mashburn.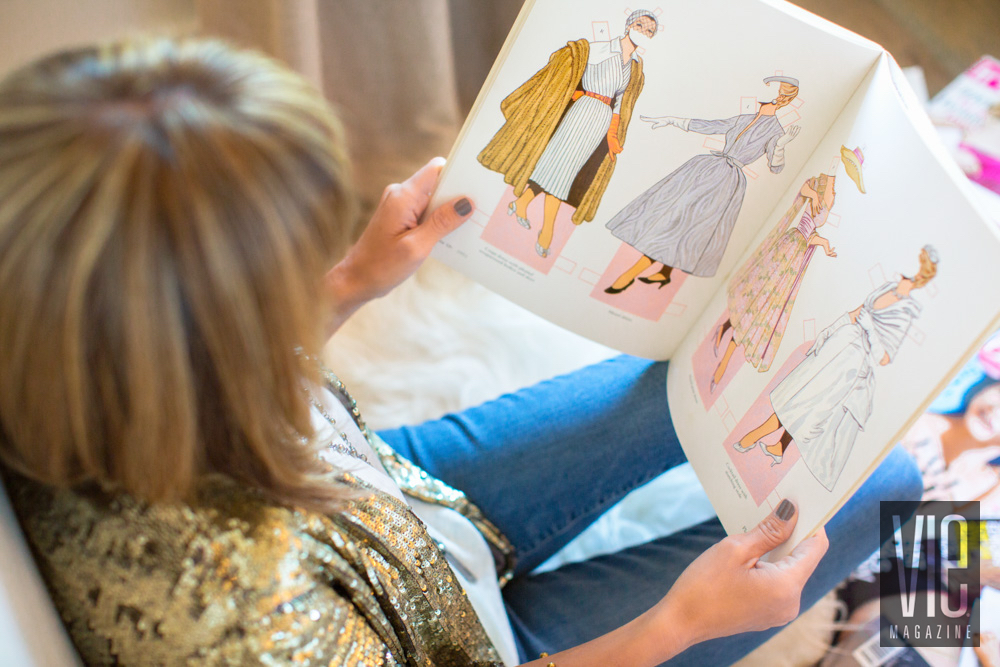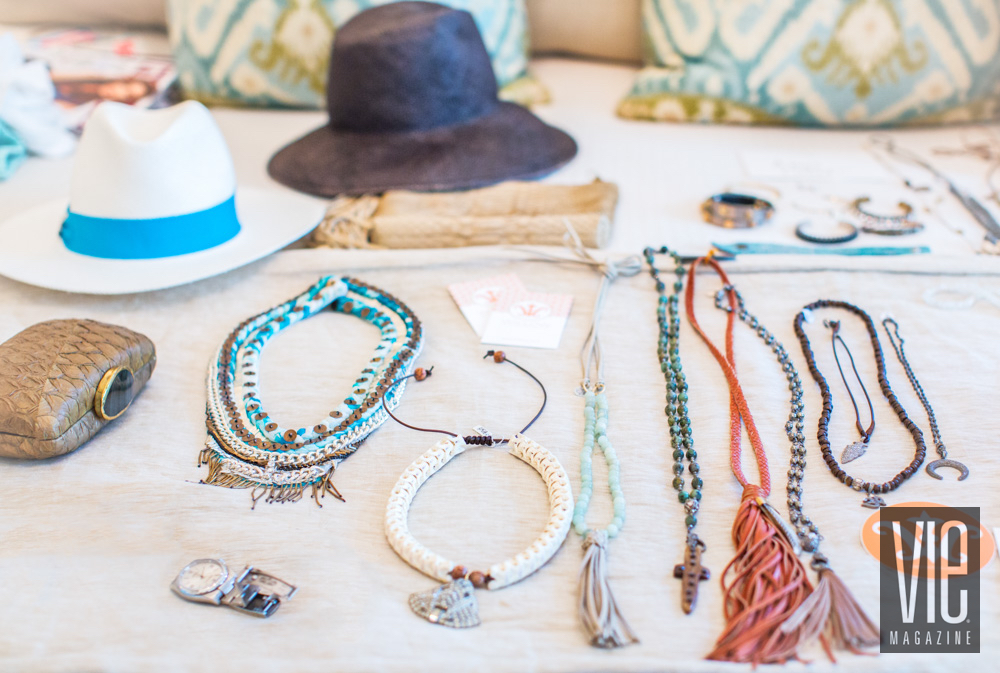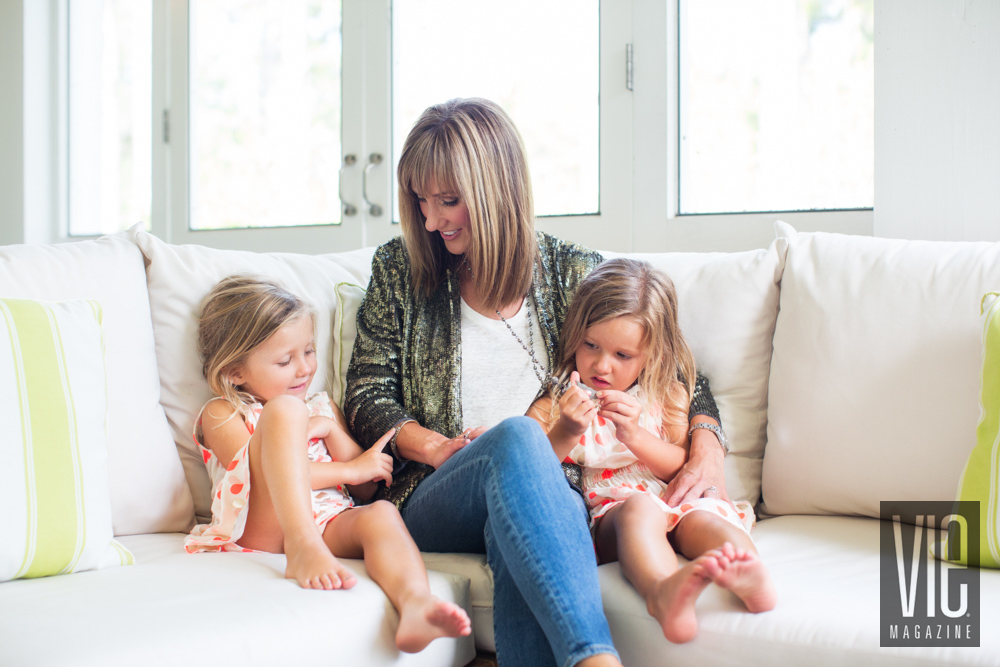 ---
Ellen
"I tried to give Ellen a little variety to take back to her South African lifestyle," Amy says. "She is the mother of three children and spends a lot of time with them, so she needs to be casual yet pulled together. She also wanted some looks to wear to an occasional party or a dinner out with her husband."
Ellen describes her everyday style as comfortable and functional, as she spends her mornings getting her three children ready for school in Durban, South Africa, and works on projects such as woodworking, sculpting, and more during her free time. "There's not a lot of glam," she admits, adding that she doesn't usually go for bright colors or anything that stands out too much. "I love blues and neutrals like gray, white, and denim. In Durban, everyday footwear is pretty much flip-flops and sandals. The style there is coastal and laid back, very similar to Northwest Florida."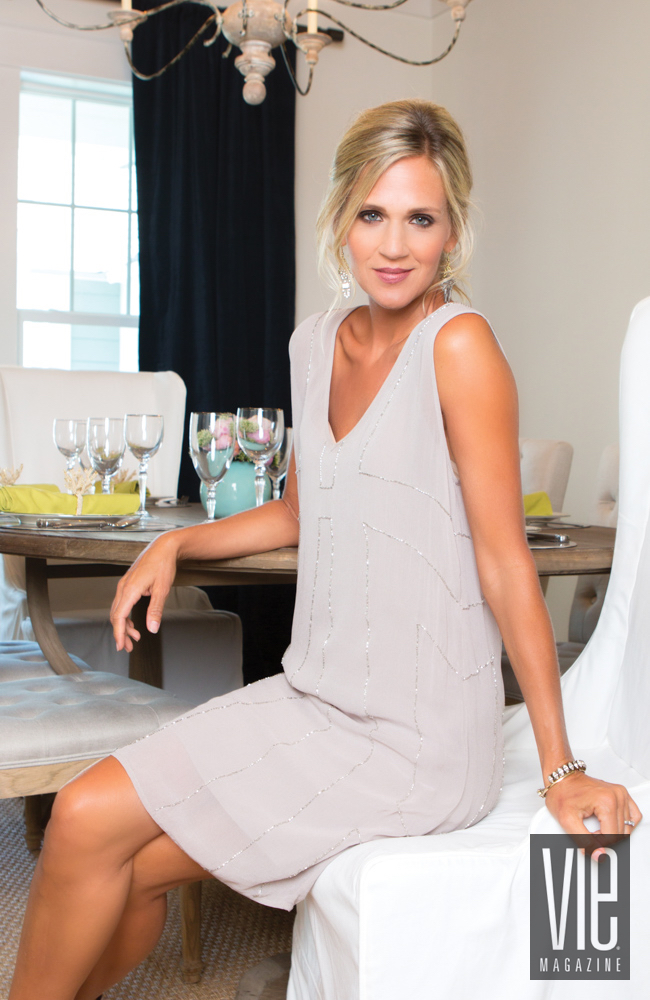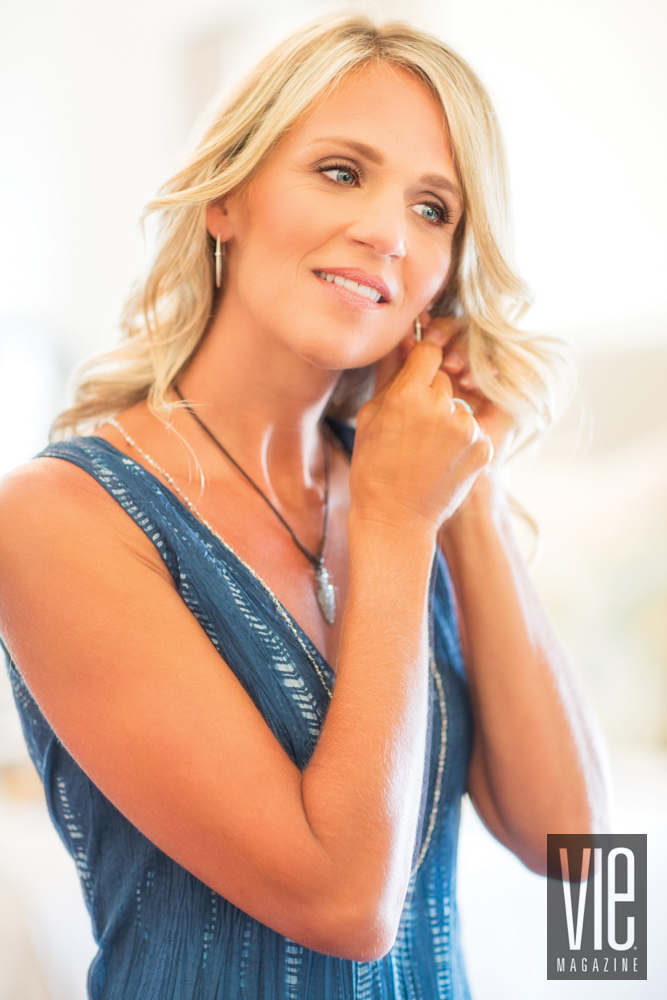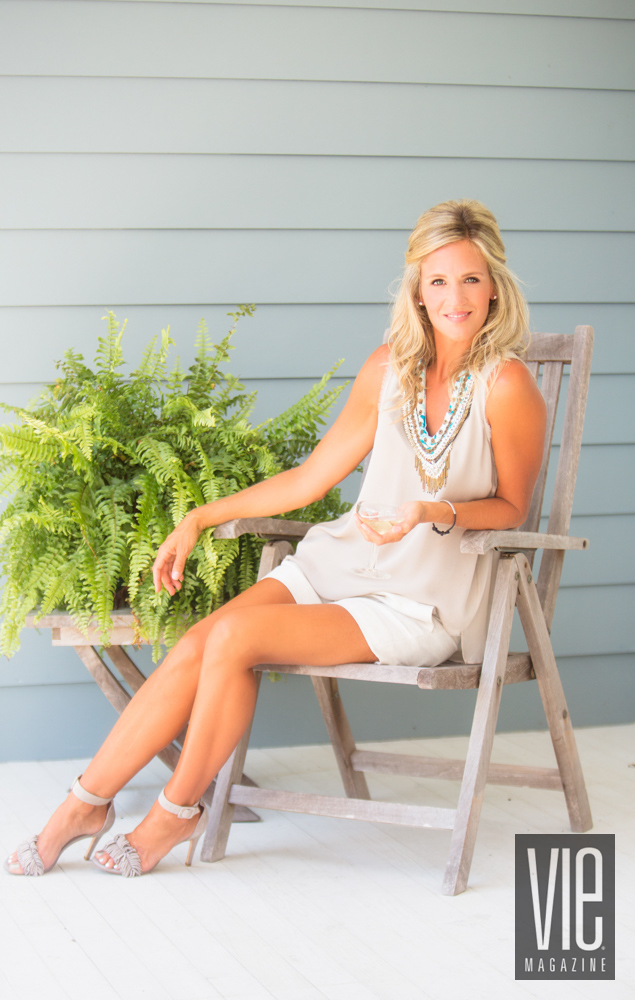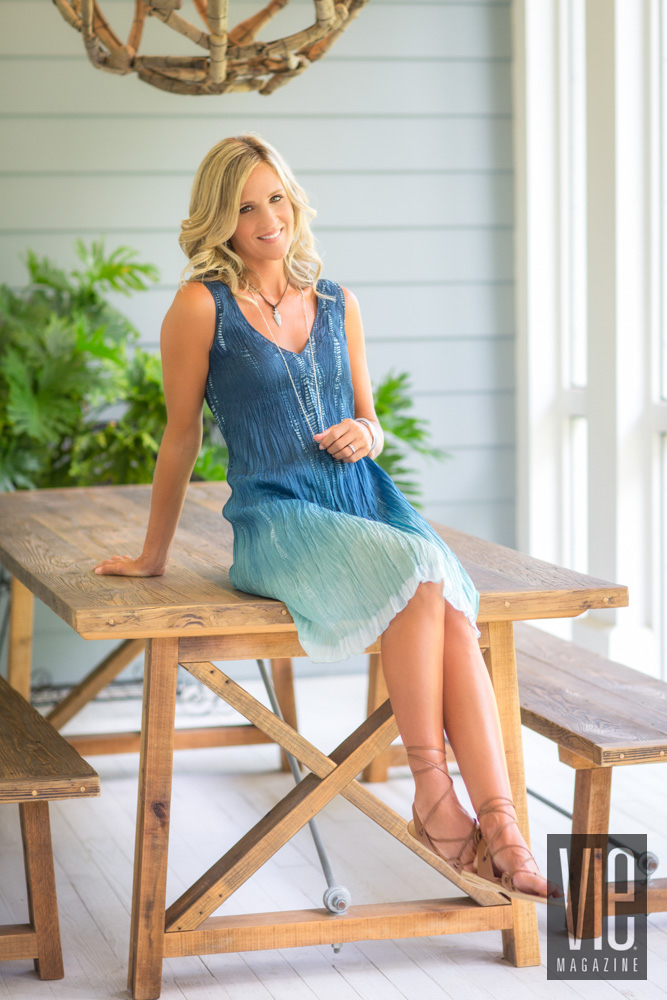 Before moving to Durban with her husband, Clint, Ellen lived and worked in Seaside, Florida, at Cornerstone Marketing & Advertising, Inc. – The Idea Boutique under owner Lisa Burwell, VIE's publisher. "It was a match made in heaven!" Ellen says about her former job. "I was able to learn so much from Lisa in a relaxed environment. We spent a lot of time going out to meet clients, going to events and dinners, and doing photo shoots." Now, in addition to raising Jackson, Eden, and Sienna, Ellen and Clint own Jacksonville Coffee, a coffee bar with two locations in Durban.
As for working with Amy, Ellen says she had fun while also finding ways to up the game on her personal style and feel more confident as a result.
"I wanted to add some flirty, chic, and feminine pieces without being too fussy," Amy says about choosing looks for Ellen during her shopping excursion and styling session. She chose three looks that complemented Ellen's lifestyle and personality while adding a little "wow" factor that was missing from her wardrobe before. "The floaty dress was perfect because she could easily throw it on with flat leather sandals and be ready for a meeting with a teacher or lunch with her friends." Amy continued the session with a day-to-night look. "The shorts and silk top with the beaded scarf necklace was breathtaking on Ellen. So simple, yet elegant and fun. It gives her an option other than a dress or white jeans. She could wear this look during the day with flats or throw on a pair of gray sassy heels and wear it to dinner!" For more formal occasions, Amy chose a dress that, although neutral, certainly wasn't lacking in punch. "That gray beaded dress was gorgeous on Ellen with her skin and eye color—the perfect choice for her to wear to a special event or nice evening out with her husband. Classic and simple, just like her."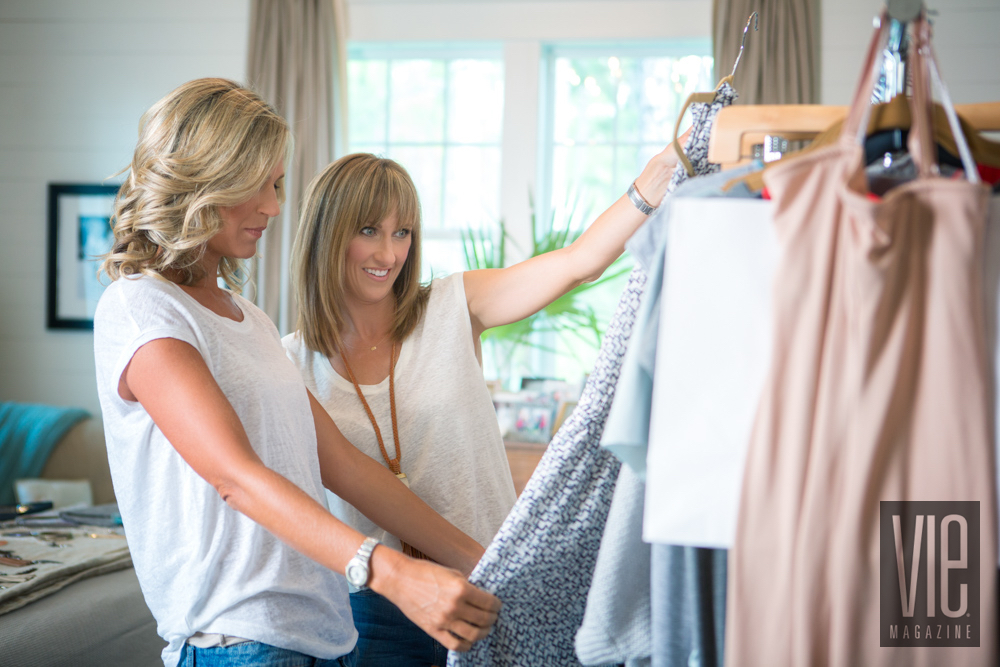 As for working with Amy, Ellen says she had fun while also finding ways to up the game on her personal style and feel more confident as a result. "It's incredible how Amy can pull things together that I would never actually choose for myself in the shops," Ellen says. "She puts it on you and you feel like a million bucks! You go from kind of dull and average to having a real "wow" factor. It's nice to have someone who can help you think outside of your own comfort zone and style. Any girl wants to be affirmed, and it's nice to have someone who will be honest and say if something isn't working. She's so easy to be around and not intimidating.
"I definitely think I spend most of my life feeling 'average'—and to have someone like Amy help make me feel more comfortable in things that might have made me feel more conspicuous before—like a red dress or a statement necklace—is great. Sometimes I feel I wouldn't be able to pull off some of the fashionable things or maybe I'll look like I'm trying to be something I'm not, but she can help you realize that you're not sticking out like a sore thumb. You're looking good and putting your best face forward."
---
Amanda
Family and children's photographer Amanda Sause met Amy at an event at the school their children attend and have been friends since then, but when Amanda was given Amy's wardrobe evaluation and styling services as a gift by her husband, she was a little nervous about it at first. "Your closet is such a personal space, and allowing someone to come into it is a big deal," Amanda admits. But her doubts quickly melted away as she worked with Wardrobe Made Simple. "Amy was so great and fun to work with and made me feel very comfortable. She helped me both with personal shopping and taking items I already had in my closet and then making them into a daytime look that can transition into night. It's great to have a look that can do double duty instead of thinking of it as only one or the other."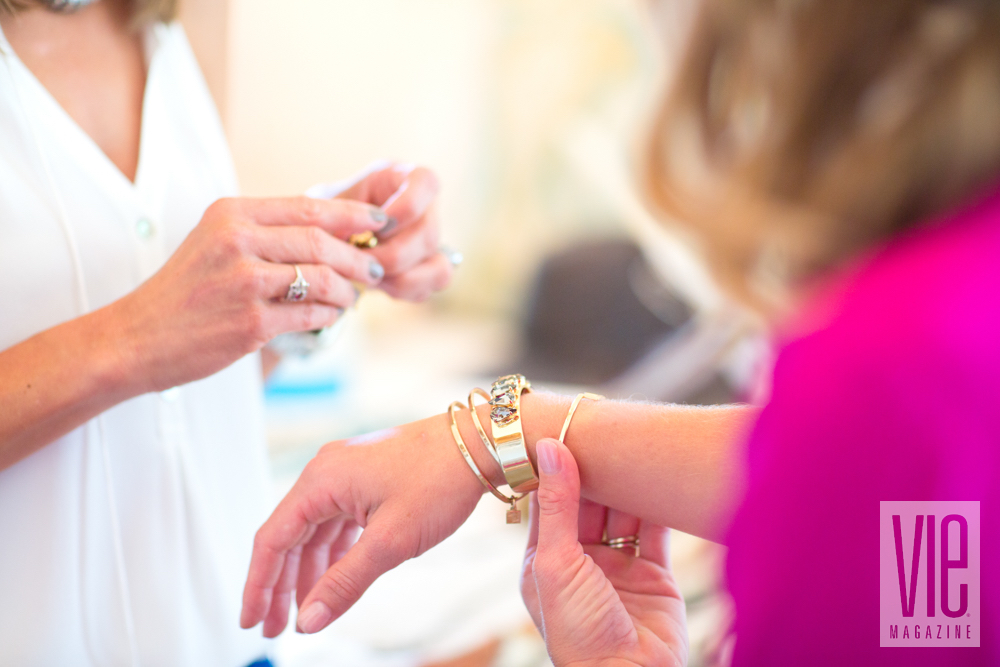 Amanda spends much of her time outside on the beach or in the park taking portraits of families and children, a passion that she followed after spending seven years as an elementary school teacher. Her wardrobe tends to work with her. Amanda says she typically chooses light fabrics, such as linen, for everyday wear and that "a good hat is a must!" She is also a mother to two young boys, Kelley and Karsten, and says Amy was a huge help in finding her personal style.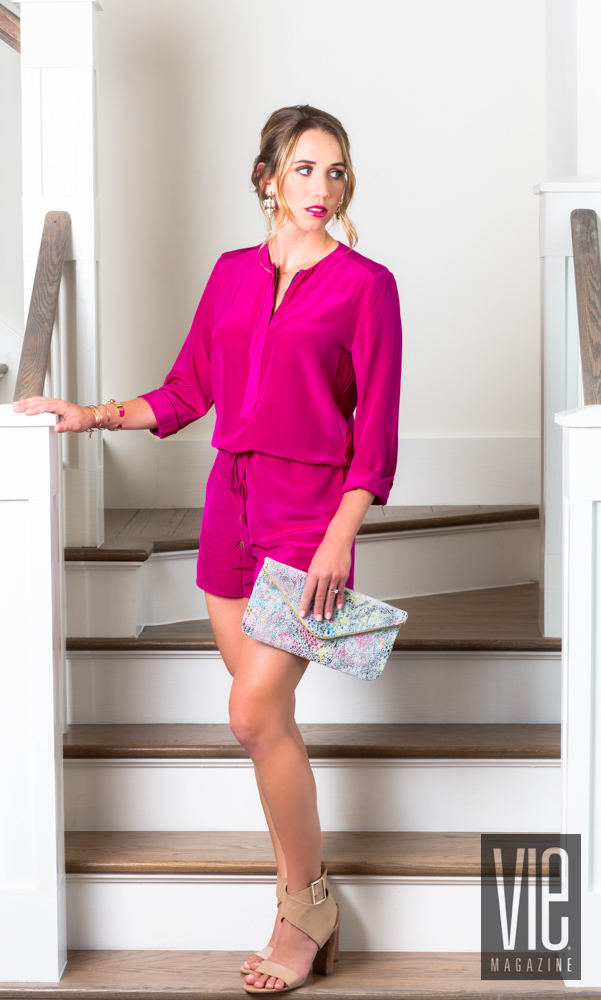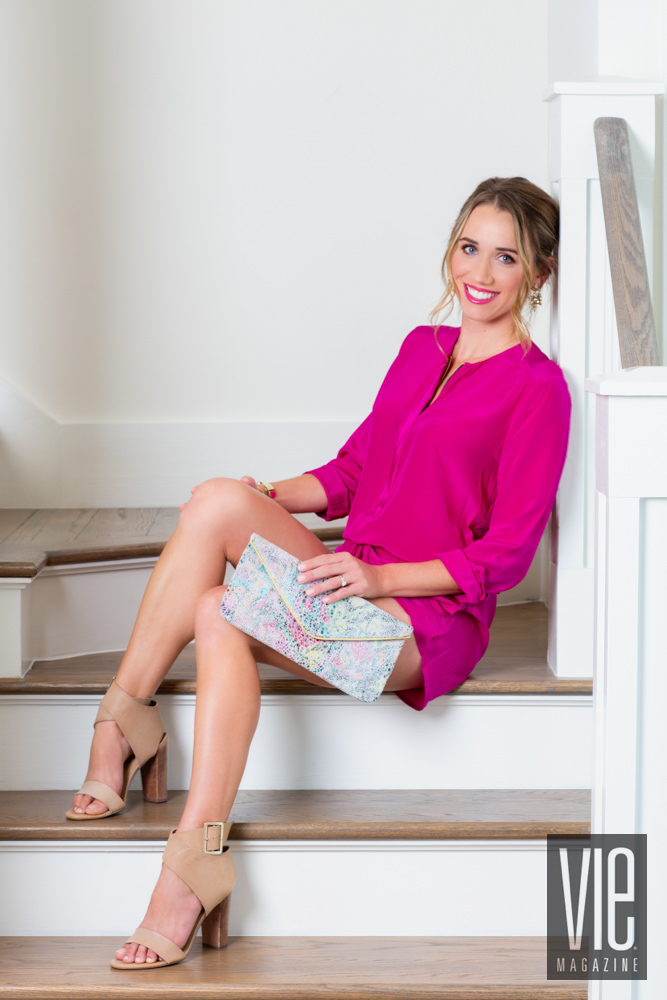 "My problem is when I go into stores, I tend to love everything," Amanda laughs. "Amy really helped me take the pieces I had and shop for things that would coordinate with them. She also helped me find new things to go with my changing body—after having two kids in the last four years—and my changing career. Even after the makeover is finished, it's great to be able to call Amy up and ask for advice. If I'm looking for a new fedora, I can call her and she'll tell me 'Oh, Mercer has great ones!' and that's such a help because I don't really have a lot of time to go out and look all over for one."
She helped me both with personal shopping and taking items I already had in my closet and then making them into a daytime look that can transition into night.
For Amanda's shoot, Amy chose a day-to-night look featuring a delicious berry-colored romper. "Her look fits her personality to a tee!" Amy says. "I chose the romper because of the color and the style. The raspberry color was amazing with Amanda's coloring and skin tone. It is also youthful and current without being too 'trendy.' I felt that she could easily dress it down with flat leather sandals and a hat for a photo shoot on the beach (but still look professional and pulled together) and then put on heels and add some flirty jewelry and be ready for a date with her husband. She is definitely a little hottie in that romper!"
---
Hilary
"I chose this look for Hilary because I felt it fit her personality so well," Amy says of the oh-so-chic jumpsuit she styled for Hilary Farnum, mother of two and owner of Beachy Beach Real Estate. "She always needs to look pulled together and professional without wearing a suit—after all, we are at the beach!"
Hilary first hired Amy to help her find pieces she could wear on special occasions. "I have to go to a lot of events and I often speak at them, and I can't wear the same thing all the time," she says. "Amy definitely brought colors and accessories into my look; I always went more with black, gray, and other neutral colors with minimal accessories, just to get out the door looking decent." With Amy's help, Hilary's wardrobe was taken to the next level. "She went through my closet, taking what I already had and creating new outfits that I never would have thought of—some from pieces that I was about to throw away!"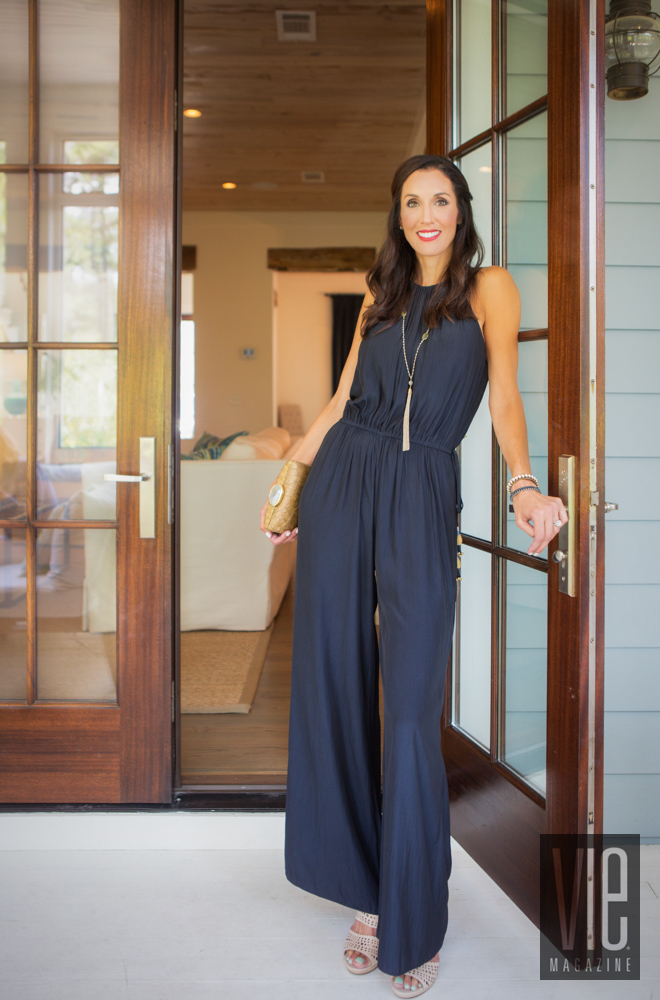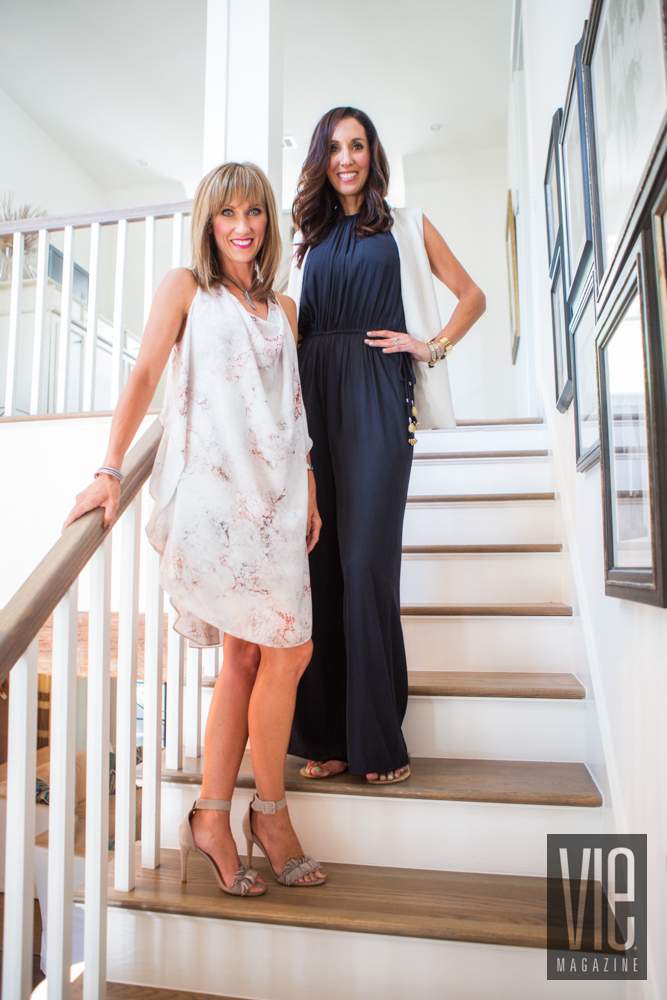 Of Hilary's look for the shoot, Amy says, "The navy jumpsuit is current while the color is a true classic, just like Hilary. Putting the white structured vest over it gave it a more professional feel without being too stuffy. She would definitely be ready for a client meeting in that outfit. We took off the vest and added heels and beautiful jewelry for her to transition from work to a chic dinner event on Highway 30-A."
"I go from business to casual all day long, and Amy has really helped me find a balance for style in my life," Hilary adds.
---
Lucy
Fresh out of Auburn University and taking on her career as a graphic designer for The Idea Boutique last year, Lucy Mashburn was helping out behind the scenes of this shoot when she was recruited to model—and she brought her A game for the camera!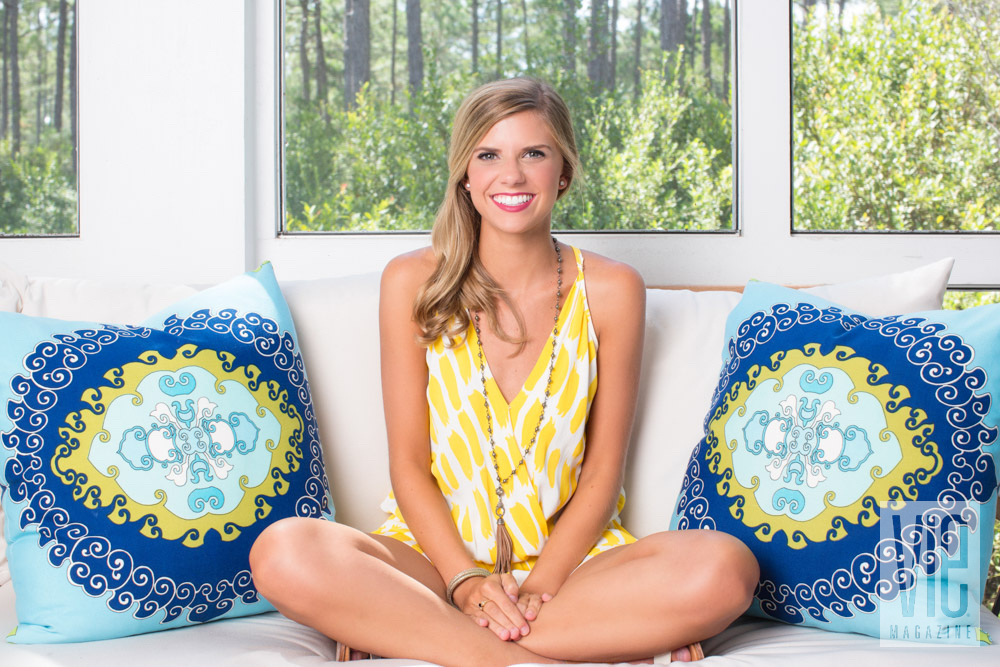 Though she was admittedly surprised to be roped into modeling for the afternoon, Lucy says being styled by Amy was "a real treat!" As for her everyday style, Lucy says, "Living at the beach certainly calls for a laid-back style, but I think I've always dressed that way. I gravitate towards simple, classic pieces with a pop of color every now and then."
I enjoyed getting to see how her process unfolds, from the initial client meeting to the finished product.
"Lucy's sweet, bubbly personality came through like a ray of sunshine with the adorable yellow and white romper. It was the perfect choice for her!" Amy gushes. A pop of raspberry lipstick and Amy's fun throw pillows certainly brought a lot of color to the shot, though they played second fiddle to Lucy's dazzling smile. "The cream goddess gown was another choice that was beautiful for her," Amy continues. "It was comfortable and not fussy, but so very classic. Adding the fun snake vertebrae necklace with the vintage broach was just the right touch to make it current for her age. Just beautiful!"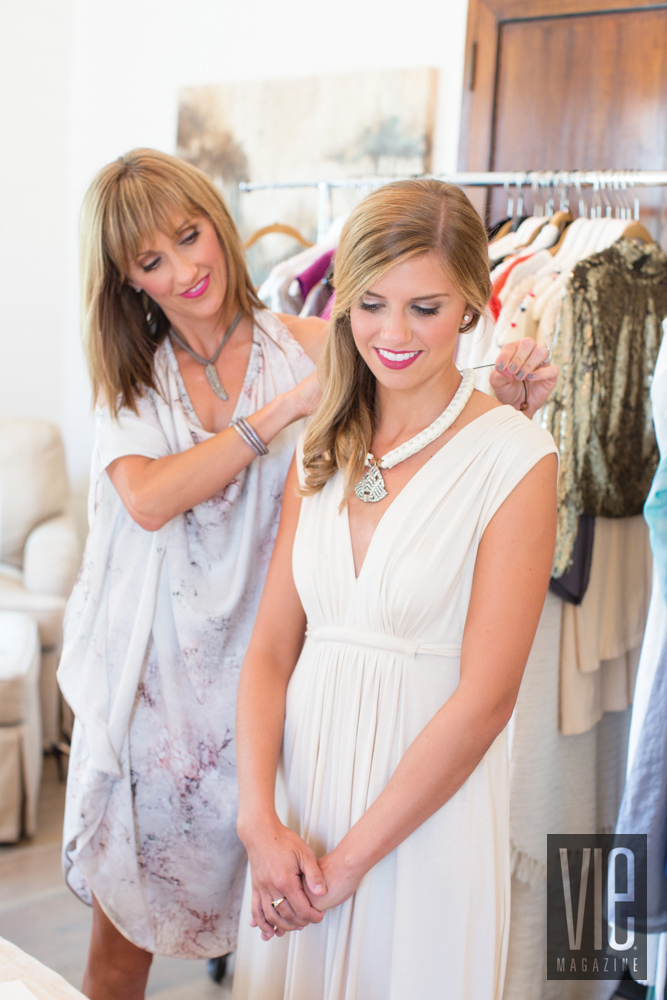 Working on research and prep work for the photoshoot gave Lucy an in-depth look into Amy's work that even her clients might not usually see. "I enjoyed getting to see how her process unfolds, from the initial client meeting to the finished product," Lucy says. "It was a fun surprise when she picked out a few pieces for me to wear! Amy made sure to make me feel comfortable and like myself in her selections. By working with her behind the scenes and then actually becoming a client for the day, I got the full experience of working with Wardrobe Made Simple."
---
Completing the Look
Hairstylist Brooke Miller and makeup artist Yvette Nation joined us for the shoot to bring Amy's visions together and round out the looks she created for each model.
Brooke Miller
Although she has modeled in photo shoots, video shoots, and on the catwalk herself, stylist Brooke Miller claims she is more at home behind the chair, wielding a blow-dryer and bobby pins, than in front of the camera.
"I started assisting for a stylist named Marie in Santa Rosa Beach, Florida, when I was sixteen," Brooke recalls. "She was kind of like my second mom." It was during that time that Brooke discovered styling hair was something she wanted to pursue as a career. "Until I learned I would have to do coloring too," she jokes. Still, she followed her love of creating hairstyles that suit the needs and personalities of her clients and hasn't looked back. She works mainly out of 10th Avenue Hair Designs in Pensacola, Florida, but travels for weddings and photo shoots, which are her favorites, and other events.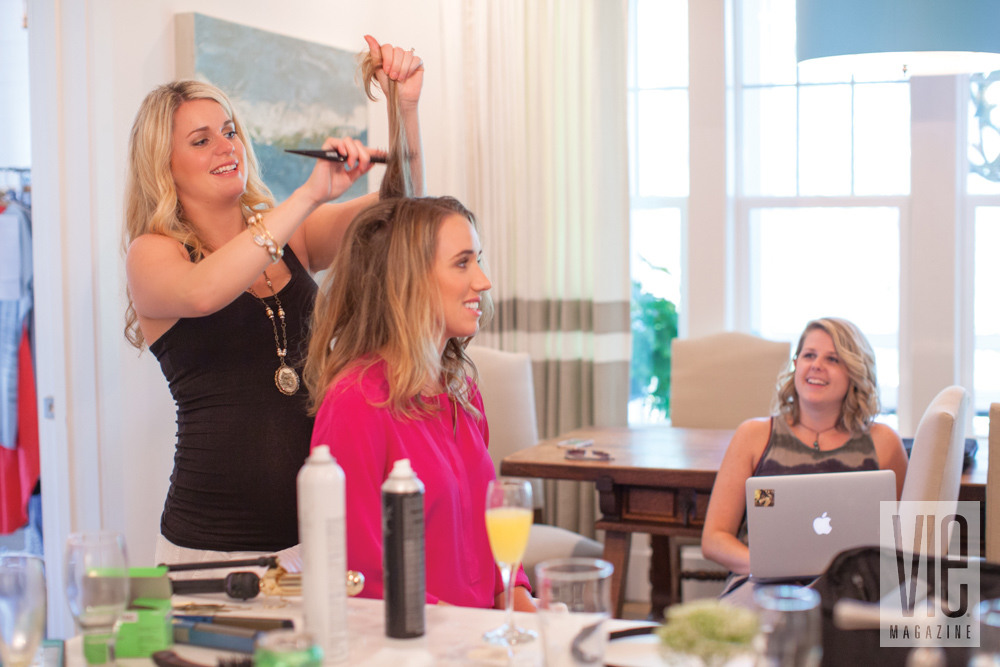 "Photo shoots and weddings are perfect for me, because I just get to style all day," Brooke says. "I enjoy the one-on-one interaction with people. I was kind of shy starting out, so it's also been a great way for me to build relationships with people."
Describing her own personal fashion taste, Brooke says it could be called an eclectic mix of different styles. "From Bohemian to glam; I like to dress up, but I love the laid-back beach style, and I don't like to spend a lot of time getting ready," she says. "You might call it Janis Joplin meets Grace Kelly!"
Her inspiration for this photo shoot came from the models themselves as well as Amy's styling. "Most of the looks for this shoot are very natural," Brooke explains. "I wanted to do some beachy waves to reflect our area and the lifestyles of our models. The goal was just to enhance their natural beauty and give them looks that they could easily wear every day."
Brooke and her husband, Josh, just welcomed their first child, a boy named Milo born on August 26. Congrats, Miller family!
Yvette Nation
"For me, the process starts with the inspiration and story for a shoot or a fashion show; I like having a picture in my mind of what the makeup should look like to go with the mood or the overall story," says makeup artist Yvette Nation, who worked magic with blush, lipstick, and eyeshadow to bring Amy's looks for each model to the finish line. And, she gave the lovely ladies pointers on makeup techniques they could easily replicate in their everyday routines. "I like to make it a collaboration with the models and talk to them about what they like. From there, I like being able to play and evolve as I go, like 'Let's do some highlights there or a pop of color here.' Who doesn't like to play dress-up?"
Yvette is a New York native who acted in theatre and commercials before going on a beach trip with her husband, Patrick, and deciding to make it a more permanent vacation. She was one of the first makeup artists in the Northwest Florida coastal region to work weddings, and she has also worked at MAC Cosmetics inside Belk at Destin Commons and inside Dillard's at Pier Park shopping center.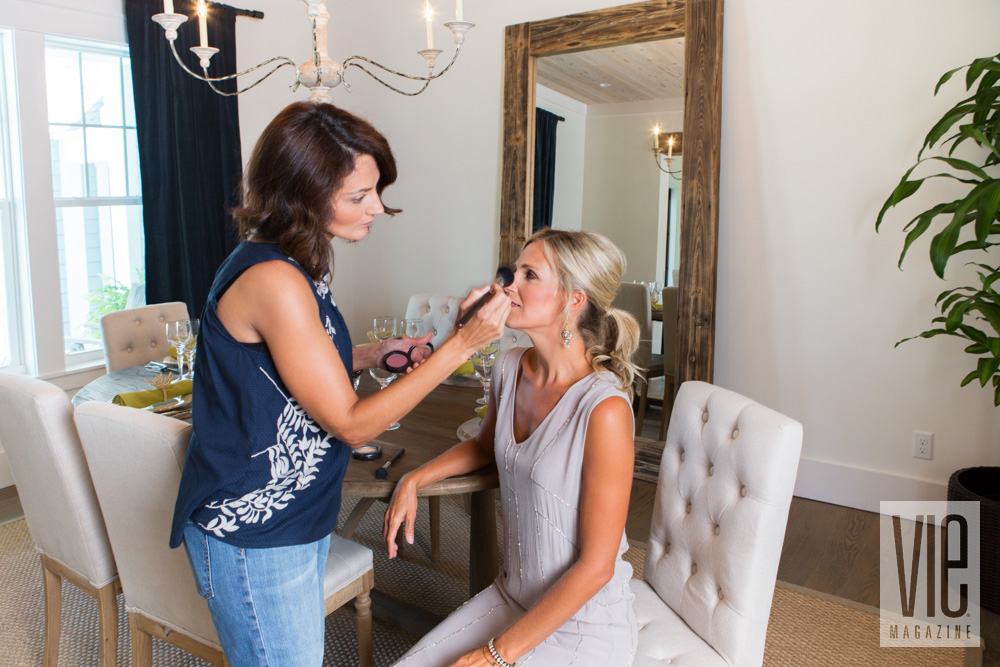 "I fell in love with makeup at a very young age, watching my mom put hers on," Yvette muses. "She was beautiful, always with such gorgeous hair and everything. And then being in theatre, I learned stage makeup. I did a lot of off-Broadway productions and commercials in New York—I loved acting and had a lot of fun, but I worried about how competitive the business was. Makeup is so fun and creative; it's a lot like theatre in that I'm creating a character and a whole look and feel. It was one of those things that I always loved and the career really chose me."
For photo shoots or weddings, Yvette says it's important to see how the inspiration or story for an event unfolds and to build on those when choosing a shade or overall look with makeup. "Being in such beautiful locations for a shoot, sometimes less is more," she says. "I feel that makeup and hair really complete a look, but we don't want to take away from the overall feel of what we're shooting; we just want to enhance and highlight what's being done. It's always fun to do makeup, but the people are really what make the shoot special."
---
The Home
The backdrop for the shoot with Wardrobe Made Simple was none other than the Gileses' own home, where Amy resides with her husband (the home's builder), John, and their twin daughters, Cooper and Riley. Amy says that John, co-owner of Corestruction based in Grayton Beach, Florida, along with his business partner Matt Parenzan, is always planning with his next home in mind. The couple moved into this home in the luxurious community of Watersound Origins after its completion in February 2013. Before that, they lived just two doors down.
"We loved Watersound Origins from the start," Amy says. "We love that it is not a short-term rental community. It's truly more like a real neighborhood, like where we grew up in Alabama—filled with trees and a huge green space and a beautiful community pool for our family and still close to the beach! John especially loves having access to a wonderful golf course."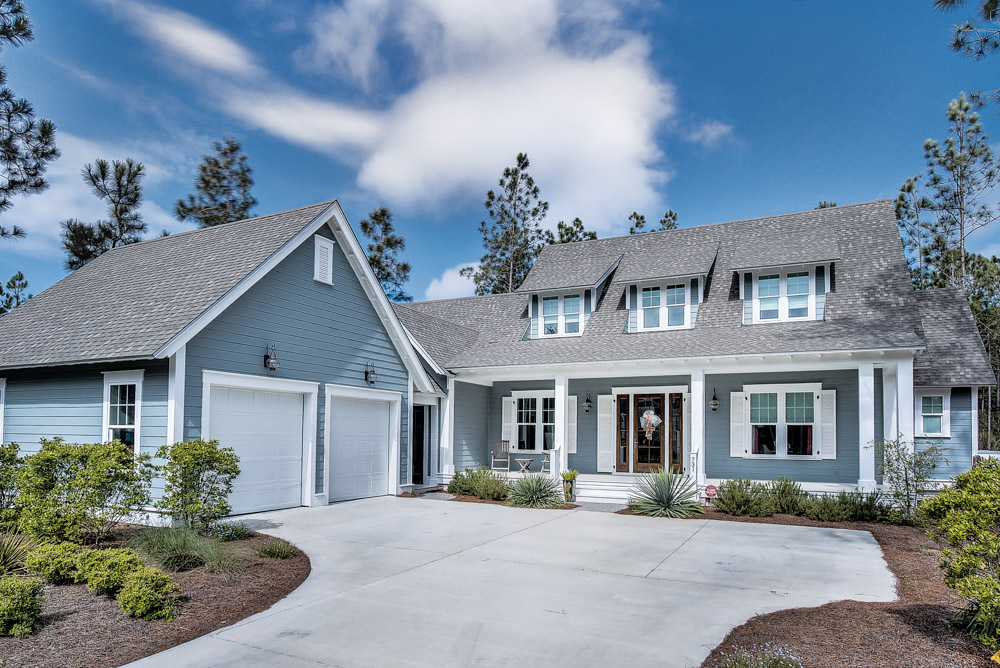 The neighborhood boasts an abundance of nature along with modern luxury amenities, all just a couple of miles from the sugar-white beaches of South Walton. Residents can golf at the pristine six-hole Origins Course and make use of hiking and walking trails and a dock on the bank of Lake Powell that's perfect for fishing and paddling excursions. The community center includes the Watersound Café, a swimming pool, a fitness center, and event spaces that often host live music and other fun activities for families. "You have a sense of community here," Amy continues. "It's nice actually knowing your neighbors! This has been the perfect community for our family (especially with grandparents that just moved in around the corner!) and we hope to stay here for a long time."
The Gileses' home is clean and fresh and has clean lines and simple decor throughout; the blue exterior of the house evokes the feeling of the coast without being over the top. Some of John's recent business has been updating and remodeling homes in the area, Amy says, and touches of old and new can be seen in their home as well, even though it is only two years old. "One of my favorite details is the ceilings, which are pecky cypress with a whitewash over them," Amy says. "They add a beautiful dimension and natural element to the space. I also love our reclaimed wood beams in the living and dining areas. We feel they really give the home character."
Amy worked with her best friend from college, designer Libby Greene of Libby Greene Interiors, and Anna Kay Porch of Tracery Interiors to bring her and John's personal style into the home, which Amy describes as clean and simple. "We wanted it to still be livable since we have two young girls," Amy says. "People think we're nuts having white interiors everywhere, but we've managed to keep it clean. My rule is no food in the living room: white grape juice only!" She laughs. "John and I are neat; we like to keep the house picked up and organized. It helps that we are both organized people, and we're trying to teach that to our daughters."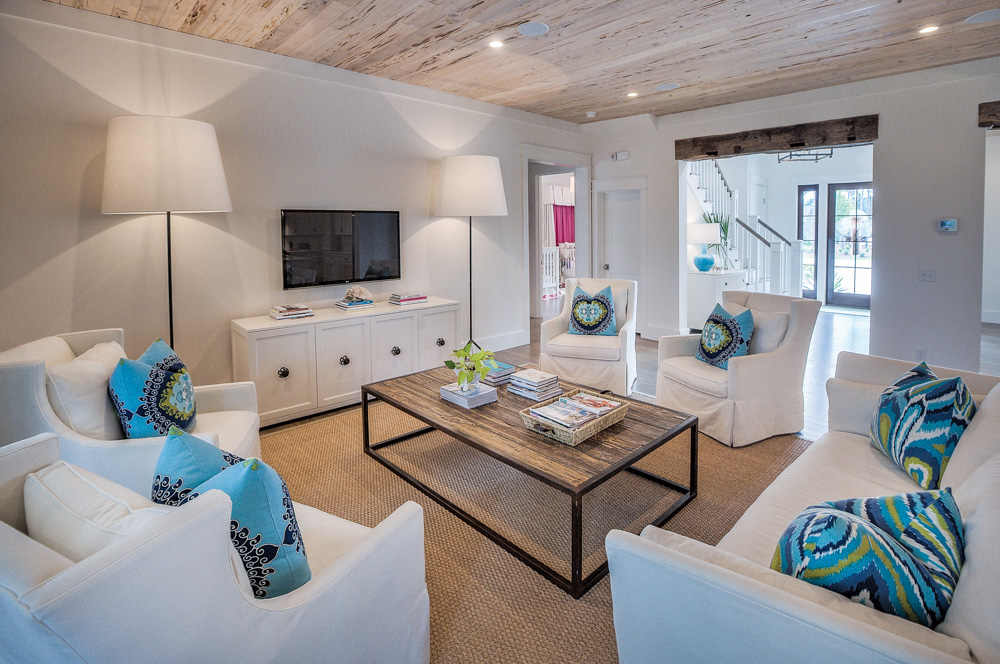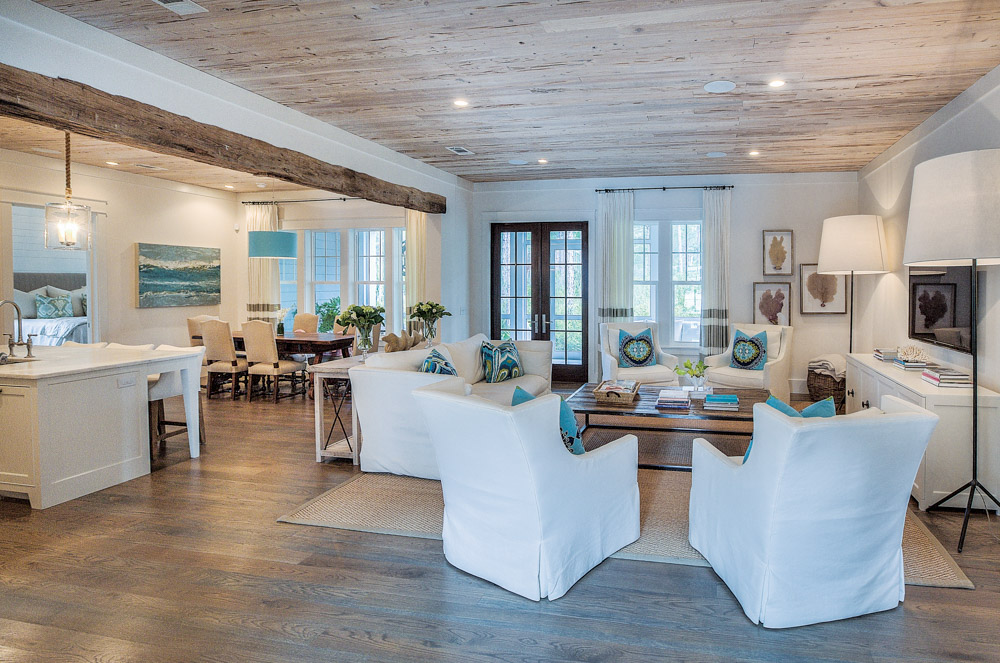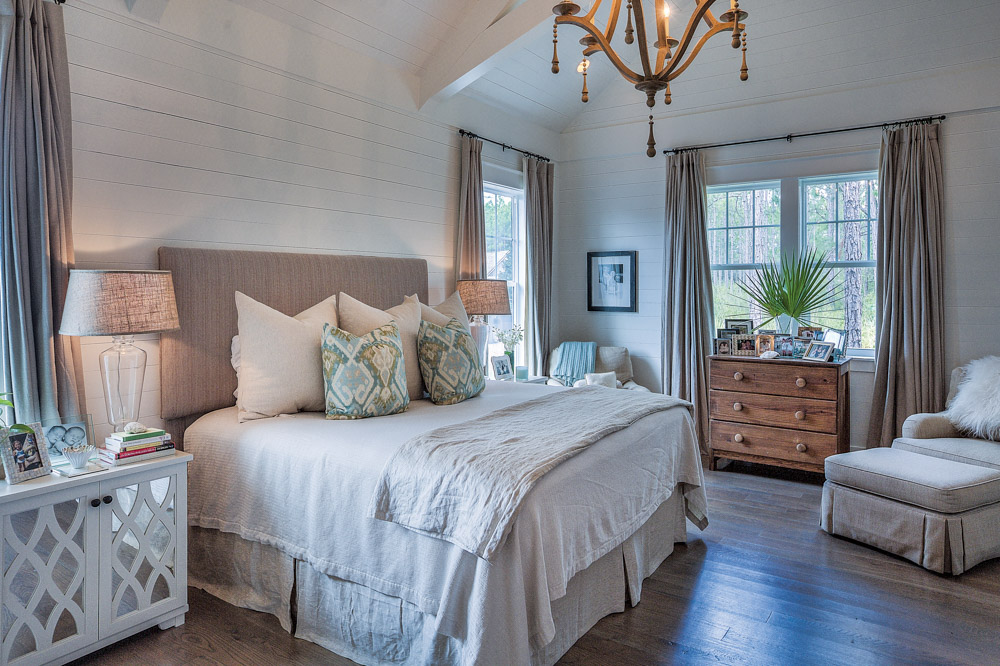 Neat and organized certainly describes Amy's personal wardrobe—another word to describe it could be "Wow!" The Hollywood-worthy closet was designed by John and Amy and is the perfect nook in the house to display her clothing, jewelry, and, of course, shoes. The closet is accessorized with a functional and movable vanity, pretty shopping bags from Amy's travels, and a pin board of clippings and inspirations she has collected from magazines and catalogs. "I do spend a lot of time in my wardrobe!" Amy admits. "But as a family, we spend the majority of our time in spring and fall out on the patio—we eat every meal out there and pretty much live out there. In the summer and the colder months, we love the large, open living area."
The art and accessories are in keeping with the simple and clean theme of the Gileses' home, with custom pieces bringing a truly personal touch for the family. "My favorite piece of art is our commissioned piece by local artist Allison Wickey, which is hanging in the girls' room." Amy says. "It's a painting of a bird's nest with two beautiful blue eggs nestled in it. The two eggs represent my two girls, and it always reminds me of how blessed we are to have them."
Another meaningful possession in their home is a leaning mirror, a one-of-a-kind piece created by Brett Martin of Made on 30A. "Brett used reclaimed wood pulled up from the WaterSound Beach Club boardwalk," Amy explains. "That boardwalk was the place where the girls had their first beach experience—we actually walked on that same wooden boardwalk together as a family. How meaningful and precious is that? I will always have that piece and be able to tell the girls the story."
Although the family will soon be moving from their present nest, Amy and John are excited about beginning the process of building a new one in Watersound Origins. "It's bittersweet because I really love our home," Amy admits, "but I'm married to a builder and that's just part of the deal. John loves the creative process of building a new home for our family. And I get to design a new closet—yay!" No doubt it will be swoon worthy!
— V —
ARTICLE CATEGORIES