Regalness Is Delicious
By Lori Hutzler Eckert | Photography by Romona Robbins
Sitting on the throne of the high court of haute couture, Marie Antoinette ruled fashion with an ascendant style that quite literally brought forth a revolution. The last queen of France, Louis XVI's wife has historically been denounced for her alleged lack of empathy (e.g., that whole messy "cake" controversy), not to mention her lack of political influence. However, Marie Antoinette is exalted for reigning with a sovereignly eye toward overstated elegance. She elevated clothes making—and wearing—to an artisanal level that was envied and often emulated well beyond the aristocratic class, arguably ordaining herself as history's first fashion-industry icon.
Oh to have had Instagram in 1782.
The far-reaching influence of Marie Antoinette's sartorial style in the late eighteenth century is undeniably woven into the manner in which urbane women and men dress today. Therefore, it is unsurprising that her legacy as a venerable vanguard of extravagant beauty found its way onto the Cultural Arts Alliance of Walton County's 2015 South Walton Fashion Week runway and, hence, into VIE's Culinary and Couture Issue celebrating the winners of the event's model and designer competitions.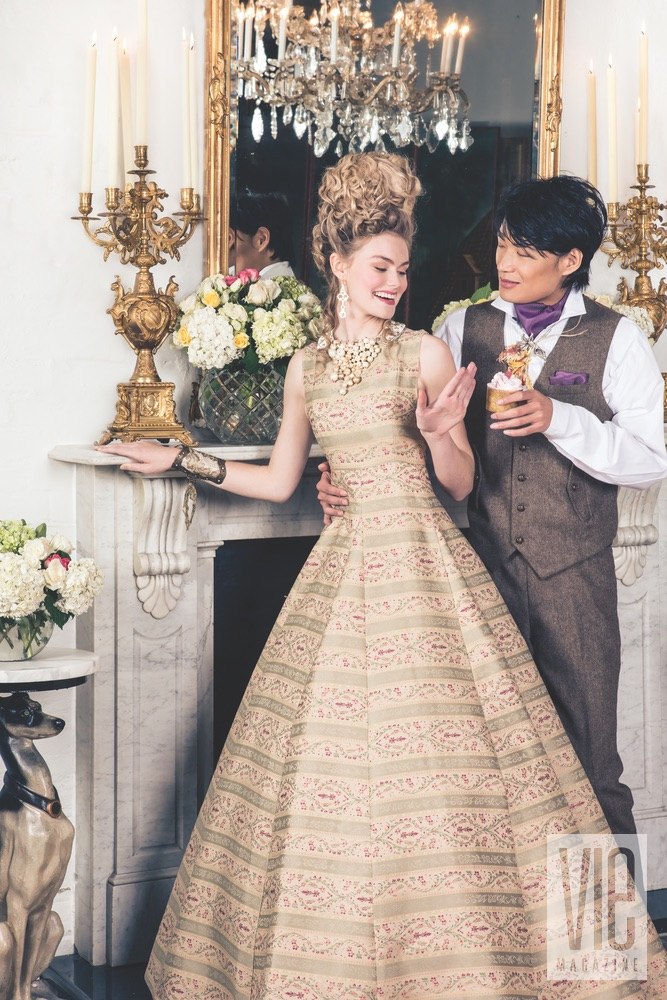 A ROYAL AFFAIR
A cold February rain pelts the panes of the towering arch-topped windows with a sharp clatter, and an unrelenting wind assails the double doors of New Orleans Auction Galleries, which is housed in an expansive three-story building that has claimed a corner of the New Orleans Warehouse and Arts District since approximately 1885. Lightning flashes and thunder rolls, but inside, recumbent on an amethyst velvet and gold-tassel-trimmed sofa, a fine-boned woman calmly tilts her luminous face upward, affecting an air of serenity but with a gleam of queenly defiance in her eye.
Dressed in a gown of rich silk dupioni and intricate French tapestry and with her champagne-blonde hair coiffed in an exquisite towering pouf, she holds the pose with a steely composure as those around her hold their breath with anticipation. The photographer fires off one, two, three shots, and the VIE production team on the set collectively exhales and cheers as the subject, Miranda Abney, breaks into a sweet smile and once again becomes a soft-spoken girl from Slidell, Louisiana.
Abney, seventeen, is four months and 278 miles from when and where she claimed the title of Sheila Goode Model of the Year in the female category at South Walton Fashion Week (SWFW), which was held on the grounds of Grand Boulevard Town Center at Sandestin in Miramar Beach, Florida. The annual event, launched in 2013, is held by the Cultural Arts Alliance of Walton County (CAA) to showcase the area's burgeoning fashion scene while raising funds for CAA's Art for All program—which, in turn, provides financial support to artists, students, teachers, and arts organizations in the area.
FASHION RENAISSANCE
The 2015 SWFW, held October 7–10, featured a variety of fashion-related events including a launch party, a festive red-carpet entrance, trunk shows, shopping and cocktails at the Bud & Alley's VIP Lounge and the ZT Motors Style Lounge, and after-parties at Wine World in Grand Boulevard. And, of course, there were three nights of fashion shows on the Vivo Spa Salon Runway, with high-energy music and dramatic lights and graphics creating pure theater for about 1,200 audience members.
VIE has been the media sponsor for SWFW since its founding, awarding each winning designer and model with a full professional photo shoot and feature story in the magazine's annual fashion issue. Previous winners featured are designer Ashlie Ming and model Emme Martin (2013) and designer Romey Roe and model Maleena Pruitt (2014). VIE is proud to support local arts organizations such as the CAA and to showcase the talents of the SWFW competition winners, helping share their art with the world as they launch their flourishing careers. The future of fashion is bright!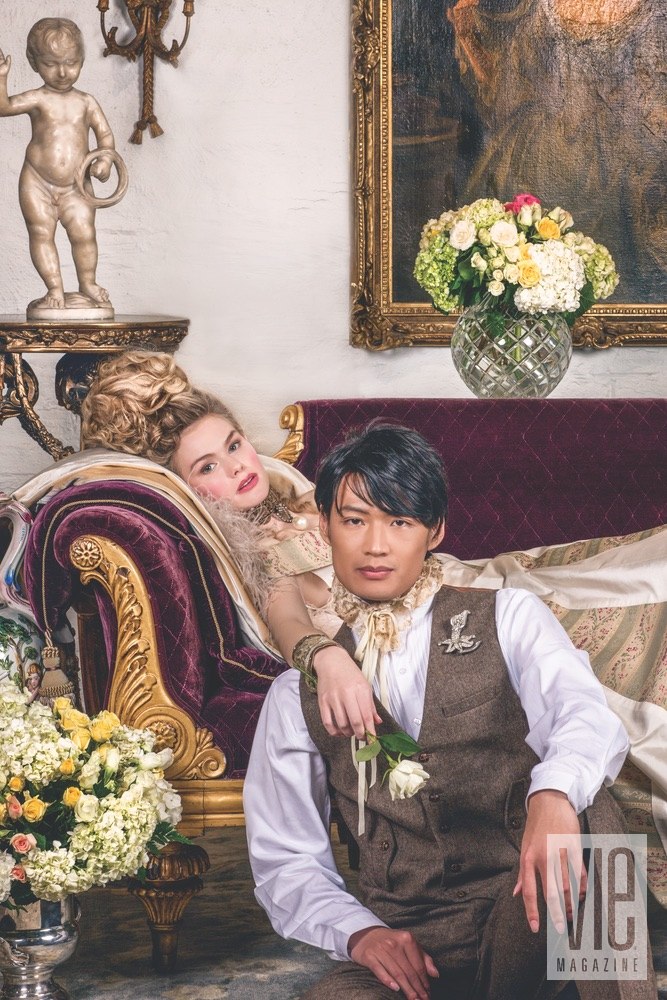 "In just three years, we have experienced enormous growth," says Jennifer Steele, CAA executive director. "While we always strive for improvement and excellence, it is especially rewarding to see the growth in quality of model and emerging designer applicants, which to me is an indicator of the reputation we are building in the industry and the fashion week circuit."
The culmination of SWFW, coproduced by CAA and two of the area's most seasoned large-scale event planners, Hillary Fosdyck and Briane O'Dell of Monark Events, was the selection of two models and one emerging designer as the year's competition winners. Judging the thirteen neophyte designers were Carla Beveridge, senior managing partner and personal stylist for J. Hilburn; Shelly Brown, jewelry designer and owner of Shelly Brown; Emily Erusha-Hilleque, design director for Target; Claudia Robertson Fowler, celebrity stylist and owner of Haven and Hero boutiques in Tennessee; Amy Giles, stylist and owner of Wardrobe Made Simple; and Amanda Valentine, designer and contestant on Lifetime cable network's Project Runway in both 2013 and 2014 (placing second in 2014). Photographer Tommy Crow, owner of Tommy Crow Studios, Amy M. Phillips of Eye Model Management, and VIE's art director, Tracey Thomas, were tasked with judging approximately a hundred models who walked the runway.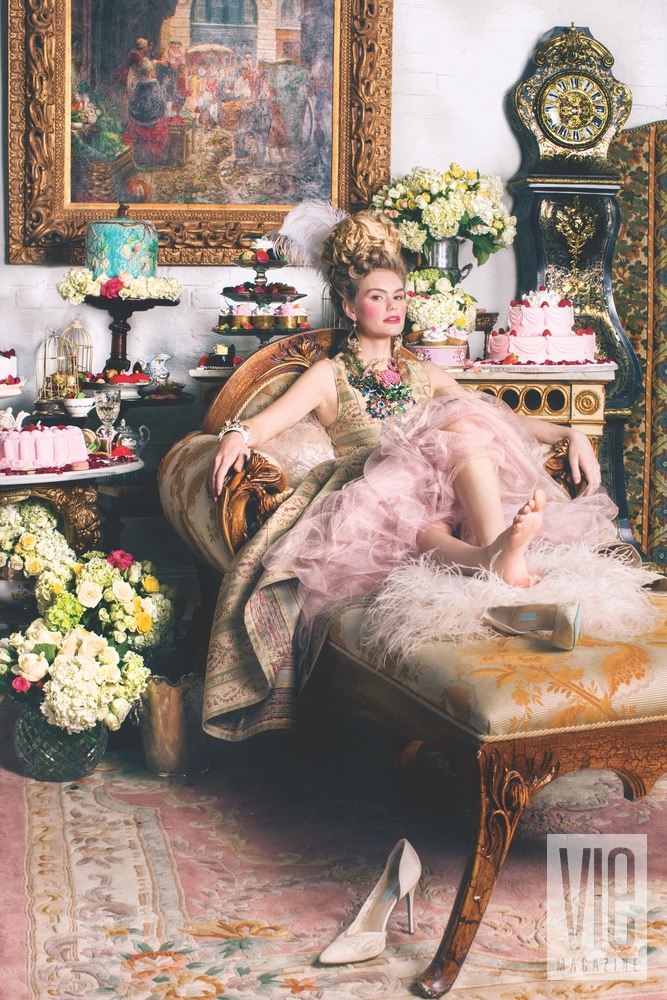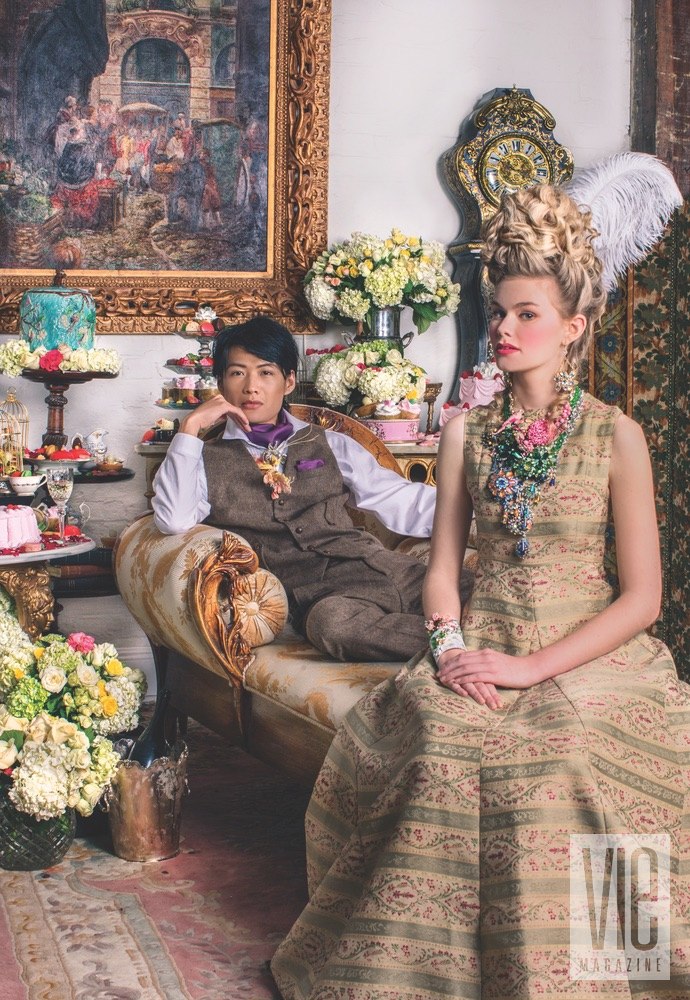 The Sheila Goode Model of the Year awards were given in honor of Sheila Goode Green, a gifted and sought-after Northwest Florida fashion photographer who helped establish and shape SWFW. Tragically, she lost a lengthy, hard-fought battle with cancer last summer. With the greatest respect, VIE was privileged to serve as the presenting sponsor of the award, which included a thousand-dollar prize for each model winner in addition to the photo shoot. Goode's daughter, Hayley Green, gave a moving and heartfelt memoriam to her mother as a prelude to the announcement of the winning models. In the male category, Xinbang "Simba" Tang of China joined Abney in receiving this prestigious memorial award, while Tieler James was named winner of the 2015 Emerging Designer competition.
As she sat on an antique sofa watching the ten-hour VIE shoot, Steele, who also served as executive producer of SWFW, recalls the competition. "The judges had a tough job. We had more talent and diversity on the runway than ever before. Simba and Miranda were both relatively new to modeling, and each has a raw talent and professionalism that really appealed to the judges."
"The judges had a tough job. We had more talent and diversity on the runway than ever before. Simba and Miranda were both relatively new to modeling, and each has a raw talent and professionalism that really appealed to the judges."
This year's Marie Antoinette–inspired shoot was the largest production to date, with over a month's worth of creative collaboration among the VIE team, from creating inspiration boards for the overall vision of the project to choosing the perfect props and accessories that would complement James's gowns. They also worked closely with New Orleans Auction Galleries' Taylor Eichenwald to select antique set pieces that fit the shoot's theme flawlessly.
VIE's publishing, editorial, and art crews, along with photographers, hair and makeup artists, stylists, writers, and equipment in tow, traveled from Northwest Florida to New Orleans on Valentine's Day to begin setting up for the next day's production. The daylong affair was fun and exhausting, with much help from the New Orleans Auction Galleries team to move furniture, chandeliers, and accessories. Award-winning photographer Romona Robbins, who has worked with the magazine on photo shoots for many years, brought her expert eye and energy to the project, the stunning results of which can be seen on these pages.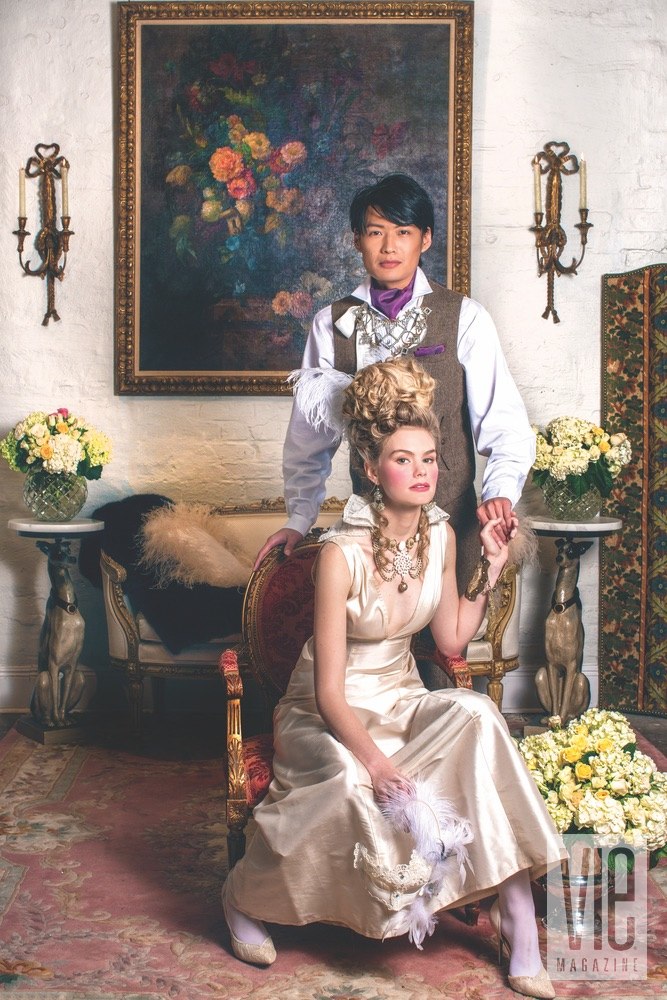 IMPERIAL BEAUTY
Tang, twenty-four and a college student studying architecture, carefully cradles a delicate, pink-frosted cupcake in his hand as he poses next to Abney. Tang is instructed to entice Abney flirtatiously with the confection while she coquettishly refuses. In this particular scene, like a male ballet dancer, he plays an integral but supporting role; however, at times, with his chiseled jawline, jet-black hair, and gentleman-of-the-manor ease, he steals the show.
Tang's patrician attire—fawn-colored tweed pants and vest with a satin neckerchief—is juxtaposed with his hair, which is styled with an edgy, modern look, to make the images a little less literal. He works the look to the fullest.
Born in Henan, a central province of China near the Yellow River Valley, Tang had been approached by model agency scouts several times throughout his world travels, but he always respectfully declined their offers. However, while vacationing in Northwest Florida, which he praises for its "beautiful scenery with its pure white sands" and "kind people," he learned about SWFW and joined "without hesitation."
"Initially, I didn't much care about the competition itself, I just wanted to make some friends, do something exciting, and have fun," says Tang, who speaks with an earnestness from the heart. "But it turned out that everything was supernice, far beyond my expectations. I could deeply feel the enthusiasm spreading out from everybody, and I couldn't help being infected by this sort of magic power which made me feel extremely relaxed and comfortable when I was walking in each show."
As the result of his participation, Tang gained something more than a title: the confidence to follow his dreams of modeling and more.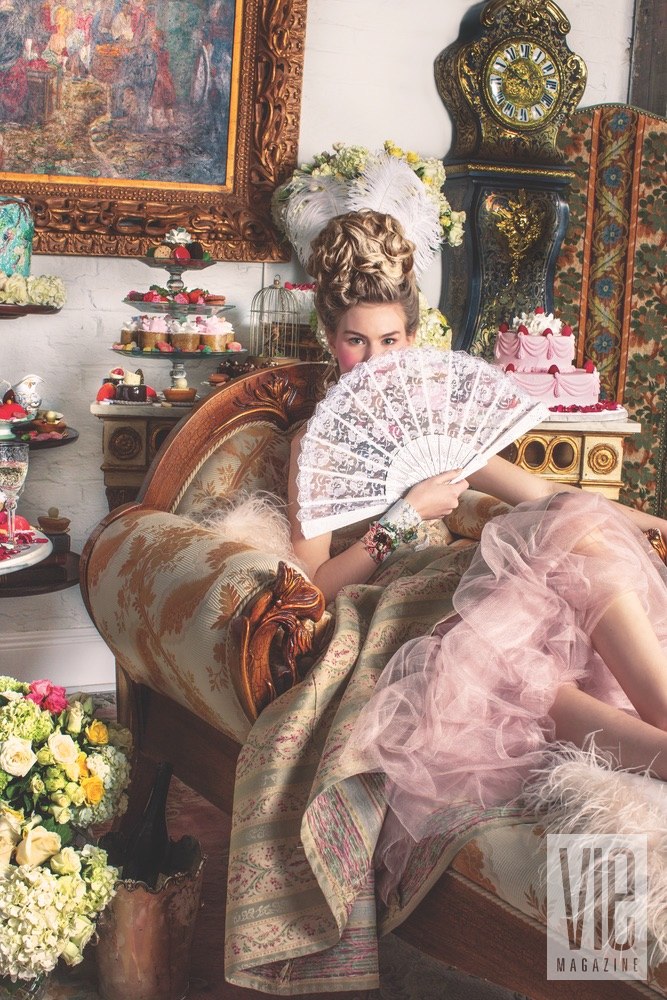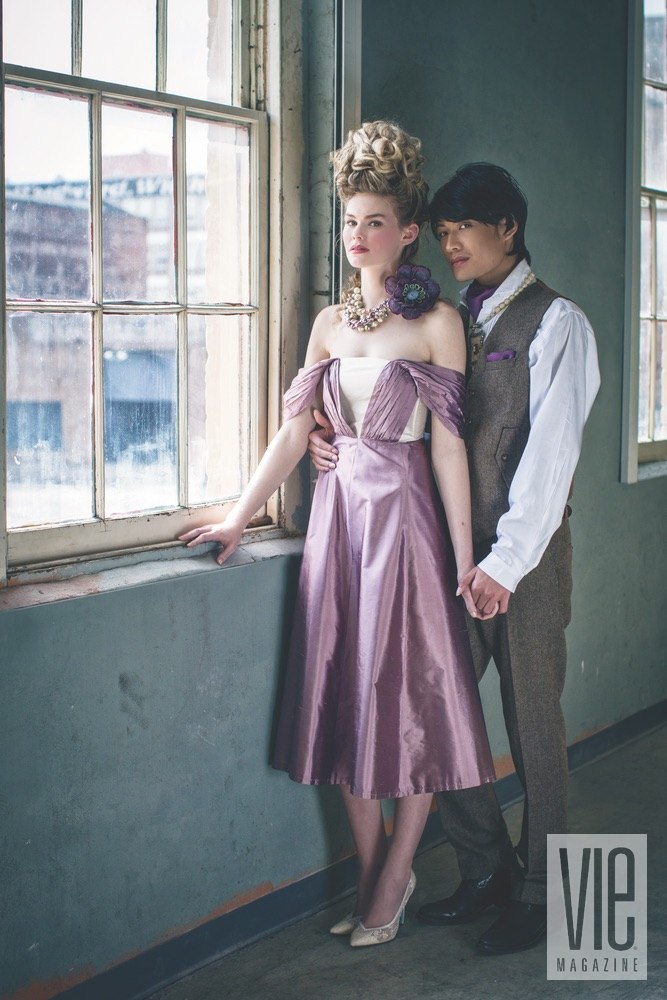 "Personally, having won South Walton Fashion Week not only gave me a strong push into the fashion arena, but it also inspired and encouraged me to pursue other dreams bravely," he says. "I have lots of feasible thoughts and dreams that I want to fulfill, but just like most people, I was stopped by the lack of courage to move forward. SWFW is the starting line for many of my actions, and I will insist on moving forward with a nonstop pace in the future."
SWFW is also proving to be a pivotal point for Abney, who is currently a student at Pope John Paul II High School in Slidell. Having modeled for only one year, Abney has logged some impressive mileage on the runway. She has participated in fashion week events in New Orleans, Pensacola, and Mobile, but SWFW was her first actual competition. Without a bit of pretense, she says of winning, "It was a complete shock—a complete shock. I figured there were so many other gorgeous girls with such amazing looks and such graceful walks, I didn't even have a chance. So, I was extremely surprised when they called my name."
Her SWFW prize package also included the opportunity to interview with event judge and talent agent Phillips. She quickly signed with Phillips's Nashville-based firm, Eye Model Management, and has already traveled to their offices twice to begin developing her career.
In the midst of a seemingly endless maze of antiques, artifacts, and ephemera in the 38,000-square-foot edifice, Abney waits for the next scene call. She's gracefully perched among a soldiers' row of dining chairs catalogued for one of New Orleans Auction Galleries' nine annual public auctions. With items originating from around the world, including paintings, sculptures, furnishings, sterling silver pieces, jewelry, and more, the auction house provided the perfect backdrop for the shoot.
---
"Initially, I didn't much care about the competition itself, I just wanted to make some friends, do something exciting, and have fun. But it turned out that everything was supernice, far beyond my expectations.
---
Abney is wearing a silk gown in alabaster, and the plunging neckline is balanced by a one-of-a-kind vintage-lace-and-gold-chain choker created by Emerald Coast jewelry artist Mary Kay Samouce, owner of Adorn by Samouce. Abney's cheeks are powdered to an ethereal flush, and her lips are stained a deep rose color by makeup artist Yvette Nation. Her hair, styled by Brooke Miller, is embellished with a panache of ivory feathers—which was absolutely en vogue for any self-respecting eighteenth-century Parisian fashionista—and she loves the entire look. "It is completely different than anything I've done. The inspiration is different, just the whole era and feel of it all. The hair is amazing, the makeup is amazing—it's all wonderful," she says, adding that the auction house is "the perfect venue because you can really get in the scene. It's all very elegant."
While modeling in Pensacola Fashion Week, Abney met and befriended designer Tieler James. She walked in his show during SWFW, and she is, of course, wearing his gowns at this shoot. "Oh, my gosh—it is amazing," Abney says of donning his designs. "It just completely takes over your persona as soon as you put on the clothing. It just makes you stand up straighter and feel so much more confident. He's extremely talented."
The VIE production team is ready for the next round of images, which will include a panoply of ornate cakes, French macarons, and other exquisite sweets from two New Orleans bakeries, Sucré and Swiss Confectionery. Abney stands gracefully, smoothes her gown, and heads for the set where her ever-present and attentive mother, Wendi Abney, who also serves as her manager, awaits, but not before she imparts another shy yet gracious smile.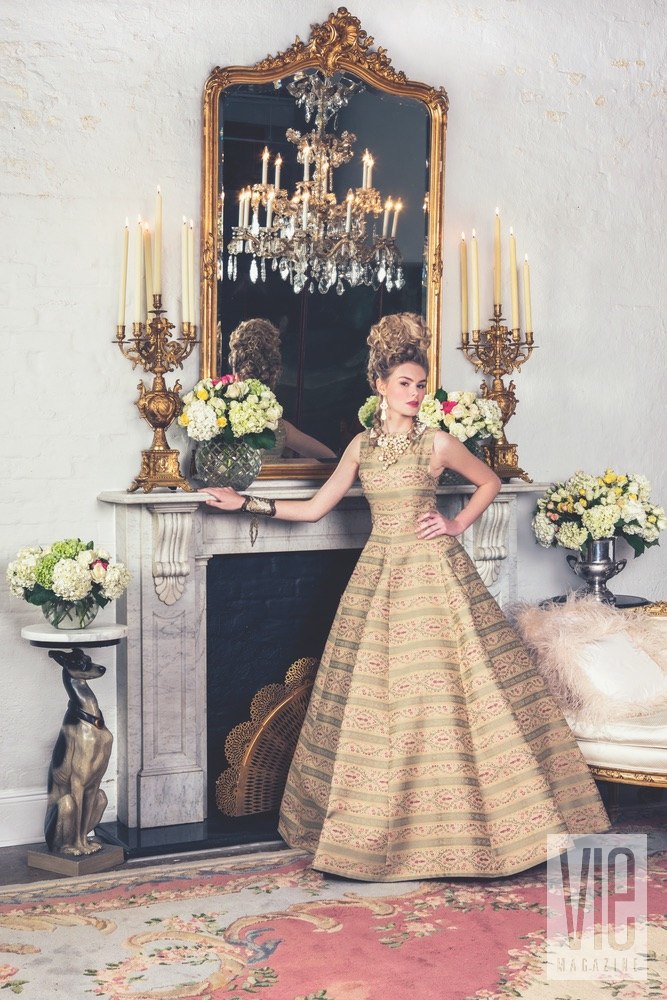 THE CROWNING COUTURE TOUCH
Standing on the set sidelines, but at the center of the shoot, is Tieler James. To say James's talent is prodigious is in no way hyperbolic. James won Episode 5 of Lifetime's Project Runway spin-off for young designers, Project Runway: Threads, which aired in November 2014. He was thirteen years old.
At the age of fifteen, he won SWFW 2015's Emerging Designer competition and was awarded a $1500 cash prize and the chance to show his designs on the SWFW 2016 runway. "We had very strong competition among the emerging designers this past year, and Tieler's show proved his creative talent, technical skill, and passion for design," says Steele. "He also has an amazing work ethic, especially for someone so young. It will be fun to see where he goes from here. I'm proud that SWFW could be a jumping-off point for what I'm sure will be a strong career."
This wunderkind of women's fashion from Abita Springs, Louisiana, is a paradox, both as a teenage boy and an accomplished artist. In one moment, he is articulating complex thoughts about his career with a grace and insight that many adults lack, and in the next, he sheepishly spits out his chewing gum and, with an endearing laugh, hands it to his supportive mother and tireless manager, Tahmi Hawsey, as she walks by.
"We had very strong competition among the emerging designers this past year, and Tieler's show proved his creative talent, technical skill, and passion for design."
James attends the New Orleans Center for Creative Arts, a regional preprofessional arts-training center, where he studies theater design along with a traditional high school curriculum while he works on his collections for the coming fashion seasons. The contradictions of his life seem to fit him as his dresses fit Abney—perfectly.
However, to get to this point, it has been an arduous road to travel for James, who was first drawn to fashion when he was five years old. This affable, outgoing young man revealed the painful experiences of his earlier years. "I came out when I was nine, and I got bullied—severely," he says with the gravity of truth weighing in his tone. "So I was looking for something to express myself, and I turned to fashion because it reminded me of my childhood. And, it turns out, I was kind of good at it, so I stuck with it. So now, it's just like it's part of my life. It saved my life."
James says that because fashion gave him a safe harbor, he feels like it is his "duty" to try to succeed. With images of his designs from a Vancouver runway show covered in January by Vogue in the venerated fashion magazine's UK online edition, he is off to a solid start.
The SWFW win has been an added notch in his designer's belt. As the youngest participant in the emerging designer competition, he says his expectations were cautiously tempered, so he was especially thrilled to win. "It was crazy; it was so cool!" he says with unadulterated enthusiasm. "It's an accomplishment, too. Because, like, once again, you put all this work into a piece of art, and then people are saying, 'Yes, you did well.'
"I have a personal connection to each piece because I've pattern-made it, I've draped it, I've sewn it," he adds. "Every single piece on the runway I make myself—I hand make them. I put all this work into it, and just to see people that love it, it's really, really cool."
With unbounding energy, James gamely moves around the auction house, wearing a slightly crumpled shirt covered with a neon-colored map. He is at constant odds with his thick, curly hair, pushing it across his forehead only for it to tumble back in place over his glasses. The storm is waning outside, and faint sunlight intermittently breaks through the lingering clouds, spilling through the windows. Looking around the building, James says, "This shoot is so cool. The energy in the auction house is kind of remarkable because you have all these things from all these places, and you can kind of feel the energy seeping through everything."
James clearly has a passion for the past, as his muse for this collection (which is titled Royauté—French for "royalty") was none other than the fashion-forward Marie Antoinette. After seeing a play based on her life, he couldn't help but be "insanely inspired" by her, adding, "I was, like, in the middle of designing a collection and I just started drawing up these dresses." One month later, he had the award-winning collection completed.
James says he feels great compassion for Marie Antoinette, whom he considers tragically misunderstood. But he wants to be influenced by the power she did have by continuing to create beautiful clothes that women aspire to wear.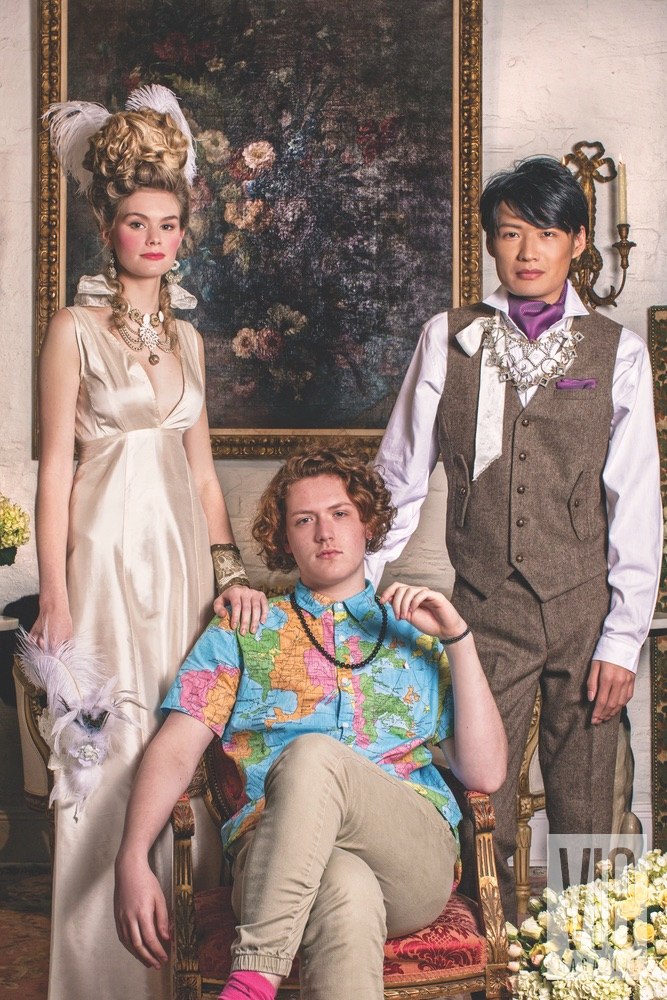 Those are soaring goals for any designer, but the early reaction James is receiving from the fashion industry indicates he is up for the undertaking. With the recognition from South Walton Fashion Week, James and his cowinners, Abney and Tang, form a triumvirate of talented, passionate young people who have been given a unique and rare opportunity to chase their dreams and succeed at doing what they love. That is its own kind of sweet revolution.
— V —
---
VIE would like to extend special thanks to New Orleans Auction Galleries owner Susan D. Sarofim, marketing manager Taylor Eichenwald, and the entire team for graciously accommodating us and for all their help throughout the planning and execution of this photo shoot.
ARTICLE CATEGORIES