by Lisa Burwell
It seems of late that a modern sensibility and aesthetic is leading the way in design and decor. Clean, simple lines, black and white, geometrics, and ergonomics are all the rage. The look embodies style and crisp perfection, giving a sense of balance and order. Although, one must first master the art of decluttering before attempting to dwell in such an environment. You simply can't have extra or unnecessary stuff. After all, where would you put it?
In years gone by, modern design seemed to have been reserved for the artistic sophisticate or the well-heeled eccentric who seemed to know something that the masses did not. But lately the style is experiencing a resurgence and achieving more mass appeal—becoming a more prevalent and wide-spread style than ever before.
Having an eclectic style, in both home and office, for most of my life, I appreciated the modern design acumen only from afar. It is only in the last few years that I have gravitated toward the "less is more" approach. From my own perspective, the modern style creates a sense of order and well-being; everything is purposefully placed and not overly complicated. Since I am an analyzer and forecaster of trend changes, I have an observation as to why the modern design trend has gained so much ground of late. With current world affairs in a deep transition of change and uncertainty, it seems only natural for the human psyche to be attracted to a design style based on purpose and order. To have the ability to control order in a small piece of your world by means of a design aesthetic is a powerful rationale.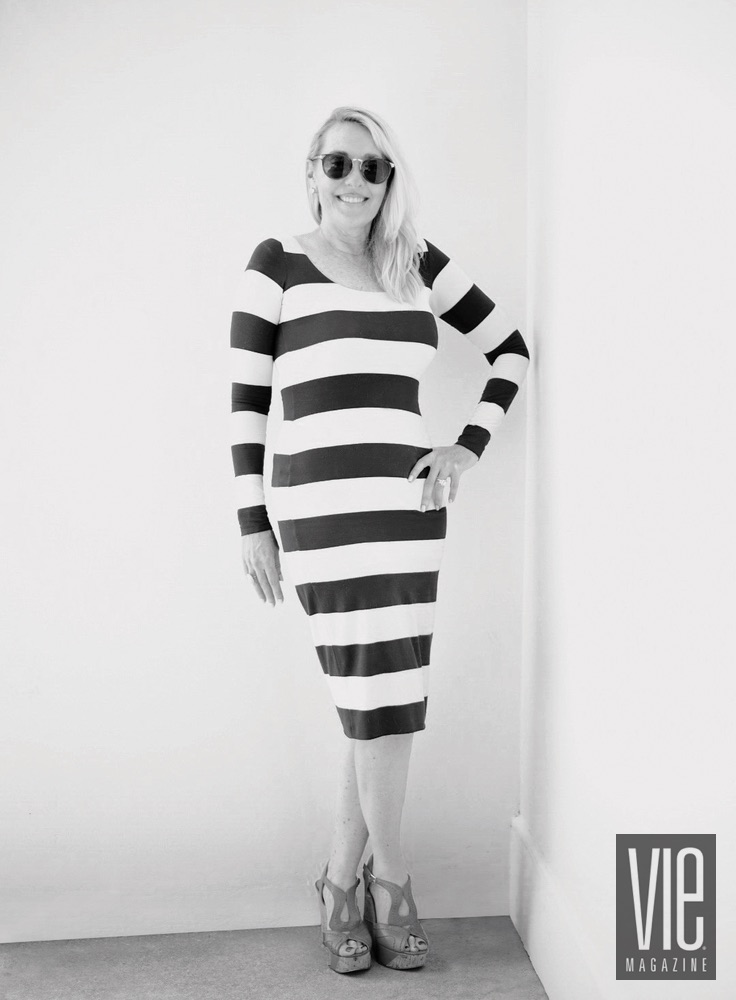 Our new headquarters for VIE magazine is now under construction with the grand opening slated for this fall. Based on inspiration boards created by the VIE staff, Publisher and resident architect Gerald Burwell designed the ultramodern interior dominated by whites, deep grays, chrome, and lots of glass, offering a minimal and open work environment. When walking the new space, which is only in the early stages of construction, I can already envision the clean, open area. My mind feels like it can breathe freely just looking forward to what is to come. I think we all need the ability to mentally inhale and exhale deeply as we all learn how to live in a world that is experiencing disorder and disruption. If design and architectural vernaculars can offer a sense of well-being, then I think we should give more credit to the design professionals who create and enhance human spaces of all kinds—homes and offices, gardens and landscapes, interior designs, home goods and decor, and much more.
Enter the Ragsdales. Mike and Angela Ragsdale are a powerhouse couple who have literally made their mark along Scenic Highway 30-A, an 18-mile stretch of architectural nirvana in the Florida Panhandle. There, the New Urbanism movement flourishes alongside some of the most beautiful beaches in the world. As brand ambassadors for this special place, the Ragsdales are the authors and gatekeepers of the mark "30A Life Shines." What started out as the digital brand 30A.com has amassed over four hundred thousand loyal followers. The 30A logo sells on souvenir products and apparel, and the logo even graces the label of 30A Beach Blonde Pale Ale, a Grayton Beer Company offering. Their iconic 30A bumper sticker shows up, well, just about everywhere. To say they helped to put the area on the map would not be overstating their contribution. Read their poignant and heartwarming story as Mike Ragsdale chronicles the last in his five-part series "The Modern Minimalist: Zen by the Bay." VIE is proud to be one of the numerous sponsors on their journey of creating their dream home, and we are proud to publish the honest and unfiltered account of their trials and tribulations along the route to a happy ending!
A celebration and appreciation of architecture, interior design, iconic spaces and places, and much more awaits inside this issue.
To Life!
—Lisa
Founder/Editor-In-Chief
— V —
ARTICLE CATEGORIES