By Suzy Accola  |  
Photography by Andrew Alwert
Alluring, chaotic energy surrounds me on Bourbon Street. As I walk from the heart and soul of Calle de Bourbon, my eyes take in everything: Marie Laveau's House of Voodoo, the Old Absinthe House, glamorous transvestites with big hair and luscious eyelashes. Amused people are laughing and smiling all around. Submerged as I am in a city of music, my subconscious thoughts drift as a voice inside hums Lou Reed's "Walk on the Wild Side." With racy visions of myself sitting in Lafitte's open-air den of iniquity, drinking sans electricity while sticking pins in a doll (with an ex in mind), I take my cue to hightail it and hit the cobbled street heading toward the quieter end of Bourbon Street.
Looking around, I notice my quickened pace and heart rate as surrounding alternative shops and "entertainment" services overwhelm my senses. Feeling on edge (but totally entertained), I tear myself away to focus on my destination. Still humming, "doo do doo do doo do do doo" remains in my subconscious as I embrace the overwhelming historical aura of the residential district I am approaching. Within blocks, I have entered a totally different side of Bourbon Street—it's unlike anything I ever expected. The pace and character have transformed to that of a relaxed, urban neighborhood. What I have come to see is a development project—the renovation and repurposing of historic buildings that were once part of La Maison Hospitalière (the House of Hospitality). The project is called, quite simply, Les Maisons.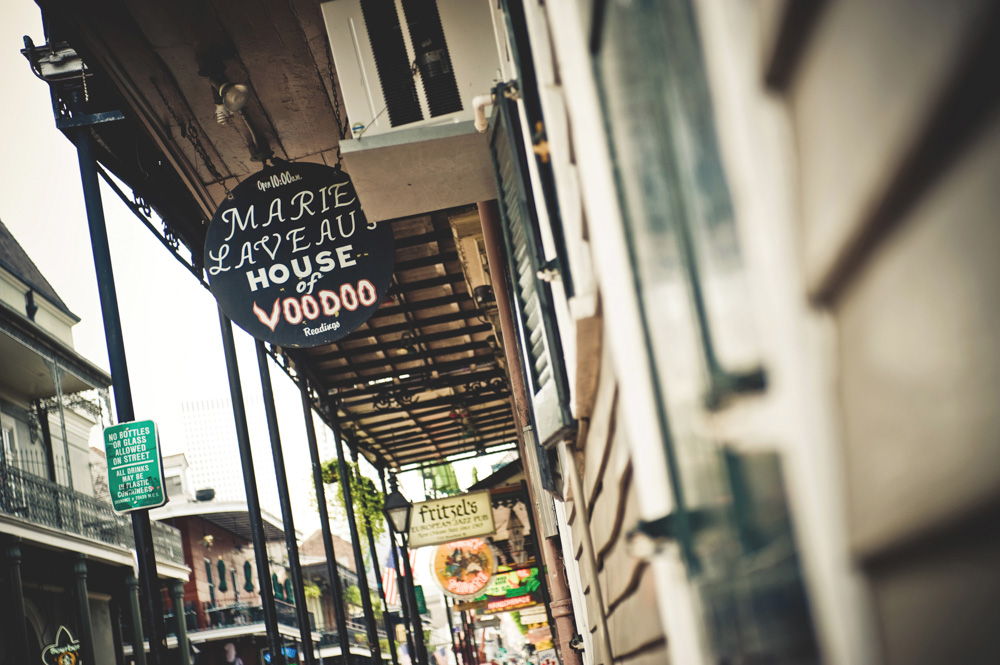 I breathe in and close my eyes, trying to imagine a time gone by. When I open my eyes, I know I will see the intertwining of past and present. Before entering, my senses venture to explore the surrounding buildings not yet perfected. I long for an authentic feel for life pre-1800.
The ten buildings encompass a good portion of one French Quarter block, bound by Bourbon, Governor Nicholls, Dauphine and Barracks. Remnants of some of these buildings date back to the late Spanish era (1790s), while most were built circa 1840. The long history of La Maison Hospitalière was begun on Barracks Street in 1893 by La Société Hospitalière des Dames Louisianaises (the Hospitable Society of Louisianan Ladies). The society was founded in 1879 to help once genteel widows of the Civil War who, having lost their husbands and their fortunes, found themselves destitute and living in squalor. Before the war, these women would have been deemed "well-heeled ladies."
Within this astonishing block of varied structures, this amazing society established a bakery (they also sold bread to the public), a beauty salon, a chapel, an infirmary, and small residences offering each woman a comfortable, safe place to call home, as well as a breakfast of bread and coffee and a second meal of soup each day. Only Hurricane Katrina could have put an end to La Maison Hospitalière. Sadly, it did. Strolling around the architecturally preserved walls, I am filled with the feeling of gratitude these women must have felt. In awe of the vast space between the buildings on Bourbon Street, coupled with the amazing historic renovation, I realize a portion of this area will provide an abundance of secure parking—an extremely rare amenity.
Not wanting to overstay my welcome, I walk back to the front door of 1235 Bourbon Street. Bill Sabella, a partner of Massey Sabella, LLC of Seaside, greets me warmly. He and Tammy Massey are the architects and interior designers for the delicate undertaking of reviving these very different buildings—a fascinating and daunting task all in one.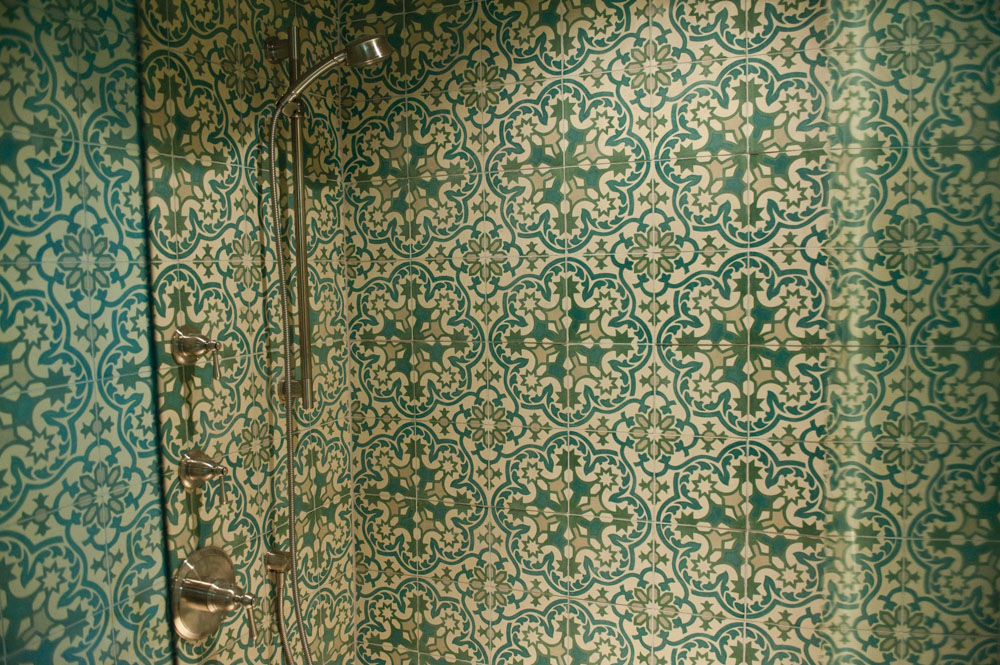 Lauricella Land Development (a third-generation Louisiana development company and owner of the project), GenBuilt Company, and Massey Sabella have worked diligently and cohesively to uphold the integrity of these historic buildings. Holding themselves to the highest standards, they have beautifully revived the space with amazing attention to detail.
Sabella gives me a gracious, confident smile as he proudly enlightens me with his historical perspective and insight on the project. He is a knowing soul. Following my tour, I head through the lush urban courtyard to find Dustin Gendusa, the general contractor. Not skipping a beat, he calls out, "Is that Suzy Q?" I laugh, as we've spoken on the phone numerous times to coordinate tile, but we have never met. Immediately, I am at ease. In talking with Dustin and many of the subs on the project, I have come to understand the level of pride and craftsmanship that has gone into every detail of restoring Les Maisons. Dustin fills me in that "these hundred-and-fifty-plus-year-old beams had to be manually cut with a chain mechanism in order to get a straight cut … in fact, the staircase [from 1850] was partially saved and painstakingly restored." Due to two disastrous fires, one in 1788 and another in 1794, very few walls remain that were built by the Spanish during their last rule (1763–1804). And yet, a small section still stands steadfastly in the courtyard of 1235 Bourbon Street. My hand touches the brick, runs under a curved, old staircase, and feels a rough beam. In the silence, I feel as if a hundred souls are there with me.
Exhilarated, I finally have time to focus on the tile in these lovely residences. How amusing since tile is my passion! Tammy Massey, architect and interior designer on this French Quarter renovation, generously gave me the opportunity to work with her on the process of selecting tile and stone for these amazing buildings. In a chance meeting a week before Q Tile opened, she came knocking at my door one evening while I was diligently cleaning and asked me if she could "peek." Of course I said, "Yes, but don't look too closely! We've had a long day." After a few laughs and shop stories, I realized I was dealing with a passionate and talented architect and designer. Within days, we had begun working together on the extraordinary Les Maisons project, which was recently graced with a prestigious Vieux Carré Commission Certificate of Merit for Renovation.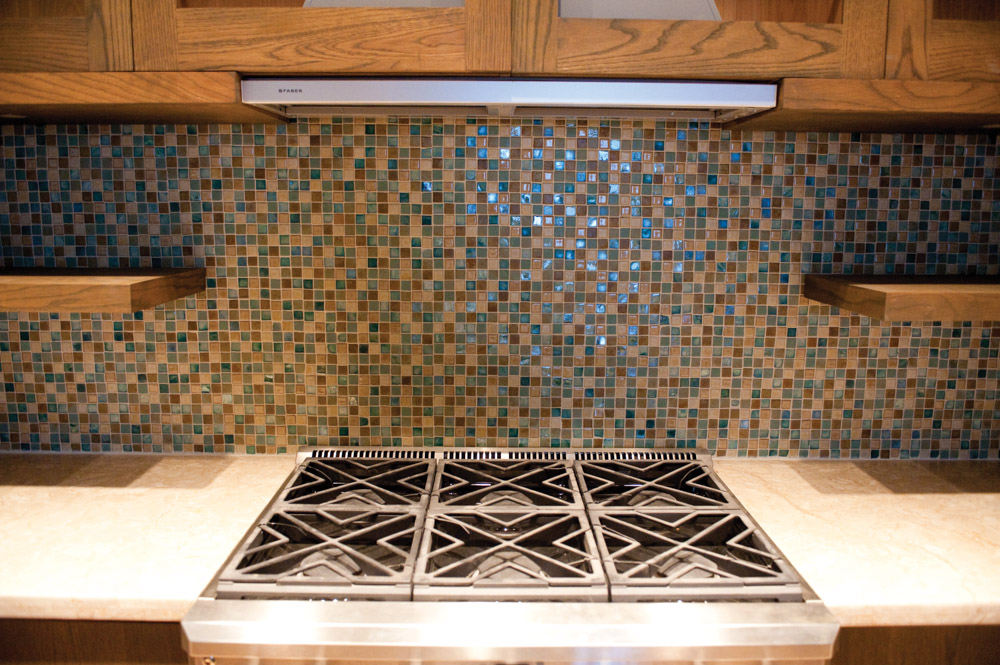 One month later, I returned with an amazing photographer and native of New Orleans, Andrew Alwert. The progress of the buildings was breathtaking! We went through room by room and angle by angle. Honestly, there was no way to take a bad picture.
Before leaving, I told Andrew how drawn I was to the adjacent courtyard, the focal point of the upcoming Phase III. A hand-carved, almost life-size statue of the Virgin Mary stood ethereally among overgrown plants and dilapidated buildings as if awaiting a loving touch. The scene definitely called to me, as I'm sure Mary offered solace and hope to the women of La Maison Hospitalière. Since songs tug at our heartstrings, I feel the women of La Maison Hospitalière would have agreed with the lyrics: "When I find myself in times of trouble, Mother Mary comes to me ... There will be an answer, let it be." For certain, there are a million moments to let things be. On the other hand, we are meant to create our own destinies. Les Maisons allows a harmonious opportunity to view both in unison. The styles of the delicate past and urban future collide. Throughout this experience, I felt watchful eyes from above.
— V —
---
Suzy Accola is the owner of Q Tile in Grayton Beach, Florida. She has over ten years of experience in lighting and tile design. Suzy is also an author with her first novel completed and second under way.
ARTICLE CATEGORIES