Handcrafted American-Made Accessories
By Megan Trent |
Photography by Fantasia McDaniel – Little Miss Creative Studio
Just over a year ago, in the kitchen of her home in Santa Rosa Beach, Florida, Christie Casillo set aside the conventional idea that business should start with an end in mind. Instead, she ran freely with the inspiration she found in the rich, raw materials and the vast colors and textures of the natural landscape in her own backyard. She did not consult with or restrict her concept to a business plan; she embraced a process of her own creation. As the textiles that captivated her became transformed through color and texture of her own design, Coastal Road was born.
Coastal Road leather designs are a fusion of a desire to honor the timeless heritage of handcrafting natural leather and the limitless possibilities of new textile technologies. The brand's creation was heavily influenced by Casillo's background in corporate events, her lifelong obsession with artistic details, and her deep appreciation of quality production. All these things, along with a heaping helping of passion, led to the discovery of a way to bring something entirely new into the design world.
"All of my life experience has kind of funneled into this expression, and when I am designing and creating things, I am at my most peaceful," Casillo said. "I am acting with true joy."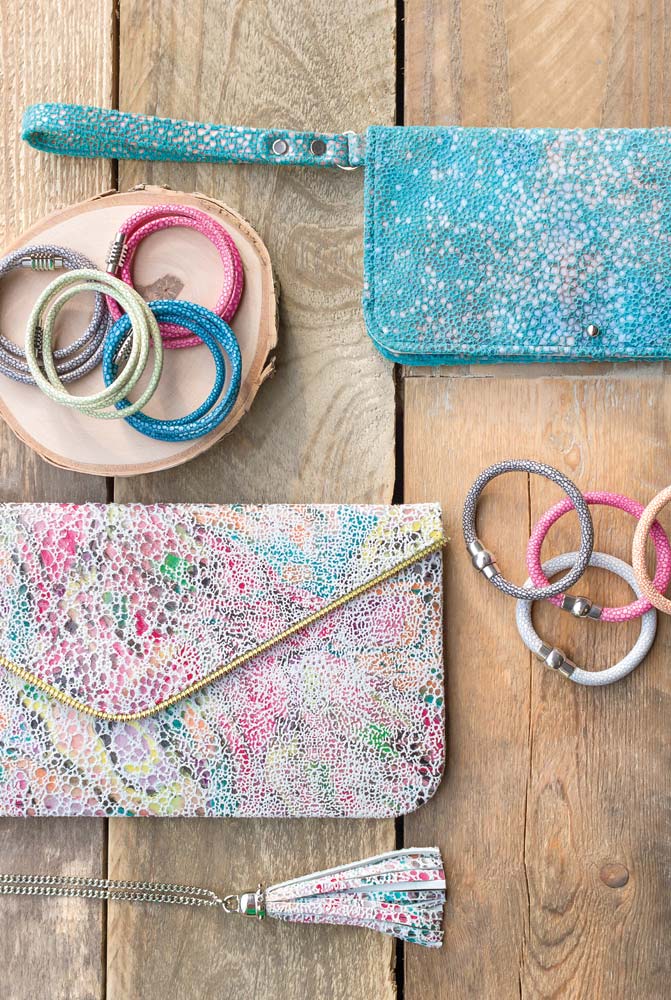 Working in event management, Casillo fell in love with the creative process whereby she would transform the shell of a space, producing a new look and feel to meet her client's vision. Event design led her to other forms of design; she next worked for a fashion label, which gave her new ways to bring others' visions to life. Casillo was drawn to overseeing the production of goods, and, in managing the process, she began to better understand the importance of cut, pattern, and materials, not to mention the hands and hearts that bring them all together.
One of the defining characteristics of Coastal Road—being American made—began with this awareness and a desire to retain the quality and heart of the products, which can so often be lost in mass production. The design process and most of the production of Coastal Road's smaller leather goods take place in the studio in Santa Rosa Beach, while some larger pieces are constructed in the heart of the Garment District in Manhattan.
The process of bringing together visual and tactile elements is as important as the product to both Casillo and Coastal Road—the two are inextricably linked.
With a vision and a lot of heart, Casillo learned to trust her instincts when creating her initial designs and sample pieces. The first sample to arrive back on her doorstep as a finished product was a crossbody bag, which, with some revisions, is still a customer favorite today. Holding in her hands a product that had previously only existed in her heart and mind was one of the first tangible successes in the journey of Coastal Road.
When her collection included enough samples, Casillo assembled a visual presentation to show to a retail buyer. This meeting resulted in her first wholesale order and a validation that Coastal Road was, in fact, something sought by her target market.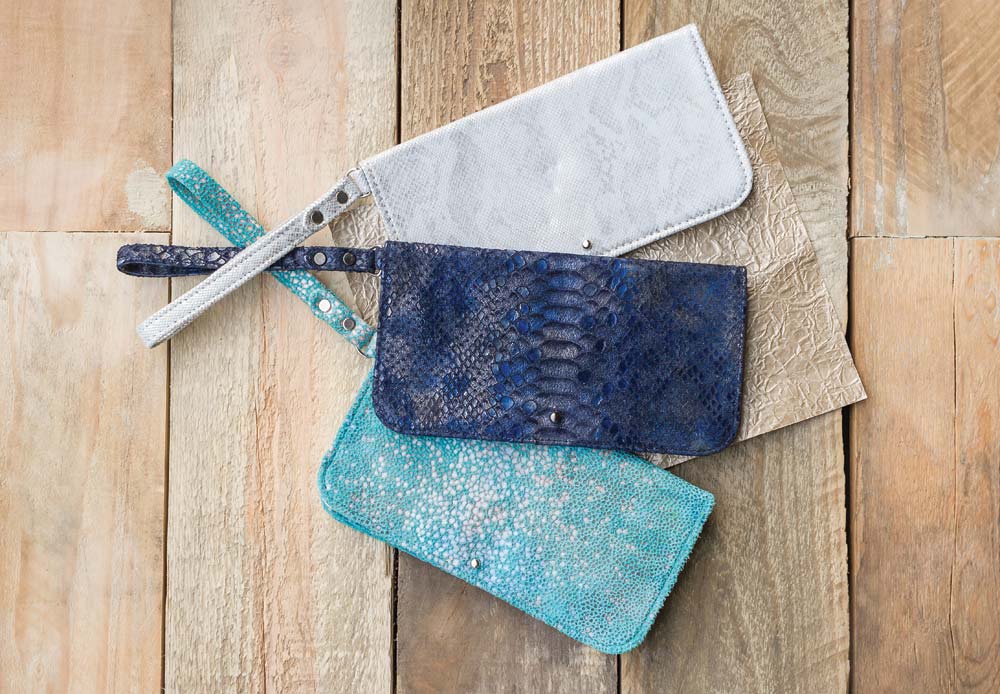 Since then, Casillo has continued to trust her instincts both in creating collections for Coastal Road and in making business decisions. She has expanded to a new studio warehouse and hired a supportive creative team to help with all aspects of the business, from design and production to marketing and sales. Above all, she continues to support American-made, quality craftsmanship and inspired design. The process of bringing together visual and tactile elements is as important as the product to both Casillo and Coastal Road—the two are inextricably linked. She says this is crucial for the future.
"I have seen what happens when people step away from the process and get too distant," Casillo explains. "With success, they forget all the hands, minds, and talents that drove that success. I will never let that be part of our story."
An exciting development for Coastal Road was the brand's selection as one of only seven brands nationwide to be part of the FedEx Big Box of Small Goods campaign, whose aim is to grow small businesses through the exposure of industry experts. The offer to become part of the campaign came after Coastal Road was a finalist in FedEx's small business grant program.
The Big Box of Small Goods campaign includes a Coastal Road product, along with the products of the six other selected small businesses, placed in a special box handcrafted by a Brooklyn artisan. The boxes will be sent to national brand influencers: Guy Kawasaki, Michael Williams of A Continuous Lean, Justin Livingston from Scout Sixteen, Alexa Jean Brown, Ashley Rodriguez of Not Without Salt, and Rita Mehta of The American Edit. Coastal Road was specially paired for engagement with The American Edit, a site focused entirely on finding the best American makers and brands. FedEx.com will feature the campaign for three to six months. "We are beyond appreciative that FedEx would create such an amazing program and that our growing business is a part of its initial phase," Casillo says.
Casillo shares that she also hopes the program will help her endeavors to "Support Local" and give back to the artistic beach community that provided the inspiration and the first steps for Coastal Road. "We hope that in shining a light on our locally made brand at a national level, we can share that gratitude with the other small businesses—shops, boutiques, and publications—that have helped us grow," she says.
The growth of Coastal Road has brought with it a lot of personal growth for its founder. "I am more fearless," Casillo says. "I now know I can trust, go, work, and connect without limits. It has changed my whole thought process about business and passion and how neither should ever hold the other back."
— V —
---
To learn more or to shop Coastal Road, visit CoastalRoad.net.
Megan Trent is the business developer for Coastal Road. Portions of this story are from the essay she wrote when applying for the FedEx small business grant program.
ARTICLE CATEGORIES