October 8, 2016
Nashville, Tennessee
A chance encounter—and then several more—brought this Oklahoma belle and Texas singer-songwriter together in Nashville. From passing the ketchup to walking down the aisle, this is one love story that is worthy of a hit country song. The bride shares their journey:
Our Love Story
Billy is from a small town in Texas called Sunray, and I am from Moore, Oklahoma. It took both of us moving to Nashville, Tennessee, for us to actually meet. One night, my family and I were eating at Chili's with a friend, and from the next table, Billy asked if he could borrow our ketchup; he had run out. He loves ketchup—haha! And, because Billy never meets a stranger, he started a conversation with us. We went back to eating, and so did he with his company, and we all left. We ran into each other over and over again throughout the next five or six months. Fate? It eventually led to Billy asking me out on a date. The rest is history!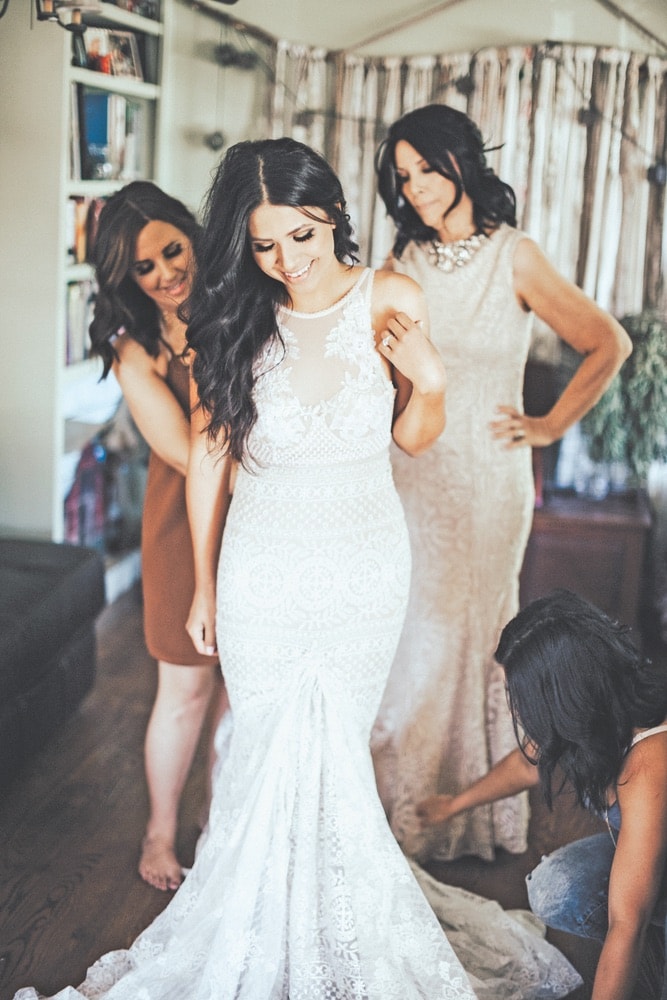 The Proposal
Billy proposed on Christmas Eve 2015. We were at my sister's house with my whole family. We had begun to open presents, and Billy grabbed this huge box and handed it to me to open. I started to open it and inside were a lot of other little gifts. I opened each one, and they were presents from his family to me. The last one was shaped like a necklace box, so when I opened it, I was stunned to see a ring! He then got down on one knee and asked me to marry him, tears welling up in his eyes. I, of course, said yes! He had proposed with a family ring that had been his grandpa's. So, I got the best of both worlds; I was completely surprised when he proposed, and then I got to pick out my own setting for the diamond!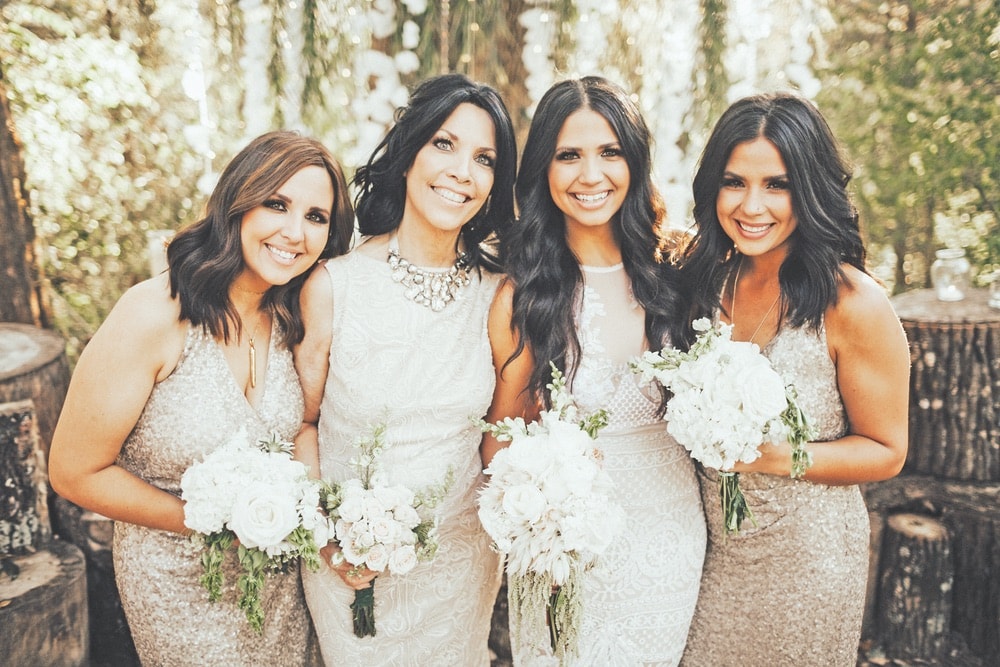 The Plans
Planning our wedding was both fun and a little stressful. It was pretty much a DIY wedding, including my gown. My mother made it—and she did so all while battling cancer and going through treatments. She was a fantastic seamstress and made dresses for my sisters and me when we were growing up, so it was fitting for her to design my wedding dress. It will be something I treasure forever.
The Venue
Aurora Acres is a rustic wedding venue that belongs to a friend of ours. On the property, there is a beautiful woodland area with an old tree in the center. This particular area had never been used for a wedding before, but we knew we had to get married in front of that beautiful tree. We had to do some clearing of the land to accommodate our two hundred guests, but it was so worth it. It felt like we were in a hidden oasis in the woods.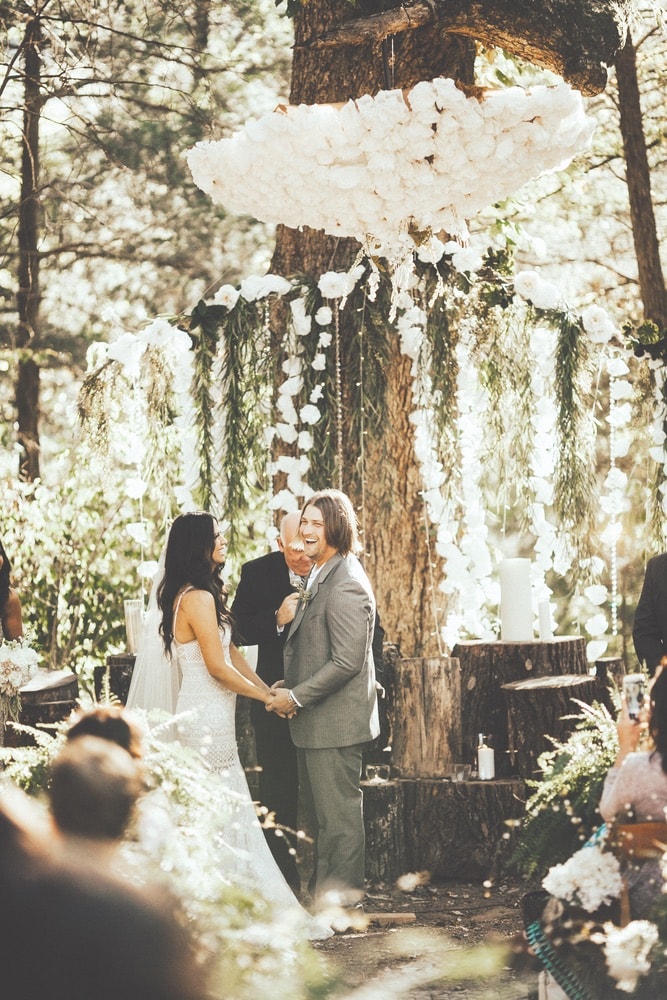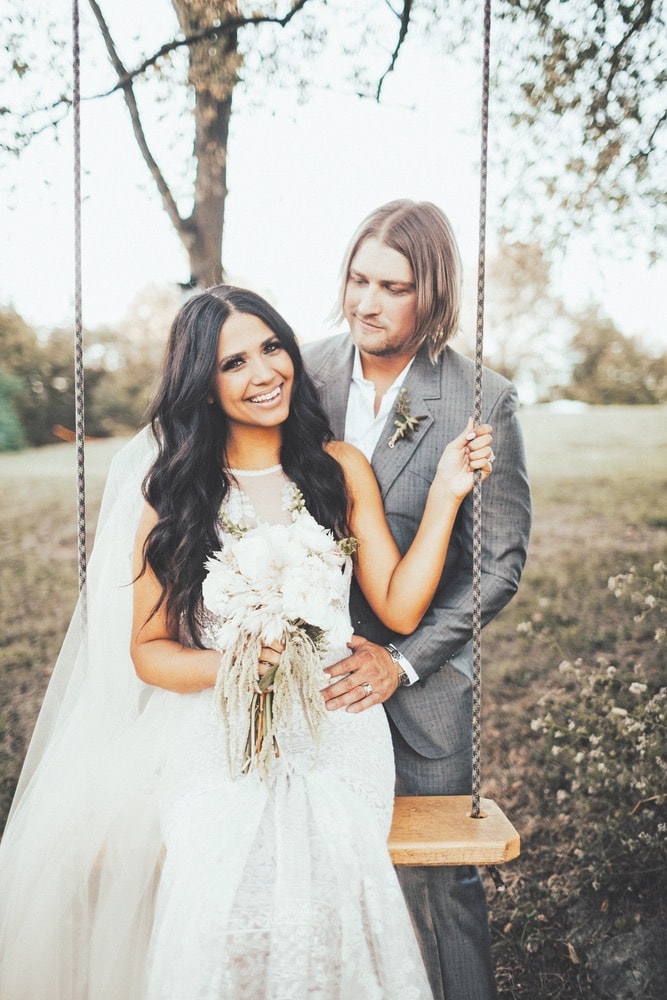 Our Wedding Day
I wanted it to be like a woodland wedding underneath the trees with natural moss everywhere—but with an element of glam. We had twinkle lights and crystals dripping from the trees. Ivory flowers and succulents were everywhere. It was an intimate, love-filled day with family and friends! A particularly special moment for me happened as I was tucked away in the woods waiting to walk down the aisle. Seeing my soon-to-be husband walking my mom down the aisle—and then hearing everyone give her a round of applause because they knew what she had been going through—was an unforgettable moment.
Our wedding songs included "Gonna B Good" by Keith Urban (wedding party processional) and three songs written and recorded by Billy: "Angel Dressed in White" (bridal processional), "4 Wheel Drive Me Crazy" (recessional), and "Calm in My Storm" (first dance).
For the reception, we did a DIY taco bar that included brisket from Major League BBQ in locally made organic corn tortillas topped with a choice of specialty sauces. We also had a coffee bar with Noteable Blends coffee and sweet tea from McAlister's Deli.
The Honeymoon
Our honeymoon was a two-week getaway in Rosemary Beach, Florida, because it is heaven on earth.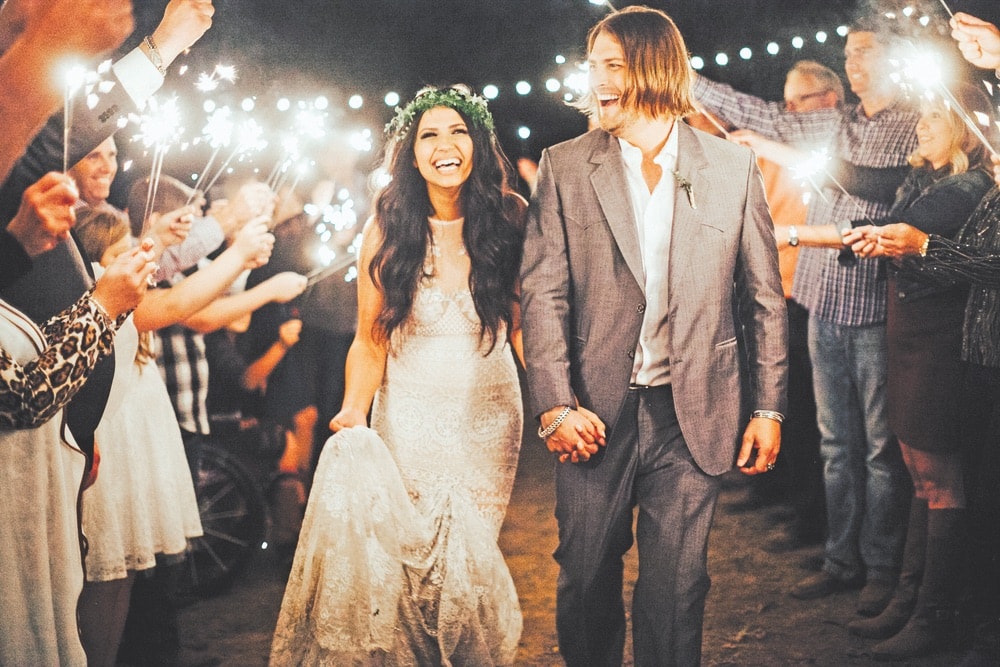 Special Thanks
Flowers/Decor: DIY by the bride's mother and sister (maid of honor)
DJ: DJSC (official DJ of the Dallas Cowboys)
Day of wedding coordinator: Cristin Malone 
Officiant: Steve Cummings 
Photographer: Stephanie Sorenson 
Videographer: James Rayner
Hair and makeup: Lauren Young and Lainey Edwards—Lacy's sisters and maids of honor
— V —
---
VIE would like to dedicate this article to Lacy's beautiful mother, Karen Jeanne Edwards
May 10, 1958 – October 22, 2017
ARTICLE CATEGORIES