Holiday Dessert Recipes
By Sandra Woodward
The sweet life! The busy winter holidays, from Thanksgiving to New Year's, challenge us all to find new ways to make the season special. VIE asked some of the top entertaining experts in the COLA 2 COLA region—chefs who serve up celebration on a nightly basis throughout the year—to share their favorite holiday recipes and some tips on holiday entertaining.
Remember, if your plans for entertaining friends and family during this festive season become too much of a challenge, you can always take the party to these chefs' doorsteps. Just be sure to check the holiday schedules for each restaurant in advance—and don't forget to make reservations. Cheers!
---
Handmade Truffles
Yield: Approximately 3 dozen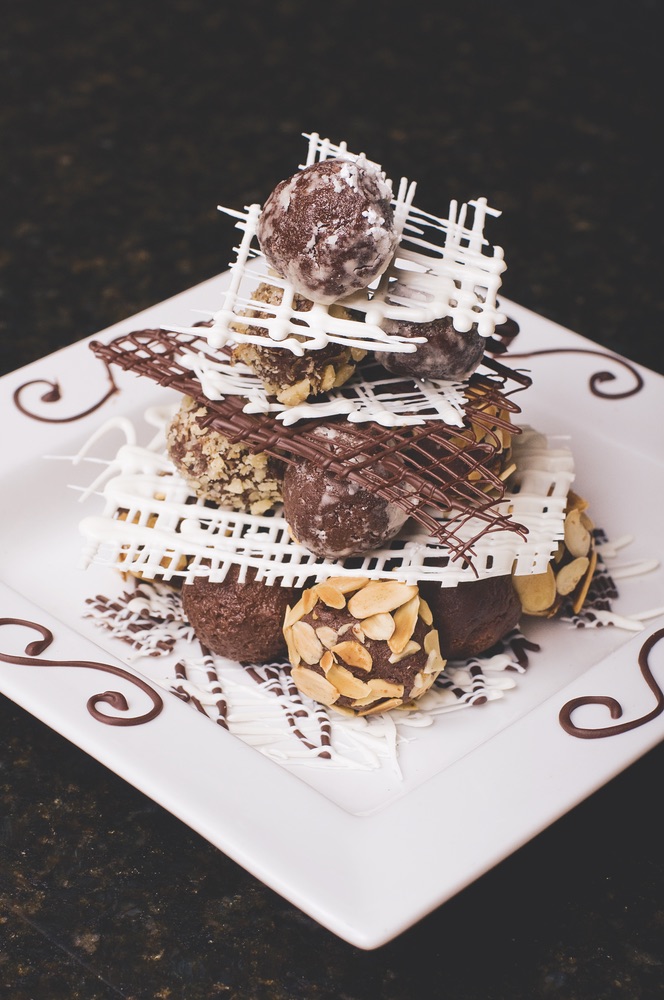 For ganache: 16 oz. semi-sweet or dark chocolate chips 1 pint heavy whipping cream at room temperature
Melt chocolate in double boiler over low heat. Gradually whisk in cream until smooth. Remove from heat and refrigerate until mixture is firm (may take several hours).
Option: Add 2 tablespoons of your favorite spirit (e.g., cognac, rum, Kahlua, Amaretto or Frangelico) to ganache before chilling.
Scoop the chocolate mixture with a melon baller or teaspoon and roll gently with palms to form smooth balls. Place on a baking sheet or tray covered with wax paper or parchment and refrigerate at least 30 minutes before rolling in coating(s) of choice.
Note: Substitute white chocolate chips to make white chocolate truffles, but do not mix dark and white chocolate. The resulting gray mixture is not pretty.
For coatings: The traditional candy truffle coating is unsweetened cocoa powder to simulate the dirt that surrounds real truffles in nature. However, other combinations make an elegant presentation for holiday tables. Place small amounts of each coating ingredient in separate small bowls (cereal bowls work fine) and gently roll each chilled truffle in one or more coating. Swirling the bowl instead of the truffle will help distribute coating evenly and maintain spherical shape. Store in a covered container in the refrigerator until ready to serve. May be stored uncoated and rolled in toppings just before serving.
Suggested coatings: Unsweetened cocoa powder Confectioner's sugar Finely chopped white or dark chocolate Assorted finely chopped nuts (hazelnuts, pistachios, pecans, almonds or walnuts) Finely chopped dried fruits (cranberries, apricots, or blueberries) Coconut, plain or toasted Candy sprinkles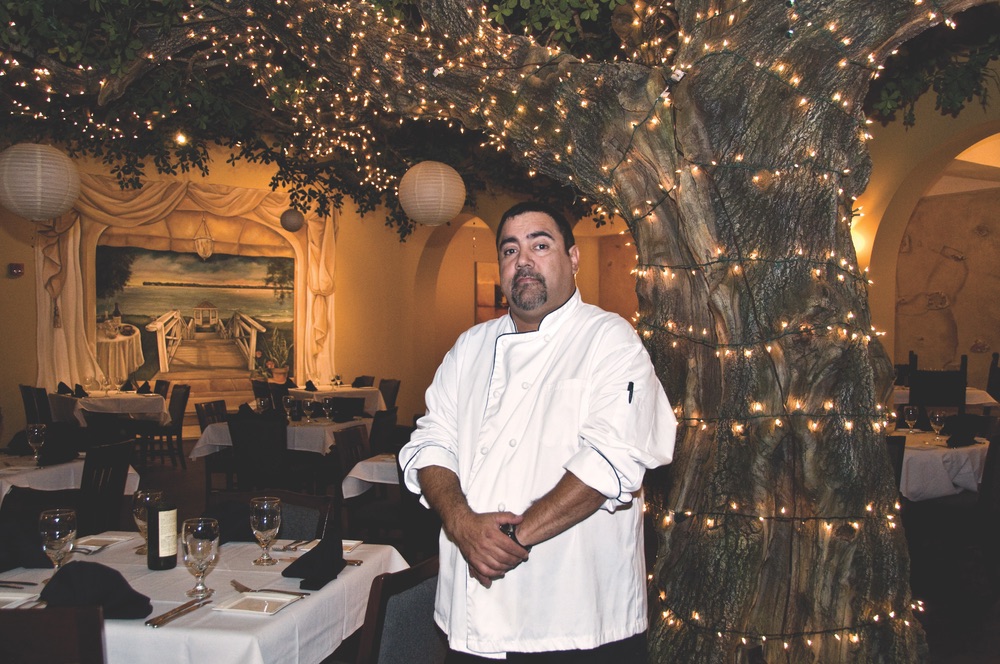 "A fine meal does not have to be complicated. In our cooking classes, we emphasize simplicity so that people learn they can prepare a delicious high-quality meal in a very short time. The same is true for desserts. These elegant candies are sinfully easy to make. Nestle them in fluted paper cups in a decorative holiday tin as a treat for friends, or let children make them as their gift for a special family member."
Paul Stellato, Firefly 535 Richard Jackson Boulevard Panama City Beach, FL, 32407 (850) 249-3359 www.Fireflypcb.com
---
Pumpkin Bread Pudding with Gingersnap Streusel Topping
Yield: Approximately 12 servings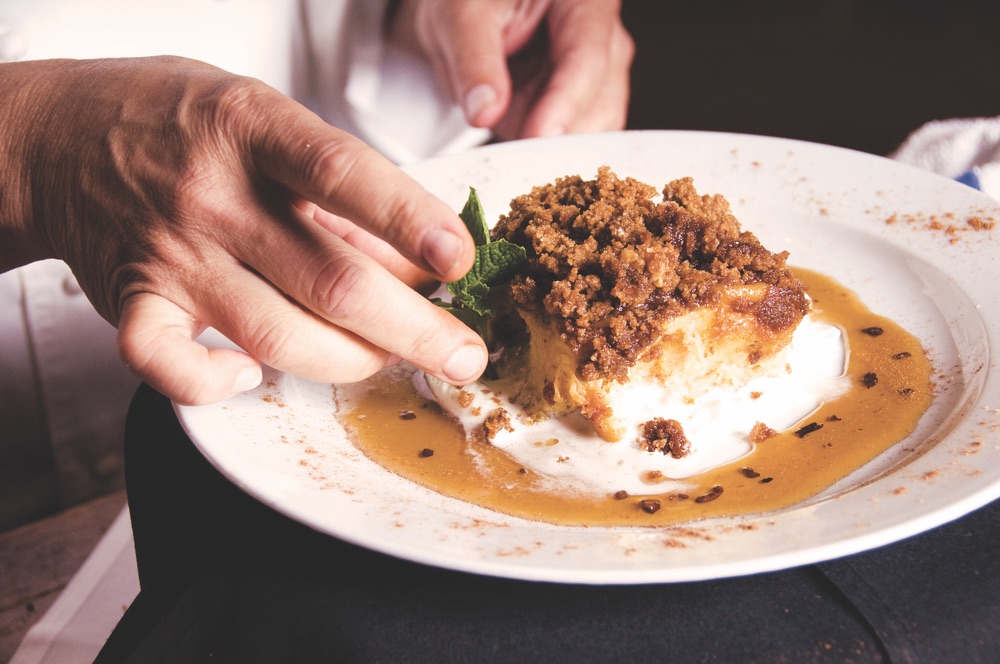 12 cups French bread, cut into 1-inch cubes 9 eggs 1 15-oz. can (2 cups) pure pumpkin* 1 cup raisins 2 cups half and half 3 cups milk 1 1/2 cups granulated sugar 1 Tbsp. ground cinnamon 1 tsp. vanilla extract 1 tsp. ground nutmeg 1 tsp. ground cloves *Fresh pumpkin may be used, but canned is preferable for this recipe. Do not use canned pumpkin pie filling.
Preheat oven to 350 degrees.
Butter a 9 x 13-inch baking dish. Steep the raisins in boiling water for 10 minutes. Strain off water and reserve raisins. Whisk eggs in a large mixing bowl, and then add the milk, half and half, pumpkin, vanilla, sugar and spices. Liberally butter the baking dish and place the cubed bread in the dish. Pour pumpkin mixture over the bread, add raisins, and let soak for 10 minutes. Cover with foil and bake 45 minutes in a water bath until firm in the center. Remove foil and cover bread pudding with the streusel topping (recipe follows). Bake 15 more minutes, uncovered. Let rest 30 minutes before slicing.
Gingersnap Streusel Topping 3 cups gingersnap cookies, roughly crushed 1 cup granulated sugar 1/2 pound cold unsalted butter, cut into small pieces
In a food processor, pulse the crushed cookies to a fine consistency, and then drop in cold butter pieces, add sugar, and continue to pulse until fully blended.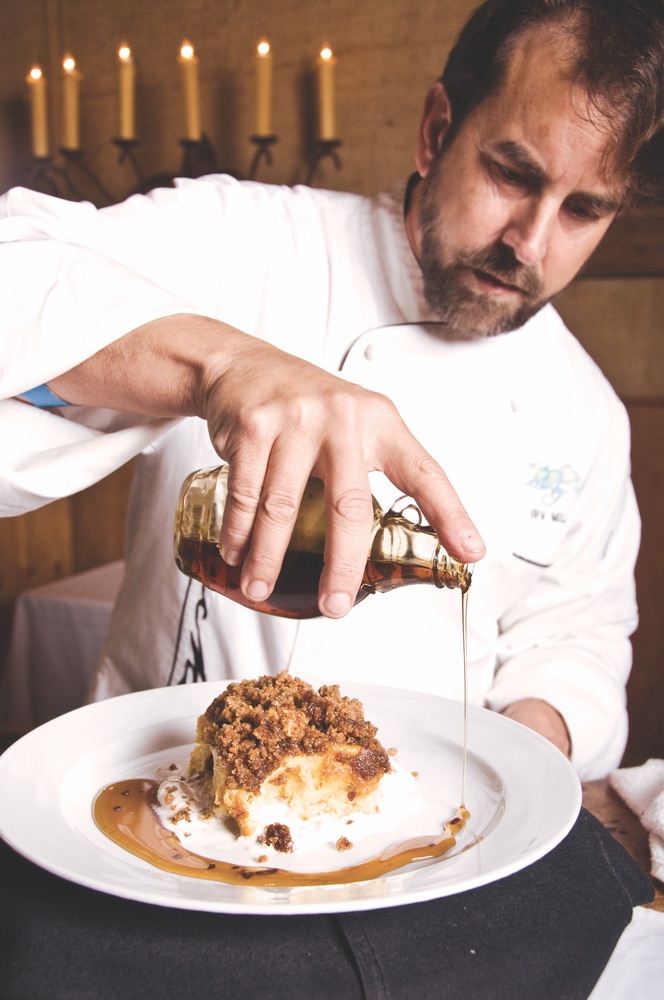 "I am a Southern transplant of twenty-eight years and have come to appreciate the gradual seasonal changes of the Northwest Florida coast. To enhance the subtlety of the seasons, we incorporate traditional seasonal foods in our menus. Over the years I challenged myself to develop a holiday bread pudding, and I eventually came up with a fantastic Pumpkin Bread Pudding with Gingersnap Streusel. I make it every year, and it's a proven favorite!"
Irv Miller, Jackson's Steakhouse 400 South Palafox Street Pensacola, Florida 32502 (850) 469-9898
---
Corleone 
Yield: 2 servings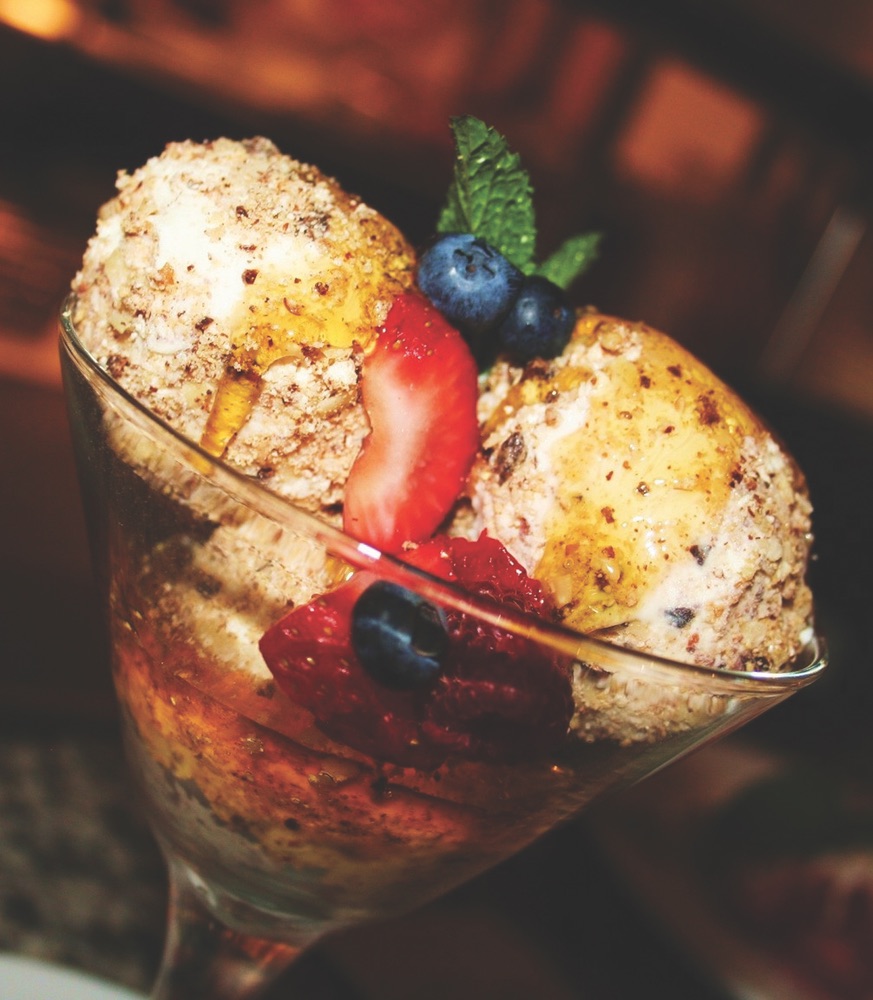 1/2 cup sliced and blanched almonds 1/4 cup pecans 1/4 cup chopped white chocolate 1/4 cup chopped dark chocolate 1/2 cup graham cracker crumbs 1/2 Tbsp. cinnamon 1 tsp. nutmeg 6 scoops vanilla ice cream 1 cup honey Fresh mint leaves Fresh berries
Combine first seven ingredients in a food processor. Process till finely chopped. Transfer to a shallow dish. Roll the scoops of ice cream in the crumb mixture, coating evenly. Place in martini glasses or other desired serving dish and drizzle with honey. Garnish with mint and berries.
Note: Never use mistletoe or holly as a food garnish. Both are poisonous.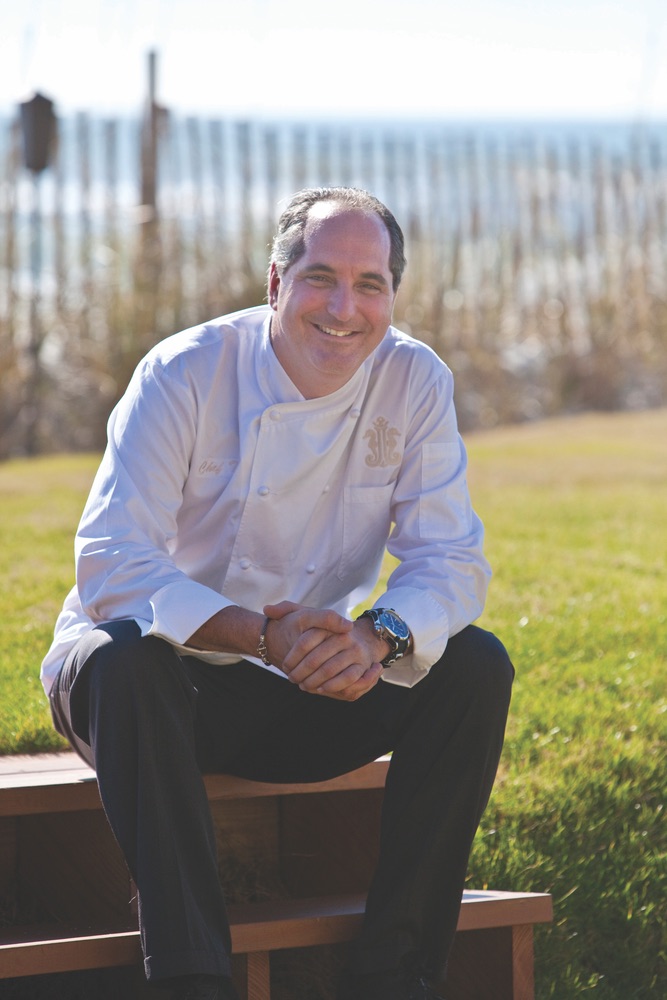 "My mantra is 'If it tastes good, it must be right.' Flavor comes first but, especially during the holidays, people want the 'Wow' factor in presentation. At the restaurant, we serve the Corleone in martini glasses, but holiday stemware or other festive serving dishes can certainly be used. Simplicity of preparation always is a plus, even more so during the holidays. The Corleone is beautiful in presentation, simple to prepare and complex in its combination of flavors and textures."
Tim Creehan, Cuvee Bistro 36120 Emerald Coast Parkway Destin, Florida 32541 (850) 650-8900 http://cuveebistrodestin.com
---
Norwegian Kransekake Cookies
Yield: Approximately 4 dozen 2-inch cookies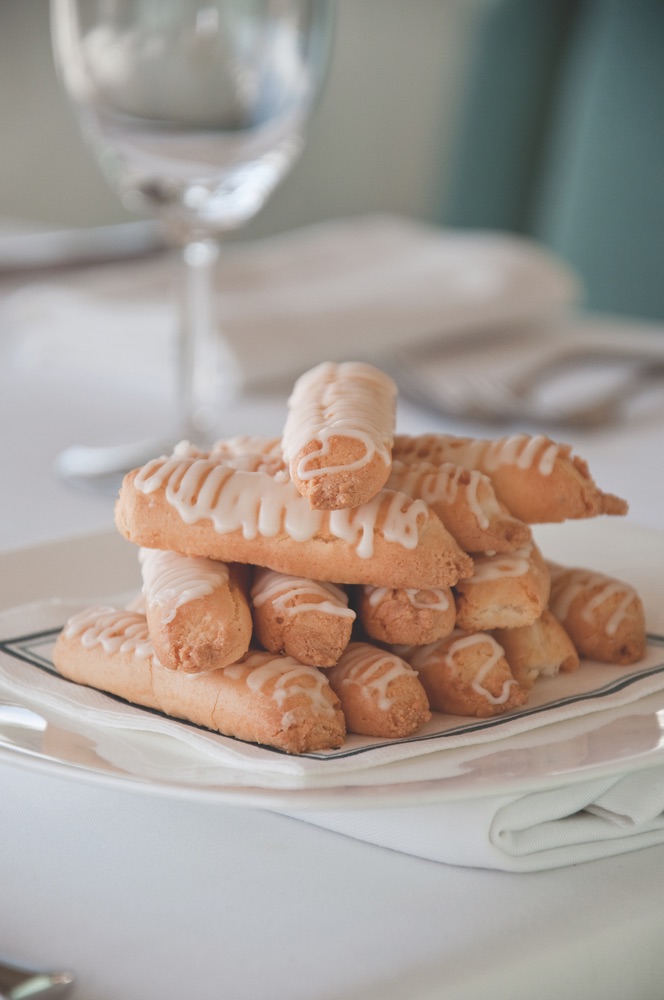 1 1/2 lbs. almond paste 2 1/4 cups powdered sugar 3 large egg whites
Mix almond paste with 3/4 cup of the powdered sugar using the paddle attachment of a stand mixer. Add unbeaten egg whites and mix to incorporate. Add remaining 1 1/2 cups powdered sugar and mix to incorporate. Cover dough and leave at room temperature.
In batches, roll the dough into 1/2-inch-diameter logs. Cut the cookies to desired length (I prefer 2-inch lengths). Place the cookies on baking sheet lined with parchment paper or Silpat. Bake at 325 degrees for about 15–18 minutes, or until done. Allow the cookies to cool on a rack.
Frosting 2 cups powdered sugar 2 Tbsp. plus 1 tsp. heavy cream 1 tsp. melted but cooled butter 1/2 tsp. pure almond extract
Dissolve powdered sugar into cream and extract. Whisk in butter. Working quickly, pipe the frosting on top of the cookies.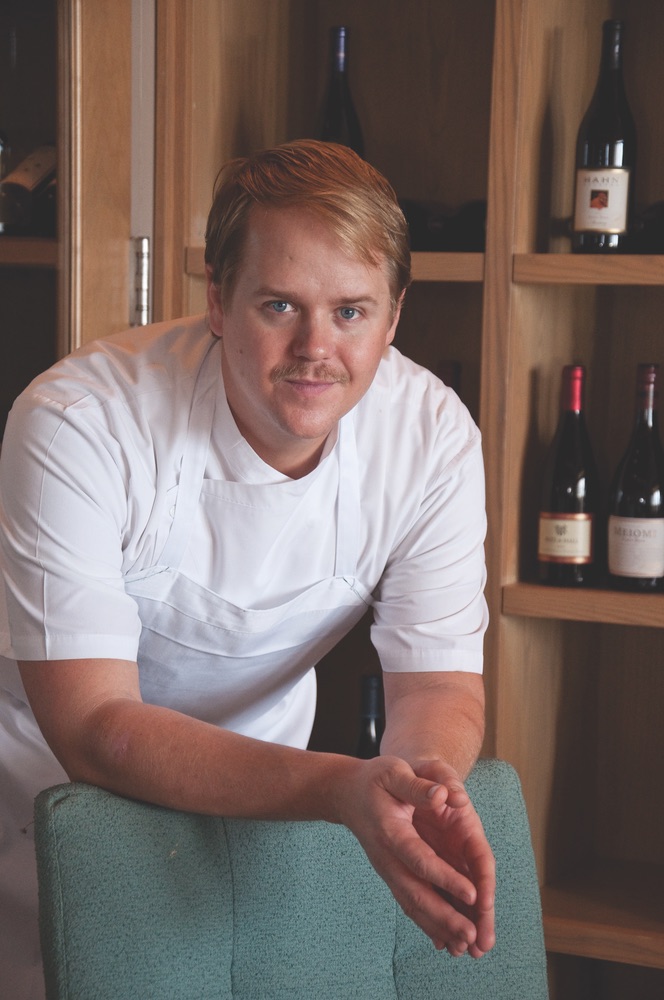 "This is my mother's recipe for Norwegian Kransekake. Traditionally the dough is baked in special ring molds to create a tower of cookie rings. The rings can be difficult to find and, unless you are presenting to a large group of people, impractical. The recipe below is for making Kranskake cookies, which do not require the use of the rings. The cookies can be baked in advance and frozen. I recommend waiting to frost the cookies just prior to consumption."
Philip Krajeck, Fish Out of Water WaterColor Inn & Resort 34 Goldenrod Circle Santa Rosa Beach, Florida 32459 (850) 534-5008 www.WaterColorResort.com
ARTICLE CATEGORIES