January 3, 2015
Our Love Story
Sean and I met online five years ago. He grew up in Niceville, Florida, and I grew up in Destin—we were near each other but went to different high schools, so we had never met back then. We talked for a while and eventually decided to meet on a blind date. He had me laughing for hours and time flew. We started dating a week later and have been together ever since. I was so lucky to happen upon him and to find a person that adds so much to my life.
Sean proposed in February of 2014, a few days before I had to leave on a business trip. I got home from work to discover dozens of flickering candles and a path of rose petals. After getting over the shock, I followed the petals to the backyard to find Sean down on one knee; our song, "Dream a Little Dream of Me," was playing in the background. He had on his vest and bow tie and looked so handsome. He held a handmade ring box in his hand and above him were strings of white lights. He asked me to marry him just as the sun was setting. It was so special and romantic!
Our Venue – Eden Gardens State Park
We looked at a lot of places before we decided on a wedding venue. We agreed that we didn't want it on the beach, since we both grew up near it, but we wanted something that included nature. We also were passionate about having a romantic backdrop for photos, so Eden Gardens State Park in Santa Rosa Beach was our dream come true! We had our reception at the Ocean Club near Sandestin Golf and Beach Resort.
Our Wedding Plans
Planning everything was really fun for us; we enjoyed bouncing ideas around and making special touches for our big day. I was lucky to have our family friend, Patti Terjak, a wedding planner who owns Surfside Brides, there to help us navigate all the details. Sean and I are both creative and are "old souls," so it was important to have a timeless and romantic event. I wouldn't have changed a single thing!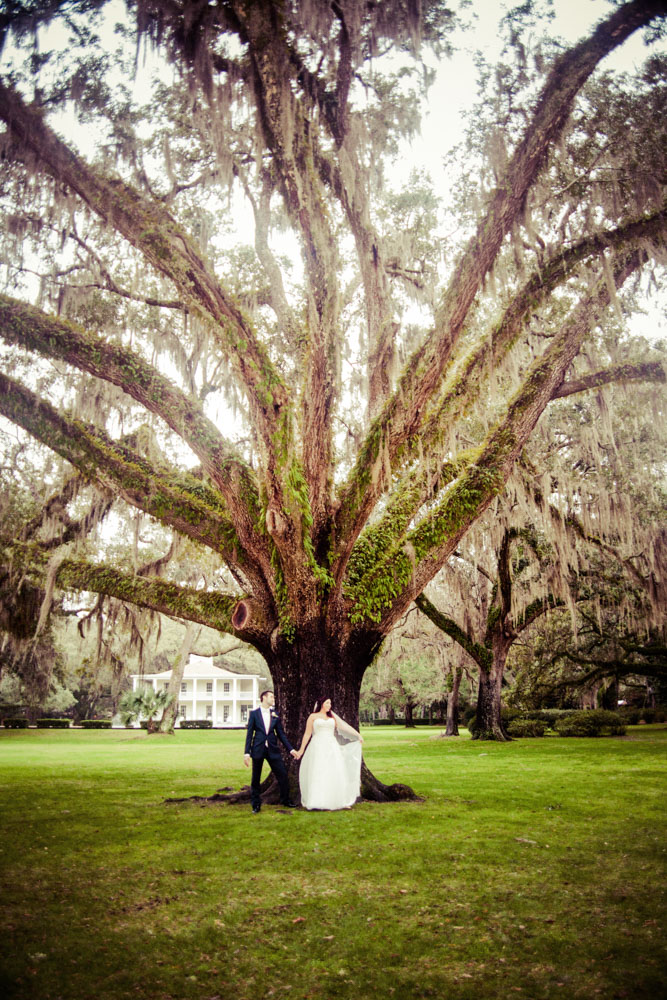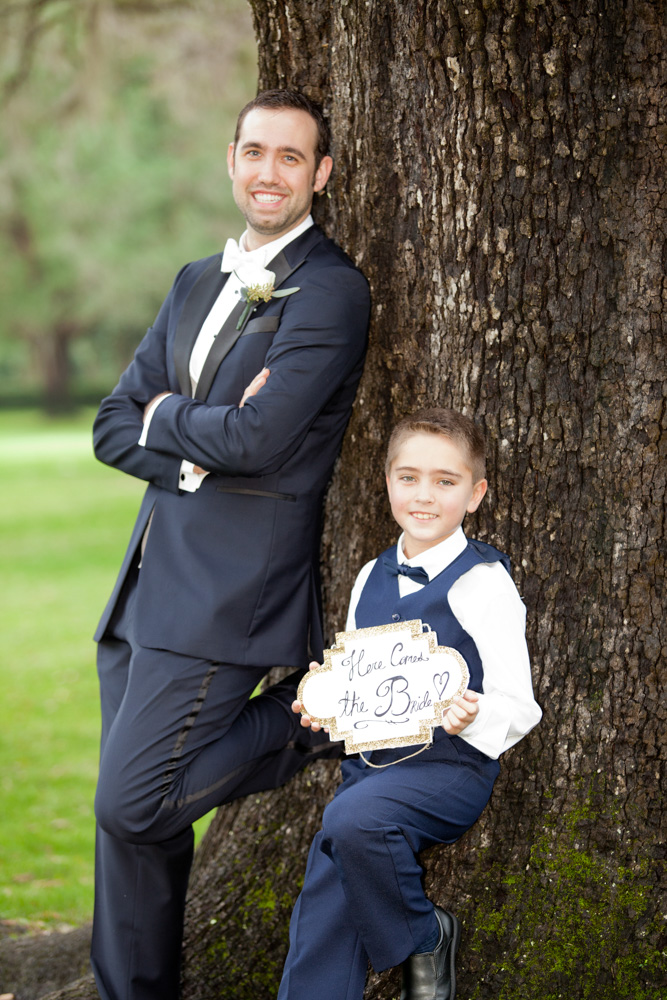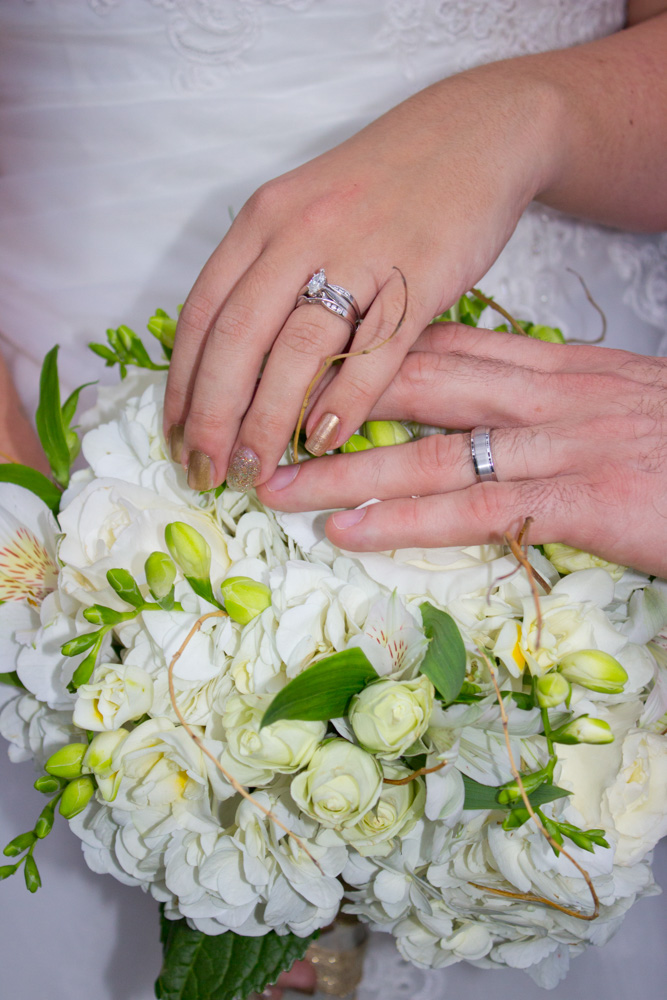 Our Wedding Day
The ceremony took place in a screened-in pavilion at Eden Gardens State Park. My vision for the ceremony was "garden romance," and our overall theme for the wedding was "I love you to the moon and back." We had the aisles lined with flickering lanterns leading up to a giant arbor draped in sheer, dreamy ivory fabric. I chose to walk down the aisle to an acoustic version of "Can't Help Falling in Love" by Ingrid Michaelson and was escorted by both of my lovely parents.
I will always remember waiting there with my parents by my side as the music changed to my song. I took my dad's arm and my mom's hand as we turned the corner to walk down the aisle, and then I saw Sean. It was the best thing in the world to me, and I remember that his expression was so full of love. I never had a moment of doubt or hesitation.
It was the best thing in the world to me, and I remember that his expression was so full of love. I never had a moment of doubt or hesitation.
My dress was a ball gown in ivory with a sweetheart neckline and lace-up corset that ran all the way down my back. The bridesmaids were all dressed in different colors: royal blue, radiant orchid, midnight blue, plum, and periwinkle. They wore long convertible dresses that they all tied differently. Each groomsman wore a bow tie that matched his maid's gown. I chose a variety for their clothing, but the dominant colors for decor were gold and midnight blue, to reflect the night sky and stars. The girls' flowers were hydrangeas, and I had hydrangeas and Juliet roses in my bouquet—all ivory.
An interesting part of the wedding was that instead of having our officiant stand in front of us and everyone see our backs, she stood in the aisle and had us hold hands and face each other. Many of my guests loved that we did this because it made them truly feel part of our ceremony. We also decided on doing a wine box for the ceremony, which included placing glasses and a bottle of wine in a box along with love letters to each other; we will open the box and read those letters on our first anniversary together. We thought it was a cute idea in place of the unity candle or sand ceremony.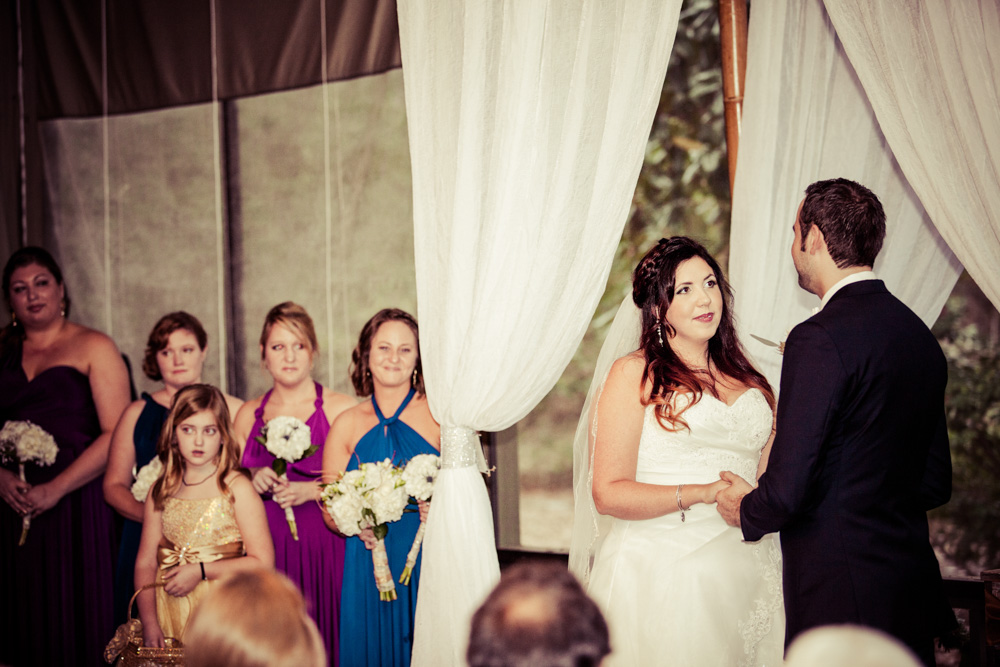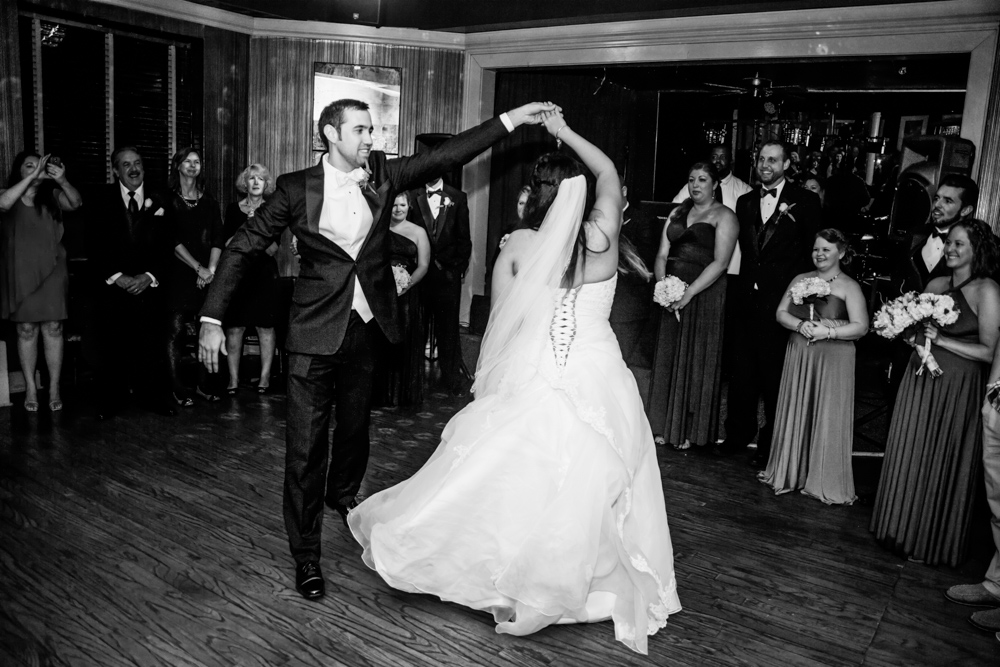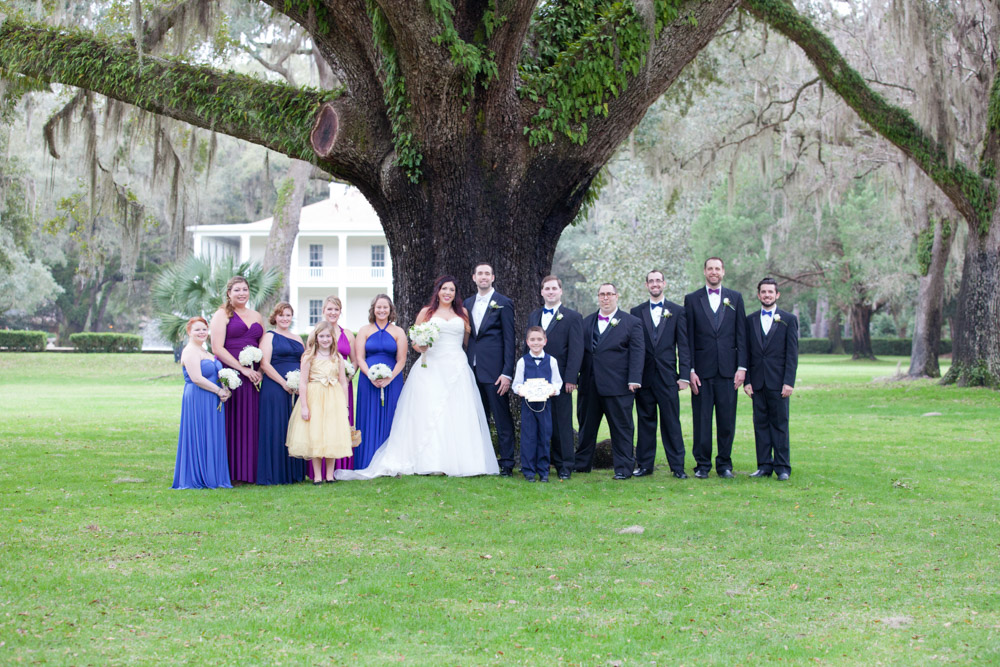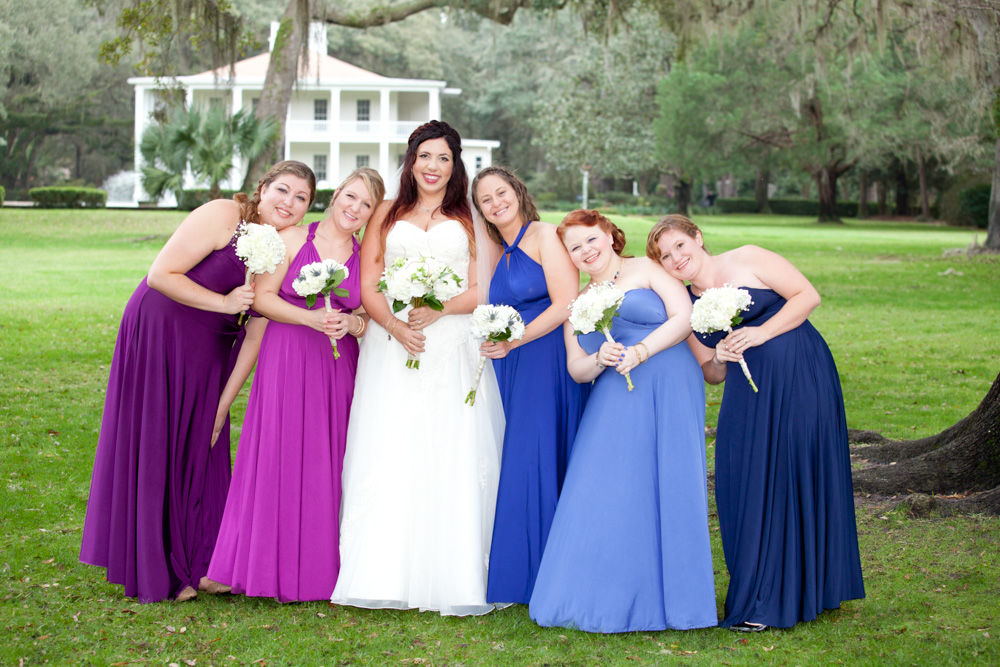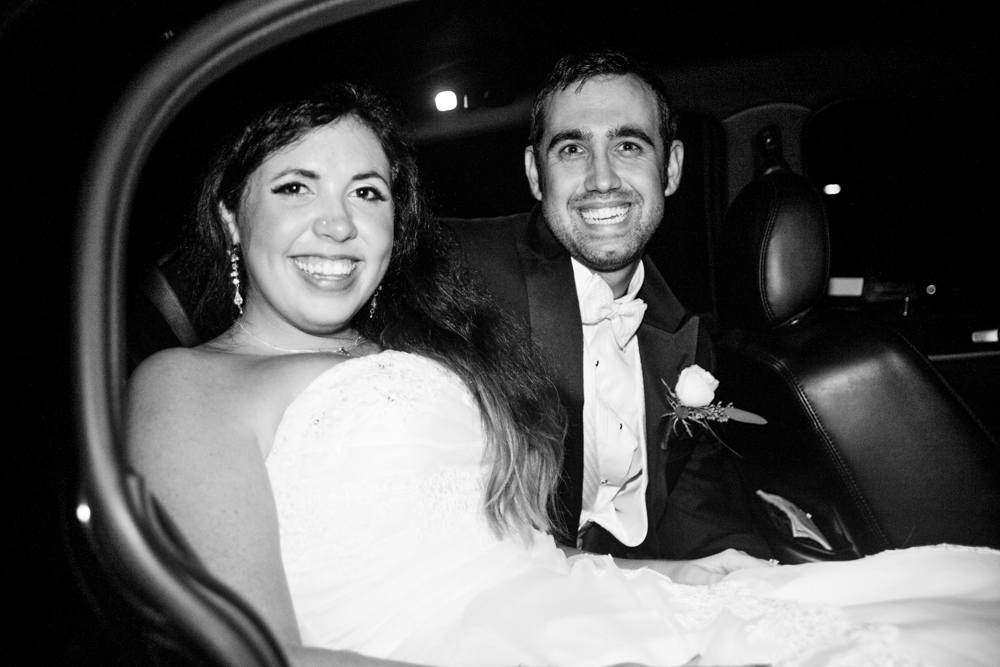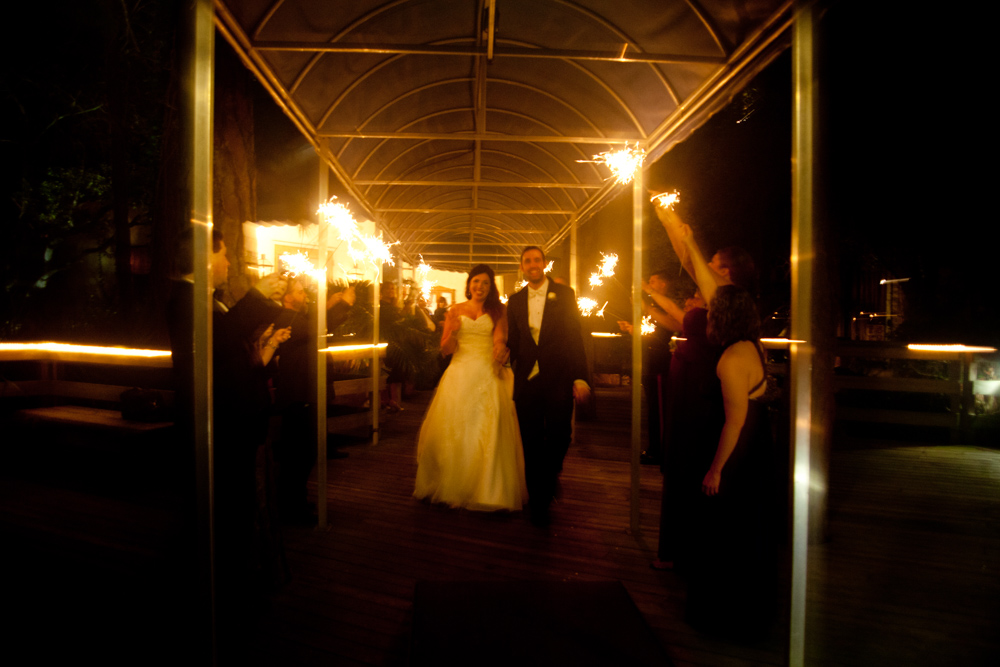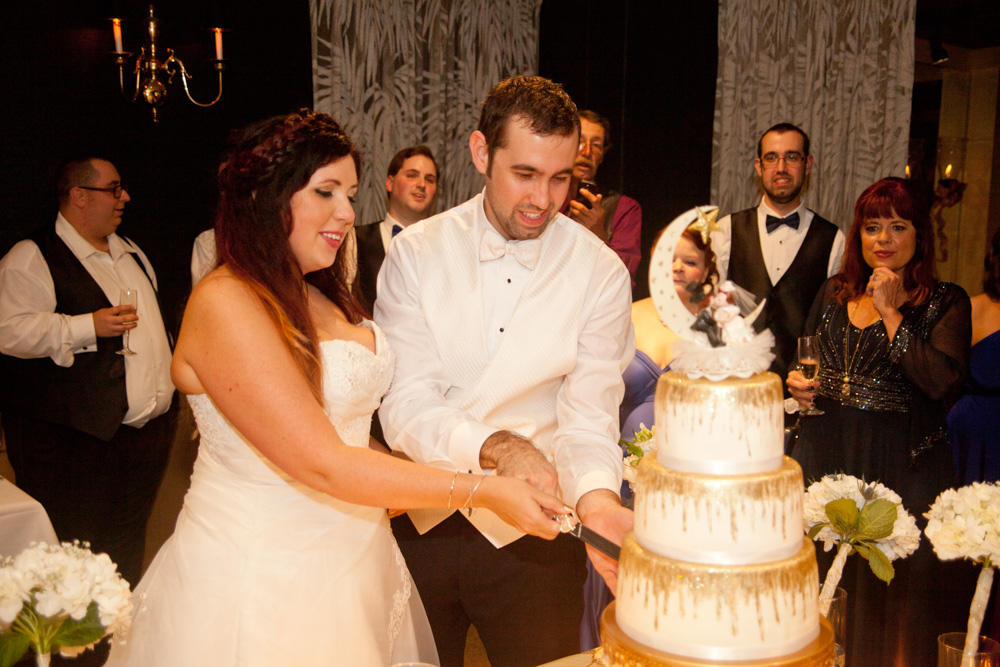 The reception was held at the Ocean Club restaurant, which was beautiful and still played into our romantic and elegant vibe. We chose this location for the delicious menu and fabulous dance floor. Upon arriving, we did all of our special dances before dinner—Sean and I had been secretly practicing our first dance together for a few weeks so that we could surprise everyone. We chose to dance to "Dream a Little Dream of Me" and put together a routine full of twirls and dips—and even a pretzel twist. We had a blast!
A fun element at our reception was a handmade moon photo booth that our guests could sit in and take dreamy retro-style photos. Sean helped me cut it out and attached it to the bench while I painted and sketched it out.
We chose to dance to "Dream a Little Dream of Me" and put together a routine full of twirls and dips—and even a pretzel twist. We had a blast!
Our cake was lovely: three-tiered with ivory and gold glitter drips falling from each level. I also found a vintage cake topper with a couple sitting on the moon kissing! The cake almost didn't make it—the stand I bought wasn't perfectly level and tended to lean. Luckily it lasted to the cake cutting and we got to try a piece of the delicious vanilla cake with white chocolate icing and diced strawberries between the layers.
Our Honeymoon
We spent a few nights in a suite at the Hilton at Sandestin Beach and Golf Resort to relax before going back to work. Sean is in his last semester of engineering at Florida State University, so we are waiting until June to go on a weeklong cruise to the Caribbean!
— V —
---
Special Thanks Photography – James Stewart / Blacksuit FM Photography Wedding Planner – Patti Terjak / Surfside Brides Flowers – Suzan Lesko Bridal Gown – Sweetheart Gowns Cake – Holy Cakes Hairstyling and Makeup – Amanda Maus / Avantgarde Salon DJ – Duane Mays / B-Boy Productions
ARTICLE CATEGORIES