Creating Hapiart
Interview by Jordan Staggs | 
Artwork by Kristi Kohut
Contemporary artist Kristi Kohut is pushing sixteen thousand followers on her Instagram account. Her work has been featured in over seventy publications, including Architectural Digest, Elle Decor, Forbes, and The World of Interiors. She has hosted pop-up shops in the Hamptons and collaborated with big brands such as Anthropologie. Among her collectors are well-known entrepreneurs, Hall of Fame athletes, and magazine editors across four continents. Her waiting list for commissions is pushing into 2020 already. And yet she reinforces the idea that she does not fit the typical mold of an artist.
She moves fast. She began building her brand from the ground up in 2014 when she turned her hobby into an art studio and business. Today, Kohut's kaleidoscopic gemstone- and nature-inspired pieces are selling for more than twice what they did back then. The "slow-moving" art galleries that never seemed to get back to her when she was starting are now knocking on her digital door quite constantly.
"It's all proof that there is no one-size-fits-all solution for artists," Kohut confides. "For me, fine art and digital commerce go hand and hand. I'm happy being an outlier—or, more aptly, an artlier."
Kohut tells us about her journey to becoming a professional artist, why art is important to the world, and why it's okay—even a good thing—to break all the rules: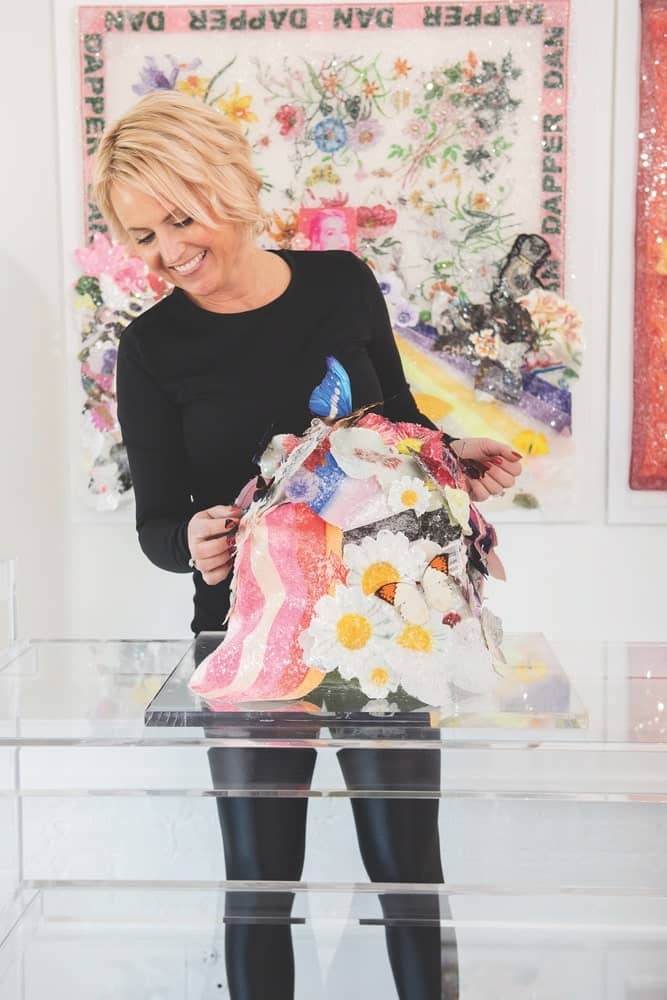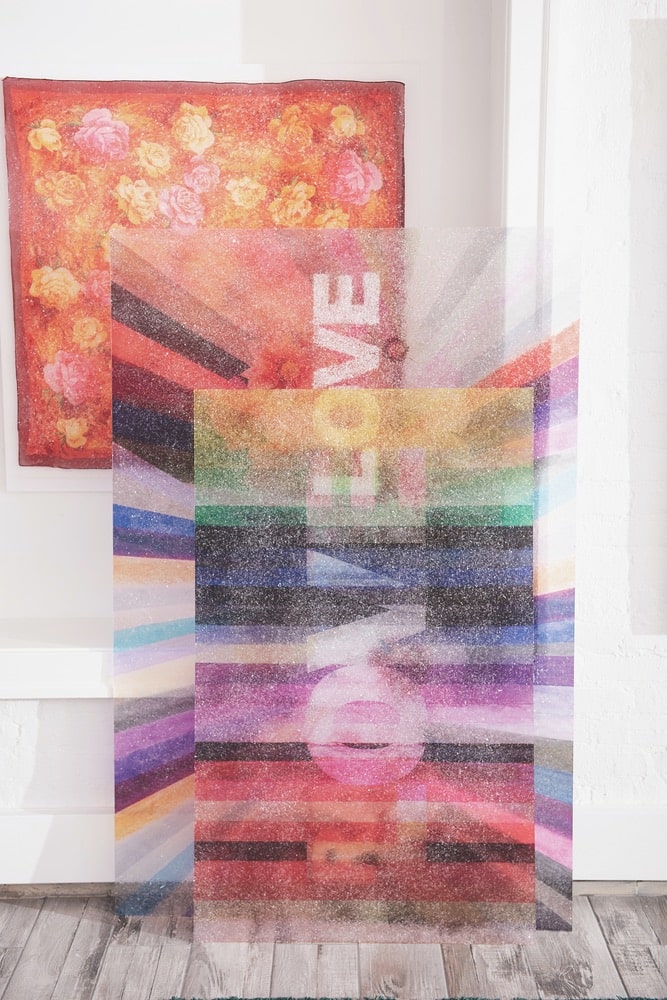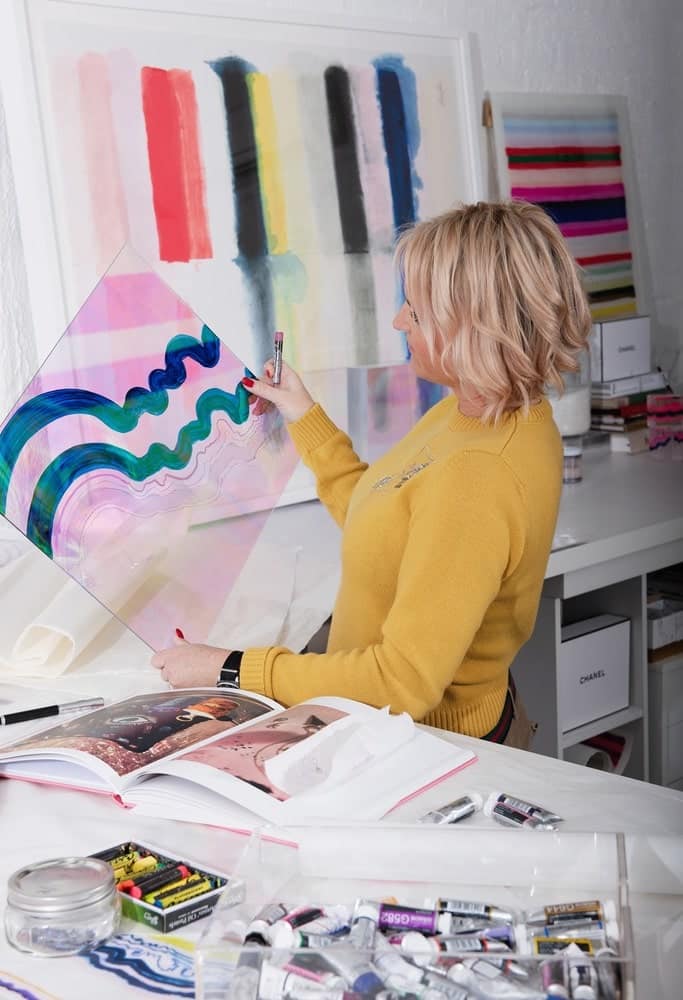 VIE: You started your career in advertising. What did you love most about that job?
Kristi Kohut: The energy, the intensity, the high-pressure pitches, and the late nights. I was young, and it was exciting, fun, and creative, I started in NYC and was surrounded by interesting and talented people. I also loved the actual creative process of imagining an idea through endless brainstorming and then bringing it to life. Learning from creative directors, photographers, directors, stylists—the process of collaborating with so much creativity and talent was invigorating. It was glamorous and energizing, and I learned so much that I still apply to my creative practice today.
It taught me to push out endless amounts of work and then filter through to find the ones that make a difference. I learned how to build a brand and connect with people by telling a story (all things that you don't learn in art school but that have been critical in allowing me to succeed as an independent artist and connect with people in a real way).
Most importantly, it inspired me to think big. Everything ever created exists first in the imagination. The only limits to what we can do or accomplish are in our heads. Be bold and crazy enough to think of larger-than-life ideas. Don't look at what's already been done or what others are doing—think bigger. If you can imagine it, you can create it.
VIE: When you started painting in your home studio after becoming a mother, was that the first time you had painted, or was it something you always loved?
KK: Art was always a part of my life, ever since I was a little girl. I can remember sitting at my desk looking out the window to the bright green grass and the bluest sky, just painting for hours. The thing that would light me up the most, more than any other toy, was a brand-new box of Crayola 64 crayons. Something about the vibrant colors and the endless possibilities of combinations just fueled me.
Art was always a part of my life, ever since I was a little girl. I can remember sitting at my desk looking out the window to the bright green grass and the bluest sky, just painting for hours.
But all I heard was, "You don't want to be an artist"—the whole starving artist myth—"You have to get a real job."
I went to journalism school at the University of Missouri and for a time thought I wanted to go into broadcast journalism. Then the book Ogilvy on Advertising arrived on my lap, and I was excited. I studied advertising instead and went off to New York City to work at what was one of the most exciting firms—Ogilvy & Mather. I worked at Ogilvy all through my twenties, ultimately ending up and spending most of my time as an art director at the Chicago office. I suddenly felt things begin to come full circle as to my passion for art and creating.
VIE: After leaving the world of advertising to start your family, you began painting again as a hobby. When did you realize you could turn your art into a business?
KK: In the beginning, I just wanted to make art. And I did—a lot of it. I just kept creating and creating and creating until my walls were filled. After honing my craft for several years, it was time to start putting my work out there (I was quickly running out of wall space!). Then people started asking about it and wanting the pieces I was creating, and it slowly took off. Three years ago, things changed, and it's felt as if everything has been at a hyper pace since then. The interest has been far greater than I imagined early on.
My studio was filled with commissions from buyers who eventually became collectors, designers were calling, commercial projects (hotels, etc.) started showing up, and I knew something was happening.
Early on, the typical artist's path and exclusive representation didn't feel like a good fit for me—it just seemed to move too slowly and had too many rules. I wanted to connect one-on-one with potential buyers. Bucking the norm at the time, I started selling my art online and sharing my story on Instagram. In one click, someone could become a collector and own a first edition, and in one message, a collector could connect with me directly. The response was incredible and not only personally fulfilling for me, but it was also a strategic decision. I was out to build a true business and prove that fine art could be sold and scaled online. And so that's just what I did, and the result was bigger and better than I ever could have expected—that made all the difference.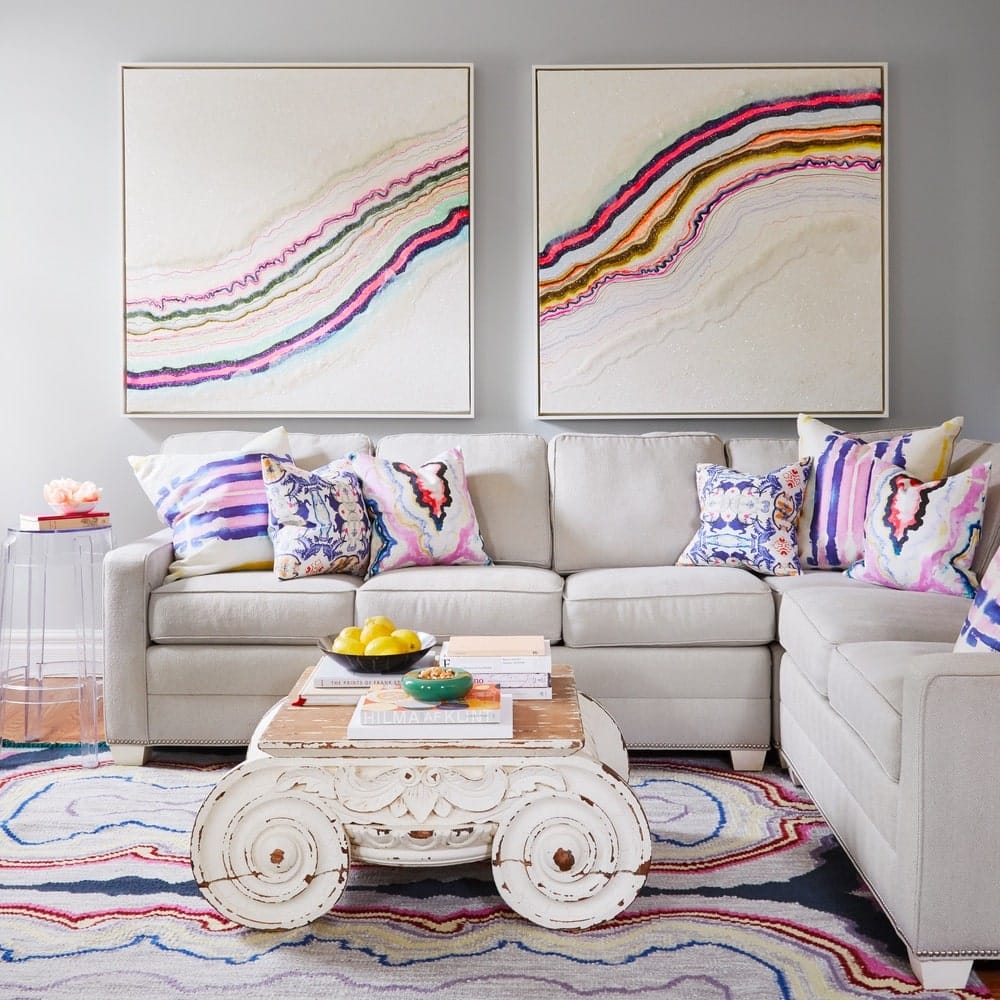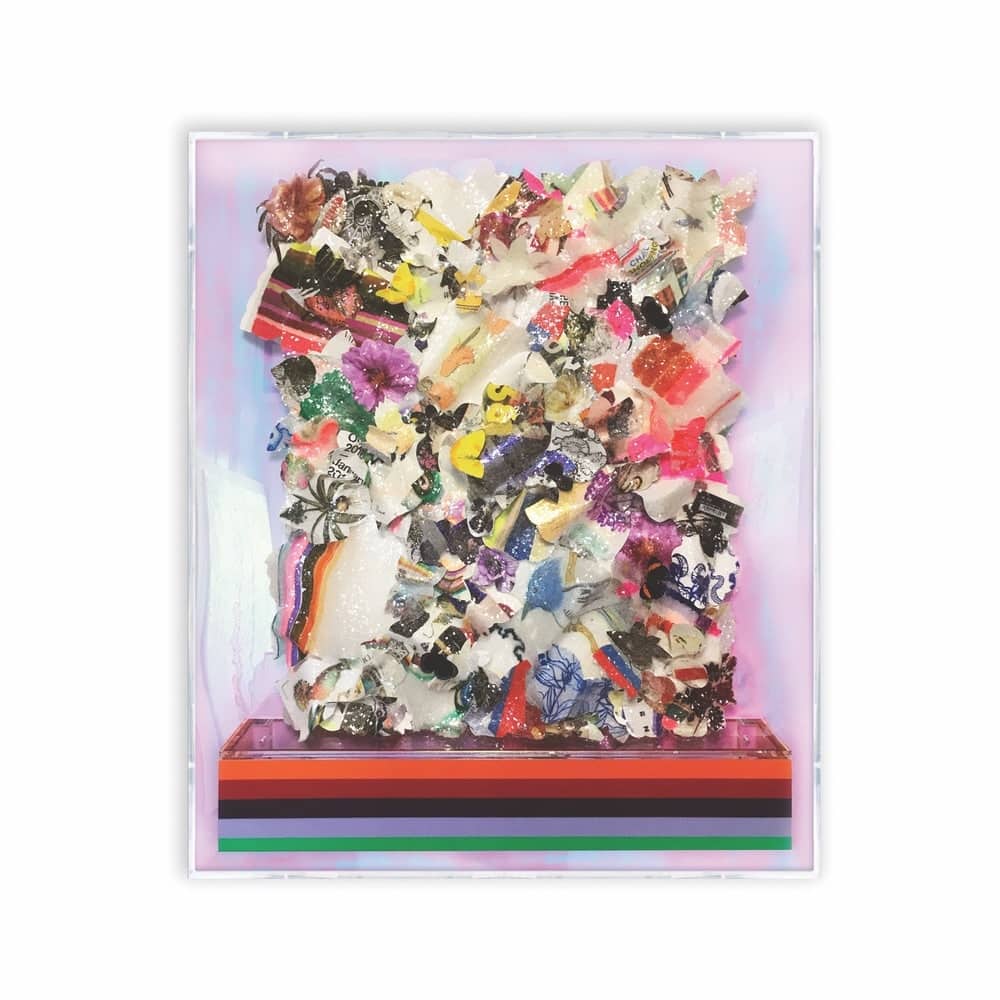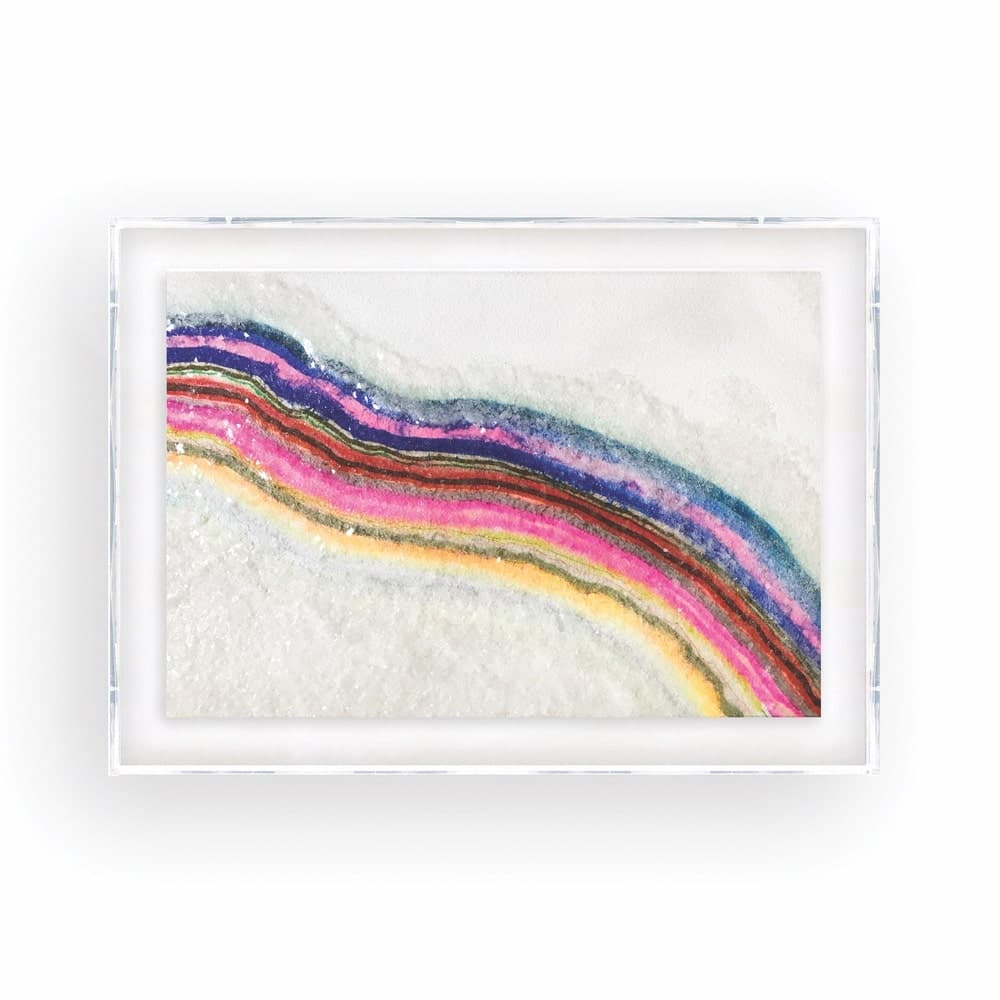 VIE: You use the name "Hapiart" on your social media. What was the inspiration for that name?
KK: Hapi is actually the name of an Egyptian god that is known for bringing in the annual flooding of the Nile after the drought. For me, this is a metaphor for what creativity does. It also references the emotion I want my work to bring out in my audience—I hope my work lifts you up out of the everyday and brings you joy!
Over time, I realized how much people want to connect with the artist and know who the person is behind the work, so ultimately (a bit begrudgingly, ha!), I switched over to my name.
VIE: How would you describe your work?
KK: Colorful. Bold. Whimsy with a bit of glamour. Rule-breaking. I love to mix things up, whether it be the media itself or the use of unique materials. High and low. Matte and glitter. Chalky and glossy. Vibrant and muted. There's also a lot of interactivity to them—I want a piece to come alive as you move around it and as light hits it. I do this by incorporating layers of materials such as iridescent acrylic and cut-glass glitter.
One of my favorite quotes is by Helen Frankenthaler: "There are no rules. That is how art is born, how breakthroughs happen. Go against the rules or ignore the rules. That is what invention is about."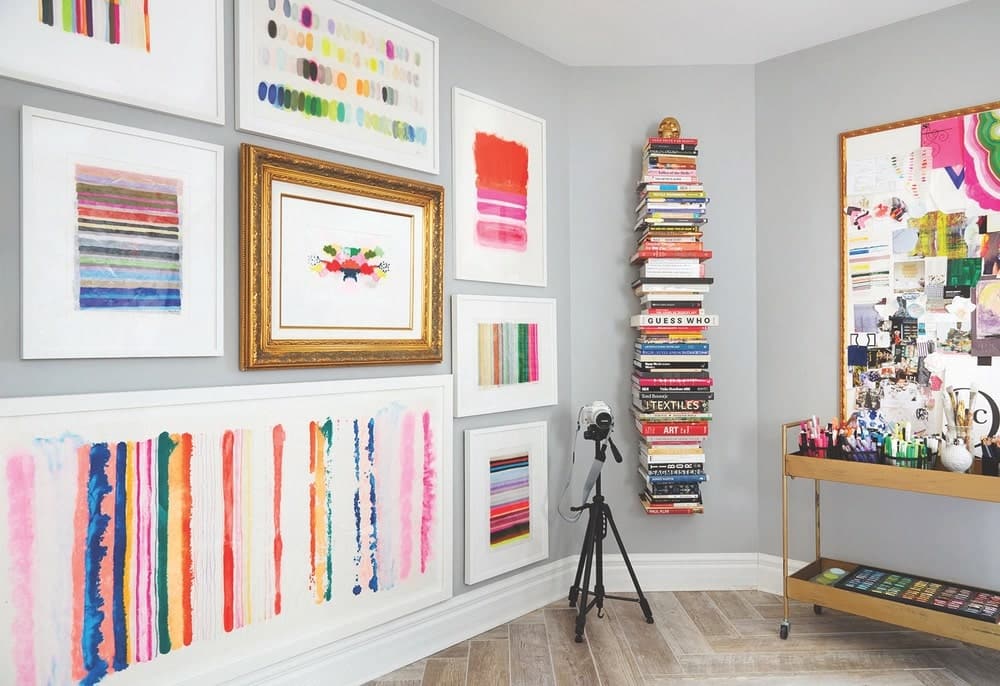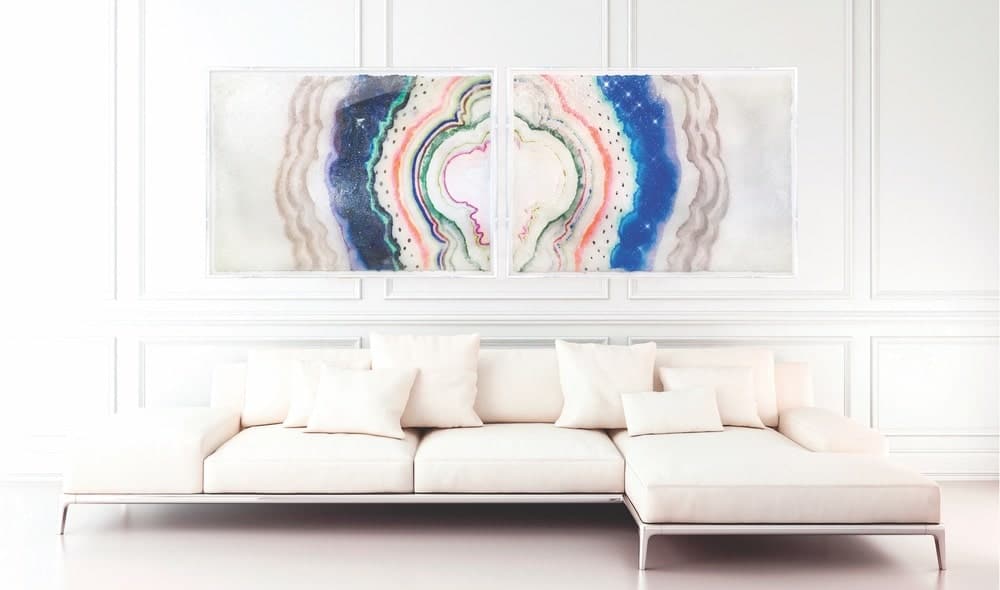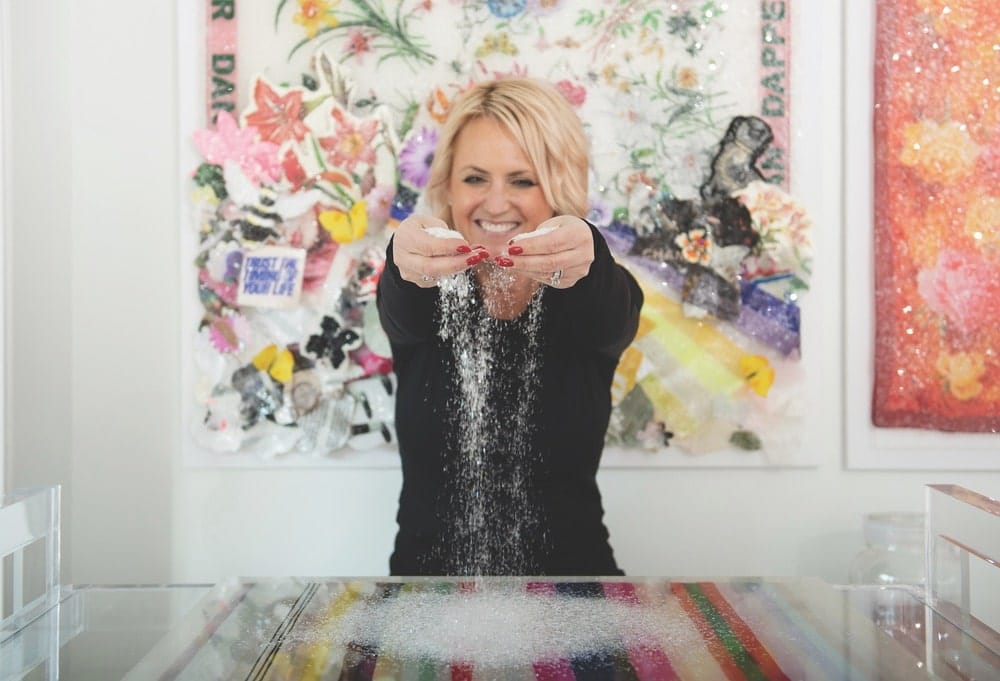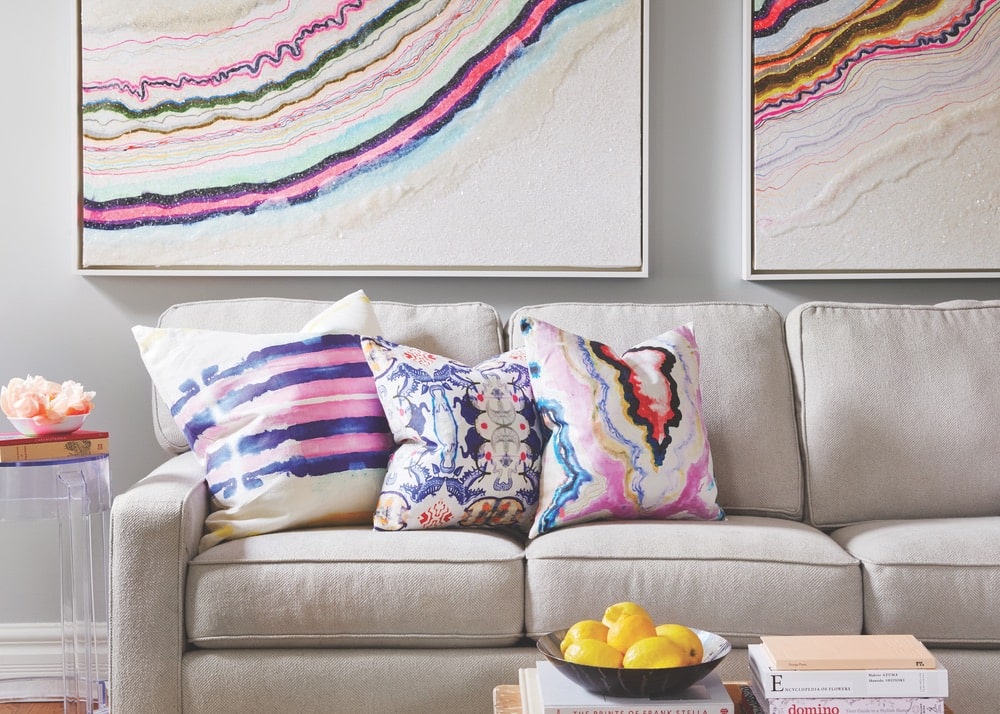 VIE: What inspires the colors and patterns you create? How do they make you feel?
KK: Historically, there are two big influences in my work: color and nature. More recently, I find fashion becoming an inspiration as well.
I've always connected to the world in color. From childhood, hues flashed to me like a spark: the red strawberries in the garden hanging toward green grass, the blue of summer sky against a ripple of darker blue water, or a shiny ROYGBIV-colored beetle on top of matte textured bark. Every glance is a rainbow, drawing me in and fueling my energy. That's especially true professionally: color drives and defines my art. Like a mix master, I love to layer colors to create harmonious combinations. The color spectrum is my musical scale, and paintings are my songs. My favorite thing to do is light up a canvas with vibrant brights and combine tones in unexpected ways. Neons juxtapose with faded neutrals, pastels provide a counterpoint to primaries, dark lives with saturated, and all color wheel rules are thrown out the window. Anything is possible. As long as it brings a zing of joy, the choice is right. Kaleidoscopic inspiration can come from anywhere: bold architecture, natural landscapes, patterns in a piece of fruit, a fashion runway. More than anything, schemes come instinctively, welling up from my technicolor soul and creating worlds of magic.
Nature is, by far, my favorite artist. I often spend time outdoors taking in the natural world and marveling at colors, patterns, and symmetry, internalizing them for inspiration—from dappled marble and squiggly agate lines to shimmering glaciers and iridescent birds. These elements are echoed throughout my work, whether as transforming opalescent colors in a tray or as sparkling glitter brushed methodically on a painting. Beyond aesthetics, I aim to connect my work to ideas one sees in nature: the surprise of bare winter branches turning into blooming trees; patterns in molecules that exist but aren't obvious to the naked eye; the innate order of the Fibonacci sequence seen in delphiniums, pineapples, and nautilus shells. It all inspires a deeper context and thinking behind my work.
This can be seen most recently in my Symphonic Atlas series, featuring mixed media of frosty white fields and brightly hued organic lines meandering off each canvas's edge. Are these abstract aerial views of geological landscapes or microimpressions of crystals and the human body? Further to that, I love to leave the true meaning a bit ambiguous and unclear as to whether these works reflect contained, finite moments or small snapshots of something larger that continues. No matter how it's interpreted, I hope the series challenges perception and invites questioning.
VIE: How do high fashion and pop culture come into play in your pieces?
KK: A key theme in my work is the juxtaposition of the natural and material worlds. In so many ways, life imitates the earth: city lights echo the sun; manufactured sequins mirror a watery landscape's iridescence; printed fabrics on runways feature flora and fauna. My work often explores how nature creates an awe-inspiring foundation for people, and in turn how people make beautiful things from their imaginations to fulfill themselves.
My work often explores how nature creates an awe-inspiring foundation for people, and in turn how people make beautiful things from their imaginations to fulfill themselves.
As a former advertising art director, I'm fascinated by beauty in its many definitions and forms. I'm especially drawn to bold elements in pop culture: modern restaurants with unusual architecture, impactful typography and text treatments, luxury fashion designs by Mary Katrantzou and Alexander McQueen, and mind-bending exhibits such as Hilma af Klint: Paintings for the Future at the Guggenheim. This tension between natural and man-made shows up in my art in subtle ways—like a synthetic Lucite frame encasing a nature-inspired work of art—or in more overt examinations. In a recent mixed-media piece, I incorporated a vintage Gucci scarf featuring a floral print, inspired by a Botticelli painting and originally made for Grace Kelly, combined with nature-inspired references like glitter and actual elements from nature: butterflies and leaves. All meant to provoke reflection, both for me and the viewer.
VIE: What is your mission when it comes to giving back to charity through your art sales?
KK: Giving back has always been woven into the fabric of my business. Since the beginning, I've donated to FEED Projects to combat hunger, now with 1 percent of all my profits going to FEED and similar charities. Food is a fundamental right and a building block for everything else in life. I'm passionate about doing my small part to help make a difference so that kids can grow up and pursue their own path and dreams. With every piece of art sold, a tiny step is made toward ending food insecurity. Each little individual effort can add up to create change and make the world a bit better, together.
VIE: You say you want people to be able to own art—whether it's through buying an original piece or being able to afford a print or home decor item. Why do you think it's important for people to have art in their homes?
KK: Art shouldn't be limited to the lucky few. Everyone should have the opportunity to live with art in some way, whether it's the ten-thousand-dollar painting or a small print. There is nothing like living with art—so much love, joy, passion, dreaming goes into an original work of art. A bit of this energy comes through and adds to a space in a way that something machine-made just never can. Humans have been creating and living with art since the dawn of time. There's something in it that fuels us at the deepest level. And in a world where so much is mass-produced and Amazon-primed right to your door within hours, there's something irreplaceable about owning something that is one of a kind, made by hand. There will only ever be one just like it, no two people can own the same one—and I don't know about you, but as an art enthusiast myself, there's something so stinkin' cool and priceless about owning an original that no one else has. Your friends might love your great taste and go out and buy the same blush twill Cassina sofa, but there's no way they'll have the same original painting hanging above it.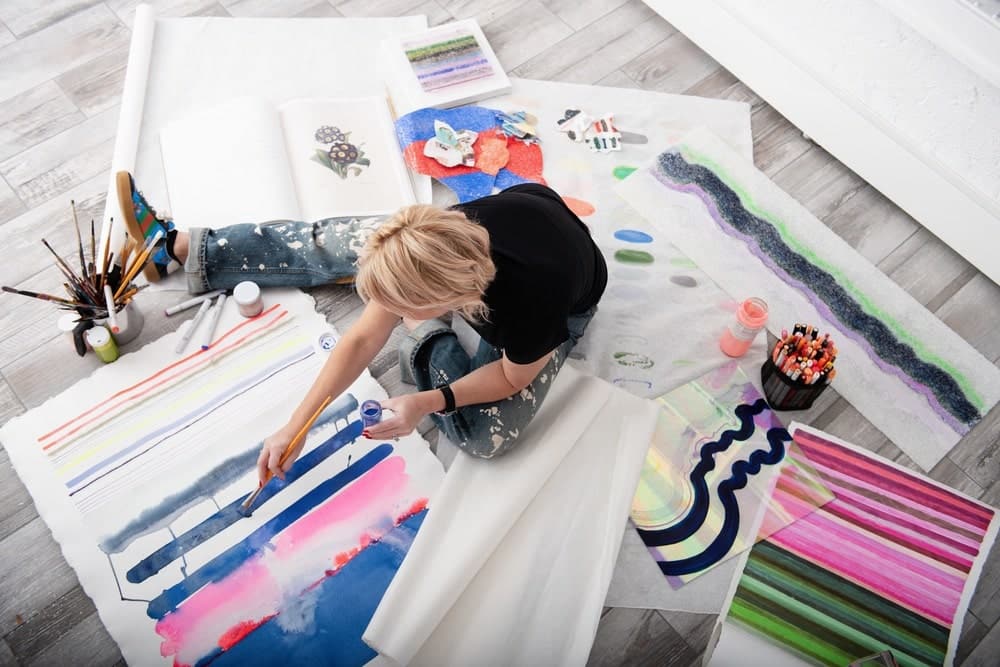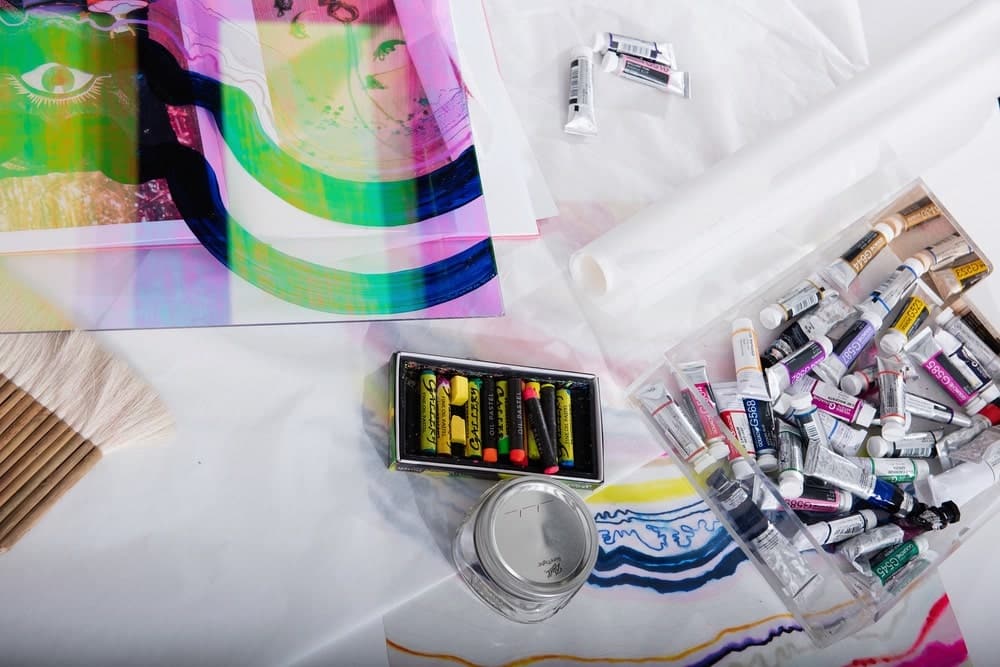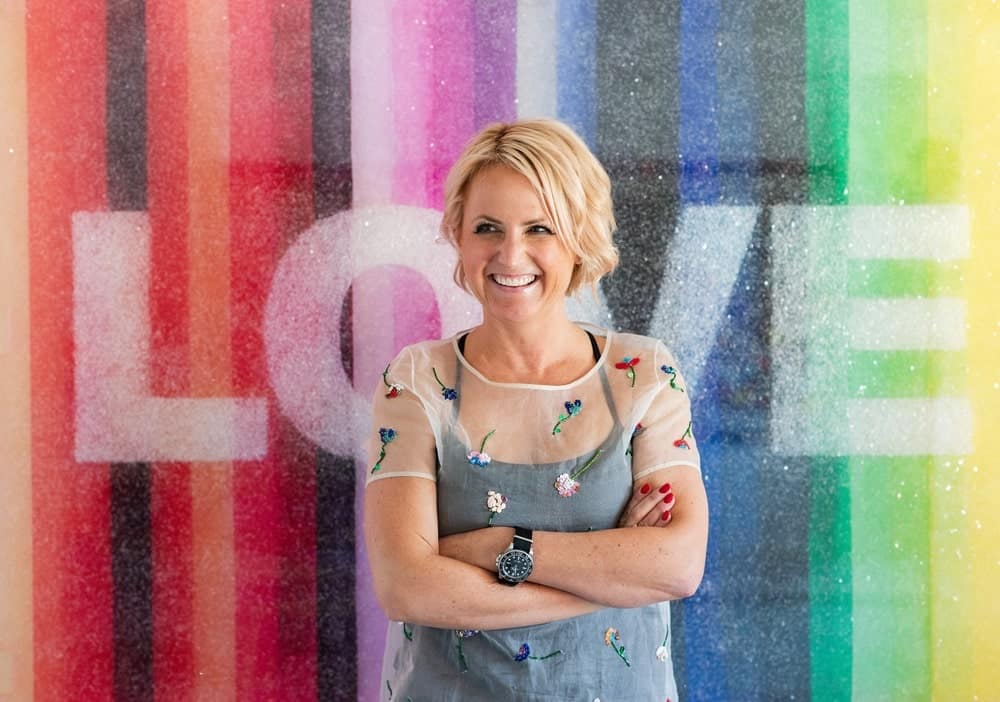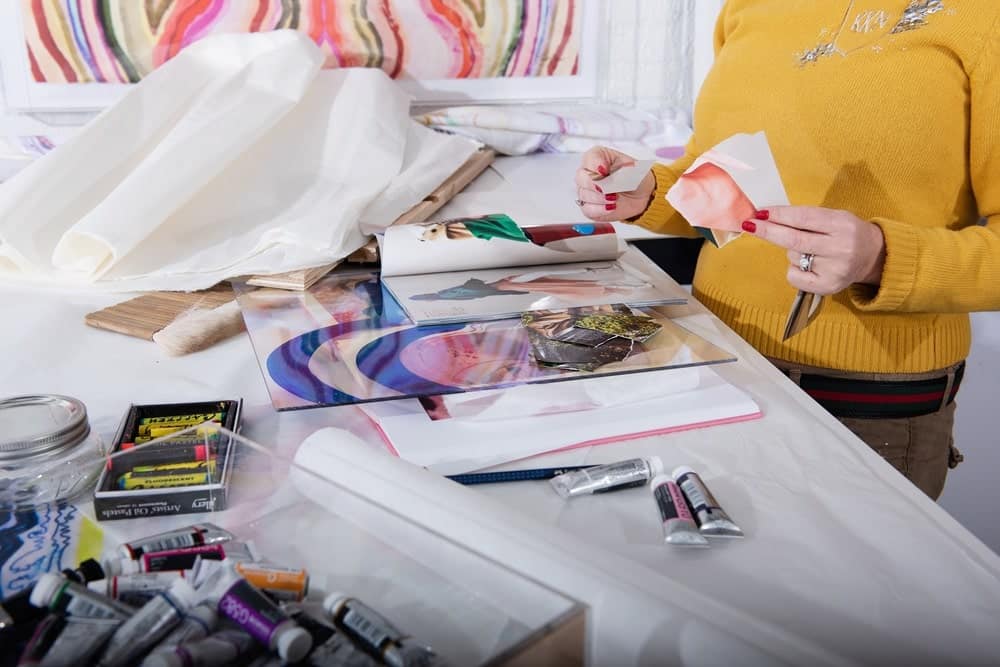 VIE: Who are some other artists you're loving or inspired by this year?
KK: I'm obsessed with Jacob Hashimoto. His work is incredible, and there is nothing like seeing it in person. All of the layers and details and his use of color and pattern are beyond.
I'm also really inspired by Alessandro Michele and what he has done with Gucci. The mix of old and new, colors and patterns, glitz and glam, vintage and graphic is so incredible.
I love Ashley Longshore and collect her work—I have two large-scale pieces hanging in my homes. She is another artist who is bucking the traditional gallery model and going her own way. She is so inspiring and so full of personality and energy! We have another piece we commissioned from her being framed as I write this! I not only love creating art but also love collecting from other artists.
VIE: What do you love most about sharing your tips and news through your blog?
KK: There's so much that goes into the art of collecting and hanging art in your home. My collectors come to me with so many questions, and I get that it can feel overwhelming. I want to change this and help make the process more seamless and more fun. Art should be nothing but that! I'm hoping to demystify the process a bit with my blog and help collectors navigate through all the little details so they can get to the good stuff—living with art!
— V —
---
Visit KristiKohut.studio to learn more or shop now, and follow along on Instagram (@hapiart).
ARTICLE CATEGORIES