By Rebecca Hall | 
Photography courtesy of Kokkini Porta Rossa
Among the hundreds of Greek islands, Rhodes is a little bit extraspecial. It's not thanks to her mixture of beaches and mountainous scenery (although this certainly helps); it's the fact that Rhodes has a medieval Old Town. It is a UNESCO World Heritage site and one of the oldest living "Old Towns" in the world because people still live within its walls and stroll the ancient cobbled streets.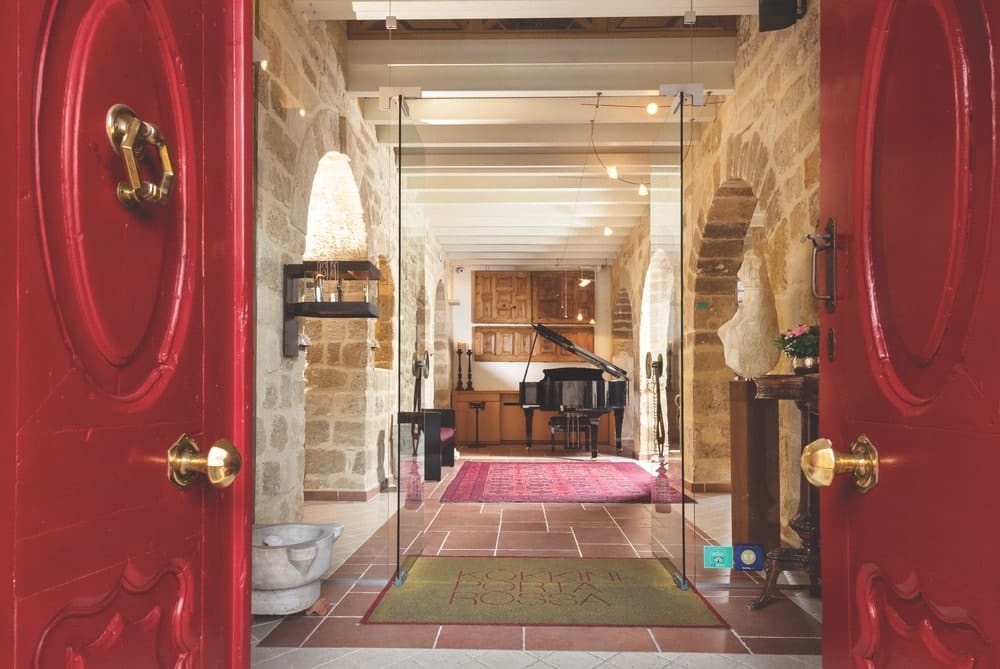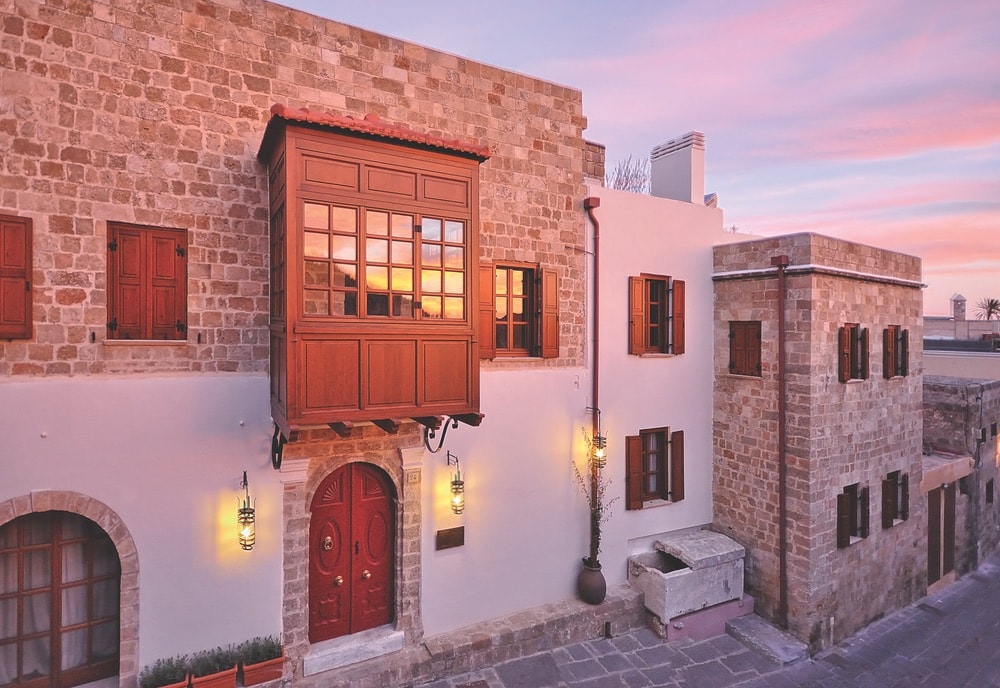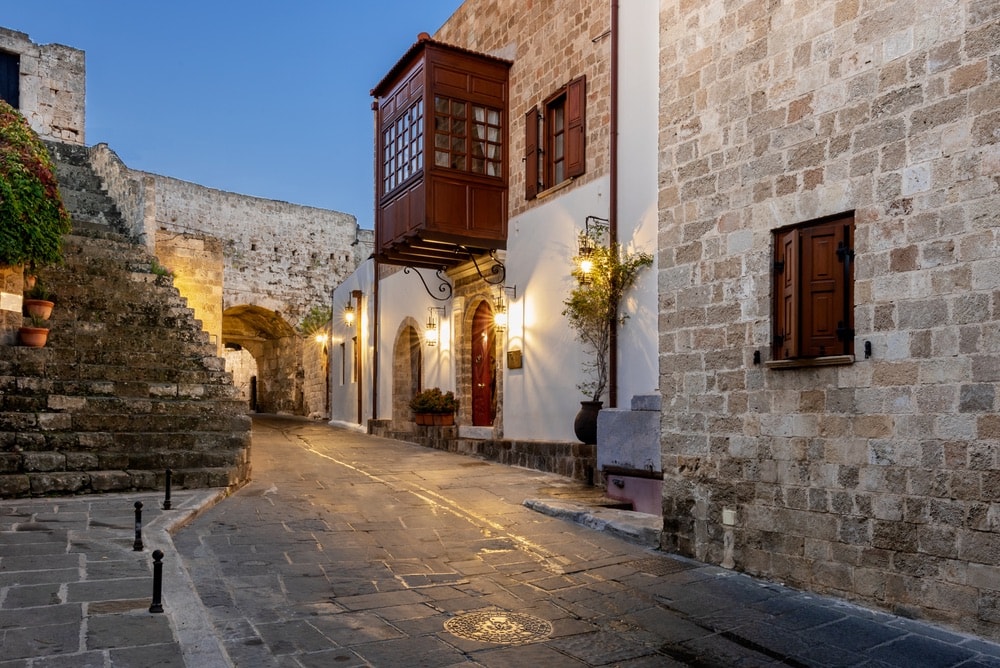 The Medieval Old Town of Rhodes
Enter Old Town through one of seven gates and you'll find a population of roughly six thousand living and working in small houses, tavernas, tourist shops, museums, restored old houses, and—in contrast to the 2008 worldwide recession that hit Greece especially badly—a surge of boutique hotels that have sprung from these ancient knights' houses. With its maze of charming streets and markets, the whole place resembles a Turkish bazaar.
From the time Constantinople fell in 1453 until the Greek Revolution in 1821, the Ottoman Turks ruled the country and controlled the entire Middle East along with swaths of the Balkans. Rhodes is a mere 421 miles from the Turkish coast, and the Old Town of Rhodes was the last Christian territory to be protected from the Ottoman Empire by a group of Roman Catholic Knights. In 1480, the Ottomans tried, unsuccessfully, to expel the Knights of Rhodes, and they eventually succeeded during the Siege of Rhodes in 1522. A year later, the knights and five thousand of the Christian inhabitants left the island rather than live under Turkish rule. Today it's possible to see elements of Ottoman culture in Rhodes, such as the Suleiman Mosque and the Turkish baths.
What makes the house so unique is that despite contrasting nationalities, religions, and somewhat bitter memories, these families lived side by side in harmony and raised their families together.
The medieval city was divided into three parts: the Acropolis of the Knights and the Palace of the Grand Masters in the north, the Hora (where the "commoners" resided) in the south, and the Jewish Quarter—this section is mostly residential today. Within the walls of this ancient city, boutique hotels have sprung up, allowing visitors to stay and experience a part of what life in the past must have been like.
One such place is Kokkini Porta Rossa, a lovingly restored ancient knight's house by the Gate of Saint John.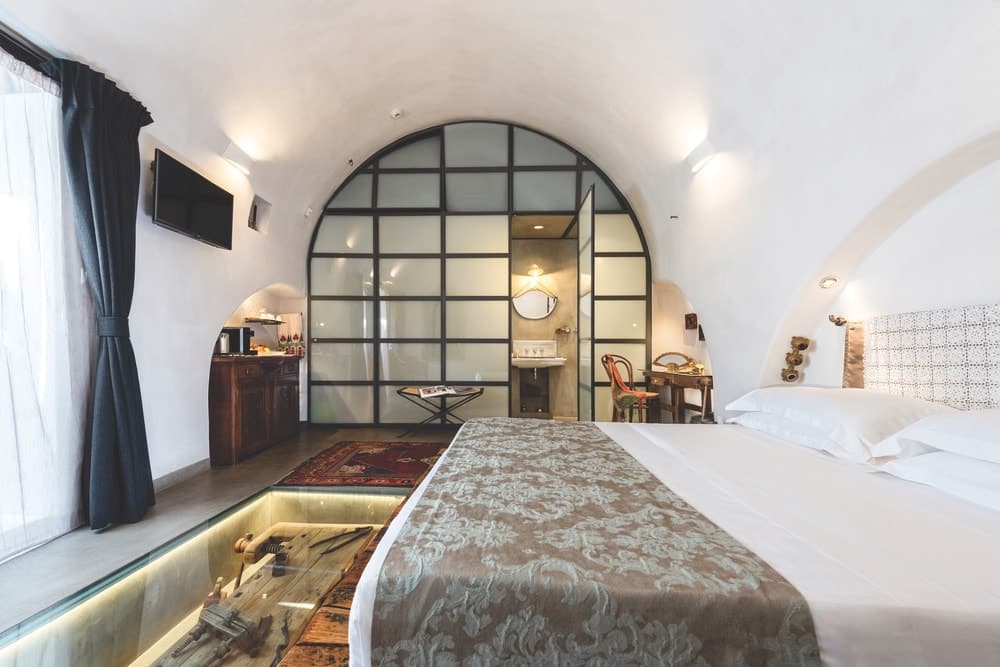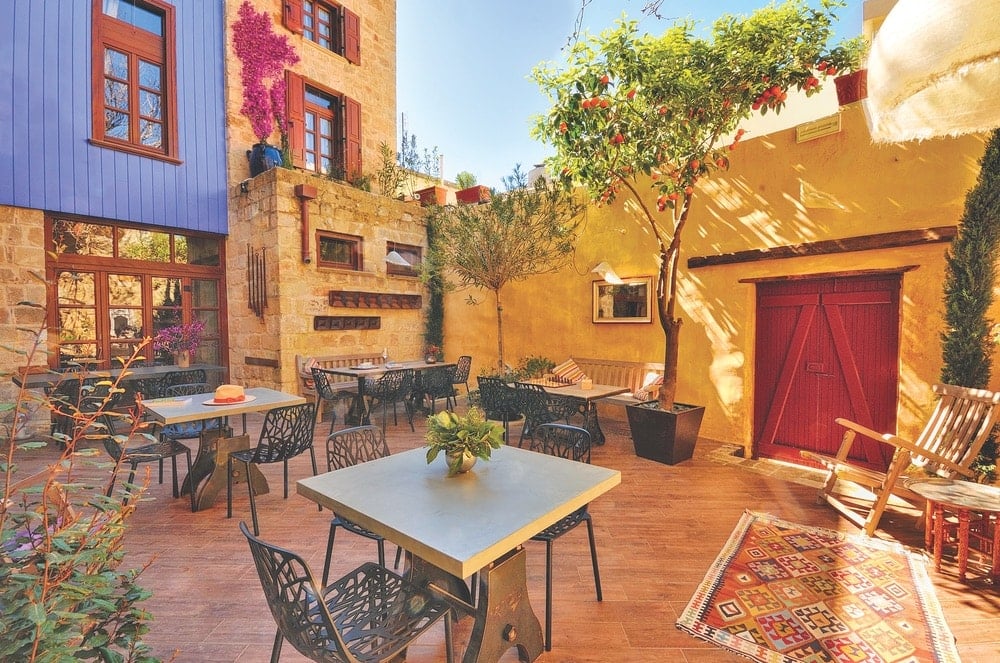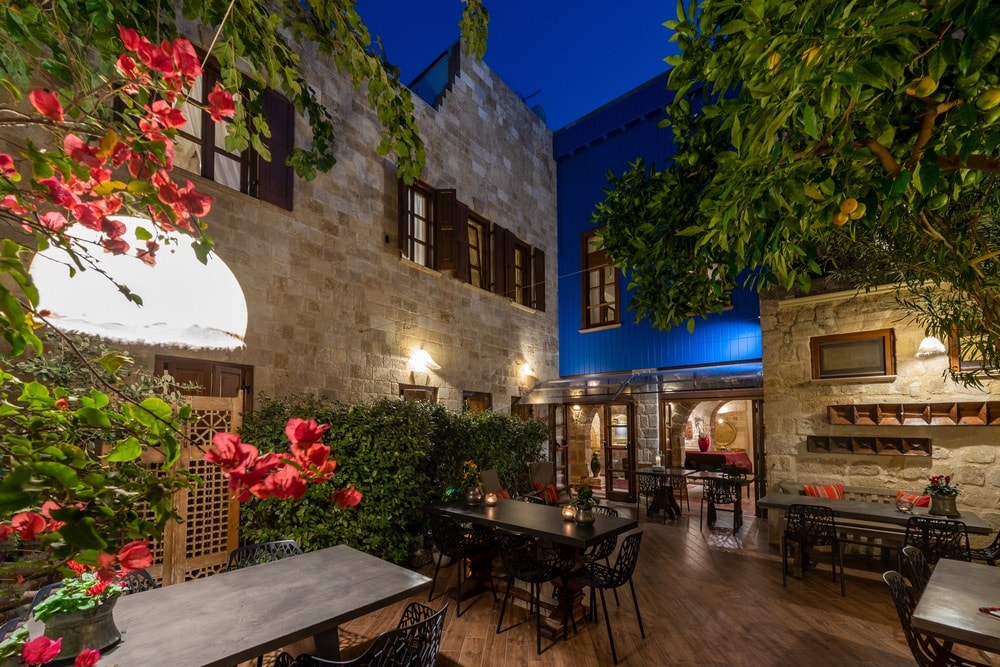 Kokkini Porta Rossa
The hotel's name derives from Italian and Greek phrases meaning "red door," and guests enter it through a beautiful old red door; but its name was originally inspired by the nickname "red gate" given to the Gate of Saint John by locals that want to honor the memory of the knights who lost their lives defending this part of the city. Kokkini Porta Rossa is the first property you come to upon entering the red gate.
The house was originally a residence for the knight in charge of the troops defending the gate. When the city fell in 1522, Turkish families lived there and, after the Ottoman Empire collapsed, Greek and Jewish families shared the property. What makes the house so unique is that despite contrasting nationalities, religions, and somewhat bitter memories, these families lived side by side in harmony and raised their families together.
The building was later abandoned, as was the Church of Saint John situated opposite. It was desperately in need of a new lease on life that would honor its history. Enter husband-and-wife team Nikos Voulgaridis and Angela Hagidimitriou.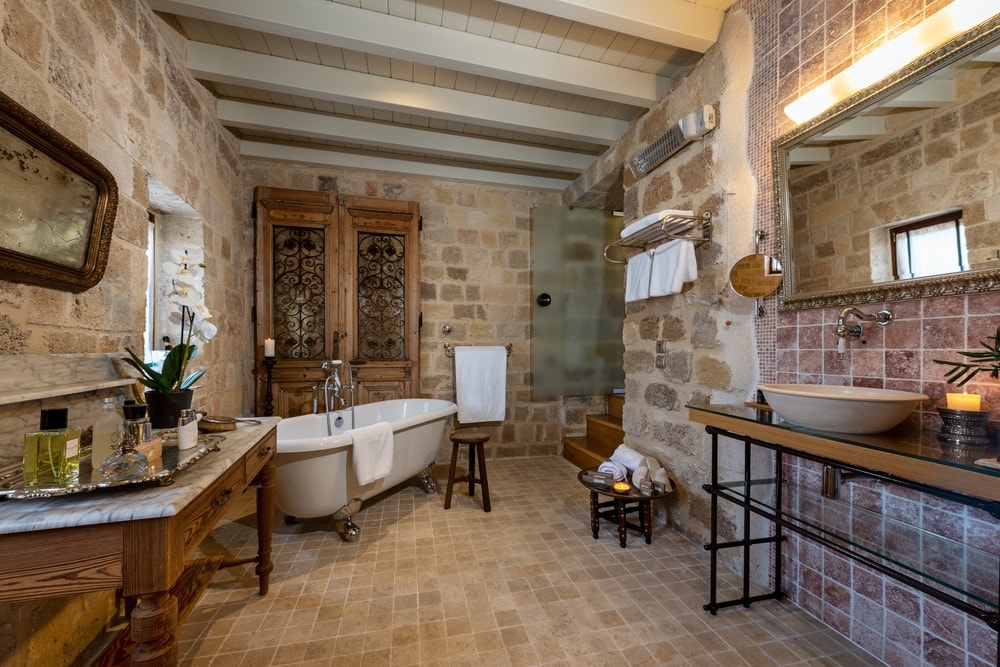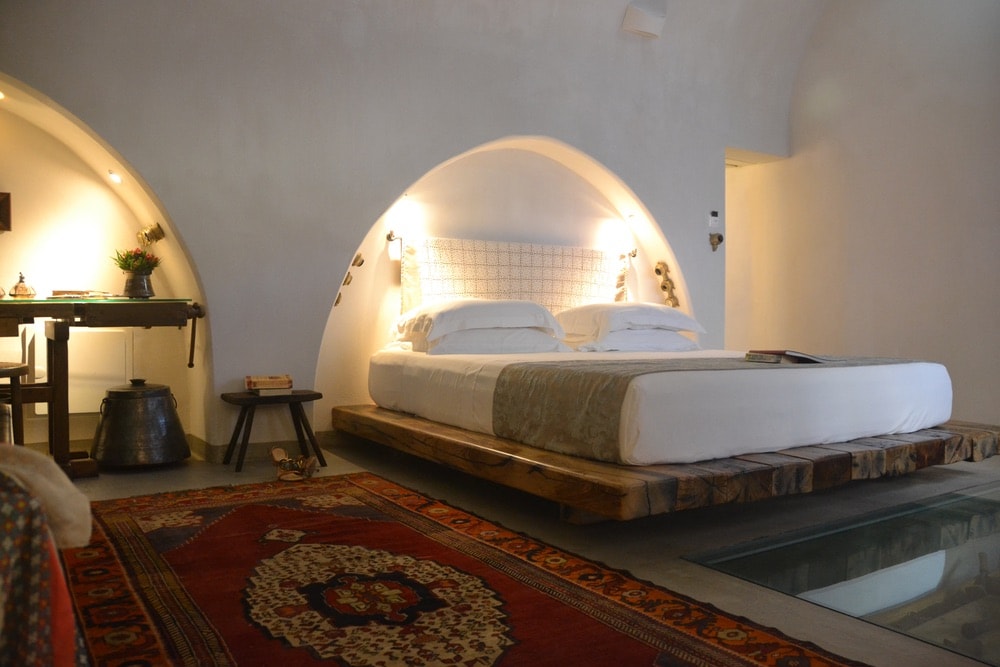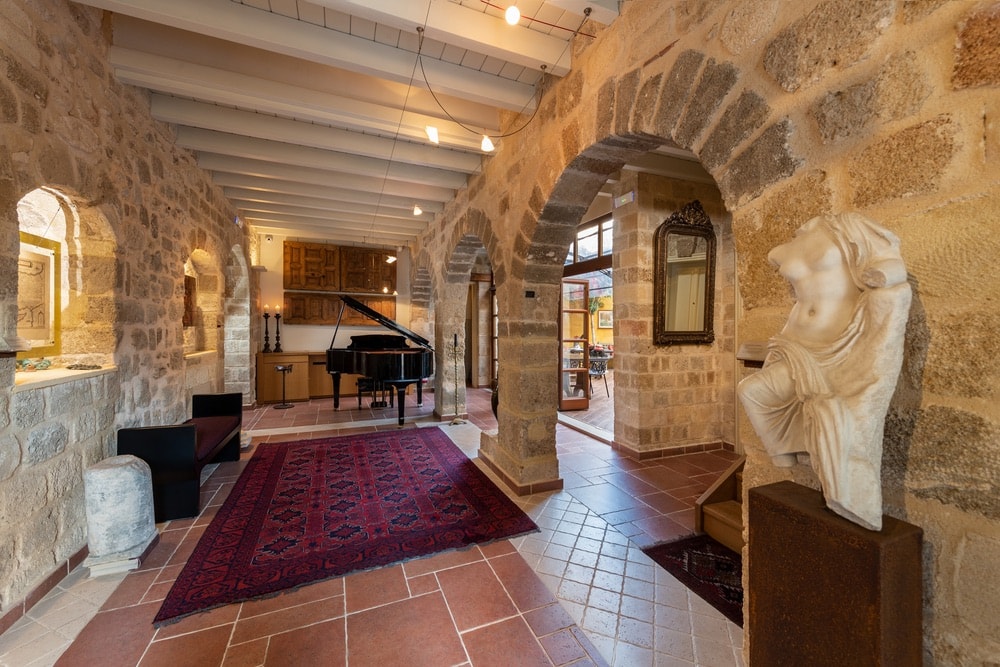 A New Lease on Life
Angela had been in the hospitality industry before becoming a full-time parent. Once her two sons had flown the nest, it was time to concentrate on a new challenge. Hailing from Rhodes and both deeply committed to giving back to the Old Town, Nikos and Angela saw their opportunity in "raising this phoenix from the ashes," as Angela terms it. She laughs as she recalls Nikos taking off on his bicycle one Sunday morning in April 2013 and returning home very excited, telling her he thought he had found the perfect place for their hotel.
It had been their dream to open a place that would show visitors a locals' view of Greece through culture and history—the real Greek experience beyond what any chain hotel could do. Not only this, but they were also keen to give back to the medieval Old Town by restoring an old building, as there are many left in a state of disrepair. When discovering more about its cultural past and inhabitants, it became even more apparent that this former knight's house suited their cause, and the work on what was to become Kokkini Porta Rossa began.
Angela confides that Nikos is an aficionado of designing furniture and knick-knacks—something that he excitedly confirms. This talent is evident throughout the hotel from the various items on display in the living area and the individual suites. They hired an architect, soon decided he was not a good fit, and, remarkably, redesigned the place themselves. From start to finish, the project took one year, with Angela and Nikos also assisting with the building process. By March of 2014, this phoenix had risen.
Take time to wander the streets and even allow yourself to get lost among the maze of cobbles, deliberately designed as such to confuse invading pirates.
It was evident from the minute I stepped through the red doors of Kokkini Porta Rossa that my experience there would be exceptional. It wasn't in the pure aesthetics and attention to detail in each of the suites (they started with five and have since added another), although the soft lighting, antiques, and beautiful original stone exposed throughout certainly helped. Nor was the specialness in the sun-dappled courtyard, where guests could take an evening drink surrounded by orange and olive trees and the relaxing sounds of running water. No, it was something about the atmosphere of the house. It was almost as if Angela and Nikos recognized that there had been harmony there in the past and they wanted to re-create this, with each suite named after a previous inhabitant. Their dream of giving back to the Old Town community had been realized.
You'll find each suite offers unique characteristics and old-world charm. For example, the Deniz Suite has the hayat—Turkish for "life"—a covered wooden balcony overlooking the castle walls and the restored Church of Saint John. It's a place to sit and watch the world go by as past inhabitants would have done.
Reserve the Michalis Suite—Angela and Nikos's newest addition to the house, though it was initially built around 1350—and you'll stay on the ground floor with access to a private garden and an outdoor deep-soaking bathtub, an olive tree, and a plethora of aromatic plants and herbs. Be sure to ask Angela and Nikos about the history of the Michalis suite, as it's a whole story unto itself, rather like the entire house.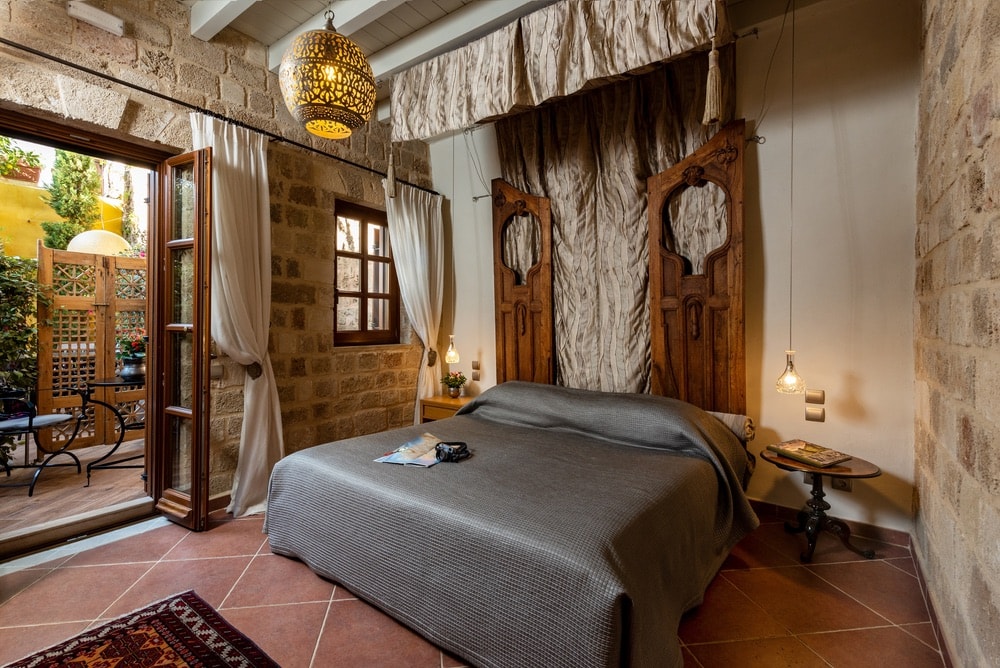 Exploring the Old Town
Rhodes Old Town takes you beyond Greek island beach life and gives you a glimpse of this country's storied past. Take time to wander the streets and even allow yourself to get lost among the maze of cobbles, deliberately designed as such to confuse invading pirates. Buy a souvenir—maybe a painted stone or some handmade jewelry—from the many small gift shops on offer. Walk atop the castle walls, visit the magnificent Palace of the Grand Masters, and don't forget to take in the Kahal Shalom Synagogue in the often-overlooked Jewish Quarter. Built in 1577, it's Greece's oldest.
And throughout your break, base yourself at Kokkini Porta Rossa. Angela and Nikos have become a second family to me and will to you. Allow them to not merely book your stay but also learn what it is you want to discover on your trip and help you with an itinerary, as brief or as packed as you wish. Experience the Kokkini Porta experience, as I have dubbed it, and leave knowing you'll want to come back "home" again.
— V —
---
Rebecca Hall is an English language teacher turned travel writer and novelist living in Greece. She writes for various online publications and maintains her travel blog, Life Beyond Borders. Her debut novel, Girl Gone Greek, was released in 2015.
---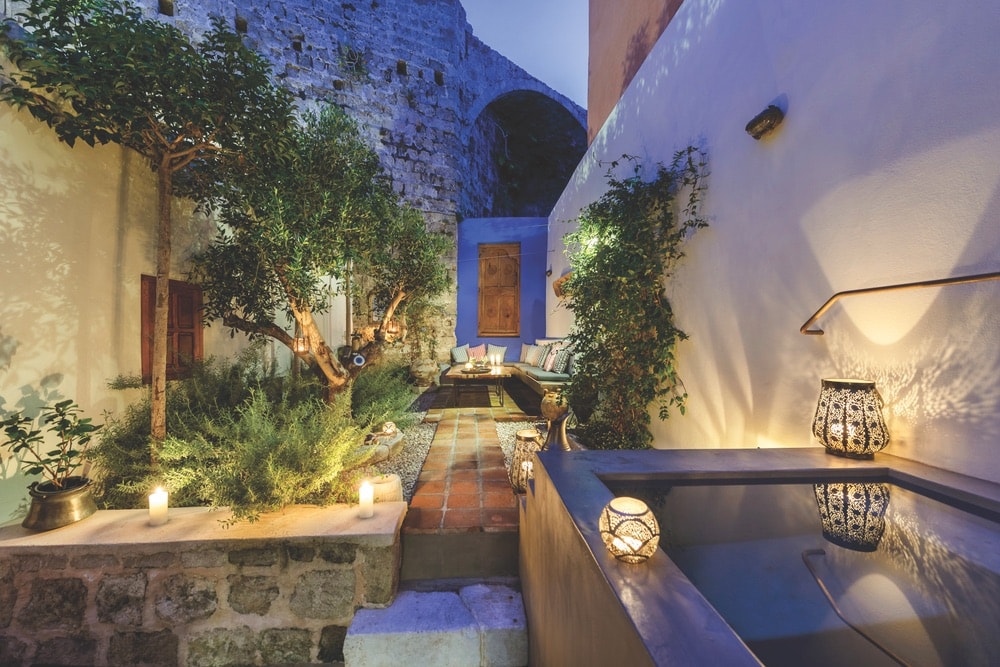 If You Go . . .
Kokkini Porta Rossa has six suites, averaging in size from roughly 500 to 625 square feet. Each suite includes the following:
complimentary minibar with drinks, snacks, coffees, teas, kettle, and fridge

espresso maker with Illy Italian coffee capsules

bottles of mineral water

bowl of fruit

sesame and honey traditional welcome treats

"take everywhere" tablet with the hotel's app that offers suggestions of where to visit, local information, and GPS

multidevice Wi-Fi internet

LCD TV with satellite channels and HDMI for your devices

telephone with wake-up and emergency call system

local Greek bathroom products

pillow menu available
Book a stay directly with Kokkini in the Orhan, Katina, or Michalis suite, and you'll benefit from extra hospitality:
a "fragrance bar" with select ladies' perfumes and men's fragrances and aftershaves

decanters of top-branded alcoholic drinks, liquors, and spirits

a bottle of excellent prosecco kept chilled in the suite's fridge

arrival transfer (if your stay is five days or longer): a driver with a permit to drive into the Old Town will bring you from the port or the airport to the doorstep
Book a stay in any suite direct with Kokkini for four nights or longer, and you'll receive a complimentary car for a day.
And as a final touch, when that sad day comes and it's time to leave, you'll receive a complimentary gift as Angela and Nikos's thank-you, thoughtfully packaged to fit in and comply with carry-on luggage regulations.
ARTICLE CATEGORIES