By Kim Turner
Like so many of the real treasures on the Emerald Coast, you might need to know someone to find out about it. The locals are friendly, but who can blame them for keeping some of their best cards to their chests? Like the speakeasies of bygone days, where a password or secret knock gained you access to a place where you could get away from it all and let loose for a time, this unobtrusive shop sits quietly alongside the highway. Some of the area's finest chefs move in and out of its doors, but it is not a restaurant. From its heart, these chefs find a stage to create some of the most innovative cuisine in the region, but it is not a theater. Kitchenique cooking school and gourmet pantry has been a cornerstone in the culinary community for over twenty years and has helped to give rise to some of the finest chefs and restaurants in Northwest Florida.
Kitchenique lies in the heart of Destin, in the City Market at Destiny just east of the Destin Commons Mall. Its proprietor, Vicki McCain, originally hails from New Orleans but has called Santa Rosa Beach home for nearly thirty years. As a child, McCain learned at the knee of a family friend in New Orleans whose property adjoined hers. "Miss Bouttée," as McCain refers to her mentor, was of French/Italian descent and embraced the New Orleans style and philosophy of cooking. This influence is reflected in everything at the shop—from the menus to the effortless way McCain prepares rice without measuring, to the warm, easy atmosphere guests find when they take a seat in McCain's kitchen. Kitchenique offers over one hundred fifty different cooking classes each year—many of them taught by McCain herself. Classes range from the technical, such as knife skills, to the exotic, as with an upcoming Pacific Rim cuisine class. The store is home not only to a state-of-the-art demonstration kitchen, but also to superior cookware, kitchen implements, a variety of coffees and teas, hard-to-find spices and quality pantry items like real Georgia stone-ground grits and Camellia red beans.
In 1985, long before the advent of the Food Network, McCain gave talented local chefs a platform to engage area residents with dishes, techniques and flavors, challenging themselves and thrilling eager audiences. Indeed, these chefs found a powerful, intimate way to connect with food enthusiasts and to inspire those people to become loyal fans who then followed those chefs from restaurant to restaurant—ultimately providing those chefs with a solid foundation for their own fine dining establishments.
---
Chef Dan Pettis first met McCain in 1995. Barely out of his teens, he was an assistant to area restaurateur Tim Creehan. At the time, Pettis helped to prep food at the Marina Café, then at Creehan's Market in the outlet mall and finally at Beach Walk. "The classes were great for me. I got to help out in the beginning and then it evolved into the chef letting me do one or two recipes in a class. After 2003, we taught the classes as a duo." Pettis opened One 20 – A Modern Bistro in Niceville in the fall of 2009. One 20's menu reflects Pettis's own developed style of traditional fare with a Southeast Asian or Japanese influence. Pettis acknowledges that, over the years, he has created hundreds of different recipes for classes at Kitchenique. "I'd get to preview something. I'd experiment and try something new and if it worked, I'd bring it back to the restaurant. Guests at my classes were able to try everything that I finally incorporated into the menu at One 20." Pettis recalls one of his simpler concoctions being the most enthusiastically received. "I created a citrus-coconut sauce for my cucumber sushi rolls just for a class at Kitchenique that everyone was wild about. It is the one people ask me for the most. Kitchenique really helped me find myself as a chef. It helped young chefs get their names out as well as the kind of cuisine they could do. It helped me to become a showman and brought me out of my shell. It made me the boisterous, fun-loving chef I am today!" Pettis laughs.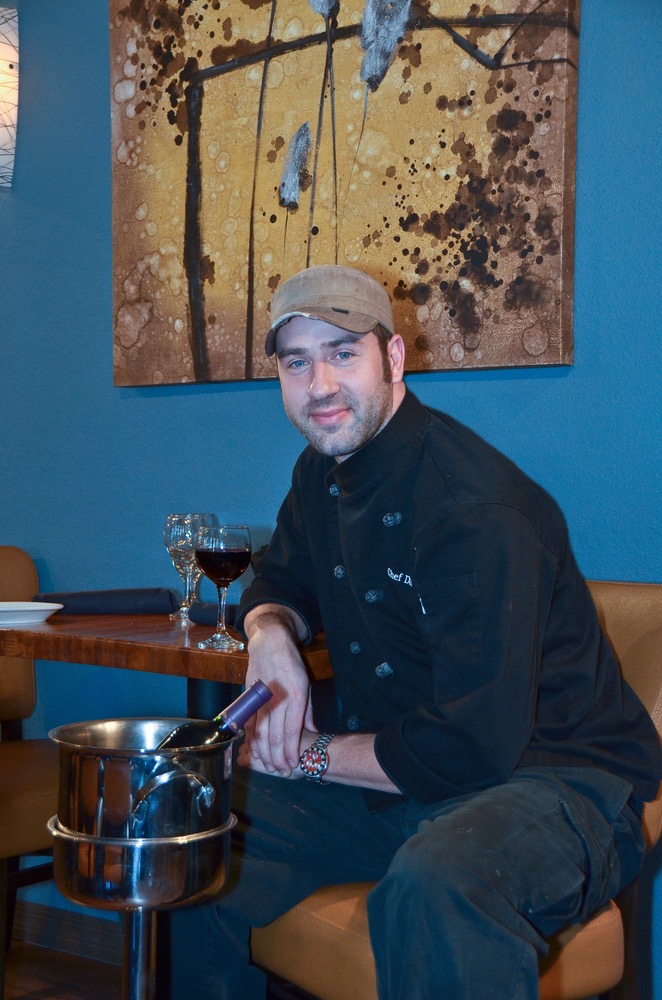 CHEF DAN'S SAUCE FOR FISH OR SUSHI
1 can Coco Lopez

1 can coconut milk

1 can pineapple chunks in juice

3 Tbsp. curry powder

1 Tbsp. turmeric powder

1 jalapeno, split and seeded

1/2 bunch cilantro, chopped

1 onion, chopped

2 garlic cloves, chopped

2 Tbsp. lime juice
Combine all the ingredients except pineapple and reduce until thick. Add the pineapple and serve.
---
Consistently ranked as "Best on the Emerald Coast" since its opening in 2007, Fat Clemenza's brings some of the finest Italian cuisine to the area. Fat's is modeled in the great tradition of Chicago's Italian eateries and sports a simple chalkboard where chef/proprietor Dom Damiano and his talented kitchen staff "play" and, like the great jazz artists of times gone by, they "riff" off each other to spin extraordinary, high-quality classic Italian cuisine. Damiano recalls meeting McCain in the late 1990s when he attended classes at the school as a student. "I came in as an observer and I did that for about three months. My friends Buzz Woodham and Bill Davis came with me. We had a blast. Then I said to them, 'We can do this. It's not so hard.' And I approached Vicki about doing a class. She was all for it and really hammed it up the first time, putting signs up all over the shop that said Danger: Men Cooking." Damiano is describing the nascent Three Amigos classes that are now the stuff of legend at Kitchenique. Damiano, Woodham and Davis continued to teach to sold-out crowds at the school and when they gather today, they are greeted much like the Rolling Stones coming out to tour. "Kitchenique was the proving ground for Fat's blackboard. We tried out ricotta gnocchi, lasagna, lentil soup, and panna cotta, and even improved on our tiramisu." Hard-pressed to choose one dish that was a signature success from the Kitchenique kitchen, Damiano finally offers up his Tuscan mussels and beans. "I have held classes there for over eleven years and done literally hundreds of recipes just for class. To me, everyone who has done classes at Kitchenique and then opened a restaurant has found success.  It provides a great service, bringing a wide variety of chefs and different foods into the light. It's a great social study and a fantastic first date!" says Damiano.
FAT CLEMENZA'S ALFONSO'S MUSSELS & BEANS
2 Tbsp. olive oil

1 can (15 oz.) of cannellini beans, undrained

1 tsp. minced garlic

1 dozen mussels

6 cherry tomatoes, cut in half

Crushed red pepper (to taste)

Black pepper (to taste)

4 oz. clam juice

2 oz. white wine

6 small slices of Italian white bread for toast points

1 Tbsp. chopped flat leaf parsley
In a large sauté pan, heat olive oil. Add garlic and cook until golden brown. Add all spices, white wine, cherry tomatoes and mussels. Cook two minutes, then add beans with their juices. Add clam juice, cover partially and reduce for five minutes. Adjust seasoning. Serve in a bowl with toast points inserted at the sides.
---
Resident chef and co-owner of the award-winning Vin'tij Wine Boutique & Bistro, John Jacobs recalls his early days at Kitchenique with a wry smile. "We didn't have the swanky demonstration kitchen back in '94. We had to haul around buckets of water to do our dishes in! We'd stand in front of a full house of people gathered around her counter, cooking on hotplates. It was real grassroots stuff. It was long before the Food Network when she started doing this and it really was brilliant—inspiring camaraderie and a sense of friendly competition between some of the best chefs in the area. That kind of thing was only happening in big cities. It really is a neat, special thing." Since those early days, Jacobs recalls having hosted dozens of classes. When preparing to teach a class, Chef Jacobs takes into account all levels of interest and skill in the kitchen. "I like to do things to cross-train people and to show them the techniques they will need to make a great dish at home. That's what I look forward to." Vin'tij restaurant opened in the summer of 1998 to wild enthusiasm and critical acclaim. This acclaim includes Wine Spectator's Best of Award of Excellence, and Florida Trend awarded them a Golden Spoon as one of Florida's top restaurants. "The things we did at Kitchenique helped us get our name out there as a new restaurant. People knew me from the classes I'd taught for years and that made them come in and try what we were doing in a new restaurant. The classes were an instrumental part of our advertising. There were no big corporate restaurants in the area back in the day. Go-getters in the restaurant community did classes at Kitchenique to market themselves and we all really enjoyed doing it. Love what you do and share it."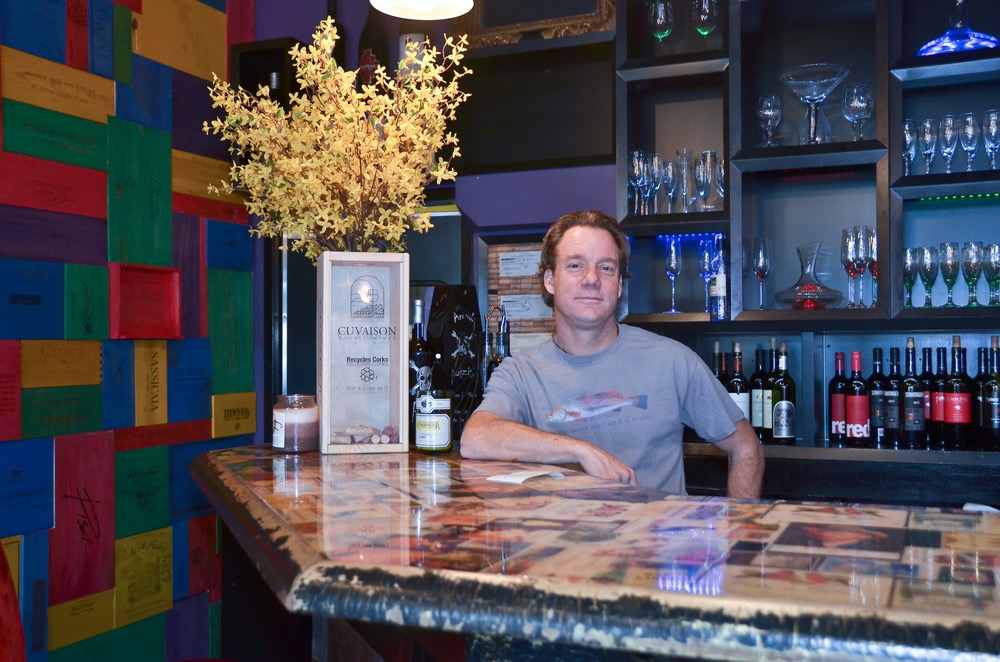 6 Florida shrimp with heads on

1/4 lb. sea scallops

4 oz. cobia

6 littleneck clams

2 oz. fresh crabmeat

5 vine-ripe tomatoes, diced

1 orange, zested and juiced

1 lemon, zested and juiced

1 fennel bulb, shaved – reserve stems for stock

1 leek, washed and diced

3 small carrots, peeled and diced

2 celery stalks, washed and diced
2 Tbsp. chopped garlic

2 Tbsp. chopped shallot

1 bay leaf

1 tsp. fresh thyme

2 Tbsp. chopped basil

1 bunch parsley, chopped

2 Tbsp. butter

4 Tbsp. extra virgin olive oil

1 tsp. saffron

2 cups clam juice

2 pieces of bread for grilling
Peel the shrimp, leaving the heads on (save the shells); foot the scallops (save the feet).  In a sauce pot, combine the shrimp shells, scallop feet, 1 carrot, 1 stalk of celery, 1 vine-ripe tomato, fennel stems, bay leaf, basil and the 2 cups clam juice. Bring the stock to a boil, reduce to a simmer and cook for 20 minutes; strain and hold in refrigerator.
In a large stock pot, sauté the garlic and shallots; add the fennel shavings, carrots, celery, leek, thyme, saffron, zest and juice of the orange and lemon, and add the clams, tomatoes and shellfish stock. Let the clams simmer, covered, for 3 to 4 minutes. Serve.
---
A relative newcomer to the area, Chef Carl Schaubhut of Restaurant Fire in Grayton Beach, Florida, recalled meeting McCain shortly after the restaurant opened in July of 2006. "Vicki and I shared that New Orleans connection. She came into the restaurant a few times and then asked me if I might like to teach a class. I'd never done anything like that before, but she made it so easy. Maybe it's the way she and I grew up – where everything was a celebration of food, wine and friends." Chef Schaubhut originally opened Fire in New Orleans just before Hurricane Katrina and was one of the first to reopen after the storm. Shortly thereafter, an opportunity presented itself in Grayton Beach and Fire has been thrilling diners there since. Chef Schaubhut has taught over fifteen classes at Kitchenique and tries to schedule at least one class every season so that he can take advantage of the variety of foods that are at their best at different times throughout the year. Incorporating elements and inspirations from his own culinary background, Chef Schaubhut brings Italian, French and classic New Orleans influences into his menu. "The Gulf Coast has an appreciation for great food, so I can pull from all different cultures and cuisines when I teach a class. Vicki appreciates and embraces that. This whole area is ripe with possibilities. The way people celebrate art, music and food here—we want to be pioneers and on the forefront of that movement and expose people to good handmade food."
CRAWFISH, MAYTAG & CHIPOTLE CHEESECAKE
1 lb. crawfish tails

1 Tbsp. chipotle puree

1/2 lb. Maytag blue cheese

1 lb. cream cheese

4 eggs

1-1/2

cups

bread crumbs

3 Tbsp. butter, melted

1/2 cup chives, chopped

Zest of one lime

Pea tendrils
Set oven to 350°. In a food processor, pulse butter and bread crumbs with lime zest until the crust comes together somewhat. Remove and press into a greased springform pan, packing the bottom and sides firmly. Let crust set while preparing the filling.
In a mixing bowl, mix together cream cheese, crumbled blue cheese, chipotle, crawfish, and chives; add eggs, one at a time, allowing each to incorporate before adding the next.
Pour filling on top of the crust and smooth with a rubber spatula.
Bake 45 minutes to one hour—until cake is brown and set. A toothpick inserted in the middle should come out clean. Let cool a half hour before serving. Serve with pea tendrils and red wine.
---
Looking to the future, Kitchenique has ever-greater aspirations, not the least of which is to continue to be the proving ground for our area's most creative chefs, and also to provide opportunities and audiences for the next great chefs. In a complicated time when celebrity and cuisine are often confused, what can get overlooked is the simple art of cooking well. This is not lost at Kitchenique—where there is always an extra plate of delicious food, a full glass of exceptional wine, and people who share your love of these simple things.
— V —
---
Kitchenique's class schedule can be found at www.Kitchenique.com, or stop by their store at 36150 Emerald Coast Parkway, Destin, Florida.
One 20 – A Modern Bistro can be found at 120 Partin Drive North, Niceville, Florida.
Fat Clemenza's is located at 12273 Emerald Coast Parkway, #101, Miramar Beach, Florida.
Vin'tij Wine Boutique & Bistro is located at 10859 Emerald Coast Parkway, #103, Miramar Beach, Florida.
Restaurant Fire can be found at 55 Clayton Lane, Grayton Beach, Florida.
ARTICLE CATEGORIES