By Kelsey Ogletree
Holding downward dog takes on a near-spiritual quality when a bleating baby goat jumps on your back, as these three farms prove.
Atlantis Dream Farm
What's next? That's the question adventurous Cathi Huff, a mother of two, has asked herself for the entirety of her adult life. Train for and compete in a triathlon at age fifty? Check. Own a racehorse? Check. Buy a farm in Georgia knowing nothing about farming? She checked that one off the list too, after purchasing Atlantis Dream Farm in Milton, Georgia, thirty miles north of Atlanta, in 2016.
Then came Clara and Annabelle, the two loving goats who stole Huff's heart—and led to her getting Laila and Kaila next as she slowly grew her goat herd.
"Someone told me I should do goat yoga," says Huff, who's also a certified health coach. "I thought, this really fits in with the healthy and holistic lifestyle I live."
And so, on April 10, 2017, Atlantis Dream Farm's first goat yoga class took place. Classes can accommodate up to eighteen people and are held on mats in a fenced-off area outside the barn. Depending on the number of participants, Huff will bring in two to four baby goats, who are very social critters. She'll start them around three months old, and during that time, they're playful as kittens.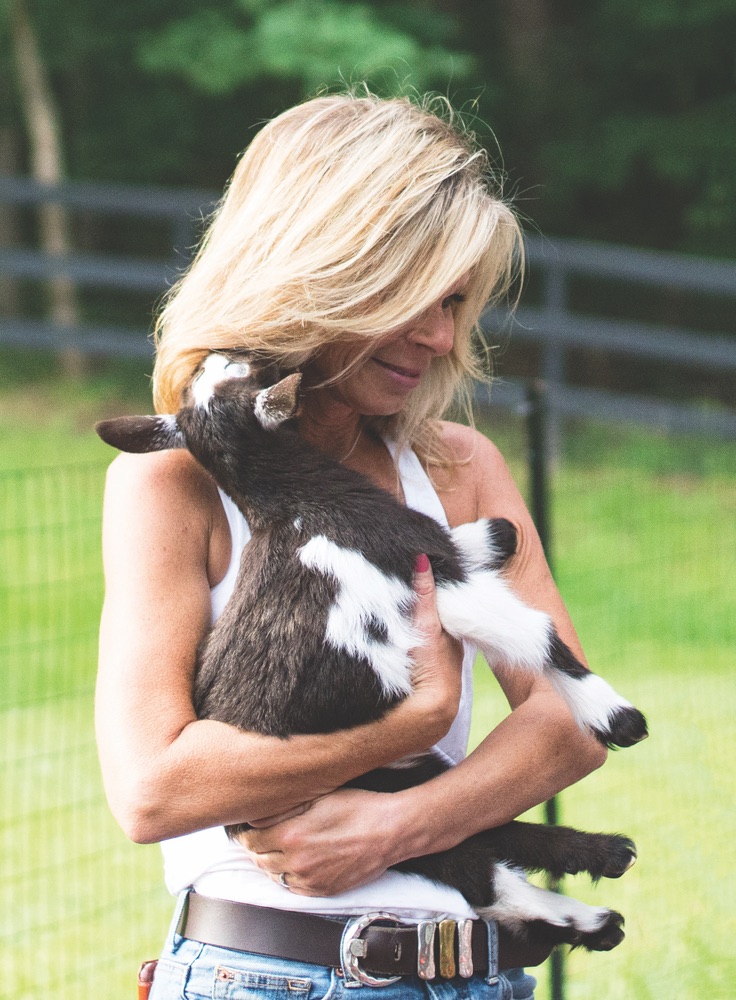 "They'll literally hop on your back," she says.
Huff began calling the concept GOGA. After a local news station did a segment on the farm, she started getting about a hundred people a week.
"It just kept going and going," says Huff. "That's when I realized it's much deeper than goat yoga—it's about the therapy those animals provide."
The GOGA classes have become especially popular for private bookings—from birthday parties to corporate groups—so much so that Huff says she can barely keep up with demand. Her calendar is booked more than three months out.
But, looking beyond the popularity of the classes, the most rewarding part for Huff is the experience she's giving to others. "We had a group of breast cancer survivors out, and I captured some beautiful photos of the goats with a woman who is fighting cancer right now," says Huff. "She said that she hadn't been that happy in a long time and having that playful time with the goats put her at peace."
Little Goat Farm at the Lake
A few states north, Suzanne Marsh, owner of Little Goat Farm at the Lake in Nokesville, Virginia, is also tapping into the benefits of these precious animals and spreading their love throughout the Washington, D.C., area.
Marsh's journey began with a desire to raise goats to produce organic milk and cheese for her family. She was focused on quality over quantity and considered her goats to be pets—she even sold them to others as such, as goats can easily be house-trained.
Soon Marsh began getting calls from vets and animal shelters. They'd heard about her goat herd and were looking for a farm to rehome animals—like llamas and alpacas—who had been abused because the laid-back personality of a goat has a calming effect.
"If you look at racetracks, like Churchill Downs, you'll see little goats roaming around next to big thoroughbreds," says Marsh. "There's a reason they use them: it brings down the horses' heart rates."
One morning, Marsh was outside doing a stretching routine—a form of yoga—to ease the pain of her osteoporosis, and her baby goats flocked all around her.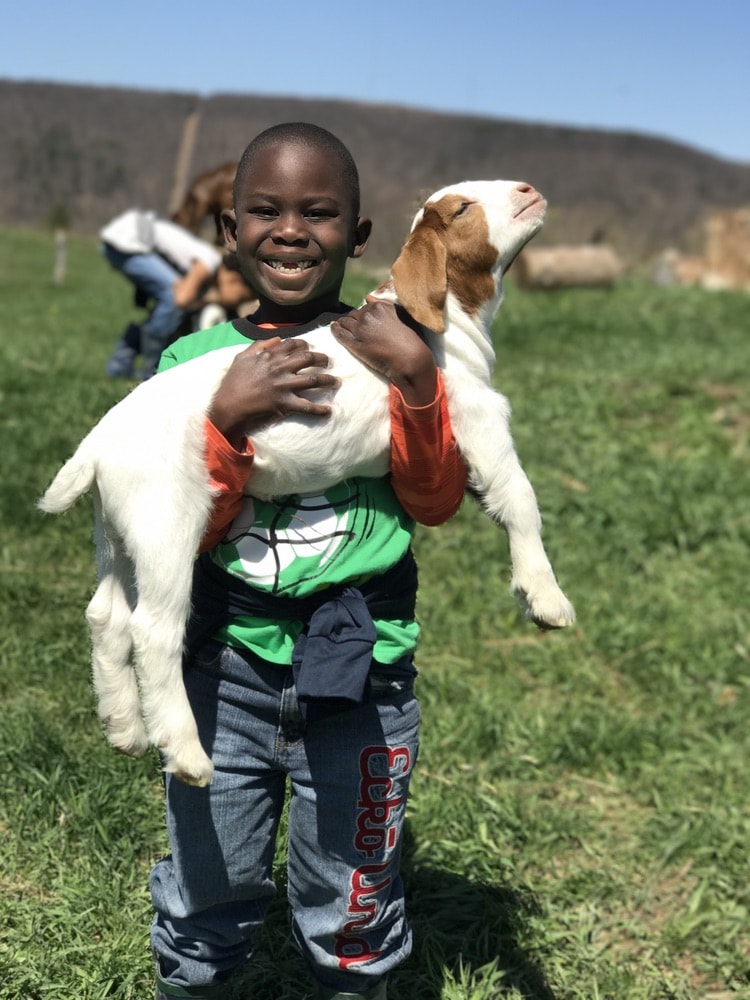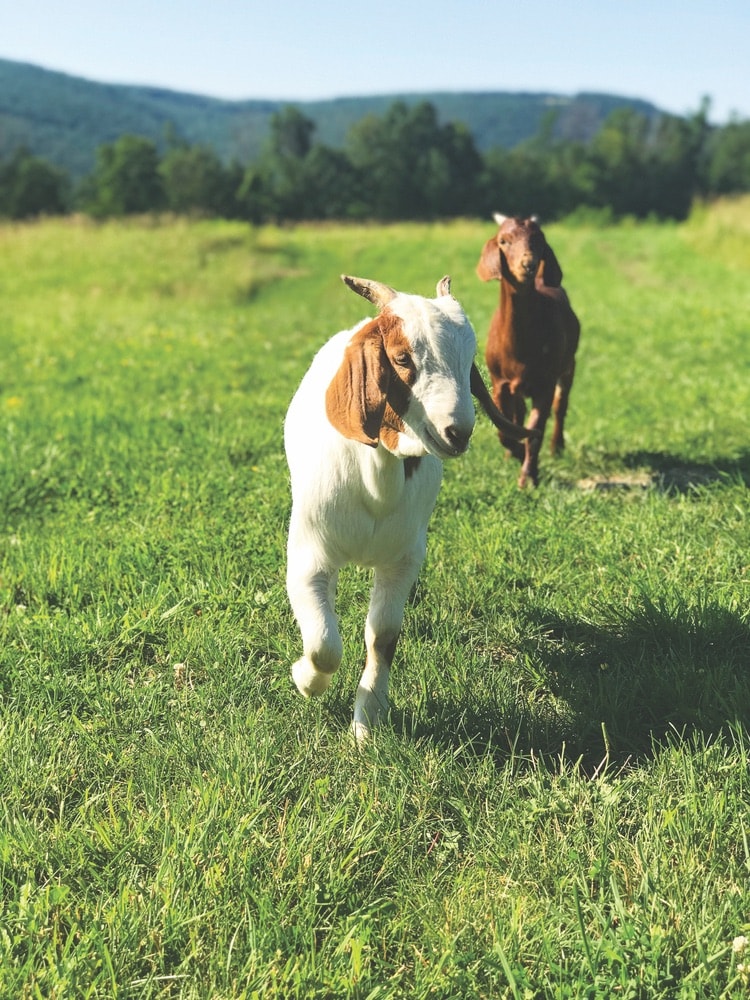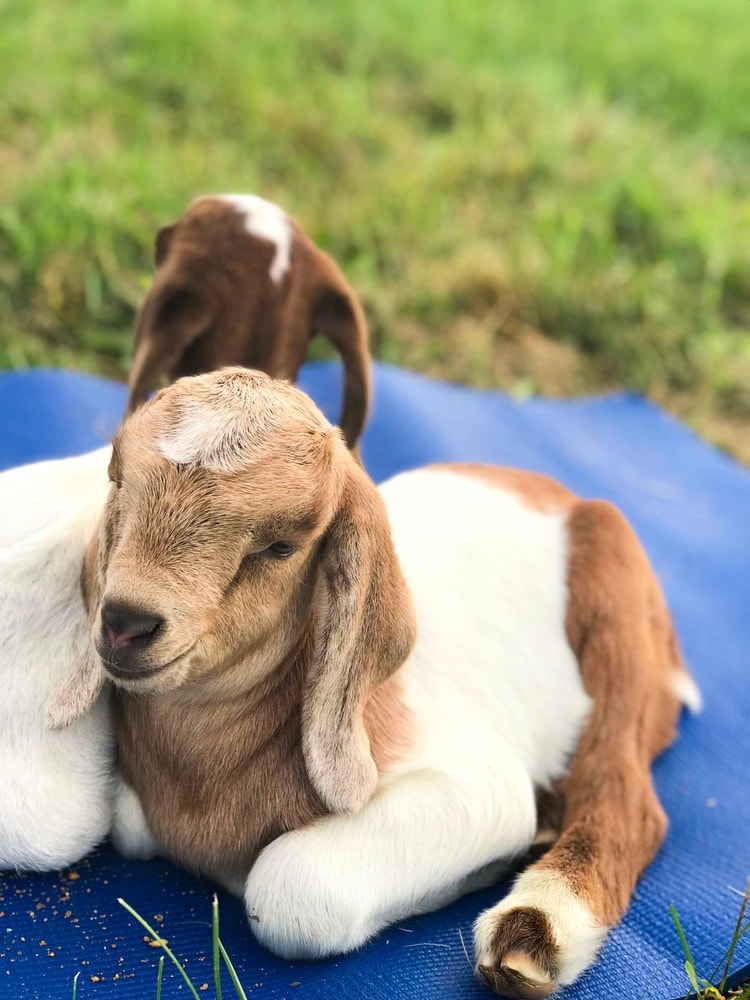 "A neighbor came by and said, 'I do this at the gym, but this looks more relaxing. Can I join you?'" recalls Marsh. One by one, neighbors continued to join, and soon she had regular yoga classes taking place.
Goat yoga at Little Goat Farm has now grown into lots of events, from private sessions for up to 20 people to large classes for 150 to 200 people, which often include live jazz or bluegrass bands. Especially popular among children is the baby goat snuggle, which is as delightful and smile-inducing as it sounds.
The larger classes become a family affair, which is just how Marsh likes it.
"Our alpacas and llamas are very much like cats. They join the yoga, but they go in a line, in and out," says Marsh. Even her chickens come around the outskirts. Other wildlife and birds, such as a blue crane, a white swan, and two bald eagles, are also frequent observers of goat yoga.
For those who can't make it to a class, Marsh posts videos of the baby goats' antics on the farm's Facebook page. It began one day when she randomly posted a clip of a baby goat flipping over a box and getting inside it; the post went viral.
"It's worth it to give that joy," shares Marsh.
ZiegenVine Homestead
Randy Ziegenhagen and Allison Lavine, who met eight years ago on Match.com, also discovered the power of giving that joy when they bought a farm in New York's Finger Lakes region. Ziegenhagen, a semiretired fire chief and chaplain, and Lavine, a professional photographer, read up on raising goats after seeing a news story about goat yoga.
"We thought, why don't we offer that?" recalls Ziegenhagen.
The farm they'd purchased had gone fallow, meaning it hadn't been worked in ten years, so they knew they had a difficult road ahead. One thing they couldn't have anticipated, though, was how their goats would change them in the process.
"I didn't realize how much I would enjoy the animals until we got them," he says, and like a proud father, he goes on to share the news of the births of a baby boy goat and twin girl goats the week of our interview.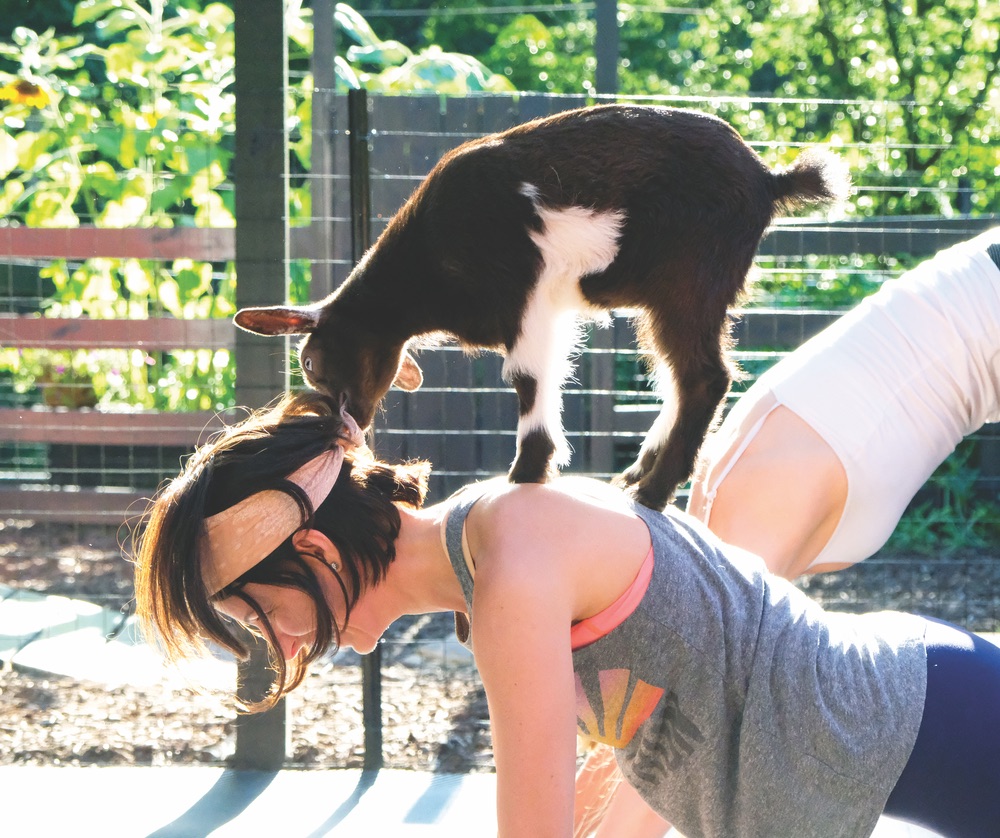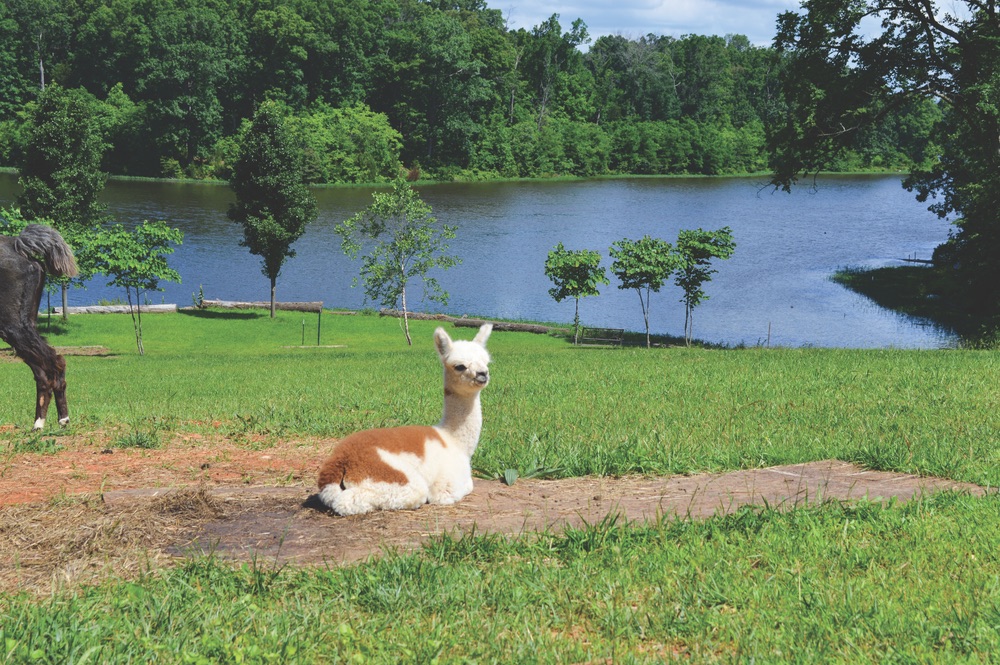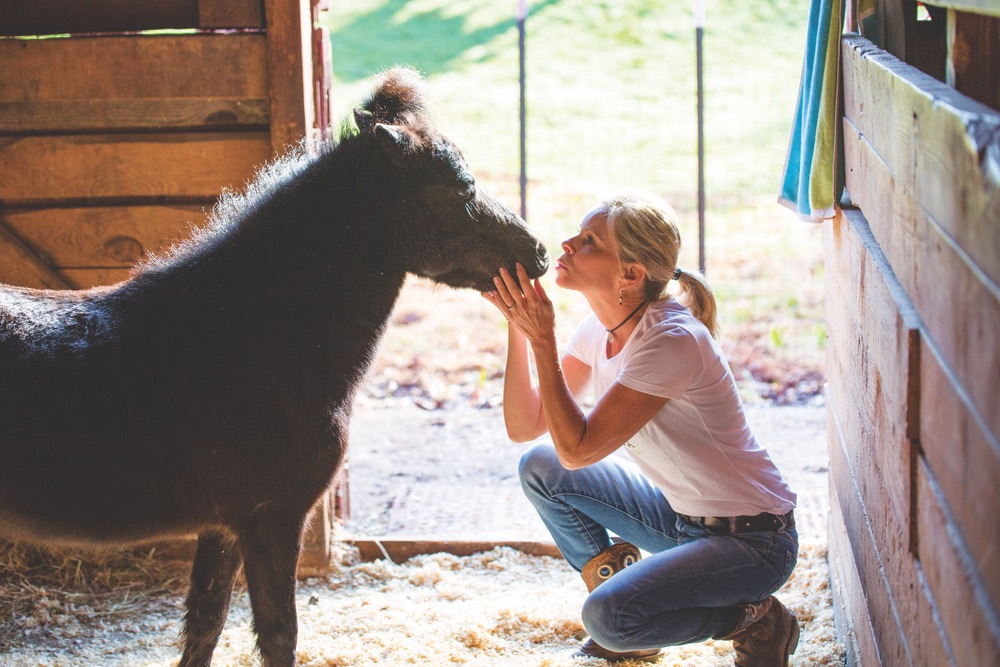 Since New York's weather is unpredictable much of the year, they knew they needed a spot to hold indoor yoga, so fixing up the 1800s-era barn on their property became a priority. They began holding goat yoga classes for up to twenty-five people in the top of the barn, and to their surprise and delight, the classes sold out nearly every weekend—with some weekends even having a waiting list.
But that's just icing on the cake, says the couple, because they're not doing this for the money.
"People get a lot more than a yoga workout; people get to turn off the world," says Ziegenhagen. "The goats will come right up and nuzzle you, and some people have had goats fall asleep in their laps. It's very therapeutic."
— V —
---
Find Your Center
Want to try goat yoga and experience its therapeutic benefits for yourself? Here's how.
Atlantis Dream Farm
Milton, Georgia (770) 845-1018  |  lovegoga.com $20 per class; $25 per person for private class
Little Goat Farm at the Lake
Nokesville, Virginia (703) 929-7228  |  littlegoatfarmatthelake.com $20 per class; $35 for sessions with live band
ZiegenVine Homestead
Savona, New York (607) 207-5730  |  ziegenvinehomesteadllc.com $25 per class
ARTICLE CATEGORIES