Interview by Jordan Staggs | Photography courtesy of Kickstand Jenny
In an age when many listeners get their music recommendations from soundbites on TikTok and rarely listen to an album from start to finish, it's refreshing to hear the story behind a new music collection from an artist or band. Kickstand Jenny, an alternative rock band based in Santa Rosa Beach, Florida, released its debut concept album, Between The Lies, on June 9, 2023, calling it an in-depth look at "the death and rebirth of a soul, inspired by the death of live music during the COVID-19 pandemic and the desire to march on and rise up like a phoenix."
The new full-length album was recorded in Nashville and features ten new tracks with excellent vocals from former L.A. Guns vocalist Scott Foster Harris and killer hits, licks, and riffs from guitarist Preston Morelock, bassist Chris McComas, and drummer A.J. Sipos. It also includes vocalist Mark Slaughter of the rock band Slaughter, drummer Jim Riley of Rascal Flatts, and others. It was produced by legendary producer and songwriter Chas Sandford.
Signed to Spectra Music Group in 2022, Kickstand Jenny cites inspiration from all genres, from Van Halen to Prince, calling it "all the good stuff" that founder, songwriter, and guitarist Morelock loved since he was a child. We caught up with Morelock to talk about the band's new album, upcoming tour, and more.
VIE: Tell us about Kickstand Jenny and how the band formed.
Preston Morelock: I'm from the small town of Church Hill, Tennessee. My father and uncles were in a successful gospel quartet. This is where my brothers and I got "the bug" to play and promote music. I've been lucky to play music professionally for most of my life.
A.J. Sipos (drummer) is from Pittsburg and has lived in Santa Rosa Beach for many years. He was around music his whole life, thanks to his mother. A.J. picked up drums around the year 2000 and started The Bottom's Up Band. I met A.J. shortly after moving to Santa Rosa Beach in 2010 when he delivered furniture to my house and noticed all the guitars lying around. He mentioned that he was a drummer, and we shared contact information. It wasn't until a few months later, after singing on stage with Sammy Hagar, that I decided I wanted to get back into playing again, so I gave A.J. a call, and we went to work. We had an immediate musical connection and have played together since 2010.
Chris was a victim of Craigslist, as we were auditioning for a bassist. He's from Fort Walton Beach, Florida, and is a self-taught musician from a young age, but he started playing professionally in 2000. He made the cut!
We met our producer, Chas Sandford, during the 30A Songwriters Festival a few years ago. He came to one of our shows, and I recognized him (ironically, Chas had written a song for Sammy Hagar). After the show, we hung out, and he talked us into coming to his studio in Nashville to do some recording. Since Chas had previously written a few number-one hits and had produced artists such as Chicago, Stevie Nicks, Rod Stewart, Billy Ray Cyrus, and Stevie Ray Vaughn, it was a no-brainer for us to take him up on his offer.
We had played With Mark Slaughter in the past and have kept in touch with him. When the time came to work on this album, we sent him some demo songs, and he picked one he wanted to sing. Mark also lives about ten minutes from Chas's studio, which made it convenient.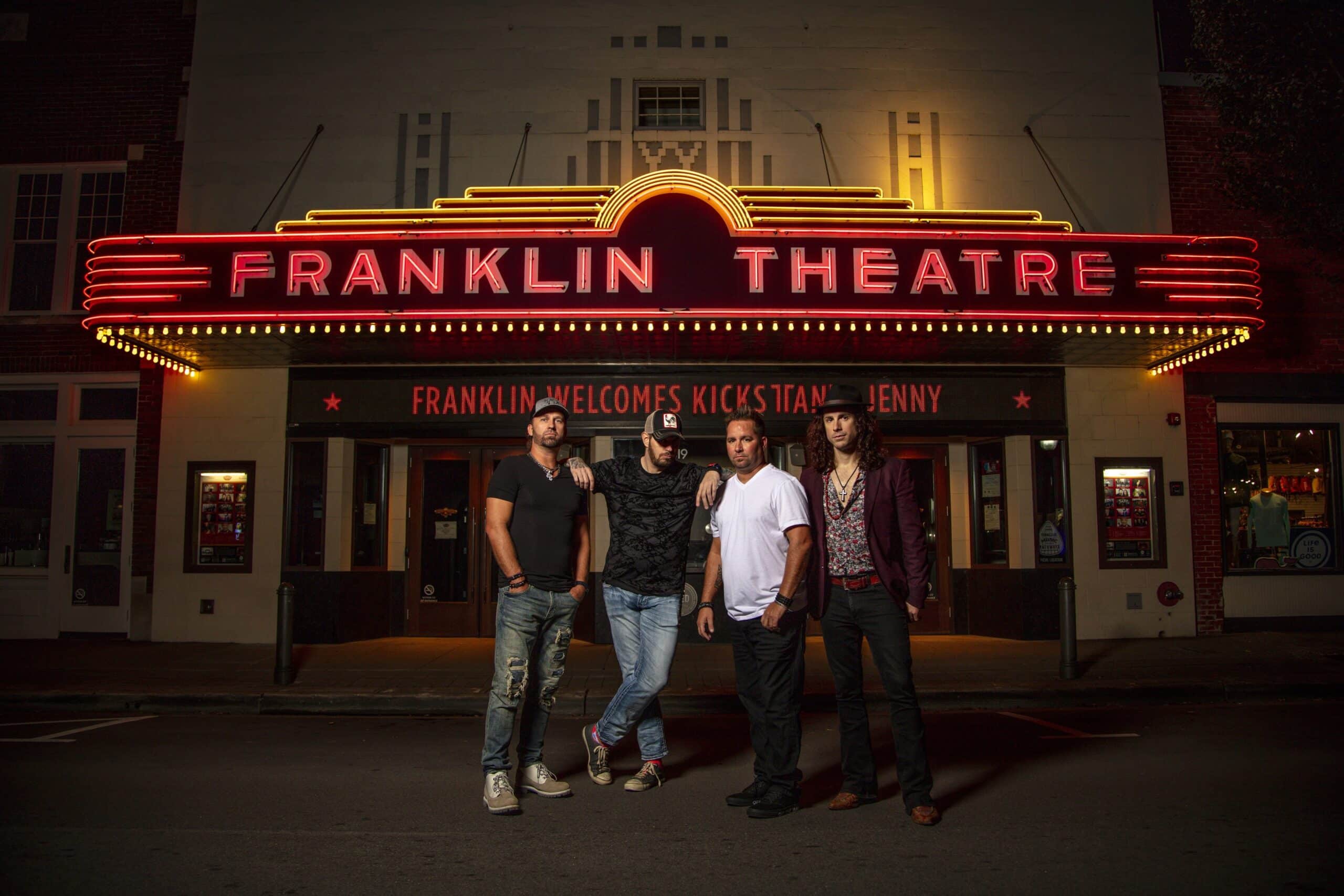 Between The Lies started as a demo for song licensing purposes. As we were working on the demo, I had a bunch of guys I was using for each song—Scott Foster Harris was one of them. Scott is from Dallas, and his music career began in 2006 after he sustained an injury as a professional bull rider and moved to Nashville to start the band Zen Rizing. He then went to Los Angeles, where he joined L.A. Guns. I wanted him on the demo because he used to sing with L.A. Guns, and we had recently played with them. Secondly, his voice is magnificent, and I knew it would work perfectly for the songs I had written. After hearing him, Chas pretty much begged me to use him on all the songs and ask him to join the band. So, I called Scott that day and sent him all the songs to check out. He called me back the next day and said he loved the songs and wanted to be in the band.
That was the long and tedious story of how Kickstand Jenny was formed. It was years in the making, but worth every second to be with these guys!
The title and cover art represent the world we live in today, with such a fifty-fifty, push-pull, or yin-yang happening with politics and social issues.
VIE: What makes the Santa Rosa Beach area a great community for musicians?
Preston: I visited this area for years before finally moving here in 2010. I had been working at one of my grandfather's auto dealerships for fifteen years, and my wife was almost finished with her medical residency. So we came down here on a whim, visited Sacred Heart Hospital, and they hired her on the spot. It was also the same time my grandfather was selling his business to retire, so the time was right for us to move. We always thought if it didn't work out, we could go back to Tennessee, but this area felt like home within days.
Music wasn't on my mind when I first moved here. I honestly had no clue how amazing the music community was until I started working in it again. It was a breath of fresh air! Not only are the tourists hungry for live music when they visit the area, but the locals are also very supportive throughout the year. I was more blown away after seeing how the community thrives around the multiple festivals and concerts.
We are so proud to live in this wonderful community. All the artists and supporters of music are top-notch. Being here has been a blessing in many ways, and we will always call this place home. I don't think I could have picked a better place to live for a musician.
VIE: What are the most challenging and rewarding parts of making and performing music?
Preston: The most challenging thing for all of us is finding time to get together to work on things. We are all adults with jobs and families, so it takes a certain commitment to get together for rehearsals and meetings. Another issue is this social media business. We are old-school musicians, and the new way of doing things is the exact opposite of how it used to be. It used to be: step one—album release, step two—tour and promote. Now it's: promote yourself online, make an album (or single) and release, then tour. Some would say social media makes it easier to promote yourself, and it probably does, but it has been a learning curve to figure it all out. As soon as we figured out Facebook, we were told Instagram was the way to go; now TikTok is the craze. It's exhausting, ha ha!
We love the positive feedback that comes from performing live. You can be on stage pouring your heart out and see even just one person digging what you are doing, and it makes it worth all the practice and effort. It's also been pretty cool to see the feedback from the upcoming album. People are locking on to what we are doing. The YouTube views on our first single have blown us all away—fifty thousand views in two weeks. It's crazy to see, and the album hasn't been released yet. That's pretty exciting for us.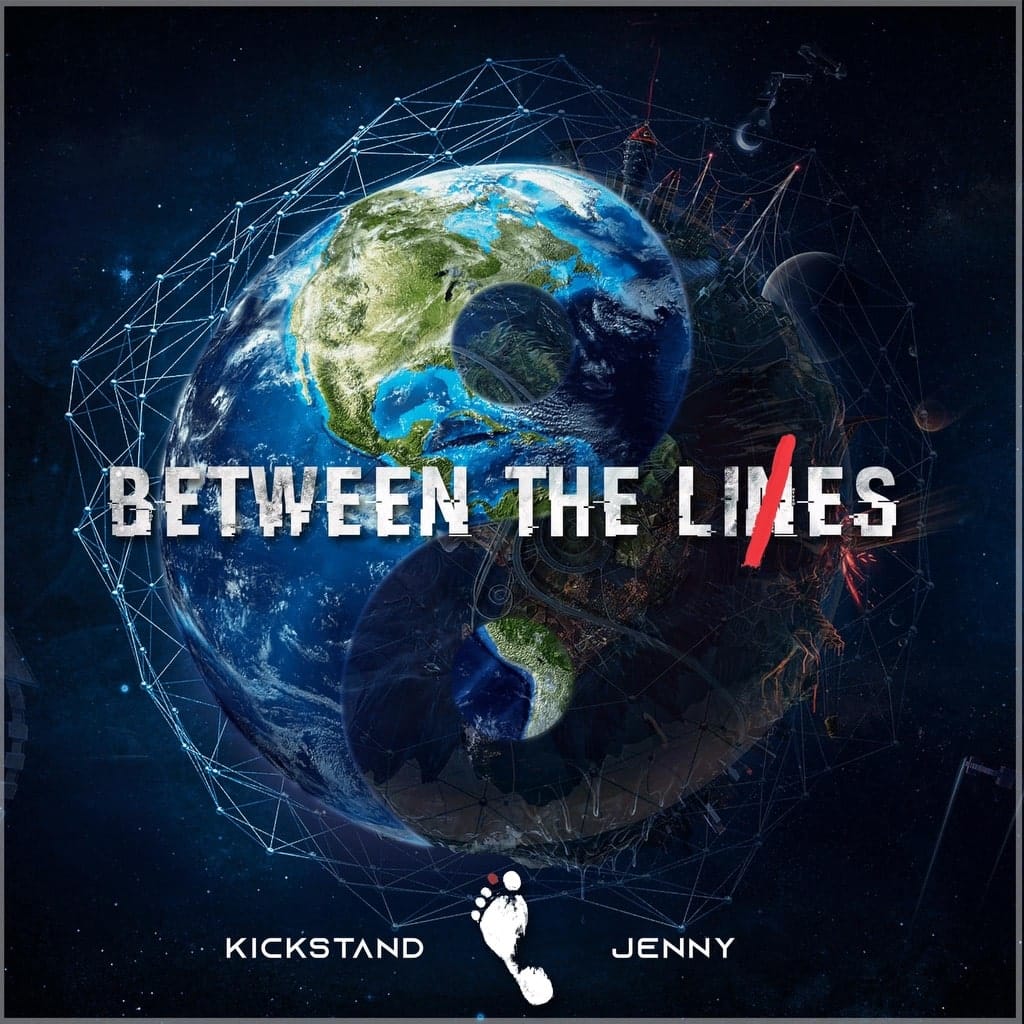 VIE: Explain a little more about the concept of the album.
Preston: A concept album takes you on a musical journey and tells a story from beginning to end. The album is titled Between The Lies. The title and cover art represent the world we live in today, with such a fifty-fifty, push-pull, or yin-yang happening with politics and social issues. And with deepfakes and AI taking over everything, you really have to be smart about spotting what is true and what is a lie. Not to mention what you see on social media and the mainstream media. You sometimes have to read between the lines to decipher the lies.
The title on the cover art reads "between the lines" with the n in the word lines marked out. Then, there is a line in a yin-yang shape on the earth. That's the reality—push-pull, truths-lies, good-evil, etcetera. The album was written and recorded during the pandemic, and the music reflects what was going on during that time. It's a compilation about "the music." During the pandemic, the music was dead, and I wrote all the songs surrounding my feelings at the time, my feelings about the music. The songs seem like we are talking about a loved one or a relationship with a person, but in reality, it's all about the music.
VIE: What is your favorite track on the album, if you have one? Why or why not?
Preston: I personally love them all, but I might be a little biased! The consensus has been all over the place, too. To me, that is a good thing because it means multiple songs stand out, not just one or two. If I had to choose one, it would be "Never Gonna Let You Go." I am a sucker for a good rock ballad, and that song has a special meaning to me. But if you ask me tomorrow, I might give a different answer.
During the pandemic, the music was dead, and I wrote all the songs surrounding my feelings at the time, my feelings about the music.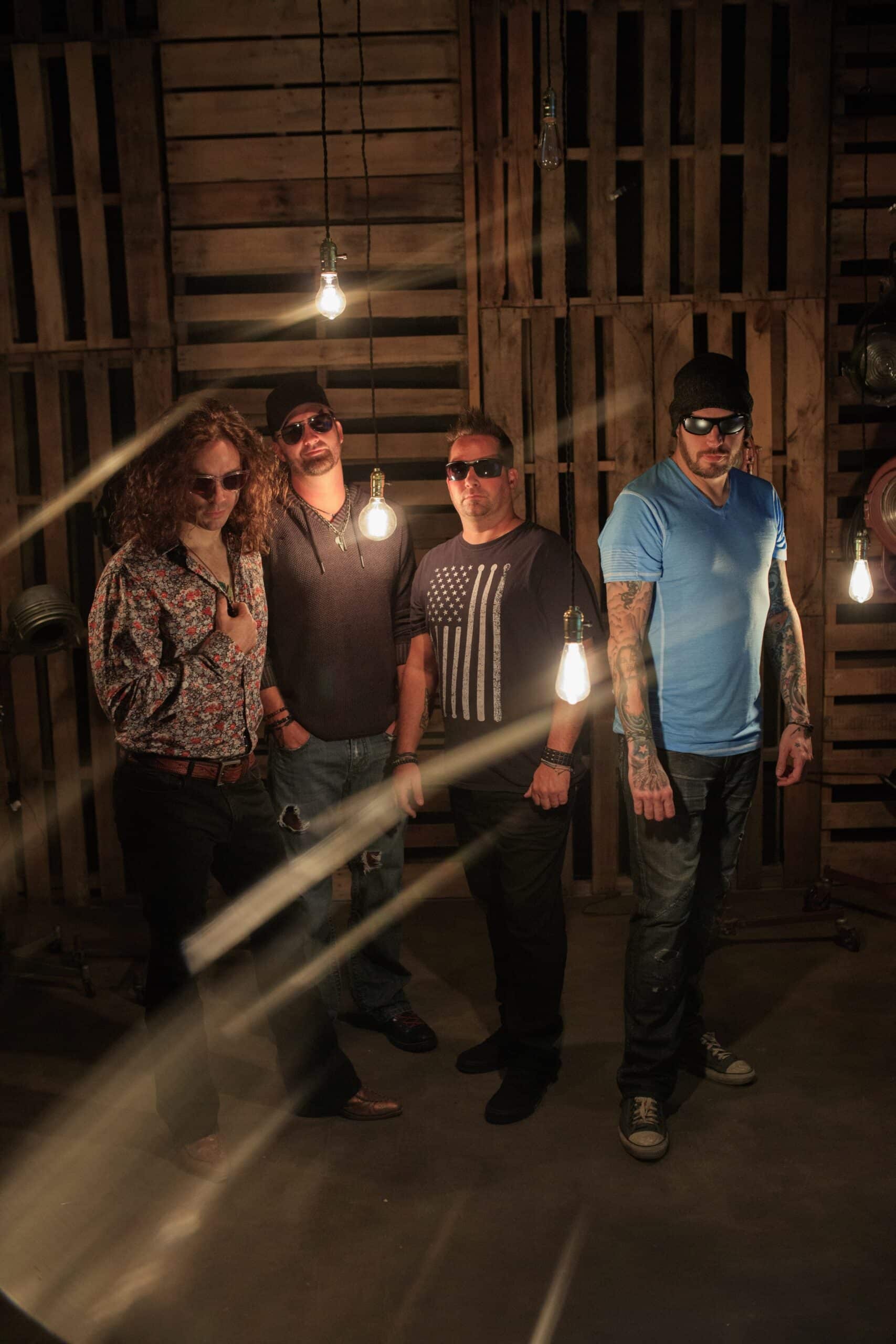 VIE: Will there be a tour to promote the new album?
Preston: Our record label, Spectra Music Group, is handling all the touring details, so we will know more about the tour size and locations when the time comes. Spectra has some amazing acts under its wing, so we will likely be opening for one of them on the road. We're excited about that because they have some of our favorite bands under the label.
P.S. If you're wondering what the name Kickstand Jenny means, unfortunately, that's a band secret, but rest assured, it's a pretty good inside story!
— V —
---
Visit KickstandJenny.com to keep up with the band's touring and local show schedule, and sign up for their newsletter for the most up-to-date information on Between The Lies, tours, and more. You can also find performance dates for Kickstand Jenny and thousands of other bands on BandsInTown.com.
ARTICLE CATEGORIES