Interview by Olivia Manthey | Artwork by Kathe Fraga
Artist Kathe Fraga comes from a long line of creative women. Painting, drawing, and creating seem to be in her DNA. Her first career after graduating from the Université Grenoble and the University of Washington was in advertising as a writer. She worked in this field in Los Angeles, Seattle, and Honolulu. "It was a joy to combine my love of writing with design," she says. Fraga's colorful writing and storytelling meld with her current view as an artist—her paintings are visual stories of color, pattern, and motif.
"What I paint is filled in by the people who view and collect my work," she says. "It's always wonderful to hear what viewers and collectors see in my art and what 'stories' my paintings evoke for them. That's the magic."
Take a glimpse at her many multilayered hues, her vision, and the personal and intimate stories shared through her art.
VIE: How did you get started with a career in the art world?
Kathe Fraga: Growing up, I had the opportunity to live in a variety of places that have influenced my inspiration and the direction of my art. I was always drawing and creating. (I still have my original little green metal box of colored pencils that I used to create countless pictures that would cover the walls of my bedroom wherever our new home might be!) From a young age, I lived in South America, both coasts of the US, and in Europe. The stained glass and gilded interiors of old-world Quito, the pinks and golds and pastels of Paris, the bright reds of Copenhagen, the easygoing style of beach towns in California, and the buttoned-up vibe of New York have all been a part of my direction and influence. But one moment was enormous—my father returned from an overseas trip to Japan. He loved to shop and bring home gifts—it was like Christmas! He surprised my mother with the most beautiful dark-green silk kimono jacket with the most exquisite chinoiserie patterns in bright orange, red, pink, blue—an unexpected pairing of hues and motifs—and I was in love. It opened a new door to the joy of combining lovely dense patterns and blocks of colors, which you'll see in many of my paintings. (And, yes, years later, mom gifted me with that glorious kimono jacket.)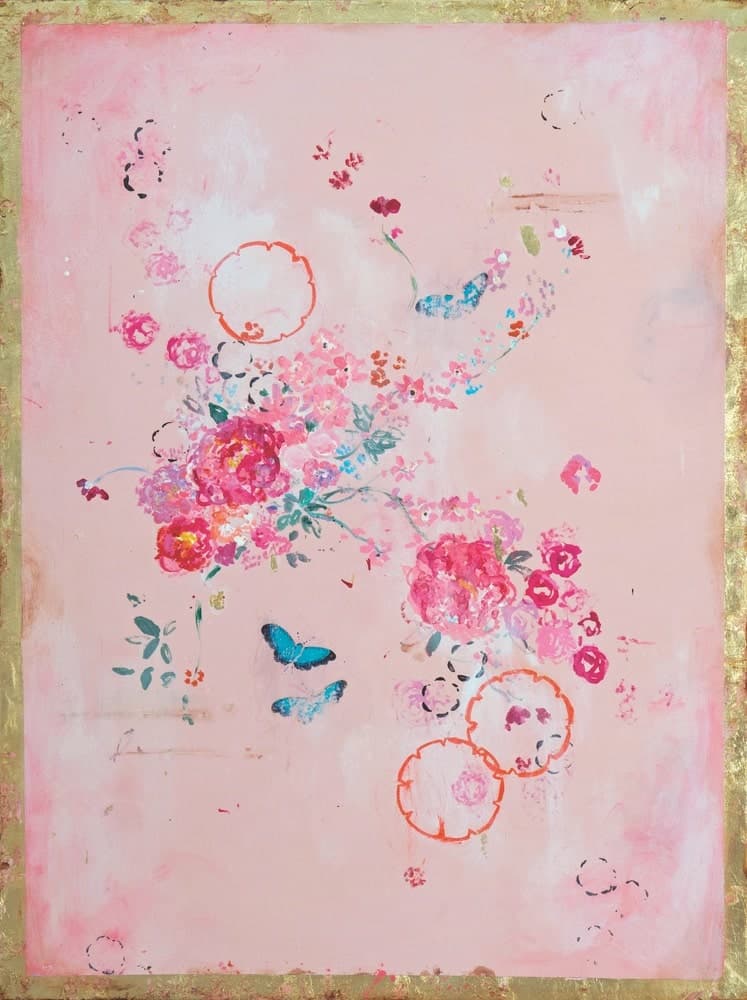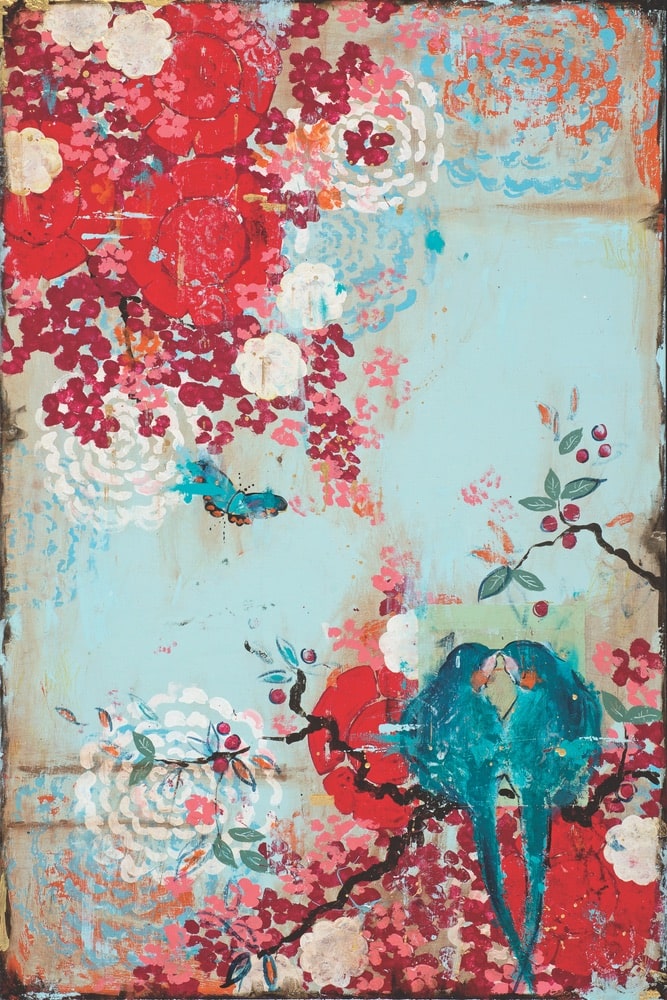 VIE: What is your primary source of inspiration when it comes to painting?
KF: When I'm asked about my work, here's my response: "My work is inspired by the romance of vintage French wallpapers and chinoiserie with a modern twist." Color reacting to color is a big influence for me. It's exciting, for example, to paint a bold wide swath of red and then layer it with bright orange and then add a subdued branch of soft little pink blossoms to create a surprising mix of modern and sweet, small detail.
Nature also inspires me. From the overwhelming beauty of the blooming Yoshino cherry trees at the University of Washington to the multicolored little forest mushrooms that spring up along our wooded trails in the fall, the colors of the Pacific Northwest are wonderful inspirations. (That fluorescent-green moss in our island forests is the most spectacular green ever!) Our island beaches, rich with oyster and clam and mussel shells, also hold hidden treasures—soft and gently sea-washed china shards reflect the island's history and the many generations that have come before: we find blue-and-white chinoiserie-patterned pieces, pastel glass in light blue, purple, and pink, white china with little blooms. I bring these pieces back to the studio, study their patterns, think of their history. And then I paint, layer upon layer of color, story, wee little florals.
We live in a 110-year-old Bainbridge Island home, built with barnacled beach rock and weathered gray shingles. The house's old fir floorboards, milled from surrounding trees, remind me on a daily basis of the love and whispered patina of time—the sound and scent of the forests that surround us. With their decay and rebirth in every season, they send their message to my art as I explore how the fresh beauty of the "new" evolves, over time, into something far more interesting and dramatic. Worn surfaces and distressed textures combine to create a sense of something soft and lovely and familiar; but yet, I feel the need to add a bold swath of color to add the modern and unexpected. It's a resting place for the eyes, a welcome disturbance as something reinvented emerges: gentle old meets dynamic new.
VIE: Do you ever experience "painter's block"? How do you get through challenges when it comes to working?
KF: My joy and inspiration for creating are to keep working, keep at it, keep trying. Because my paintings are inspired by the layers and layers of vintage times past—old wallpapers, many generations—I am always patient with how a painting will evolve. I start with an image and then I paint over that image, I sand and reveal the original image, I paint more detail over that image—so that there are ultimately so many stories to see once the painting is finished for me. When I work, I look at the painting from a very long distance (the first floor of our old home once acted as a ballroom), so I can see what it looks like from far away—are color, pattern, and story visible? Then, I prop it up close to see the hidden details—a blossom peeking out underneath the paint, a design you might not have noticed from afar. It's all about the storytelling. I'm painting a tale, through layers and layers of color, paint, and imagery, but it's up to the viewers to find their own stories in that painting and make it their own. That's what is important to me.
I bring these pieces back to the studio, study their patterns, think of their history. And then I paint, layer upon layer of color, story, wee little florals.
VIE: Where can our readers view or purchase your art?
KF: I'm fortunate and honored to have been represented by wonderful galleries that have inspired and encouraged my work over the years. Currently, my work is represented by Nikki Sedacca Gallery, Martha's Vineyard; Museo Gallery, Langley, Washington; Roby King Gallery, Bainbridge Island, Washington; 530 Burns Gallery, Sarasota, Florida; Artisan Crafted Home, Langley, Washington; Bainbridge Island Museum of Art, Bainbridge Island, Washington; and Flowering Around, Bainbridge Island, Washington.
VIE: What do you believe makes something "art" and why do you believe art is important to the world?
KF: I often refer to this wonderful quote by the amazingly gifted and imaginative artist Odilon Redon (1886–1905): "My drawings inspire and are not to be defined. They place us, as does music, in the ambiguous realm of the undetermined."
I would never compare my work to Redon's colorful masterpieces, but I respond to his sentiment. My work is about feeling and emotion, color, and design. The best thing I can hear is that one of my pieces has made someone feel happy. One of the most treasured emails I ever received was from someone who was in a waiting room at a doctor's office, and she wrote to tell me how much my painting, in that stressful waiting room, had offered her comfort and joy.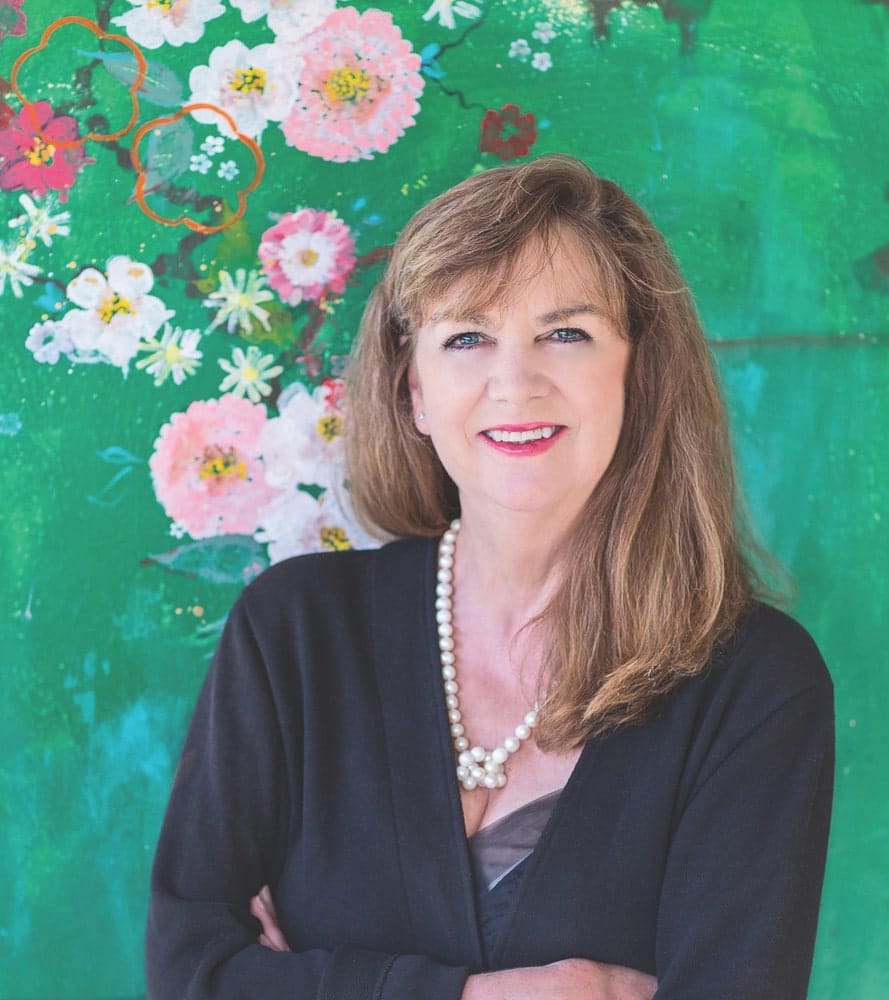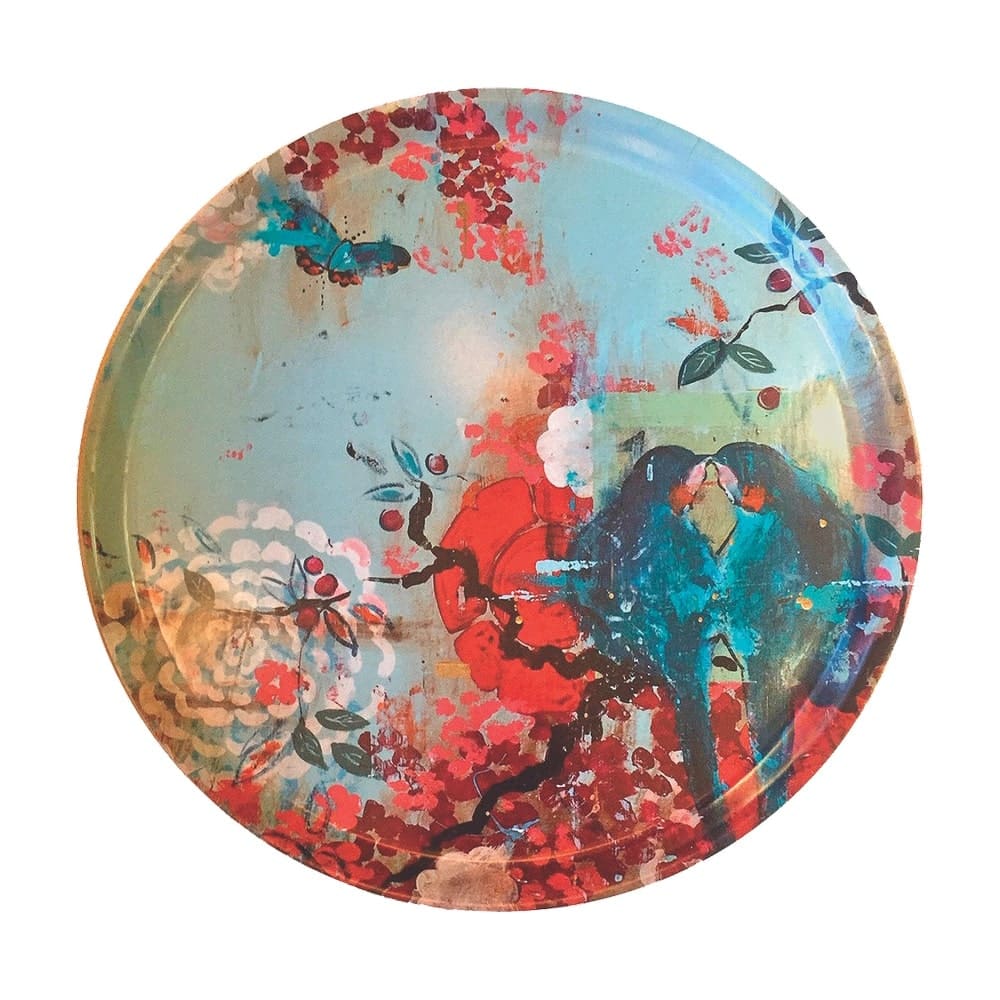 VIE: Tell us a little about your brand collaborations and home decor products.
KF: In 2017, I was invited to collaborate with world-renowned makeup artist and Clé de Peau Beauté creative director, Lucia Pieroni, to create the limited-edition holiday packaging and promotional materials for the brand's Nuit de Chine collection. Lucia's vision was inspired by the Metropolitan Museum of Art's exhibit China: Through the Looking Glass, and I was asked to help bring it to life. We met with the team in New York and on Bainbridge Island to create imagery, based on my art, for makeup coffrets and skincare, nail lacquer, and eye crayon packaging, as well as store displays and PR collateral.
Since then, I have shown my work at the Bainbridge Island Museum of Art in the Beacon Gallery and introduced a new collection of silk and linen pillows and a new silk scarf collection based on my art. I continue to design and create from my studio, nestled in the woods in a dark 1905 craftsman-style home on Bainbridge Island. I've been welcomed into the wonderful 530 Burns Gallery for a solo show this past year in Sarasota, Florida, and the Nikki Sedacca Gallery on Martha's Vineyard, as well as the galleries previously mentioned.
VIE: Do you have any news you'd like to share for the coming year?
KF: Thanks for asking! In addition to new work in the studio, I'm adding to the silk and linen pillow collection for Kathe Fraga Home, and I also have silk scarves, boxed greeting card sets, and birch vanity trays in a variety of sizes and motifs to hold your favorite collections—all based on my paintings. New collaborations to come! I have an upcoming solo show in February 2020 at 530 Burns Gallery in Sarasota, and my work will continue to be represented by all of my galleries in the year ahead. Yet the joy of color and stories all comes down to painting in the studio—one brush of color at a time, more color on color, and a little dreaming mixed with magic. Stay tuned.
— V —
---
Visit KatheFraga.com or follow on Instagram @kf_paintings to learn more.
ARTICLE CATEGORIES