By Tori Phelps | Photography by Jessica Iampolskaia, Forever Photography
When talent was handed out, Kasey Williams got more than her fair share. She's a songwriter, singer, and stage and screen actor who's also charmingly self-deprecating and laugh-out-loud funny. It would be easy to feel aggrieved at her overflowing cup if she weren't so darn likable.
Currently, the actress turned singer-songwriter has her hands full with a career that might involve a film set one day and the 30A Songwriters Festival the next. But she graciously took five to discuss her down-home roots, the necessity of an occasional f-bomb, and why she has no intention of choosing between music and acting, thank you very much.
Williams didn't grow up thinking the limelight was her destiny. It was, of all things, a high school performance of Once Upon a Mattress that got her pondering a career on the stage. As the main character, Winnifred, Williams found herself basking in the applause during curtain calls. "I remember thinking, 'Yeah, I can handle this, like, forever,'" she laughs.
As the oldest of three children growing up in Johnson City, an eastern Tennessee town best known for a mention in the song "Wagon Wheel," it wasn't exactly a straight shot to fame, and Williams didn't make it any easier on herself with her choice of college. Instead of a performing arts school known for churning out Broadway stars, she opted for the University of Tennessee in Knoxville and a major in communications. She did minor in theater, but Southern small-town pragmatism meant she was encouraged to "get a real degree"—which she has yet to use, she points out wryly.
Williams was initially torn about whether she should move to Los Angeles or New York City after university. A summer-stock show in North Carolina's Outer Banks made the East Coast decision for her. She became tight with fellow actors who eventually moved to New York City, and during a visit with them she had a moment of clarity on a West Village stoop. "I felt like New York could be my home," she recalls.
With degree in hand, she made the leap to NYC with two suitcases, several hundred dollars in her pocket, and a healthy dose of optimism. Amazingly, everything fell into place almost immediately. A sublet that was supposed to last two months turned into a seven-year stay, and a bartending job landed in her lap the first week.
Acting jobs didn't come as quickly, but they did come. In the beginning, she was focused exclusively on theater and even cofounded (re:) Directions Theatre Company. Williams threw herself into (re:) Directions for three seasons, during which she learned that producing theater is, as she says, "hard freakin' work."
As an actor, she was used to showing up, knowing her lines, and delivering a performance—a relatively easy job when compared to the nonstop work of raising the money it takes to produce a show. It was an eye-opening lesson about how much goes into mounting a play, even at (re:) Directions' off-Broadway level. Eventually, work in little-known but well-received films turned her attention from the stage to the screen.
Oh, and a music career got in the way, too.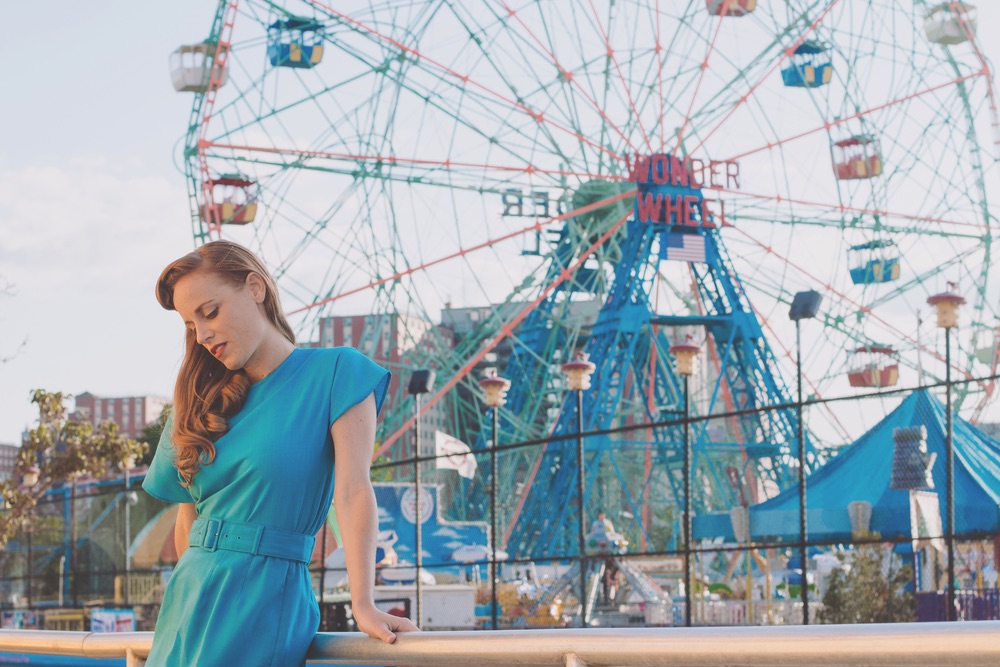 Music was always in the background for Williams. She was drawn to instruments growing up, in part because her dad had been a musician. He usually had a guitar lying around, and in high school she picked it up and taught herself to play. Her grandmother, a church organist who taught piano in her home, also let Williams plink out tunes when she visited.
The self-taught musician enjoyed singing, as well, but was reluctant to believe she was any good at it. Being deaf in one ear isn't typically a characteristic of great singers. Nonetheless, she is, and she's working on breaking the mold.
The music bug bit Williams hard during a Brandi Carlile concert. She should have been enjoying one of her favorite musicians, but Williams spent the entire show wrestling with the soul-deep truth that she wanted to be onstage doing the same thing. That visceral reaction must have shaken something loose in her psyche, because Williams woke up the next morning with a song idea in her head. Her first song poured out as she sat at a small keyboard she could only partially navigate. "I think I knew what a C chord was at the time," she laughs. "But I did it."
Williams was officially hooked but plagued by guilt and self-doubt. She struggled with the idea that she was "cheating" on her acting career. In New York City, she explains, the arts are absurdly competitive. People come to the city because they're laser-focused on one thing—and one thing only—whether it's dancing, acting, art, or music. Williams was passionate about both music and acting, and she struggled for years to settle on a single path.
Williams was passionate about both music and acting, and she struggled for years to settle on a single path.
During an eye-opening trip to Africa, she realized she didn't have to choose. Surrounded by locals who had few material possessions but plenty of joy, Williams started reflecting on what made her truly happy. Maybe it was being outside her comfort zone. Maybe it was having time and space to think. Whatever the source of her clarity, she could no longer deny that the answer was music and acting.
By chance and by choice, though, most of her energy has been funneled into music the last few years. Coming off a string of not-so-great shows, Williams was frustrated by being at the mercy of other people's creations. Music, on the other hand, has allowed her the freedom to express herself in a way that is wholly hers.
That self-expression sounds like a cross between folk and pop, with some of her Tennessee roots thrown in. The lyrics, like Williams herself, are often humorous and always honest. Her hilariously explicit (and surprisingly upbeat) "Get the F Out of My Way," for example, evolved out of a very real moment when she was particularly fed up with waitressing. She says the anthem, which is chock-full of the f-bomb, is her most popular song. Go figure.
The songs on her self-titled debut record, released in late 2014, are especially intimate. Williams had just decided to pursue music when her father was killed in a car accident. Music was a passion the two shared, and during what was to be their last conversation, her dad encouraged her to keep writing. In the aftermath of his death, music took on a different weight for Williams. "In that moment, I had to do it," she says of songwriting. "I dedicated that record to my father, and all the songs on it tell a story. They capture defining moments in my life."
Making an EP would be a remarkable accomplishment for anyone, but for Williams, it meant overcoming the fact that she only has hearing in one ear. When recording vocals, most singers want to hear themselves through the microphone and outside of the headphones at the same time. "That's why you'll often see a singer holding one side of the headphones out," she explains. "I couldn't do that."
Other challenges weren't physical, but they were still worrisome. Williams had never played with a band before she went into the studio, and as a solo performer she had the freedom to speed up or slow down as the mood struck her. As part of an ensemble, though, she had to play to the click of a metronome. Fortunately, her producer was also a good friend, as were the musicians, artists, and pretty much everyone else associated with the record. They were patient, she was persistent, and a debut record was born.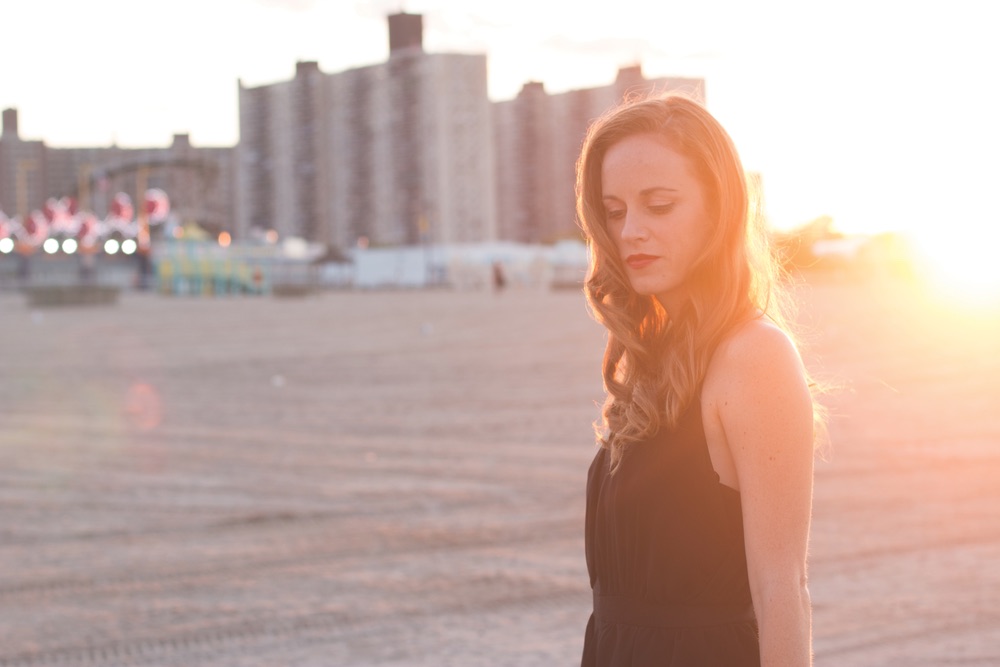 Since then it's been back to performing music, including shows in New York every month or two and several tours last year. She adores touring and isn't shy about how much she loves being onstage (remember the high school applause that got her into this whole thing?). "I love traveling and I love playing music," she says. "When I'm out on the road doing that and meeting new people, it feels like what I'm supposed to be doing."
She was treated to plenty of audience interaction while playing this year's 30A Songwriters Festival along the beaches of Northwest Florida's South Walton County. "It was just the best," Williams says of her experience.
30A was my first festival, and now I feel so spoiled. What could be better than playing music for amazing fans alongside incredible artists on a beautiful beach?
She wouldn't hesitate to make a return appearance; in fact, she's hoping her enthusiasm doesn't scare the organizers away. "They're probably wishing I would stop contacting them," she jokes.
Truthfully, she'd have to squeeze the festival in. She's working on another summer tour and writing more songs—plus she wants to record a second album. Williams is also enjoying the release of her new single, "Stick Around." The song, a sweet duet with Justin Bohr, was unveiled on her birthday, March 21, at a full-band gig she played in New York.
Music is clearly what's on Williams's mind, though she eventually wants to get back into making movies. But she's not in any rush. She chooses to have confidence in herself and in a timing that's happily out of her control for "making it" in the music and acting industries. "The older I get, the less pressure I feel," Williams reveals. "I really believe that as long as I keep putting myself out there, it will happen the way it's supposed to happen."
— V —
---
ARTICLE CATEGORIES