By Tori Phelps
The country's first underwater museum unites art lovers, dive enthusiasts, and marine conservationists.
When a destination is named to Time's list of "World's Greatest Places," it's an honor. When it is added to that list after only two months in existence, it's nothing short of a recommendation to drop everything and Go. See. It.
The Underwater Museum of Art (UMA), a permanent sculpture exhibit located in the Gulf of Mexico off the coast of Santa Rosa Beach, Florida, opened just this summer. But it gained icon status almost immediately thanks to a Time designation that placed it among global marvels like Vietnam's Golden Bridge and the Louvre Abu Dhabi.
The first museum of its kind in the United States—and one of only a handful on the planet—UMA was the brainchild of Florida artist and diver Allison Wickey. She had read about underwater sculpture pioneer Jason deCaires Taylor and his projects in Grenada and the Canary Islands. She was familiar, too, with the work of South Walton Artificial Reef Association (SWARA), which drops reefs along the coast to buoy the health of Gulf waters. Could we put sculptures into the water that become reefs? she wondered.
Since Wickey is also president of the Cultural Arts Alliance of Walton County (CAA), she brought the idea to the board, whose members gave it an immediate green light. Next up was convincing SWARA, with whom they knew they needed to partner. Admittedly a bit hesitant at first, SWARA founder and president Andy McAlexander questioned everything from the project's sustainability to the potential interest in such an outside-the-box idea. But it wasn't long before he caught the underwater museum bug, too.
Everyone involved in bringing UMA to fruition—a true group effort, Wickey stresses—was adamant about respecting the Gulf's ecosystem when it came to sculpture materials. Those strict guidelines (clean concrete, aluminum, limestone, or stainless steel) could have discouraged artists, but CAA Executive Director Jennifer Steele says the number of submissions they received was beyond their expectations.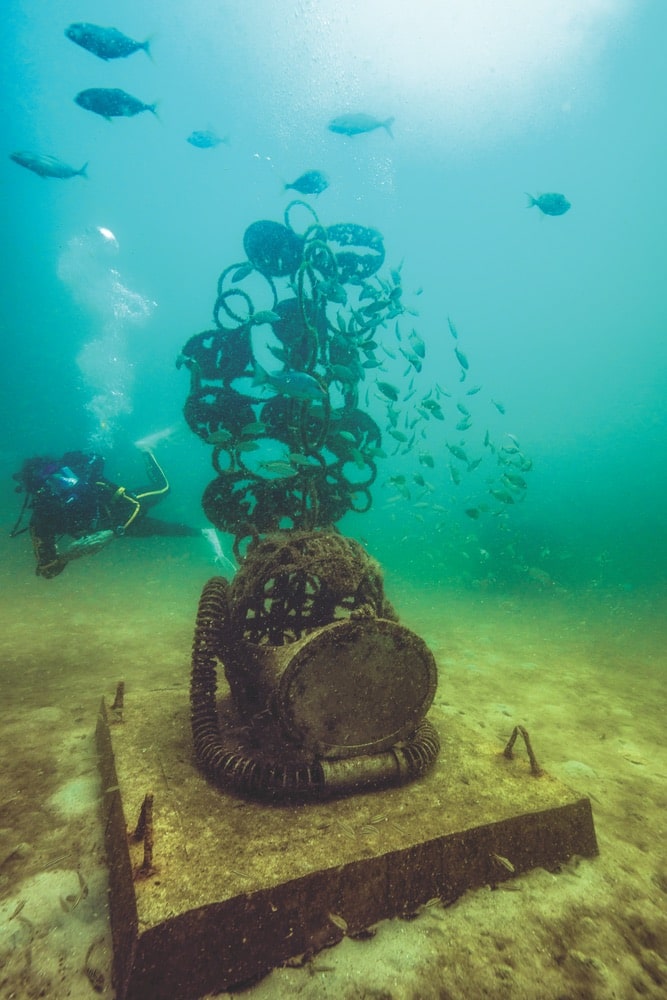 Ultimately, seven designs were chosen, including Wickey's Anamorphous Octopus. An optical illusion based on intentional distortion, the concept combines her interests in octopi and murmuration (the phenomenon of thousands of starlings flying in an intricately coordinated pattern). The result is a bit of magic wherein every angle offers a new perspective.
Dallas artist Marek Anthony, who submitted plans for a piece called Propeller in Motion, was also chosen for the project. Drawing inspiration from the environment in which the art would be located, Anthony decided to create a ship's propeller that captures the energy and movement of waves, with the hollow propellers suggesting the inside of a shell when viewed from above.
Other sculptures chosen for the first installation include Rachel Herring's The Grayt Pineapple (so named for nearby Grayton Beach), Evelyn Tickle's Concrete Rope Reef Spheres, Vince Tatum's SWARA Skull, and Justin Gaffrey's Self-Portrait.
The public got its first look at the pieces—on land, anyway—during a weeklong exhibition at Grand Boulevard Town Center in Miramar Beach, Florida. A high-profile launch party held in conjunction with the exhibition is where McAlexander fully grasped the power of UMA. "The number of people there who aren't typically big reef supporters—and their willingness to support the project—was absolutely humbling," says the SWARA president. "I was blown away by the impact this project was having on so many different people's lives."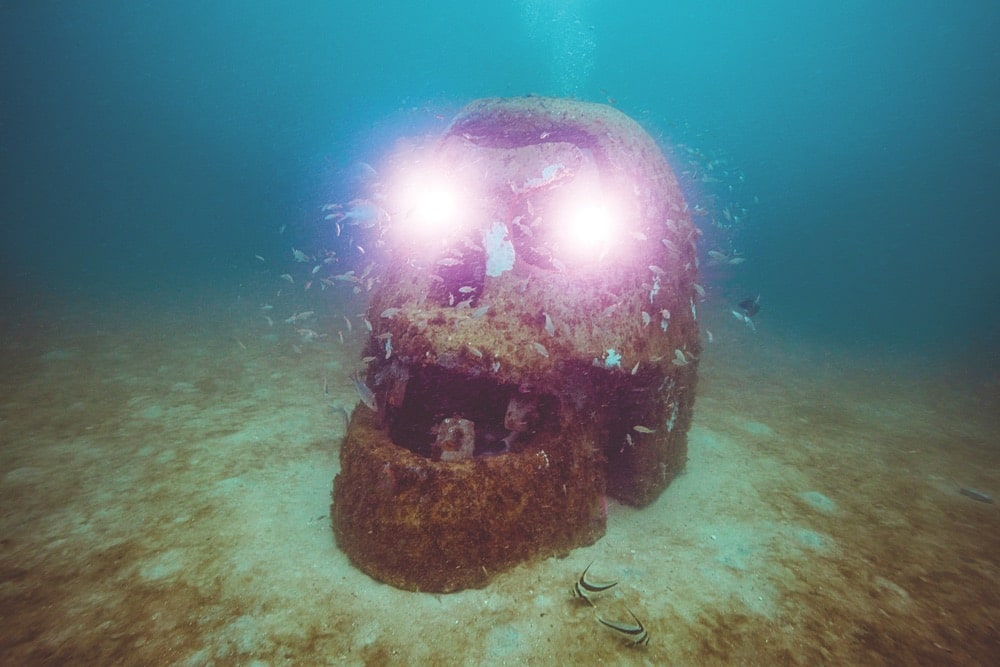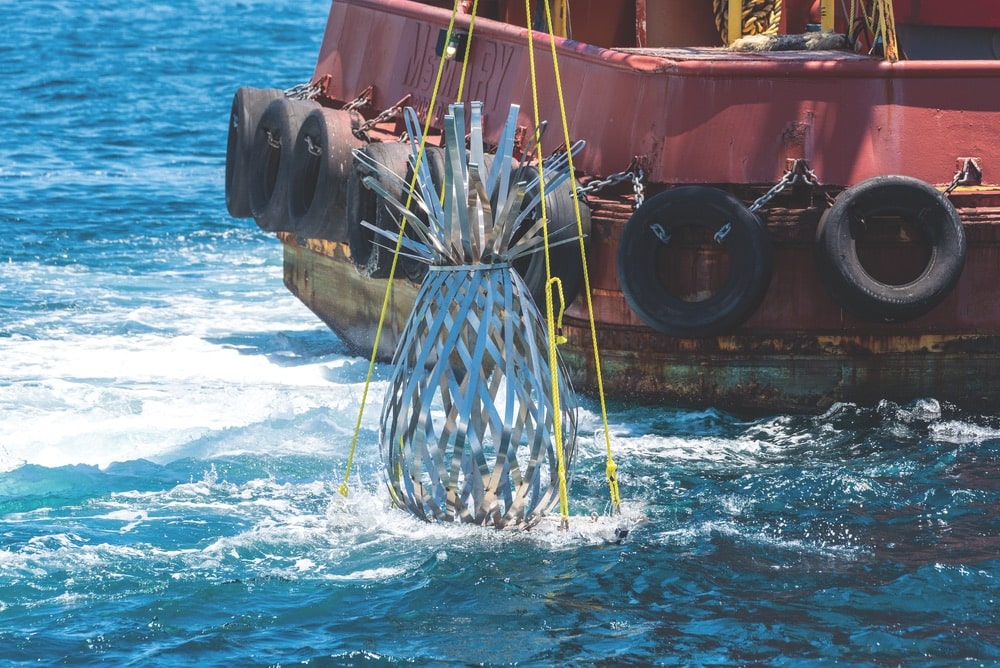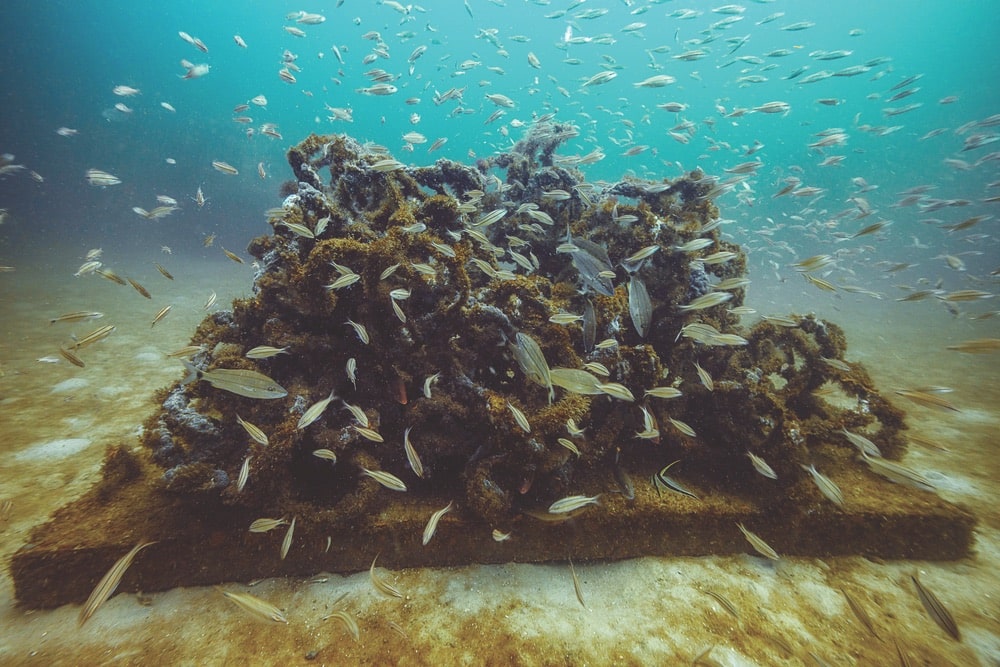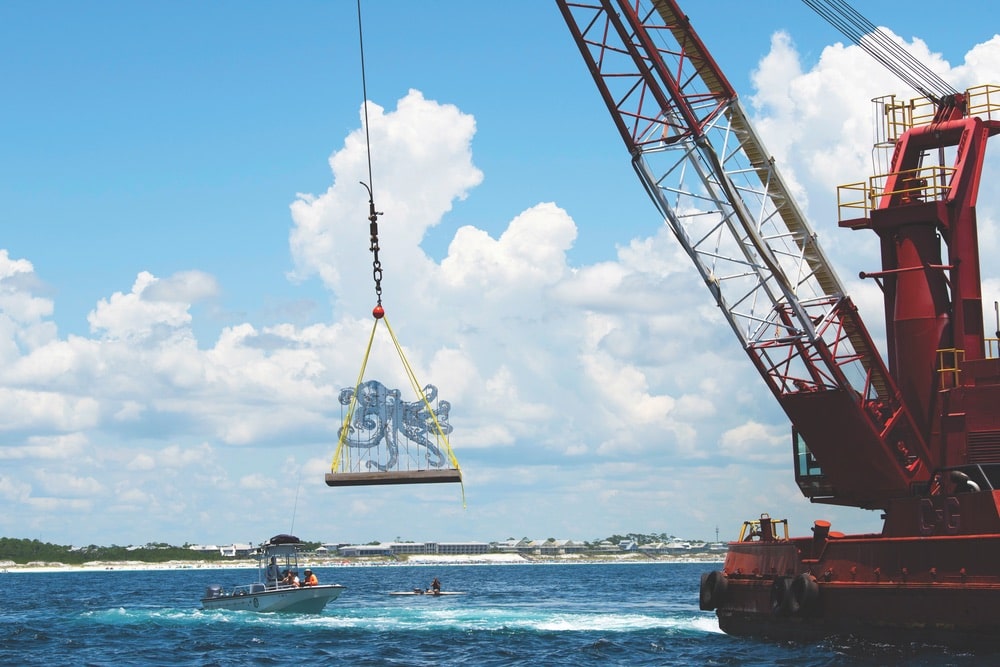 Indeed, the underwater museum was turning art aficionados into artificial reef supporters, a big boon for SWARA. In turn, SWARA arranged for the sculpture deployment to piggyback on a planned artificial reef drop scheduled for June 25, 2018. A barge loaded with sculptures and reef structures, three donated yachts carrying artists and project producers, and a few curious kayakers and paddleboarders all met about three-quarters of a mile off Grayton Beach State Park to celebrate a day that had been years in the making. And while the mood was undeniably festive as they watched cranes drop the sculptures into the water, Steele said it was also bittersweet because some of the people gathered there would never see the pieces again.
But plenty of others will.
Wickey and Anthony are both waiting to dive UMA for the first time with their children, but McAlexander has been down multiple times since the installation. "We dove the reef within an hour of deployment, and there were already fish congregating around the structures," he reports. "A week later, there were ten times the number of fish and already some marine life biomass starting to grow. A month after deployment, it was completely different once again."
That evolving nature of UMA is what separates it from the static museums to which most of us are accustomed. The creation of a living museum where art grows and changes while offering a habitat to marine species is a win-win for both the arts and artificial reef supporters. And it has solidified an ongoing collaboration between the CAA and SWARA. The CAA will issue another call to artists this fall, with a second deployment tentatively scheduled for summer 2019. That will mean more fund-raising, of course, but unlike museums on land, there's no ongoing cost to maintain the deployed sculptures. "They belong to the Gulf of Mexico now," Steele says.
She expects to spend up to ten years filling the CAA's one acre of seabed with new pieces, a prospect she's looking forward to. Calling it "inspiring" to tackle a project outside the agency's usual comfort zone, she says it's also a pleasure to partner with community organizations she might not have otherwise.
McAlexander hopes it's also a reminder that a healthy environment links everyone together, no matter their passion.
The teamwork that went into launching UMA seems to have struck a chord with everyone involved. Wickey points out that the museum wouldn't exist if not for the grassroots efforts of individuals who joined forces with the sole purpose of giving back to the area. That labor of love served as a good reminder of what makes this community of Northwest Florida special, says the longtime local artist.
McAlexander hopes it's also a reminder that a healthy environment links everyone together, no matter their passion. Art lovers, he believes, can't help but become environmental stewards when they see art literally sustaining life. Steele agrees that UMA is the kind of experience that will change viewers for the better. "They'll never see anything like it again," she says, "and I think it will help people appreciate the importance of art by seeing it in a new way."
— V —
---
Visit UMAFL.org to learn more or plan your trip.
Tori Phelps has been a writer and editor for nearly twenty years. A publishing industry veteran and longtime VIE collaborator, Phelps lives with three kids, two cats, and one husband in Charleston, South Carolina.
ARTICLE CATEGORIES