By Crystal Hamon
On one of those bright, crisp autumn days in New York—the kind that makes you feel like you're walking through a movie—I met my friend, Shawnda, for brunch at Brooklyn's Mediterranean gem, Olea. With full bellies and happy hearts during our walk home under the turning leaves, she told me she needed a change from the fast-paced corporate world where we had met and become friends. Soon after, she applied to teach English in Thailand.
Cut to a little more than a year later. Shawnda was settled into her new home in Sam Phran, about an hour outside of Bangkok, immersing herself in the local culture and spending weekends in fairy-tale locales, when I unexpectedly hit my own turning point. I decided I needed a little perspective: a break, some excitement, something new. I needed Thailand. During what came to be known as the "bomb cyclone" of 2018, with hurricane-force winds hurtling snow against my brownstone window, I planned a getaway to turquoise waters and limestone cliffs. Two weeks later, I landed in bustling Bangkok to start my adventure.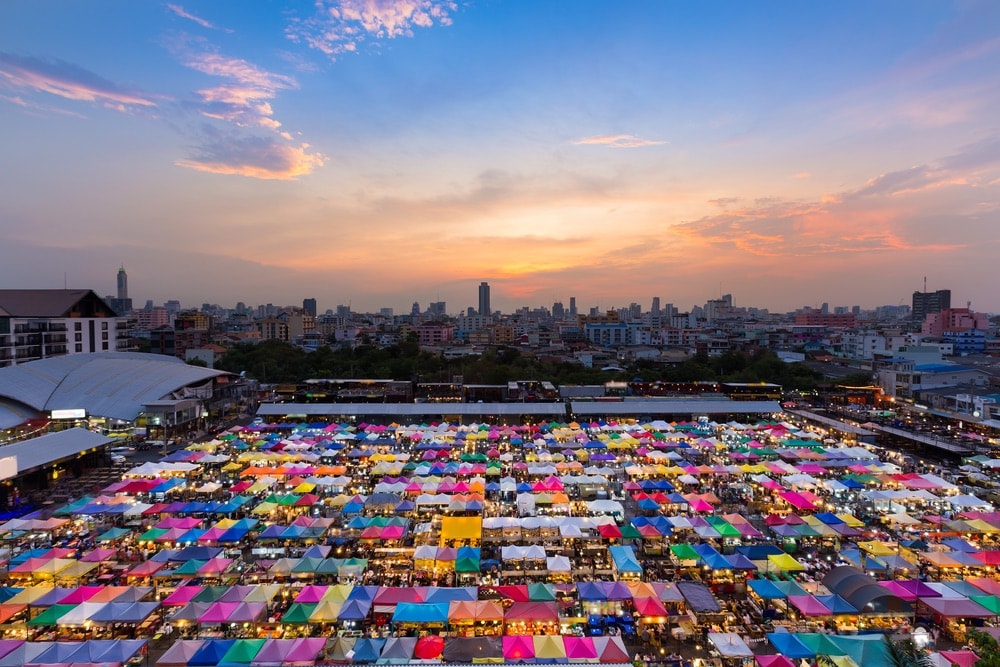 Bangkok
With vibrantly colored tents, glowing lanterns, and the mingling aromas of freshly cooked street foods, mango sticky rice, and watermelon juice, Thailand's markets are an experience of their own. After roughly twenty-two hours of travel, I hit the ground running at Bangkok's night market Rot Fai Ratchada. Much like the sprawling Chatuchak Weekend Market we would later visit and Chiang Mai's Night Bazaar, Rot Fai Ratchada has everything from kitschy souvenirs to antiques, and every vendor expects some polite haggling. Tucked between the rows and crowds, food stalls served us pad thai for forty baht (about a dollar) and some banana roti. More adventurous eaters (not me) snacked on crispy grasshoppers or roasted roaches also on offer (I'm good, thanks). Surrounding the tightly packed Ratchada market are unique bars and restaurants; some of these are themed, but all are strung with twinkle lights and send out pulsating dance music into the sultry night air. This wasn't quite The Hangover Part II, but it was the perfect start to my first night of music, dancing, commuting by tuk-tuk, and making great memories with wonderful friends.
Thailand, formerly Siam, is called the Land of Smiles, and it's easy to see why. Not only does it have stunning landscapes and cultural experiences, but also some of the friendliest people you will ever meet. My journey took me all over the country. Since Shawnda was teaching during the week, I did a lot of exploring on my own and felt safe and comfortable. Negotiating with tuk-tuk and taxi drivers or hailing a songthaew (a ride-sharing vehicle adapted from a pickup truck) took a little practice, but I found it easy to get around.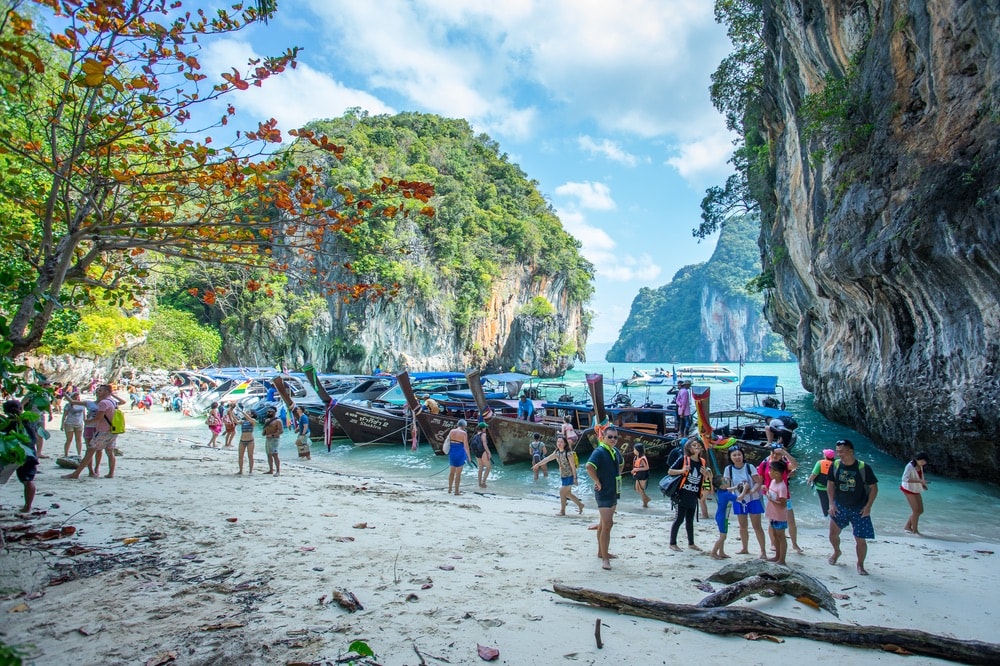 Krabi
My fast and furious introduction to Bangkok left me anxious to settle into the warm and relaxing arms of Krabi's Ao Nang beach. From my balcony, I watched the evening storms roll in over the mountaintops, bringing tropical thunder and rain perfect for inducing deep breaths and cozy naps. I got caught in one of these sunset storms, but that was after a fantastic six-dollar Thai massage, so I remained perfectly at peace.
With my toes still in the sand, I sat at one of the eateries that line the pedestrian street in Ao Nang to indulge in some spicy basil chicken and take in the postcard-worthy views. Traditional long-tail boats dotted the shoreline, ferrying passengers to nearby Railay Beach and gently reminding me that I was not in Brooklyn anymore. Made famous by movies such as The Beach and the James Bond classic The Man with the Golden Gun, the islands off this coast are some of Thailand's prized jewels. You won't find the fire dancers of Koh Samui or the nightlife of Phuket in Krabi, but the Phi Phi Islands, with their craggy white limestone facades and verdant green foliage contrasting against the translucent blue waters, were all the excitement I needed.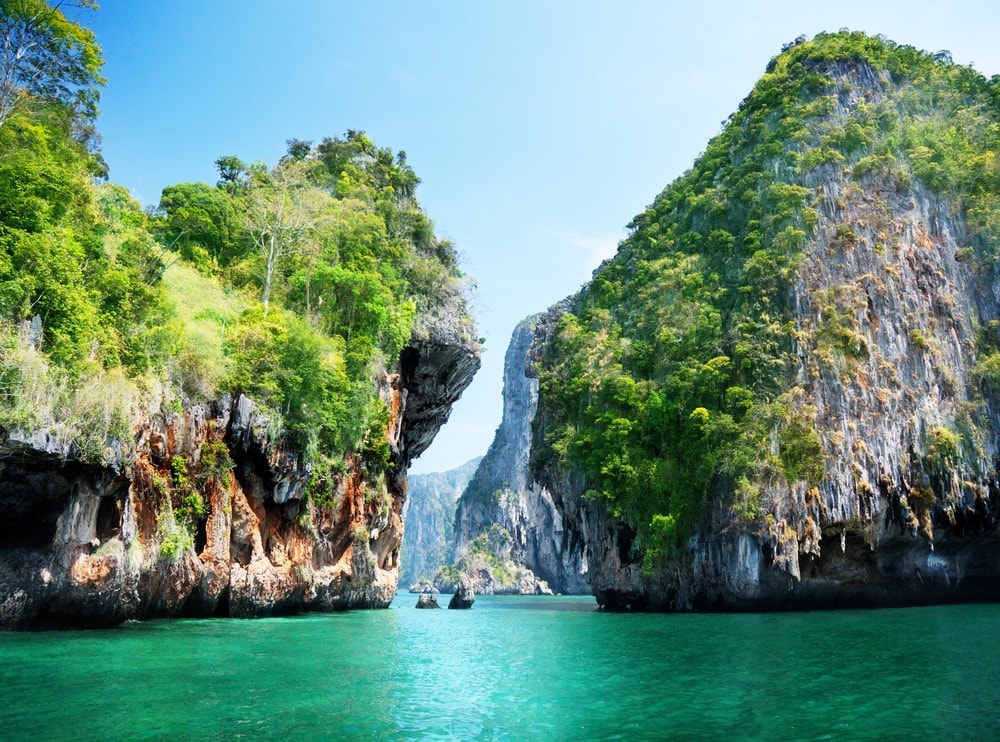 Chiang Mai
From the warm and sunny southern coast, I flew north to the beautiful—and mercifully cooler—Old City Chiang Mai. Surrounded by an archaic square moat rimmed by ancient ruins, the former seat of the Lanna Kingdom is today a charming, walkable downtown. A little jet-lagged, I checked into my hotel and asked about local spas. Within minutes, a private car pulled up to whisk me off to the luxurious Cheeva Spa, where I experienced the calming hospitality for which the region is known.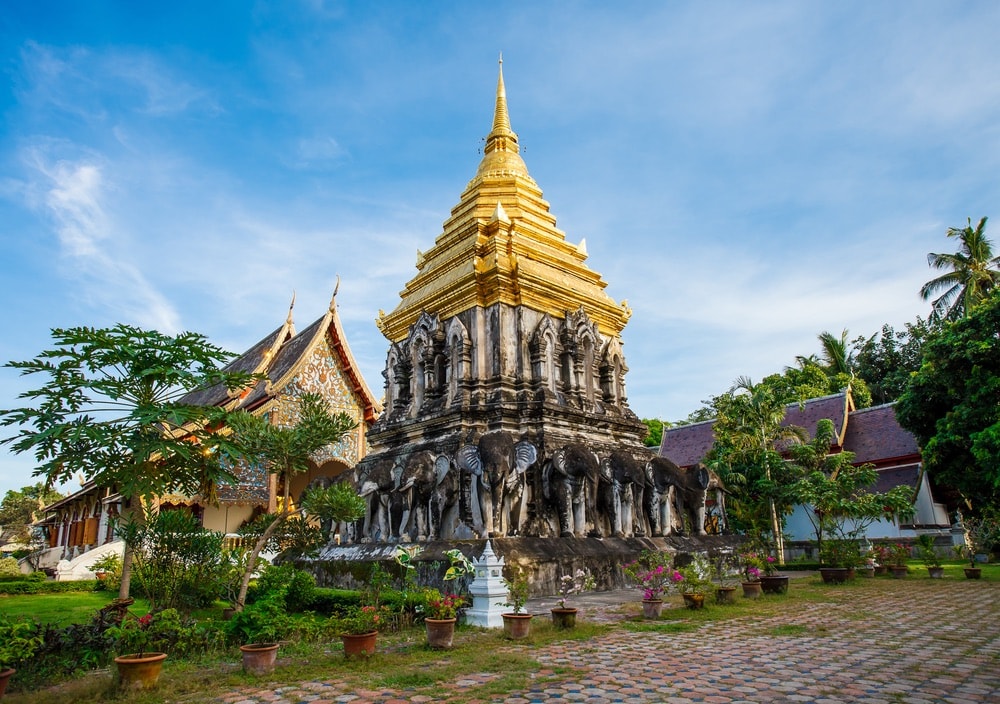 Chai Lai Orchid
My favorite part of visiting Chiang Mai, and maybe of my entire trip, was my day at Chai Lai Orchid. Elephant encounters and eco-tours at Chai Lai fund an anti-human trafficking nonprofit called Daughters Rising. Ending exploitation of both humans and animals is the mission behind this beautiful jungle hideaway and elephant sanctuary. I had never been around elephants before, and I was intimidated, but I was amazed at how quickly I became comfortable walking with and feeding such massive, playful, but, thankfully, sure-footed creatures.
My two travel companions and I were each assigned our own rescued elephant cow to look after for the day. Mine was named Mea Noi, which means "small girl" in Thai. I would later meet her daughter when we bathed two rambunctious baby elephants in the stream that runs through the property—an absolutely magical experience! The elephants kissed and hugged us and sprayed us with water from their trunks as we covered them in mud and gave them massages. We took a walk through the jungle with the adult elephants. Halfway through, as Mea Noi reached for more of the bananas I was carrying, her mahout (caretaker) asked if we wanted to ride the elephants. I was a little nervous about this; I had read about how harmful riding can be for the animals, but the mahout explained that bareback riding one person at a time for short distances isn't harmful at all. Mea Noi sweetly bent down to let me climb onto her back. With nothing to hold onto but my trust in this newfound friend, we crossed streams and leisurely strolled the rest of the lush mountain trail, etching a rich memory of a dreamlike experience with each step. We wrapped up our visit by climbing onto a bamboo raft and sailing down the cool rapids that run through the valley, experiencing beauty, adventure, and the slight fear of being crushed against the rocks with each twist of the Mae Wang River.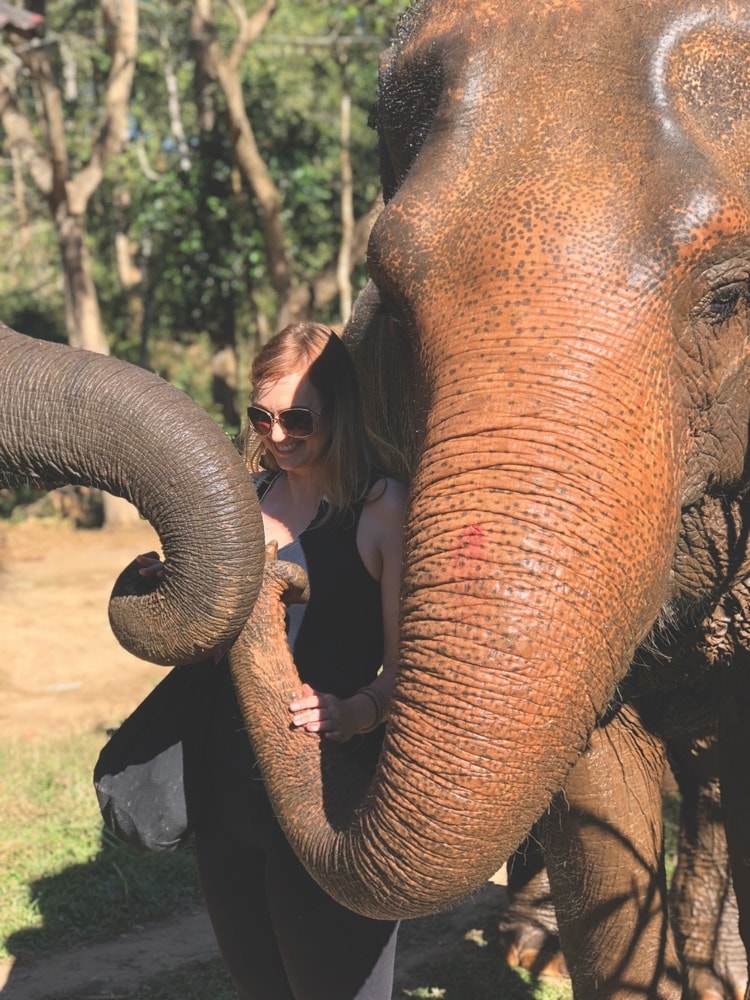 The Golden Triangle
Have you ever had second thoughts about a part of your trip and wished you had changed your plans? That is how I feel about the Golden Triangle. Known as the historic home to the opium trade, the Golden Triangle is found near Chiang Rai at the intersection of the borders of Thailand, Laos, and Myanmar. This sounded like a cool destination to me. After several hours of driving, my passport was handed over to someone in a market stall while I boarded a not-so-seaworthy boat in a murky river to visit Laos. Men with military batons marched around a market filled with hungry kids and scorpion whiskey. It was not my cup of tea. Thankfully, the rice paddies and temples of Chiang Rai had more to offer.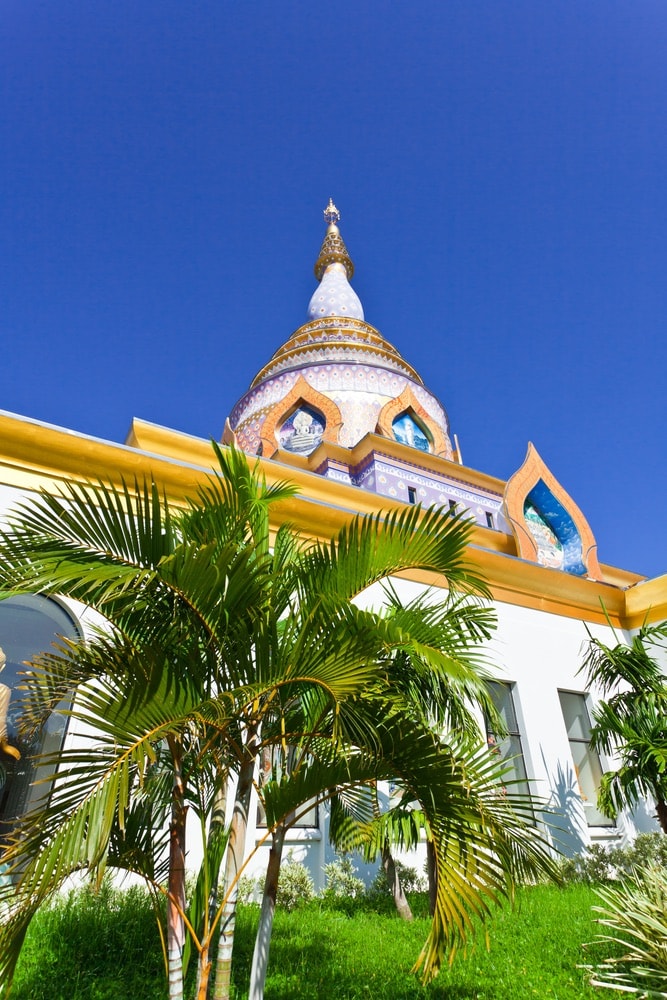 The White Temple
Part of the spellbinding beauty of Thailand lies in the ornate intricacies of its many ancient temples or wats. The artful chedis and prangs surrounding the cloisters of sacred structures at temples throughout Bangkok like Wat Pho and Wat Arun are enthralling; they convey a sense of both strength and delicacy. The temples' detailed, colorful facades, built at immense scale, make you mindful of the historical context in which you are walking. In Chiang Rai, I explored one of the region's newer treasures, Wat Rong Khun, commonly known as the White Temple. Otherworldly and ethereal, this temple looks ancient and dreamlike. In reality, the wat was designed in 1997 by local artist Chalermchai Kositpipat and contains modern pop culture references on the murals inside.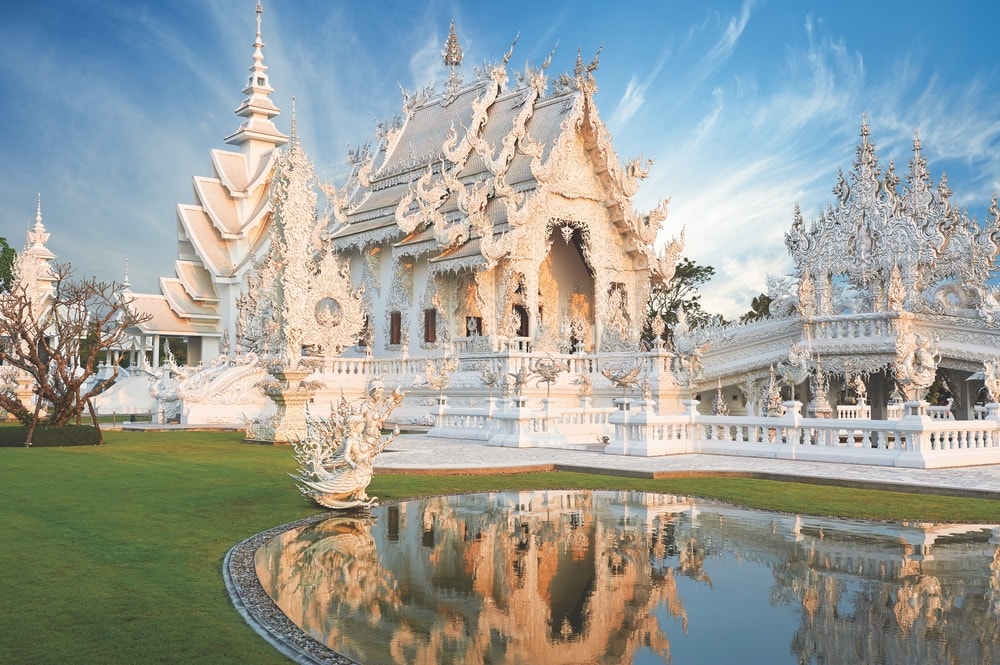 Erawan Falls
Back in the heart of the country, two hours outside Bangkok, I was reunited with my friend, and we decided to climb Erawan Falls. To get to the seven tiers of waterfalls from our bungalow in Kanchanaburi, we rented a motorbike (sorry, Mom!) and made the one-and-a-half-hour drive through stunning mountain roads along the river with the wind in our hair and "elephant crossing" signs along our path. Emerald-green pools form at the base of each of the seven waterfalls, which are filled with the flesh-eating fish found in "fish spa pedicures" around the world (OK, so they only eat the dead skin). We came, we swam, we conquered.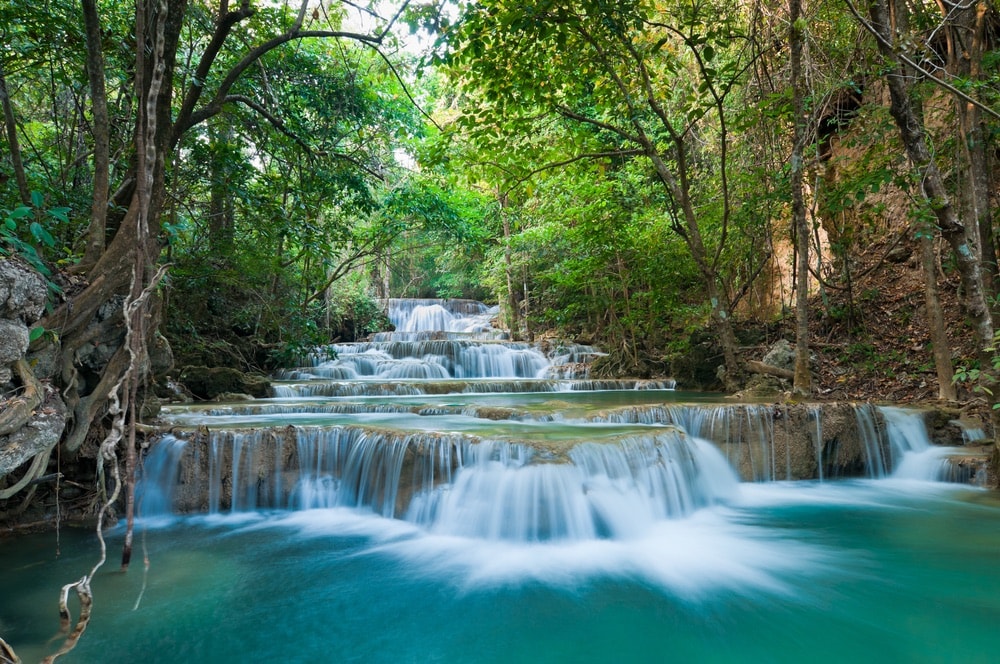 Khob Khun Ka
Mysterious yet straightforward, with misty mountains, teeming cities, and inviting beaches, Southeast Asia captures your heart in unexpected ways. Yes, I smelled like a combination of sunscreen, sweat, and bug spray most of the trip. I ate food that was too spicy for me and swam with flesh-eating fish. But I wouldn't trade it for anything.
Khob khun ka (thank you), Thailand, for being just the mini Eat, Pray, Love experience I needed.
— V —
ARTICLE CATEGORIES