Ann Hartley's City of Lights
Story & Photos By Gerald Burwell
It was slightly after 5 a.m. on Friday, October 10. Lisa and I were trying to get our bags packed and ourselves to the airport. The talking heads on the morning news were in rare form over the Dow tanking 680 points the previous day. It made us wonder if it would not be wiser to cancel our trip and stay home to enjoy some downtime in our own beautiful Northwest Florida. It took only a second to know that we would not be doing that. Cancel the trip? No way! We were going to Paris!
The theory is simple: enjoy the world and life while you can. Most people probably would have had a change of heart, but we were committed. We had a very important appointment with a very special person, Ann Hartley, as our host.
Ann Hartley is one of those rare people with a true zest for life… a " joie de vivre," as the French say. I first met Ann during the preparation for the inaugural issue of VIE –People + Places, for which she was a contributing writer. We found her story to be very captivating and heartfelt. Her article was about how some of her life experiences gave her the idea for a new and exciting venture.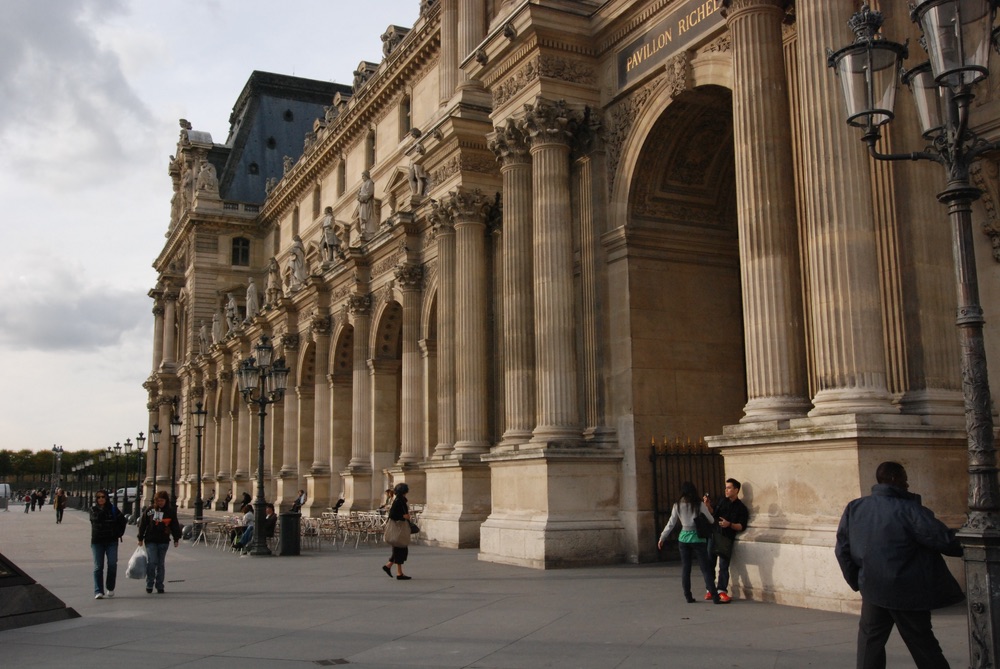 The venture, Shopping Paris with Ann Hartley, is Ann's dream of sharing "her" Paris with two to four women at a time, a type of trip that has been called a "girlfriend getaway." She gives each of her shoppers a questionnaire to provide important information as to individual preferences in clothing styles, food and specific shopping experiences that she is seeking. Ann has painstakingly researched the best accommodations, restaurants, stores and sights of interest throughout Paris. Using the expertise and experience she has gained from her research and past shopping excursions, Ann custom-tailors the shopping experience to each of her shopper's profiles. She continues to research and mold her shopping experience with each and every trip.
The idea intrigued Lisa so much that she wanted to experience it firsthand. To fill the required quota of between two and four shoppers, she tried her best to entice her two sisters and a sister-in-law to make the journey for the experience of a lifetime. But their busy lives with soccer practices, after-school activities and the general responsibilities of motherhood made it impossible.
Lisa could not make the trip on her own; there needed to be some camaraderie during those "off" hours and, additionally, it had to be an equitable solution for Ann as well. As a general rule (and for some obvious reasons) Ann does not allow husbands on these trips. Lisa asked Ann if she would make an exception for me to come along as a photographer for VIE. She agreed.
The last time we were in Paris, some sections of the city were definitely considered better than others. But that was over ten years ago and Ann said that since then, times have changed and that there really was not a section of town considered to be "bad." And with Ann's connections and knowledge, what would normally have taken months of careful preparation to find a suitable place to stay took only a weekend.
According to Ann, the choice between a hotel and an apartment depends upon the experience her clients are looking for. The hotel offers a more pampered and carefree lifestyle, while the town apartment gives the sense of a true Parisian-style life experience. Hotels are relatively easy to find—anyone can do this with a good travel book and a little research on the Internet. On the other hand, finding a good quality apartment through a reputable source is considerably harder. Ann is an invaluable resource, with suggestions and contacts for either.
We wanted our experience to feel as authentic as possible, so we opted for the apartment. To choose an apartment, Ann recommended the apartment-leasing agency, Holidays France Rentals (HFR). HFR's website (www.holidays-france-rentals.com) is well organized and each apartment has photographs, detailed descriptions, its location within the city and booking calendars to help make the selection and booking process easy and carefree. I don't think there is one apartment that could be considered undesirable. They range from traditional to modern and small to large. After a little coordination with Ann, we made our selection—"Avenue Rapp," located near the Eiffel Tower in the 7th arrondissement. We then finalized our flight plans and were ready for our adventure.
Having made trans-Atlantic flights at least fifty times, I am very accustomed to what crossing 7 to 9 time zones does to the body. The preferred plan is to arrive in Europe in the morning, well rested and ready to tackle the sights and sounds of the new and exciting surroundings, without skipping a beat. Unfortunately, that did not happen for us.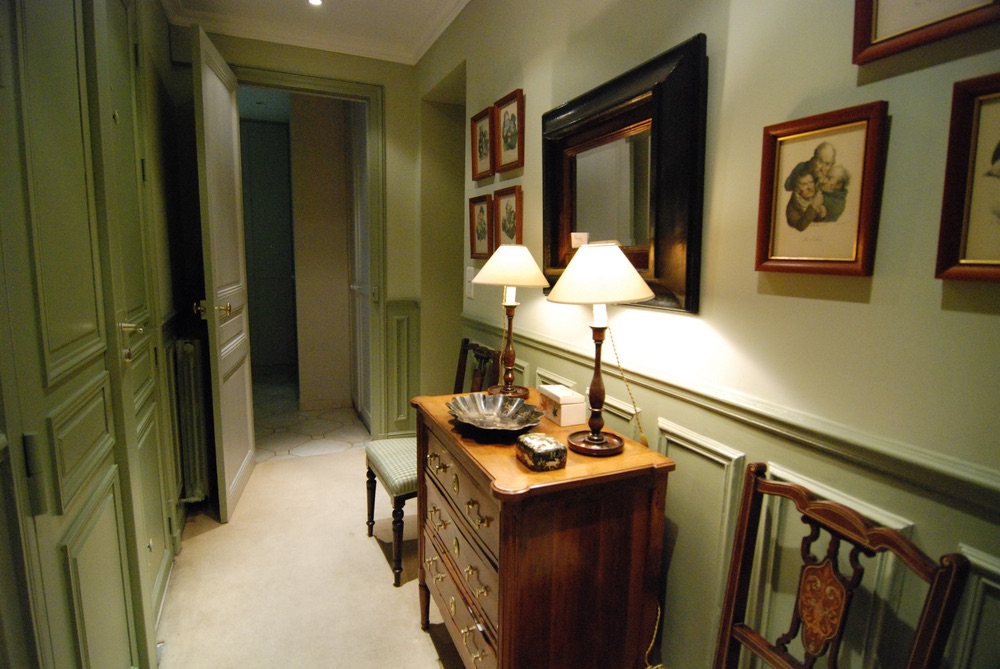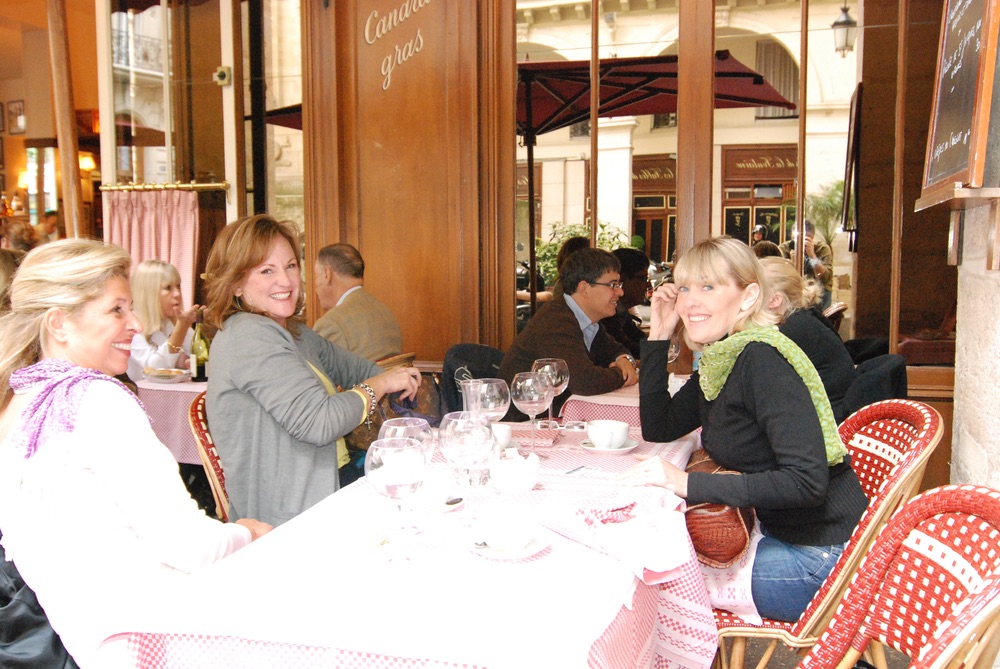 We landed Saturday morning at 5:40 a.m. Too tired to mess with the less-expensive trains and metro, we cabbed it into town. Paris was showing the first signs of life as our driver made his way through the neighborhood near our apartment. We came upon a café that was just opening—La Terrasse, located on the corner of Avenue de la Motte-Picquet and Avenue Bosquet, near École Militaire.
As our apartment would not be ready for a few hours, we settled in with a coffee and watched Paris awaken with a first-class view from inside this trendy yet comfortable café. If there was a worldwide credit crisis happening, you would never have known it sitting at this busy little corner of the world. And, we were surprised to see that more than half the patrons coming in and out of the café were American.
As we approached the apartment entrance of "Avenue Rapp," Ann's friend and owner of HFR, Bernard Vidal, appeared from inside the lobby to personally greet us at the door. He is middle-aged, handsome, charismatic and gracious. Later, we would find out that he was much more than the entrepreneur of an apartment management company.
The building's lobby was clean and contemporary; as with most of the apartment entrances that we saw while in Paris, the entrance was secure with a lock and electronic security keypad. Though we had seen photos of the apartment, they did not do it justice. It was cozier and quainter than we had expected, and it felt like it hugged us as soon as we walked in. Bernard opened the casement windows in the sitting room, and the sounds of the bustling street five floors below flowed in. Ahhh, Paris!
But the flight over was starting to take its toll, and we were fading fast. After some polite chatting, Bernard said, "Au revoir." We put our bags aside and got into bed faster than you could say "Bon soir."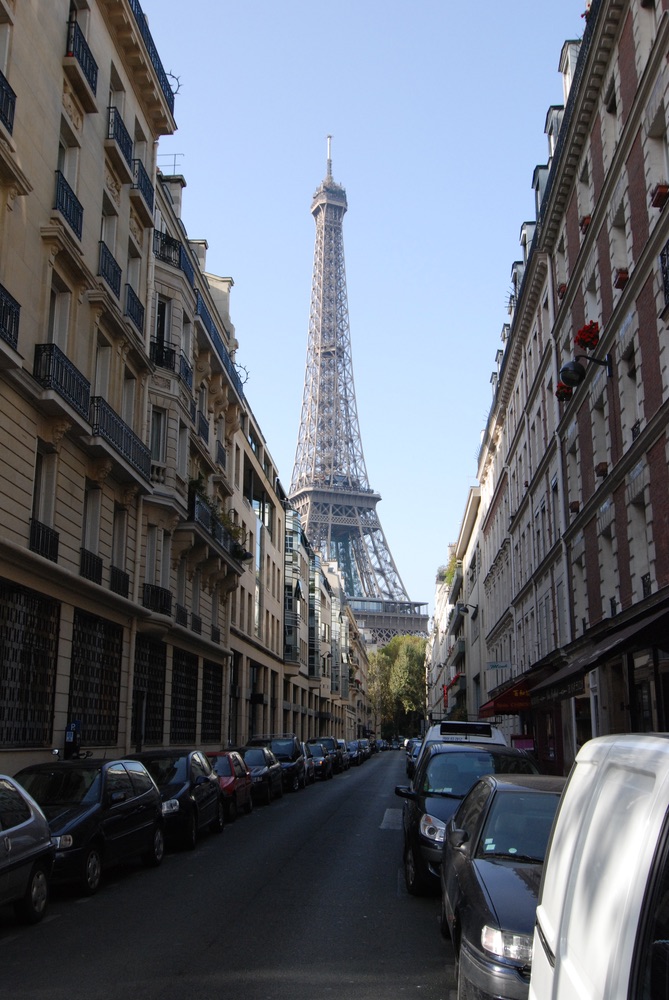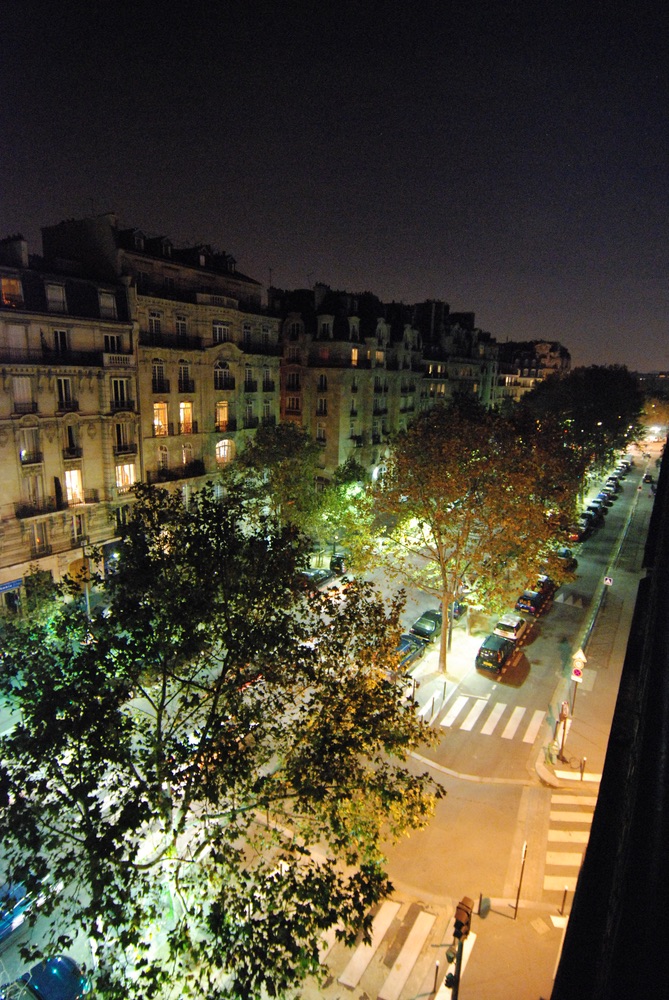 The Adventure Begins
Sunday as a whole was a great day. We were out for our first real taste of Paris since arriving. That day, Ann was with a friend—Isabelle Delahaye Vidal (Bernard's wife). Together, Ann and Isabelle had planned a day that is reserved for her more adventurous shoppers.
But first, we had lunch at La Fontaine de Mars at 129 rue Saint-Dominique, a few blocks away. It was in an old stone building with elegant Roman arches adjacent to a beautiful little plaza with a sculptural fountain. It was so picturesque that for a second, I felt that this could not be a restaurant in the middle of bustling Paris but instead a side-street café in San Gimignano or Siena, Italy. It was the perfect setting where the ice of being strangers was broken and we became more like long-lost friends getting reacquainted. Isabelle was every bit as attractive and gracious as her husband, Bernard. Besides being incredibly intelligent and insightful, she is a very talented decorator who specializes in antiques—which brings us to the next portion of our day.
That day, Isabelle was our host, guiding us through Porte de Clignancourt on the north side, just outside Paris' perimeter highway, about a twenty-minute drive from the center of town. I would venture to say that this is one of the most interesting shopping experiences in the world. Upon approach, do not be fooled or disappointed by the ultra-touristy and trinket-laden shops that surround and veil the true gem within. Porte de Clignancourt is blocks, maybe miles, of nonstop flea market, a mecca for the hardcore bargain or antique hunter on a quest for the rare and unusual. For the newcomer, it would take days to explore and soak it all in.
Some of the most memorable experiences that day were Moments et Matières, which offered curious and fascinating handmade lighting fixtures; Laurence Lenglare, brimming with truly interesting and authentic antiques; and Ebony & Ivory, which boasted some of the most spectacular art deco decorations and furniture. I was completely blown away by Carpentier Antiques, flaunting its over-the-top creations made from avionic remnants (aircraft parts).
What a treat it was to experience this type of shopping excursion—definitely something that we would not have felt comfortable doing as foreign tourists or without the security of being in the company of veterans like Isabelle and Ann, who gave us a first-class introduction and escort.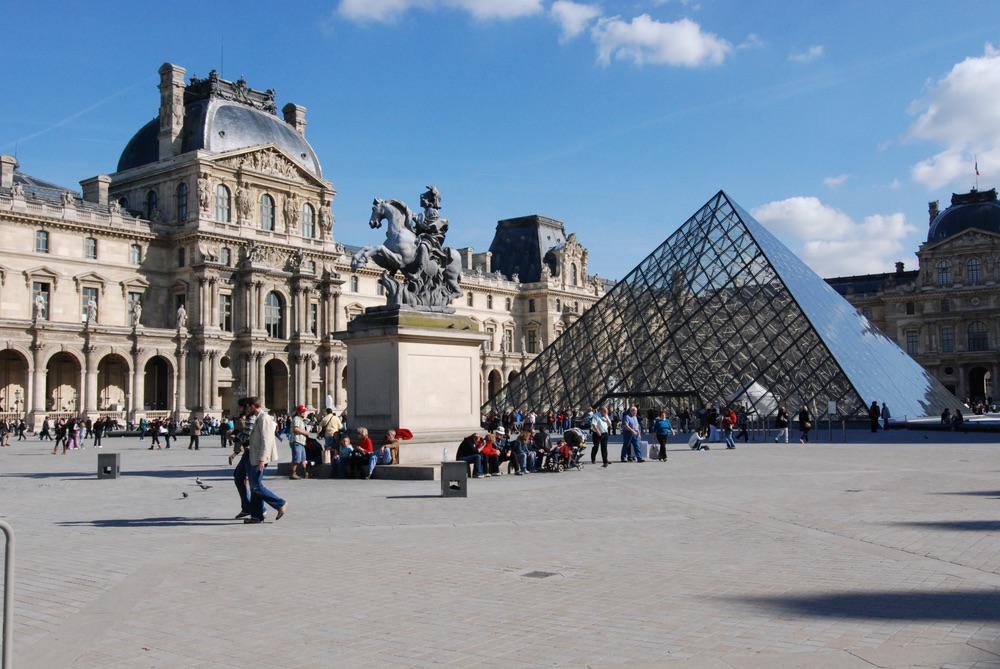 A Week of Discovering Ann's Paris
The remainder of the week from Monday through Friday was spent with Ann. The idea is to have the day's events scheduled around the shopper's time clock. We wanted to experience the trip the way we like to spend our holidays—nothing should feel rushed or "planned"—that's just the way we like to travel. Each day, Ann would meet us at our apartment around 11 a.m., which enabled us to get a great night's sleep and maybe even grab a cappuccino from the corner café. We would then head out and explore what the many different and interesting neighborhoods (arrondissements) of Paris have to offer.
Paris is undoubtedly one of the most amazing cities in the world, and there are experiences to be had there that cannot be found or duplicated anywhere else in the world. Our time with Ann was an amazing adventure filled with discoveries that we certainly would not have encountered otherwise. The shops, the restaurants and the people were a special and unique mix that only she can deliver.
Ann has extensive backgrounds in retail and travel, and she has used these to develop her skill as a personal shopping concierge to the City of Lights. She does this from the perspective of an American hosting other Americans as her personal guests. Her many jaunts to Paris have enabled her to morph into a conduit, bridging the cultural and language gaps between the Parisians and the American visitor, not to mention that she knows the Paris Métro about as well as any Parisian and knows the quickest way from point A to point B before you can even get your map out.
As an architect, I was in awe of the architectural marvels such as Notre Dame and the Eiffel Tower—the first a prime example of how visionary architects and skilled artisans from long ago could construct magnificent stone structures in a way that seems to defy logic and gravity itself; the latter an engineer's beautiful interpretation of structural design during the height of the Industrial Revolution. Originally built as a temporary exhibit for a World's Fair more than a century ago, it is hard to believe that the Eiffel Tower has not only remained but also become the most iconic symbol of the city today.
As an artist and craftsman, I notice and appreciate the effort and passion that go into details, whether in a beautifully tailored dress or in a pair of men's handcrafted leather shoes. Putting aside the obvious tourist sights that continue to draw spectators from around the world, there is an entirely separate culture that draws people to the City of Lights on a daily basis—the culture of excellence. And this culture is found throughout Paris whether it is in fashion or in the retail experience itself.
In fashion, you will find the world's best-of-the-best in places like Louis Vuitton on the Avenue des Champs-Elysées with over-the-top, opulent detail in both the merchandise and the store itself (the likes of which I had never seen before). Beautifully crafted luxury items abound at Hermès on rue du Faubourg Saint-Honoré. Across the street, discover the most incredibly detailed crystal-studded shoes of Rene Caovilla—shoes so stunning they should have been in a jewelry case. The most striking perfumes and unique colognes of Annick Goutal can be encountered at 14 rue de Castiglione. Nearby, for those who have a glove fetish, Causse has the most unbelievable array of distinctive gloves to be found in one store.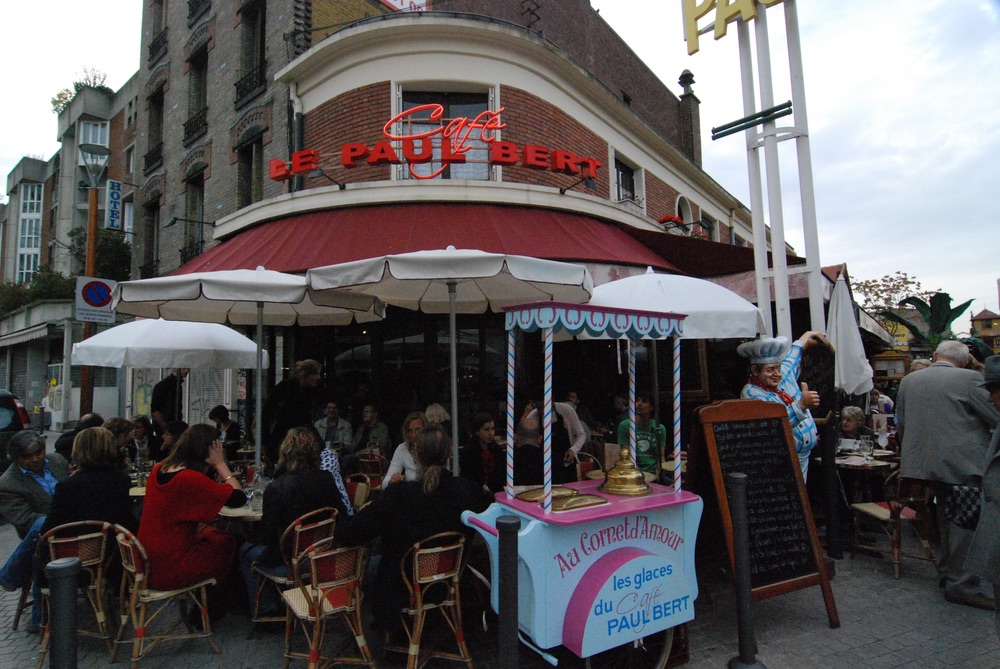 In addition, in Paris, catering to the customer is almost an art in itself. The retail shop is as personal and special a place as a home. The shopper is treated with the respect accorded a special guest and, likewise, the shop owner/manager is treated with respect as the host of that special place. They take immense pride in everything they do; it is their livelihood, their craft.
The Paris hotel, restaurant and sidewalk café are no exception to the best-of-the-best rule in quality and service. The average person could not afford to stay at the perfectly appointed hotel George V but could certainly enjoy a much-needed end-of-the-day cup of tea or glass of wine in the lobby while listening to a talented pianist. Take a fanciful step back in time to quaint turn-of-the-century parlors like Café Angelina for a flawless hot chocolate or a shopping break at Ladurée (located inside Printemps) for great food and macaroons. And if you want to watch the ultrachic, the fashionable Le Café Marly at the Louvre is the place to see and be seen.
I could tell that Lisa was thoroughly enjoying her time with Ann (and so was I). The week proved to be far more than just an interesting shopping spree. Paris is truly a magical city and we couldn't have experienced it like we did without Ann's knowledge and perspective. Everything seemed to fall into place. Daily schedules were not so rigid that something couldn't be changed on the spur of the moment. And when we did make changes, Ann was ready and armed with the ideal suggestion; whether it was an impromptu visit to a store she had discovered that week or a stop at a little sidewalk café to having an end-of-the-day glass of wine or cup of tea.
The Vidals
If you really want to get a good feel for the world perspective of the average person in the country that you travel to, there is no better way than to be welcomed into their home. Lisa and I were honored to receive an invitation to an intimate dinner with Ann at the Vidal residence.
Their home is, by any city's standards, a large but charming apartment dating back to the early 20th century and located in the reputable 6th arrondissement. The interior had very little modernization, keeping the charm and flavor of the original architecture. It was as if we had walked into the pages of Metropolitan Home or Architectural Digest. The décor was very artsy and eclectic—much like you would imagine a New York loft to appear. This came as no surprise knowing Isabelle's design background and that Bernard lived in New York for more than twenty years as a successful fashion and portrait photographer. Actor Robin Williams and author Mary Clark Higgins are just a couple of his celebrity clients.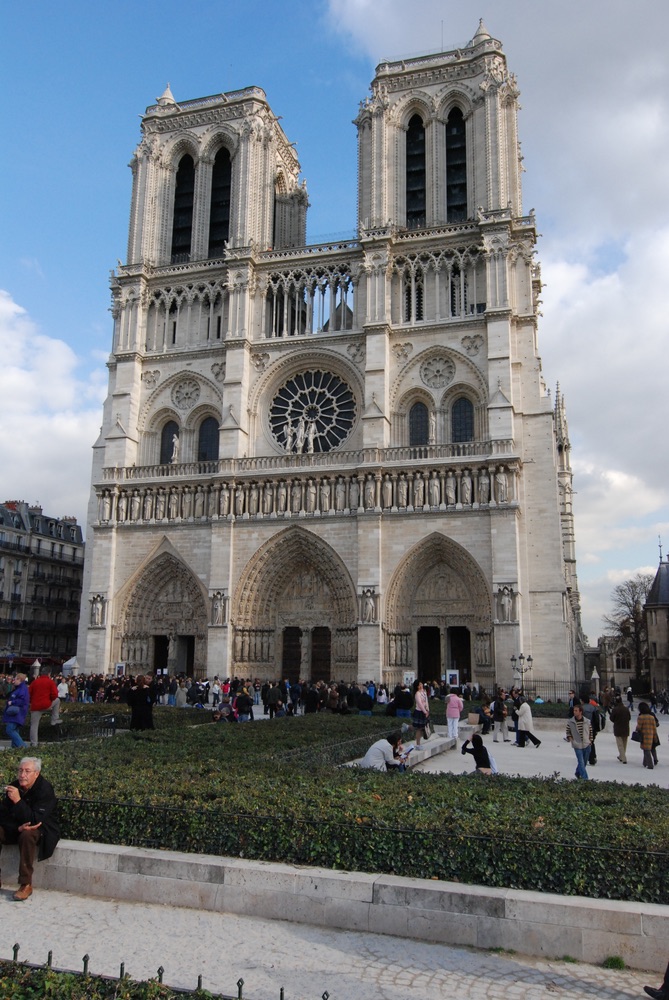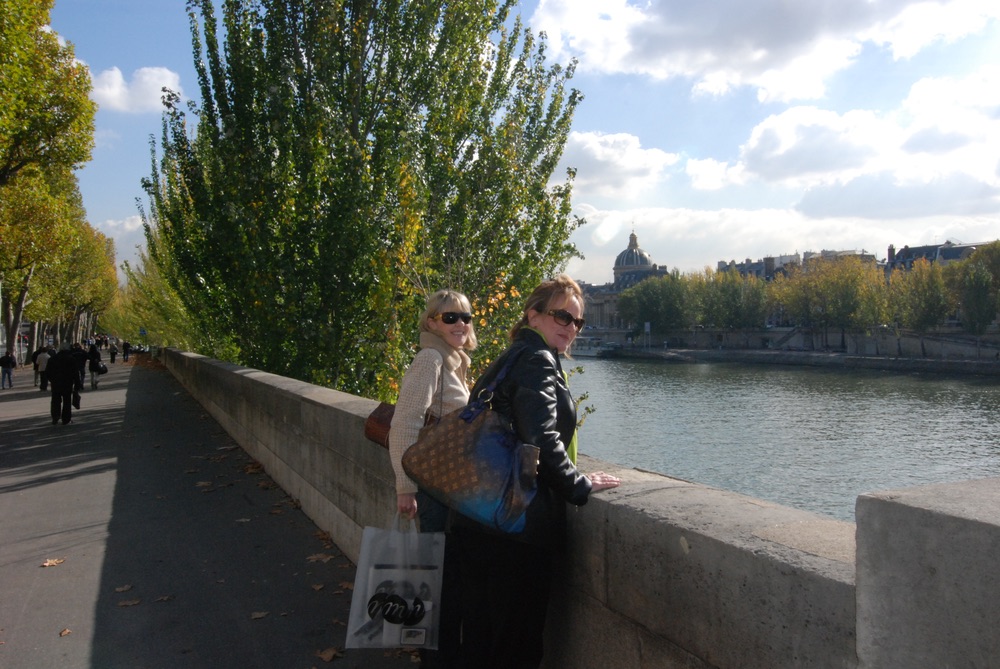 Before dinner, we convened in the parlor to get better acquainted with the Vidals. As we enjoyed a tasty pâté de foie gras paired with a lovely French pinot noir (from a vineyard formerly owned by Bernard), we learned how Ann's relationship with Bernard and Isabelle began six years ago, flourishing into a close friendship as she nurtured her Paris shopping venture. We also met the Vidals' two beautiful and very well-mannered daughters and another distinguished family member, Achoo (gesundheit!), a West Highland Terrier.
When it came time for dinner, we withdrew to the kitchen where the family usually dines family style. (Throughout our stay in Paris, I was amazed to find that, in a city that most Americans perceive as culturally advanced, the Parisians are actually very traditional.) The kitchen was out of a Norman Rockwell illustration—old-fashioned and unassuming—and I felt as welcome and comfortable as if it were my grandmother's kitchen. In that time cocoon, we continued to share life stories between us as it has probably been done for generations. Also, the food was excellent. I can only hope to enjoy another sea bass as I did that night.
When the evening came to a close, we were saddened that, as with all good things, it had to come to an end. It was truly one of my most memorable traveling experiences ever—something that I will always cherish and only hope to be able to do again—hopefully soon.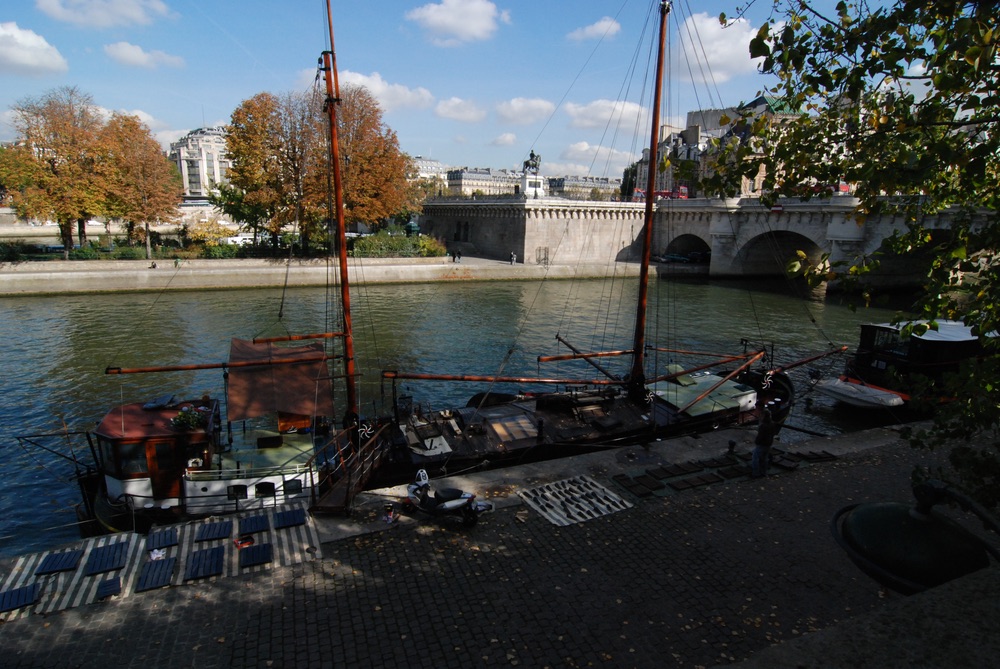 Kudos to Ann
I really did not know what to expect on this "shopping Paris" experience. Before our trip, I had not spent much time thinking about it. All I could think about was getting to Paris. I mean, I knew who Ann was and that I liked her writing, but I had never traveled to a foreign country with a stranger, let alone shopped with one. This was a shopping spree for women and I was an outsider looking in. To most men, just the thought of such a thing might be equal to impalement with a large, sharp object.
But I was able to discover some amazing things about Paris in a way that I have never experienced anywhere else. And it would not have been possible without the personal concierge service that Ann provides. You know the old saying, "Just sit back and leave the driving to us"—well, that is just how it was. We didn't have to think or plan. From the moment we arrived, it was almost as if our trip was set on automatic and the wonderful experiences were delivered to us on a silver platter.
Ann showed us Paris and the landmarks; the boutiques; the Métro; the best hot chocolate that I have ever had; thrift stores; the 1st, 6th and 7th arrondissements; and her friends Bernard and Isabelle Vidal. But the most important experience we had was that Ann showed us herself. She is effervescent, affable, with a smile that lights up. And seeing that smile in the City of Lights made for a memorable and luminous getaway.
— V —
---
Two days after our departure, long-time 30A resident Kitty Taylor and friend Kate Hughes arrived in Paris to meet up with Ann. Kitty shares her thoughts and pictures from their time during their "girlfriends' getaway" in the following pages.
If you are interested in finding out more about Shopping Paris with Ann Hartley, please visit www.shoppingpariswithannhartley.com or email Ann directly at annhartley@web30a.com. Enjoy!
ARTICLE CATEGORIES