By Francesca Peña Caldera | Artwork by Jay Mercado
"My hope is that the viewer will find, in my artwork, that thread that connects her to something bigger than herself. That he will be moved through a feeling with no words and perhaps a burst of delight or surprise, a comforting warmth, a vehement call to action, friendship, and truth," says painter Jay Mercado. "An observer might see something that no one else will see, and, in turn, see the world around them a little differently in every subsequent moment."
Mercado was born in Sioux City, Iowa, and raised in San Francisco during an era when pop art, psychedelic posters, and underground comics flourished. That bold aesthetic, mixed with a vibrant culture of street artists and grand-scale public art from previous generations, became early artistic influences that still inspire him today.
Working under the heavy pressure of a prestigious advertising agency, Mercado took the edge off by taking drawing classes after work, which the company paid for to encourage employees to understand the creative process. Upon being offered a promotion, Mercado decided instead to leave the company to become a full-time artist. He cut his teeth in the art world working for two mural studios in Los Angeles. As a budding muralist, Mercado worked on teams assigned to paint scenes for private residences and commercial spaces, including Las Vegas luxury hotels—panoramic vistas that would let visitors from all over the world experience a bit of ancient Roman history, tour the magic of Egypt, and imagine themselves on a beach in the middle of a desert of dreams. This technical, artful work proved invaluable in building his skills in multiple styles with a magical sense of depth, light, and scale.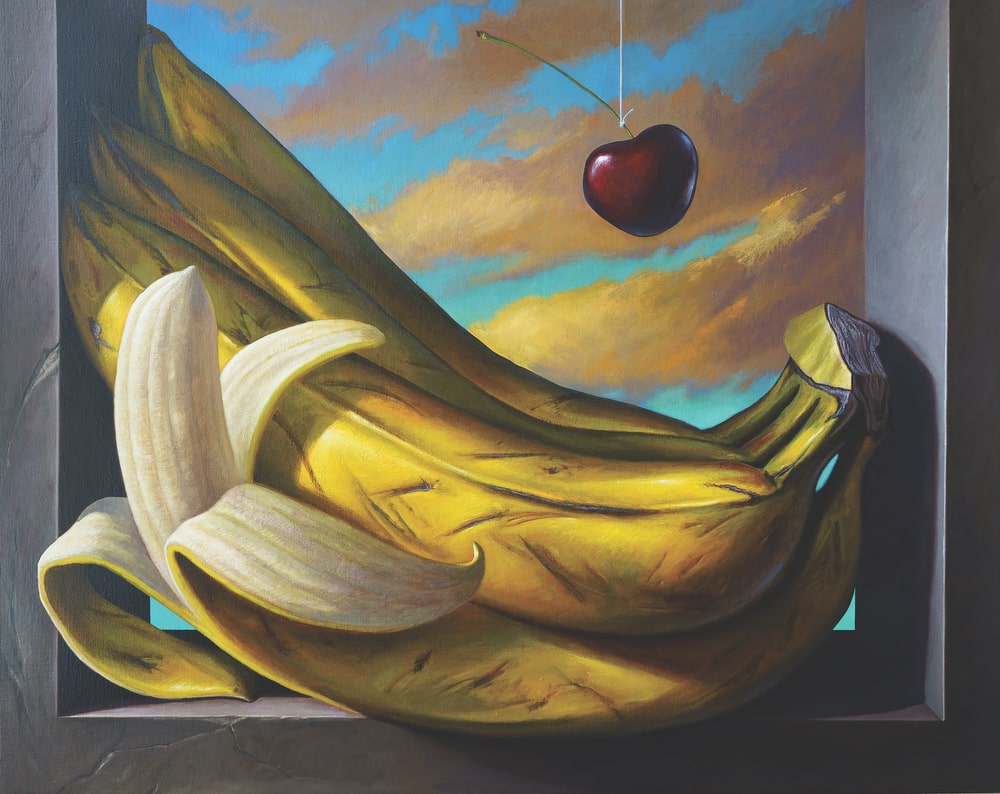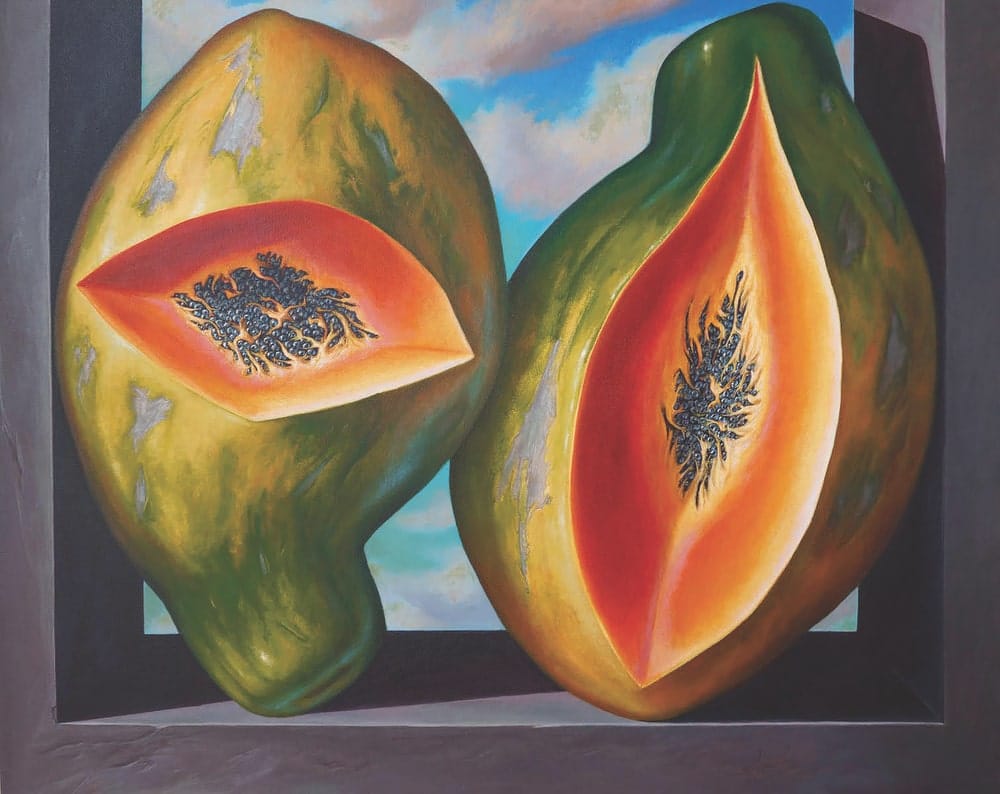 His next big leap was moving back to his hometown of San Francisco, where he rented a storefront studio to have a go at a solo art career. An impressive thirty years followed as he created paintings inspired by his surroundings—colorful and abundant Asian markets, Cambodian donut shops, the great Pacific Ocean, and acres and acres of farmland, strawberries, cauliflower, and artichokes, toiled and tended by migrants, stooped and reaching as they worked the earth.
"Both my grandfathers were farmers," the artist shares. "I never worked the land or grew corn. We moved to the coast when I was three. Yet the theme of agriculture found its way into my paintings."
"An observer might see something that no one else will see, and, in turn, see the world around them a little differently in every subsequent moment."
Looking at his journey, it is only fitting that Mercado's work has often been compared to that of Works Progress Administration (WPA) artists such as Diego Rivera, Lucien Labaudt, and Victor Arnautoff.
Mercado and his wife, Teresa, spent over twenty-five years creating art, facilitating workshops, and curating magical happenings out of their neighborhood studio. Both working for themselves, they invented an artful and adventurous life together, taking advantage of the diverse, innovative, beautiful, and freaky fast-moving Bay Area. Building, hustling, bustling, surviving, and thriving, the City by the Bay was in their bones. Mercado says about their accomplishments as a couple, "We always made magic happen, and we built beauty from whatever we had, which was often seemingly nothing. We crossed oceans, rode waves, climbed mountains, and created community, connection, and countless metaphors. It was crazy—and I wouldn't change a thing."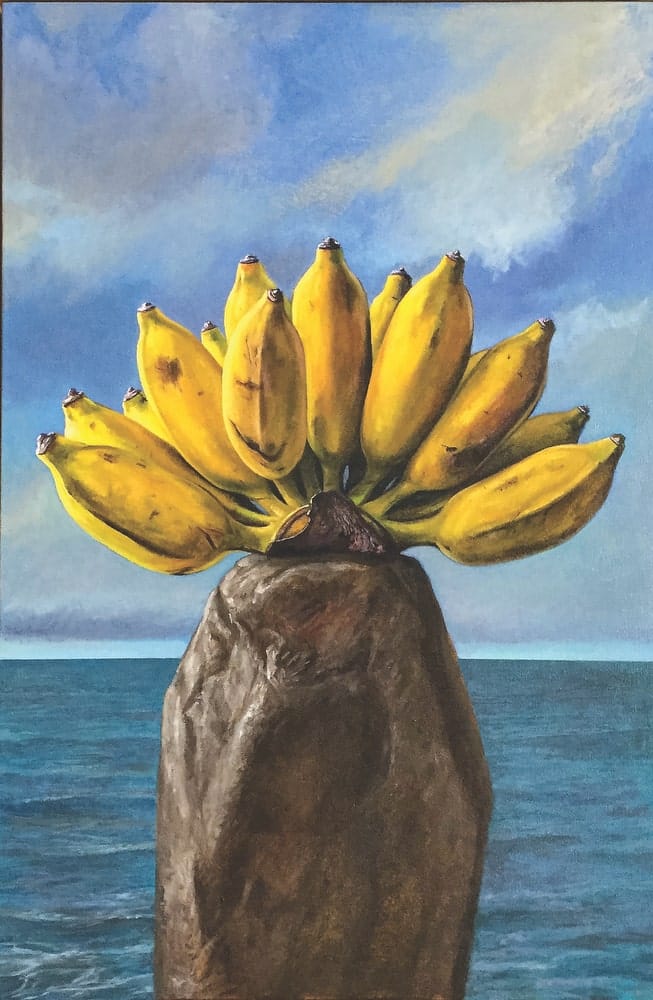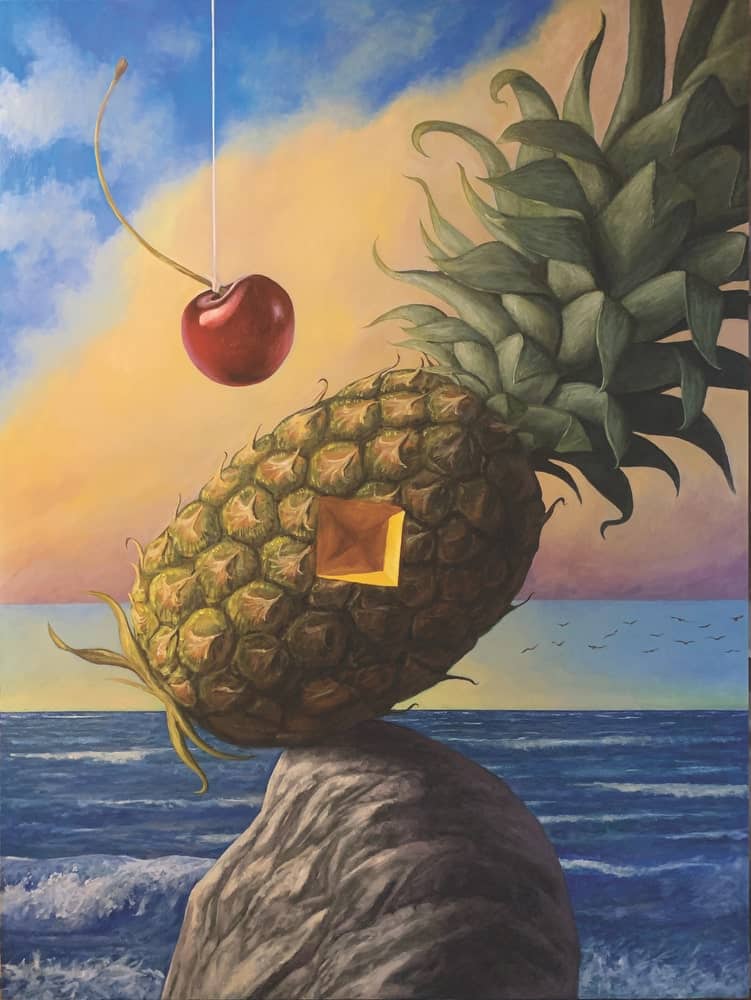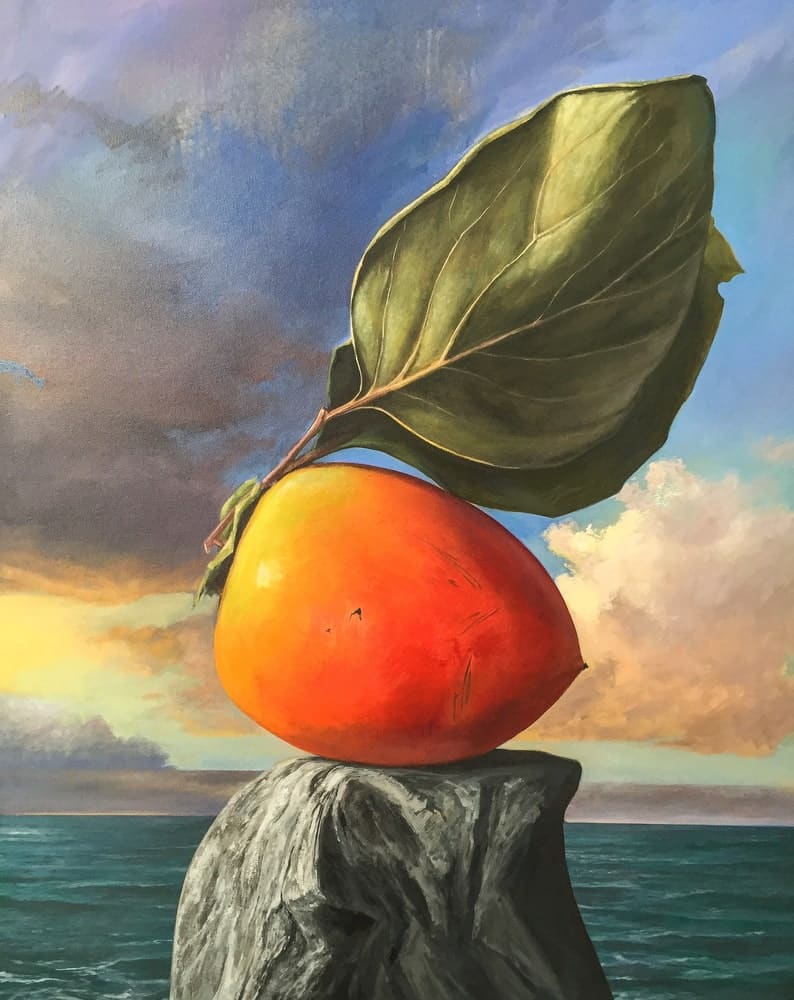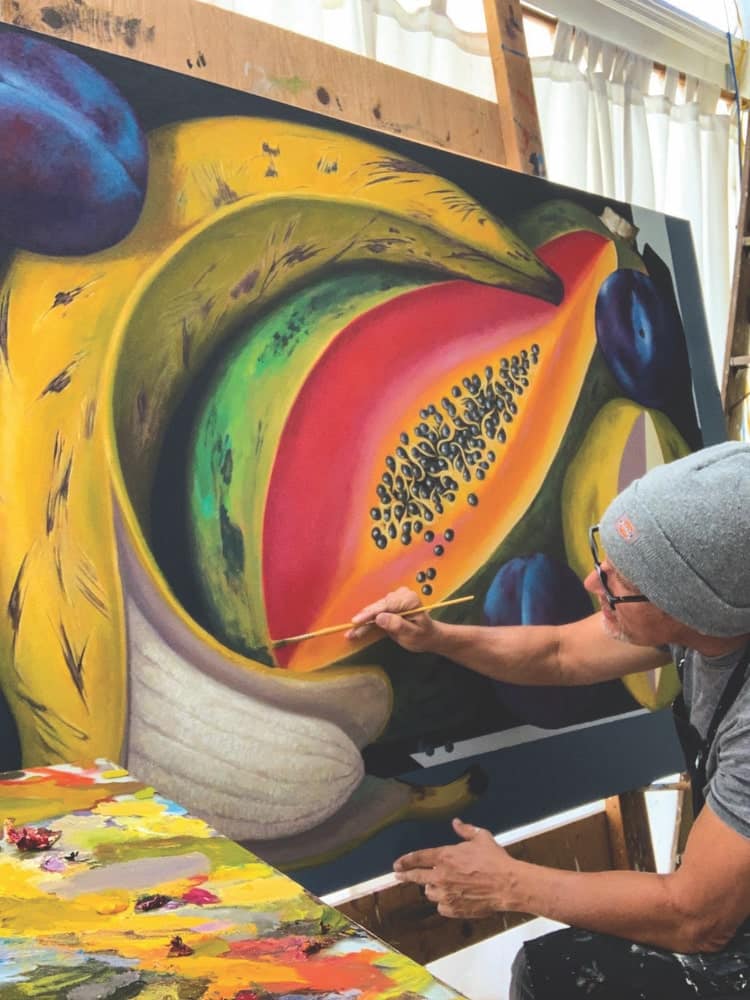 A new adventure began in December of 2021. The two decided to leave their oceanside flat, friends, and brick-and-mortar businesses in search of their next. Although the idea of finding a new place and space had lingered in the back of their minds, the past few years brought it brightly into the light. They needed to find a new place to call home.
Mercado creates voluptuous and evocative paintings, often mysteriously laced with magic realism.
Mercado doesn't like to admit it, but Teresa explains that they left San Francisco heartbroken. The city had become unrecognizable. Besides that, she says, "The month had been brutally taxing—packing, moving, cleaning, hauling, letting go, and forcing myself to let go of even more. We didn't know where we were going or how we would make it, and all of our beautiful things—the collections and weavings of our artful days and nights, of our partnership and pain—everything was on a truck with a bad reputation."
The tears surrendered to the adventure as they made their way across the country—recorded in the trip journal as "down the rocky coast of the Pacific, across the desert mesas of New Mexico, the color and creole spice of New Orleans, then the jungles of the Florida glades—pink birds and gators, the golden sun and sands of the Gulf. Then buttered biscuits and fried green tomatoes along the cobbled streets of Savannah, North Carolina barbecue, Tennessee whiskey, the stalwart barns of the Pennsylvania Dutch, and up and up and north to New England. Frozen lakes, rushing rivers, towering forests, and fat, fluffy snowflakes." Seeing the large barns, churches, and lodges along the highways and tucked away in the woods, spending time along the lakes, rivers, and hiking trails, and taking in the vastness of the forest and the sentinel range of mountains, Mercado was newly inspired to create.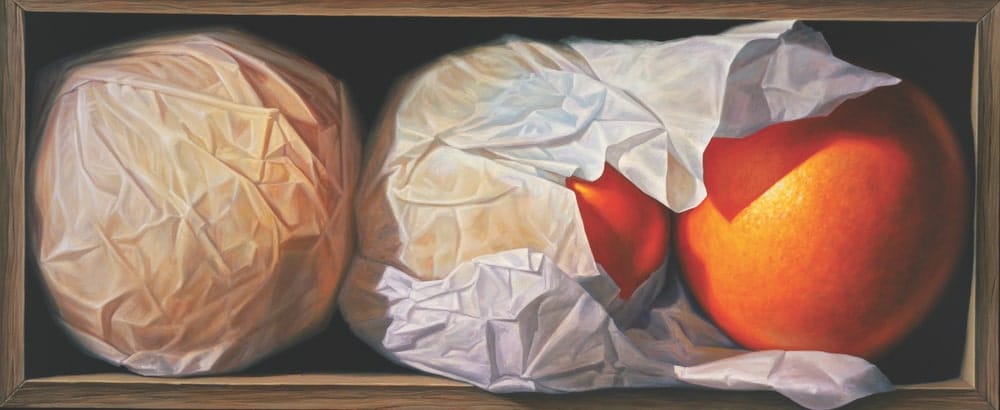 "You could drop me anywhere, and I would find something that inspires my art, but rural New England surprised me," he says. "I feel a calm that I never experienced in the city. The beauty, the history, the mountain, the bear and deer that hang out in my field—it's magical. And isn't that what art making is?"
"You could drop me anywhere, and I would find something that inspires my art."
Within a year, the husband-wife team found a beautiful farm home with six acres and a large barn they will soon convert into a working studio, gallery, and creative space. Although Mercado is not a farmer ("yet," he says with a smile), he feels he has returned to his roots in a way that would make his grandfathers happy. Now, in his New England studio, he continues to create artworks—large and larger ones—that evoke a subtle yet compelling figurative sensuality.
"A worker's veined and weathered hand is as allegorical as a colossal ocean rock," the visionary expounds. "A still life of papaya, dragon fruit, grapes, or a pear is truly alive, sweet with pleasure, juice, and seed. A subject meets the viewer's eye with warmth, challenge, and a deep knowing."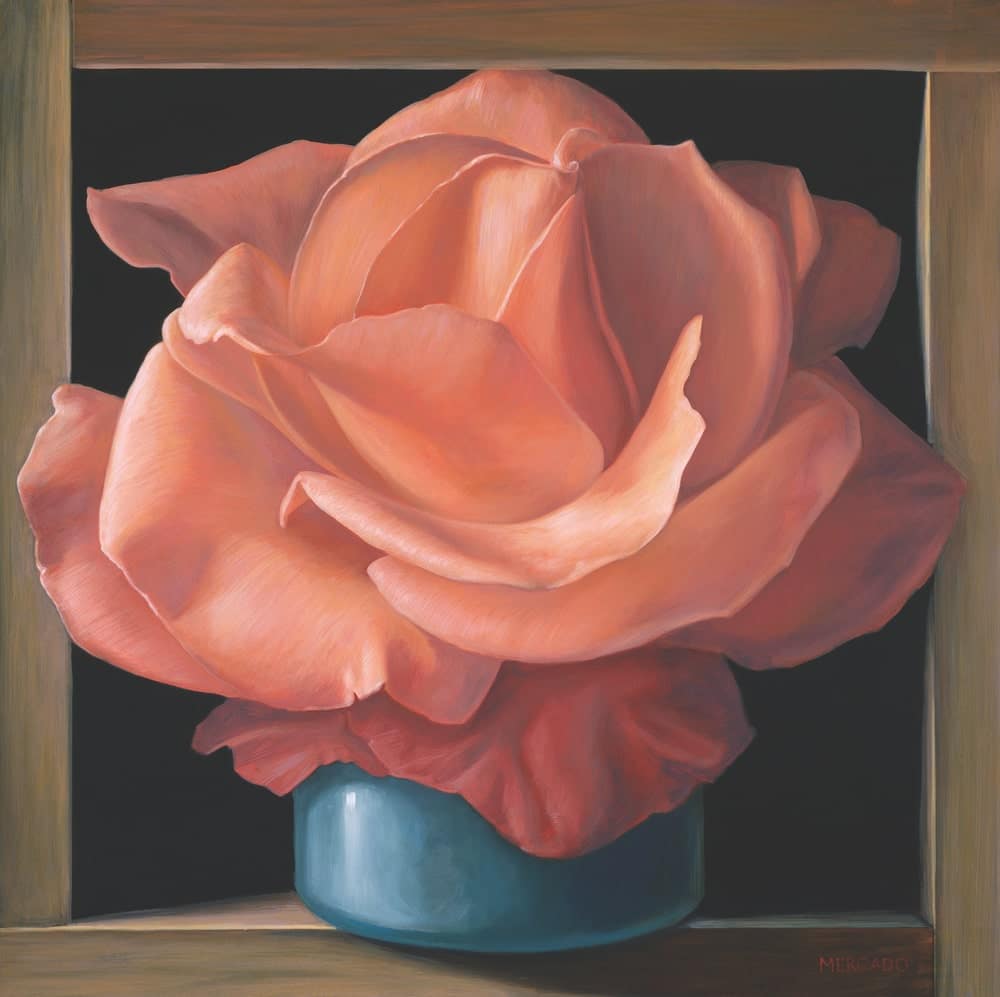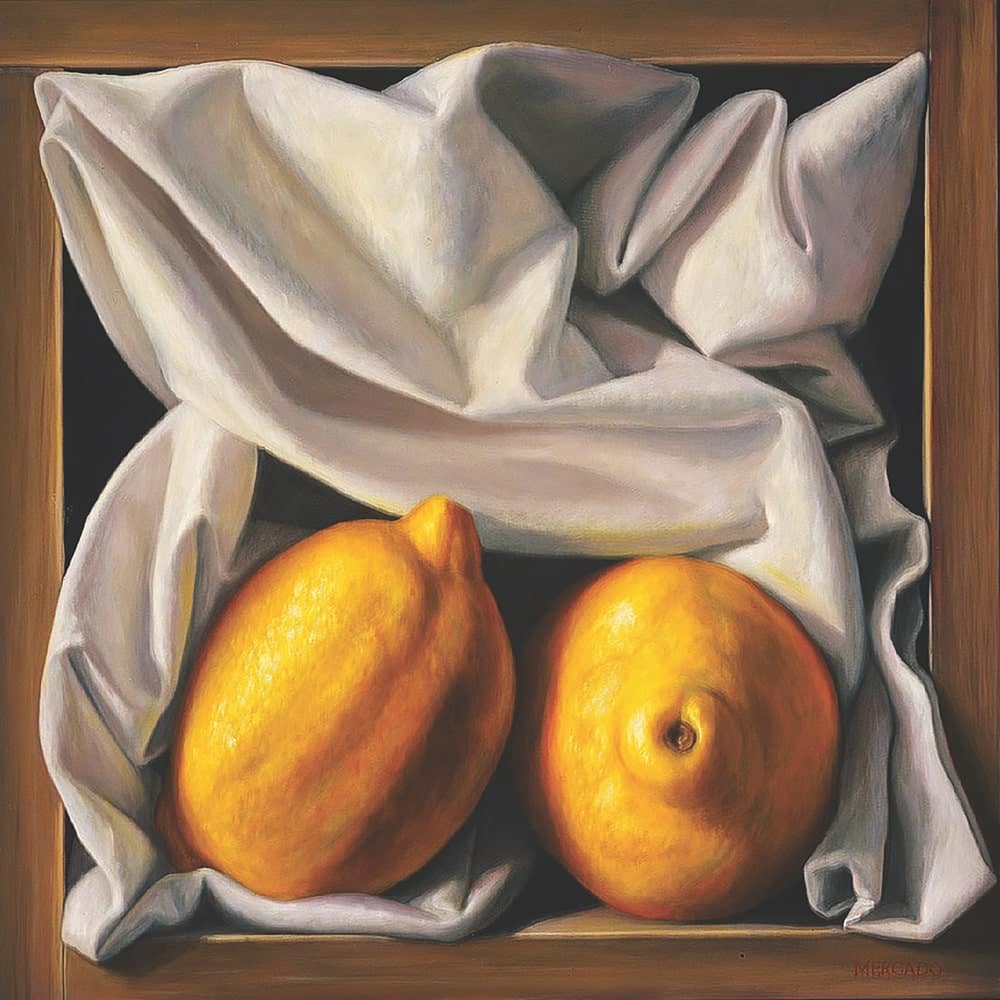 Borrowing from historical motifs, Mercado creates voluptuous and evocative paintings, often mysteriously laced with magic realism. His artwork has been shown in exhibitions across the country, and his paintings hang in homes and businesses around the world. Mercado specializes in large-scale commissions for private residences and commercial interiors. Mercado views the commission process as a spirited collaboration between the artist and patron. He has an incredible aptitude for divining each client's vision and interpreting their unique needs, desires, and aesthetics to design a beautiful and powerful work of art.
— V —
---
You can see more of his work at JayMercado.com.
ARTICLE CATEGORIES