Bringing Bella Mare to Life
Houston residents Tamara and Carl Tricoli, like millions throughout the past several decades, have been longtime repeat visitors to the pristine white-sand beaches along the Gulf of Mexico. They fell in love with the area known as "30-A" in the southern part of Walton County, Florida, over thirty years ago when they first married. The New Urbanism towns of Seaside and WaterColor were just making names for themselves back then. As the couple visited throughout the years, they found it exciting to watch these and other unique beach communities fully develop. Their three daughters and now five grandkids have also come to know and love the beaches, leading the Tricolis to purchase a Gulf-front home in Seagrove Beach where everyone could enjoy them together.
This idea of having a legacy home and creating memories by the Gulf ultimately inspired Carl and Tamara to start their new development firm, Bella Mare Real Estate Holdings, whose first project is a collection of nine custom homes in the private neighborhood of Heritage Dunes in Seagrove Beach. The first of those homes is the remarkable showstopper known as The Heritage – A VIE Legacy Show Home, which was completed and brought to market in September 2022. We caught up with the Tricolis to discuss their vision and the legacy they hope to create along these beautiful turquoise waters.
VIE: We know you have been longtime fans of the Gulf Coast. Tell us a little about how COVID prompted you to spend more time in the 30-A area.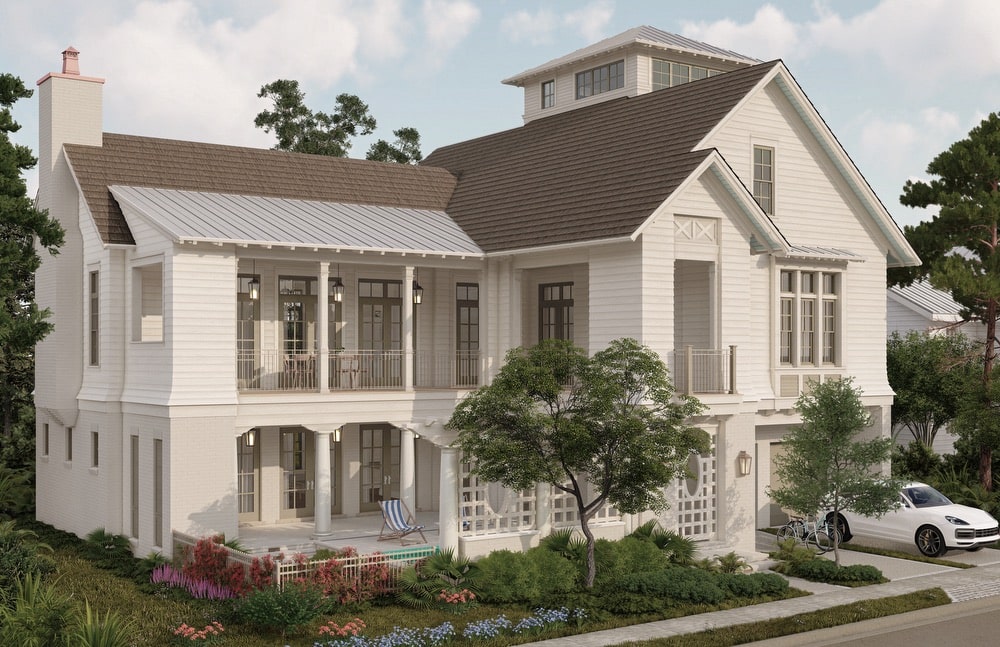 Tamara Tricoli: We bought a home here about twelve years ago, and we have loved it. At first, it was just a place we came and went from, but when COVID happened and prevented Carl from traveling much for work, we started staying here for longer periods. We got more and more accustomed to waking up seeing the water, walking on the beach, kayaking, biking, and all those things. Carl asked, "Why are we not staying here all the time?" We have made it more of a full-time home now.
VIE: How did you decide to enter the world of residential development in this area?
Carl Tricoli: We noticed the same phenomenon was happening to many people as it had to us—they were seeing this area as a place where they could have permanent residences and work instead of just a place to vacation. Tamara was professionally in the real estate business, and I'm in the investment business doing projects around the world. So from both our careers was born the idea of building homes directed at the people who want to either live here permanently or spend a lot of time here, as we are now doing.
Tamara: Living here gave us the opportunity to become tourists, walking and driving to places we hadn't before and just enjoying the area more. We could see things were changing. There were more people here and some good opportunities. Carl was looking into ideas for other ways to embed into the community. We had often talked about how we might want to become developers, and we came across this community called Heritage Dunes. It was about a seven-minute walk up the beach from our house, and we loved it. We thought it had a wonderful location with private beach access; it's off of 30-A, yet right near 30-A—you get a little of both. We felt it was the perfect place to launch this new business venture.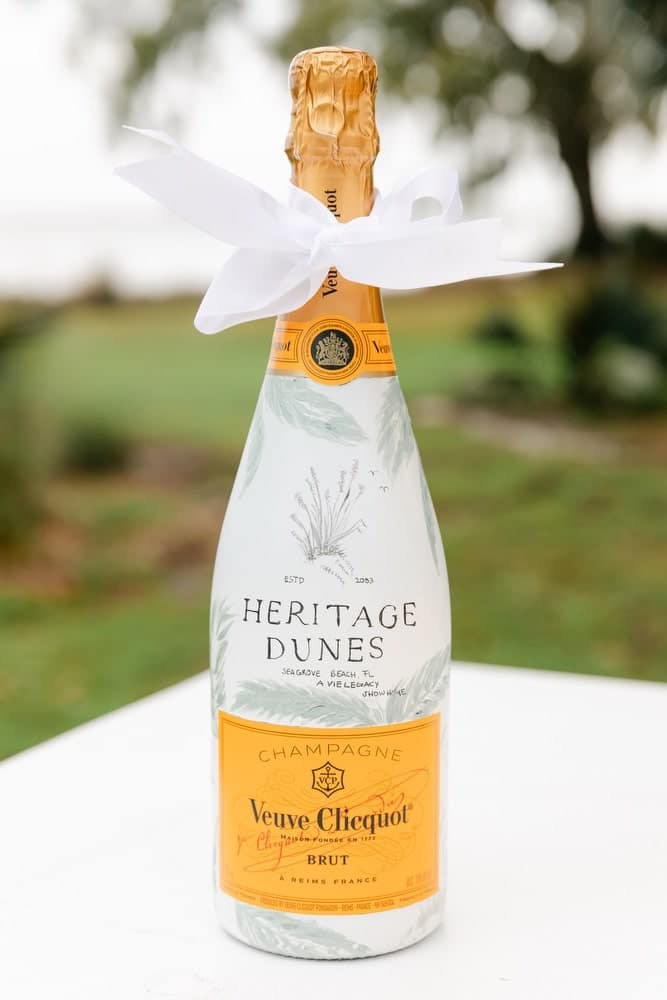 VIE: What was your vision for the Heritage Dunes neighborhood and your new company, Bella Mare Real Estate Holdings?
Carl: Our goal for Heritage Dunes had three important elements: We wanted to do something in a non-rental community for people looking at this place as more of a home than a destination. Secondly, in terms of the build, we saw a lot of things in the area that I refer to as "rent-a-boxes," which we feel don't really have the quality that someone would want if they were living here. We wanted to build and design something that, from a construction standpoint, was much higher quality. The third element was the design—we set out to bring design elements different from what people typically see here.
Tamara: Heritage Dunes, to us, was like a little diamond in the rough; it's well located, has great beach access, is gated with a pool for all the homeowners, and it's beautiful. We thought, "Wow, this would be the perfect place to build." It was an excellent opportunity for us to do something we'd wanted to do and to have a business together.
There were five lots for sale when we decided to try building in Heritage Dunes. With the help of La Florida Coastal Properties, we bid on everything available and ended up with nine lots. It was great because there's so much more you can do when you can build multiple homes that are spec homes, but not in the traditional sense—they're all so individual, and each one is special. Since the neighborhood is non-rental, these are all second homes. Carl and I are so excited about all of them because this is something we can dream about and work on building together.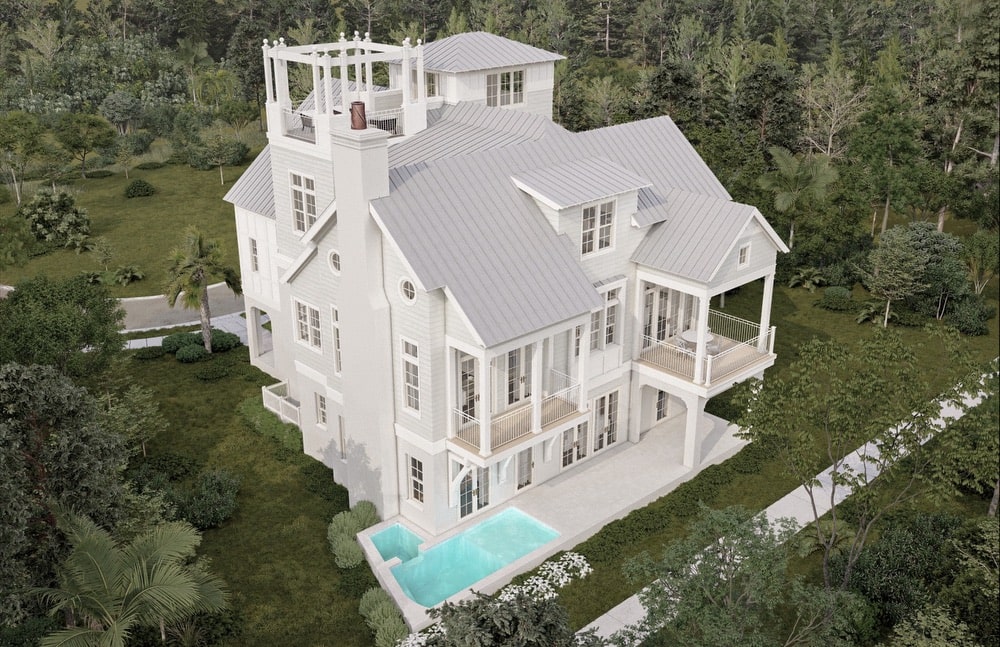 Carl: My heritage is Italian, and bella mare is Italian for "beautiful sea," which is exactly what we have here. As far as the vision for Bella Mare Real Estate Holdings goes, we are excited about The Heritage Show Home and the eight others following it in Heritage Dunes, but beyond that, we hope to see Bella Mare representing high-quality, distinctive homes that are different from some others we see here in the area. We hope to continue building this business along 30-A.
Heritage Dunes, to us, was like a little diamond in the rough; it's well located, has great beach access, is gated with a pool for all the homeowners, and it's beautiful.
VIE: You and Tamara assembled an A-list team on this project. How do you feel about that, especially after seeing the first home completed?
Carl: One of the lessons I have learned throughout the years on projects with my firm is that you must assemble a team with all the elements and all the expertise needed from the get-go so everyone can visualize the outcome from the start. When Tamara and I had this vision, we knew we had to do that. The team we have assembled is world-class. I've worked with many very smart, talented people throughout my career, and these are truly some of the best.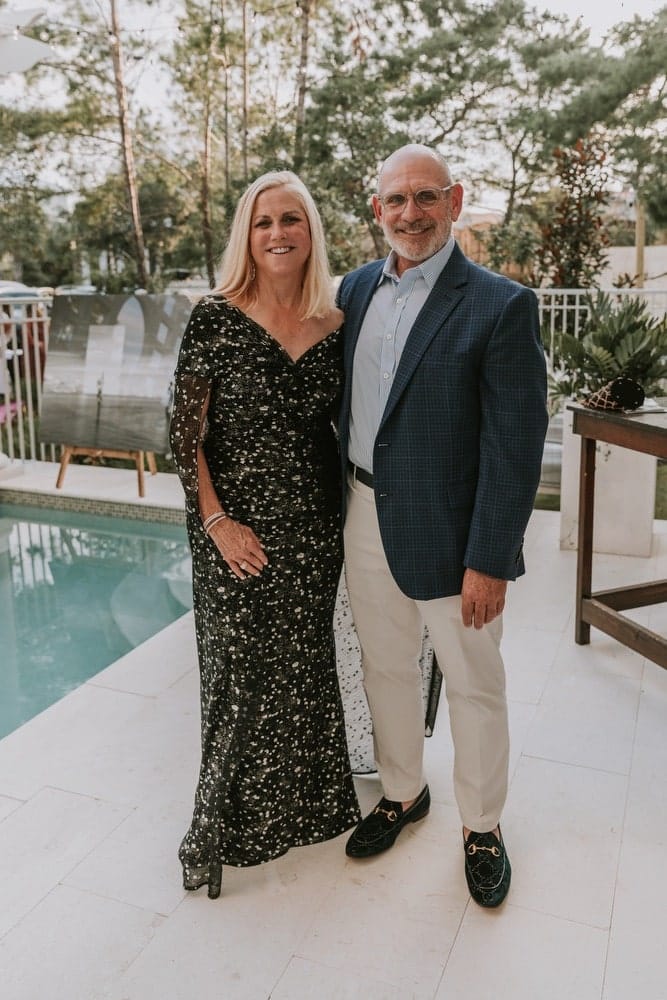 Typically, when working on a residential project, the architect hands off the plans to the builder at the beginning and is done. Often, a builder might think, "Wow, if he or she had just done this or that differently, it would make things a lot easier here for us." Then the builder hands it off to the interior designer, who might think, "If the builder had just done this, or moved this window eight inches that way, I could have put a king-size bed in here," etcetera. Having the whole team in on every meeting from the beginning gave the house a holistic, cohesive fee
I've never seen designs like the ones we've gotten from architect Gerald Burwell that combine aesthetic elements and functionality so well. Duce May is a genius; we came across him when we were invited to the home of some friends, and we thought his interior design was incredible. I've worked with a lot of contractors, and I've never met someone like Chris Burch, who puts integrity at the top of the list. I trust him implicitly. He's also the most organized person I've ever seen, with Gantt charts and schedules for every home. We receive pictures of their progress daily, and everything Grand Bay does is quality. Adding to that is Patrick Hodges, the landscape architect, who created something incredible with the pool deck and the yard. Lisa Burwell and her team at VIE and The Idea Boutique have brought an entirely different level in thinking about marketing and positioning for the show home and Bella Mare, as well. The real estate brokerage, La Florida, was also brought in from the very beginning to make sure that whatever we were creating was going to be in line with the community and was going to sell.
Every week we've had a team call, getting all these players on the line to work together. This home is not only the debut of our projects but also the culmination of a collaboration among an incredible and talented group, and we're very excited about it.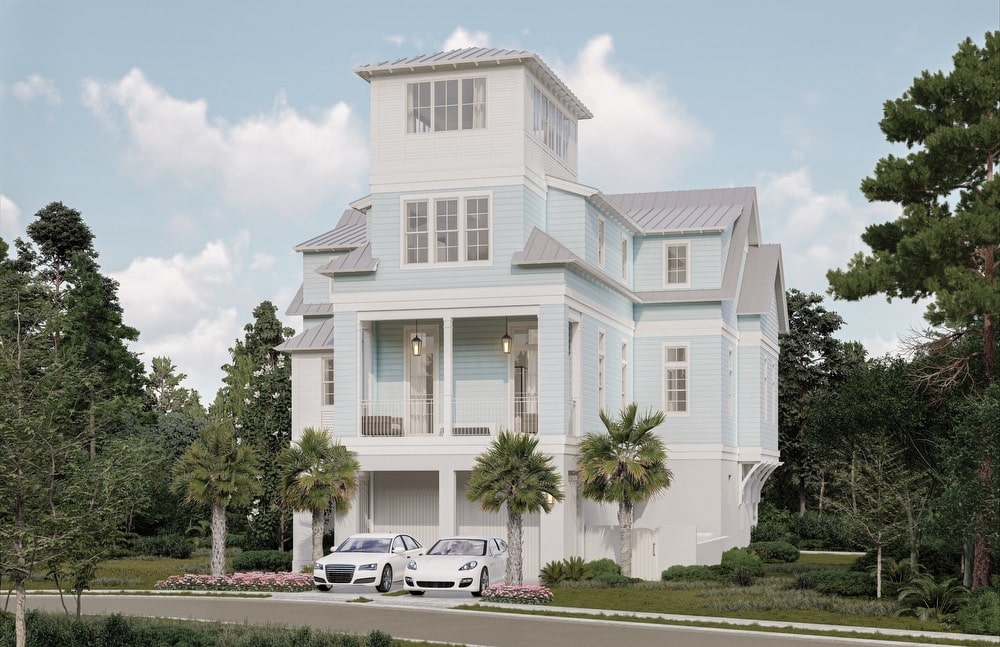 VIE: Tell us a little about the process of creating a show home to kick off these nine custom residences. How did you get involved with VIE magazine?
Tamara: Architect Gerald Burwell was one of the first people to come on board, and his wife, Lisa, is the CEO and editor-in-chief of VIE magazine. It was amazing to get to know Lisa and Gerald as individuals, and along the way, Lisa mentioned the idea of teeing up our Heritage project as the next VIE show home. We felt so blessed and thankful that VIE would choose our project for that opportunity.
Carl: We were excited to collaborate with VIE on a show home. It was our intent that this first home, Lot 24, really demonstrate the principles we want to put forward. The grand opening was exciting because it kicked off that vision. We have four more homes coming out of the ground now, and The Heritage show home set the bar for those. Each design is so different—it's like seeing Gerald Burwell pull a rabbit out of his hat with each new one we see, but they will all be held to this very high standard of construction and design.

VIE: How would you describe the architectural plans for these homes, and what makes their Southern coastal style different from others in the area?
Tamara: Our first home, The Heritage – A VIE Legacy Show Home on Lot 24, gives you an "ahh" moment as soon as you walk in. People want to come in and feel comfortable, like it's their home, and this house is exactly what you want it to be in that regard. Carl and I have been fortunate to travel a lot and see nice pieces of art and luxury tile, marble, and architecture. We wanted to incorporate much of that into these nine homes to ensure they were more upscale, put together, and different from other homes in the area. We wanted beautiful high ceilings, gorgeous tile, countertops, and floors, and high-end appliances. I'm also a very practical person, so I wanted each home to be functional but still beautiful, a place where you could get up each morning and feel proud to live there. Every one of our homes will also have gorgeous views.
We want people to walk in and feel that the four years of planning and design that went into these residences are visible and appreciated. The owners can walk into their new home—especially the show home, which is fully furnished—with just their toothbrush and bags and be ready to start a life here.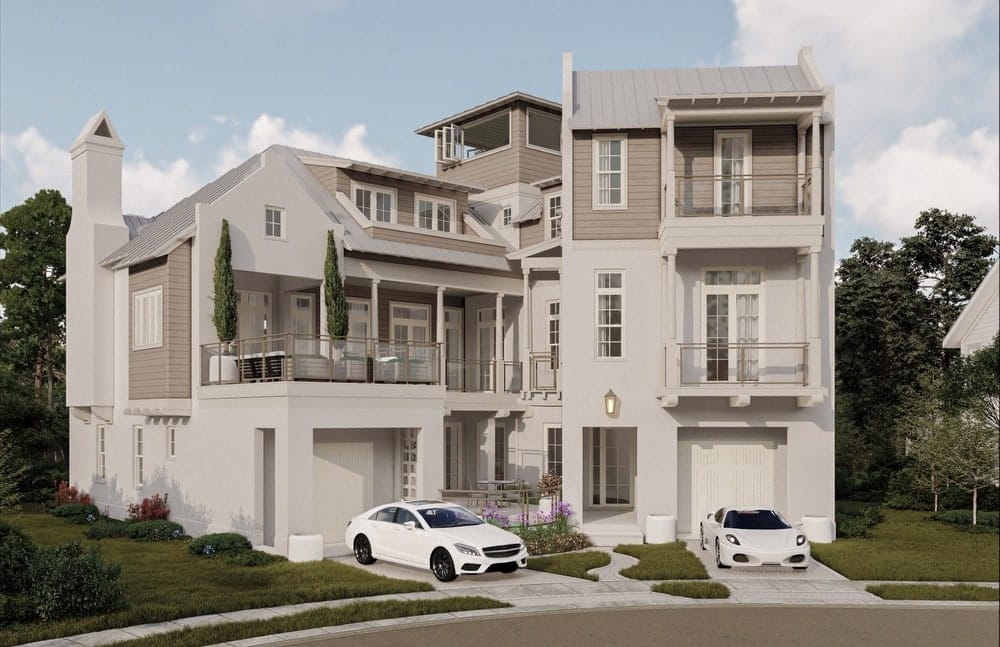 A differentiator in our homes versus others on the market is how customized they are. We want people to walk in and feel that the four years of planning and design that went into these residences are visible and appreciated. The owners can walk into their new home—especially the show home, which is fully furnished—with just their toothbrush and bags and be ready to start a life here; the other eight can be furnished by the buyer's request. Each one will be unlike its neighbors, so the owners truly feel it's theirs, and they can feel proud to live here and invite friends and family to experience it.
VIE: How did it feel to sit in the show home just before the grand reveal to the public?
Carl: I think astonished may be the best phrase I feel seeing this show home completed. Watching it go from a piece of paper to actually coming to life over the past two years has completely exceeded my expectations. We have an incredible team—the trio of Chris Burch at Grand Bay Construction, Gerald Burwell as the architect, and Duce May, the interior designer, is responsible for those three elements that were so important to us. The design by Burwell is so aesthetically pleasing but also remarkably functional. Most people won't even realize when they walk through here the level of high-quality construction and detail that Grand Bay has accomplished because they make it look so effortless. And from a design perspective, Duce May has completely blown me away.
VIE: What were some highlights from The Heritage – A VIE Legacy Show Home grand reveal? What was it like having Emeril and EJ Lagasse cooking in the kitchen during the party and having Julian Lennon's solo art exhibit included?
Carl: I've watched Emeril on TV for years, and having a familiarity with both John Lennon and now Julian, the experience was sort of surreal. Having stars of this caliber involved in something we're doing was tremendously exciting.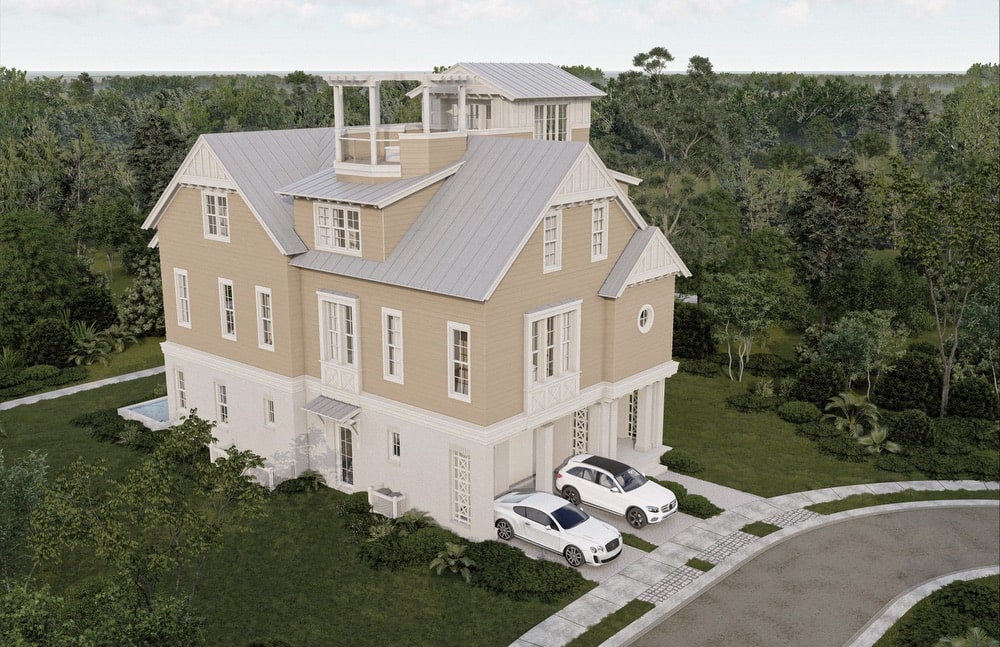 I am blown away by Julian's fine art photography in the home because it looks like it was made to be here all along. As I've walked around looking at it, the breadth of his expression is very interesting to me. When I initially saw all the pieces hanging on each floor, I told someone, "I thought we were only putting Julian's art in the house." You can't really tell it's one artist because of his range; you're not getting bored by the same images in each room. He captures so many subjects in a variety of ways, so that's been great. It's the whipped cream and cherry on top of the sundae of the great design in this house.
VIE: As a trailblazer or outlier in the industry, how did you work up the fortitude and vision to bring something to market that hasn't been done here before?
Carl: I think it comes from a couple of things. I spend a lot of time in different places across every continent for my investment business. As you go through those travels, you see things that are very different, but a consistent element is that when people are exposed to something new or unusual, they get excited. That's what we wanted to accomplish here. People have been doing things pretty traditionally here with the beach homes for a while, and we wanted to create something comfortable but unlike anything else we were seeing. And it was something that Tamara and I could make together that we were also excited about and could see through to the finish.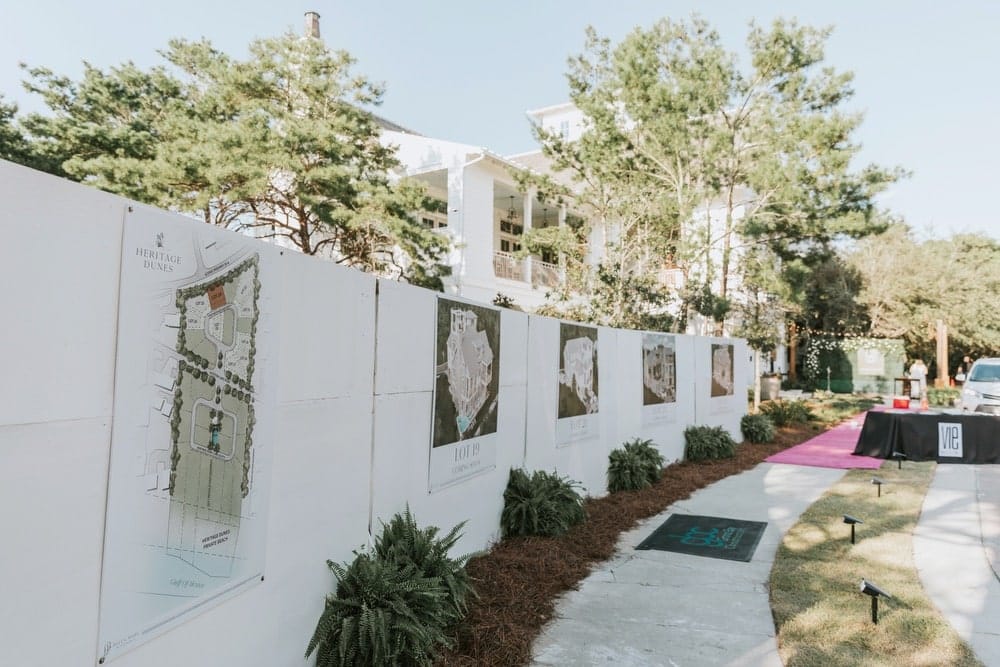 VIE: Tell us a little about how Bella Mare Real Estate Holdings is growing and how you see it evolving in the future.
Carl: Bella Mare began with a vision for this neighborhood in Heritage Dunes. As we got into it and saw the opportunity and what we were accomplishing, we began to think it was something we should develop into a full-blown business. I still have a full-time job with my investment firm, so we have brought our son-in-law Steve Hinkley in to be the CEO of Bella Mare. We needed someone who could focus on this 100 percent to move it forward. Steve is an incredible, wonderful guy, whom I'm very fortunate to have as a son-in-law, who also has experience in construction—he has been involved with constructing three museums in the past. He also has experience with design and the more creative aspects of the business and a CEO background. We are delighted to expand the family business by having Steve involved to bring Bella Mare to the next level.
— V —
---
Visit HeritageDunes.com or follow on Instagram @heritagedunes30a to learn more about the nine custom Bella Mare Real Estate homesites in Seagrove Beach, Florida.
ARTICLE CATEGORIES