Okaloosa's New Culinary Hot Spot
By Bill Campbell  |  
Photos by Modus Photography
One of the delightful things about taking newcomers to The Gulf, a new restaurant, bar, and event venue on Northwest Florida's Okaloosa Island, is their initial reaction.
"I'm in the Bahamas." "I'm at a very special wedding, but there's no wedding." "I'm back in Abu Dhabi."
(The latter is from a Polish woman who speaks seven languages and is very well traveled.)
One quick look at this newcomer to the culinary and social scene should tell you it is quite different from other restaurants in the area, and it is. When I first heard that a new restaurant was being built out of recycled shipping containers, I envisioned a bunch of brown boxes somehow hooked together. What a silly fool I was.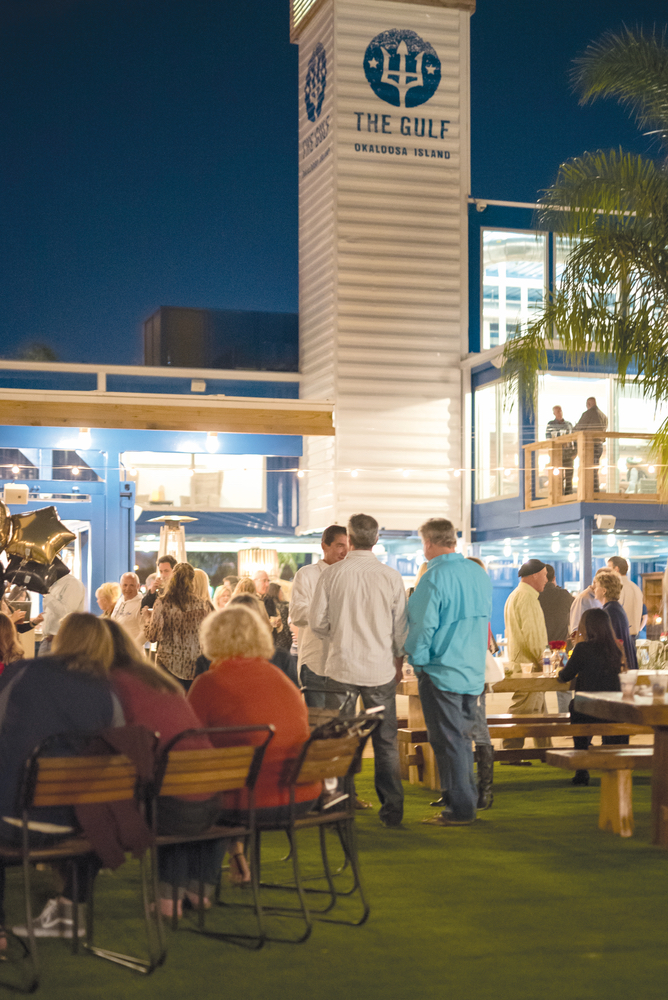 The Gulf's interior and exterior spaces are painted blue and white, evoking a squeaky-clean feeling—quite a departure from what used to sit in its spot: Big Bertha's Bordello and Chili Parlor (a fun place, but this is better).
Words can't do The Gulf justice; you must visit and see for yourself. To do so, head north on Santa Rosa Boulevard on Okaloosa Island; for locals, pretend you're heading to the now-shuttered Pandora's. Turn left there—or for those seeking the best photos, turn left at Sammy's. The Gulf is two blocks down and you can't miss it. Nor should it be missed. Docks will be added soon and made available for seafaring visitors pulling in from the Santa Rosa Sound and Choctawhatchee Bay.
Among the things that struck me on my first visit were three outside ping-pong tables, the beautiful landscaping, the hammocks, and the friendly staff—who will even put out a doggie bowl full of water for your pooch. The music that wafts over you comes from a unique sound system, a turntable in the gift shop that plays one of about a hundred LPs guests can choose from for free. Selections range from the Beach Boys and Buddy Holly to the Cars, Steve Miller, the Kinks, and Amy Winehouse. Just tell the attendant what you'd like to hear, and she'll put it on. No kid stuff here.
Reviewers shouldn't gush, but I will.
Chef John Engle is an interesting study. A former Marine whose military career was cut short by an accident, he turned to his second passion: cooking. He started in South Carolina and then moved to the New England Culinary Institute. From there, Engle headed to Lacroix at the Rittenhouse Hotel in Philadelphia, where he interned before moving up to sous chef. There were more stints in Philadelphia and the D.C. area, culminating with work at the Barcelona Wine Bar in Reston, Virginia.
It was there that Engle met the business owners who opened The Gulf in Orange Beach, Alabama, and famed music fest venue The Hangout in Gulf Shores, Alabama. Six months in Orange Beach qualified him for the job as executive chef at The Gulf on Okaloosa Island.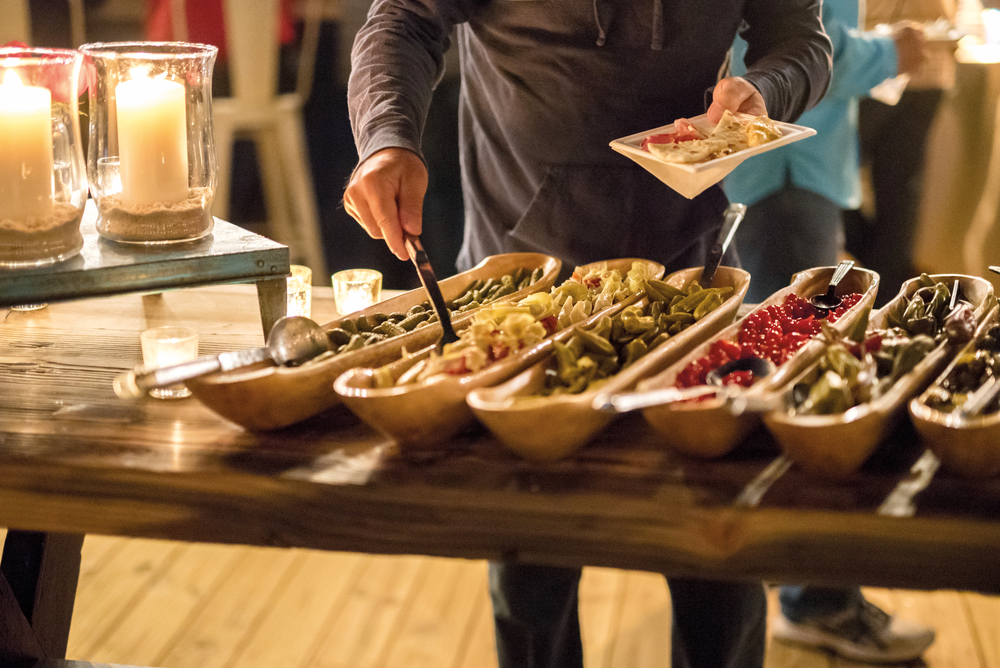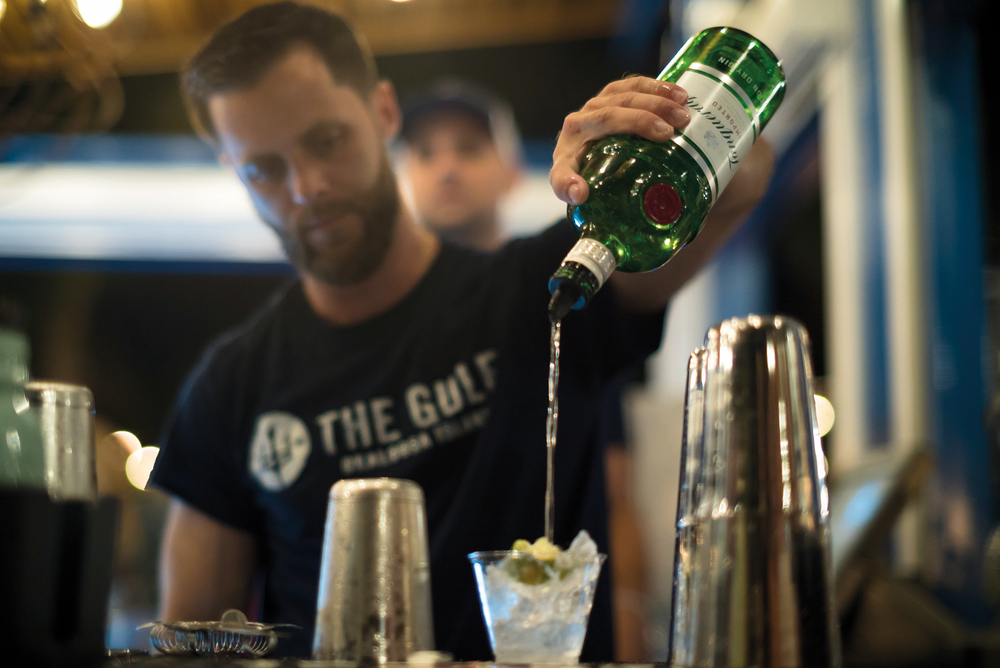 The Gulf's menu relies on locally sourced food, along with signature beverages, for lunch and dinner. Hours are 11 a.m. to 10 p.m. daily, and Chef Engle tells me about half the menu changes daily depending on fresh availability. Don't look for prime rib—think Gulf burgers, pulled pork sliders, grilled fish tacos, and fried grouper sandwiches instead. Speaking of which, during my most recent visit, I found the emeritus director of the Northwest Florida Symphony Orchestra, John Leatherwood, dining upstairs with his lovely wife. His assessment: "Best grouper sandwich we've ever eaten."
Engle has a small staff of about ten in the kitchen now, but that will surely grow a lot for spring break and the summer season. I asked who his go-to guy was in the kitchen and he told me it was Scott Cribbs. That allows me an anecdote about Cribbs: I had been a devotee of Pandora's Steak House on Okaloosa Island since the early 1980s, and just as many people have a favorite server, I had a favorite busser. So when making reservations at Pandora's, I would tell the receptionist that I wanted Scott as my busser. I'm delighted to have found him again, this time as the number-two guy in the kitchen.
Let me toss in an observation about The Gulf's very clever gift shop. Yes, there are the requisite T-shirts, but then it gets better. When you look at the gifty things, it's much like being back in your Philosophy 404 class. There are pillows, name plates, shot glasses, and much more, all with the "rules for life" inscribed on them. You can't even visit the restrooms without finding a philosophical nudge on the wall. All that is the work of Lilly and Shaul Zislin, co-owners of this unique place.
When I asked Ephraim Kadish, operating partner at The Gulf on Okaloosa Island, how it all came together, he answered with the same sort of mysticism that pervades the venue: "We're people who think outside the box," he says. "We had an opportunity, so we took it. We want lots of locals, and we take care of one guest at a time. We have a good system in place and good people running it."
---
An Ambience of Serenity
By L. Jordan Swanson
Steven Ivans, president of Hangout Hospitality Group, sat down with the owner of the two Gulf locations and The Hangout, Shaul Zislin, and owner/creative director, Lilly Zislin, to provide more details on The Gulf on Okaloosa Island.
The Gulf on Okaloosa Island was built with a focus on the atmosphere, welcoming those in search of a peaceful outing.
"Once you've arrived, you feel like you've landed somewhere very relaxed," says Ivans. "We want our guests to feel comfortable and enjoy the food, beverages, friendly environment, and overall vibe. We want them to relax, put their toes in the sand, kick back, and enjoy time with friends and family."
The inspiration behind The Gulf was the desire to create a magical experience. "Our design philosophy is driven by the incredible location, which allows guests to really embrace the views," Ivans says.
Located on five hundred feet of waterfront property, The Gulf features cozy furniture from all over the country to tastefully decorate its seating areas. Owner/creative director, Lilly Zislin, is the artistic mind behind all of the special pieces of furniture and decor that complement the serene surroundings. Lilly also travels the country collecting the unique treasures offered in The Gulf's gift shop, including apparel, art, home decor, toys, and more.
About two hundred outdoor seats and sixty indoor seats overlook the beautiful Santa Rosa Sound, providing the ideal way to enjoy glistening water views over lunch or dinner. Since the restaurant serves up dishes that are inspired by the seasons and incorporate fresh, local ingredients, The Gulf's menu changes daily. As such, it only makes sense that the day's choices are presented on a large chalkboard.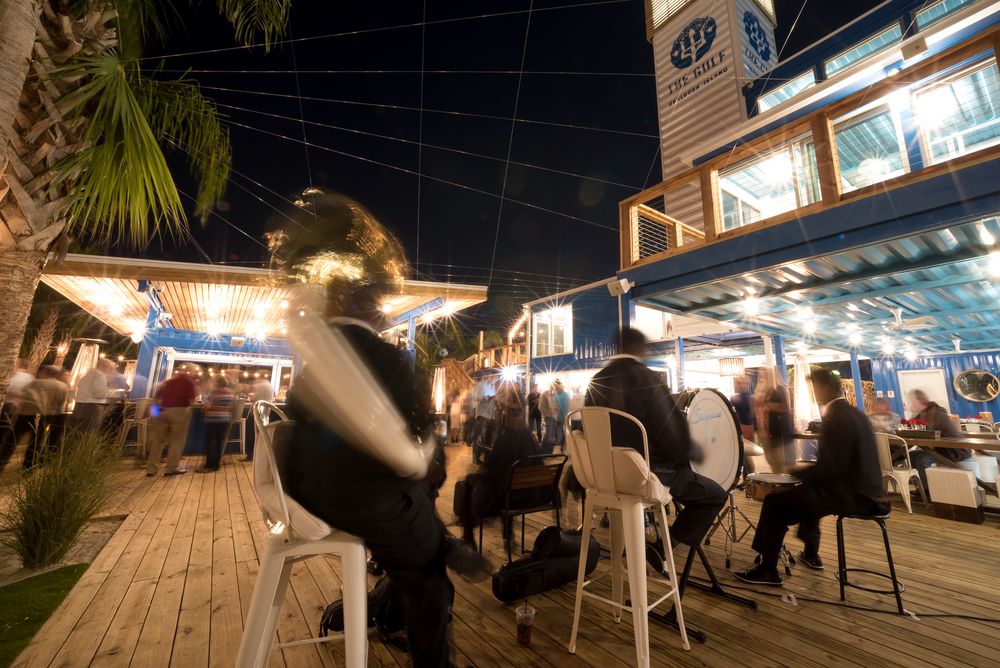 When it comes to further enhancing the ambience, the music selection accomplishes the job. "In this era of 'fast-forward' playlists, we thought it would be appropriate to play whole albums or at least full sides of albums," Ivans says of the restaurant's vinyl selection. "It's kind of a commitment to slow down time while you are at The Gulf."
Although The Gulf is a restaurant, it doubles as an event venue and is suitable for private groups of varying levels. "We have designed the property with flexibility and are able to accommodate parties of all sizes, from an intimate gathering to a full-scale wedding or large party," Ivans assures.
During the height of spring break and the summer season, weekly movie nights featured on the restaurant's outdoor big screen are just the start of The Gulf's appealing event plans. "We will be collaborating with select wine producers and launching a series of chef wine dinners," Ivans adds, saying that details would be announced soon.
The allure of The Gulf can be enjoyed year-round, so put on your flip-flops, gather your friends and family, and experience the laid-back vibe firsthand.
—V—
---
ARTICLE CATEGORIES