A Venice Retreat Like No Other
By Xenia Taliotis | 
Photography courtesy of Isola Santa Cristina
I'm castaway, adrift on my own island. An early morning mist has spun a cocoon around my mystic isle. Straining to see beyond the watery wilderness, I see nothing but slate sky merging with a slate canal to form a slate defense around my hideaway. I could be a thousand miles from civilization, hours away from the nearest human being. I could be—but I'm not.
In fact, I'm just a half hour from Venice, Italy, on Isola Santa Cristina, a pearl in the hypnotic salty marshes of the northern lagoon that's available for private hire.
Despite its physical proximity to the push and shove of the city, the island is miles away from it in temperament. Where Venice is besieged by tourists, Santa Cristina beguiles with its tranquility; where Venice stirs you with a sense of urgency and a compulsion to see and do everything, Santa Cristina soothes with a calm reassurance that it's fine to do nothing. Rest, she implores. Take a seat by the canal and watch the shifting, striated colors of the water; float on your back in the pool and lose yourself in the vast Venetian skies; take a nap. When you're done, the chef will have dinner ready for you. There's no need to book a table, wait to be seated, or make polite chitchat with other holidaymakers. You and your party are the only guests.
For just €3,200 ($3,780) per night, including the services of a chef (less than the price of a modestly proportioned room in a Venice hotel), you and up to fifteen friends can enjoy the ultimate luxury normally experienced only by the privileged few—vacationing in total seclusion and privacy on your own island.
Reached by a quick sprint in a water taxi from Venice, Santa Cristina is one of the most historic islands in the lagoon and one of only three remaining in the Ammiana archipelago. It sits in an expanse of water where signs of human habitation fade, and nature comes to the forefront. Here you'll find marshy mudflats spread above islands submerged by earthquakes a thousand years ago, where ancient monasteries stand silhouetted against a burning sun, and traditional fishing villages provide a plentiful larder for cormorants, egrets, herons, and flamingos.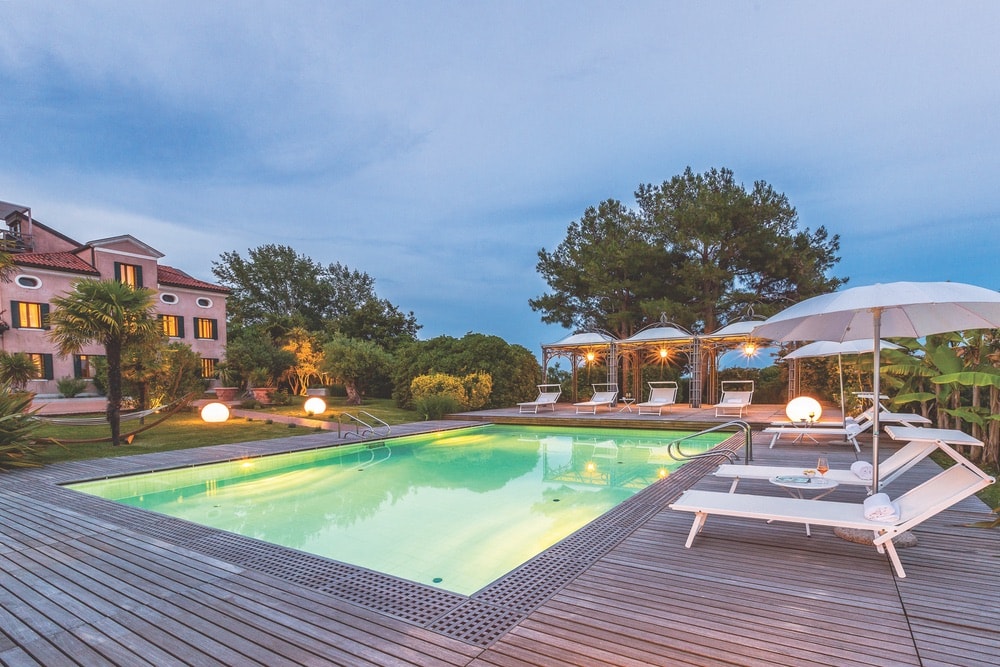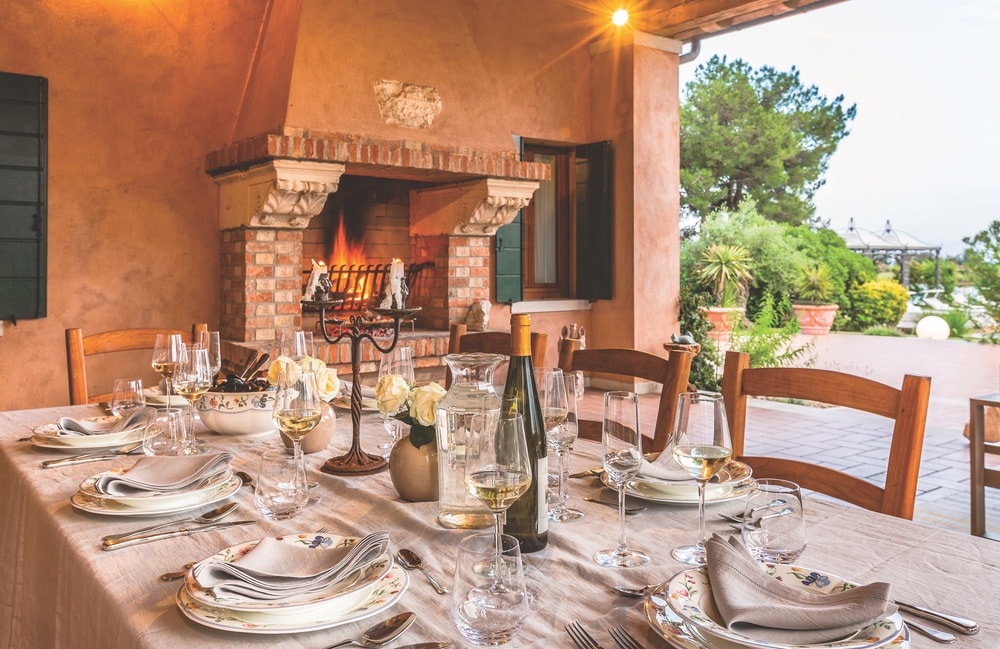 "Life is slow, gentle, timeless in this part of the archipelago," says René Deutsch who, with his wife, Sandra, has transformed Santa Cristina and its immaculately restored 1920s Villa Ammiana into a sense-soothing eco-lodge. "We listen to nature and adhere to the historic culture of the lagoon because our intention is to create an ecologically sound, sustainable business that will restore and preserve its heritage," he explains. "We've restocked the canals with indigenous species, have revived the vineyards and orchards, and have reintroduced bees, because without them, we have nothing. It's an ongoing endeavor, but we're working with agronomists, with winemakers, with fishermen who have fished the canals since they were boys, and with scientists at Ca' Foscari University to create a traditional lagoon garden island. We have planted 160 apricot trees, 50 prune trees, and 40 fig trees. I don't know if we can ever be fully self-sufficient, but that is certainly our hope."
Deutsch's stepfather, Gernot Langes-Swarovski of the Austrian crystal-making dynasty, bought the island as a vacation home for his family in the 1980s, but over the years, only Deutsch felt a compulsion to return. "No matter where I was in the world, I always had a yearning to come back here, and when I met Sandra, she felt that pull, too," he says. "We felt we could do something special on the island by tapping into its serenity and spirituality to create a retreat for guests, while at the same time working with artisans to take the island back to a different time."
"We felt we could do something special on the island by tapping into its serenity and spirituality to create a retreat for guests, while at the same time working with artisans to take the island back to a different time."
The fruits of their labor are abundantly evident during my walk around the island, which measures just one mile in circumference. My amble takes a little over an hour. I see the orchards that are now yielding a generous harvest, the hives that last year produced the island's first honey in decades, the free-running chickens that supply the best eggs I have ever tasted, and the wild peacocks that treat me to a spectacle I hope never to forget when they lurch into flight.
I also discover the tiny chapel, which must surely be the most romantic place on earth to get married. "We can't find anything out about it," admits Deutsch. "We don't even know its age. But it's very beautiful and has a remarkable energy."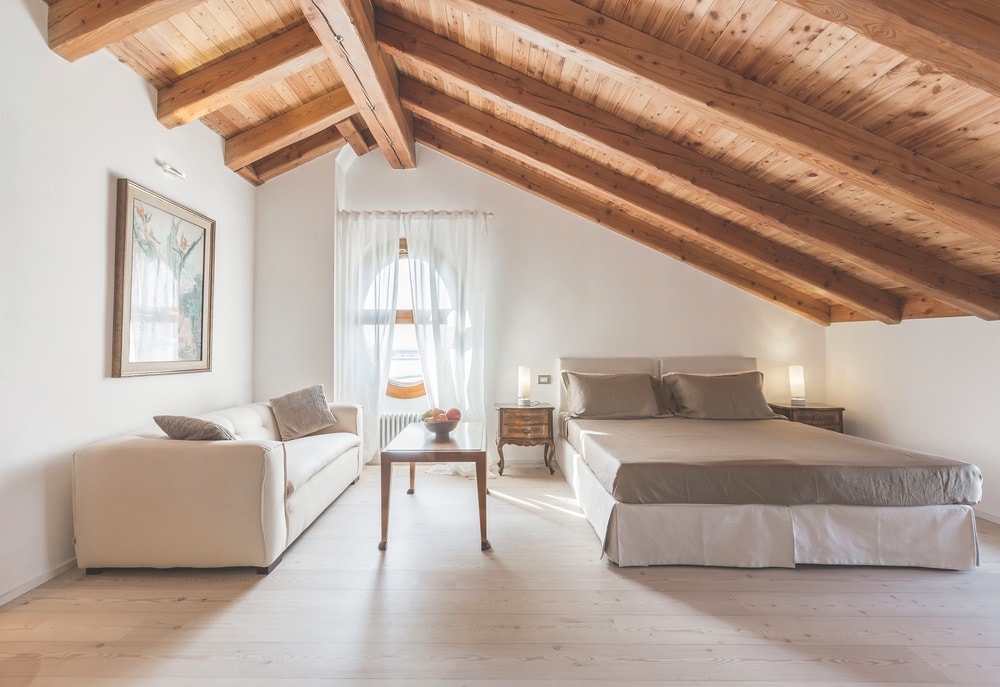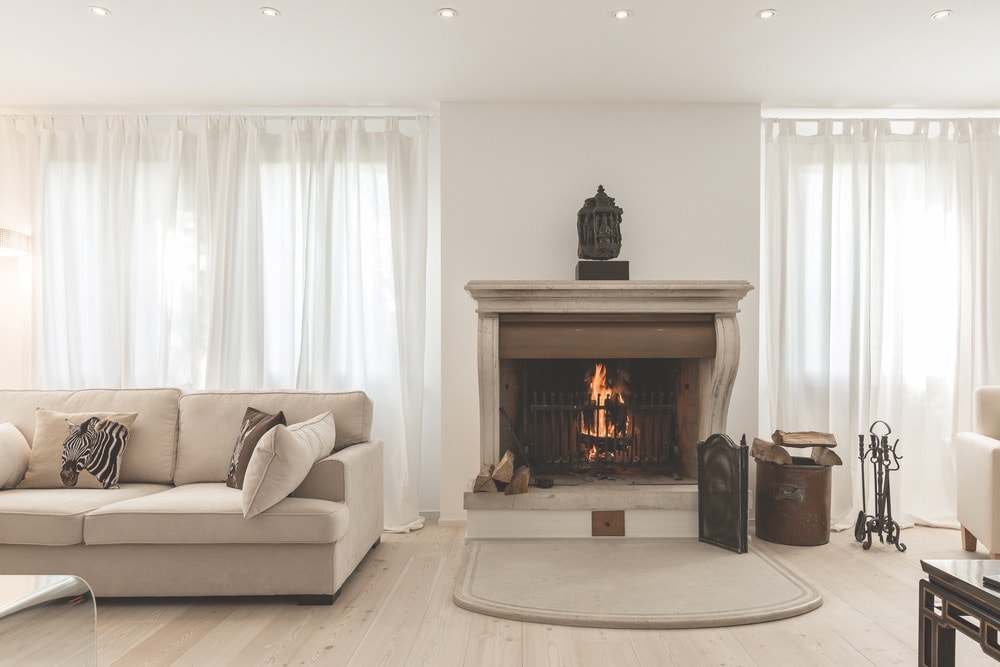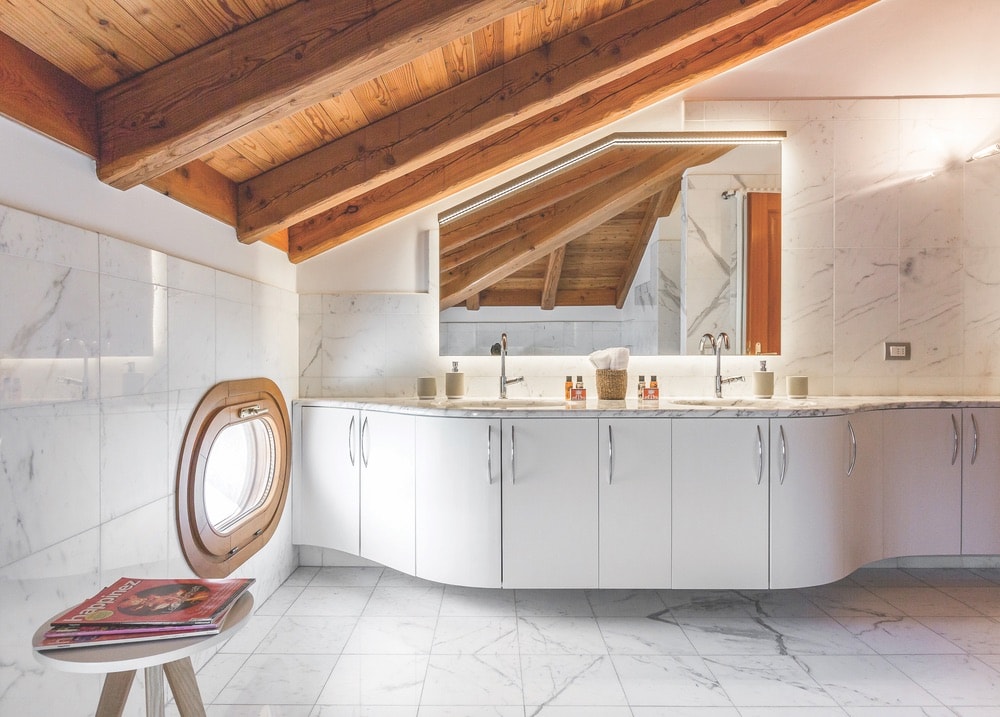 That evening, I enjoy my first taste of traditional Venetian cuisine. Using ingredients from Santa Cristina and neighboring islands, chef Anna Elisabetta, one of many hired by the Deutsches for their visitors, creates a menu that includes snails, soft-shell lagoon crabs caught hours before, cuttlefish with polenta, a richly flavored bean stew, and a chestnut-flour pasta coated in pesto sauce made with radish and carrot leaves, walnuts, and Parmesan. It's all served with the island's first wine—a warm, mellow, red vino da tavola.
After only a day on Isola Santa Cristina, my mind and body feel utterly rested. Back in my elegantly furnished room, I idly look at the various services and activities that can be arranged for guests—paddleboarding, yoga, excursions to other islands, dinner or theater in Venice, cycling—and then I close my laptop. All those things can wait for my next visit. This time, I'm staying far from the madding crowds. Instead, I will listen to the island.
— V —
---
Visit VenicePrivateIsland.com to learn more or book your getaway!
ARTICLE CATEGORIES