Seeing Is Believing
Story and photography courtesy of Invisible House
If you have ever dreamed of escaping to the desert for a long weekend or hosting the ultimate event among the Joshua Tree landscape, get ready to do it in style! This new, one-of-a-kind rental home is an oasis among the rocky hills and unique flora on the national park's outskirts.
Invisible House is a 5,500 square-foot three-bedroom, four-bathroom smart property featuring a prefab guest house, a hundred-foot indoor pool, and solar and thermal energy. It is cantilevered one hundred feet off the ground, and its mirrored exterior reflects the ever-changing landscape and creates a dialogue between object and site. This project is the brainchild of Chris Hanley, a Los Angeles–based producer behind films such as American Psycho and The Virgin Suicides. The residence sits on ninety acres of land abutting Joshua Tree National Park, where Hanley intends to build James Whitaker's Container House later this year.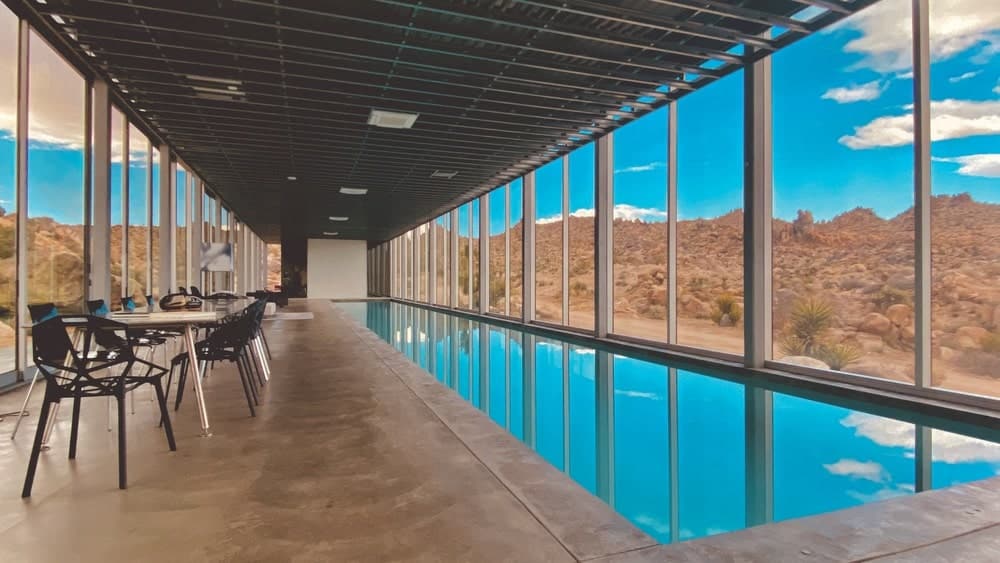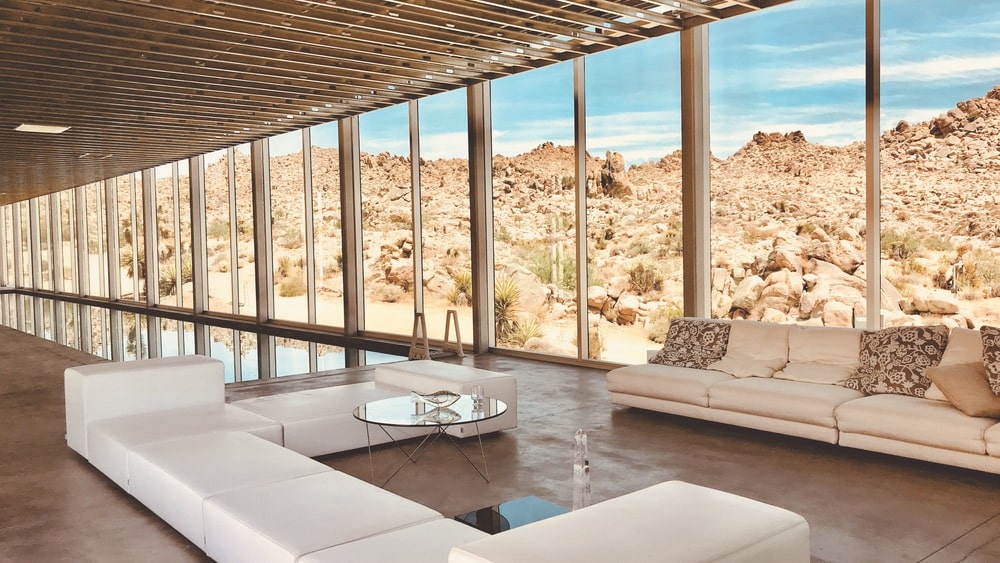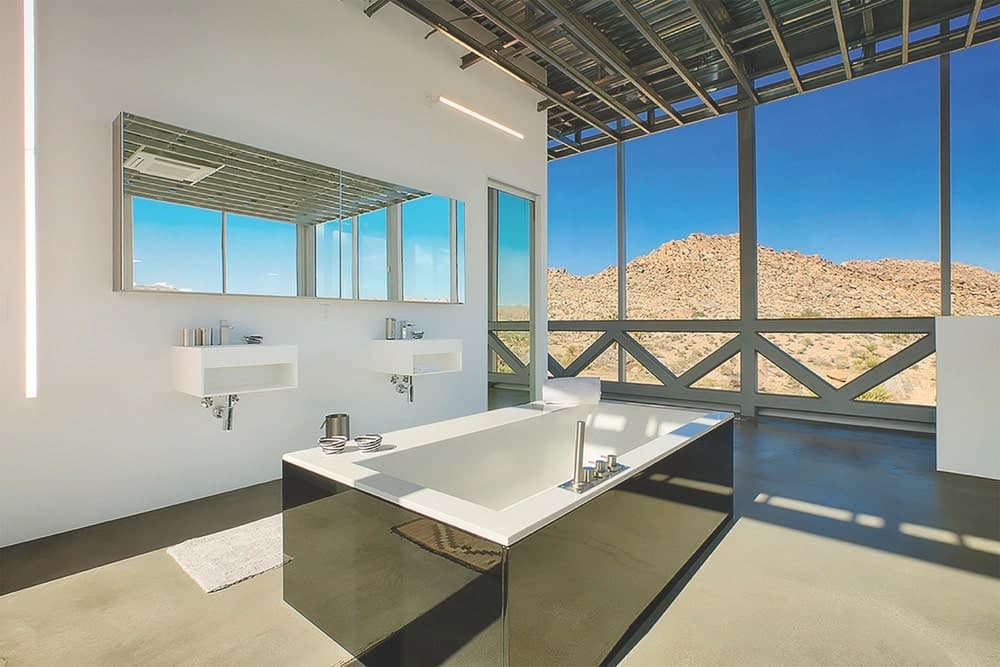 The vision of an invisible, fully mirrored house that would reflect the natural beauty and art of the desert landscape was born fourteen years ago, and in 2020 it became a reality. The land purchased by Hanley and his wife, Roberta, was initially intended to be the home of a collaborative art deal with "Baby" Jane Holzer. Hanley's interest in large-scale projects with minimalist design stems from his background in nurturing creative projects to fruition as a filmmaker, working with his vast and varied network of artists, and his passion for architecture and design from an early age. Hanley wholeheartedly sides with Andy Warhol, who said, "Land really is the best art."
The couple first purchased a prefabricated house on wheels from Jennifer Siegal's Office of Mobile Design in Venice, California, which specializes in portable, demountable, and relocatable structures. The OMD prefab is still on-site as the guest house. To satisfy building codes, Hanley dreamed up and drew a cantilevered, mirrored building that floated over the rocks without any grading or disruption to the natural landscape. Invisible House features a 222-square-foot projection wall and a west-facing wall of sliding floor-to-ceiling glass doors. It creates a juxtaposition of forms and is a meta work of art that also acts as a palette for the natural artwork of the mountains, trees, flowers, sun, moon, and stars. As they reflect in the home's sides, guests can see they are continuously in flux, depending on the time of day, the season, and the weather.
As they reflect in the home's sides, guests can see they are continuously in flux, depending on the time of day, the season, and the weather.
Environmental sustainability has been extensively incorporated into the design and includes multiple LEED- and EPD-certified elements. These include a fully Solarcool Glass exterior with reflective and refractive light filtering, a Sunpower 32.4kW system (produces 58,121kWh / annum) with a smart app net metering system, a Solarcool closed-cell energy-efficient and eco-friendly foam roof, and R30 flooring insulation. There is also a solar thermal system of twenty HTP four-by-ten-foot solar thermal heating panels for electricity, the pool, and hot water. The two-thousand-square-foot house foundation has one of the smallest footprints in Joshua Tree and does not harm birds or other wildlife in the area.
The stunning modern-style home is fully furnished and available for guests to rent as a vacation destination, a set for photo and video shoots, or an event space.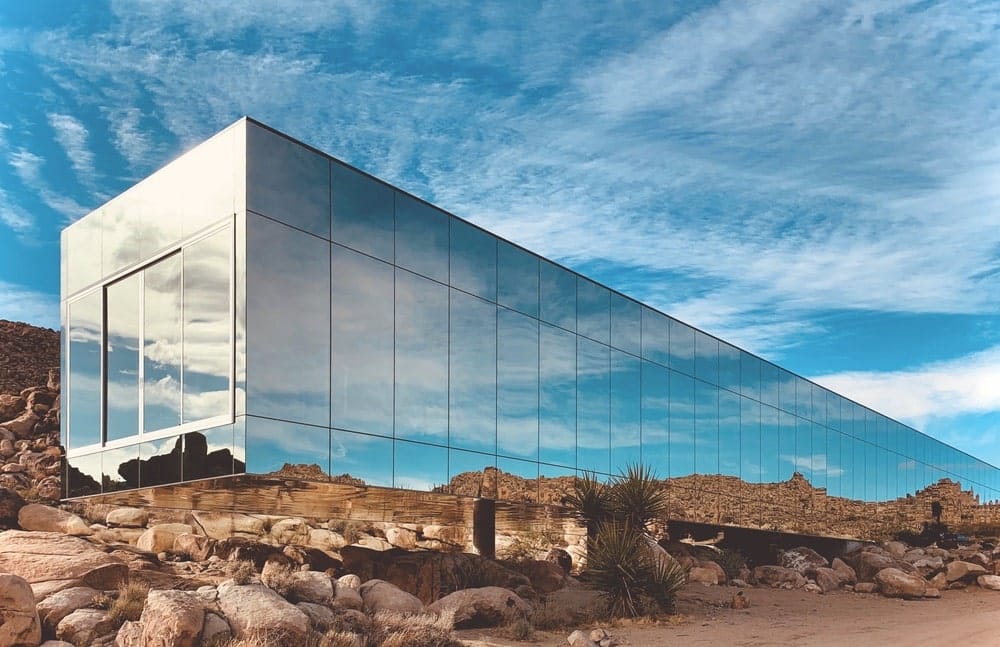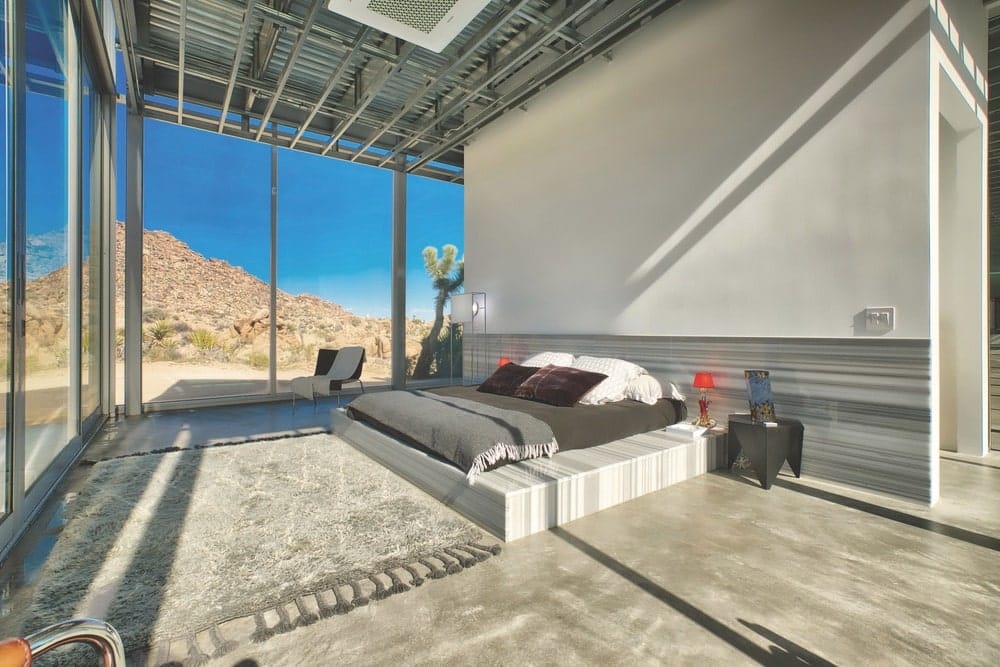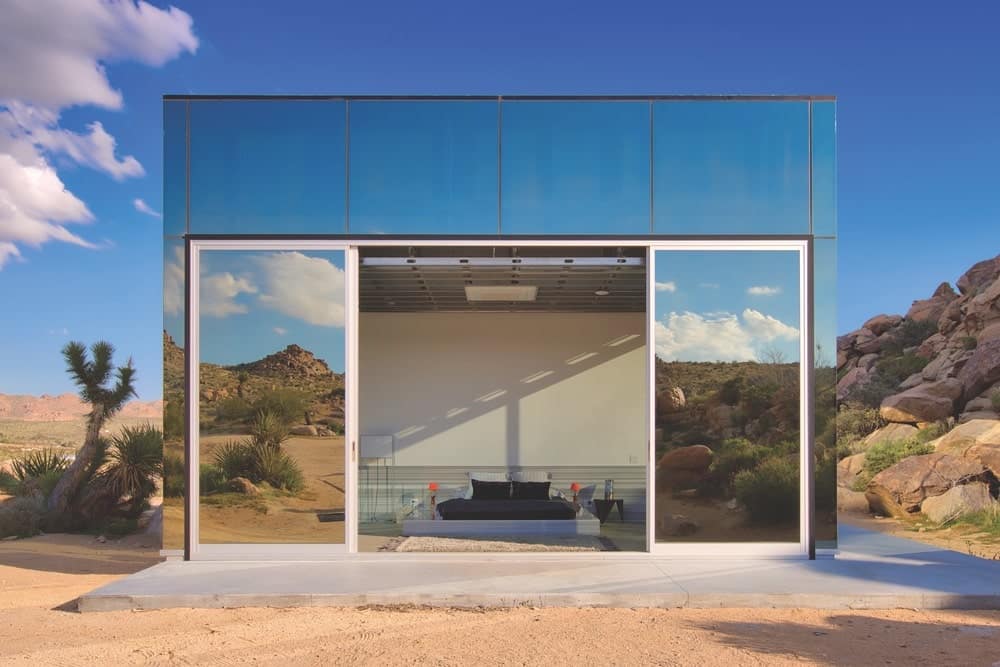 Future musings for the property include exhibitions that allow for an environmental experience dictated by the landscape—artistic experiences and installations weaving together light pavilions, audio, sculpture, meditation, and residencies. Hanley plans to develop additional designer properties—starting with James Whitaker's Container House Project—on the land, and the owners are open to other homes, structures, and collaborative projects. Invisible House is being promoted by Raymond Dominguez of Engel & Völkers, who sees limitless possibilities ahead.
— V —
---
To learn more about Invisible House or book your stay, event, or photo shoot, visit Invisible.House online or follow on Instagram @theinvisiblehouse.
Chris Hanley, an American film producer best known for producing independent films such as Buffalo '66, The Virgin Suicides, American Psycho, Spun, Spring Breakers, and London Fields, has a long history of involvement in innovative artistic collaborations with artists like Andy Warhol and Zaha Hadid. He is also behind the Whitaker Container House Project, inspired by James Whitaker's proposed German office comprising a cluster of angled shipping containers. Other ventures include Honeymoon House in Kenya, based on fortress and mosque designs.
ARTICLE CATEGORIES