The Edith Sanford Breast Cancer Foundation and the Second Annual Breast Cancer Awareness Dinner at Alys Beach both work to help find a cure.
By Jordan Staggs
Mothers, grandmothers, aunts, sisters, friends, and even daughters. Chances are, we all know at least one woman dear to us who has been affected by breast cancer. According to BreastCancer.org, about one in eight American women will develop breast cancer in her lifetime. That's just under 12 percent. But thanks to the Edith Sanford Breast Cancer Foundation, those numbers could drop, as the world-renowned physicians at this new nonprofit research organization work with an innovative method to find a cure.
The foundation was funded by a tremendous gift from T. Denny Sanford, founder and owner of First Premier Bank and CEO of United National Corp. In 2007, he also funded Sanford Health, the country's largest rural not-for-profit healthcare system. Sanford's mother, Edith, was the namesake and inspiration for the foundation. She died of breast cancer when he was just four years old.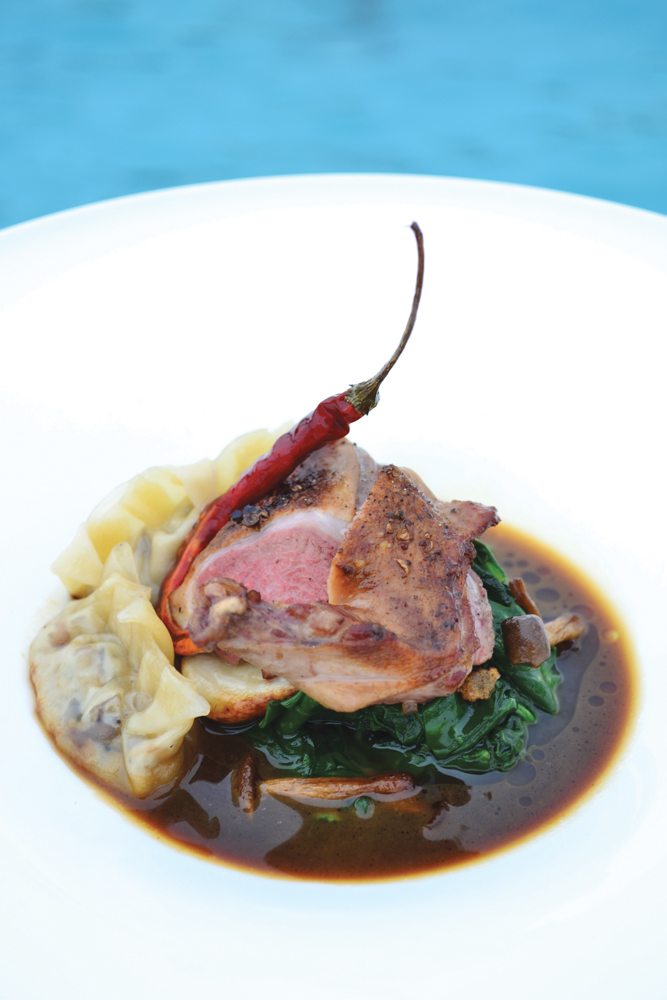 The Mission
The foundation's aim to provide rapid growth in research and treatment for this disease is based on genomics, mapping, and studying DNA sequences through biotechnology. Unlocking each woman's unique genetic code is key to their research, and according to Edith Sanford Breast Cancer Foundation president Kimberly Earle—former chief operating officer of Susan G. Komen for the Cure—this means studying the entire spectrum of each woman's three billion DNA base pairs. "In partnership with Sanford Health, we will be the dominant health network with forward genomics integrated into it," says Earle. "Ours is the first attempt to bring forward genomics into communities. Our bold, new approach will lead the way to eradicating breast cancer for all women."
Breast cancer is not a single disease; it can develop in many different forms, depending on the  individual. The cause is abnormal transformation of DNA, which can be caused by a variety of factors such as genetics, biological processes, or environmental exposures. By studying these changes down to the very strands of DNA in a woman's cells, the researchers at Edith Sanford will make the best possible choices and utilize the most targeted treatments for each breast cancer patient. Ultimately, this research could change the entire face of modern medicine in every field.
The BioBank
The key to Edith Sanford's innovative methods of research is the BioBank, a database of DNA collected from people around the globe and stored to be studied using the cutting edge in genomics research. It is a subset of Sanford Health's larger cancer BioBank, and it includes genetic material collected from cancer patients and non-cancer patients that will be used to accelerate the foundation's development of a cure.
Imagine, for example, that a researcher creates a new study for which he or she needs two hundred DNA samples. Without the BioBank, which can provide those samples immediately, the researcher would need many months to find the patients and extract and catalogue the samples.
Rounding up DNA to study from women and men worldwide is not an easy task, but thanks to Denny Sanford, the foundation has already made headway by putting donations from others to good use quickly. With a home research facility in Sioux Falls, South Dakota, in addition to thirty-four Sanford Health hospitals and more than a hundred clinics across the United States, Edith Sanford is already partnering to provide the best in breast cancer treatment, prevention, and survivor support.
The People
Of course, no nonprofit organization—especially one of this size—would be possible without the talented, passionate people who run it. In addition to Denny Sanford and Kimberly Earle, an elite team of researchers, doctors, officers, and volunteers keeps Edith Sanford running.
Dr. Brian Leyland-Jones, whose work is widely respected in individualized cancer therapies and development of novel clinical trials in the fight against breast cancer, is the leading researcher for the Edith Sanford foundation. He previously held leadership positions at Winship Cancer Institute of Emory University and at McGill University in Montreal, and he headed the Developmental Chemotherapy section at the National Cancer Institute. "We live at a pivotal moment in cancer research, when the interface of deep genomic profiling and targeted therapies has the potential of transforming breast cancer," he says. "I am honored to leverage Denny Sanford's extraordinary vision and gift with partners and colleagues around the globe in utilizing genomic medicine to further both the prevention and cure of this devastating disease."
Donations are already streaming in from around the country, thanks to individuals whose lives have been affected by breast cancer. Other philanthropic endeavors include organizations such as Arena North America, a leading swimwear brand, whose worldwide "Swim Challenge" could result in a $40,000 donation by the end of the year.
"We are sharing our story with potential donors across the country in all kinds of ways, asking for the generous support of people who want to end this disease," Earle says. "We hope to reach people with messages and programs that give them a way to engage through whichever channel is easiest for them. We are already under way with our efforts, and patients should be seeing the benefits this year. What we are doing is truly groundbreaking, making 'personalized medicine' a reality, ultimately using that personalized approach to develop drug therapies and treatment protocols for women wherever they live."
Help Find A Cure
The Edith Sanford Breast Cancer Foundation makes it easy for interested donors to contribute. You can learn more at EdithSanford.org or by calling 855-GO-EDITH (463-3484).
Breast cancer affects women everywhere on the planet; it has far-reaching effects on their families and friends as well. Thankfully, there are many wonderfully passionate organizations dedicated to finding a cure for the disease. One way the Emerald Coast area can help is by donating at the Second Annual Breast Cancer Awareness Dinner at Caliza Restaurant in Alys Beach, which will be held this year on October 10.
"Our chef, Kevin Korman, championed the event last year after brainstorming ways he could raise money to fight breast cancer," says Kerri Price, marketing director for Alys Beach.
His mother is a survivor. My own mother did not survive breast cancer and passed away in 1997 at age forty-seven. We both have a vested interest in making this event a huge success, as do other members of our staff who have been affected by the disease.
The dinner will feature pink lights and floating decor at Caliza Pool and there will be a silent auction offering items such as a condo stay in Belize. Chef Korman's menu will feature foods that include "cancer-fighting" ingredients; one such entrée is black tea–smoked squab. Caliza Restaurant will stay open past its normal season for this October event and remain open through November (850.213.5700).
Last year's event raised more than $4,000, and Alys Beach has partnered with the local Sacred Heart Cancer Center this year to allocate the proceeds. To learn more about the Breast Cancer Awareness Dinner, visit AlysBeach.com, and for information on our area's fight against cancer, go to Sacred-Heart.org/CancerCenter.
— V —
ARTICLE CATEGORIES