Introduction by Gerald Burwell
VIE was recently graced with the delightful opportunity to get better acquainted with South Walton-based ATW Roofing and its owner, Britton Bartlett, through an impromptu interview. ATW Roofing brings a new meaning to doing business in a local community. As an architect in my former trade, I have had considerable experience in the building industry. It is refreshing to know, especially in the current financial and business climate, that there is a company like ATW Roofing that not only strives hard to please their clients, but also goes out of their way to serve their community with equal fervor. VIE is proud to showcase this exceptional company, and, on behalf of ATW Roofing, we extend to you an invitation to get to know them better.
VIE
: So, ATW Roofing was born of a high-end custom construction company?
Bartlett: That's right. Long ago, our parent company decided that quality and logistic control of roofing installations during the construction process gave us a huge edge, especially in a coastal region. It shortened project durations and ensured the best possible wind damage prevention by having complete control over installation methods and products.
VIE
: Since ATW Roofing became an independent company five years ago, how has that mentality helped you serve your roofing clients?
Bartlett: It has helped tremendously with the caliber of builders we serve. We understand firsthand the importance of scheduling. Also, being up-to-date on the latest roofing products and building code requirements ensures that their liability interests are well protected.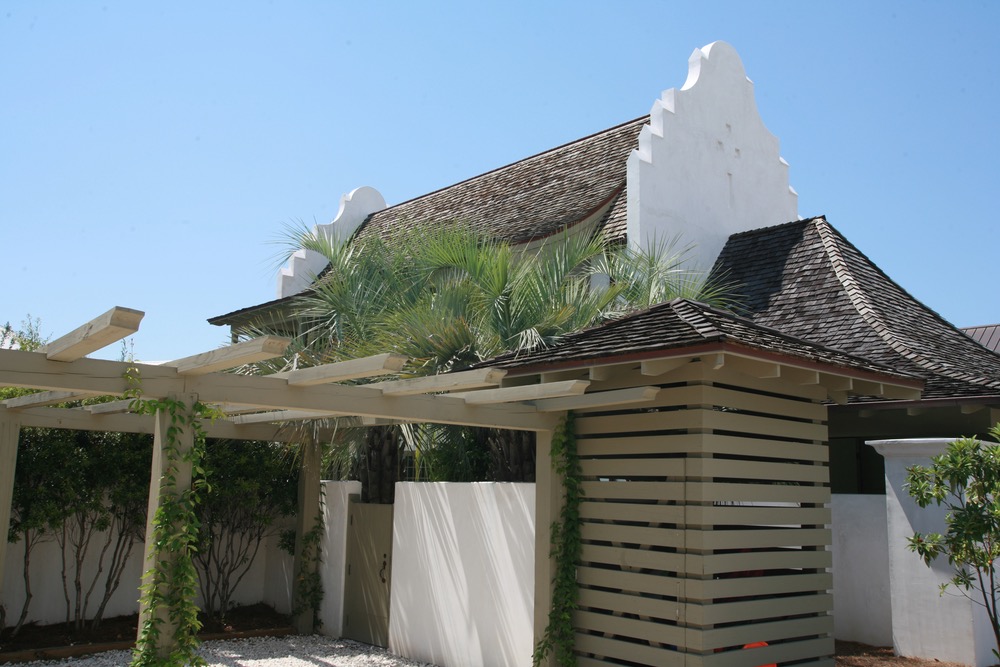 VIE
: Since, you also work in custom construction, do you ever find yourself competing with the builders that you serve?
Bartlett: Never. We limit ourselves to building only two custom homes at a time. Those are usually generated through referrals or relationships through our parent company's amazing designer—and my wife—, Melissa Quinn Bartlett, ASID. So, we haven't found ourselves in a competitive bid situation with the clients of our roofing company. In the rare chance it ever happens, we have a pledge that we will not bid for construction of a home that ATW Roofing has been asked to work on for one of our builders.
VIE
: So, you're serious about protecting the builders you serve.
Bartlett: Completely. Building must be a team approach in which loyalty and trust are critical.
VIE
: Speaking of loyalty, I've heard some great things about your staff.
Bartlett: Where do I start? They are amazing. All of our staff are drug-screened, uniformed, experienced, focused, and friendly.
VIE
: Tell me about the "groceries incident."
Bartlett: [laughs] Believe it or not, that's happened more than once. About half of ATW's work is repair, maintenance, or reroofing. We often find ourselves working on older homes for elderly people. The incident you're referring to involved one of our employees climbing off of a roof to help an elderly client carry her groceries in. That's actually happened three times, and those aren't the only examples of our guys going above and beyond.
VIE
: That's unbelievably thoughtful. So, your staff understands service.
Bartlett: Our employees understand we serve a community. There is no greater job satisfaction, or security, than knowing that folks out there think of us as "the guys in the white hats."
VIE
: Speaking of which, ATW Roofing is quite a charitable organization.
Bartlett: Again, our guys understand community—they are part of this community. As a team we have served the Children's Volunteer Health Network, Relay for Life, South Walton Montessori Academy, US98 Soccer, Adopt-A-Highway, Children's Advocacy Center, Taunton Family Children's Home, and others. One of our managers leads a drug and alcohol recovery ministry through his church, two other managers are instrumental in a mission to build worship halls throughout the Southeast, several are Little League coaches, and, believe it or not, one is a piano virtuoso who tutors youth.
VIE
: How do you build a team like that?
Bartlett:  Ha! [laughs] I wish I knew! I guess we simply promote a culture of giving. It's contagious, too!
VIE
: So, one would expect to pay a premium and be happy to pay it for your kind of team.
Bartlett: Thanks for the compliment, but we offer extremely competitive pricing. Most folks are surprised when they realize how affordable our services actually are. We're not always the cheapest, but we are certainly the greatest value.
VIE
: What a great team and service you have. Thanks so much for sharing your story.
Bartlett:  Thank you for the chance to share it! We're proud of ATW Roofing!
— V —
---
To learn more about ATW Roofing, contact Britton Bartlett or visit their website: ATW Roofing (850) 231-9114 www.RoofingDestinFL.com
ARTICLE CATEGORIES