By Colleen Sachs
Photography by Shane Carter
Through their respective businesses, restaurateur George Barnes (chef and owner of Smiling Fish Café for thirteen years and currently director of operations at 723 Whiskey Bravo in Seagrove Beach, Florida) and grocer Charlie Modica, Jr. (of Modica Market in Seaside) have had a big impact on the way people in the coastal communities along Scenic Highway 30-A eat. So it is only fitting that the two friends have teamed up to influence what those same people drink. The first wine from their company, 30A Coastal Dunes, has just been released.
Barnes says the wine is about "friendships, relationships, and the beauty of this area." In fact, the label artwork, done by Allison Wickey, is of 30-A's Western Lake. Barnes describes it as an "identifying and iconic image of the area." He says, "When I first saw that view, it captured my heart and made me wonder how I could move here."
Barnes did move to Santa Rosa Beach in the early nineties, and he's been friends with Modica and his family ever since. Modica considers Barnes "not just a friend, but a brother."
The friendship that is such an important part of this wine extends beyond that of Barnes and Modica. In the mid-1990s, Barnes met Peter and Cathy Seghesio at a local wine dinner. Peter has deep roots in the California wine industry. The friendship grew with the Seghesios taking frequent trips to Florida and Barnes visiting the Seghesios at their home in Healdsburg, California, on many occasions (including his celebration of a milestone birthday). Barnes and Cathy Seghesio even realized they had worked for the same company when both were in New Orleans many years ago.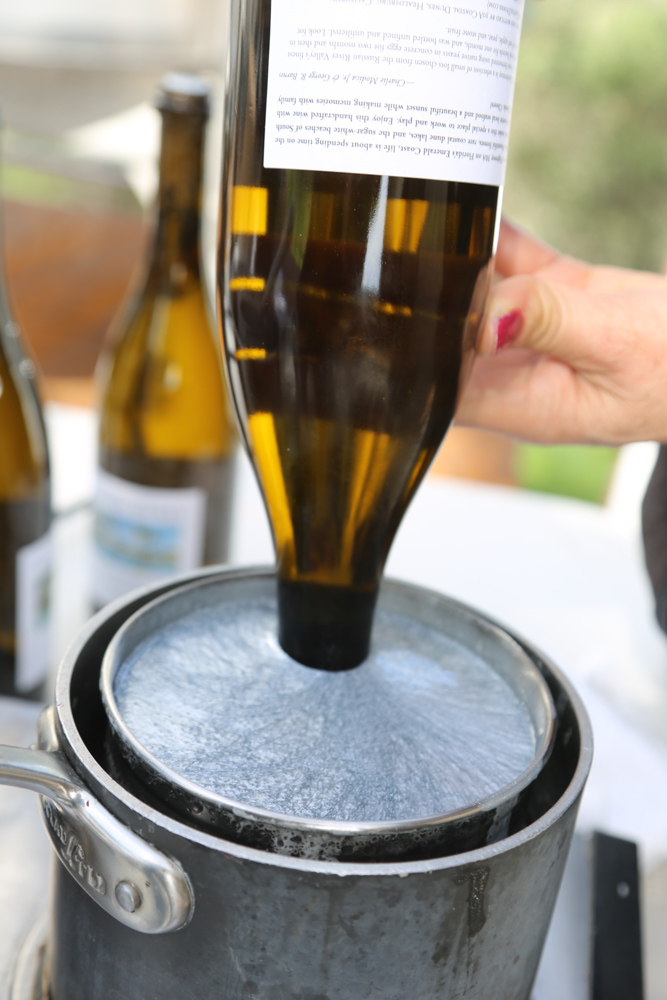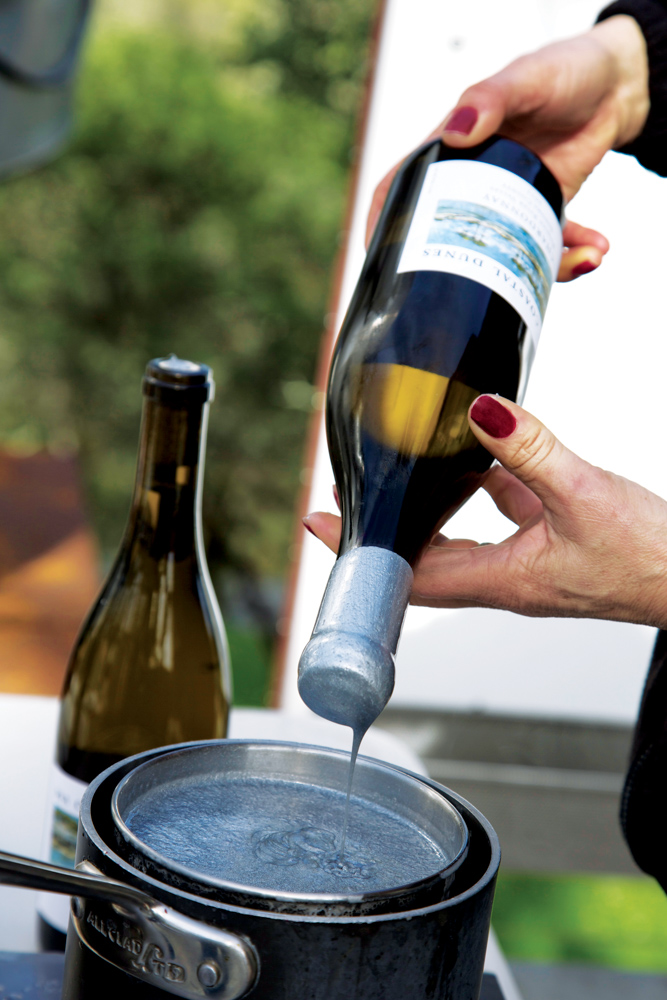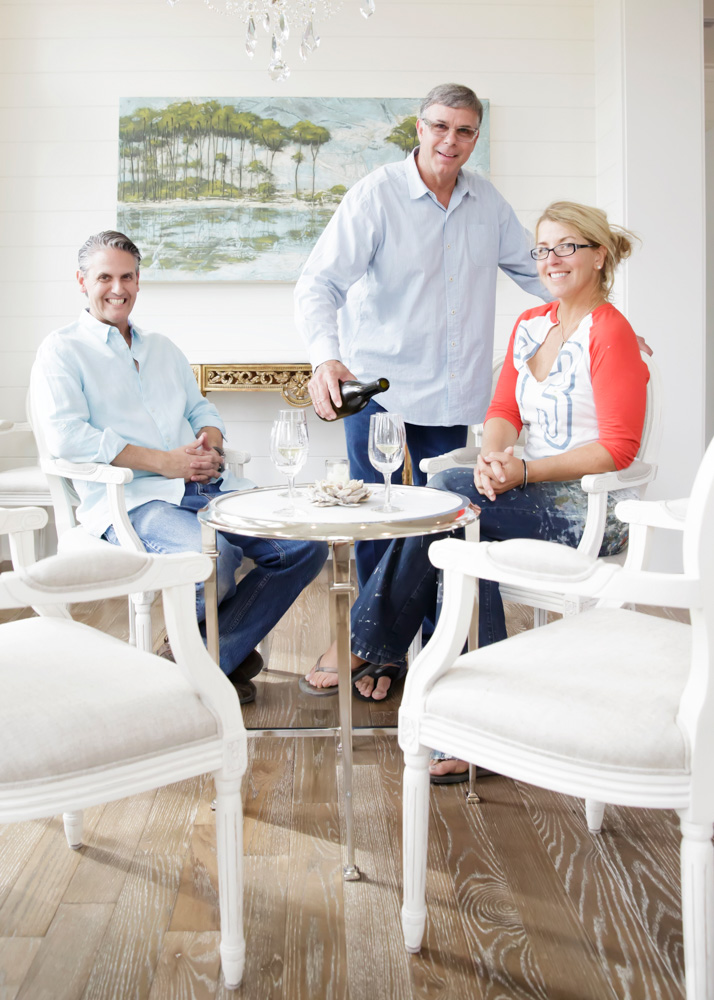 During this time, Modica was also getting to know the Seghesios. They would visit Seaside for Easter each year, and their sons, Joseph and Will, made a habit of having breakfast at Modica Market so their parents could have the luxury of sleeping in.
Peter Seghesio had long encouraged Barnes to come to California not just to visit, but also to create a wine. Barnes finally felt the time was right to team with the Seghesios. Their San Lorenzo Winery is located in the cellar below their home on a vineyard that Peter's maternal great-grandfather, Francesco Passalacqua, started in 1896 (the winery is named for Francesco's hometown in Italy).
The resulting wine is brighter than one produced
in oak, and softer and fruitier than one produced
using stainless steel.
Without question, the grapes that make up the 30A Coastal Dunes wine are important. They come from vineyards in California's Russian River Valley, and while each of the vineyards produces grapes that create excellent single-vineyard Chardonnays, the blend of these carefully chosen grapes makes this a special wine. For example, a hefty percentage of a Montrachet clone is responsible for the wine's lushness, while other grapes add balanced acidity.
Once the grapes are chosen, the next step in the production is one of the things that make this wine so interesting. The juice from those exceptional grapes is fermented in large concrete eggs. The use of concrete in wine production goes back at least to the early nineteenth century. Concrete breathes, whereas stainless steel does not. That helps the wine become richer and more complex. It does this without creating the overpowering oakiness that can occur when wine is fermented in barrels. The resulting wine is brighter than one produced in oak, and softer and fruitier than one produced using stainless steel.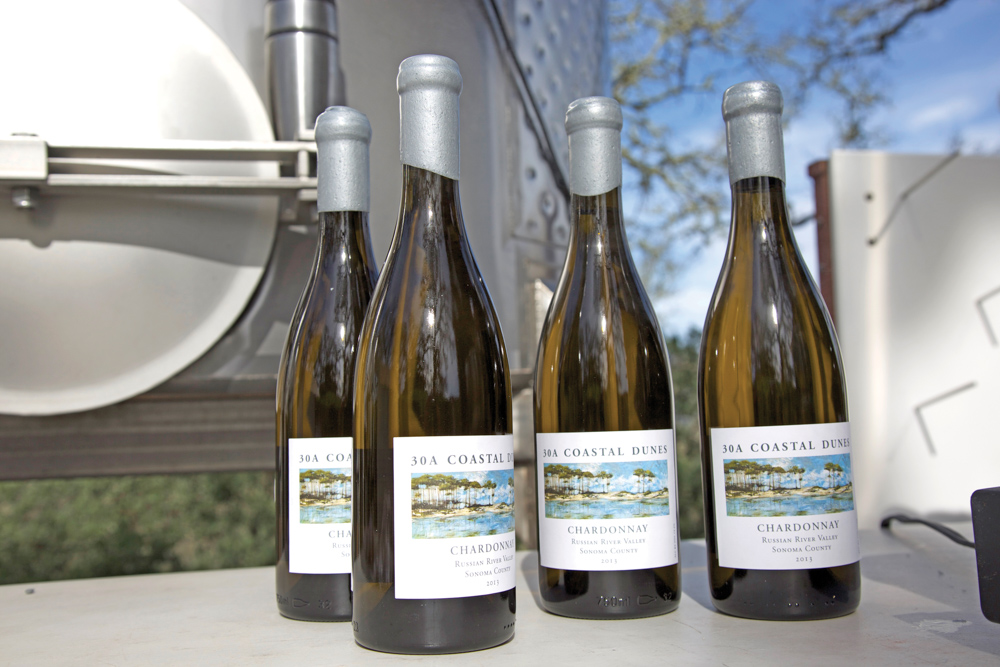 The egg-shaped tank is an innovation of this century. A small temperature difference between the top and bottom of the tank create even circulation throughout the smooth interior. Having no corners in the tank also aids in circulation and creates greater contact with the lees. This helps to develop a wine with more complexity on the nose and the palate.
The combination of the grapes and the concrete egg production makes 30A Coastal Dunes Chardonnay a beautiful wine. It is made in the style of white Burgundy. Its color is a clear straw yellow that hints at the medium body of the wine. A swirl in the glass shows legs that match its 14.3 percent alcohol content. There is abundant fruit on the nose, while the palate exhibits apple and ripe stone fruit. There is just enough oak to impart a welcome hint of vanilla. The mouthfeel is soft and silky.
This unfined, unfiltered wine does double duty. It has a balance of acidity and fruit that makes it drinkable on its own. But it also has sufficient nuances, including a faint minerality, to pair beautifully with a myriad of seafood dishes. It makes the perfect complement to a simple pan-roasted fish, finishing the fish with a sauce using just a bit of the wine to deglaze the pan, and a touch of butter once it reduces.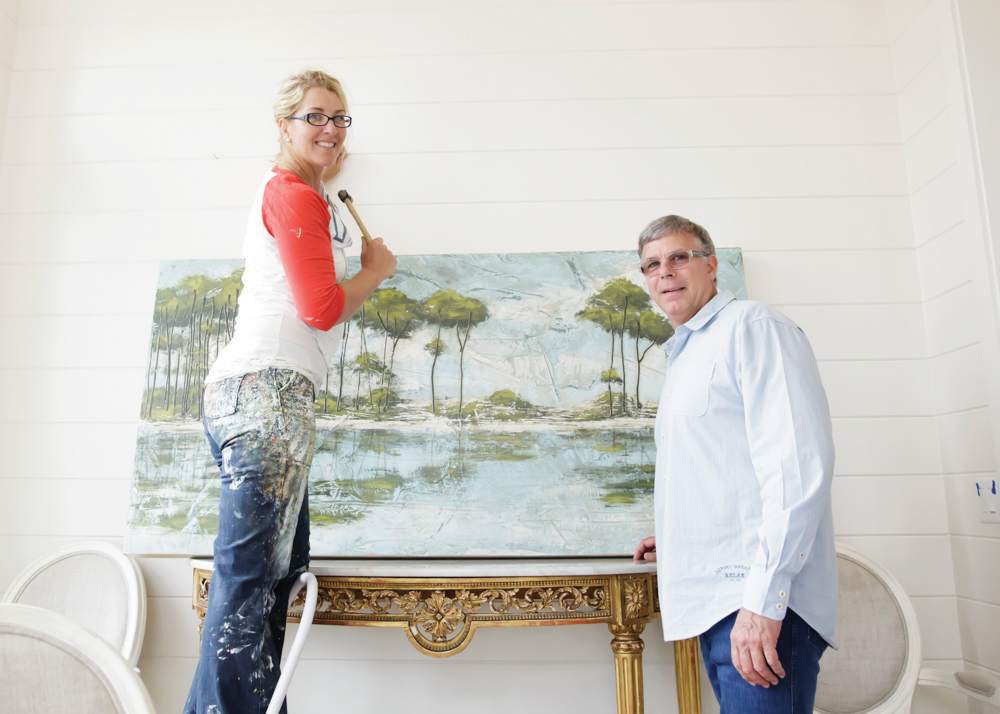 30A Coastal Dunes Chardonnay is distributed by McNeese Distributing, LLC. It will be offered at 45 Central and Great Southern Café in Seaside, 723 Whiskey Bravo and Café Thirty-A in Seagrove Beach, Stinky's Fish Camp in Dune Allen, George's at Alys Beach, the Bay in Santa Rosa Beach, and Edward's in Rosemary Beach by the glass or the bottle. Modica Market will also sell the wine by the glass, the bottle, and the case at a very reasonable price point: in the mid-$20 range per bottle. To keep up with the latest news about 30A Coastal Dunes wines, visit the website at 30ACoastalDunes.com.
Barnes and Modica want 30A Coastal Dunes to be a platform for preservation efforts in the 30-A area; of particular concern is the protection of the fragile coastal dune lakes. And they hope to get others involved in the company. For example, they are considering an artist series of labels for future wines (a red and a sparkler could be offered in the future). Modica says, "We want to encourage others to come on the journey with us." With 30A Coastal Dunes Chardonnay it will be a lovely journey indeed.
— V —
ARTICLE CATEGORIES