Soak up the Sound
By Sammi Accola
Doors open. Locals and friends hold hands, squeezing into trimmed doorways, lifting wristbands and lukewarm beers over their heads to make it in.
"Oh, James, grab that spot!" "Thank God I'm not behind that pillar." "I can't believe I'm sitting directly in front of…"
They've done this before.
The room settles. Four songwriters step onto the carpeted platform, tuning their acoustic guitars and sharing a brief laugh with their musical neighbors as they roll their shoulders back and take in the scene. The room is as quiet as a cathedral, the audience watching the stage and waiting with reverence.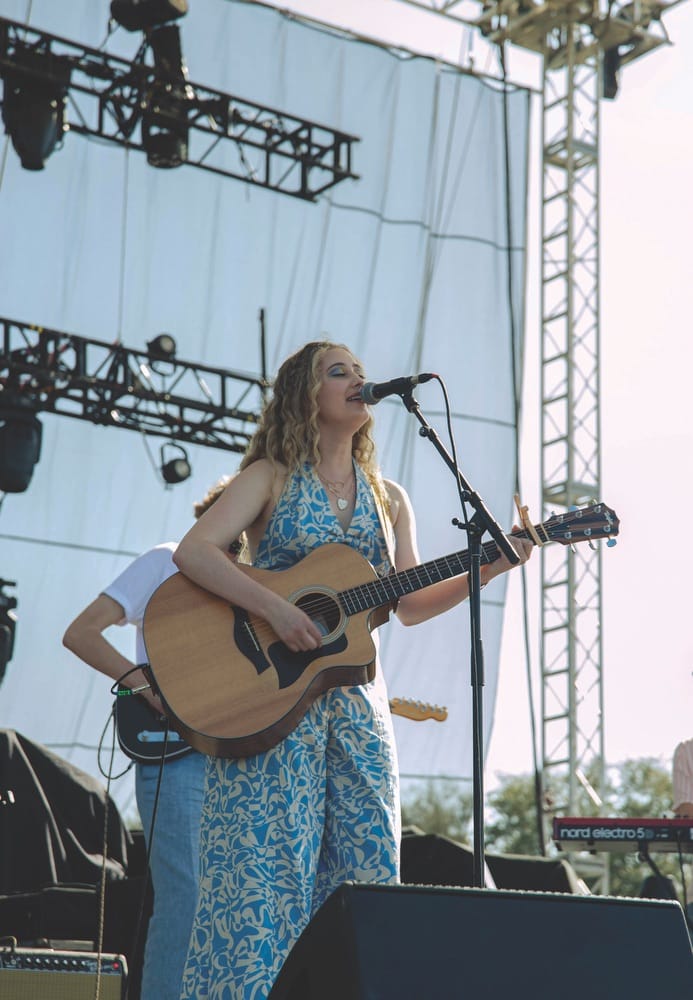 There's no velvet curtain. No fog machine. No neon sign.
The night's MC confidently walks up, waving the microphone before the wide-eyed crowd: "Welcome, everyone! Remember, this is a listening room." This is the 30A Songwriters Festival.
Flashback to 2019: I bought a last-minute ticket from a friend. Meeting me in the decadent lobby of the waterfront restaurant Fish Out of Water (day pass in hand), he sent me off smiling widely with an intentional "Good luck and have fun!"
Setting the Scene—The Watercolor Lake House
Just minutes after receiving the golden ticket, I locked arms with my best friend as we stood in the winding line anticipating the songwriting round. I can still feel the goosebumps, like braille on my neck, from when I first heard the humble voice of Allen Shamblin, Nashville Hall of Fame Songwriter, sing, "I know they say you can't go home again / I just had to come back one last time," from "The House That Built Me."
His words understood me. Not only was I three months from graduating high school and heading to Nashville to pursue songwriting at Belmont University, but I was grieving leaving home.
Before that night, I hadn't met many professional songwriters. To be in such an intimate setting and have a conversation with Shamblin, sharing the unabridged story of his journey in Nashville, changed everything for me. His encouragement to keep writing and listening gave me the pre-college confidence I needed before packing up my Taylor guitar and driving north to Tennessee.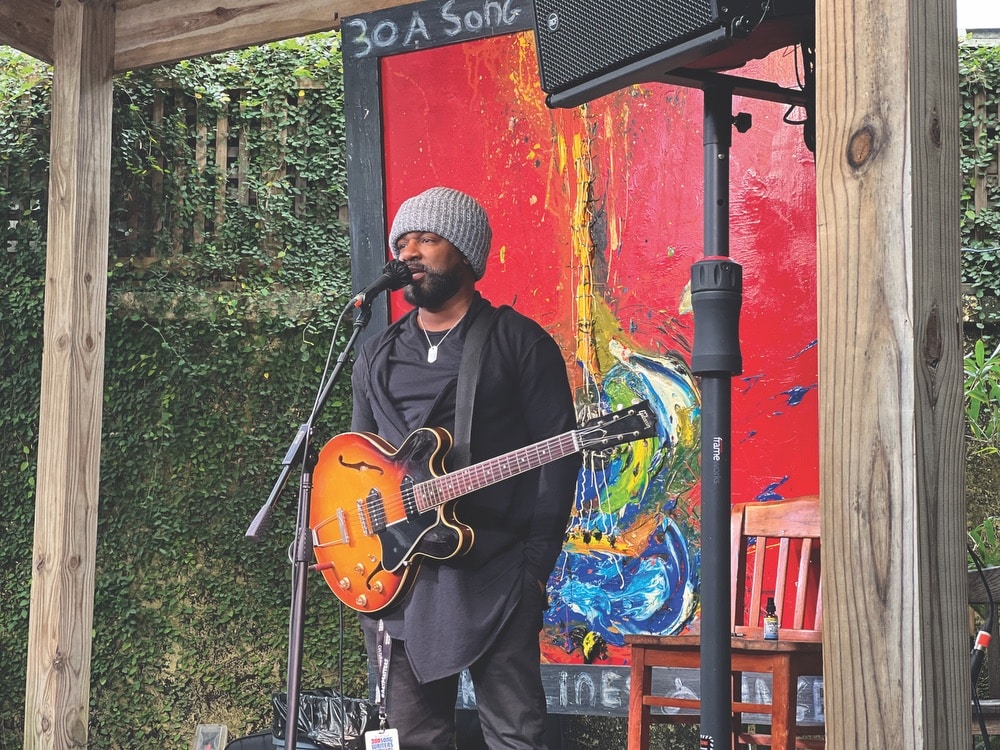 Fast-forward to 2022: Holding the "Artist Pass" lanyard in my guitar-calloused fingers felt like a medal of honor I didn't deserve. Refuting the doubt, I placed the silky cord over my head as though I was graduating summa cum laude.
Sammi Accola. There it was on the check-in sheet for Friday night's lineup. Wait a minute—that is my name. I am performing at the 30A Songwriters Festival.
Playing the festival opened a doorway to meeting my musical heroes and sharing the songs I had been writing for the past three years with the community I loved most. It was my homecoming. I'm from here. I know the sound of the waves, the color of the sunset, and the heartbeat of the people.
The Festival—32 Venues, 288 Shows, and Four Days with People I Know
Sprawling across thirty miles of sugar-white sand and quaint Florida communities, Scenic Highway 30-A sets a utopian scene for music lovers, beachgoers, and creatives to connect with nature and with one another.
Dreamt up by Jennifer Steele, executive director of the Cultural Arts Alliance of Walton County (CAA), 30A Songwriters Festival is a creative collaboration between the CAA and Atlanta-based artist manager Russell Carter. He manages many who play at the festival. "We were thinking it would be a small kind of neighborhood event, and it really—thanks to Russell's involvement and bringing his artists in—grew more quickly than we could have expected," Steele recalls.
The motivated duo brought the community together from Sandestin to Rosemary Beach to produce the first 30A Songwriters Festival in 2010.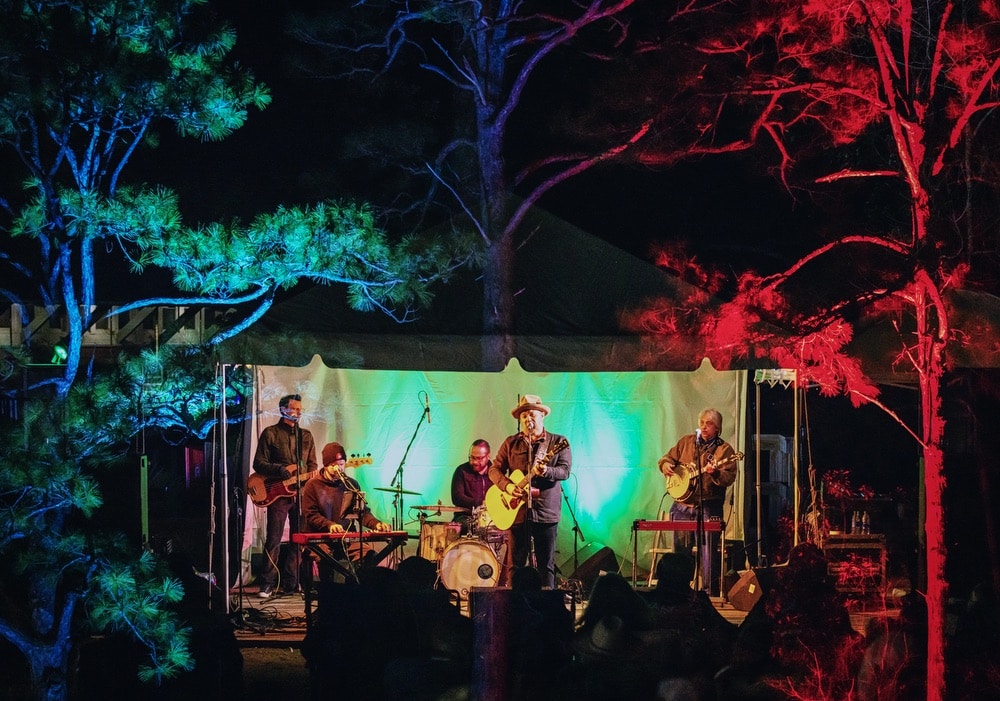 30A Songwriters Festival breathes life into the arts on the Emerald Coast during the winter months. In a lane of its own on a two-lane highway, the cherished weekend experience celebrates songwriters and their unheard stories. From Rickie Lee Jones's mesmerizing set in the overflowing La Cocina restaurant singing "Chuck E's in Love" to the crowd belting out The Black Crowes' "She Talks to Angels" on the main stage, the festival is genre-bending.
"Music is a universal language," Steele says. "No matter your political beliefs, financial background, or upbringing, music speaks to everyone. It brings us all together."
The festival is a penned-in calendar staple for many performers and fans alike.
"We've been playing 30A Fest since it started, and it has become a tradition for us now," says SESAC Country Song of the Year-winner Brian White. "Due to the pandemic, 2021 was the first year we missed, and it just set us off on a weird note. It is good to be back."
Invited back year after year, songwriting couple Brian White and Karyn Williams lead the gospel brunch on Sunday morning at the mainstream festival. "As a songwriter, you're always looking to find those places where you can inject hope," Williams shares.
Voices—Singers, Songwriters, Floridians, and Fans
"When you bring 250 artists who write music to the same community, it creates a culture of creativity," Russell Carter says. "These songwriters represent the social consciousness of our society—the poets of our generation."
"We've been here since year two and haven't stopped coming," shares songwriter and producer Scott Parker. "The people here know what to expect from a listening room and pay attention to the words we sing."
"When we go to 30A Fest, it feels like I just took all my favorite singer-songwriters from Nashville and transported them to the beach," recording artist Liz Longley adds. "It's a great way to connect with my music community and meet incredible new artists."
"The festival is all about the writers, not necessarily the hits," says vocalist and songwriter Caryl Parker. "As a rule, it's not an intimidating place because it is about the songs."
30A Songwriters Festival is for the young, the old, the musical, the nonmusical, the listeners, the performers, the songs, and the songwriters.
But, most of all, it invites friends and strangers to laugh and cry together like a family.
This is my home. Come and stay a while!
— V —
---
For more resources on 30A Fest and updates on the 2023 lineup, visit 30ASongwritersFestival.com.
ARTICLE CATEGORIES