By Anne Hunter |  
Photography Courtesy of BHLDN
When the creators of Anthropologie dreamed up their luxurious bohemian bridal fashion line, BHLDN, they hoped to appeal to today's brides by offering romantic styles and a unique online shopping experience. Since its launch in 2011, BHLDN has become known for its imaginative approach to every element that makes up a wedding. BHLDN is quickly growing into one of the premier brands in the business, and VIE has watched its progress with great interest.
The company's name, a rendition of "Beholden," was inspired by the Dutch word behouden, meaning "to keep and protect." It seems fitting, then, that BHLDN's mission is to commemorate each bride with heirloom-quality wedding gowns, artisanal hair adornments, vintage-inspired jewelry, stunning footwear, and unique decor. Created as a sister brand to Anthropologie, BHLDN's passion for creating one-of-a-kind moments runs deep. BHLDN offers exclusive styles commissioned by top designers like Anna Sui, Peter Som, Badgley Mischka, Catherine Deane, and Katie Ermilio. Their dresses have gone viral, spilling onto the pages of Instagram and Pinterest, and capturing the attention of brides-to-be on the hunt for the perfect dress.
Without a doubt, BHLDN has embraced the changing face of shopping and pioneered the path to the virtual wedding boutique. BHLDN's managing director, Nicole Sewall, explains, "When we launched as an online business nearly two and a half years ago, we were convinced this was the right place for us. BHLDN brides were already doing much of their wedding planning online, from Pinterest to Etsy to blogs. These customers were looking for something different, not only in terms of their gowns but from the shopping experience in general."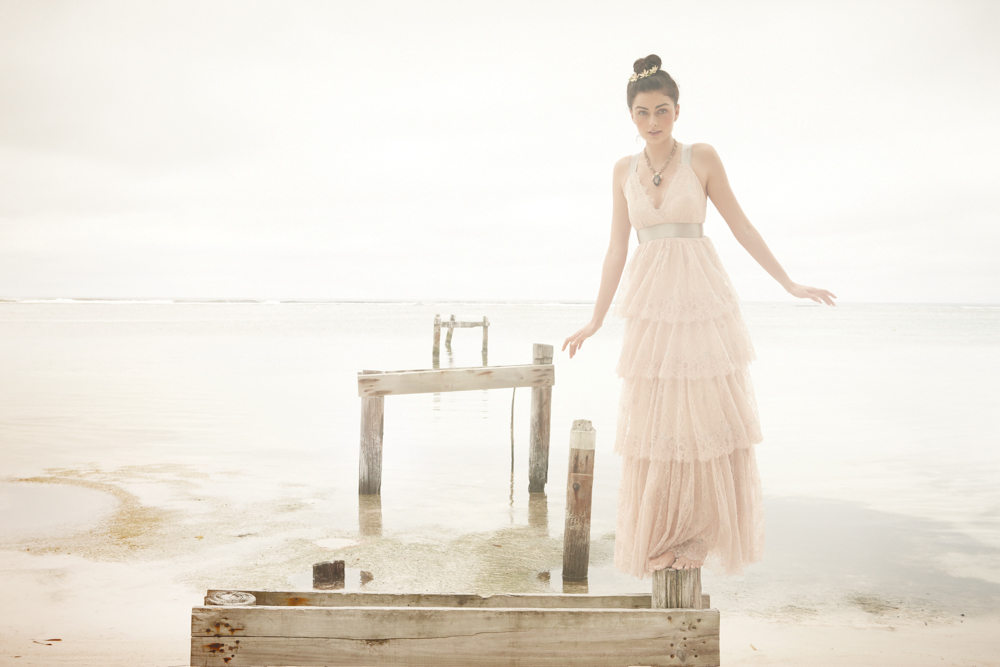 Today, the full BHLDN collection is sold through its website and at two boutiques, one in Chicago and one in Houston. In July 2013, BHLDN will open its first permanent shop-in-shop on the mezzanine level of Anthropologie's Beverly Hills store.
Earlier this year, BHLDN representatives stopped by six Anthropologie stores with trunks packed full of their favorite gowns. "We've traveled to New York City, Atlanta, Kansas City, Minneapolis, Seattle, and the Bay Area," says Ashley Fossile, public relations manager at BHLDN. "This was BHLDN's first traveling trunk show, and we were every bit as excited about it as our brides-to-be! We do hope to continue to travel around the country for trunk shows, and you never know where we'll turn up next!"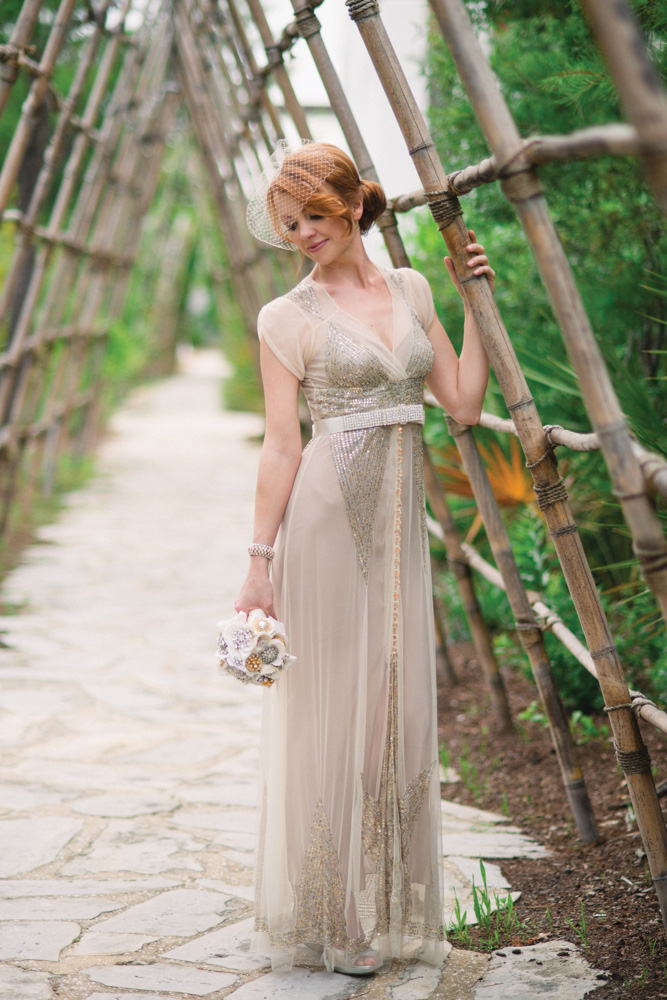 A LOVE STORY TO BEHOLD
At BHLDN, they say, "It's love stories that move us, inspire us, and sweep us away," so VIE set out to find one of those stories.
The Bride: Christine Tarpey
The Love Story:
When Christine Tarpey landed in Las Vegas, she didn't know what was in store. The trip that began as a working sabbatical with her girlfriends turned into a two-year adventure that led her to her dream man. "I had been in Vegas for one year, when I received a call from one of my former managers telling me they were hosting a casting call for ABC's The Bachelor, says Christine. "My first response was, 'Yeah, okay, that's funny,' but my roommates wanted to go for the experience. We were single, in our midtwenties, and living in Vegas, so why not?"
Christine thought it was a joke when the talent scout called her back for a second casting call in Los Angeles, and a twist of fate when, that same day, she received a call that Mario Batali was looking for a lead female bartender for his new Las Vegas steak house, Carnevino. As fate would have it, The Bachelor and Mario Batali set their interviews for the same day. Christine had to choose one.
"I called my mom and we talked it over. I didn't want to be a reality TV girl. I said 'no' to The Bachelor, and 'yes' to Batali!" Christine was a bundle of nerves when she sat down for her interview with Carnevino's general manager, Patrick Tarpey, but it was more like a conversation than an interview. "The whole room felt suspended—invisible. It felt as if time stood still." Christine left the interview knowing that the job was hers, and Patrick left wondering if he should hire Christine or date her. Three months later they were dating, and five years later, Christine said "I do" in a beautiful ceremony at Alys Beach, Florida, wearing the Aiguille gown designed by Anna Sui for BHLDN.
I knew he was the one because I never questioned it once. I felt it inside. It was meant to be. We are best friends and soul mates. In the end, I got the job and the bachelor!
Christine first clicked on BHLDN's site in December 2012 to find their newest releases, and the Aiguille gown caught her eye. "I watched the virtual model walk in the Aiguille gown over and over again. I literally stalked that dress! It screamed of Daisy from The Great Gatsby. I watched it almost every day until Christmas Day. That night, I bought myself the best Christmas gift ever! Three days later, it was delivered to my door."
BHLDN offerings include a thoughtfully edited collection of wedding dresses, maids' frocks, and accessories such as meticulously crafted veils, sparkly baubles, and decor—all created for the bride who seeks something a little different. Their styles are timeless—vintage-inspired, but decidedly modern.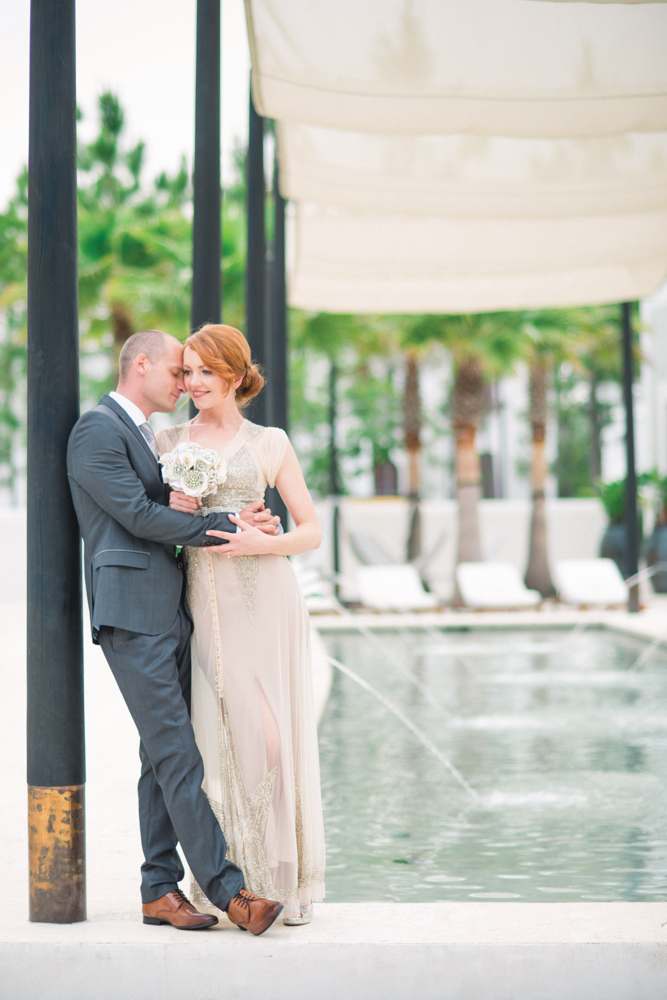 When women pick out their gowns and try them on for the first time, they usually have a gaggle of friends with them, but I was home alone. The doorbell rang, and there was no mistaking from the size of the box what had just been delivered. It fit perfectly! Just like meeting Patrick, it was meant to be!
Christine found her own way to the Aiguille gown, but BHLDN has a dedicated team of stylists to answer any questions, from fabric to fit, alterations to accessories—it's a bride's own virtual wedding team. "The BHLDN website is set up so well with reviews from 'real' women. The virtual catwalk and the customer service were amazing!" says Christine.
Brides can browse the entire BHLDN collection at their leisure, and purchases are typically delivered to their doorstep within five days. "I liked BHLDN because they gave me a style that was timeless but fashion-forward without forgetting the traditional bridal elements that I love," adds Christine. "Their twist of romance-meets-whimsy felt so Gatsby-esque and made me feel both vintage and modern at the same time. It felt like I was starring in my own movie!" And that rings true, since Christine's love story has the makings of a real-life movie.
— V —
---
More information about BHLDN and their full line of offerings can be found on their website, www.bhldn.com.
ARTICLE CATEGORIES