An Insider's Tips for Exploring the City
By Barbara Lippert
Any guide to New York City is a daunting prospect to put together or to peruse. As that still-powerful but now sort of cliché song tells us (turn up that Frank Sinatra sound on the Victrola), if you can make it there, you can make it anywhere.
New York attracts residents who are always striving for their competitive best. Talk about "out-there": these people don't want to stay anywhere near the lines or the box. Therefore, getting recommendations is tough. Once a place becomes a "thing," it becomes so overcrowded (or worse, so two days ago), that the recommender is already moving on. That's why I've decided to focus on a few discrete areas that have emerged in the last decade as full of life and charm for visitors: the High Line/Meatpacking District in Manhattan and Brooklyn's neighborhoods of Williamsburg and Bushwick. Enjoy!
One of the marks of a great city is its ability to restore itself—how the nineteenth-century factories and train platforms of the Industrial Age, for example, can be transformed into a dynamic public garden and walkway. That area then becomes a magnet for new and inventive shops, hotels, museums, and eateries to pop up around it and reclaim the neighborhood.
That's the story of Manhattan's High Line, a wild yet urban aerial greenway built on a historic elevated railroad line that starts at the Hudson River on West Thirty-Fourth Street and continues for about a mile and a half south to the Meatpacking District.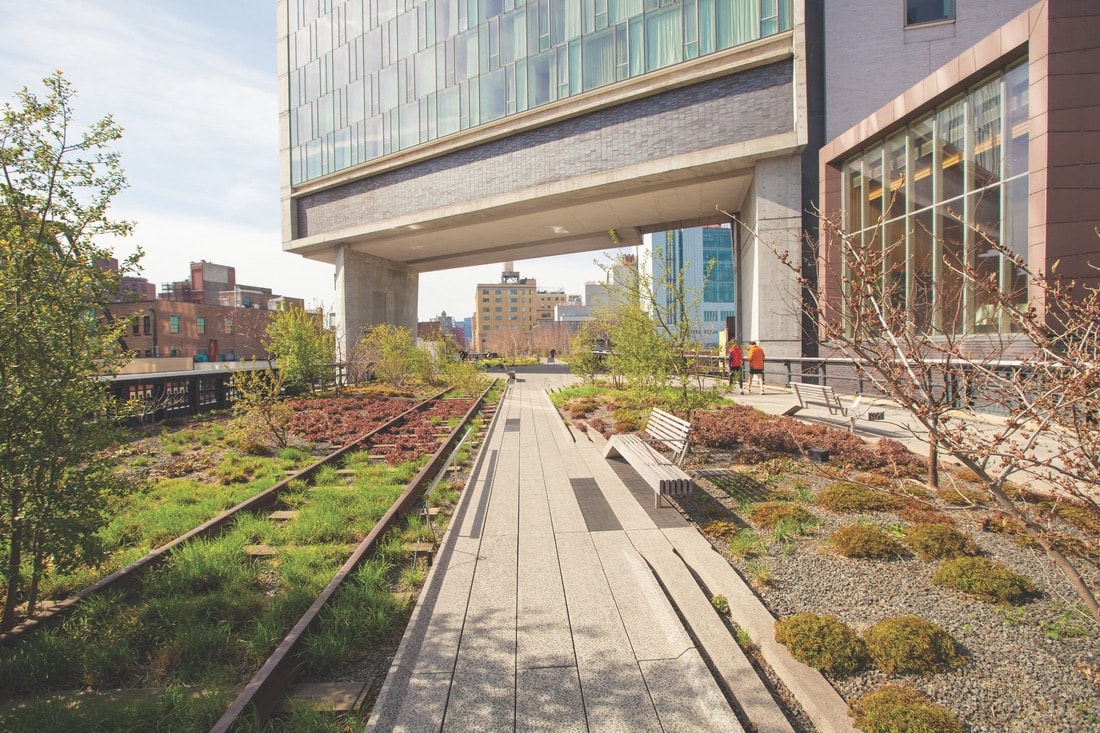 First opened in 2009 and then built in stages, the wood-planked High Line walkway has a wild, natural, overgrown aesthetic. It is the work of contemporary Dutch landscape designer Piet Oudolf, who took his inspiration from the self-seeding flowers and grasses that emerged naturally on the rusted tracks after the train stopped running in 1980. Designed with eleven access points with stairs and elevators, the public park boasts artisanal snack vendors (natch!), art installations and sculptures on rotation, and views of colorful murals painted on the sides of the surrounding factory buildings that are now home to new tech businesses and more.
The walking experience is particularly pretty at sunset, but the elevated park is open rain or shine—although it occasionally closes for bad winter storms. While you're there, don't forget to stop and smell the prairie dropseed, a native grass that's oddly fragrant.
While walking, it's hard to miss the übercool Standard Hotel, an architectural tour de force of modern concrete and glass built on stilts that straddle the High Line. It's a particularly great spot for people watching, one of the many pleasures that a stroll on the High Line presents. The Standard has become famous for turning passersby into accidental voyeurs, as some guests tend to forget (or not) and stand nude or semi-dressed in front of their room's expansive floor-to-ceiling windows.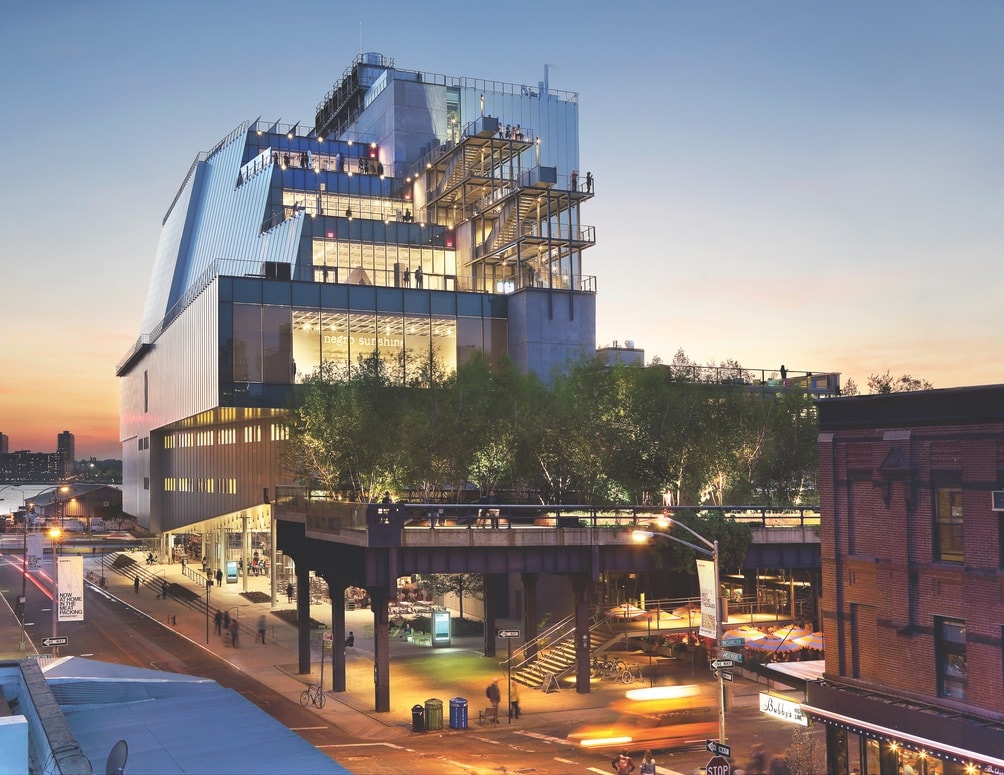 And with its rooftop bar and penthouse discotheque, the Standard still sets, well, a standard for Hipsterville on the Hudson. If you're thinking of staying there, the rooms are small but offer comfy beds with chic linens, stunning city and Hudson River views from the aforementioned floor-to-ceiling windows, a peek-a-boo shower with tub, a sitting area, room service, and free Wi-Fi. They're also not as pricey as some uptown hotels, and deals can be found through various online hotel aggregators.
The Standard has become famous for turning passersby into accidental voyeurs, as some guests tend to forget (or not) and stand nude or semi-dressed in front of their room's expansive floor-to-ceiling windows.
While part of its profile no doubt consists of the million-dollar views, the Standard is also firmly rooted on the ground—on those nineteenth-century Meatpacking District cobblestones, to be exact—alongside an array of crowd-pleasing destinations.
Among them, the Standard Biergarten offers a lively indoor-outdoor carnival-like experience with twinkling café lights and garden hedges, communal picnic tables, and a host of gaming and ping-pong tables outside. The inside offers a more buttoned-up experience. The food is German influenced, heavy on sausage, potatoes, and humongous pretzels. With a dizzying depth of lagers on tap, it's heaven for beer drinkers, but an array of specialty cocktails is also available.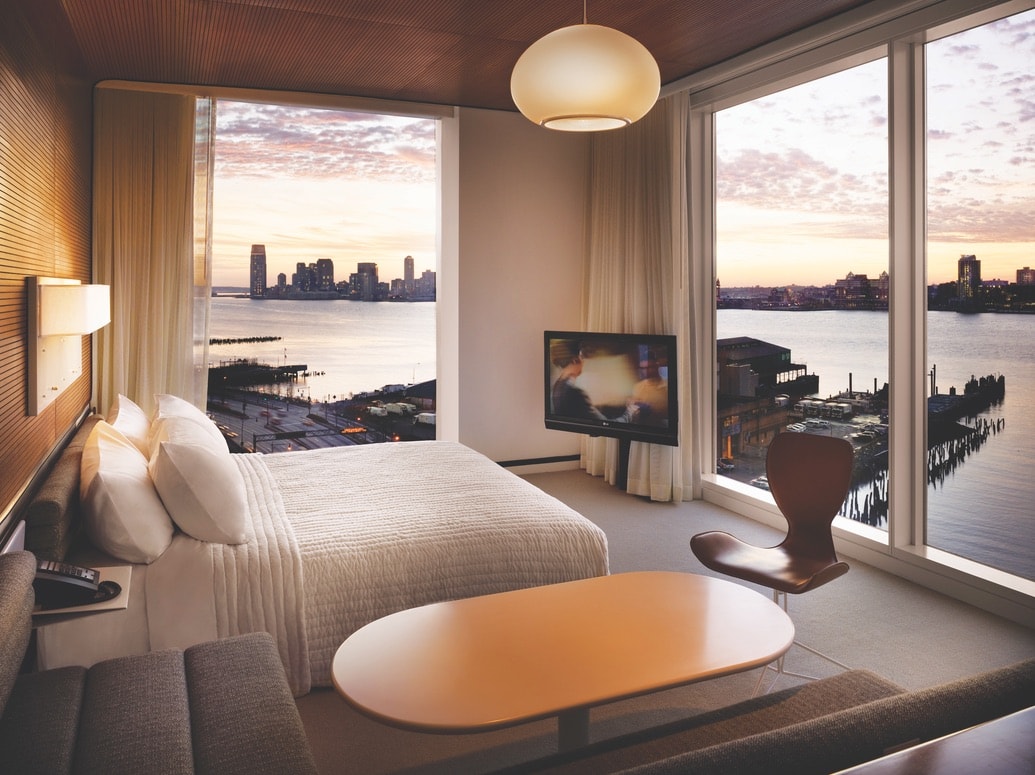 For a dazzling cultural fix, it's a quick walk from the Standard to the Whitney Museum, which famously moved from upper Madison Avenue to the foot of the High Line in 2015. The Whitney is a must-see, first for the soaring Renzo Piano–designed building, which resembles a high-tech ziggurat with cantilevered outdoor terraces. The galleries inside are airy, soaring, changeable spaces. Immerse yourself in the five floors and get a crash course on twentieth- and twenty-first-century American art and photography. You'll see many originals by Edward Hopper (painter of Nighthawks), works by Thomas Hart Benton, and the colorful mobiles and intricate circus works of Alexander Calder. The collection also includes thirty works by Kara Walker, a young woman of color who focuses brilliantly on the history of slavery through images of women.
The museum is famous for its often-controversial picks for its biennial exhibitions, curated to showcase up-and-coming and otherwise unknown American artists.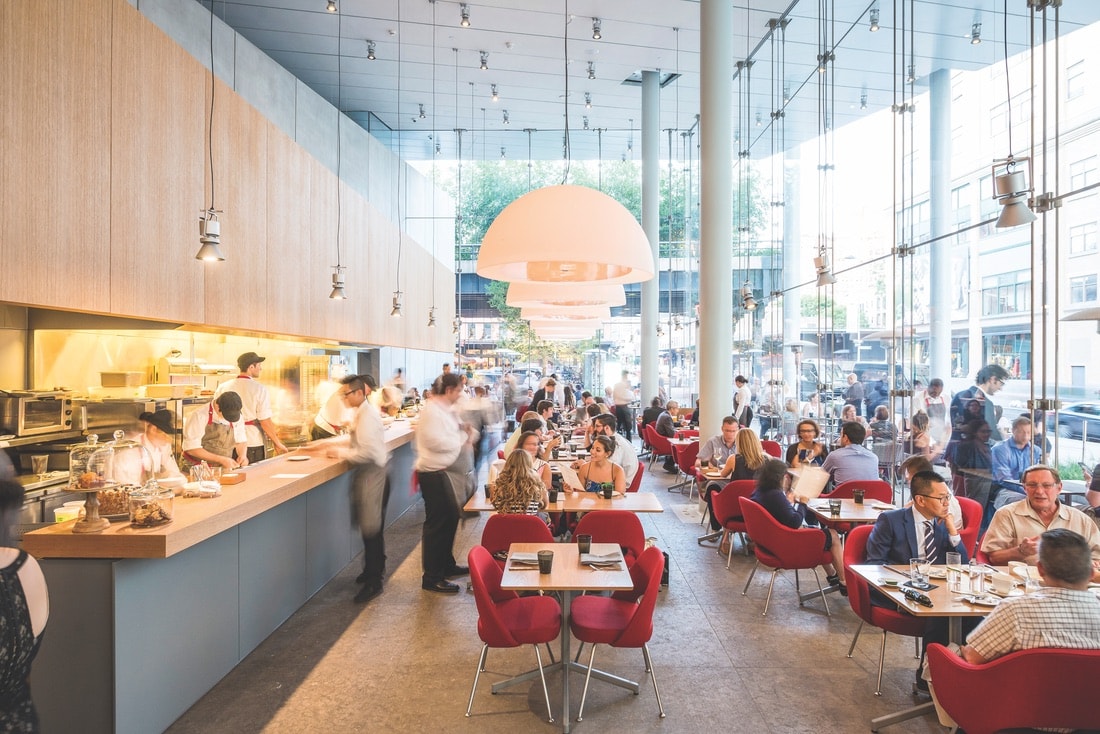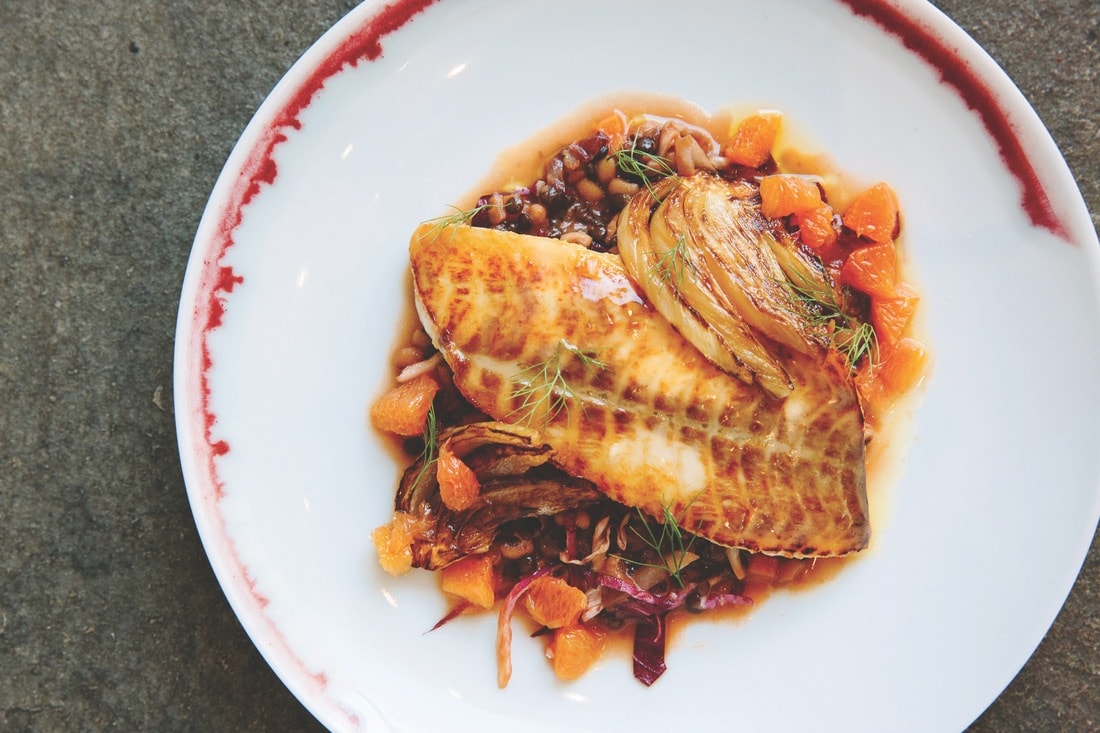 Should you start feeling hungry for more than the visual eye candy, there's an easy answer in the Whitney's lobby restaurant. It's called, cleverly enough, Untitled, and it's the newest offering from restaurateur Danny Meyer, who excels at hospitality and owns other beloved NYC foodie mainstays, including the Modern (down the block from MoMA), Gramercy Tavern, and the still-great Union Square Cafe. At Untitled, executive chef Suzanne Cupps produces a flamboyant, lively, overflowing version of farm-to-table cuisine. The dishes have snap and juice because they're composed of such fresh ingredients. Try the fried chicken and griddled leeks (you'll probably never otherwise become giddy over a plateful of leeks) and the golden tilefish with curried squash. There's also a huge wine list and exquisite homemade desserts that are worth every indulgent spoonful.
Try the fried chicken and griddled leeks (you'll probably never otherwise become giddy over a plateful of leeks) and the golden tilefish with curried squash.
Should you be looking for a meal that's a little spicier, try Salinas, a hot spot in Chelsea serving food from Spain's Mediterranean coast, the work of chef Luis Bollo. The space is a limestone grotto with a water wall and candlelit garden beneath a retractable roof. This is the place to order small plates—the best eats on the menu are the authentic, boldly flavored tapas-style dishes. Salinas has fantastic cocktails and wines that add to the buzzy scene, like great restaurants in this neighborhood are expected to do.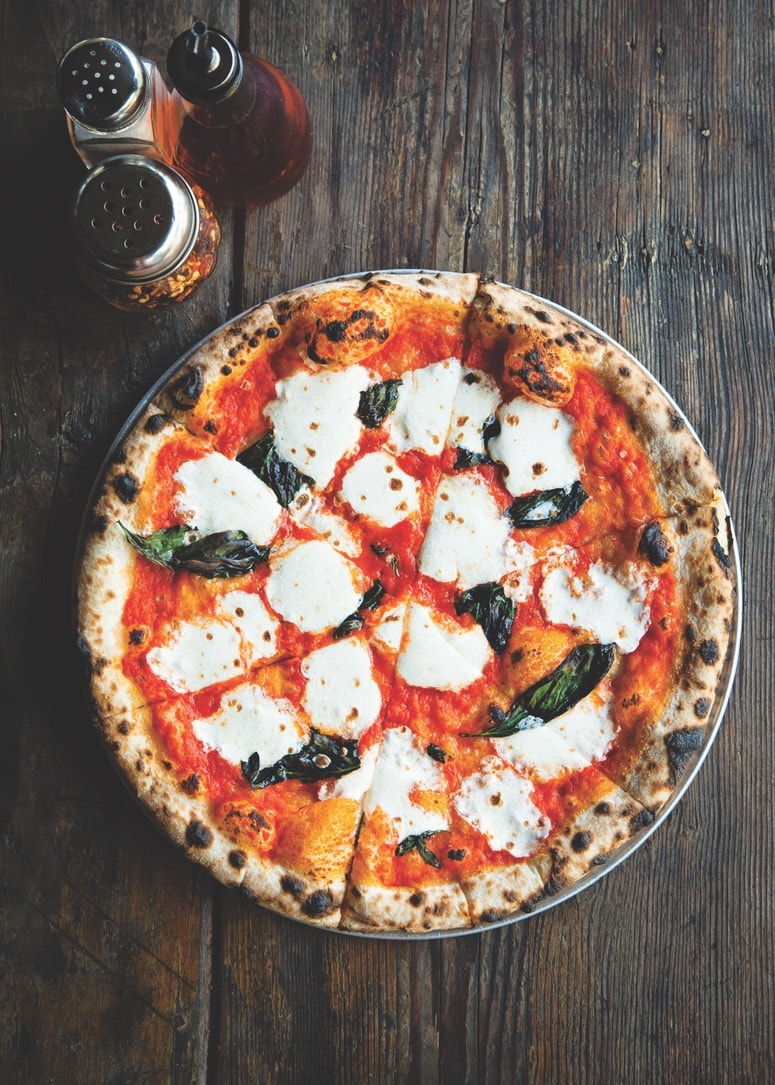 Craving a New York City pie? As you might know, there are hundreds, or even thousands, of great pizza places in the five boroughs. Ask an average New Yorker their favorite one, and you'll get an amazing number of divergent answers, each backed up with a passion that could start a knife (or even a pizza cutter) fight.
But among the true cognoscenti, there is often only one answer: Roberta's.
Let's venture across the East River to Bushwick, part of Brooklyn that was rougher than Williamsburg (and farther from Manhattan) just a couple years ago but is now becoming equally cool.
Be prepared to go off the beaten path, as Roberta's entrance is a little hard to find—it's just a graffiti-covered metal door with a sign above it. Once inside, however, you feel as if you've entered a magical new world. The pizzeria is a giant room with a quirky, rustic vibe and fairy lights. You can also meander through to the back-patio tent where you'll find a bar and picnic tables that somehow combine to look like a scene from a trendy music festival or fair. The restaurant also boasts a significant garden from which it plucks some of its fabulous toppings.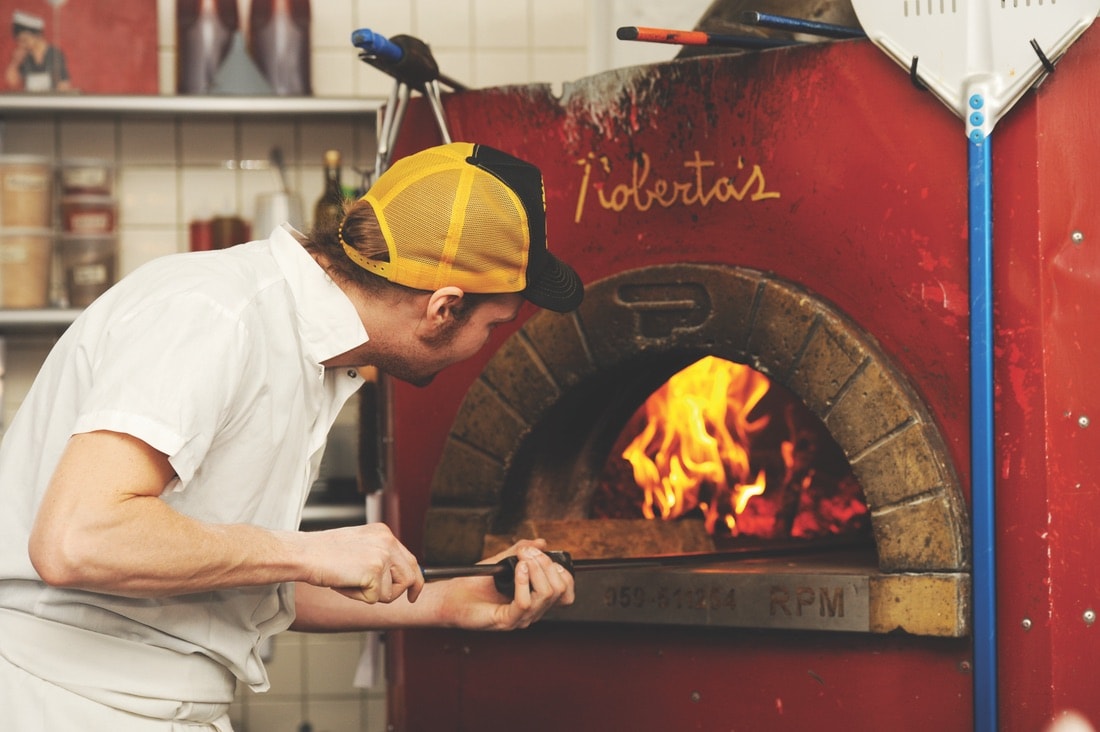 Inside there are massive pizza ovens, and while everything on the menu is good, any sort of pie is always delicious. As with its furnishings, Roberta's pizza is simple yet complex, traditional yet inventive, and one of a kind with unexpected toppings. The menu choices change from lunch to brunch to dinner, but among the hilarious/bad punny pie names are the Lil' Stinker (three cheeses, garlic, onion, and pepperoncini), the ShroomsDay Device (featuring oyster mushrooms), the Boo Radley (radicchio, pancetta, scallions, and jalapeño), and the Axl Rosenberg (soppressata, jalapeño, garlic, and mushroom). Ask if you can go off-menu and order the Cheesus Christ.
Roberta's also offers a delightful array of T-shirts that have become worldwide collector's items. Browse but be prepared to fight off a German tourist for the one that catches your fancy.
Marlow & Sons is an inherently laid-back place that offers the comfort of a private clubhouse—perhaps because that's how it started out. One of the first great restaurants in Williamsburg, Marlow & Sons opened when that part of Brooklyn was transitioning from crumbling warehouses to Brooklyn's new trendy spot, but the restaurant has kept it real. The seasonal menu is reliably exceptional, and the wine list matches that excellence.
Now that Williamsburg has blown up with sophisticated residential glass towers and the pricey shops and amenities that go with them, Marlow & Sons is always packed with both locals and American and European tourists staying in nearby hotels and Airbnbs.
As for hotels, brilliant new places to stay pop up every day in Brooklyn, and they all belie that tough "attitude" for which the borough used to be known.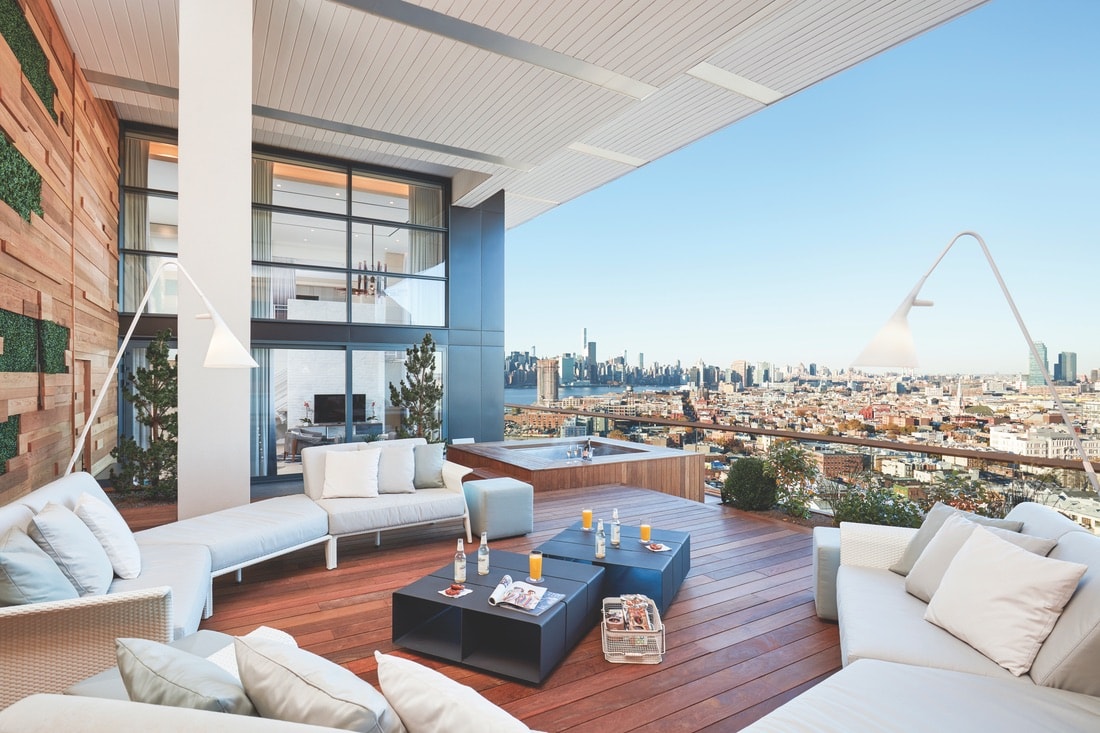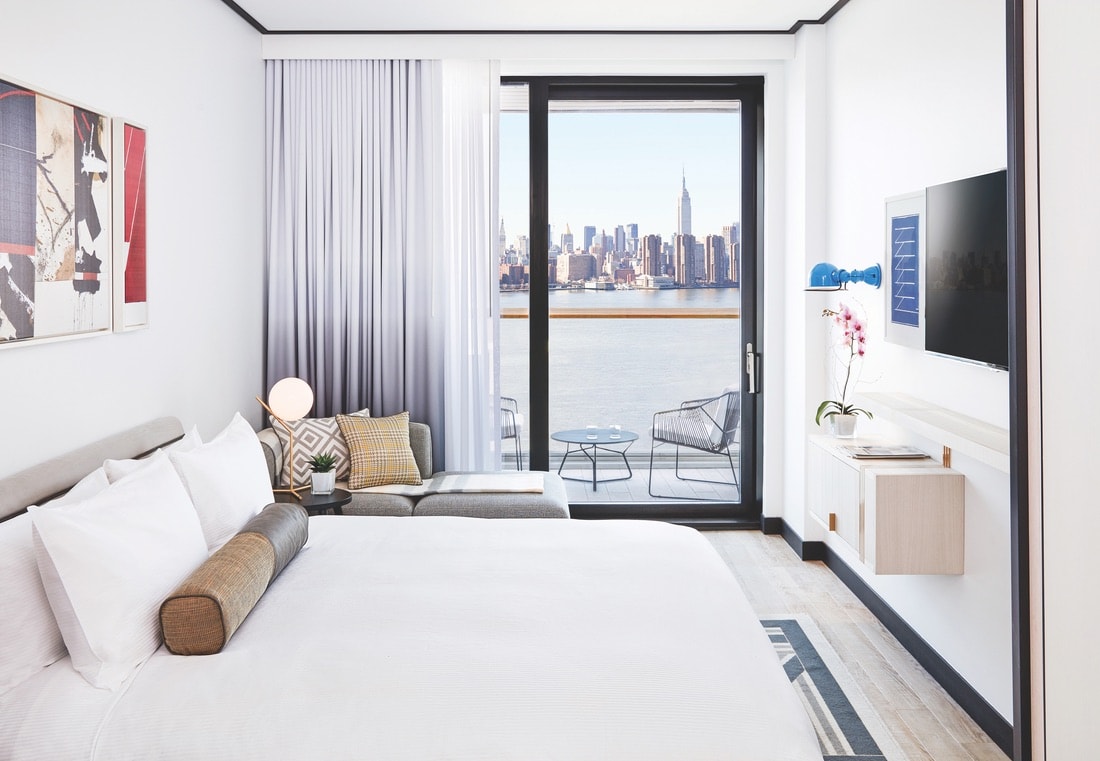 We'll start with the new kid in Williamsburg, The William Vale, a futuristic Albo Liberis–designed architectural landmark that towers over the neighborhood, offering the best views in Brooklyn and a private terrace outside every room. The rooms are small but feature modern-luxe furniture and pops of color from a rotating collection of local artwork. The hotel also has a sixty-foot pool, a great Italian restaurant called Leuca, and a romantic rooftop cocktail bar, Westlight. All this comes with a standout level of service. There is a William Vale Lobby Ambassador who looks out for new arrivals and attends to their needs to make guests feel at home—he's loaded with juicy conversation and tasteful recommendations, from theaters to wine bars to clothing stores.
The hotel also has a sixty-foot pool, a great Italian restaurant called Leuca, and a romantic rooftop cocktail bar, Westlight. All this comes with a standout level of service.
Should you be experiencing a birthday during your stay, you'll be welcomed to your room with a complimentary half dozen donuts from the famous Du's Donuts nearby.
Any visit to Brooklyn begs for a stop at the Brooklyn Museum, the borough's greatest art museum. The collection holds some 1.5 million works covering five thousand years of art history, starting from ancient Egypt and continuing through to the fantastic contemporary paintings of Jean-Michel Basquiat. Within that collection are several famous pieces by Cézanne, Monet, and Degas to worship if you like the Impressionists.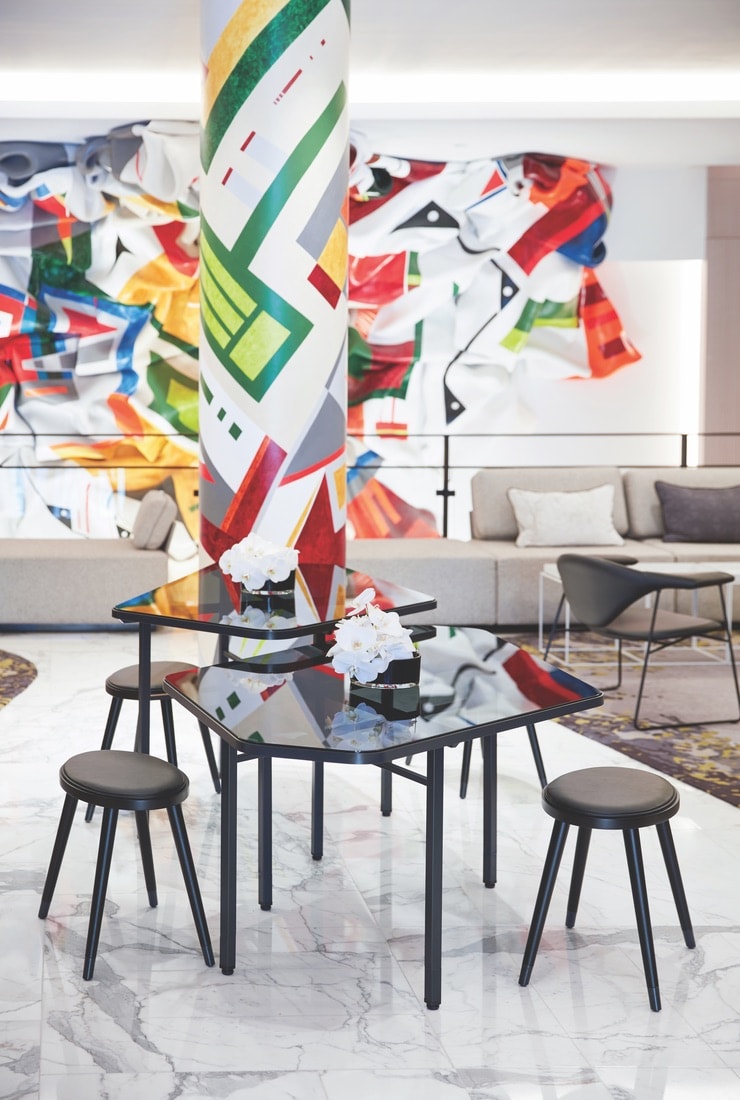 The Brooklyn Museum is also the permanent home of artist Judy Chicago's The Dinner Party (1974–1979), a celebrated icon of feminist art. Designed in the form of a huge triangular table, the installation has thirty-nine place settings, each representing a historically significant woman. "Guests" include Sojourner Truth, Virginia Woolf, and Georgia O'Keeffe. Each place setting bears porcelain plates personalized for the historical figure "seated" there (the details and insights are amazing), as well as individually embroidered tablecloths.
Try to get to the Brooklyn Museum before July 15, 2018, when the David Bowie is show ends its run there. It has already traveled around the world and has been heralded as one of the most engaging and exciting exhibitions ever created—even if you're not much of a Bowie fan. The show includes stereo headphones that automatically change what you hear based on your exact location in the space—mixing music, narration by Bowie himself, archival material, news footage, and more. The visual contents include video installations, gorgeous examples of his custom-designed original performance costumes, Bowie family historical materials, handwritten notes, posters, personal correspondence, and a movie-theater-size auditorium playing footage from Bowie's sold-out 1970s concerts in NYC and rare scenes from the legendary Diamond Dogs tour. Later in his life, Bowie became a proud New Yorker, and his love for the city—with all of its quirks, stains, and growing pains—shows. And New York sure loved him back.
This is but a tiny taste of what the Big Apple has to offer, but it's a good start for any New York newbie looking to explore some of the unique spots in a few of the city's trendiest neighborhoods.
— V —
---
Barbara Lippert writes about media, politics, ads, and women. Currently, she's a columnist for Ad Age; previously she wrote Mad Blog for MediaPost.com, which started out as an episode-by-episode deconstruction of Mad Men. For many years she was an award-winning ad critic for Adweek and has also written for New York magazine, Vogue, Glamour, Newsweek, the Washington Post, and the New York Times. She lives in New York City.
ARTICLE CATEGORIES