By Suzanne Pollak
The table setting is a horizontal short story using objects instead of words. You can share your past, your passions, a grandparent, your family, or your mood right on the dinner table. As with any writing, you must use your imagination and channel what matters most to you. However, telling a story on a tabletop is much less labor intensive than writing with words—I promise!
Keep Grandmother on the table. If you were lucky enough to inherit silver, china, or knickknacks from a relative, do not ignore these treasures. If they are not precious to you, sell the lot. Otherwise, get these objects out of the felt storage bags in the attic and lay them on the table! Those knives and forks, plates, bowls, and other things have stories attached to them. Did your grandparents buy this piece on their trip to Athens? (Greece or Georgia makes no difference.) Did their flatware come from Denmark? Are those little crystal sculptures awards your grandfather earned throughout his career? Let the table tell the family tales.
Allow the kids to have their say—and Dad, too, for that matter. Make everyone relevant by asking and expecting the people you live with to contribute instead of whining "What's for dinner?" or "I'm not hungry," blah-blah-blah ad nauseam. It's a fact that once people have labored, they have ownership of something. And when they work, they talk, even if only to explain their contributions. You have given these people something to be proud of. So what if the centerpiece is an ant farm and the plates are paper? It makes no difference whether or not the forks are to the left of the plate. What is important is that you make a big deal about the effort expended. Your compliments will lead to more offers of "Can I help?" Why, yes, you can!
Things thieved can be centerpieces, too. When a neighbor leaves town or has yet to wake up, I might occasionally walk by his place, clippers in hand, and reach over the fence to do a little snipping. Yes, I am a thief; but plants keep growing, and my table needed that special color, texture, leaf, or flower that was hanging at the edge of his garden. Can't we all share our bounty?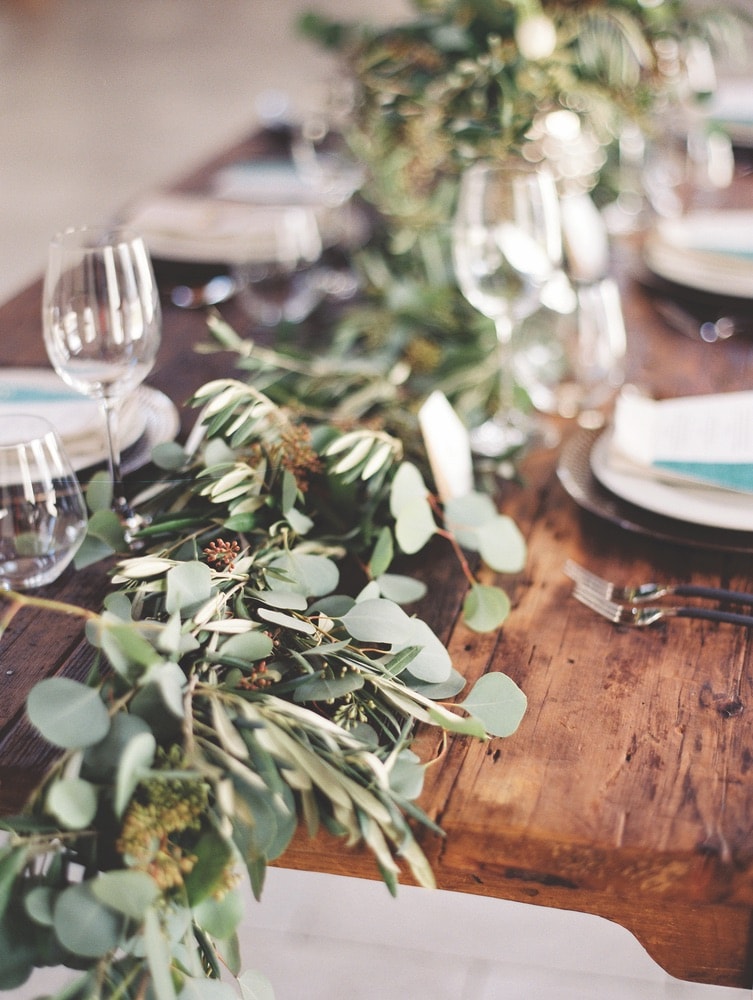 There's more to think about besides grandparents, kids, and crime. There's repurposing. Two for dinner? That's when I pull out my pair of antique silver porringers and pour the soup into these vessels. Silver keeps hot soup hot and cold soup cold. Just think about it: who was the last baby actually fed porridge from a porringer? Exactly! Porringers have no use in the current century, but if you own one, use it you must!
Similarly, when was the last time anyone in the United States served demitasse—1972 maybe? If you have a set of demitasse cups—or if you don't, buy one—and make chocolate pudding. Pour the mixture in the cups, bake, refrigerate, and voilà! Another fabulous blast from the past repurposed and doing a job for you. Bonus: the chocolate pudding takes twenty minutes to make, and you can assemble it the day before. Dessert is ready, rich, and original.
Desserts themselves can make lovely centerpieces. A homemade pie or a pyramid of stacked cookies, laid out for all to see, tantalizes us all. Edible arrangements remind guests to save room—not to mention that their host is organized and competent. The facts speak for themselves by the nature of such a delectable centerpiece.
Whether it's with plants from your garden, family heirlooms, or an assemblage of objects, set a tabletop to get your party popping. The table setting is a way to honor yourself and those you love.
Do you own a large silver monteith punch bowl? Don't wait for your son's rehearsal dinner in twenty years to pull that monster out. Polish the bowl, plunk it in the middle of the table, and forget the punch. That dish is the perfect vessel for party favors or magnolias. (Magnolias look even classier a day later when the leaves turn a shade of mahogany, perhaps matching the table.)
Did you know that beer bottles are useful for more than just holding liquid? Many hosts feel uncomfortable directing guests where to sit. However, you should make a seating plan, or else your dinner party can fizzle when people try to seat themselves willy-nilly. Intervene, making it a silly game by using beer bottles for place cards. There are three trillion new breweries, each trying to brand itself by its labels. Think of the males you invited and each of their defining characteristics, then match a label to each man. Mustache, photographer, playboy, real estate developer—you will no doubt find a label that speaks to that particular thing. While your men walk around the table finding themselves (or your version of them), tell the ladies where to sit (perhaps with lip glosses.) Any male will be flattered that you spent time thinking about who they are. Who doesn't like that kind of attention?
Lay yourself out on your table. I can't speak for your background, but since I came from Africa, I like to bring in the jungle—either from my garden or stolen from someone else's. Sometimes I repurpose my African art by bringing it from the walls to the table.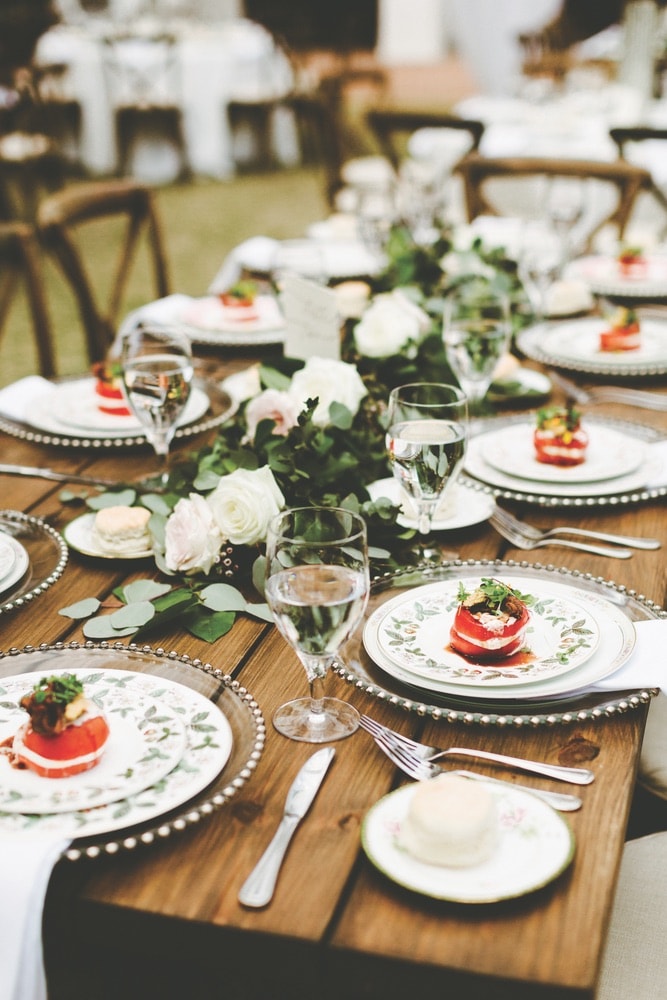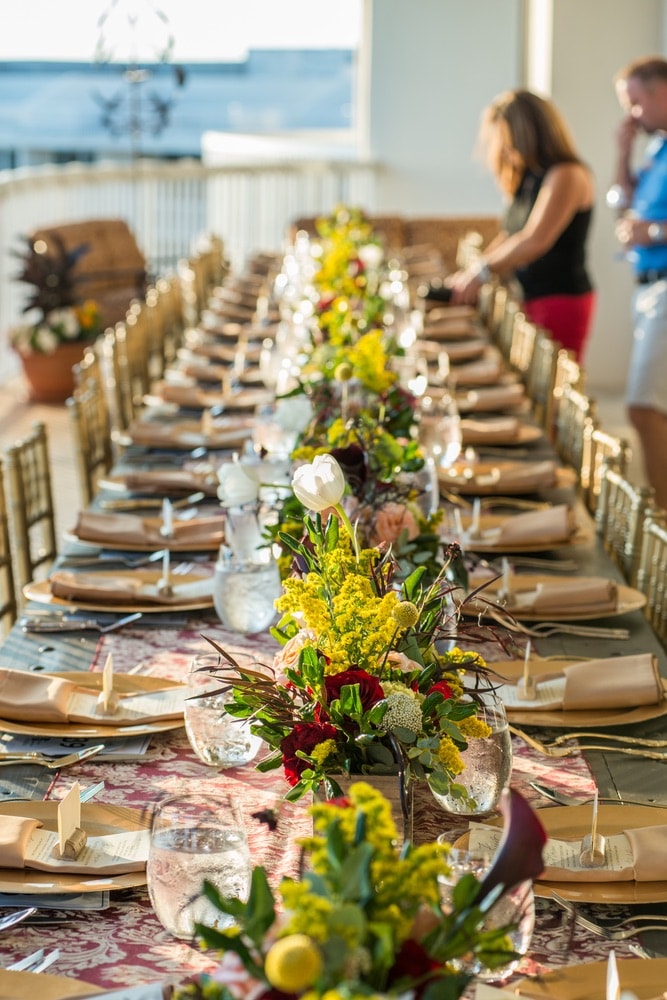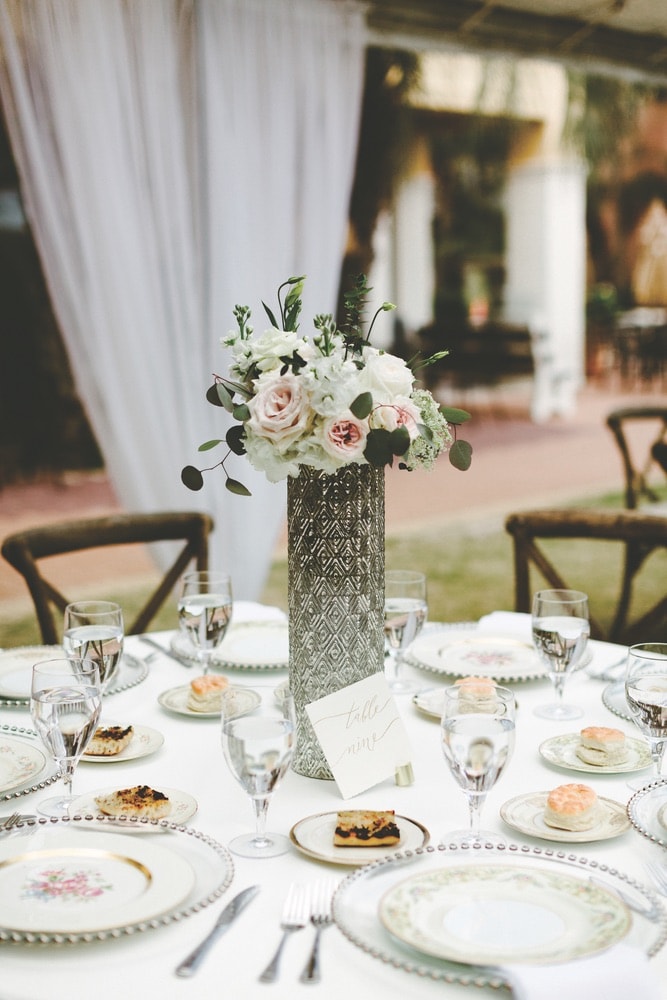 Roasted barracuda on banana leaves was my first foray into the art of setting the table. I was fifteen and living in Monrovia, Liberia. My father's catch of the day was a mighty barracuda from the Saint Paul River. My sister and I stuck the gutted fish in a very hot oven while our brother found a banana leaf in the garden that was the length of our table. It served as the perfect platter for a whole fish to be admired, front and center.
At nineteen, back in the United States, I became engaged. It's now embarrassing to admit one of my first concerns was my china. What pattern would I choose? The minute I saw those eighteenth-century green- and gold-rimmed stacks of plates and soup bowls, it was love at first sight. The best parts were the three smallish tureens that matched. The trio of tureens lived on my dining table day and night. During dinner parties, I filled each one with three bunches of green onions. I just thought this was the chicest thing imaginable—and I still do. Sometimes the essence of one's style doesn't change, even as we pass through the seasons of life. The onions brought the formality of the pedestal mahogany table down a notch and had an element of surprise. Vegetables as the centerpiece? Yes, and just wait until you get a gentle whiff of the bulb.
When I owned an eighteenth-century house with a ballroom, I kept the room empty so I could set up two eight-foot rental tables and invite twenty-one guests for dinner. Old brass candlesticks, or else a collection of antique silver cups, marched down the center of the tables covered with thick old linen sheets. Sometimes the cups were filled with orange-tree clippings, other times with blue hydrangeas grown for the sole purpose of using them in the blue-grey ballroom. My favorite fillings for the silver cups were the weeds plucked from my garden. Don't you raise your nose and look down upon the lowly plant—weeds can bring a plucky personality to your table and announce to your company, without a word, that this host is resourceful, thrifty, and creative.
Anyone can order arrangements from a florist, but sometimes you have to let you hang out on the table. Whether it's with plants from your garden, family heirlooms, or an assemblage of objects, set a tabletop to get your party popping. The table setting is a way to honor yourself and those you love. It also sets the stage to create emotional connections and meaningful entertaining experiences. A dining room or kitchen table is a place to make sure you are living the good life—meaning a life well lived. It's up to you to make that happen, and a table is as good a place as any to begin.
— V —
---
Suzanne Pollak, a mentor and lecturer in the fields of home, hearth, and hospitality, is the founder and dean of the Charleston Academy of Domestic Pursuits. She is the coauthor of Entertaining for Dummies, The Pat Conroy Cookbook, and The Charleston Academy of Domestic Pursuits: A Handbook of Etiquette with Recipes. Born into a diplomatic family, Pollak was raised in Africa, where her parents hosted multiple parties every week. Her South Carolina homes have been featured in the Wall Street Journal "Mansion" section and Town & Country magazine.
ARTICLE CATEGORIES