Mr. and Mrs. Weller
By Jordan Staggs | 

Photography by Sarah Coleman
Fate can be a tricky thing, and its outcome rarely is what we expect. But when God's plan comes together in a beautiful union, it reinforces the belief that all things happen for a reason. For Olivia Lee Pierce and Matthew Thomas Weller, it seemed ironic that the pair both grew up along the eastern shore of Mobile Bay, just ten minutes from each other, but never met until they both moved to the area near Destin, Florida, in their mid-twenties.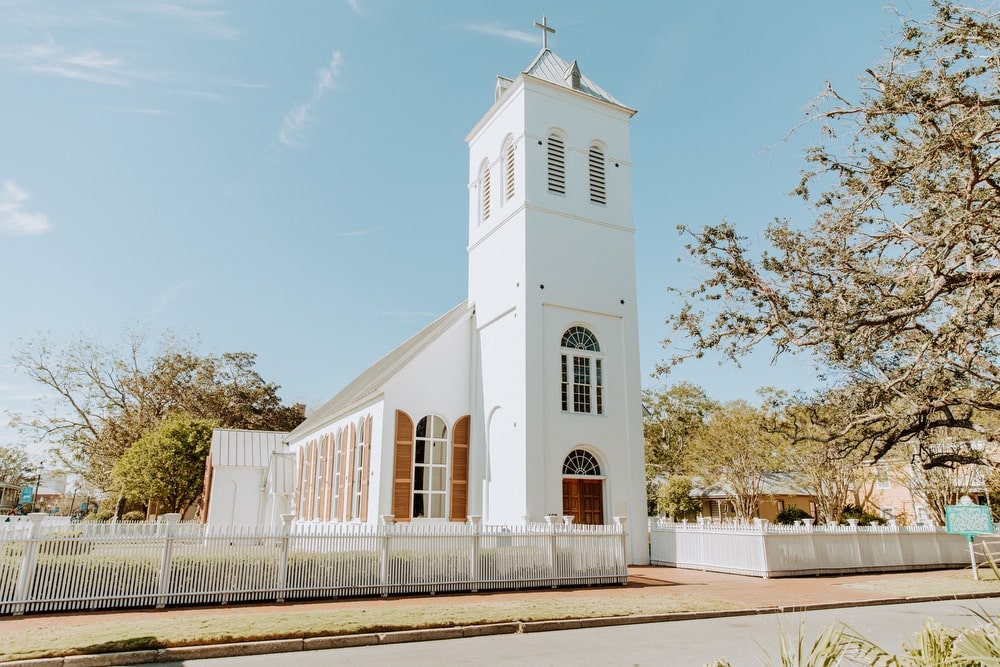 "Our high schools were even rivals, but somehow, Matt and I never met until we both moved to the Emerald Coast in the early summer of 2017," says Olivia, who graduated from Auburn University and moved south again to be a full-time graphic designer. "We each came to the area for new jobs. When we met, I said I was looking for someone to go to the beach and grab a beer with, and that's what we did. It was really fun to explore the area with Matt. We instantly bonded and fell in love in our new home away from home."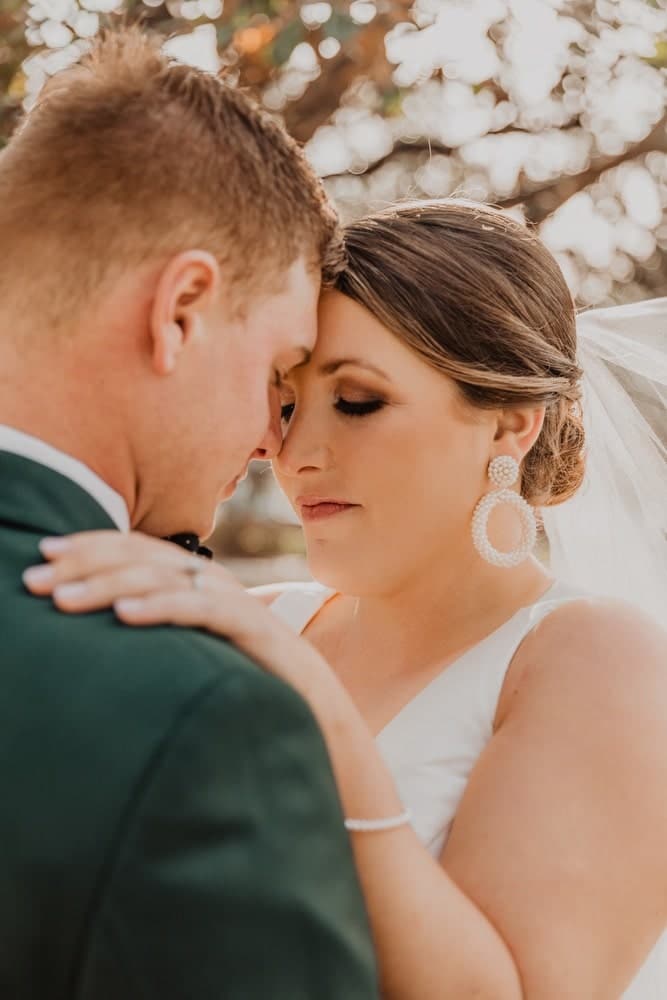 Matt earned a degree from the University of Alabama in Huntsville before his move to the beach, making the future Wellers' colleges rivals, as well. They made it through their first NCAA football season together, and the rest fell into place quickly. After many visits back home to Daphne and Fairhope, Alabama, to meet each other's families, many game nights with friends, other travels together, and countless beach days and brewery dates, it was clear they were ready to take the next step toward being husband and wife.
"After we dated for almost a year and a half, Matt took me ring shopping to pick out the oval setting that I desired," Olivia recalls. "We went to a few local stores in the Destin area and Fairhope. Finally, after visiting eight jewelry stores (yes, eight!), we found 'the one.' It was the middle of December, and downtown Pensacola, Florida, was decorated for Christmas, which puts one in the most joyous spirits for shopping. When we opened the doors of Jewelers Trade Shop, we were met with the sound of a pianist playing classical music. The atmosphere and staff were so warm and welcoming. As soon as I placed the A.Jaffe oval setting with a halo on my ring finger, the search was over! Then I just had to wait for Matt to pop the question."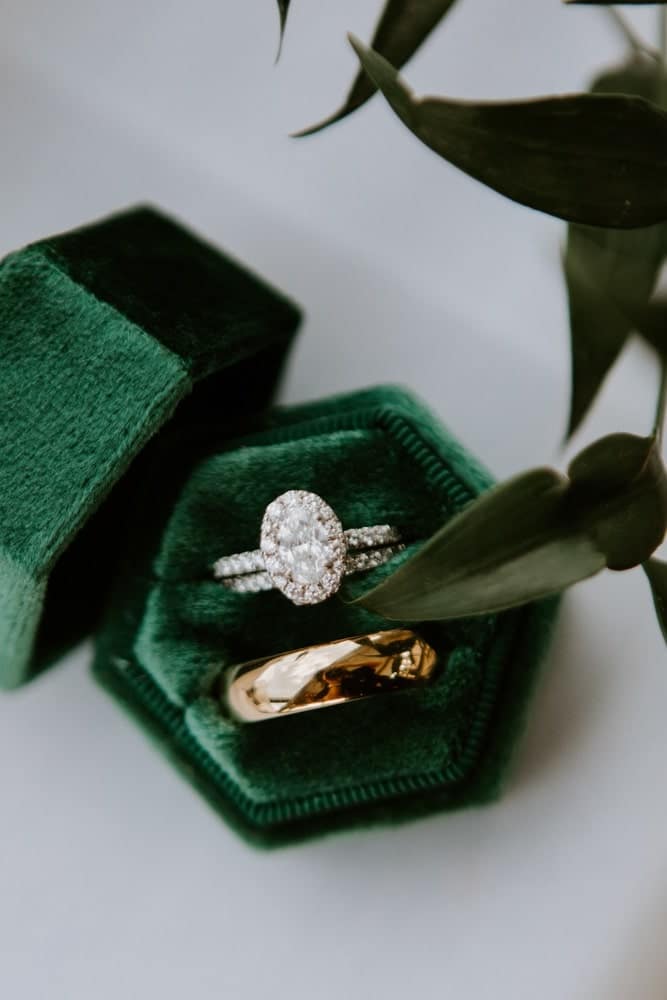 As many Gulf Coast residents and longtime visitors know, Mardis Gras is a storied tradition in Mobile, and it also presented the perfect opportunity for a romantic engagement.
"We both decided that the spring would be a nice time to get married," says Matt, recounting the story. "The summers are too hot in Florida, and nothing should interrupt football in the fall. I knew that Olivia wanted a year-long engagement to have time for wedding planning, so the spring of 2019 was the perfect time to ask. One of Olivia's favorite holidays is Mardi Gras, and we had planned to visit home for the weekend. Olivia knew that we were going to the Mystics of Time parade and ball on Saturday night, but she had no idea what I had planned for Friday night. We went to the Maids of Jubilee parade in downtown Fairhope, had a nice dinner, and then walked to get a drink. I stopped at the iconic Fairhope clock and got down on one knee. After she accepted, she turned around to find her childhood best friend, Megan, who had been hiding to take pictures. This wasn't the only surprise of the night. Olivia thought she would be staying at her mom's house, but to her surprise, I arranged to have all of our things taken to a hotel room instead. When we walked into the hotel and opened the door, we found our parents, my grandfather, and Olivia's best friend, Abby, all with Prosecco in hand and ready to celebrate. I was so relieved that all the secrets were over! We had the best weekend surrounded by family and friends."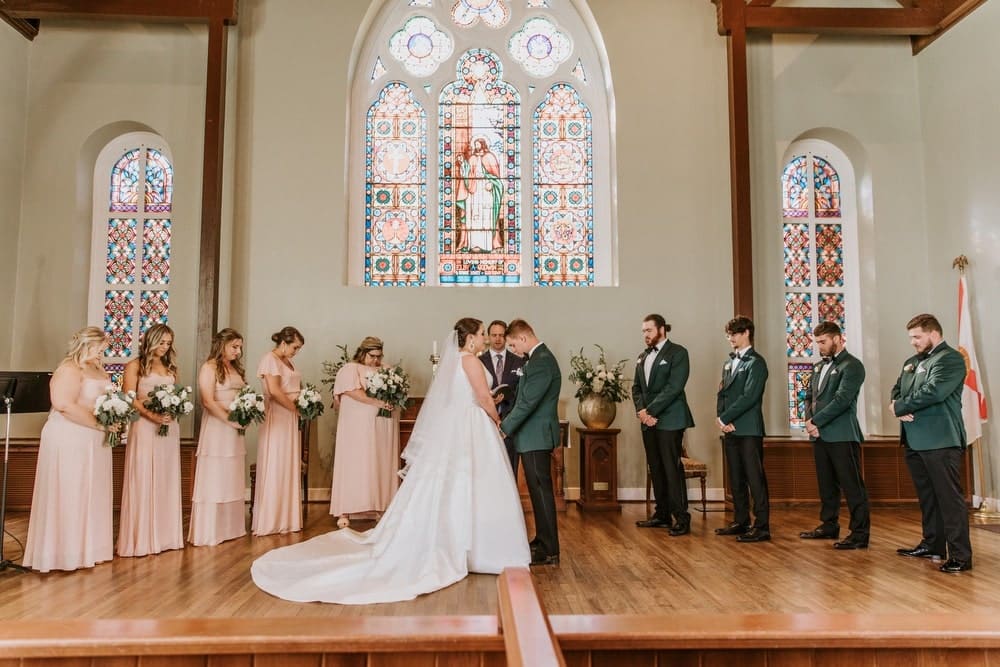 The pair began planning their nuptials right away and settled on Pensacola for the location. It is ideally situated between their hometowns and their new home in Destin and a place that Matt and Olivia enjoy visiting on the weekends. "Most of our visits included a beer (or two) at Perfect Plain Brewing Co.," Olivia shares. "We love their ties to Pensacola's history, the industrial aesthetic, and their delicious brews! Fortunately for us, Perfect Plain was renovating the old garage next door into an event venue, and it would be ready in time for us to have the wedding reception there. Without even seeing the final product, we immediately booked the venue, as we knew the space would be special."
For the ceremony, Old Christ Church was always Olivia's top pick, she says. "I love the white, clean exterior with the white picket fence. As one of the oldest surviving church buildings in Florida, this historic church building had to be a part of our story."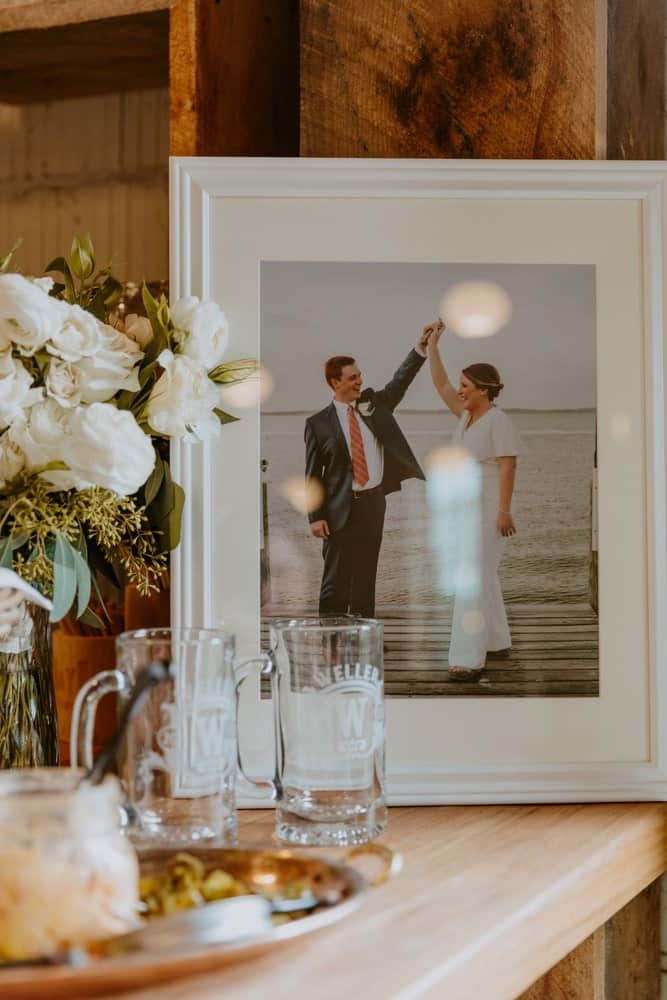 Of course, planning a wedding always comes with ups and downs. For couples getting married in 2020 and 2021, those pitfalls were indeed more drastic than most. The coronavirus pandemic swept the globe in early 2020, just a few months before Matt and Olivia's wedding date of March 28. Their big plans were halted, but the resilient couple knew they didn't want to wait any longer to become husband and wife.
"We moved our church ceremony and large celebration to a later date," says Olivia. "After a lot of prayers and planning, we held a small private ceremony on the original wedding date, March 28, and postponed everything else for December 5. We were both so overjoyed to be married and to have our closest loved ones together for our small beach ceremony. It was very stressful—I won't lie. There were lots of tears and phone calls. I would not have been able to get through it without my mom, Matt's mom, and our wedding coordinator, Kelly Rhodes."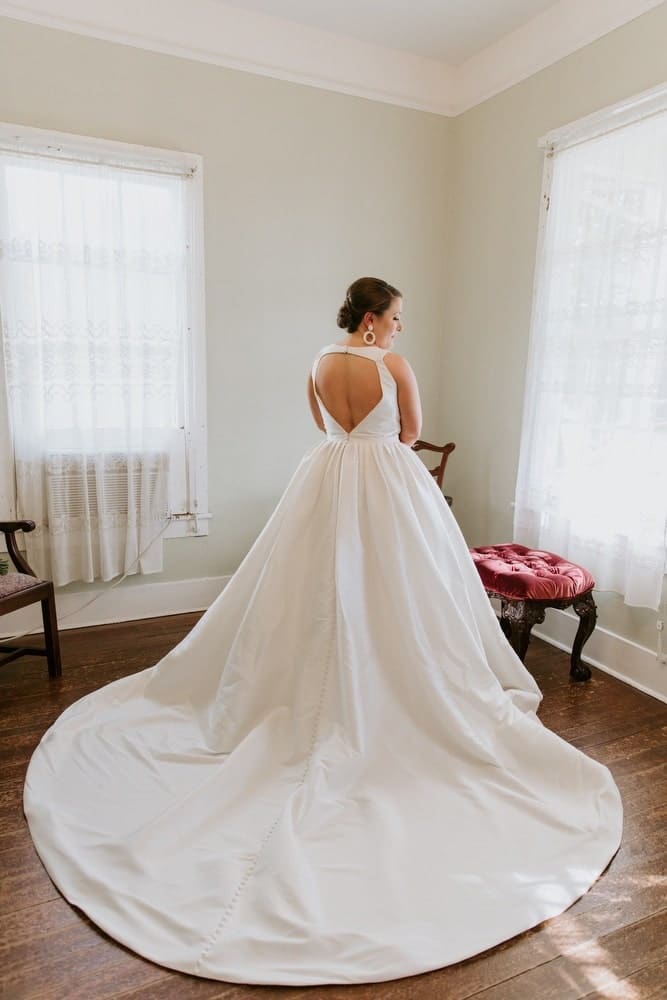 Although they were already legally married, a big wedding celebration was still in order in late 2020, once the COVID-19 restrictions had loosened and more friends and family felt comfortable traveling. The year 2020 threw another unexpected hurdle at the Wellers in the form of Hurricane Sally, which devastated parts of Pensacola, Mobile, and the surrounding areas in September, including putting the Pensacola Bay Bridge out of commission.
"Despite curveballs from COVID and Hurricane Sally, we were able to celebrate our union not once but twice!" Olivia assures. "I'm a traditional Southern girl; I've always pictured my wedding being in a church and wearing a big white dress and pearls. I was so grateful that my mom made all of that happen. In addition to wanting to wear my dream dress, I also wanted to be surrounded by my favorite people. Many weren't able to attend our intimate ceremony in March, so having everyone there in December meant the world to me and Matt!"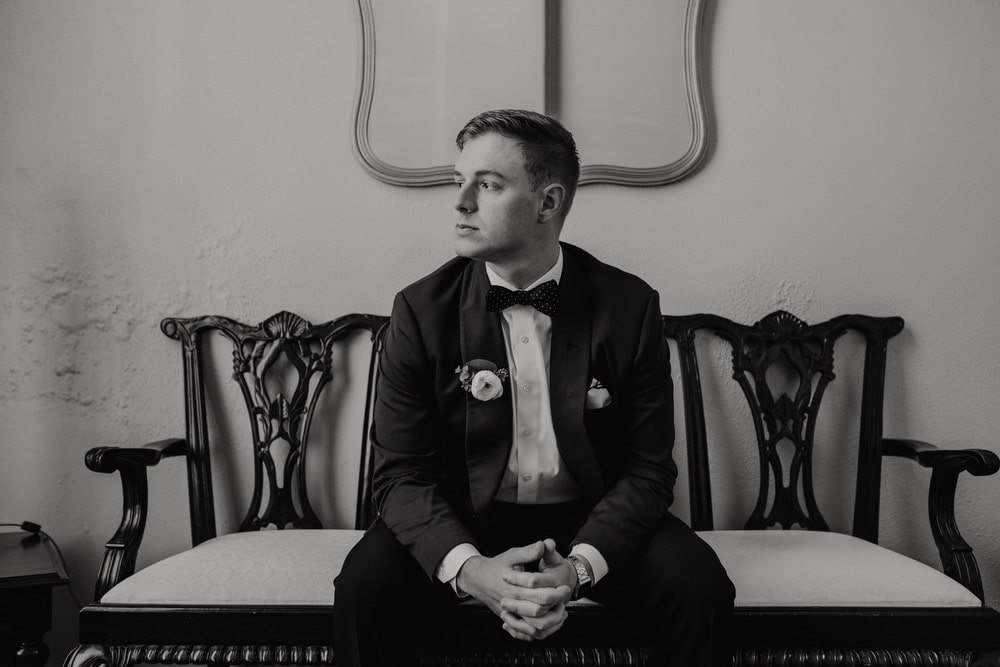 On December 5, 2020, the happy couple and their friends and family gathered at Old Christ Church in downtown Pensacola. Matt waited at the altar in a beautiful emerald-green tux with black pants and leopard print shoes. Olivia's stunning Justin Alexander ball gown had an open back and plunging neckline. The bridesmaids wore soft blush pink floor-length gowns, and the emerald-and-blush palette made up elements of the decor, the wedding invitation suite, and florals.
"Having these colors as the foundation really helped plan the details of our day," Olivia says. One other must-have was the charming Five Flags Trolley that transported the wedding party from the church to Garden & Grain during the cocktail hour between the ceremony and reception. "This allowed Matt and I to have extra pictures taken around downtown Pensacola. These shots ended up being some of my favorites!
The stress of the wedding was all behind us. We were just best friends, smiling from ear to ear, ready to party the night away.
For me, this was the Elle Woods 'We did it' moment! Although 2020 had many speed bumps, we are so lucky to have one another."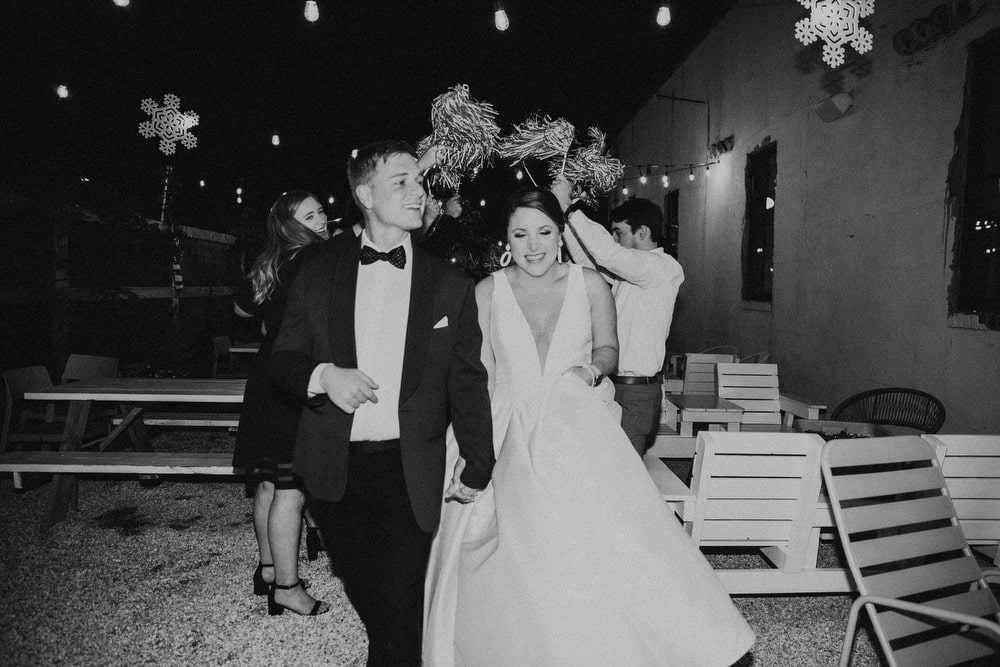 A two-week honeymoon jaunt through Thailand was put on hold for now, but Matt says, "We are hoping one day we will still be able to go to the Land of Smiles."
Until then, it's all smiles for the Wellers in sunny Destin. Congratulations, Olivia and Matt!
— V —
---
Special Thanks
Photography: Sarah Coleman Photography Coordinator: Kelly Rhodes - Southern Frills Events Dress: Justin Alexander from Bliss Bridal Ring: A. Jaffe from Jewelers Trade Shop Tux: The Black Tux Hair: Brooke Miller -@brookemillerstylist Makeup: Hayley Gurney -@gulfcoast_glamhouse Spray tan: Shelby Herron -@shelbyherronbeauty Earrings: Stella & Dot -stelladot.com Flowers: Fiore - fioreofpensacola.com Wedding cake and groom's cake: Bluejay's Bakery -bluejaysbakery.com Reception: Garden & Grain at Perfect Plain Brewing Co. - perfectplain.com Caterer: Classic City Catering -classiccitycatering.com Violinist: Jessica Edwards Trolley transportation: Five Flags Trolley Engagement Photographer: Brenna Kneiss 
ARTICLE CATEGORIES