Hibiscus Coffee and Guesthouse
By Jordan Staggs | Photography by Romona Robbins
The word souvenir is a French verb meaning "to remember." In true American fashion, we seem to have put our own spin on it, taking it to mean a reminder of an event or a vacation we've taken. Some of the most common forms of souvenirs are coffee mugs, T-shirts, figurines, or picture frames proudly emblazoned with the name of the place where they were purchased: "Yellowstone" or "Las Vegas" or the ever-present and seemingly all-inclusive "Florida." It seems like no grandparent's house is complete without a fridge covered in magnets collected from vacations or received as gifts over the years.
Souvenirs come in all shapes and sizes. Some of the rarest and most unexpected souvenirs are the places themselves—places so special they seem to transport the visitor back in time. And, to experience a slice of Old Florida hospitality, there is no better place than Hibiscus Coffee and Guesthouse. You can find the bed-and-breakfast nestled beneath the Spanish moss in historic Grayton Beach, a friendly little Northwest Florida community that lies between the sands of the Gulf and Scenic Highway 30-A.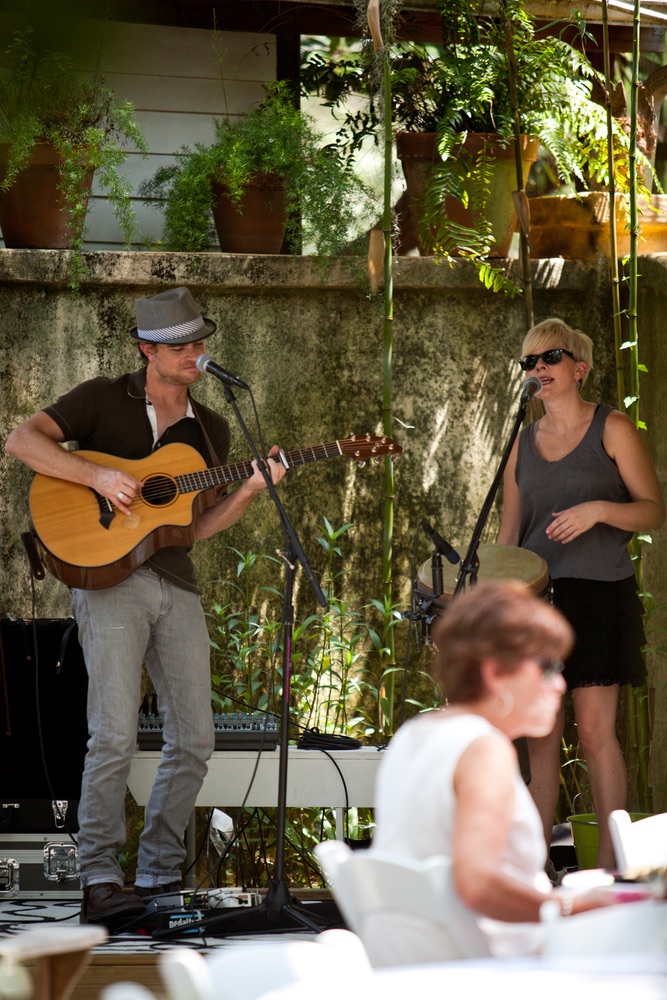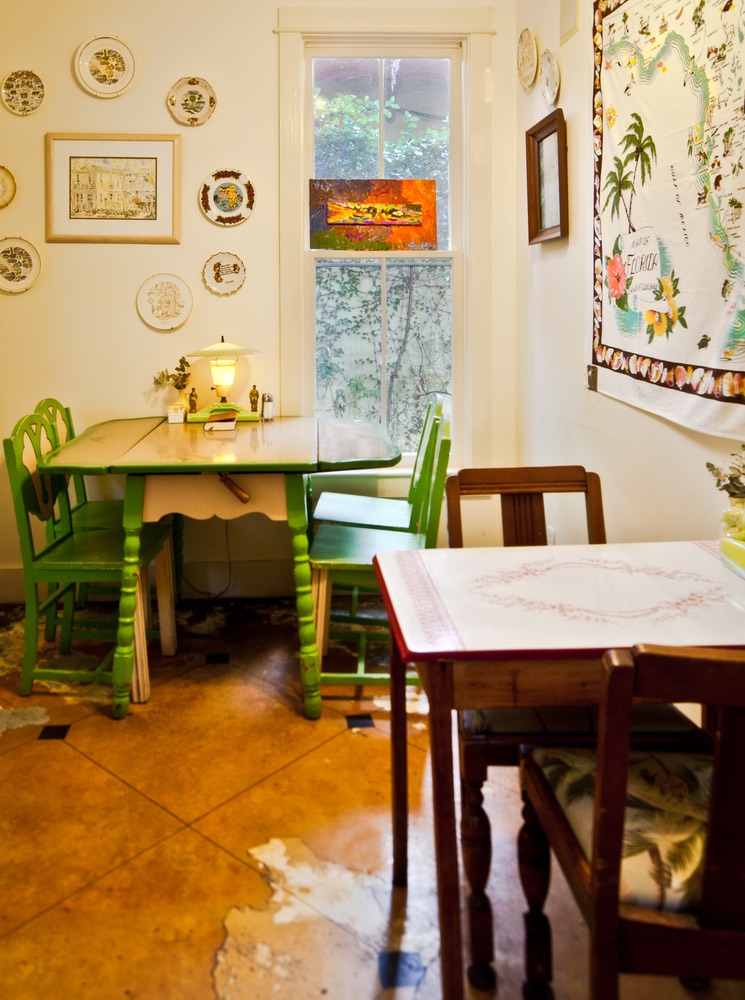 It all started as a fun project for Kurt and Barbara Tape, Louisiana natives who had always loved the area. They opened the original Hibiscus in 1994 as a café and single guest room, which their son occupied for some time before the property underwent the latest transformation into a twelve-room bed-and-breakfast, complete with a café and an outdoor music venue that are also open to the public.
"From day one our whole attitude was about a couple of things," said owner Kurt Tape. "One, we wanted to grow organically, by word of mouth, instead of doing all the marketing most places do; and two, God is love. That's the highest order of things. We're not trying to preach to anybody, we're just doing our own thing—and that's what is great about this place."
The inn, which is within walking distance to sugar-white beaches, is also near several shops and restaurants, and it's the perfect spot to grab a bike (free for hotel guests) and take a lazy cruise down 30-A to popular activity spots in nearby Seaside, WaterColor, or Blue Mountain Beach. Be sure to say hello to Hef, Amos, and Scaredy-Cat, the feral felines who have made their home at Hibiscus and can usually be seen hanging around.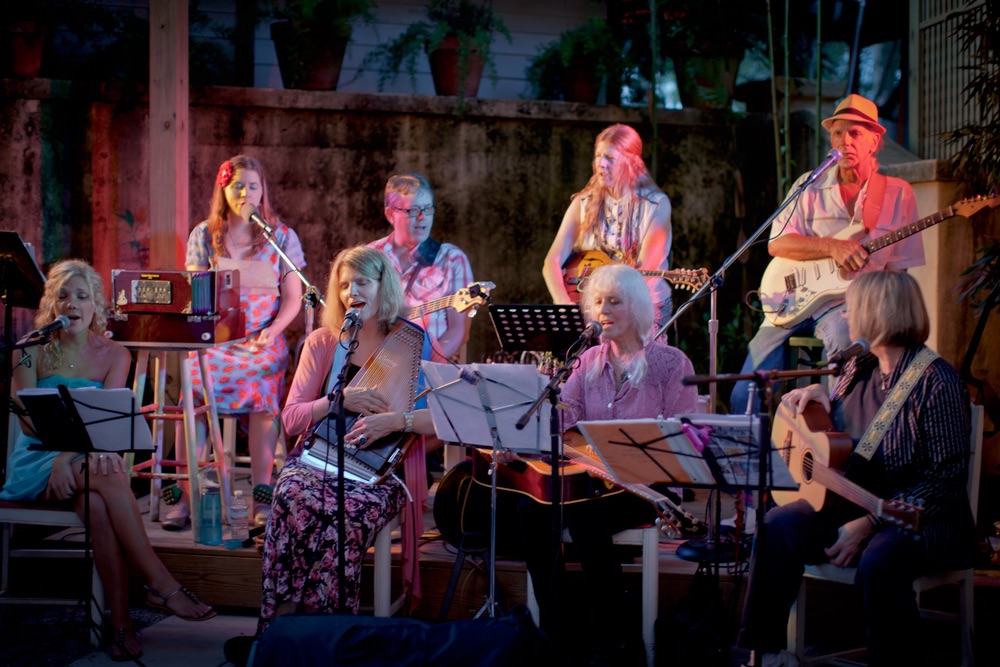 So what exactly is Old Florida, anyway? Take a look inside any of the nine guest rooms at Hibiscus and see for yourself. Each is decorated differently and has its own unique theme and matching name, such as the New Orleans-inspired "Big Easy," the "Art Deco," or the "Funky Bird," which features flamingoes, cranes, and other fowl in everything from the paintings to the bathroom mirror. They all share styles echoed from the 1950s and '60s and are as cozy as your favorite room at grandma's.
"My wife, Barbara, is the collector," Tape said. "She spent twenty years collecting all the Florida stuff. We tried to make everything fit, but we're also eccentric, and we've got to be who we are."
In addition to the guest rooms are the Hibiscus flats: three one-bedroom units with full kitchens, spacious bathrooms and living areas, and flat-screen TVs. While the flats are more modern than the rooms found within Hibiscus House, they are not lacking in the quirky décor and homey feeling that is embodied in the whole establishment.
Much of that homey feeling is thanks to innkeeper Cheri Peebles, whose warm smiles and even warmer hugs are the standard greeting and goodbye for everyone at Hibiscus.
"When Cheri came, our message of hospitality became epitomized," Tape said.
Peebles began working at the bed-and-breakfast thirteen years ago and has been innkeeper for the last ten, but she is the real heart of Hibiscus, treating each and every guest, local or vacationer, like family. Even Cheri's real family—her husband, Bob, and son, Donald—work on site at the inn with Grayton Beach Catering and Beach to Bay Realty, the in-house rental company.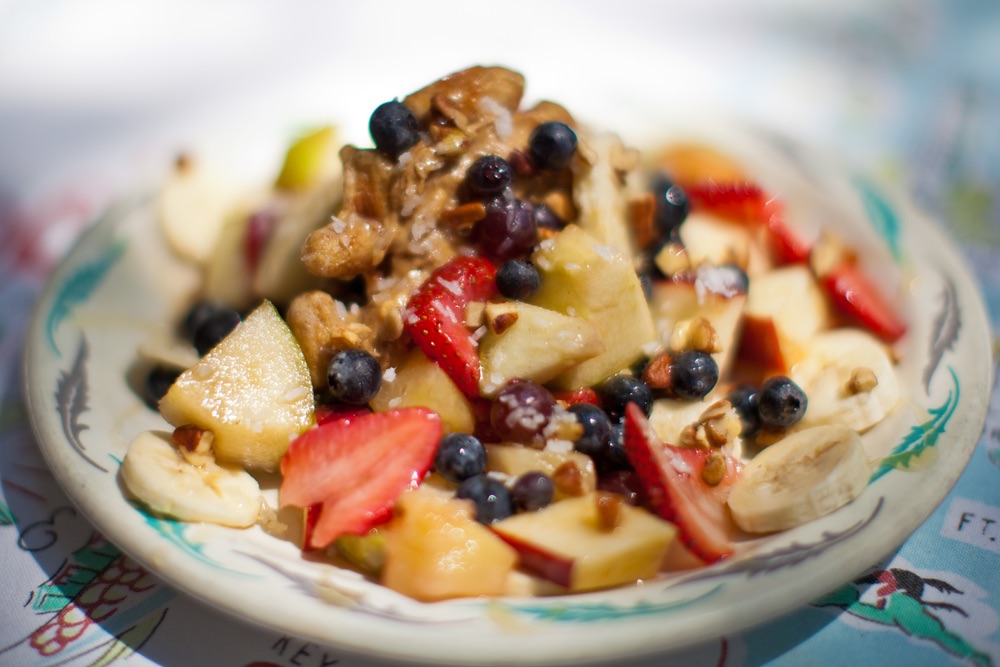 Peebles's mother, Mattie Anderson, said she remembers bringing her husband's family to go fishing in Grayton Beach years ago, before any commercial property even existed in the area.
"I'm just amazed at the difference now," she said. Anderson visits Hibiscus often and said her favorite part is hearing all the compliments people give her about her daughter. "This place is just such a blessing. There's an atmosphere around here you don't find anywhere else, and I'm happy if I can ever be any small part of it."
Anderson said moving Bert's Barn was one of the best things to happen to Hibiscus. The large red building was one of the original structures in Grayton Beach; it was set to be torn down but was bought and relocated as one of what are now four buildings making up the inn.
The shed that sits between the café and Bert's Barn had really humble beginnings as a garden closet before undergoing many transformations over the years. According to Tape, it has been a puppet theatre, a bookshop, a floristry, and more before coming to its current use as 30-A Studio, a combination photography studio and jewelry gallery. Guests are welcome to stop in to browse and shop after breakfast or before outdoor concerts.
The Backyard, which Hibiscus boasts as the "most unique listening experience on 30-A," has a story all its own.
"Our desire was for it to be a listening venue for singer-songwriters," Peebles said, stressing the term "listening venue" because it is very different from a bar or restaurant where you might find bands playing for the locals. In the Backyard, it's all about the music, and everyone can just relax, listen, and enjoy good food and good company in a beautiful setting. Country singer-songwriter Greg Barnhill replaced a word in a line of his blockbuster song House of Love while performing there, making it "Backyard of Love," and the rest is history. The name stuck, and it has become Hibiscus's proudest amenity. Lights crisscross from tree to tree above several picnic tables and chairs in front of the small stage, which comes alive every Sunday, every second and fourth Tuesday of the month, and sometimes in between, when local and visiting artists share their sounds with the guests. The Backyard celebrated its first anniversary this past June.
"When it rains, we just move everyone into the café and call it the 'Backroom of Love,'" Peebles said with a laugh.
Beneath the Backyard of Love sign is a smaller one stating "Hug in, Hug out." This is the mantra at the inn, coined by Brianna, a young local woman who grew up coming to Hibiscus with her parents; she also worked in its café. Tragically, she was killed in a car accident several years ago, and the sign was erected in her memory.
"One day Brianna said to me, 'Cheri, this is the only job I'll ever have where I just hug in and hug out,'" Peebles said. "That's what we do here. There are no time clocks, just hug in, hug out. That sign is Brianna. It has a lot of meaning to everyone here, but it's hers. Those are the kinds of things God does in this coffee shop."
Another sign that has become a staple of Hibiscus is the "Be" board, which hangs in the front of the property so passersby can see it. Every day the sign sports a new word, such as "Be grateful," "Be wise," or "Be relaxed."
"The 'Be' board became kind of synonymous with the fruits of the spirit here," Tape said. The board even has its own blog on Hibiscus's website, www.hibiscusflorida.com, which is always updated with the "Be" word of the day and the deeper message behind each one.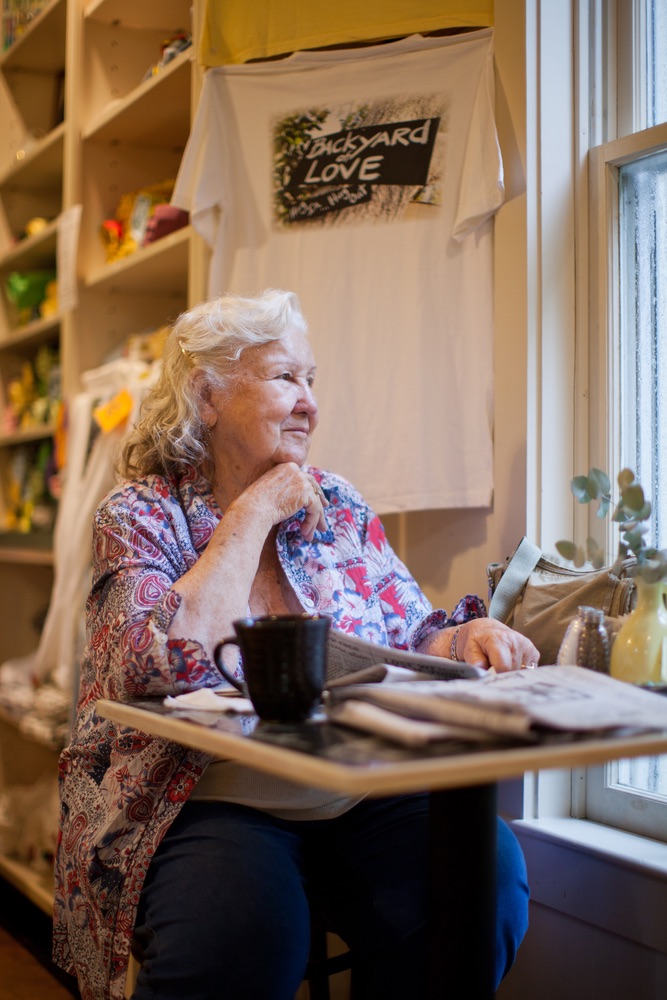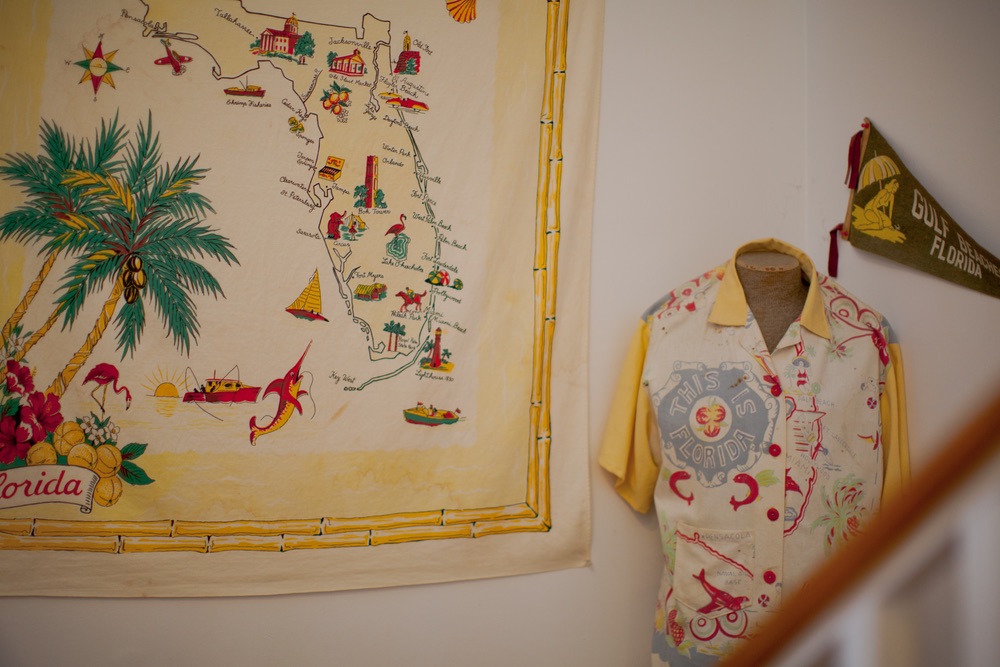 And while we're talking about fruits of the spirit—the culinary portion of this bed-and-breakfast is just as important as the rest, and the Hibiscus café has become a favorite morning spot for many 30-A residents.
With its eclectic mix of retro tin-clad dining tables, mismatched chairs, and even more Old Florida paraphernalia embellishing the walls and centerpieces, the café is reminiscent of a mix between grandma's kitchen and your favorite neighborhood diner. Every meal is made with love (it says so right on the menu) with vegan options available. Though the breakfast specials change daily, the house specialty dish is the Waffle Wonderful: a multigrain waffle piled high with crunchy peanut butter and fresh fruit, nuts, honey, and coconut. Seating options are plentiful on sunny days, when you can enjoy the soft sounds of The Beach Boys over the radio inside the café or picnic in the Backyard of Love. Hotel guests and locals are welcome daily from 7:30 to 11:30 a.m. for breakfast and for Sunday brunch from 10:00 a.m. to 1:00 p.m.
"We have our locals who come in almost every day who practically have their own button on the register," Peebles said. "We want it to be an escape for them that's relaxed and just a nice place to enjoy the morning."
One of those locals is Bryan Kennedy, a singer-songwriter from Nashville who has relocated to 30-A and who performed the very first concert in the Backyard of Love.
"I'm here three or four days a week at least," Kennedy said, taking a sip of coffee from his Hibiscus mug. "I just enjoy the people that come in that I get to visit with. It's the people more than the place that makes this special, and the place is beautiful, so that gives you an idea. It's just relaxed and the people that work here all have a really good attitude. They aren't just interested in selling you food—they care about you."
Kennedy, who has performed in the Backyard of Love regularly and stayed in almost every guest room at the inn, acknowledged that there is just something magical about Hibiscus. Several people have described it as "coming home," but Kennedy said the clichés don't really live up to the place itself. It is a true souvenir of a simpler, happier time; everyone is family, and the term "laid back" isn't quite strong enough to describe it.
"It's a pretty slow pace down here on 30-A, but when you come to Hibiscus, it gets just a little bit slower," Kennedy said. "How do you describe this place?" he asked as he turned to look for a response from Peebles.
She just grinned and said, "Love."
— V —
ARTICLE CATEGORIES