By Suzanne Pollak | 
Photography by Mark Furniss
Life before the war was normal. I was eleven and hadn't watched television and I knew little about American history. I had never been to a grocery store stocked with dozens of cereals or played on a school playground. My American family lived in Enugu, Nigeria, before evacuating during the Nigeria–Biafra War. Living as nomads, what kept us tethered to normalcy were parties, school, books, and radio.
My all-Nigerian school had four-foot-high walls around a courtyard of red clay, and it held sewing classes for girls, gardening for boys. Were the Nigerian girls learning skills for the future, to clothe their families or become seamstresses? What about the boys, digging in the clay and dirt, gathering knowledge about growing food to feed future children or become farmers? What about me—where did I belong? America, its people, and its cultures were all a mystery to me, but African and diplomatic cultures I understood.
Handling pythons, cheetahs, and gazelles were no problem. What terrified me most were my morning scripture classes. The teacher loomed over us students with a long ruler, ready to whack us on the head or hand if our pronunciation of an Old Testament name was wrong. My Bible education was nonexistent, so I became a fainting phenomenon; I could pass out the moment the teacher looked at me. After school, I did as the schoolboys did and tended to my vegetable patch in our big backyard, or sometimes we went to the zoo without cages down the road. One day, a baboon escaped and found our classroom. In one high jump, my teacher leaped on top of her desk, shaking her useless ruler at the baboon, setting off mayhem in the classroom.
At night, our family strolled down the road to drink with the neighbors whose naughty monkeys finished everyone's half-empty cocktails. When the sky turned black and it was time to walk home, we tapped sticks on the ground in front of us to feel for snakes. Sometimes the tip touched the slippery-soft flesh of a twenty-five-foot rock python stretched across the road. The poke in the side may have felt like the nip of a mosquito to the constrictor; it was not a big deal. We were warned and stepped over the snake. The snakes let us be, just like the baboon who took a disdainful glance at the screaming class and turned his back on all of us.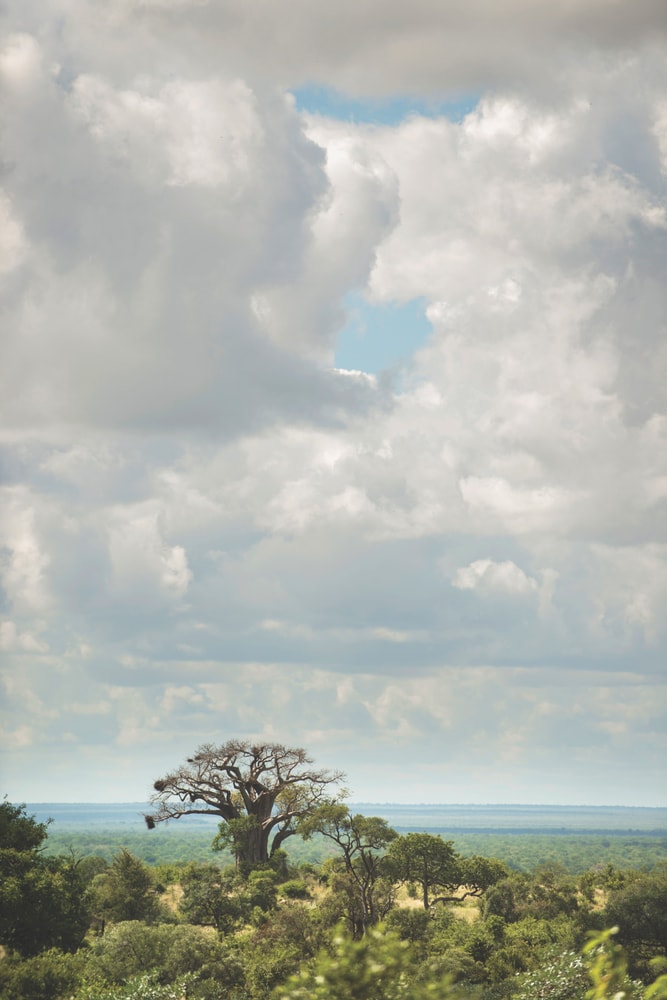 When there wasn't a dinner party, my father and I sat in his library listening to the Voice of America on the radio. It was evenings on an upstairs terrace, hearing the music beyond the wall, that I liked best—the frogs, the animals in the bush, and the other nighttime sounds created a symphony of nature. Once night descended, the stars danced across the sky, and my father taught me about the constellations and how to identify the animals' sounds in the distance.
At the breakfast table one day in June of 1967, I learned about the war. My father told us that we were now in a new country named Biafra; we were not in Nigeria anymore. "This can't be true," I said. We hadn't traveled anywhere overnight! My dad told us to get packing. My mother, sister, brother, and I had to depart that very hour in a convoy headed five hours south to the ocean and then board a plane. After explaining that I couldn't leave my friends, that I needed to return books and toys, and any other excuse I could think of, my life turned unreal and my brain went berserk. Where will my friends go? When will I see my father again? Which Barbie doll should I take? What happens to the baboons and the other animals in the zoo? Where will the plane take my mother, sister, brother, and me? I didn't know America. I was an African child. Would there be animals there? Would I make friends?
Where will my friends go? When will I see my father again? Which Barbie doll should I take?
My father stayed in Enugu for the first six months of the thirty-month war and lived on the vegetables from my garden. The lessons the boys learned in gardening, overheard by my girlfriends and me as we sat nearby chatting and sewing, fed my father in wartime. We received only two letters from him (in one he wrote that he owed me money for my vegetables), and we didn't know if he was dead or alive until he returned to America. Our house in Enugu was bombed, our household belongings and family photos turned to rubble. What became of my beloved friends and the teacher with the stick? I can only imagine. The Biafran war was the world's first televised war. People were stunned by the pictures of children with skeletal frames succumbing to famine.
The Biafran leader, Colonel Odumegwu Ojukwu, was a thirty-three-year-old, Oxford-educated, sports car–driving, Shakespearean scholar. Shakespeare was not my teacher; I was too young for his plays and also too young to absorb and accept the implications of the devastation of war on my Nigerian classmates staying behind and perishing. Those nights sitting on the terrace with my father, watching and listening to the life in the jungle behind our house, were life lessons given to me by animals. The animals taught me death and survival, joy and terror, beauty and blood.
To not have been squeezed and eaten by a python and simply ignored by the baboon was lucky. Escaping a war was even more fortunate. The notion that life will go on but could at any moment shift to joy or terror is one of the immutable rules of existence, taught by any living creature.
— V —
---
Suzanne Pollak, a mentor and lecturer in the fields of home, hearth, and hospitality, is the founder and dean of the Charleston Academy of Domestic Pursuits. She is the coauthor of Entertaining for Dummies, The Pat Conroy Cookbook, and The Charleston Academy of Domestic Pursuits: A Handbook of Etiquette with Recipes. Born into a diplomatic family, Pollak was raised in Africa, where her parents hosted multiple parties every week. Her South Carolina homes have been featured in the Wall Street Journal "Mansion" section and Town & Country magazine.
ARTICLE CATEGORIES