South Carolina's New Hot Spot
By Kim Duke-Layden | Photography by Kim Duke-Layden and John Layden
Nestled in the rolling foothills of the Blue Ridge Mountains halfway between Charlotte, North Carolina, and Atlanta, Georgia, a once-blighted and boarded-up Greenville, South Carolina, has risen like a phoenix and emerged as one of the hottest and fastest growing small cities in America. Besides its remarkable urban renewal, this sizzling city is also being applauded as an outdoor adventure mecca and a thriving destination for food, fashion, nightlife, and the arts.
South Carolina's unofficial Upcountry capital could have wallowed in a state of permanent despair after suffering various economic blows: by the 1960s, downtown merchants were losing business to outlying retail centers and the once-thriving textile mills were nearly all defunct. After two agonizing decades, though, the city pulled itself up by its bootstraps and embarked on a thirty-year redevelopment program. Their determined efforts paid off, and in 2011, Forbes magazine ranked Greenville as one of America's ten best revitalized downtowns. Greenville emits a youthful, hip atmosphere with a vibrant downtown scene, and the city's industry has also cranked back up, thanks to megaplayers such as BMW and Michelin, which have opened factories there.
Greenville has truly grown greener in both its economy and its conservation efforts, which extend well beyond trash recycling. Greenville's bike-sharing program gives downtown commuters an alternative to driving by providing convenient rental-and-return bicycle racks throughout the city. Downtown's abandoned warehouses have also been reimagined: reclaimed bricks from one were used to build Fluor Field—a baseball park for the Greenville Drive, the Class A affiliate of the Boston Red Sox; another was converted into West End Market, a $4.2 million multiuse complex of retail stores and offices that helped Greenville earn a Great American Main Street Award from the National Trust for Historic Preservation.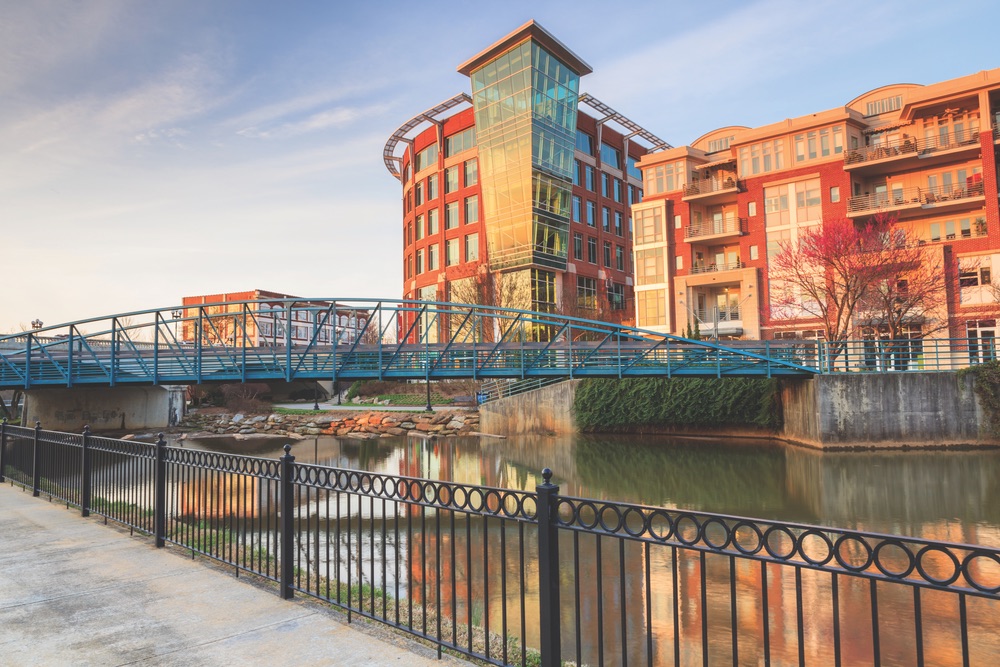 Mild-weathered Greenville continues to garner national attention for its abundant lakes and rivers that are perfect for paddling, boating, fishing, and swimming—not to mention its foothills and ridges that draw climbers, campers, and bicyclists from around the country. "Greenville is fabulous for cycling," says champion cyclist George Hincapie, who became so smitten with the area that he relocated his family there so he can train year-round on what he calls the "Tour de Greenville."
In recent years, this Southern jewel with a population of around 60,000 has racked up a slew of accolades, earning spots on lists put out by numerous periodicals: the Best Small Cities for Cycling – Bicycling (2012); America's Greatest Main Streets – Travel + Leisure (2012); Best Places to Live: Top 18 Coolest Towns in America – Men's Journal (2011); Top 5 Best Places to Live and Ride – Bike Magazine; Falls Park rated among Best City Parks – US Airways magazine (2011); and the top five cities for living (2010) and retiring (2011) according to RelocateAmerica.com.
Last Labor Day Weekend, my husband, John, and I celebrated our wedding anniversary with an action-packed getaway to "G-Vegas," which the locals affectionately call Greenville because for a small city, it offers a lot. We are now among the growing throng of fans shouting the city's latest catchphrase: "Yeah, that Greenville!"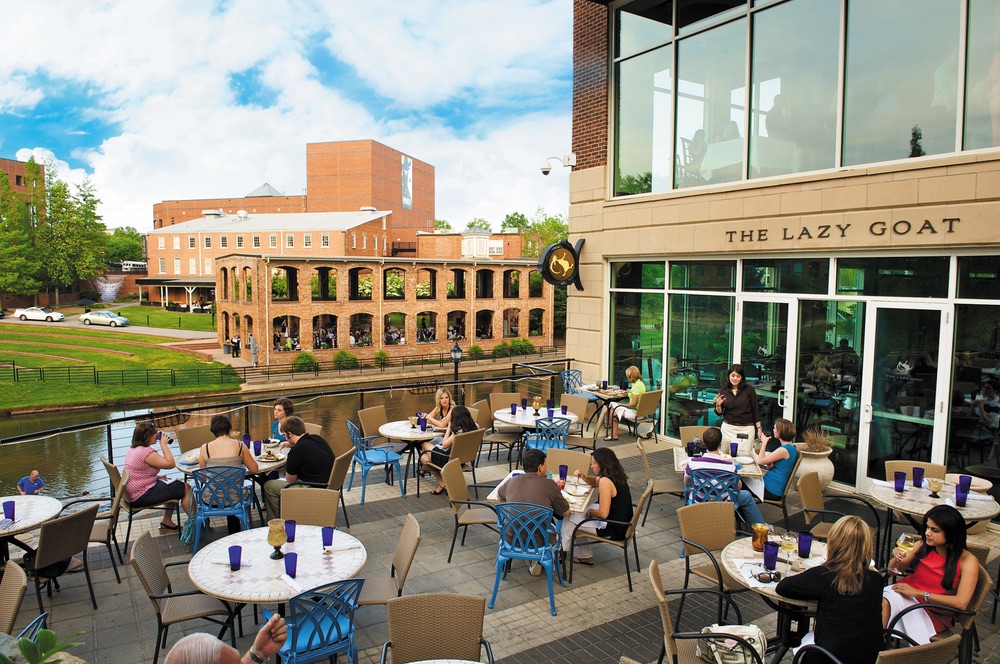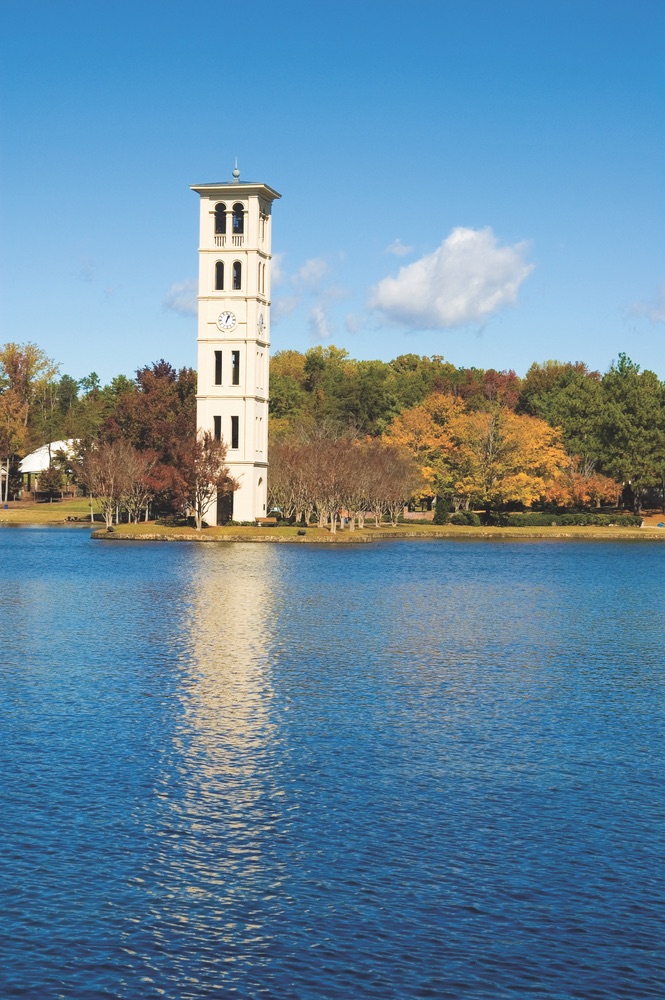 Furman University's iconic lakeside bell tower
Downtown Is the Main Attraction
Early on Friday afternoon, John and I arrived in downtown Greenville. Thankfully, the downpour that we drove through in Clemson, about thirty miles east, had already moved through, leaving sunny skies above. As we turned south on Main Street, we were amazed to see the number of people strolling along its charming tree-lined sidewalks with blocks and blocks of lively cafés, enticing stores, and quaint watering holes. Greenville's building facades run the gamut from turn-of-the-century classics to bold, contemporary designs, yet they all seem to fit together like a patchwork quilt. Had we suddenly detoured to a charming European city?
But downtown Greenville hasn't always been this quaint and vibrant. During the late 1970s, while still recovering from its imploded industry, the city launched a thirty-year revitalization plan for the downtown district.
Earlier this year, Taryn Foster moved from Greenville to Santa Rosa Beach to be near her parents, Earl and Carol Foster. The first time she lived in Greenville was from 1996 to 2000 while she attended college at nearby Furman University. "Back then, there was absolutely nothing in downtown Greenville. For nightlife we went to parties on campus," says Foster, who couldn't wait to graduate and flee the sleepy town. Upon graduation, she did just that and moved on to greener pastures—or at least that's what she thought at the time. Meanwhile, banks nationwide began doling out development dollars for eager takers, and Greenville was primed to bust a move; its reconstruction efforts soon accelerated.
In 2006, a change of events led Foster back to Greenville, and what she found astounded her. "The difference was amazing; so much had changed in such a short time—so many great new restaurants and bars and shops!" she exclaims. This time, Foster moved into the heart of downtown, where development continued at a frenzied pace. "At one point I hadn't walked downtown for a few weeks, and when I did, I couldn't believe all the new stores that had popped up from the Hyatt (on mid-Main) to the West End." Even when development projects across the country came to a screeching halt during the darkest days of the recent recession, highly revered Mayor Knox White, who has led the city's renewal charge for more than fifteen years, miraculously kept Greenville's construction cranes humming.
John booked us a room at the historic Westin Poinsett, Greenville's only AAA Four Diamond hotel. The guest rooms are contemporary, but the exterior of the building, the sunken lobby, and the piano bar exude mid-1920s opulence reminiscent of the roaring era when the hotel opened. In its heyday, the Poinsett was known as "Carolina's Finest" and hosted many famous guests, including Amelia Earhart, Cornelius Vanderbilt, Bobby Kennedy, and Liberace. Sadly, like many luxury hotels in downtown areas, the Poinsett couldn't compete with motels that started to spring up close to major highways in the fifties, and it was sold to Jack Tar Hotels in 1959. Still losing money, the hotel changed hands many times over the decades. The last incarnation, a retirement home, closed in 1987, and the building sat vacant for nearly eleven years. Like Greenville, however, the Poinsett was destined to trump the odds. In 1997, the hotel was purchased by two developers and completely restored; in 2000, it reopened just in time to celebrate the seventy-fifth anniversary of its debut.
Situated on the southern end of Main Street, the Westin Poinsett makes a great home base for exploring Greenville's downtown and nearby historic neighborhoods. Among downtown's bounty of eclectic mom-and-pop boutiques and national chain stores is Mast General Store, a favorite landmark since 1883. This vintage emporium is chock-full of great travel and adventure wear, old-fashioned novelties, and a huge selection of nostalgic candies (think wax bottles and Bit-O-Honey). Another noteworthy shop is Poppington's Gourmet Popcorn, which is, according to the owner, downtown's fourth-most popular attraction. Nibble on tasty, fluffy kernels in unique flavors that taste even better when combined—my creative trio: Bloody Mary, cheddar, and bacon-maple. Mmmmmm.
Downtown is an endless buffet of ethnic eateries and trendy fine dining restaurants, not to mention umpteen craft alehouses, wine bars, and eclectic live music venues. Friday night's street party on Main showcases downtown at its liveliest, as both sides of the street are buzzing with packed sidewalk cafés, shoppers dashing in and out of stores, families strolling, and musicians performing.
During our visit, we stopped off at the newly opened SIP, an edgy wine tasting room with a sexy rooftop lounge that has burning candles atop wine casks and white lights strung overhead. The inviting setting is perfect for enjoying tapas and a few glasses of Malbec under the stars. Afterward, we veered a block off Main and headed to the Cazbah, a dark and intimate late-night wine and tapas bar that rocked our taste buds with small plates of citrus-teriyaki tuna on soba noodles, fried goat cheese salad, and hot-and-spicy roast duck.
On another night, we dined on scrumptious farm-to-fork cuisine at Soby's New South Cuisine, located across the street from our hotel. From our patio table, we watched horse-drawn carriages clip-clop by and savored arugula salad with roasted beets, feta cheese, and a sorghum vinaigrette, followed by the most delectable roast rabbit and risotto that I've ever tasted. John's locally brewed Thomas Creek Appalachian Amber Ale wasn't too shabby, either.
Soby's owner, Carl Sobocinski, graduated from Clemson University in 1990 and moved to downtown Greenville, where he witnessed firsthand the fervor surrounding the city's imminent renaissance. "There was tremendous energy and enthusiasm from business leaders and elected officials to revitalize our downtown into a place that all would want to enjoy. I was in my midtwenties and an entrepreneur, and I wanted to be a part of this development and revitalization project," says Sobocinski, who jumped on downtown Greenville's renewal bandwagon, opening Soby's in 1997 and six additional downtown restaurants over the next sixteen years under his Table 301 restaurant group umbrella.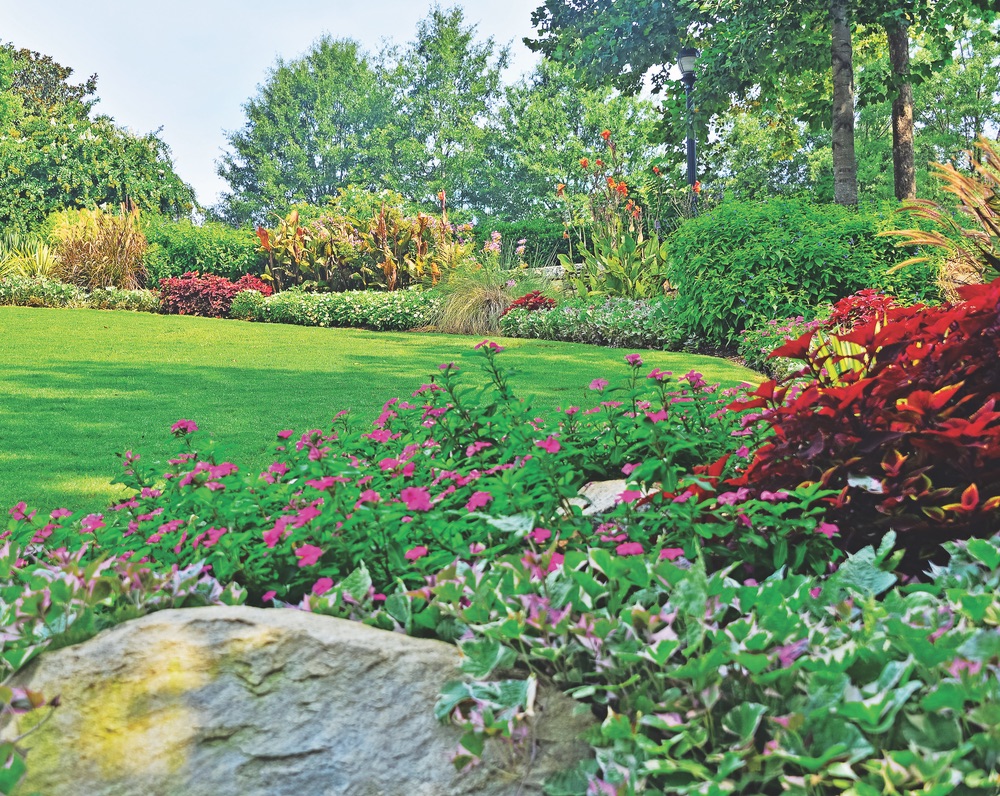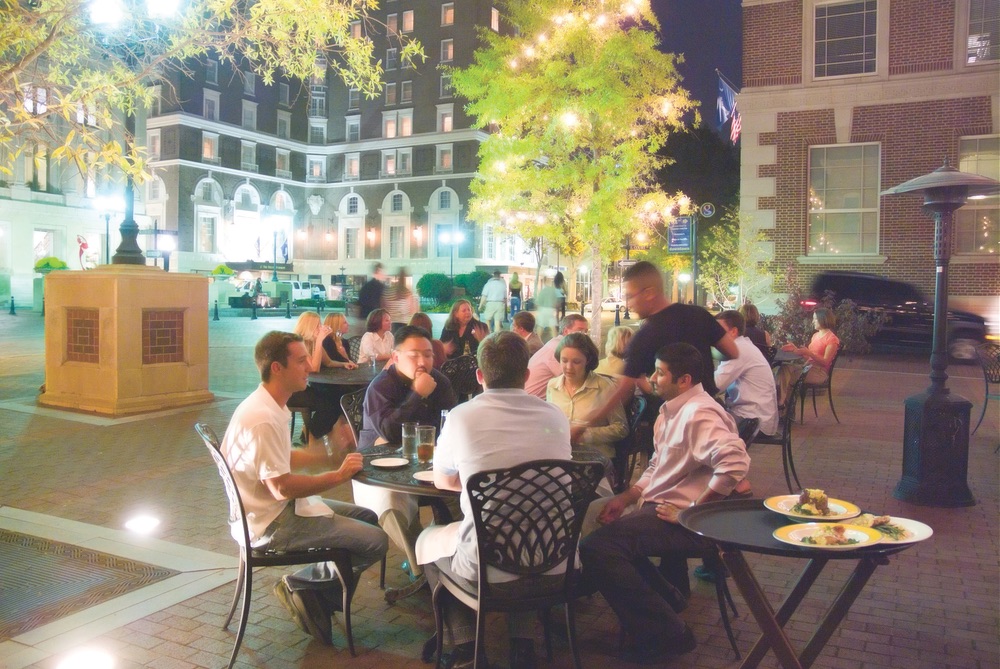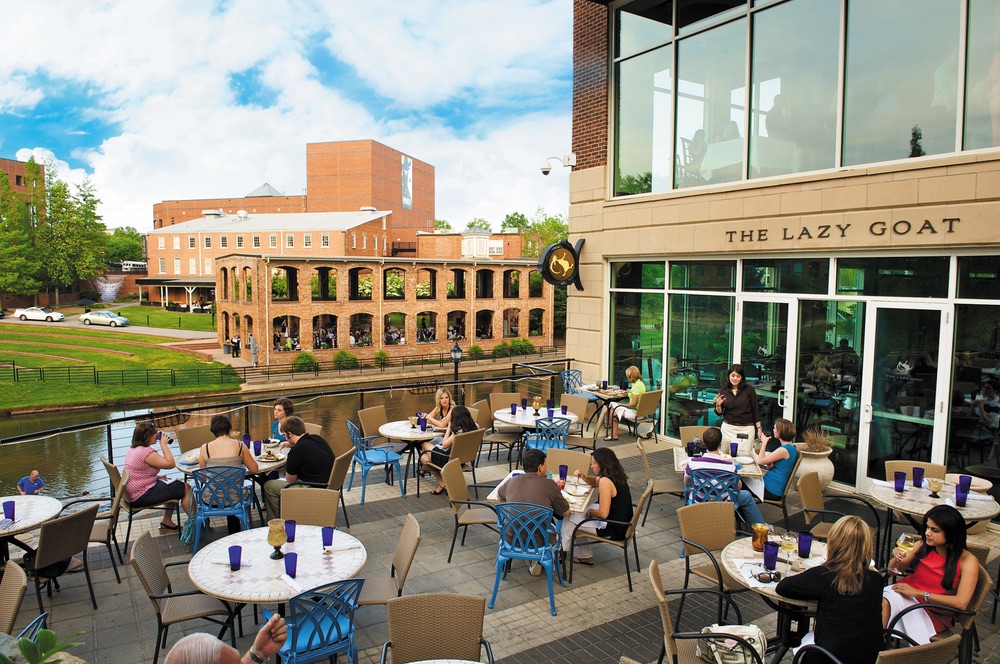 Sobocinski was also instrumental in Greenville's restaurant scene by successfully leading a grassroots effort in 2000 to petition that alcohol be allowed to be served on Sundays with a meal. He also helped to found Euphoria, the city's premier food, wine, and music festival held each September. Main Street's TD Saturday Market, held May through October, has been supporting and promoting area farms and their purveyors since its inception in 2000. Not surprisingly, Sobocinski also helped kick start this popular event. When John and I explored the market, the stalls were filled with colorful organic fruits and vegetables: green-and-yellow summer squashes, softball-sized peaches, and seventy-two kinds of peppers. The morning's showstopper, however, was Smokin' Ed's Carolina Reaper, which, despite its deceptive resemblance to a miniature red bell pepper, has officially been named the world's hottest habanero by Guinness World Records.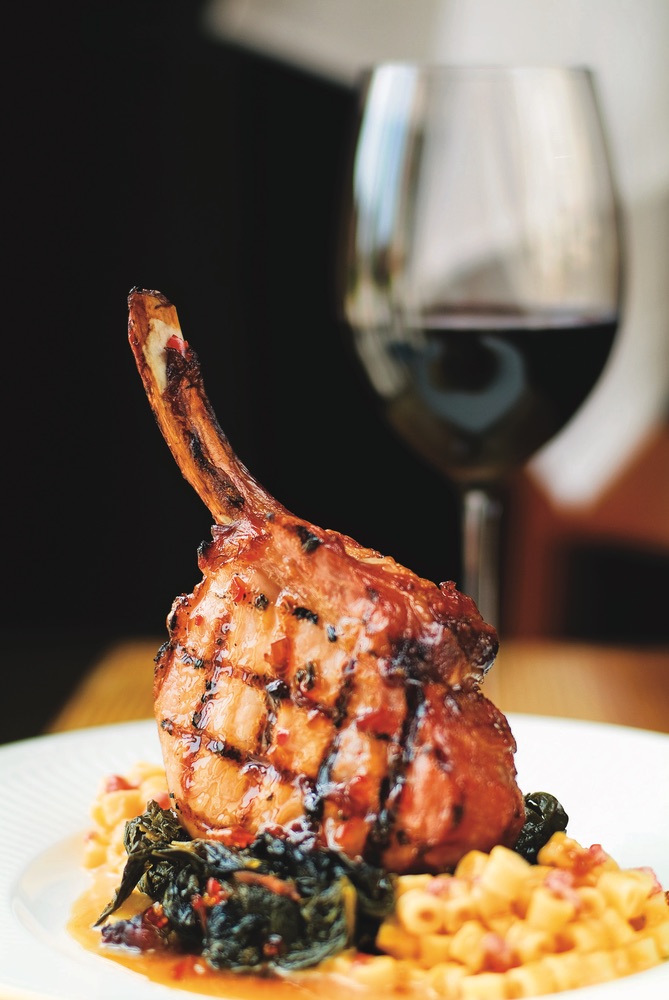 West Side Story
Main Street continues south past the Westin Poinsett and then crosses over the Reedy River into Greenville's historic West End District, which has also experienced an astounding transformation. It was formerly plagued by some of the city's highest crime, lowest-income housing, and poorest infrastructure. In the mid-1990s, Greenville secured millions of dollars in federal aid and converted this former eyesore into a vibrant offshoot of downtown, brimming with its own watering holes, shops, and attractions. Among Taryn Foster's favorite West End haunts are Rick Erwin's West End Grille, a deli by day and an intimate fine dining restaurant at night; the Velo Fellow, a nostalgic British-style public ale house with a Southern flair; and Smiley's Acoustic Café, with delicious homemade food and free live entertainment.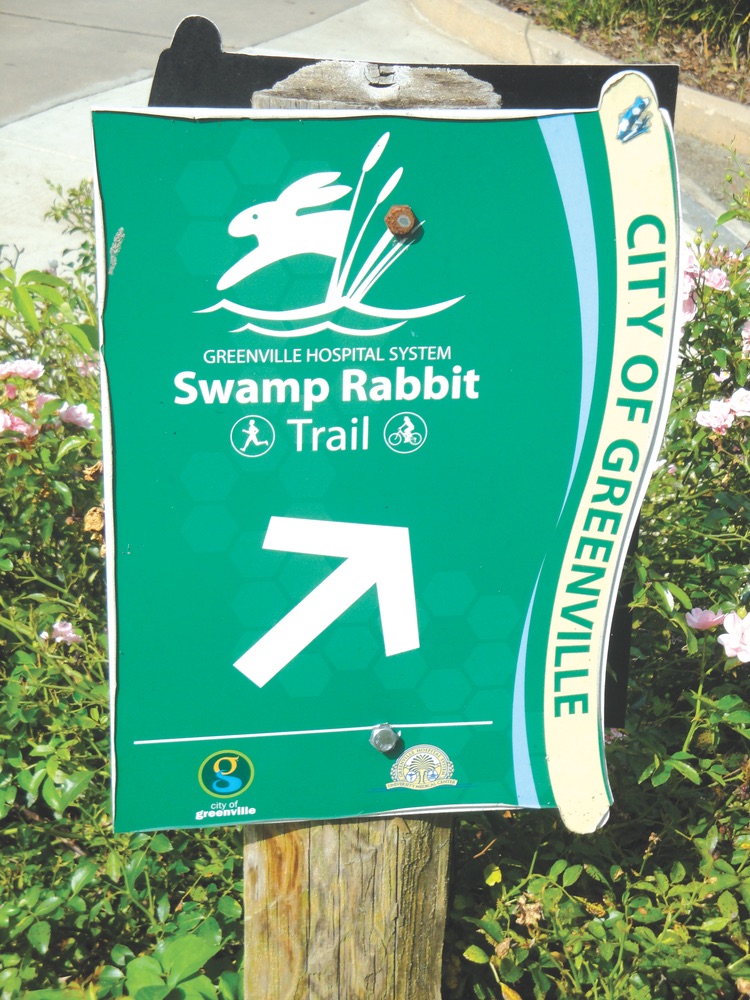 RiverPlace is one of several mixed-use retail complexes in the West End. Besides great views of the Reedy, RiverPlace contains a Hampton Hotel, Michelin on Main with an array of maps and books, High Cotton Maverick Bar and Grill, a dozen art galleries, and another Sobocinski gem, the Lazy Goat, where we relaxed on the delightful terrace over a couple of Lazy Goat Amber Ales and lunched on flavorful Mediterranean-inspired fare. Perched across the river is Larkin's Restaurant, particularly popular among concertgoers at the adjacent Peace Center for the Performing Arts. On Saturday night, while much of the city huddled in pubs and sports bars up and down Main to watch the much-anticipated preseason showdown between Clemson University and the University of Georgia, John and I celebrated our anniversary on the romantic covered patio at Larkin's, complete with a serendipitous serenade, thanks to a wedding reception that was under way in a nearby brick warehouse–turned–event venue.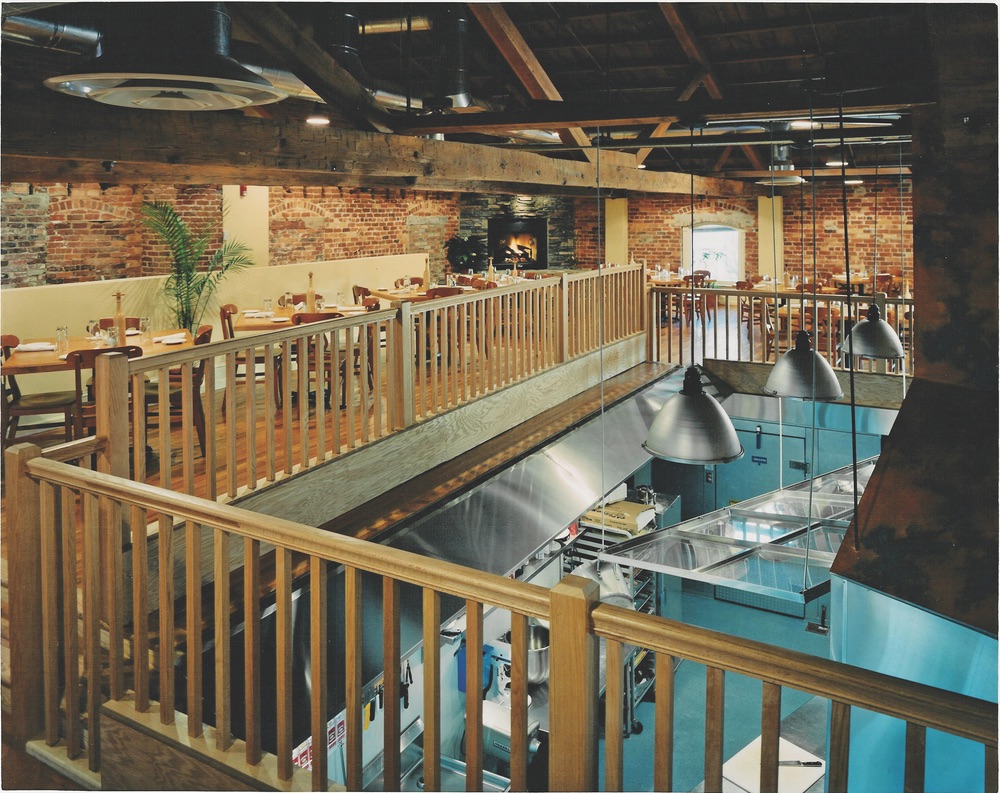 Falling for Greenville
Falls Park on the Reedy is Greenville's beloved version of Central Park—it is the city's heart and soul. Located smack-dab between downtown and the West End, this serene twenty-acre urban oasis is where locals and visitors alike come to exercise, commune with nature, attend special events, gather with friends, and seek solitude. According to Mayor White, Falls Park, which opened in 2004, was initially a tough sell, but in hindsight it appears to be the game changer that cinched the West End's remarkable transformation. White has been quoted as saying, "The park cost $13 million. Within two years, over $100 million in private investment was created around the park—hotels, restaurants, condominiums, apartments; and the entire, what we call the West End of our downtown, just blossomed." At the park's epicenter are the twenty-eight-foot-high Reedy River Falls, and above is the one-of-a-kind Liberty Bridge, whose three hundred and fifty-five feet of suspended cables afford pedestrians a bird's-eye view of the cascading river.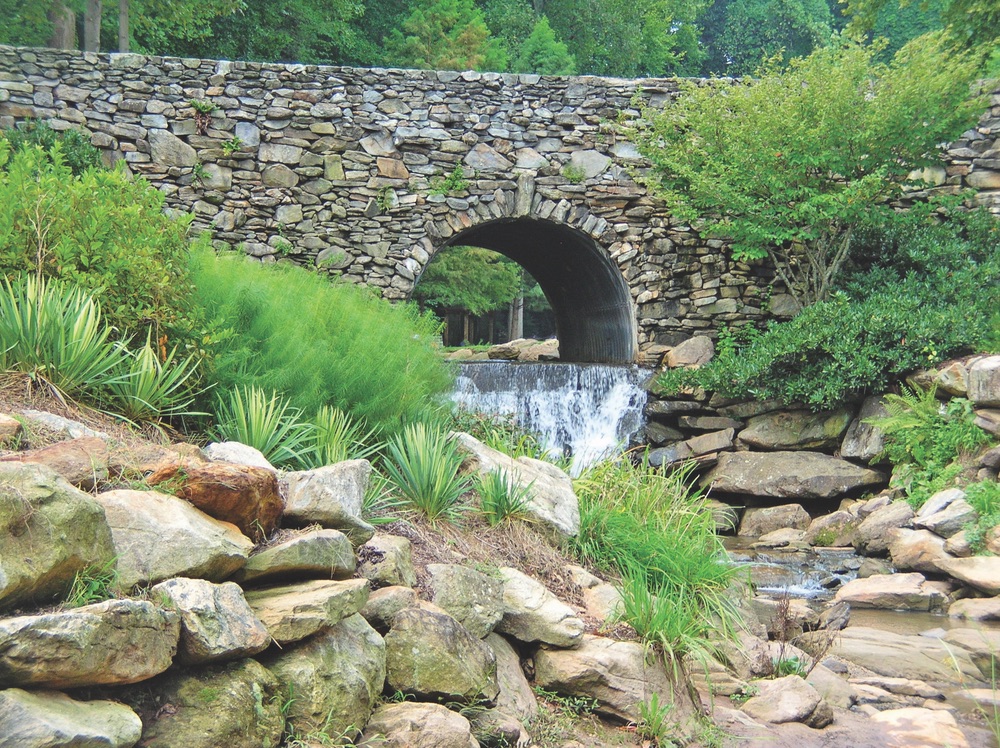 Hitting the Trails
Falls Park contains miles of pet-friendly, paved paths that continually skirt and crisscross the Reedy and are interwoven with Greenville's popular seventeen-and-a-half-mile GHS Swamp Rabbit Trail. A stone's throw to the south is Cleveland Park, which has tennis and volleyball courts, playgrounds, and the Greenville Zoo. In a few more miles, the path unfurls at Lake Conestee Nature Park, home to numerous bird species and ten miles of woodland trails and boardwalks.
John and I hopped on the Swamp Rabbit Trail near our hotel and cycled north, wending through Greenville's backstreets until we reached the city's outskirts, where the smooth, paved greenway has replaced the abandoned railbed of the former Carolina, Knoxville and Western Railway. The line's "Swamp Rabbit" nickname dates back to the late 1800s, when Greenville locals would hitch a ride on the freight cars to picnic in the mountains north of the city. The scenic trail has several notable pit stops, but by far the best was just outside the city at the Swamp Rabbit Cafe and Grocery, which attracts a steady stream of bikers, joggers, and walkers who clamor for melt-in-your-mouth sandwiches and fresh baked goods.
At the trail's northern end is the quaint hamlet of Travelers Rest with its own unique attractions. The Cafe at Williams Hardware is a trendy hardware store, café, and gift shop where bikers drink sweet iced tea and eat ice cream on the back porch. Newcomer Copperhead Mountain Distillery pays legal homage to the area's many moonshine stills that decades ago were hidden like Easter eggs in the surrounding Upcountry hills. Free "white lighting" samples are available in the tasting room. We tried the hundred-proof Snake Bite and the sweeter, tamer Passionate Peach, which had half the bite at fifty proof but was still strong enough to make you feel fuzzy. The highlight of our nine-mile return to Greenville was a delightful detour around Furman University's gorgeous campus with rolling lacrosse fields, stately halls, and a picturesque bell tower overlooking the lake.
Greenville nuzzles South Carolina's rugged Upcountry, home to the Blue Ridge Mountains and a dozen state parks—pure heaven for mountain bikers and hikers. On Sunday, John and I managed to squeeze in two great hikes. Our warm-up was at scenic Paris Mountain State Park, which is located on the outskirts of the city; the shade of the trees here gave us a cool respite from the sun. Afterward, we drove thirty minutes north of Greenville to Jones Gap State Park for a more challenging trek. We tramped along the well-marked woodland trail that skirted rock-strewn tributaries of the Middle Saluda River, then zigzagged up the craggy Blue Ridge Escarpment, where our reward awaited us—a hundred-foot rock face waterfall, Rainbow Falls.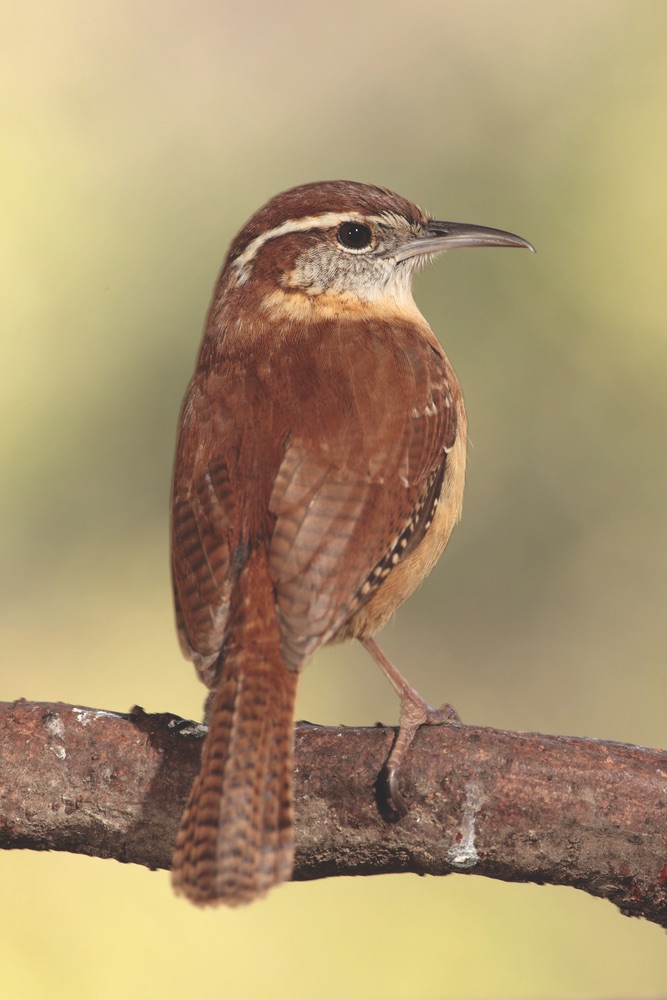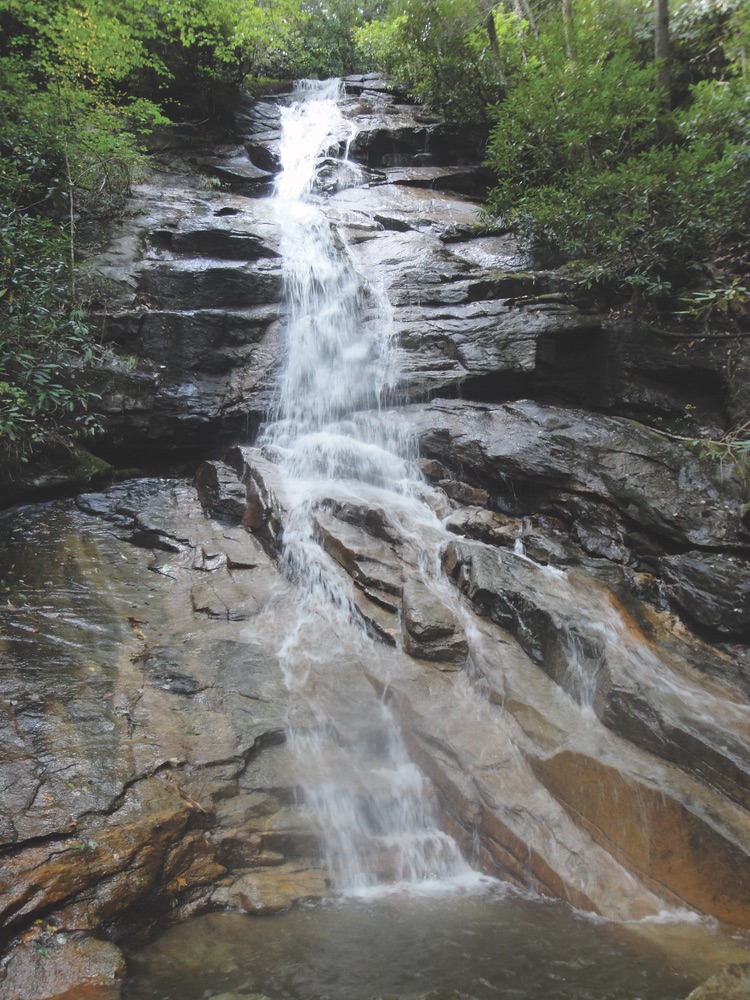 Greenville hosts about three hundred special events and festivals a year, any one of which could put the cherry on the top of your trip. From the Greenville Scottish Games to the Upstate Shakespeare Festival, there is always something going on in "G-Vegas." And as Foster says, "Like Vegas, everyone should go at least once!"
— V —
ARTICLE CATEGORIES