Introduction by Scott McKinney
If college football is truly a religion in the Deep South, then Saturdays are officially holy days. Nowhere else in the world can you find more passionate fans when it comes to their allegiances; it's born in our culture—sharpened in blood, steeped in tradition.
When crisp, fall Saturdays roll around, everything comes to a screeching halt. Family plans, work, even weddings. Nothing is more sacred than an autumn Saturday in the Deep South. Nothing. Whether you are in Atlanta or Memphis, Destin or Knoxville, Saturday's are untouchable.
When Mark and Elizabeth Cummings of Valdosta, Georgia, decided to get married, their families were thrilled. After all, the couple had dated for eleven years, going all the way back to their days as school sweethearts in fifth grade. Joy filled their lives and homes, and the promise of a fruitful, successful marriage was exciting.
However, they soon realized that planning a wedding in the fall could be tricky, even downright painful.
"Both of my parents are graduates of the University of Georgia and are die-hard Bulldog fans," Mark said. "Elizabeth's family are all Auburn alumni. When we told them we wanted to get married in October, it was almost as if you could hear the breath come out of everyone in the room. I think we would have received less of a reaction if we had told them we were pregnant."
Fortunately for the Cummingses and their families, they found a Saturday when both Georgia and Auburn had open dates, and they held their wedding that day. "But, it really was touch and go for a while," Elizabeth said laughing.
Welcome to the Deep South. We believe in God, family, and college football, and oftentimes, depending on the time of the year, not necessarily in that order. Careful consideration is a must when planning anything in the fall. Weddings are no exception.
Our culture is as unique as redeye gravy on cathead biscuits. Hank Williams, Jr., perhaps captured it best when he sang, "We say grace, and we say ma'am. If you ain't into that, we don't give a damn." Being from the South—the Deep South—means you drink sweet tea, you cook with Crisco when you fry chicken, you know your manners, and that you also "declare" for a college team soon after you are first able to walk and talk.
Shelby and John DuBose of Niceville, Florida, have attended 177 consecutive Alabama football games, dating back over fifteen years. Whether the Crimson Tide is at home or on the road, the DuBose family will be there. Why, you might ask, would someone drive hundreds of miles every weekend for a football game? The DuBoses must drive five hours just for a home game in Tuscaloosa.
For the love of the game. For the love of the school. For the love of the Deep South way of life.
"And, we are not even close to having gone to the most games in a row," John added. "There are lots of Bama fans who have been to many more games in a row than we have been. We do it because we love Alabama. We bleed Crimson. We enjoy ourselves, we enjoy visiting with our Alabama friends, and of course, winning a few national championships along the way doesn't hurt."
Winning is important, but Southern college football fans find winning is simply icing on their cake. The important part is the socializing.
A popular item at the Ole Miss Bookstore in Oxford, Mississippi, is a lithograph that reads, "Ole Miss—We may not win every game, but we ain't never lost a party."
For Niceville Family Dentistry senior partner Dr. Ralf Zapata, a typical fall weekend means loading up the supplies and heading to Oxford to root on his alma mater. Zapata and tens of thousands of Ole Miss fans just like him turn the Ole Miss campus into a tailgating tent city during Rebel home games.
Ole Miss has long been considered one of the best college football tailgating experiences in the country, and for good reason. Parade Magazine named this charming Old South campus one of its top tailgating destinations in August of 2011.
"We gather in the Grove early Saturday morning, most times before sunrise, and just visit with old friends," Zapata said. "We know our football team has not been the best the last few years, but we still anxiously await the weekends when we can head back to campus."
Family bliss is often centered around how teams do on Saturday. Most homes are one-team supporters with everyone under the same roof sharing the same fanship. But, it doesn't always work out that way.
Two-term Destin mayor Craig Barker is a graduate of the University of Florida. His wife, Callie, is a graduate of LSU. They have been married for ten years, and early on in the marriage, Craig admits, the competitiveness was there.
"We learned early on that our teams are typically pretty good and we try to have a good time, but you can always tell when its Florida-LSU week around the house," he said. "We have a few inside bets."
In spite of the rivalry, the Barkers have found a way to enjoy their passion for college football.
"We both live very stressful lives, so game day is really special in our household. We wake up on Saturday, put a Boston butt on the grill, turn off the cell phones—it's really refreshing and a passion for both of us. I always have an excited feeling in the pit of my stomach when the Gators play and Callie gets adrenalized when LSU is playing," Craig added.
Not every marriage has been as smooth as the Barker's. Troy and Susan Griffin of Montgomery have a love-hate relationship. He is a 1985 graduate of Alabama. She is a 1987 Auburn alumni. They love each other dearly and have four children.
"There is nothing in this world I would not do for my husband," Susan said. "But, when it's Auburn-Alabama week, that's different. I don't cook, clean, or do much of anything. It's every person for themselves that week. And, whichever team loses the game, the other person typically does not speak for a week."
"Eventually everything passes and settles back down," she added with a smile.
But, this is Auburn-Alabama. It's bigger than life.
Legend has it that many relationships and friendships never find the common ground of mutual respect the Barkers and Griffins enjoy. There are stories of season tickets being fought over tooth and nail in a divorce settlement. An old Birmingham story tells of a neighbor selling his dream home to get away from his arrogant Auburn neighbor. Yes, he was an Alabama fan.
The rivalries know no boundaries. They pit brother against brother, husband against wife, and parent against child. They can even be found in the pulpit on Sundays. Where else can you go but the Deep South and see a college football game on Saturday and hear about the results during the Sunday sermon?
In the South, we name our children after things important to us like "Dixie," "Bear," "Tiger," or even "Gator." Our lives revolve around Saturday. A funeral home director in Marianna, Florida, even tells of a time when a dearly departed had his services delayed because his widow was afraid no one would show up if the funeral were held at the same time as the Florida-Florida State game that day.
One interesting aspect to being a college football fan in the Deep South is that you never have to actually attend college to be a dyed-in-the-wool fan. Truth be known, most of the fan bases at Southern colleges are not alumni. But, don't question their passion or else you'll get a nice heaping dose of why he is not only the biggest fan ever of his school, but also why you must have some Yankee blood somewhere in your line.
Saturday is holy day here among the magnolias and pines. The cathedrals are places like Bryant-Denny Stadium in Tuscaloosa, the Swamp in Gainesville, or Death Valley in Clemson. They take your breath away when you first walk through the tunnel on a Saturday afternoon.
Southern college football fans may not remember the birth dates of their children, but they can tell you who played quarterback in the 1983 Georgia-Auburn game and the critical turning point of the contest. They may forget their wedding anniversary, but they can tell you the name of every football coach at their school for the last fifty years and what ultimately caused their demise.
Game day in the Deep South is not just one day. It's a week. It's an entire season. Heck, it's a year-round way of life. One may graduate from a Southern university, but one never really leaves it. Being a college football fan in the Deep South is about passion, pure unbridled passion. Game day is not a day for us—it's a way of life!
— V —
Scott McKinney is the host of Southern Sports Tonight, the radio show he started twelve years ago. SST can be heard each weekday from 2 to 6 p.m. on WTKE 100.3 FM in Destin, Fort Walton Beach, and Pensacola, and on 93.5 FM in Panama City. He has also worked as a sideline and feature reporter for ESPN's College Football and has published a syndicated column on college football. Having lived in Destin for the last ten years, he enjoys spending time with the love of his life, Robin, and their six children, and church activities in his spare time.
---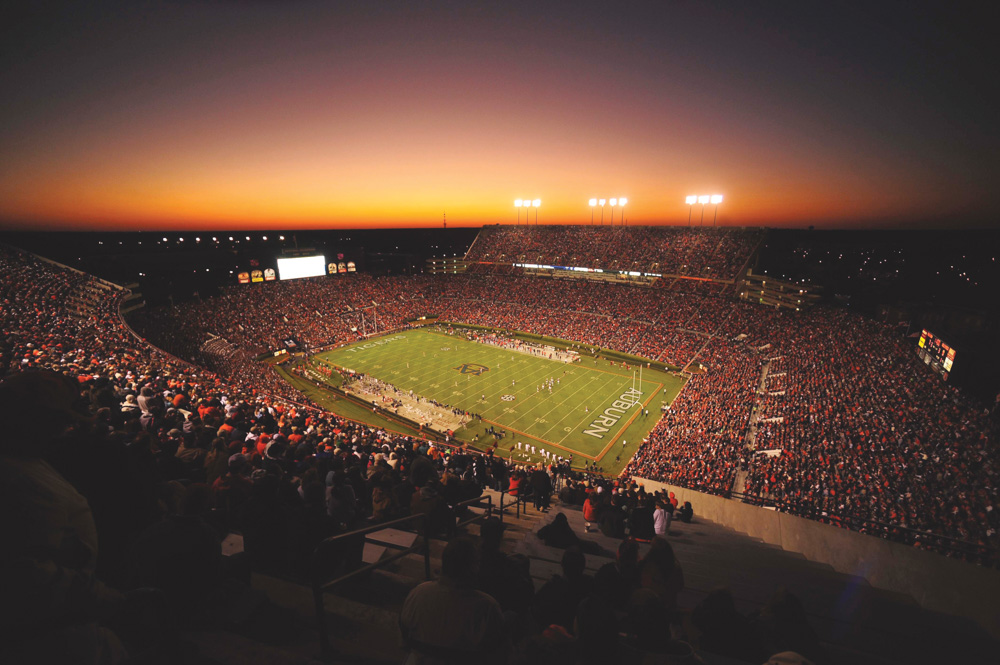 Auburn University vs. University of Alabama
The Iron Bowl
By Lauren Justiss
Much has been written about the Iron Bowl, widely considered the most hostile rivalry in the country. Should you meet someone from the state of Alabama who says this rivalry doesn't matter or that they pull for both schools, they're lying. At some point, very early in life, one must choose: War Eagle or Roll Tide. Still, the rivalry does not stop at the state line. Fans are scattered across the nation, trying to convince all around them that theirs is the better team.
The students of Auburn University, then known as the Agricultural and Mechanical College of Alabama, and the University of Alabama first played one another in 1893. Auburn won 32–22. The first of many disagreements, Auburn viewed the game as the first of the '93 season; Alabama called it the last game of the '92 season. The seeds of what is now the most heated rivalry were planted. As college football lacked the organization it has today, there were many disputes, causing the series to stop in 1907. Forty years and a generation later, the state legislature threatened to withhold state funding unless there was a full athletic program between the two schools, so both finally agreed to commence play. In 1948, Alabama won 55–0, the most lopsided score in the history of the series. Over the years there've been countless memorable games. For the past three years, the winner of the Iron Bowl has gone on to win the national championship, which speaks volumes for two relatively small schools in a relatively small state.
Alabama leads the series 41–34–1, but Auburn's record for the last thirty years has them leading 17–13. Alabama racked up nine straight under Coach Paul "Bear" Bryant in the '70s, while Auburn earned six straight in the '90s. That said, no matter what record or title one has, the other always finds a way to one-up as a means to brag why their team is best.
An Iron Bowl victory earns bragging rights of utmost importance to all involved. From game one of a season, and all year long, one thought remains: Iron Bowl. Every game day is an experience but none compare to this. It's hard to think of a time when a title, individual award, or perfect season was not on the line, giving the opposing team extra incentive to prevent it. It's all captured that Saturday in late November. Calling a game-day atmosphere "electric" seems a cliché until one has experienced Auburn vs. Alabama. At times, the bitterness has been unhealthy, but for the most part, it's like an old friend or neighbor you temporarily love to hate.
Long before kickoff, the tailgating takes place. Part of the football experience in the South, tailgating is a long-standing tradition that brings together fans from all over to socialize, eat, drink, and pass the time. Iron Bowl tailgating is the final chance for last year's victor to brag, and everyone is on edge. Emotions run high as everyone knows there are only four quarters of football ahead.
Auburn tailgating involves students scattered all over campus with alumni and loyal fans set up with tents and RVs, some arriving days in advance. It's a vast family reunion of fans ready for the game. Alabama is known for tailgates in the Quad or on the lawns of Greek houses. It's a great party, where fans mingle from tent to tent, reminiscing about the days of the Bear and anticipating kickoff.
Each school has a spirited tradition for its team's entry into the stadium. Auburn has Tiger Walk, which includes the band, the cheerleaders, and the mascot, Aubie, all marching the Tigers into Jordan-Hare Stadium. Alabama has the Elephant Stomp: Big Al (Alabama's mascot) and the Million Dollar Band escort the Crimson Tide into Bryant-Denny Stadium. Once inside, Auburn ignites with the pregame eagle flight, while Bama plays clips of some of Bryant's greatest speeches. The spirit also comes through in game-day clothes: there's the well-known houndstooth that has swept Bama and Auburn's burnt orange and navy attire, from casual T-shirts and khakis to boutique style dresses. All have shakers in hand. Each game sparks memories and debates for years to come. By the final play, though all are exhausted, most still find their way back to tailgate into the night to celebrate—or commiserate.
Regardless of your own college affiliation, it's worth a trip to an Iron Bowl to see it for yourself. Tickets aren't cheap and the intensity may surpass your comfort level, but you'll gain new friends and experience one of the greatest rivalries in all of sports. And who knows—maybe you'll be wearing burnt orange or houndstooth to watch the Iron Bowl the following November.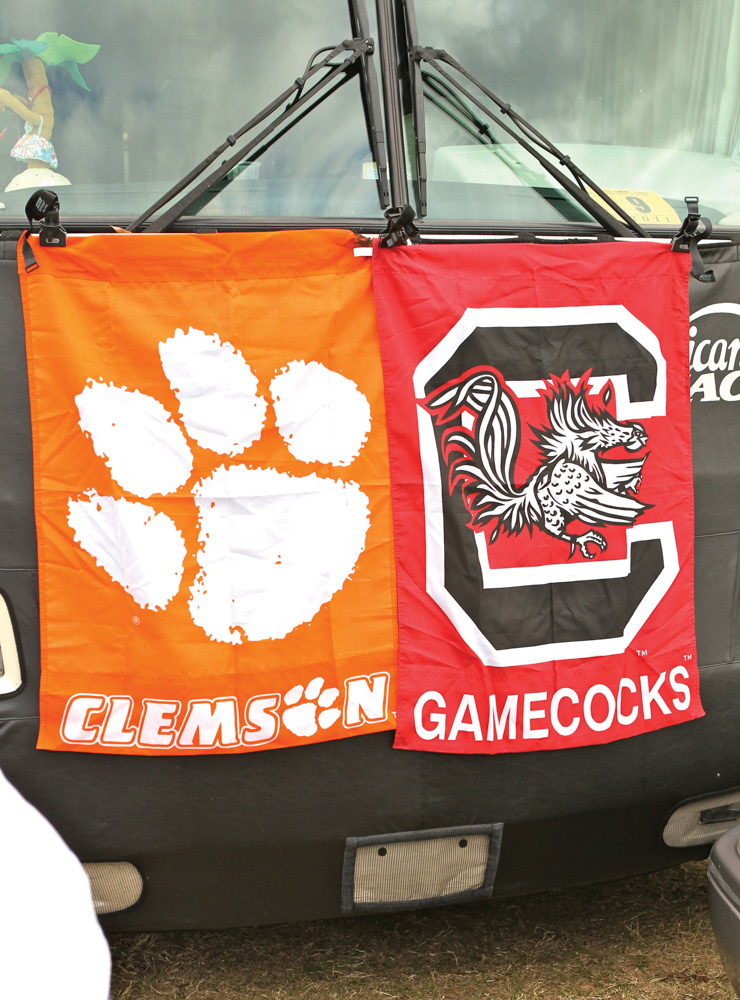 Clemson University vs. University of South Carolina
By Sandra Woodward
A few historical facts are worth remembering to put the football rivalry between Clemson University and the University of South Carolina in perspective:
South Carolina was the scene of more battles in the American Revolutionary War than any other of the thirteen colonies.

The Palmetto State was also the scene of the first shots fired in the Civil War.

Clemson University, née Clemson Agricultural College, was created as a direct result of certain state legislators' displeasure with South Carolina College, later known as the University of South Carolina.
Judging from history, citizens of the Palmetto State are always ready for a good fight. Add to that the political divisions surrounding the events of Clemson's creation, and therein lie the makings of a blood feud deeper than the roots of stadium turf and the longest-lasting of any football rivalry in the South.
Clemson and South Carolina met for the first time in 1896, but in 1902, a postgame brawl resulted in suspension of the series until 1909. The match-up has been played every year since. Nowadays, the game alternates between Death Valley, a.k.a. Clemson Memorial Stadium, and Williams-Brice Stadium in Columbia. Until 1960, however, the game was played on the Thursday of the South Carolina State Fair. Dubbed "Big Thursday," the game garnered a national following because of the intensity of the rivalry and the fact that it was the only college game in the nation played that day. But in South Carolina, national attention was secondary. The game was—and still is—all about bragging rights. Schools and businesses closed. Fans of both teams streamed into the capital from the mountains to the coast, and those who couldn't attend listened on the radio. Every person in the state took sides but one: by tradition, the governor watched the first half of the game on one side of the stadium, crossing the field at halftime to enjoy the second half with constituents on the other side.
Clemson leads the series 65–40–4, but Carolina has won the last three consecutive games. It is anybody's game. The rivalry has spawned off-field activities perhaps even more intense than the game itself. Carolina students may burn a Clemson Tiger in effigy, and a mock funeral for the Gamecock has been a hallmark of Clemson's pregame revelry since the 1940s. Various statues have been defaced, including that of a Confederate general on the State House grounds in Columbia. In true war hero fashion, the general managed to evade the enemy, but his poor (bronze) horse's nether regions were discovered at sunrise on game day to have been painted Clemson orange. Carolina fans pulled off a beauty of a prank in 1961, when members of a fraternity dressed as Clemson players and managed to make it onto the field for pregame warm-ups to the cheers of the Clemson fans, who realized they had been duped when their "players" started running into each other, falling down, and exhibiting other unathletic behavior. Larry Williams, coauthor with Travis Haney of Classic Clashes of the Carolina-Clemson Football Rivalry: A State of Disunion, is a Carolina graduate who has covered Clemson football as a sportswriter for years. He said until he researched the book, he didn't realize the depth of feeling involved.
South Carolina is a small state, and there are people who go to church together, work together, who grew up together, who are on opposite sides. There is constant smack talk all year long.
Still, two relatively new traditions illustrate the positive side of the competitive spirit between the two schools. Each year, members of the Sigma Nu fraternity run the game ball from the visiting school to the home team's field. And the Clemson-Carolina Blood Drive, sponsored by Alpha Phi Omega service fraternity, is a competition to see which school can donate the most blood. Everybody wins that one.
Once a necessity, tailgating has become a social event that binds friends and families through the rituals of favorite foods and beverages, games, and even favorite stories repeated through the years. In urban Columbia, tailgating activities are centered around the state fairgrounds next to Williams-Brice Stadium, where a unique option is the "Cockaboose Railroad," upscale tailgating condos created from railroad cabooses. Practically every square inch of Clemson's rural lakeside campus is devoted to tailgating. (Those who opt not to tailgate can visit the Esso Club, noted by national sportswriters as one of the nation's best sports bars.) In Clemson, even the food reflects the rivalry. Tiger fans may eat barbecue and burgers the rest of the season, but on the day the team faces the Carolina Gamecocks, everybody eats chicken!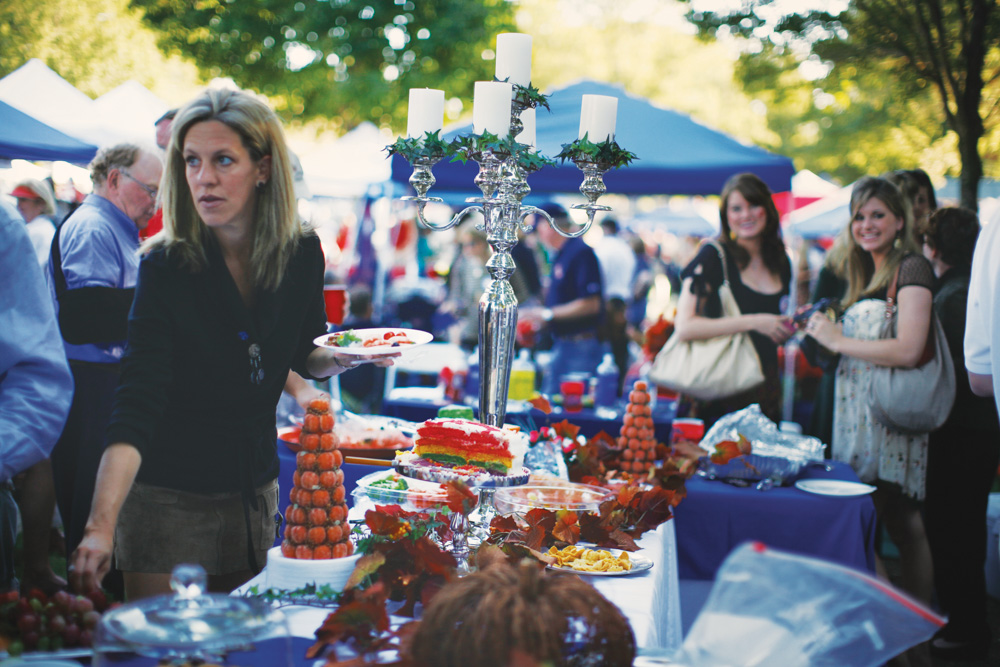 University of Mississippi vs. Mississippi State University
The Egg Bowl
By Adam Ruff
Mississippi is a tight-knit state. People work and live together and attend church with one another every Sunday. And for the most part, Southern hospitality and manners ensure they get along well. But one day out of every year, that bond is tested. That day is Thanksgiving (or the Saturday after it) when the annual gridiron clash between the state's flagship university and its land grant institution occurs.
Located a hundred miles apart, the University of Mississippi (or, to many, beloved Ole Miss) and Mississippi State, or "State" to most fans, will meet this November for the 109th time. The annual game is tied for the fifteenth most-played rivalry in college football history. Ole Miss holds a 60–42–6 edge in the series, although since 1986, the series is tied at thirteen apiece, with no team winning more than three in a row in that time.
The Battle for the Golden Egg, more affectionately known as the Egg Bowl, first happened in 1927, a year after a melee broke out in State's Starkville home following an Ole Miss victory. Ole Miss fans, excited for their first series victory in seventeen years, stormed the field, where they were met by chair-wielding Mississippi A&M (the name was changed to Mississippi State in 1932) fans defending their own goalposts. Vowing this would not happen again, the respective student bodies worked together to create the Golden Egg trophy to be awarded to the winner of the yearly contest.
There have been many memorable games in the 108 contests, but perhaps none more so than in 1983, a game known in the series as "the Immaculate Deflection." Down 24–23 with seconds left to play, Mississippi State lined up for a twenty-seven-yard game-winning field goal. The kick was right down the middle and appeared to have plenty of distance until a forty-mile-per-hour wind gust came and knocked the ball back, short of the goal posts. The Rebels would run out the clock to claim the upset victory.
Of late, however, the Maroon and White have taken control in the series. Coach Dan Mullen was brought in to revive a struggling program, and step one was to never again lose to "the school up north." To the delight of many State fans, Mullen has made it a point to never utter the name Ole Miss. (And so far he has not lost to them either.) After an understandable period of anger, this intended insult has mostly run off the backs of most Ole Miss players and fans. During SEC Media Days, Charles Sawyer, Ole Miss's starting safety, put it best when asked how he felt about being called "the school up north" by saying, "We say 'Mississippi State.' We're grown men. We treat people with respect."
Traditions run deep for these two Mississippi universities. At Mississippi State, the ringing of the cowbell is revered by Bulldog fans. It is a tradition unique to the school: the cowbells create a loud and intimidating atmosphere when the Bulldogs pull off a great play or score a touchdown. Ask Ole Miss fans, however, and they'll say the cowbells are an unfair advantage. But to State fans, they are a tradition near and dear to the hearts that bleed maroon and white.
Venture over to Oxford, and not an hour will go by without the chant of Hotty Toddy ringing through the Grove, the stadium, or any public venue inhabited by Rebel fans. Often prompted by the Pride of the South's rendition of "Dixie" (an unofficial fight song of Ole Miss), Hotty Toddy goes like this:
Are you ready? Hell yes! Damn Right! Hotty Toddy, Gosh almighty Who the hell are we – Hey! Flim Flam, Bim Bam Ole Miss By Damn!
But no tradition runs as deep in the hearts of the fans as some good ole Mississippi tailgating.
The Grove, a 10-acre area located in the heart of campus shaded by dozens of oak and magnolia trees, is the tailgating home for Ole Miss fans and, according to most who have visited, the premium tailgating spot in the country. Sports Illustrated ranked it the number one tailgating spot; ESPN, number two. The Grove is known for its elaborate tent decor: ornate centerpieces, sterling silver, and chandeliers are more the norm than the exception. Ole Miss fans, clad in their best sundresses and pearls or slacks and sport coats, go from tent to tent, sipping cocktails, savoring Southern delicacies, and catching up with old acquaintances to combat the pregame nerves. And don't be surprised to find private bands housed underneath the larger tailgating tents to celebrate a post-game victory.
While it's the Grove that gets all the acclaim, State fans will argue that the Junction at least rivals, if not beats, the Grove. State's Junction is a large, treeless lawn that sits right outside the stadium. The atmosphere is much more casual in nature, which suits State fans just fine, but it smells sweetly of bourbon and barbecue just the same. What it lacks in the ornate flair that Ole Miss fans pride, it more than makes up for in spirit, especially with the success of the football team over the last couple of years.
These differences drive the animosity between the two schools and make for one heck of an atmosphere on that first weekend after Thanksgiving when the Bulldogs meet the Rebels. And while the Egg Bowl might not be the longest rivalry, or the most well known, chat with people in the state of Mississippi and you won't convince anyone that it's not the best.
University of Florida vs. Florida State University
By Emmett S. Hightower
Deep in the heart of Florida a rivalry exists that defines a different version of good ol' Southern football. Since the first day the two schools met on the gridiron, the Florida Gators and the Florida State Seminoles have been engaged in a rivalry that splits the Sunshine State like day divides night. Florida versus Florida State. Or, if you are a Seminole fan, Florida State versus Florida. Yes, it matters which team is listed first—that's how deep the hatred runs in this Sunshine State rivalry.
To understand the depths of the Gator-Seminole rivalry, one must study the history of the two schools. Dating back to when Florida State was known as the Florida State College for Women and Florida was known as the University of the State of Florida, this rivalry has always been fiercely contested and fought with passion. Whether on the football field or in recruiting professors and students to their respective campuses, the rivalry between Florida and Florida State has always been intense.
Ironically, the two schools did not meet on the football field until 1958 for a variety of reasons—wars and the competition for state funding were all determents to having the two schools compete. And, neither school wanted to contribute one dollar to the other by playing games in either Gainesville or Tallahassee, and neither wanted to contribute to the local economy of the enemy.
Obviously, heckling is as big a part of the rivalry as the game itself. Florida State went through a period during which it was the Florida State College for Women, which makes for extreme heckling from Florida fans, even to this day. Many Gators claim they do not see a threat from a "women-only school." Florida State fans throw it back when they ask how it feels to lose to a "women-only school." Florida State fans claim the only sellouts in the Swamp (Ben Hill Griffin Stadium) occur when the Seminoles come to Gainesville. The Gator fans give it back to the 'Noles, claiming they order their fast food from Florida State graduates. Despite all the heckling, Florida and Florida State have competed on the football field fifty-six different times over the course of history with the Gators leading the series 33–21–2. But in recent years, thanks to legendary coach Bobby Bowden, the Seminoles lead the series 19–18–1. Not only are statewide bragging rights at stake when the Seminoles and Gators do battle, there are typically National Championship implications with their annual matchup. Florida and Florida State have both captured national titles since 1990 and this late November contest usually carries with it some positioning for Bowl Championship Series bowl games.
Games alternate every year between Tallahassee and Gainesville; the upcoming 2012 game is scheduled in the state capital. Since the game is transient, tailgating and game days can be varied experiences. Tailgating in Gainesville means floods of people wearing orange and blue, vehicles parked in any open space available, and classic barbecue on many a grill. Everyone in Gainesville eats and breathes the Gators—when it comes to tailgating, many claim there is no competition to Florida's rich traditions as the town transforms for the game-day weekend. People camp out around the campus for tailgating spots, the Bull Gator Club creates a luxury RV park beside the stadium, and every building along University Avenue is decked out in orange and blue. The whole town becomes a tailgate. No one walking up and down University Avenue goes hungry: a simple "Go Gators" is all it takes for most to get a bite to eat—no matter what colors you might be wearing at the moment.
Florida State, to be sure, has its own unique tailgating traditions, and a similar game-day atmosphere can be found on all the trails that lead to the stadium. The sound of the Seminole War Chant grows louder as one nears the stadium. Parking lots filled with tailgaters and their pregame festivities surround the stadium on all sides. And if you are wearing garnet and gold, invitations for a bite to eat or a cold drink are plentiful. While many of the Seminole Boosters tailgate around campus, more tailgating can be found across the street in students' houses and apartments, such as Indian Village, where fans converge until the sound of the Seminole beating drum leads them all down the warpath to the stadium.
It's not easy being a Gator in Doak Campbell Stadium in Tallahassee or a Seminole in the Swamp in Gainesville. Nonetheless, regardless of what team you root for, the Florida-Florida State game is something that every football fan should experience. The passion and intensity are incomparable, and the memories will last a lifetime!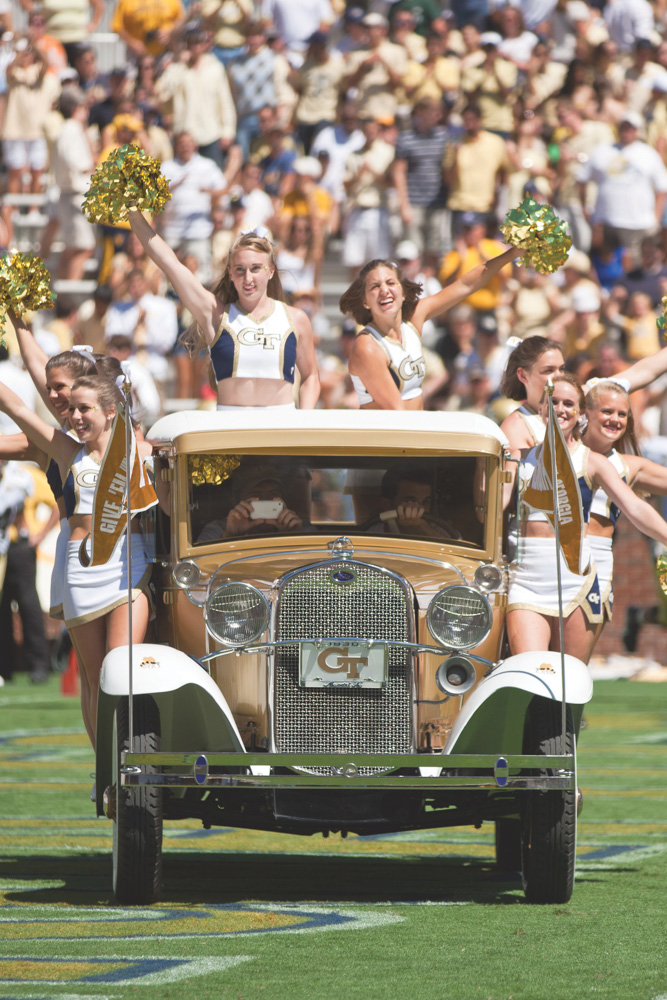 University of Georgia vs. Georgia Tech
By Sallie W. Boyles
Seventy miles apart, the University of Georgia (UGA) in Athens and the Georgia Institute of Technology (Tech) in Atlanta share a rivalry known as "clean, old-fashioned hate," which started when the ball teams first clashed in 1893. Meeting on the field for the 106th time in 2012, the Georgia Bulldogs—or "Dawgs"—and Yellow Jackets are like neighborhood kids who play just to fight. The rivalry sometimes even runs in families. In such cases, to keep the peace, football talk is off-limits!
Supposedly, UGA fans set the tone during that first game by heckling their opponents, thereby inspiring the lyrics for Georgia Tech's fight song, "Ramblin' Wreck from Georgia Tech." The lines referencing UGA say:
"… if I had a son, sir, I'll tell you what he'd do—
He would yell, 'To hell with Georgia!' like his daddy used to do."
Tech fans further refer to UGA as "the cesspool of the South."
In retaliation, Georgia fans alter their sanctioned fight song's ending, substituting "G-E-O-R-G-I-A" with "And to hell with Georgia Tech!"
Georgia alumni take bites at Georgia Tech, located near Coca-Cola's headquarters, calling it "the joke by the Coke." Stinging back, Tech grads say, "What do UGA graduates call Georgia Tech alumni? Boss!"
Who's right?
Don't ask the opponents, who dispute everything, even their win-loss record. Georgia excludes their WWII losses, claiming a wartime disadvantage between their diminished male enrollment and Georgia Tech's healthy all-male Naval ROTC population. Ultimately, UGA triumphs with 61 wins, 39 losses, and 5 ties, but … their games don't count in the conference!
Both schools were charter members of the SEC in 1932, but Georgia Tech, now in the ACC (Atlantic Coast Conference) resigned in 1963. When the Yellow Jackets attempted to return to the SEC, UGA allegedly blackballed them—yet another reason to hate the Bulldogs!
Given that UGA has won ten games in the past eleven years, why keep score?
Mike Alexander of Lawrenceville, Georgia, who graduated from Tech in 1980 with a Civil Engineering degree says, "The Georgia fan will tell you that it's no longer a rivalry. It's not, until we beat them and their coach is chased out of town!" Asserting that UGA takes such pride in recruiting top athletes, Alexander admits that a victory over UGA is particularly sweet. "Privately, many of us would rather beat Georgia than win the ACC."
Georgia fans either rub it in or convey nonchalance. A dentist who practices in Duluth, Georgia, Jim Stevens earned his undergraduate degree from UGA in 1977. A Bulldog since tailgating with his parents in the 1960s, he invites plenty of Georgia Tech friends to his tailgates every other year, when games are in Athens. "We don't sit together during the game," Stevens says, "but before and after, we're all friends."
When the Georgia-Georgia Tech game packs Sanford Stadium in Athens, the populace of over 92,000 fans creates what would be the seventh-largest city in Georgia. The sheer number of partyers compels the university to enforce unpopular tailgating rules—like no loud music before 7:00 a.m.!
The Stevens family, therefore, take their multifamily tailgate to South Campus, where regulations are relaxed. "Up to seventy people from three generations join us," says Stevens, who often serves Brunswick stew. Cohost Dale Dubose mans the grill. "If the game is late in the day, Dale grills a whole pig."
Their setup is elaborate. "With three tents, we probably look like we're holding a prayer meeting," Stevens describes. "Dale brings a generator and big-screen TV and comfortably watches the game from the tailgate." Win or lose, the game is their excuse to gather everyone. "If not for Football Saturday, we wouldn't see each other," says Stevens.
Donna Holden of Atlanta, a 1985 UGA graduate with a BFA degree, agrees. "For us, it's all about family," she says. Meeting up with her Augusta in-laws, she has tailgated for twenty years with her husband, Bill, a Vanderbilt alumnus who was raised a Bulldog.
Despite added restrictions on UGA's historic North Campus, the Holdens faithfully tailgate in a stately area that others (generally politicians) attempt to appropriate. Consequently, Team Holden arrives early to claim it, but happily shares when space permits.
About twelve years ago, we invited a man sitting alone nearby to join us. As it turned out, Merv was waiting for the rest of his party to arrive, and our merged tailgate grew to forty regulars!
Visitors include student friends, who drop over after leaving their frat parties. "They scavenge for leftovers!"
A culinary aficionado, Holden coordinates each themed menu. "I email everyone to plan what we'll each bring." Cheese grits casserole is among her favorite tailgate dishes. "It's easy to transport and goes with any menu—from Low-Country boil to brunch."
Decorations in UGA's red and black make everything appetizing, as do "Go Dawgs!" specialty M&M's, a Holden tailgate staple. "It's all red and black at UGA," she says, adding that Dawgs occasionally tolerate a splash of old gold and white, as when friendly Yellow Jackets buzz by.
ARTICLE CATEGORIES