By Liesel Schmidt | 

Photography by Leslie Isacks

Ask A-list celebrities and they'll readily tell you that their hair stylists hold their lives in their hands—hands that shape and shade hair into masterpieces: the perfect look, the perfect finish for any major event. Power this great requires both confidence and humility––enough confidence to inspire the trust of clients, and enough humility to deal with some of the demanding personalities encountered in such a challenging field. Hairstyling is, in Hollywood especially, a make-it-or-else career, and few hold as much status as stylists who wield the shears skillfully.

Among that exclusive set of stylists is Scott Taylor, whose fingers have teased, sheared, and painted the tresses of a lengthy list of celebrities. After working under the trained eyes of such heavyweights as Paul Mitchell, Sam Lapin (famed for his color transformations of Rita Hayworth and Marilyn Monroe), Jon Peters, and Gene Shacove, Taylor broke out on his own and built his clientele to include such notable names as Shania Twain, Kathy Bates, Joan Lunden, Diane Sawyer, Luke Perry, and Clint Black. He has maintained the locks of cast members from The Facts of Life, Primetime Live, Good Morning America, Live with Regis and Kathie Lee, Falcon Crest, General Hospital, The Young and the Restless, and The Bold and the Beautiful. He has been the man behind the masterpieces of many on-screen makeovers during his career and was the head stylist for the Academy Awards three times. Taylor possesses a magic touch, an undeniable talent, and a burning passion that have long kept him at the forefront of his field and earned him national acclaim—and even an Emmy Award.

His skilled hands have coiffed many a celebrity and he has collected a multitude of stories along the way. His is a rich history replete with the names and faces of Hollywood royalty. "Barbara Walters was my favorite to work with by far!" Taylor recalls. "Heading The Young and the Restless was the most challenging. The funniest was doing Julia Child after her return from a wine tasting at the Rex in Los Angeles, though I'm not sure who was funnier––her, Regis, or Rose Marie from The Dick Van Dyke Show! The coolest were Keith Urban, Frankie Avalon, the rock band Cinderella, and Joan Jett." The hairdresser's list of great names could very well rival the number of hairs on his head. "The most glamorous—Sophia Loren, Sharon Stone, Tina Louise. Glamorous yet very challenging was Zsa Zsa Gabor. Amy Grant was very kind," Taylor continues. Surprisingly, his interest was piqued most by such clients as Erin Brockovich, designer Nicole Miller, Maria Shriver, and some of the princes of Saudi Arabia. "Plácido Domingo was so real!" Taylor exclaims.

While working for ABC Television, Taylor was chosen as the key hairdresser for the Miss World America pageant. It was there he met and fell in love with Miss Tennessee 1992, Tiffany Adams. They later married. After his years on the Hollywood circuit, Taylor moved to Nashville, continuing his high-profile career for the next fifteen years with a top ten–rated salon. During that time, they welcomed a son and three daughters into their lives. Taylor regards his family as one of his greatest accomplishments by far.
"The most glamorous—Sophia Loren, Sharon Stone, Tina Louise. Glamorous yet very challenging was Zsa Zsa Gabor. Amy Grant was very kind."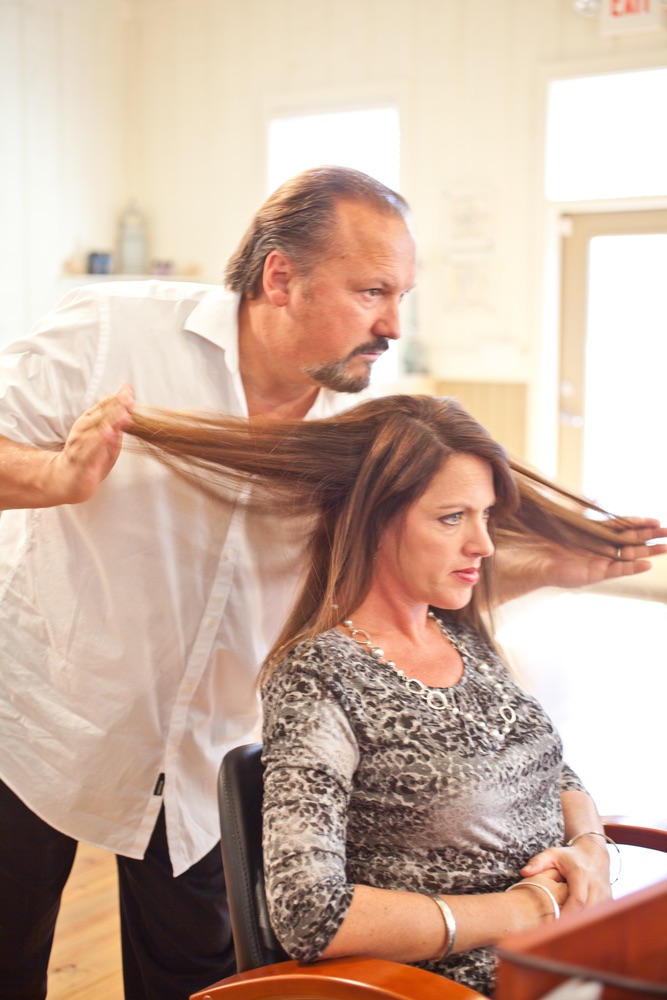 All of that recognition might have gone to his head, but Taylor seems to have maintained that perfect balance of confidence and humility, years after he picked up his very first pair of shears. "Without a doubt, this has been the journey of a lifetime," says Taylor. "But before I go on any further, I must give God all the glory for guiding me on this amazing path." That path has brought him, finally, to Grayton Beach. "Coming to the Emerald Coast is a dream, and I am very excited to bring all this unique experience here! Some time ago, Tiffany and I decided to bring Scott Taylor Salon to this beautiful area, but we wanted to give it a new name and face—a soft, Coastal feel—which makes it very inviting and relaxing. In a collaborative effort, we coupled Tiffany's classic and elegant flair with the shabby chic style of James and Gloria Adams of Seahorse Glori Designs, and have captured the true essence of the coast we were looking for. Yet, it still has my elements of Hollywood tucked in it—I just couldn't help myself!" Taylor continues. "We are proud to introduce our new salon, Taylor by the Sea – A Salon at Grayton Beach."
"My life has been nothing short of high demand and very high expectations," he says. "Hairdressers these days are not required, for the most part, to undergo such intense training. To meet the level of work demanded in the areas I previously described requires far more—and the work shows for it." Despite a lower profile, he maintains an unerring, high level of commitment to his craft. Taylor's golden touch will bring a special glow to the Emerald Coast, collecting a clientele as diverse as the shells along the shores of his newly found home.
— V —
ARTICLE CATEGORIES