Recipes for the Family Table
Calling all foodies! Nothing brings people together like good food, so we have curated a collection of fun recipes to try for the holidays. We have featured a little something for everyone, from cocktails and appetizers to pasta dishes, snacks, and desserts. Take your time perusing these recipes from some of our favorite chefs and food bloggers. Who knows? One might just end up on your holiday table!
---
Carrie Morey
Meet Carrie Morey, founder of Callie's Hot Little Biscuit and the creative behind the new cookbook Hot Little Suppers. Morey is the mother of three, an entrepreneur, an author, a PBS personality, and a motivational speaker—to say she is accomplished would be an understatement. We can't wait to dive in and try the latest recipes from Morey and her husband, John! CalliesBiscuits.com; Instagram: @carriebaileymorey
Amaretto Sour
Yields 1 cocktail
Morey shares, "The first time I had an amaretto sour, I was on my high school senior cruise. Once the ship left the dock, the legal drinking age was eighteen. That's not to say we knew what we were doing when, after we got dressed up for the first night on the boat, someone suggested we drink amaretto sours. Amaretto sours are for sipping, for having one, maybe two, cocktails. We probably had many more than two that night and they were probably made from some kind of mix. Years later, when John said he was making amaretto sours, I winced. Thankfully, his proper amaretto sour has restored the reputation of this drink for me, and I have been able to appreciate it at an appropriate sipping pace."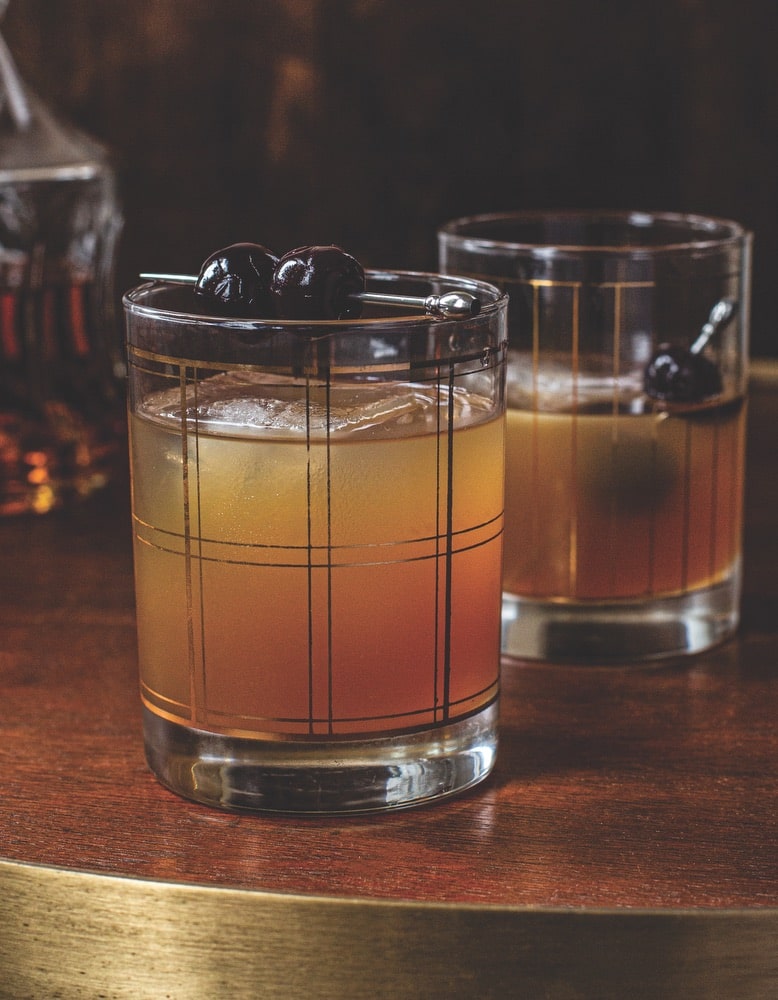 Ingredients
For the Cocktail
Ice
1 ounce amaretto
1 ounce whiskey
1 ounce lemon juice
1 ounce half-sweet simple syrup
1 ounce soda water
Fancy cherries for garnish
For the Half-Sweet Simple Syrup
1/2 cup sugar
1 cup water
Directions
To make the half-sweet simple syrup: In a small saucepan over medium heat, combine the sugar and water. Bring the mixture to a low boil. Stir until the sugar dissolves. Turn off the heat and let it cool completely. Store leftover syrup in a glass jar in the refrigerator for up to three weeks.
Fill a cocktail shaker with ice. Add the amaretto, whiskey, lemon juice, and half-sweet simple syrup. Put the lid on the shaker and shake for 30 seconds, until the ingredients are chilled.
Pour the cocktail into an ice-filled glass, straining it with the shaker. Add the soda water, stir, and garnish with a fancy cherry.
---
John's Eggnog
Yields 12 to 14 servings
"John makes this eggnog every year for our Christmas Eve party," says Morey. "He ladles it from a massive serving bowl. The next morning, our Christmas tradition is to add a splash of the leftovers to our coffee. It takes the bite off the party from the night before—a little early-morning hair of the reindeer to help us get back into the holiday cheer. It's not a rare thing to see a neighbor amble over in a bathrobe and slippers with their coffee mug extended for their own little splash of John's holiday elixir!"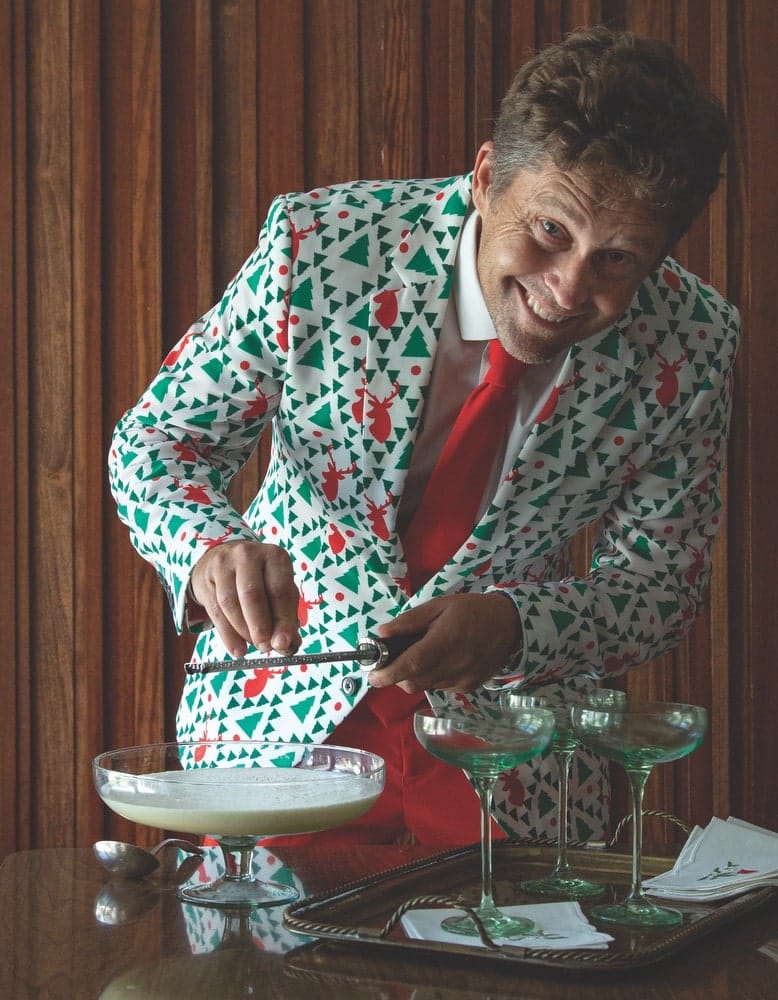 Ingredients
12 large eggs, yolks and whites separated
1/2 teaspoon vanilla extract
1/4 teaspoon ground cinnamon
1/4 teaspoon allspice
1/4 teaspoon salt
1 cup sugar, divided
1 cup whole milk
1 cup heavy whipping cream
1 cup bourbon
1 cup rum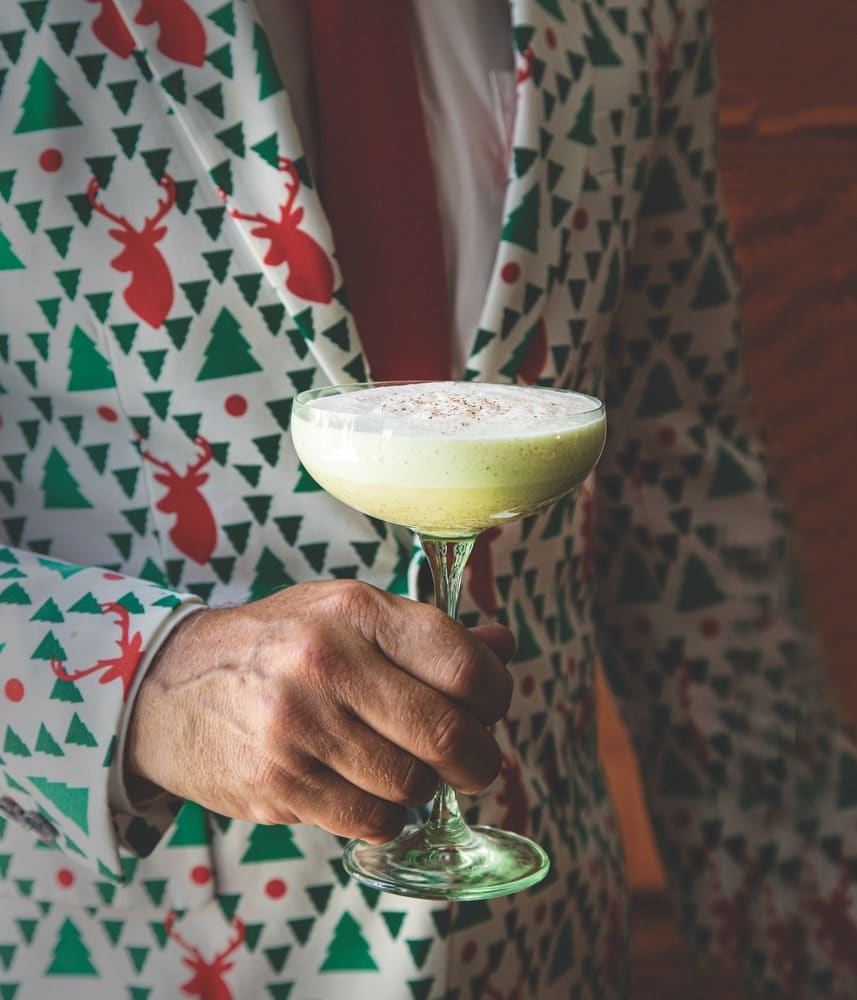 Directions
In a large bowl, combine the egg yolks, vanilla, cinnamon, allspice, salt, and 1/2 cup of the sugar. Whisk together. In a medium bowl, using a stand mixer or hand mixer, beat the egg whites on medium-high speed while gradually adding the remaining 1/2 cup of sugar. Continue to beat until stiff peaks form—this will take a couple of minutes.
Gently fold the egg-white mixture into the egg-yolk mixture until combined. Slowly add the milk, heavy cream, bourbon, and rum. Stir until well combined. Chill and stir the eggnog again before serving.
---
Pecan Sands
Yields 80 cookies
Morey recalls, "Grandmama always made these cookies at Christmastime. I can picture her home in Gaffney and these cookies on her dessert table. During my teenage and college years, my mother hosted a Christmas Eve party and Grandmama would come, bringing her pecan sands with her. All of my friends knew my mother's house was the place to go on Christmas Eve once their family obligations were done—my mother, stepfather, Grandmama, and I would stay up late keeping the party going, putting together toys for my little brothers, and enjoying the party food leftovers, including duck and sausage gumbo, country ham biscuits with Grandmama's relish, strawberries dipped in toasted pecan mousse, and pecan sands. You might even say the real party started once the invited guests had already left! These cookies remind me of the good times (and good food) my grandmother always brought to the party and that my mother continues to bring. I hope that's a family tradition I carry on as well—I'm at least giving it a darn good try!"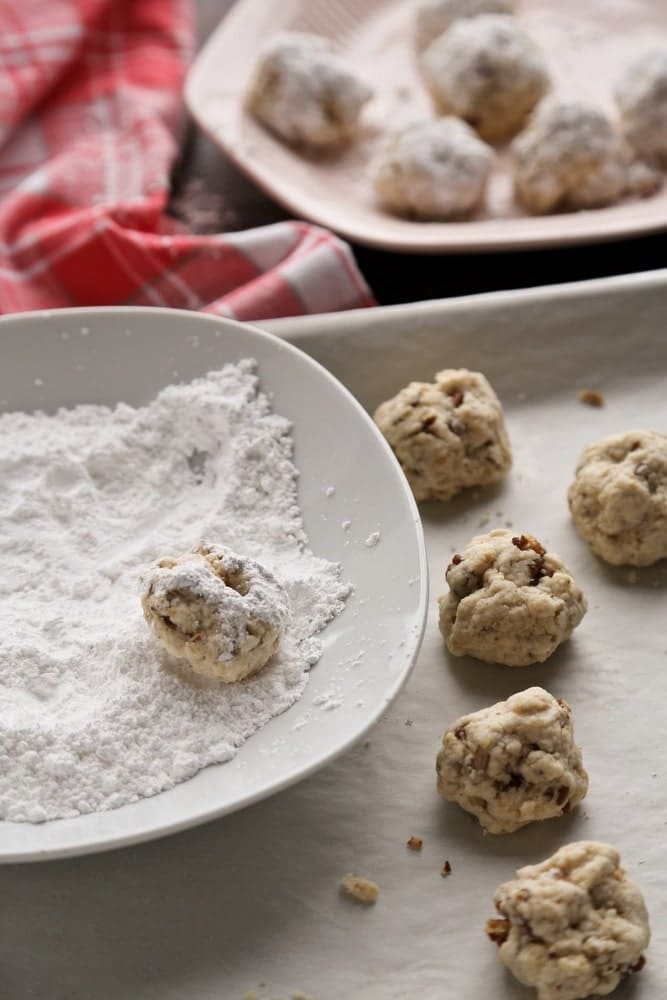 Ingredients
3 cups all-purpose flour
1/3 cup white sugar
1/2 pound (2 sticks) cold butter, cut into cubes
4 teaspoons pure vanilla extract
1 cup finely chopped pecans
Optional: 1 tablespoon ice water
Powdered sugar, sifted
Directions
Preheat the oven to 350ºF. Line baking sheets with parchment paper. Combine the flour and white sugar in a large bowl. Add the butter and use your hands to mix together. Work in the vanilla and the pecans, adding ice water if needed for the dough to come together.
Shape the dough into balls, using one teaspoon of batter for one-bite cookies or one tablespoon of batter for two-bite cookies. Place on the baking sheet 1/2 inch apart. Bake for 10 to 12 minutes. The dough will not brown.
Transfer the cookies, still on the parchment paper, to a cooling rack. When cool enough to handle, roll the cookies in sifted powdered sugar. If baking multiple batches on the same baking sheet, make sure the baking sheet cools before you put the dough on it. Store the sands in an airtight container.
---
Chef Joe Sasto
Winning the top prize at Aspen's Food & Wine Classic and competing on Chopped and Top Chef are just a few of this chef's accolades. Chef Joe Sasto is a well-seasoned cook who is passionate about pasta. He has been teaching virtual pasta lessons during the pandemic via livestreams, and we can't wait to test out his squash ragù! JoeSasto.com; Instagram: @chef.joe.sasto
Squash Ragù
Yields 4 to 6 servings
Ingredients
3 honeynut squash or small pumpkins
6 ounces bacon, ground (optional)
1 shallot, peeled
6 cloves garlic, peeled
1 sprig sage
1 sprig rosemary
1 sprig thyme
8–16 ounces squash stock
1 small carrot, peeled
4 tablespoons olive oil
8 tablespoons unsalted butter
1 cup whole milk
Salt
White pepper
Nutmeg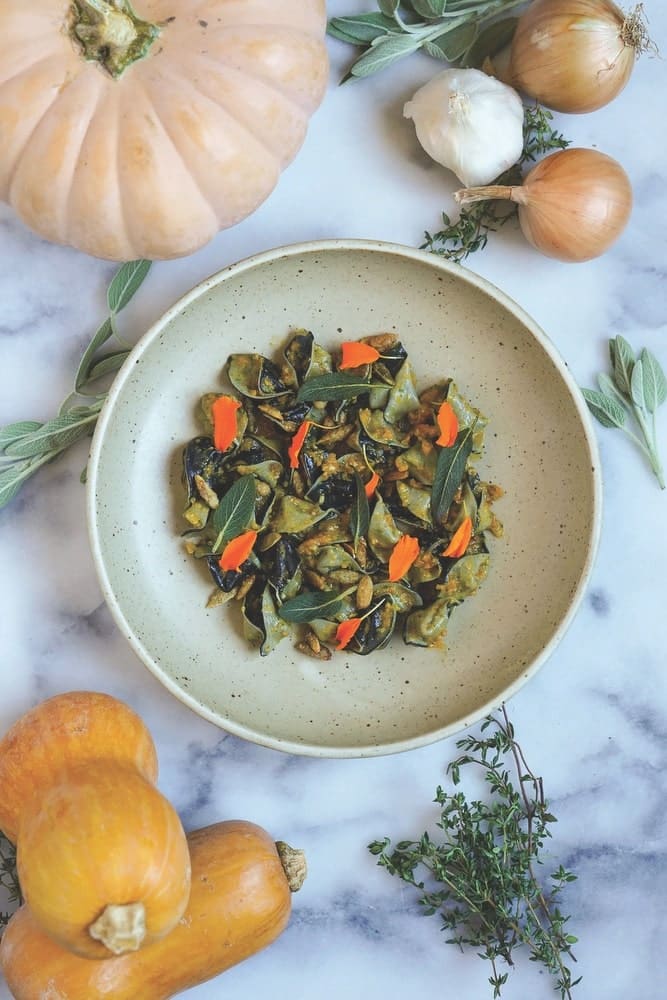 Directions
Begin cooking ground bacon over medium heat with 2 tablespoons of water until rendered and almost crispy. Place peeled shallots, garlic, and oil in the food processor and pulse until finely chopped, stopping to scrape down the sides as needed. Place into a wide heavy-bottom pot or pan and cook over medium-low heat until soft and translucent.
Peel squash and halve. Remove the seeds and innards (use these for stock). Cube the carrot and squash and pulse in a food processor until coarsely chopped. Add squash mixture and butter to the pan. Season with salt and pepper. Cook the squash for 3–5 minutes. Add milk and aromatics tied in a bundle. Once the milk is reduced by half, cover with stock and continue to simmer until squash is tender but not mushy. Lower the heat, and season with freshly grated nutmeg. Remove the aromatic herbs, and taste one last time for seasoning.
---
Feel Good Foodie
Founded out of a love of her mother's homemade Lebanese classics and a desire to learn to cook, Yumna Jawad created Feel Good Foodie. Jawad teaches you not just how to cook, but also how to make wholesome, organic, and clean meals that are the secret to feeding your family well. Her smashed potatoes with rosemary and garlic are the perfect addition to any holiday meal! FeelGoodFoodie.net; Instagram: @feelgoodfoodie
Rosemary-Garlic Smashed Potatoes
Yields 4 to 6 servings
"These rosemary-garlic smashed potatoes are soft on the inside and crispy on the outside with a burst of rosemary-garlicky flavor," Jawad says. "They are so easy to make and packed full of flavor. Perfect for Thanksgiving, Christmas, and Easter but easy enough to make as a side dish during the week."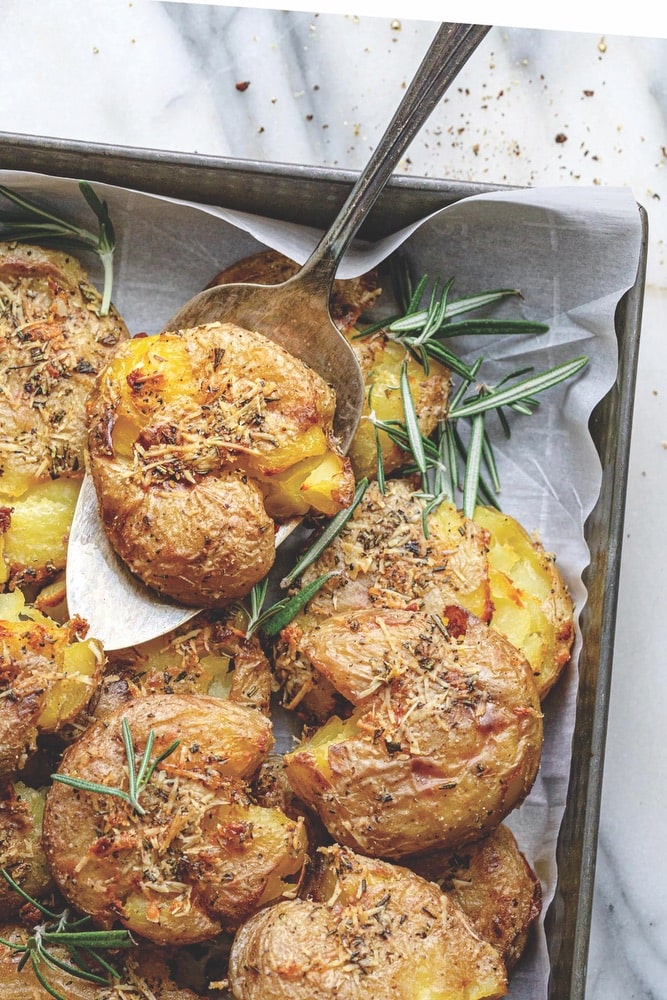 Ingredients
1 pound baby Yukon Gold potatoes (about 12–16)
3 tablespoons olive oil
2 garlic cloves, minced
2 teaspoons fresh chopped rosemary
1/4 cup grated Parmesan cheese
1/2 teaspoon salt
1/2 teaspoon black pepper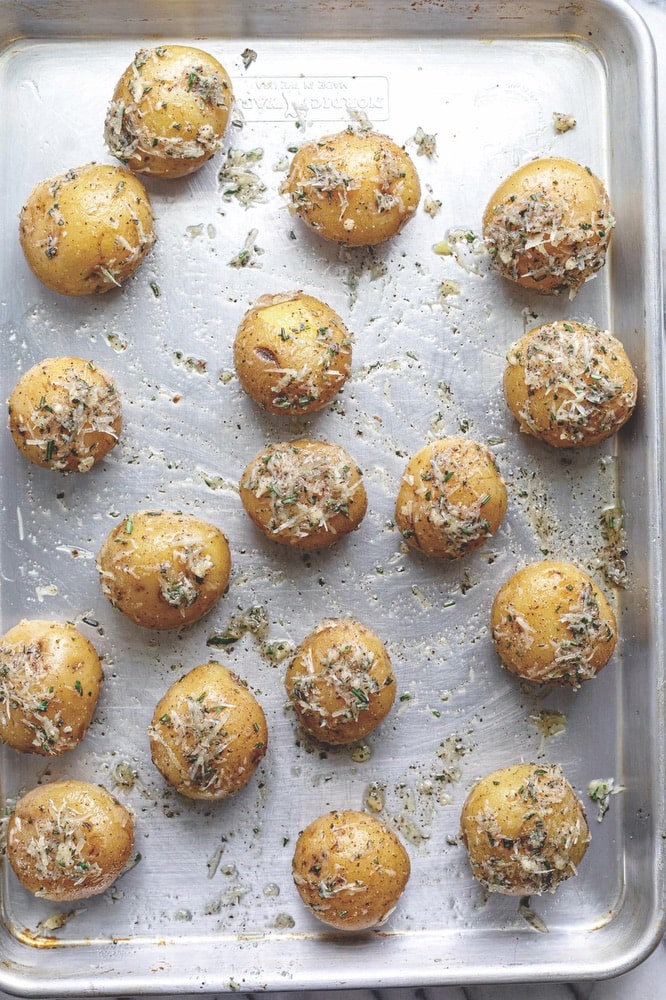 Directions
Preheat the oven to 425ºF. In a large pot of salted boiling water, cook the potatoes until fork-tender, about 15 to 20 minutes. Drain and allow potatoes to cool slightly. Transfer the potatoes to a large rimmed baking sheet. Use a potato masher or the bottom of a measuring cup or glass to press down on the potatoes to smash them. Drizzle the olive oil on top of the potatoes, add the garlic, rosemary, Parmesan cheese, salt, and pepper, and toss with your hands to combine.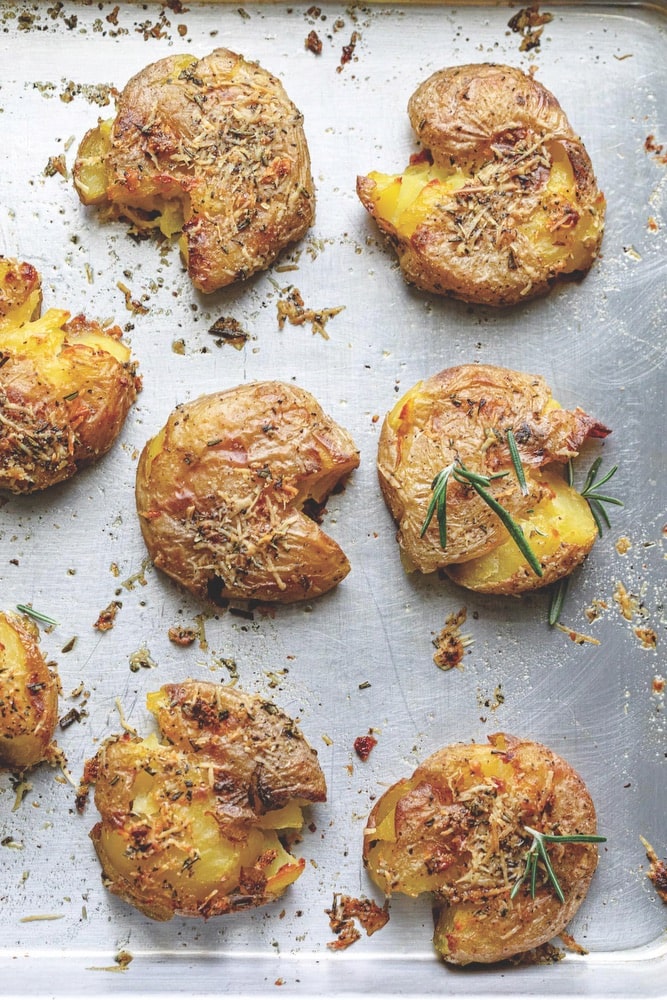 Bake for 15 minutes until the bottoms are golden. Use a spatula to flip them and add more salt, pepper, and olive oil, if desired. Return to the oven for 12 to 15 more minutes or until the potatoes become crispy. Ready to serve!
---
Hot for Food
Meet Lauren Toyota, a self-taught vegan chef who is hot for food. She is the author of two best-selling cookbooks, Vegan Comfort Classics: 101 Recipes to Feed Your Face and hot for food all day: easy recipes to level up your vegan meals. She is passionate about sharing her love of vegan food with the world, and we can't wait to get in the kitchen and get cooking with her help! HotforFoodBlog.com; Instagram: @hotforfood
All-Green Fresh Rolls with Green Curry Dipping Sauce
Yields 10 rolls
"I fell in love with the simplicity of fresh rolls since traveling to Bali. They're on every menu and they all taste amazing!" Toyota says. "It might just be the tropical heat that makes them taste so good, but I ate my weight in them. It was on my agenda to master making them at home, and I decided that filling them with lots of crunchy green stuff would be the game plan. I love that these are all green because, let's face it, most of my best recipes are brown, so it's nice to change things up! Even if you can't quite get the hang of rolling them on your first go, it all tastes the same in the end. And just wait until you get that creamy green curry dipping sauce in your mouth. It's fantastic!"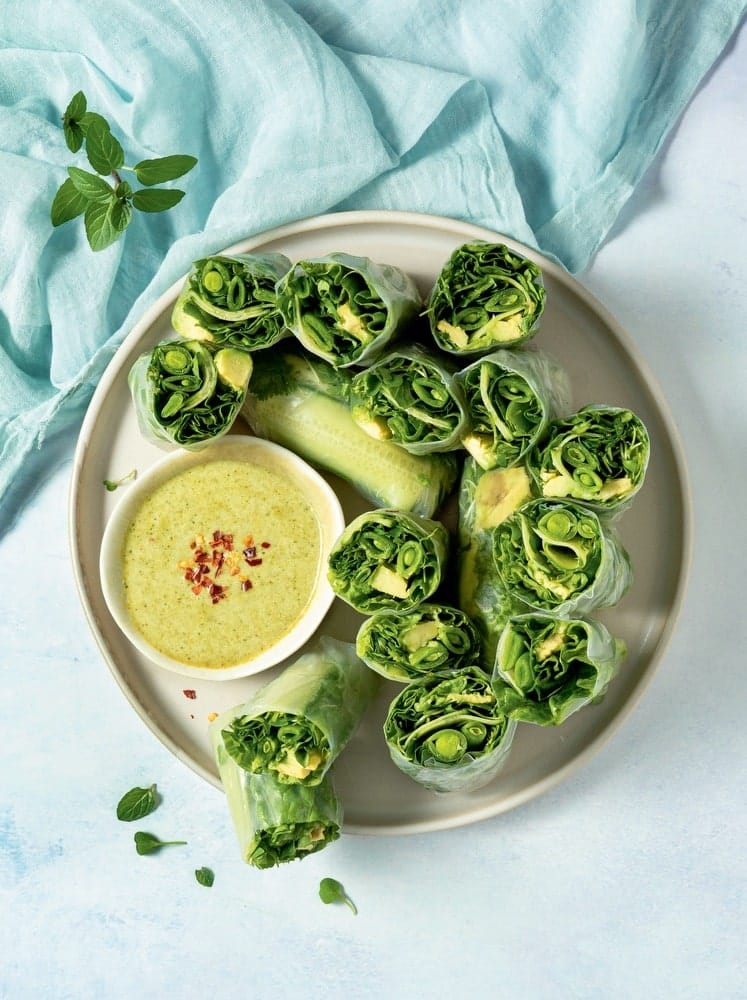 Ingredients
For the green curry dipping sauce (makes about 3/4 cup)
1/2 cup canned coconut cream
1/4 cup tightly packed fresh cilantro
2 tablespoons green curry paste
2 large garlic cloves
2 tablespoons lime juice (about 1 lime)
1 tablespoon seasoned rice vinegar
1 teaspoon granulated sugar
1/4 teaspoon sea salt
A pinch of chili flakes (optional)
For the fresh rolls
10 dried rice paper sheets
5 large green leaf lettuce leaves (ribs removed), torn in half
2 avocados, sliced
1/2 English cucumber, ribboned with a peeler
1 1/2 cups sugar snap peas
1 1/2 cups packed microgreens or sprouts
1 1/2 cups fresh mint leaves
1 1/2 cups fresh basil leaves
1 1/2 cups fresh cilantro leaves
Directions
To make the green curry sauce, in a high-powered blender, add the coconut cream, cilantro, green curry paste, garlic, lime juice, vinegar, sugar, sea salt, and chili flakes. Blend until very smooth. Transfer to a small saucepan and bring to a low simmer, cooking about 2 to 4 minutes, until slightly thicker and reduced.
Once all your vegetables are prepped for the fresh rolls, fill a wide shallow dish with tepid water. (The pan should be slightly larger than the rice paper sheets so you can soak the whole sheet.) Soak one rice paper sheet at a time for 10 to 20 seconds. You still want to feel the crosshatch pattern on the surface of the rice sheets. Don't over soak, or it will be too soft and difficult to roll.
Assemble the rolls one at a time. Lay the wet rice paper sheets on a work surface. Add a piece of the lettuce and divide the avocado, cucumber, snap peas, microgreens or sprouts, and fresh herbs among the sheets in whatever order you like. Roll one side of the rice paper over the filling, tucking it in as you start rolling again and also folding the sides in. Continue rolling until completely sealed. Place on a plate, or cut in half if you prefer.
Serve with the green curry dipping sauce. Leftover dipping sauce will get thick from refrigeration. Add water a teaspoon at a time to thin it out until it's a smooth, droppable consistency.
---
Baked Peanut Butter & Jam Oat Bars
Yields 16 bars
"I don't want to knock oatmeal—it's filling and healthy—but I'm not the biggest fan of mushy porridge for breakfast," Toyota says. "I make it because it's quick, but with a little planning, you can bake that oatmeal with peanut butter into a bar dolloped with your fave jam—now we're talking. These are just the right amount of soft and chewy goodness, and they make a great grab-and-go breakfast."
Hot tip: If you don't require these to be gluten-free, you can use rolled oats that aren't specifically labeled as such, and you can substitute 1 1/4 cups of all-purpose flour for the gluten-free and tapioca flours.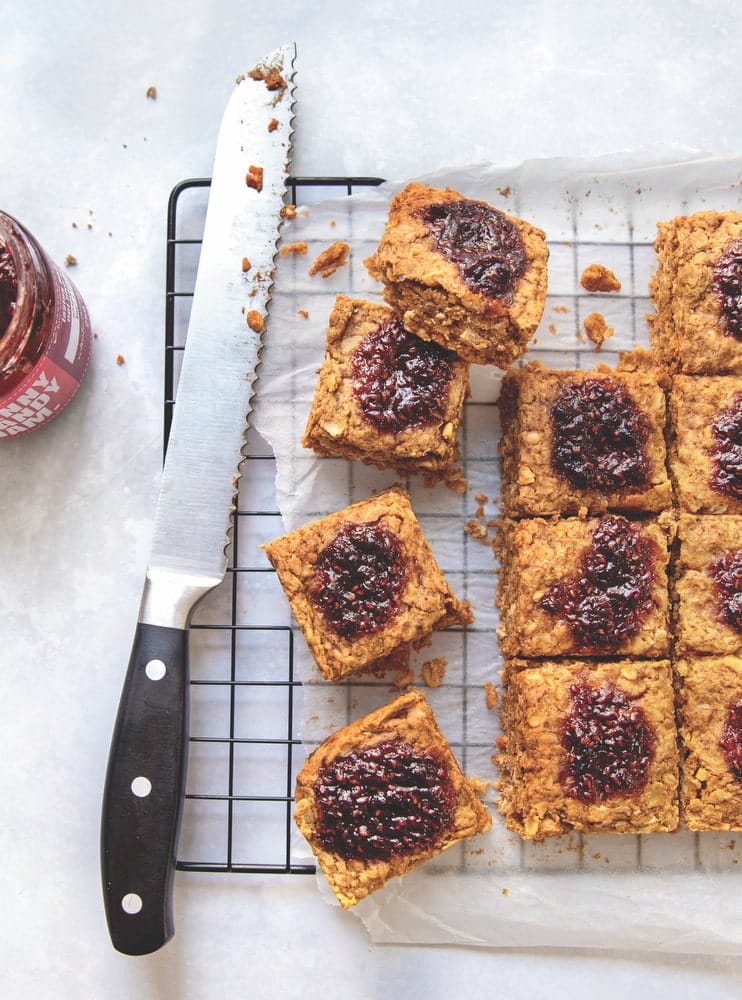 Ingredients
1 tablespoon golden flax meal
3 tablespoons water
2 cups gluten-free rolled oats (not quick cooking)
1 cup coconut sugar
1/4 cup tapioca flour (can substitute arrowroot flour)
1 tablespoon baking powder
1 teaspoon sea salt
1 cup natural crunchy or smooth peanut butter
3/4 cup nondairy milk
1 tablespoon vanilla extract
1/4 cup favorite jam
Directions
Preheat the oven to 350ºF. Line an 8-by-8-inch baking pan with parchment paper by cutting two 8-inch-wide strips and crossing them in the pan to create clean edges. Trim the excess overhang, if needed. Combine the flax meal and water and set aside to thicken, 5 to 10 minutes.
In a large mixing bowl, combine the rolled oats, all-purpose flour, coconut sugar, tapioca flour, baking powder, and sea salt. In a large liquid measuring cup or another mixing bowl, combine the peanut butter, nondairy milk, and vanilla with the thickened flax meal mixture; stir until smooth. Add this to the mixing bowl of dry ingredients and fold together until fully combined. Spread the mixture evenly in the baking pan all the way to the edges. Take a dough cutter or knife and lightly score or mark every 2 inches across in each direction, creating the indented lines for 16 square bars. Do not cut through the pan of oat bars at this stage.
Dollop about 1/2 teaspoon of jam on top of each square and gently press it into the top of each bar with the back of the teaspoon. Bake for 25 minutes, until the edges are golden brown and the bars look soft and raised. Cool in the baking pan on a wire rack for 20 minutes before lifting out by the parchment paper edges and placing onto the wire rack. Slice bars where you made the scores. Cool completely before storing leftovers in the fridge. You can warm slightly in the microwave for 30 seconds before eating. Consume within 7 days.
---
Vegan Ragù Bolognese
Yields 4 to 6 servings
"Everyone should have a good go-to bolognese recipe in their back pocket, and this is mine," says Toyota. "A classic ragù bolognese is not a super tomatoey-saucy sauce, as it's made with ground meat and its juices. I used mushrooms because they're superior to meat and just as juicy! Sure, there's usually red wine in the base of the bolognese, but I made the executive decision not to do that—you can also tweak this to your liking. It's also traditional to use a flat pasta like pappardelle or tagliatelle, and you want to kiss and coat the noodles, not drown them in the sauce!"
Hot tip: You can substitute a tablespoon of vegan Worcestershire for the vegan beef-flavored or mushroom bouillon base.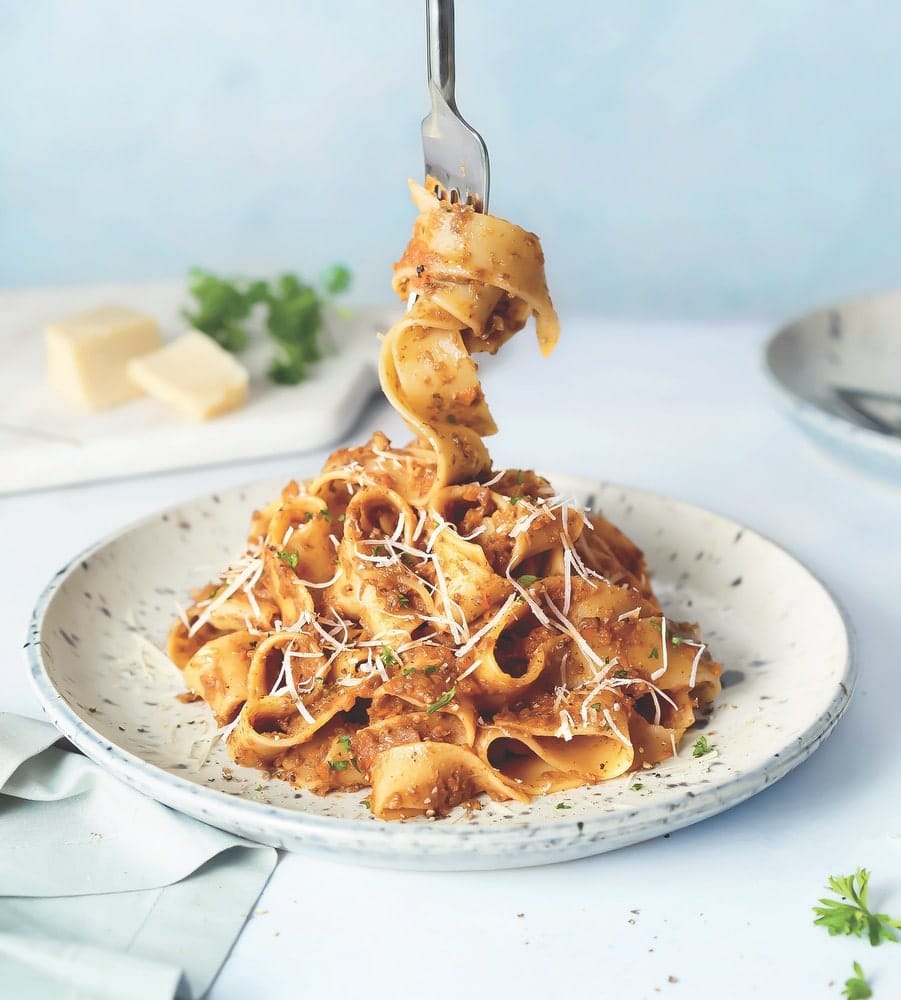 Ingredients
1 white onion, peeled and coarsely chopped
2 carrots, coarsely chopped
1 celery stalk, coarsely chopped
1 pound cremini/baby bella mushrooms
2 zucchini, peeled and coarsely chopped
2 tablespoons olive oil
1 tablespoon minced garlic (2 or 3 large cloves)
1 teaspoon sea salt
1/3 cup tomato paste
1 tablespoon vegan beef-flavored bouillon base or mushroom bouillon base or 2 cubes
1/2 cup unsweetened soy or cashew milk
1 teaspoon balsamic vinegar
1 package (16-ounce) pappardelle
1 tablespoon vegan butter
1 cup shredded vegan Parmesan, divided
Ground black pepper, to taste
Finely chopped fresh parsley, for garnish (optional)
Directions
In a large food processor, add the onion, carrot, and celery. Pulse blend until finely minced and set aside in a bowl (you should have 2 to 2 1/4 cups of this mixture). Add the mushrooms and zucchini to the processor bowl. Pulse blend until finely minced and nearly a puree, then set aside in another bowl (you should have 4 to 4 1/2 cups of this mixture).
In a large cast-iron pan or Dutch oven over medium heat, add the olive oil and the onion, carrot, and celery mixture. Sauté for about 5 minutes, until shrunk to about half. Add the garlic and sea salt and cook for another minute. Add the mushroom and zucchini mixture and cook for 15 to 18 minutes, stirring occasionally, until it looks more brown than green or gray, most of the water has been cooked out, and you really can't distinguish the vegetables.
Add the tomato paste and bouillon base and cook for 3 to 5 more minutes, until it starts to caramelize. If you wanted to add a splash of red wine, here's where you would do it and just cook a little longer. Add the soy or cashew milk and balsamic vinegar and deglaze the pan, scraping up any brown bits at the bottom. Turn the heat down to low and simmer for another 10 minutes or so while your pasta cooks.
Meanwhile, bring a large pot of salted water to a boil and cook the pasta to al dente. Reserve 1 cup of the pasta cooking water and add it along with the vegan butter and 1/2 cup of the shredded vegan Parmesan to the sauce mixture. Stir to combine until the cheese is mostly melted, about 2 minutes, and then use tongs to add the cooked pasta right in the pot of sauce. Use the tongs to coat the pasta properly, 1 to 2 minutes, until heated through and all the Parmesan is melted. Serve the bolognese topped with the remaining vegan Parmesan, black pepper, and parsley.
---
Elizabeth Heiskell
Located in Oxford, Mississippi, Elizabeth Heiskell Catering is in its twenty-second year of serving the community. Formerly the head chef at Viking Range Corporation, Elizabeth Heiskell is no stranger to the kitchen. She is a Today Show food contributor and a Southern Living contributing editor, has done guest appearances on Food Network's The Kitchen, and has served as a judge on Chopped. Additionally, Heiskell is the author of three best-selling cookbooks: What Can I Bring?, The Southern Living Party Cookbook, and Come On Over! ElizabethHeiskell.com; Instagram: @elizabethheiskellofficial
The Perfect Beef Tenderloin
Yields 10 servings as a plated dinner, 20 as part of a cocktail buffet
"I love it when my friends or family members go to a wedding that I didn't cater or help plan," says Heiskell. "I can hardly wait to hear all the details. The first question I always ask is, 'Was it a beef tenderloin, pork tenderloin, or chicken kind of wedding?' Once I have that information, I can guess the answers to all the other questions. Beef tenderloin is expensive but very fabulous. It's hard to know just how many beef tenderloins my catering staff and I have cooked over the last twenty years. I have a feeling if we lined them up end to end, they could circle the globe. Okay, maybe not, but I bet we could get from my house to the Mason-Dixon Line! I have to think so many of my clients choose it because it is universally loved and they want their guests to be wowed—surely not because they want their guests to answer the next day that yes, indeed, it was a beef tenderloin wedding!"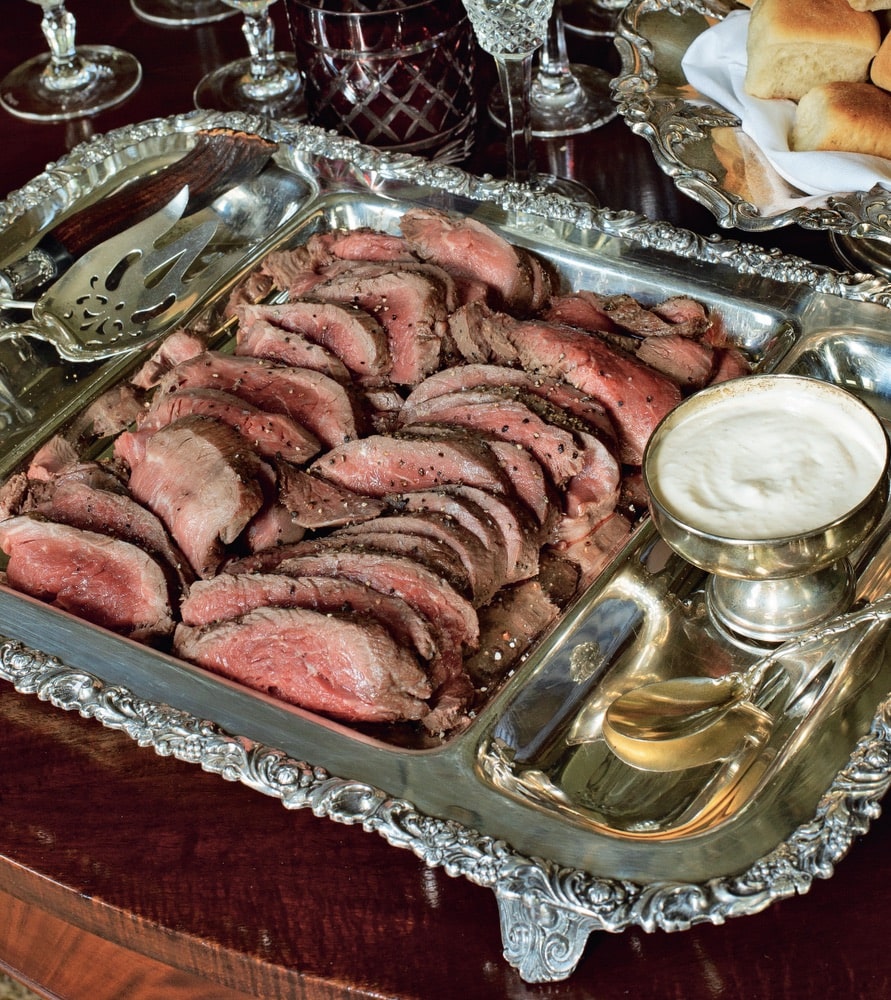 Ingredients
5 pounds beef tenderloin, cleaned, trimmed, and silverskin removed (you can ask your butcher to do this for you)
4 tablespoons (1/2 stick) salted butter, room temperature
1 tablespoon Worcestershire sauce
2 tablespoons salt
2 tablespoons pepper
Horseradish mayonnaise for serving (find the recipe in Heiskell's Come On Over! cookbook)
Directions
Preheat the oven to 500ºF. Line a rimmed baking sheet with foil. Place the beef tenderloin on the baking sheet. Rub with the butter, drizzle with the Worcestershire, and season with the salt and pepper on all sides. Tuck the tail of the tenderloin underneath to ensure the meat will cook evenly. (The tenderloin should look like a piece of cordwood—the same thickness from end to end.)
Open the oven door and quickly put the tenderloin inside. (The longer the door is open, the more heat will escape.) For a medium-rare tenderloin, cook for exactly 25 minutes, and for a rare tenderloin, cook for 22 minutes.
Remove from the oven and allow the meat to rest for 10 minutes before serving. (I know it is hard, but you have to let all the fibers in the beef reabsorb the juices. Otherwise, all those juices will be on your cabinets and your shoes instead of in your mouth!) Slice and serve with horseradish mayonnaise.
— V —
---
ARTICLE CATEGORIES