Let's Get Together
Recipes courtesy of Chef Belinda Smith-Sullivan | 
Photography by Susan Barnson Hayward
No matter how you plan to get together with family and friends this holiday season, Chef Belinda Smith-Sullivan's new cookbook says celebrate with brunch!
The holidays are a time of year when family and friends get together, usually over a prepared meal. This year, holiday celebrations may look totally different, but we can still sit down to a delicious brunch, be it brunch à deux, a brunch buffet with immediate family, or a group of friends hanging out on the patio via Zoom eating frittatas and drinking Bellinis. Still, one thing is clear—brunch is here to stay.
In Let's Brunch: 100 Recipes for the Best Meal of the Week, Chef Belinda brings all these flavors and feelings together and lends a little Southern hospitality to your holiday brunch menu with delicious, flavor-packed recipes for breakfast and brunch, including front porch–worthy libations.
"Brunch is a meal designed for leisure and good times spent with family and friends," says Chef Belinda, who is also the author of Just Peachy, a food writer, a spice blends entrepreneur, and a commercially rated pilot. She is an active member of the Southern Foodways Alliance, the International Association of Culinary Professionals, the American Culinary Federation, and Les Dames d'Escoffier. "In my opinion, brunch is the most creative meal because there are no rules— menus can range from a full array of breakfast items to steak and potatoes and everything in between."
Let's Brunch provides full menu ideas focusing on starters, soups, salads, egg dishes, casseroles, meats, pastas, grits, sandwiches, breads, jams and syrups, desserts, and brunch cocktails. Some of the book's recipes include Ramp Buttermilk Biscuits, Panettone Grand Marnier French Toast, Croque Madame, Smoked Salmon Blinis, Spinach and Goat Cheese Eggs Florentine, Roasted Butternut Squash Soup with Scallops, Southern-Style Succotash, Blackened Catfish on Herb Grits, Red Velvet and Pecan Waffles with Fried Chicken, Black Walnut–Cardamom Pound Cake, Rum–Chocolate Chip Pecan Pie, Mint Julep, and Chef Belinda's Creole Mary.
This year, as you plan your holidays, make room for brunch. Let's Brunch is the perfect cookbook to lift the spirit and delight the taste buds. Brunch just might become the new dinner party!
— V —
---
Recipes and photos reprinted from Let's Brunch by Belinda Smith-Sullivan with permission from the publisher. Photography by Susan Barnson Hayward. ® Gibbs Smith, September 2020
---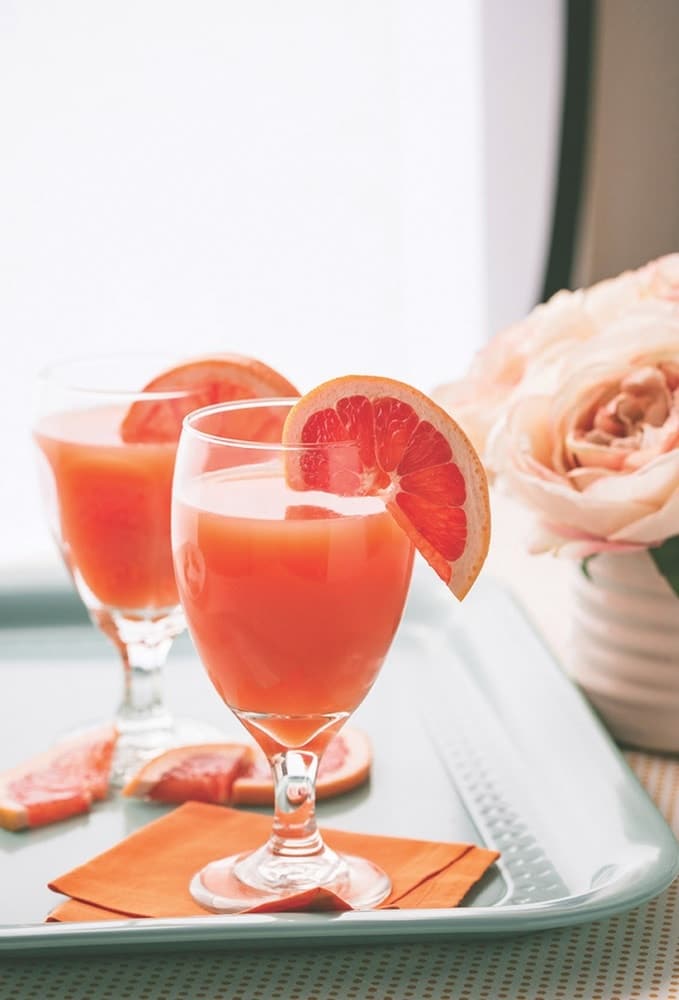 Grapefruit, Champagne, and Vodka Spritz
Yield: 1 cocktail
Nothing says brunch like a breezy cocktail to accompany your meal! A spritz is a cocktail made with champagne or prosecco, a bitter liqueur, and soda water. Aperol is an Italian bitter aperitif, though sweeter and fruitier than its elder sibling, Campari. Aperol gets its name from the Italian slang word apero, which means aperitif.
Ingredients
1 ounce Aperol
4 ounces champagne
1 1/2 ounces grapefruit juice
1⁄2 ounce vodka
Ice
Club soda
1⁄2 grapefruit wheel, for garnish
Directions
Pour Aperol, champagne, grapefruit juice, and vodka into a tall glass. Add ice and a splash of club soda. Stir gently and garnish with grapefruit wheel. Holiday cheers!
---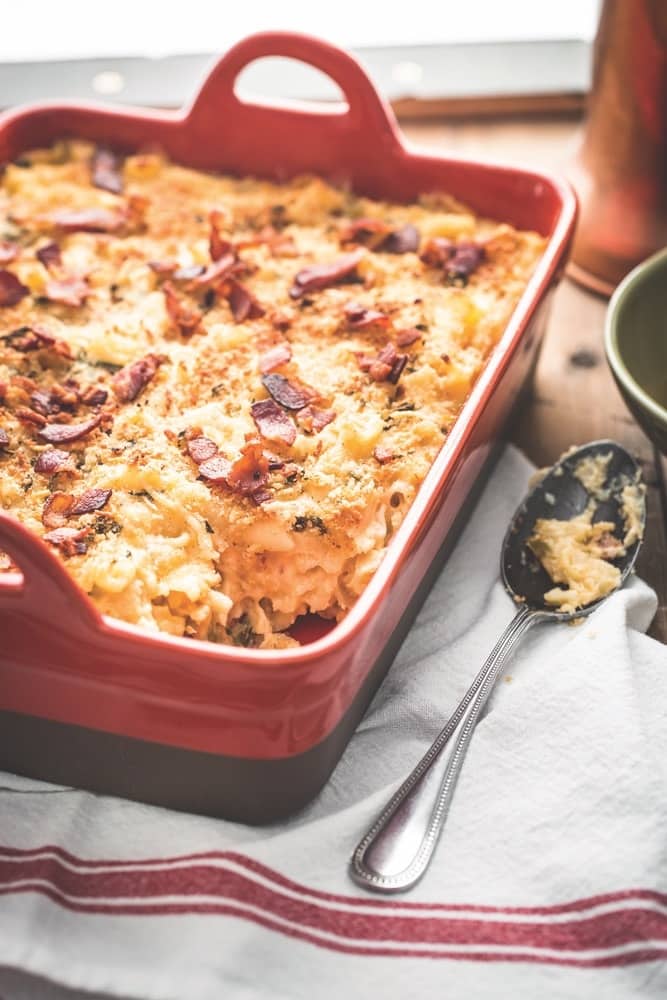 Breakfast Macaroni and Cheese
Yield: 6 to 8 servings
Mac and cheese is an "anytime of the day" meal or treat, but served for breakfast or brunch on the same plate next to eggs, biscuits, and gravy elevates this beloved side dish to center plate.
Ingredients
1 pound cavatappi or elbow macaroni
6 tablespoons unsalted butter, divided
4 cups whole milk
1 large clove garlic, smashed
1⁄2 teaspoon dried thyme
1 bay leaf
1⁄2 onion, studded with 1 whole clove
1 teaspoon dry mustard
1 pound thick-sliced bacon, cut crosswise into 1⁄2-inch pieces
1 jalapeño pepper, seeded and small diced
1 red bell pepper, seeded and diced
6 tablespoons all-purpose flour
Kosher salt, to taste
White pepper, to taste
Pinch of freshly grated nutmeg
3 cups grated sharp cheddar cheese
3 cups grated aged Gouda cheese
1 tablespoon chopped basil, divided
1⁄2 cup Parmesan cheese
1⁄4 cup bread crumbs
Directions
Preheat oven to 375°F. In a large pot of salted water, cook pasta until al dente, 5–7 minutes. Drain and toss with 2 tablespoons butter. Set aside.
In a large saucepan, add milk, garlic, thyme, bay leaf, onion with clove, and mustard. Warm over medium-low heat until the milk starts to steam, about 10 minutes. Remove from heat, set aside, and let the flavors infuse.
To a medium skillet over medium heat, cook bacon until crispy. Remove with a slotted spoon and drain on a paper towel–lined plate. Sauté jalapeño and bell pepper until soft. Remove and transfer to another paper towel–lined plate.
Strain the milk, discarding the solids. To a 10-inch ovenproof skillet over medium heat, add remaining butter and flour. Whisk for 3–4 minutes. Do not let brown.
Whisk the milk into the roux to avoid lumps. Continue to cook, whisking constantly, until thickened, 3–4 minutes. Remove from heat and season with salt, white pepper, and nutmeg. Add the cheddar and Gouda and stir until melted, then add the cooked pasta, peppers, half of the bacon, and half of the basil, stirring to combine thoroughly. You can bake this in the skillet or transfer the mixture to a casserole dish.
In a small bowl, combine Parmesan, bread crumbs, and remaining basil, and sprinkle over the top along with remaining bacon. Bake for 25–30 minutes until golden brown and bubbly. Let rest 15 minutes before serving.
ARTICLE CATEGORIES