By Kelsey Ogletree | Photography courtesy of Heron Farms
A Breakthrough in Hydroponic Farming
Charleston's Heron Farms is the world's first hydroponic farm using ocean water to grow food.
Born and raised in Charleston, South Carolina, Sam Norton practically grew up on the beach. "I was in the ocean every week," he recalls. That same salty water where he made so many fond memories would one day lead to a career for the young innovator—and begin to have a greater impact on his coastal hometown than he ever imagined.
Norton, now twenty-seven years old, attends graduate school at the College of Charleston, working toward a master of science degree in environmental and sustainability studies. The focus of his senior capstone is a humble little plant called Salicornia, commonly known as sea beans. "I was researching how companies were growing it for biofuels using salt water, and I ended up thinking we should grow it for food instead," Norton says.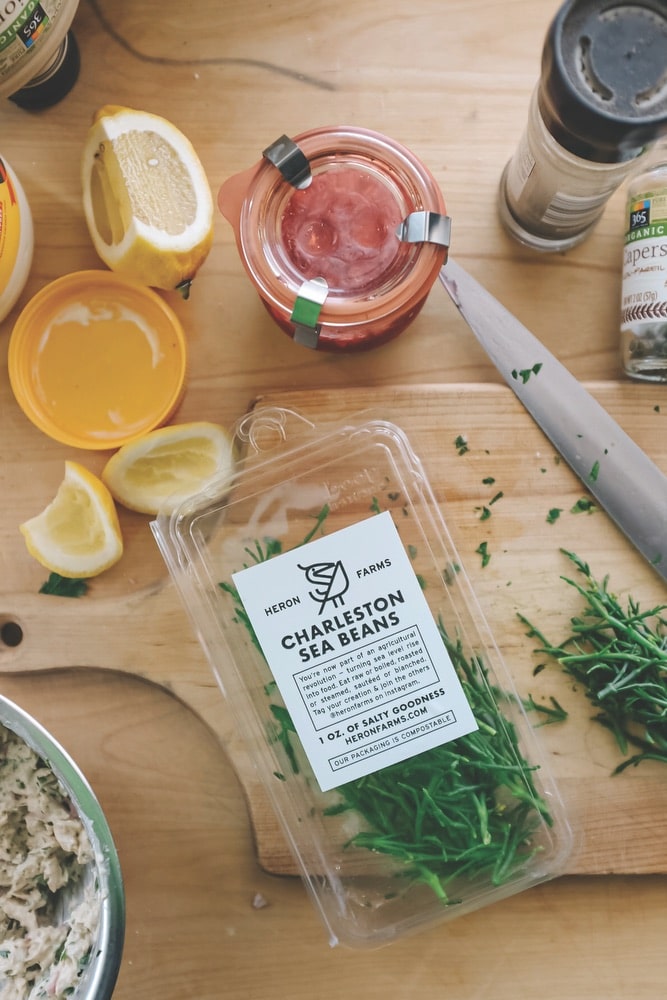 That seed of an idea grew into a vision for opening a warehouse farm to raise sea beans indoors. Norton launched Heron Farms in spring 2020, early on in the coronavirus pandemic. "That's the worst time to try anything, but it was not something we planned on," he says. After winning a startup competition the previous fall, Heron Farms had the support of a large hydroponic company that enabled Norton to use its shipping containers to grow the beans. The operation soon outgrew the containers and moved to a warehouse farm in downtown Charleston, where the team now raises thousands of sea bean plants on wire racks in large insulated rooms. The temperature is kept at 72 degrees, and the space is brightly lit for the majority of the day. Thanks to these growing conditions, the sea beans thrive year-round and are ready to harvest about every seven weeks.
If you've never heard of sea beans, they're pretty spectacular, as they grow and thrive in saltwater. Part of a salt-tolerant plant species called halophytes, they also go by "sea pickle," "Gatorade grass," and "salt daddies" and resemble translucent asparagus. They've been eaten by humans as far back as historical records go on several continents, Norton says, yet many people have never heard of them.
Sea beans found growing in salt marshes in the wild are technically edible, though they can be unpalatable due to over-saltiness, says Norton. That's why, at Heron Farms, they regulate the salinity of the water in which the sea beans grow to help control the saltiness of the final product. Beyond being good to eat, sea beans serve a greater purpose, acting as a "marsh Band-Aid," Norton shares. By taking in salt water, the plant itself helps reduce the salinity of the sea's soil as it grows, enabling the growth of a perennial seagrass called spartina native to the US Atlantic Coast.
What's it like to eat a sea bean? You can try them for yourself, as Heron Farms pivoted last year from selling bundles of sea beans for local restaurants to shipping one-ounce packages to consumers throughout the country. Norton describes the taste and texture as similar to baby spinach seasoned with a pinch of salt, with a crunch like that of a spinach stem.
"If you haven't been to the beach in two years, you can eat something that tastes like you're jumping into the ocean—we think that's why people keep buying us inland," says Norton, noting that they've seen an uptick in orders from noncoastal consumers, particularly in the Northeast. Eating sea beans can give you a true taste of a destination from afar, similar to an oyster—two of a small number of foods that contain seawater.
Sea beans have health benefits, too. The saltiness you taste contains micronutrients and trace elements from the seawater, and sea beans are a good source of plant-based omega-3s, calcium, and vitamin B2. A single serving supplies more fiber than an apple or a banana.
"I was researching how companies were growing it for biofuels using salt water, and I ended up thinking we should grow it for food instead."
Despite having built a business around these humble plants, Norton says it's not really about the sea beans at all; it's about how to utilize seawater to feed an expected global population of ten billion by 2050. If 97 percent of the world's water is saline, we need to learn how to use it appropriately for agriculture, he asserts. That's why for every pound or unit of sea beans they sell, Heron Farms replants one square foot of salt marsh along the Charleston coastline, which is degraded by the dredging process each spring. "When we wake up tomorrow, there will be less usable water, more people, and less arable land," says Norton. "We'll put ourselves in a good spot if we can learn to use more seawater."
Chef Speak
When Shamil Velazquez, executive chef at sustainable seafood-focused Delaney Oyster House, first heard about sea beans, he knew he wanted to incorporate them on the menu at the downtown Charleston restaurant. "We originally thought we would forage them, but then we found Sam on Instagram," he explains. Once Velazquez and his team tried the sample Norton brought over, they were sold. "His product was better than what we were able to forage or from any of the other companies we tried, plus we liked his story. We felt like it was a win-win to support someone trying to build his business."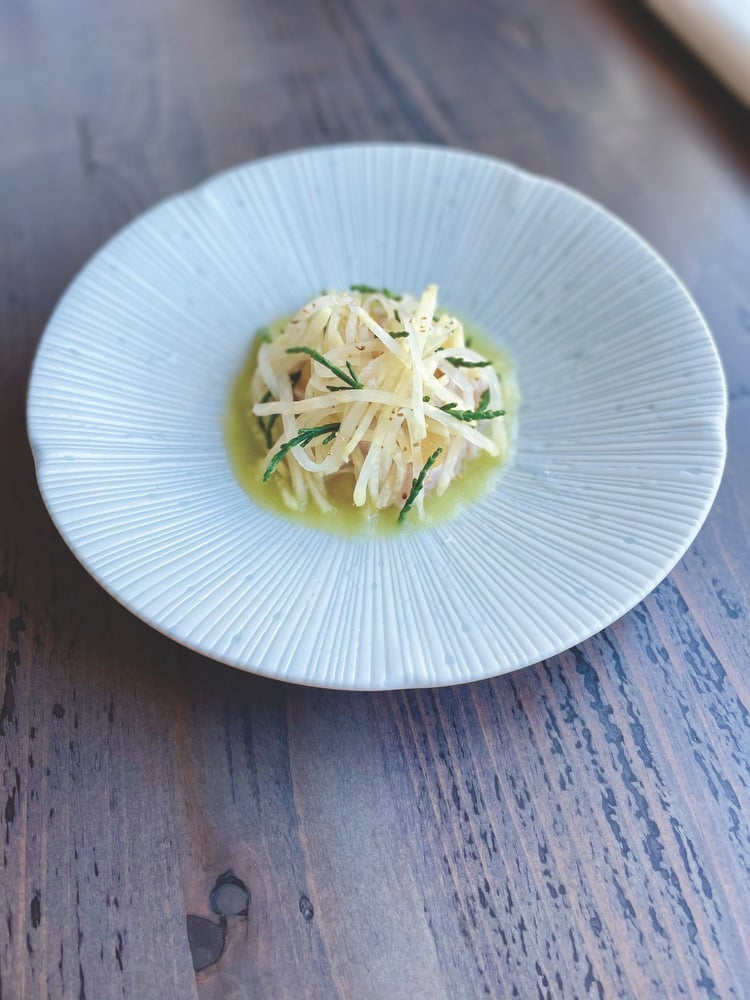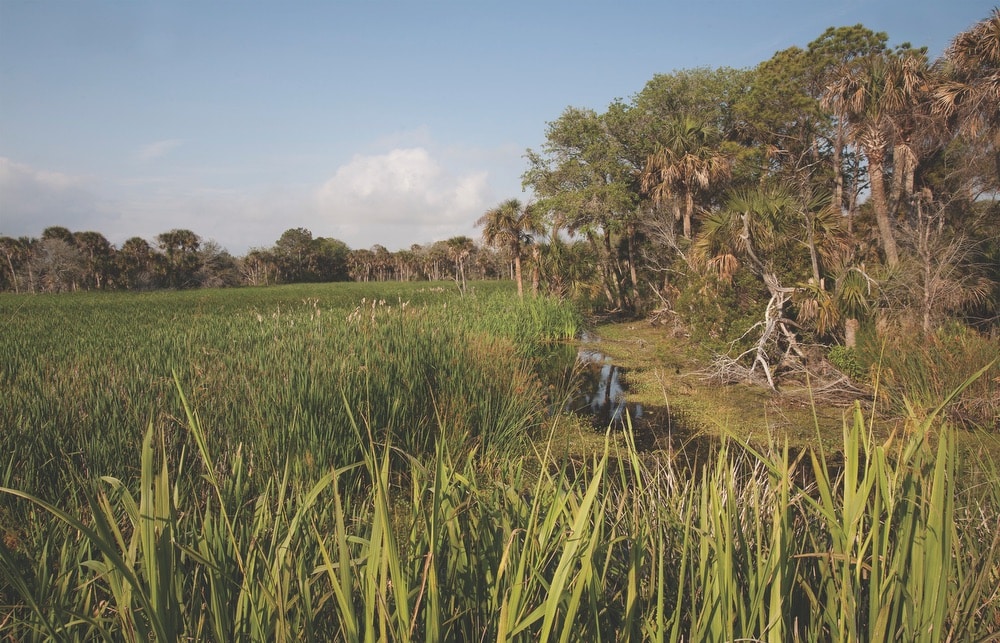 For Velazquez, the appeal of sea beans is their texture and salinity, which adds crunch and a taste of the ocean to dishes at Delaney Oyster House. He typically uses them in raw menu items as an edible garnish. "They're always so good, just bright and green the way they are," he says. "We don't want to muddle the flavor."
Jacques Larson, the executive chef at Wild Olive on Johns Island and Obstinate Daughter on Sullivan's Island, learned of Heron Farms through his wife, Carrie, who got to know Norton through Lowcountry Local First, a nonprofit championing local businesses. She was one of the first people in Charleston to tour Norton's saltwater farm and was excited about his vision long before sea beans hit the market.
"They're always so good, just bright and green the way they are, we don't want to muddle the flavor."
Larson, who calls what Norton is doing "truly visionary," appreciates that he delivers a superior product and can now supply restaurants year-round with a previously seasonal food source. "It gives the Charleston restaurant community another local product to embrace, promote, and utilize on our menus," he adds.
The sustainability aspect of Heron Farms also hits home for Larson. "It is so refreshing for a business to work this sort of idealism into its model," he says. "It makes both restaurants and guests feel better about supporting such a progressive cause."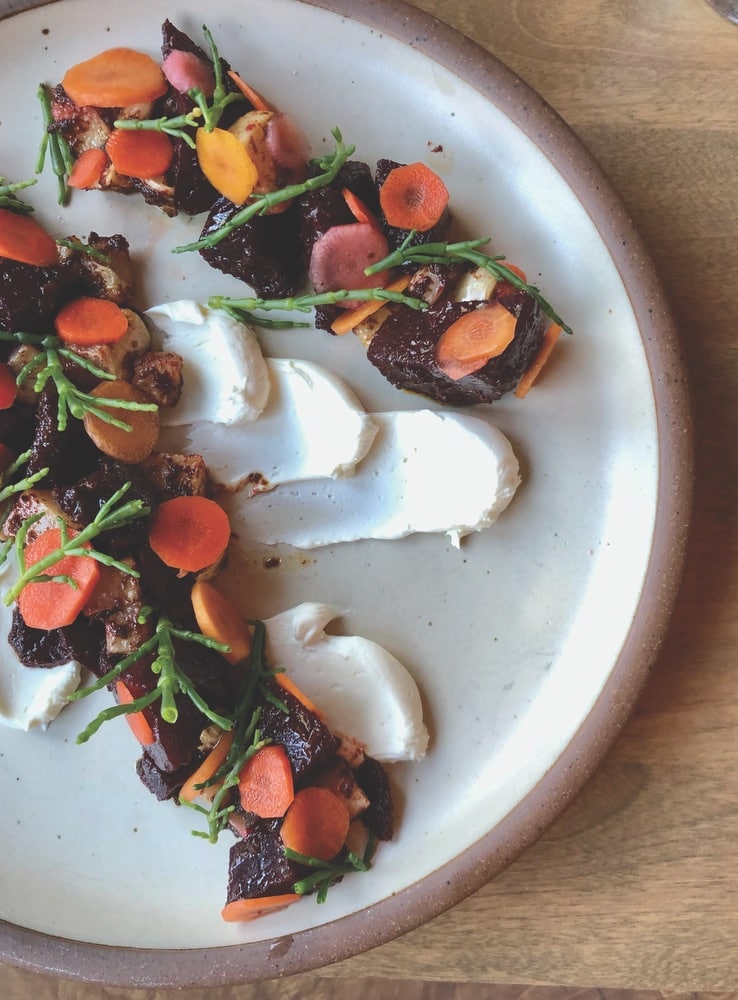 On the plate, Larson's a firm believer in appreciating the sea bean in its raw, briny form. He enjoys adding sea beans to dishes at Obstinate Daughter, including oysters on the half shell and crudo. Larson and his wife also use them in seasonal salads at home. "The beans, though small, have added immense flavor and texture to many leafy lunchtime meals we have shared," he adds.
---
— V —
Visit HeronFarms.com to learn more or to order your Charleston sea beans from Heron Farms.
Kelsey Ogletree is a freelance journalist covering travel and wellness for national publications, including the Wall Street Journal, AARP, Shape, and Condé Nast Traveler. She's also the founder of KO Copy, providing resources and workshops to empower publicists and freelance writers to work smarter and better together.
ARTICLE CATEGORIES