RECIPES AND TALES FROM THE NATION'S BEST PIZZA JOINTS
BY SALLIE WOLPER BOYLES | PHOTOGRAPHY BY JEFF KAUCK, RIZZOLI NEW YORK
Who doesn't love pizza? Ah, but what kind—soft crust, crisp crust, thick crust, or thin crust? What about toppings—mild, zesty, meaty, cheesy, or veggie? Then there's the age-old debate—warm or cold?
Considered quintessential American fare, pizzas are like culinary chameleons. The freedom to experiment with toppings—locally fresh, perhaps, or ethnically inspired ingredients—and the distinctive textures and tastes of different crusts create countless possibilities. Each pie, nonetheless, traces to a common ancestor from Naples, Italy, first introduced to New Yorkers in 1903. The original components—a thin crust layered with cheese, tomato, and basil—were simple but deliciously addictive. Recognizing the potential of such a versatile, likable food, Italian immigrants were the first to open family pizzerias in America, where they conceived and perfected their own signature recipes. Today, as Chef Craig Priebe points out in The United States of Pizza, his newly released book from Rizzoli Publications, yummy pizza pies are among the most popular centerpieces at celebrations, thanks to generations of hardworking families and innovative chefs.
Noting that menus change and new restaurants emerge, Chef Priebe does not claim to have named the nation's best pizzas in his book; instead, he offers a snapshot of favorites worth tasting. "I looked for pizzas that were interesting and unique and regional," he says, "and found many variations that I had not seen before. I also wanted to write about the people who were serving their communities with great products."
With that in mind, he crafted a combination cookbook and pizzeria guide that (much like a pizza) can be savored over long periods or grabbed for a quick nosh. The United States of Pizza delivers vivid photography and colorful descriptions of dough types, toppings, tools, and techniques with personal notes for pizza-making success and bits of history to enrich the recipes and their corresponding pizzerias. Above all, Chef Priebe introduces pizza making as a fun, gratifying art that a novice cook can master from basic instructions. He also encourages creativity by providing guidelines for interchanging crusts and toppings.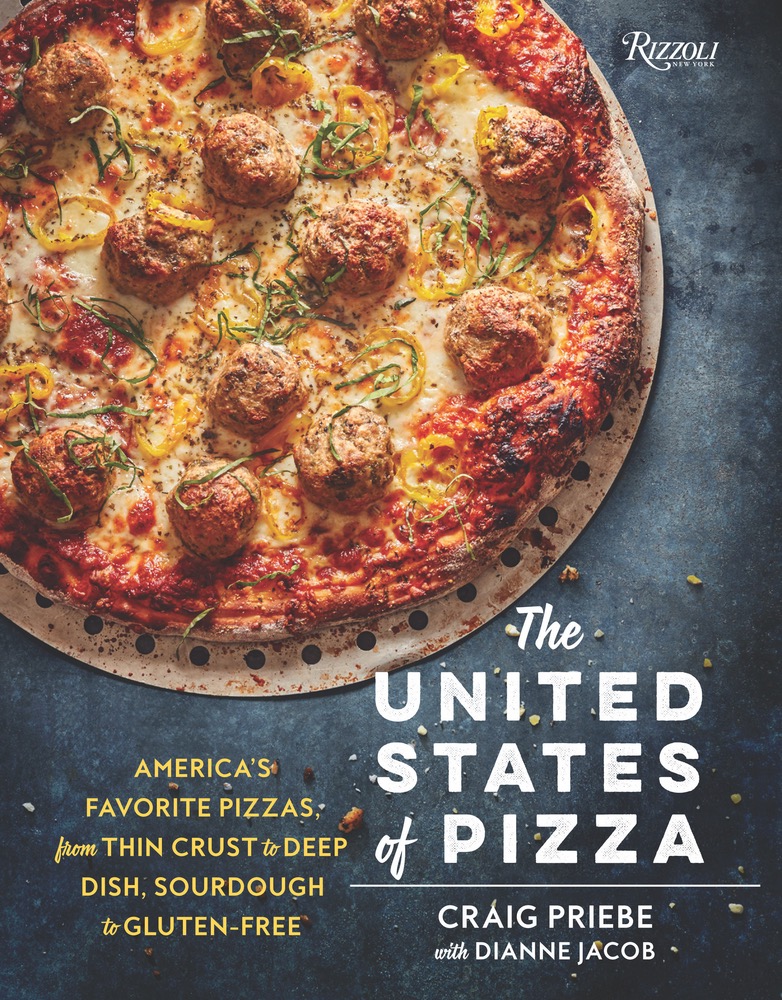 Chef Priebe's enthusiasm is contagious. In his first chapter, "Tools and Techniques," he writes, "I never tire of learning just one more thing that will make my pizzas magical." Likewise, he has a gift for communicating that entices readers to gobble up every word he says about pizza screens and dough dockers, the pros and cons of steel versus stone ovens, and the nuances of mozzarella!
The next chapter, "Sauces and Toppings," provides recipes for an array of classic components: chunky tomato sauce, pesto sauce, roasted chicken, and roasted garlic cloves, to name a few. Throughout the book, Chef Priebe explains why certain steps matter, such as adding a pinch of salt when roasting garlic. "If you roast the cloves in olive oil only," he warns, "they become too crispy and dried out."
At the heart of the book, of course, are the signature pizzas, classified according to dough type: Naples-style, New York–style, Sicilian-style, sourdough, stuffed, corn flour, whole wheat, and gluten-free. Since the crust provides the foundation for all toppings, Chef Priebe offers an enlightening page or two of background about each dough, followed by mixing and prepping directions. His secret to achieving the desired outcome (ultimately, a tasty crust with the right texture) is "a little commitment. You have to make sure the dough has enough time to proof [or rise and fall] properly," he says. Chef Priebe prefers to let his overall favorite, the sourdough, sit for five days. Other types, like the dough for a New York–style crust, can be ready after rising overnight in the refrigerator plus one hour to reach room temperature. "It's not complicated to make," he assures. "Most of the time, the dough is just sitting there."
Interestingly, every recipe in The United States of Pizza—whether the classic margherita from Patsy's Pizzeria in New York or the Goodie Roonie, a stuffed-crust pie with sausage from Big Fred's Restaurant and Lounge in Omaha, Nebraska—is Chef Priebe's own interpretation. "I wrapped each recipe around the experience of the pizzeria described," he explains, "but I didn't discuss ingredients or techniques with any of the chefs. I deciphered them myself."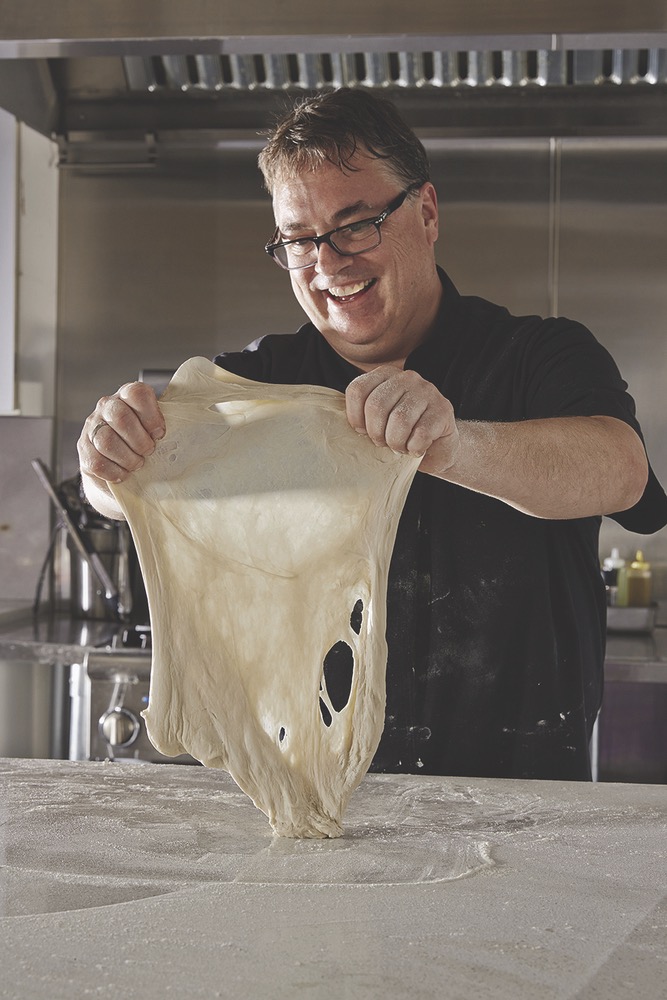 He did, however, rely on Dianne Jacob, his coauthor, to test over a hundred recipes. Her time in the kitchen verified that his instructions were foolproof, even for amateurs. "She's a great writer and she helps keep me on schedule," Chef Priebe asserts, "but Dianne will tell you she's an average cook at best." An acclaimed food writer and writing coach nonetheless, Jacob also assisted Chef Priebe with his first book, Grilled Pizzas & Piadinas, published in 2008 with positive reviews from many, including Wolfgang Puck. "Dianne and I make a good team," says the chef.
The United States of Pizza, receiving its own round of accolades, represents five years of research and writing. In truth, Chef Priebe's preparation began decades ago. "I began cooking when I was a toddler," he reveals. "Growing up in a family of Italian cooks, I learned to make the traditional dishes like polenta and ravioli. I also started baking brownies when I was seven years old. My mom indulged me; I made them every night!" When he was old enough for employment, the budding chef found jobs in the food industry. "I worked in fast food as a youngster," he recalls, "and in a food manufacturer's warehouse. At fifteen years old, I was in the kitchen cooking steaks for Sizzler, a top-quality restaurant chain."
When he was eighteen, the Chicago native enrolled in Triton College for a culinary degree. "I got a job right away with Westin as an apprentice chef," he says, noting that he worked forty hours per week while taking classes. Praising his school's requirement for on-the-job training, he adds, "I moved to Florida with Westin when I was twenty to work as a cook at Walt Disney World's Swan Hotel—a fantastic experience."
Promoting him after three years to sous chef (second in command), Westin relocated him to Hilton Head Island, South Carolina. Although he was gaining world-class experience, Chef Priebe remembers those years as "brutalizing and demoralizing. Even as the sous chef, I worked twelve- to fourteen-hour days, and to get a day off, I had to cover another guy's shift," he says. "It takes a lot of effort and passion to get through the hard parts." Despite the impressions some gather about the profession from the rise in celebrity chefs, Chef Priebe cautions, "There's not much money for a long time." Talented and committed, he moved up the corporate ladder to positions in Atlanta and New Orleans. While living in Atlanta, he decided to open his own place, C.K.'s Grilled Pizza.
Inspired by the late George Germon, known as a culinary pioneer, Chef Priebe says, "I fell in love with grilling pizza. I just knew I had the best product." Even so, he confesses, "I couldn't pay my bills for the first two years, and my tiny kitchen with my big grill was a 105-degree firebox. It was awful, but C.K.'s was mine."
Determined to make a name for himself, Chef Priebe took his chances at Pizza Expo, the food industry's largest trade show, where he put his pizza to the test before judges. "I was the dark horse," he relays. "All of the other chefs had pizza-cooking stations inside, but I was in the middle of the parking lot grilling mine." Surprising everyone, he won the Best International Pizza of the Year Award.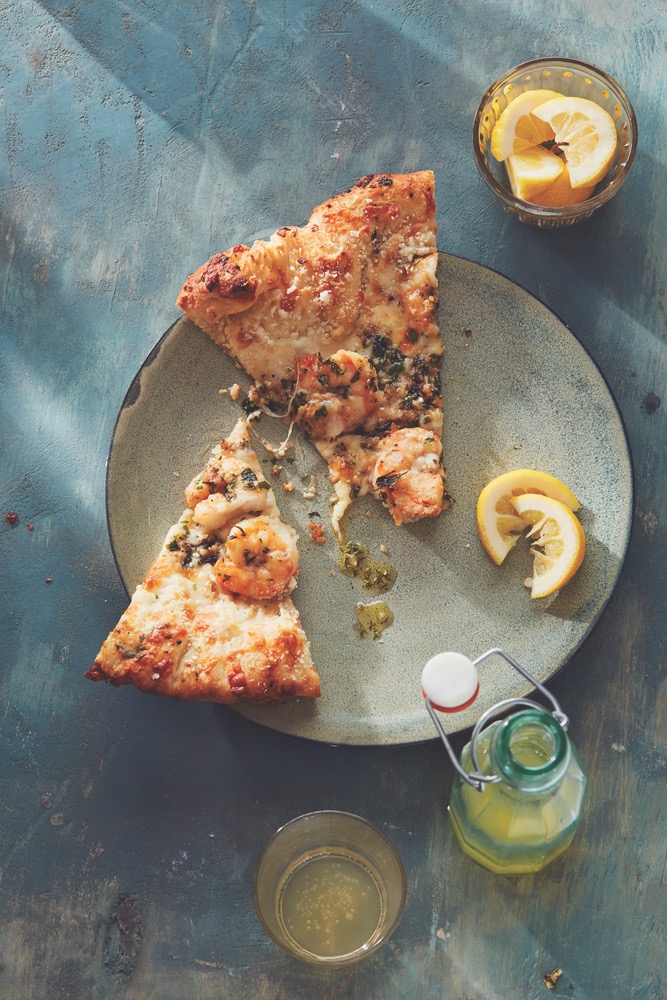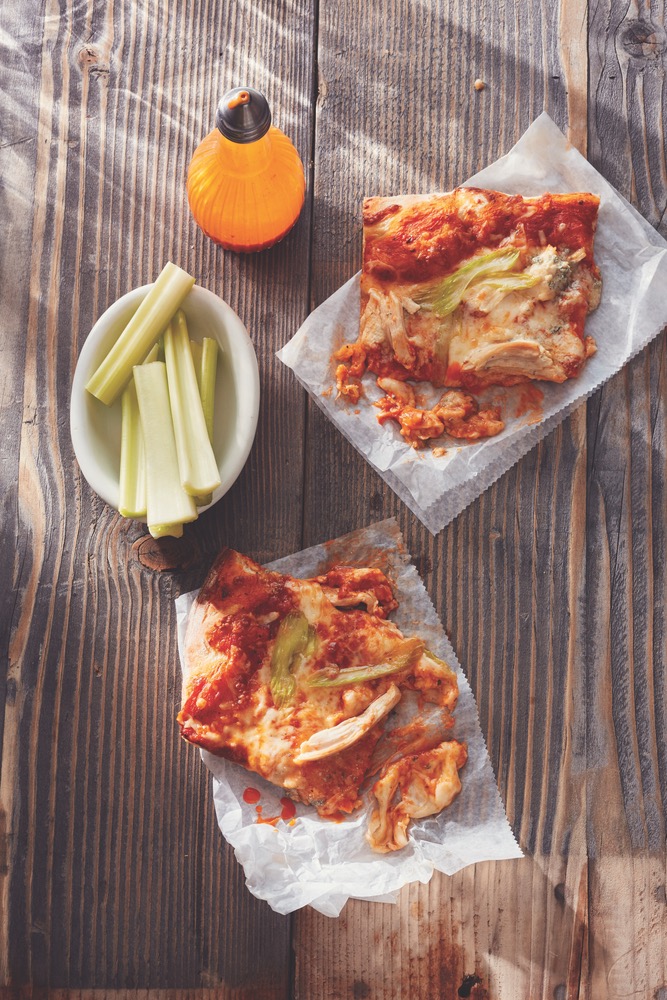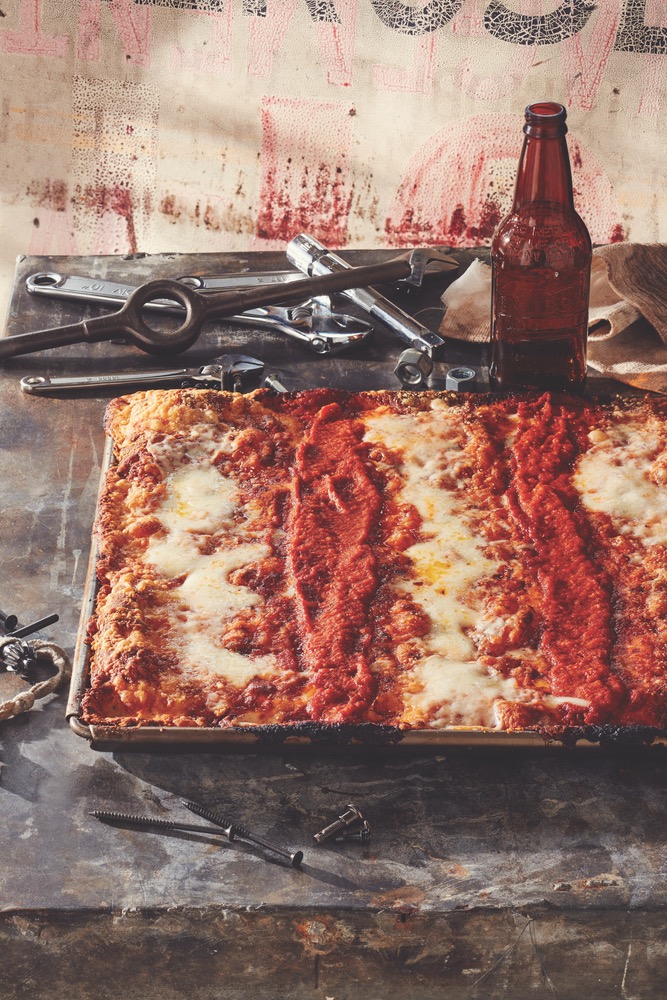 The title ignited publicity, and Chef Priebe became a celebrity. As soon as Travel + Leisure named C.K.'s one of the best pizzerias in America, patrons were waiting in lines outside the restaurant. Besides paying off his debt, he had money to move into a bigger space. Unfortunately, the timing was bad. Although the positive press continued and he received several other distinguished awards, "September 11 happened," Chef Priebe remembers, "and no one was coming to the restaurant. After seven years, I closed the place." He returned to Chicago for a fresh start.
A friend had constructed a covered trailer for his grills, so with his portable pizza kitchen, Chef Priebe traveled to the Wheaton French Market on weekends. He'd sell two hundred grilled pizzas and earn a thousand dollars each week. For a year, that's how he made a living. "I loved it," he says, "but I felt like I was still fighting."
Without question, the battle scars remind Chef Priebe of how fortunate he is now to make a great living doing what he loves best. As the private executive chef for Henry Crown and Company, a renowned investment firm headquartered in Chicago, he prepares meals for a relatively small, appreciative group of individuals. On most days he cooks breakfast and lunch for members of the Crown family and company employees. When outside guests are invited, they are often the nation's movers and shakers or the world's most influential figures. President Obama, who loves pizza, and Elie Wiesel have been among them. "Usually the food is healthy, wholesome, and simple," the chef says, "but I make fancy dishes, too."
Professionally and personally (Chef Priebe and his wife, Wendy, have a great life together), he is living the American dream. But, he confesses, "It's like I'm a glutton for punishment. My second cookbook is going to open up all kinds of opportunities." Imagining the possibilities, he says, "I would like to open a pizzeria—on the beach. It would be a shame not to!"
In the meantime, Chef Priebe invites people to sample his recipes and the restaurants he features, one slice at a time.
---
WHITE CLAM PIE
Frank Pepe Pizzeria Napoletana, New Haven, Connecticut
Toppings: clams, Pecorino Romano cheese, oregano
Makes one fourteen-inch pizza; serves two
Frank Pepe founded this pizzeria in 1925. He served only two pies back then: one with Romano, oregano, and tomatoes; and one with anchovies and mozzarella. Frank got his inspiration for the clam pie from the freshly shucked clams he served in the bar. It was only a matter of time before the clams found their way onto the pizza.
"This is a plain pie with lots of taste. It is made without mozzarella because they say the cheese overwhelms the clams and makes the pie too rich," says Chef Priebe. "I think they are right—this is one of the best pizzas I have ever had without mozzarella." Littlenecks are one of the smallest clams. They come seven to ten to a pound. Because they are tiny, they cook quickly and they are one of the most tender clams to eat.
Naples-Style Pizza Dough
Ingredients:
For the Poolish
1/2 cup plus 2 tablespoons unbleached bread flour
1/8 teaspoon active dry yeast
1/2 cup plus 2 tablespoons water
For the Dough
1/2 cup unbleached bread flour, plus more for dusting
1/2 cup plus 2 tablespoons Italian 00 flour
1 tablespoon extra-virgin olive oil, plus 1 teaspoon for the bowl
1 teaspoon honey
1 teaspoon active dry yeast
1/4 cup water
1/2 teaspoon salt
Nonstick cooking spray
Make the Poolish:
Mix the flour, yeast, and water in a small bowl. Cover with plastic wrap and let sit overnight at room temperature, about twelve hours. The poolish will bubble as fermentation takes place. When it is ready, it will teem with millions of living yeast cells.
Make the Dough:
Scrape the poolish into the bowl of a stand mixer fitted with the dough hook. Add the bread and 00 flours, one tablespoon of the oil, the honey, yeast, and water. Mix together on low speed until a dough ball forms.
Turn off the mixer and let the dough rest for about ten minutes. Add the salt. Knead the dough on medium speed for fifteen minutes. When the dough is ready, it will be wet, sticky, and elastic. To test elasticity, hold a one-inch piece between your fingers and stretch the dough. This is called making a windowpane. The dough should look like stretched-out bubblegum. If not, knead for another five minutes and test again. Keep kneading until the dough passes the test, up to thirty minutes more.
Pour the remaining teaspoon of olive oil into a large bowl. Wet your hands with water, shape the dough into a ball, and place it in the bowl. Turn the dough to coat it with oil. This prevents a crust from forming on its surface as it rises. Cover the bowl with plastic wrap and let the dough rise in the refrigerator for about twelve hours. It will double in width when ready. Rest the dough on the counter until it comes to room temperature, about an hour. Shape the dough using a stretching or hand-tossing method.
Toppings:
36 littleneck clams
1/2 cup grated Pecorino Romano cheese
1 tablespoon dried oregano
1 teaspoon freshly ground black pepper
2 cloves garlic, minced
1/4 cup extra-virgin olive oil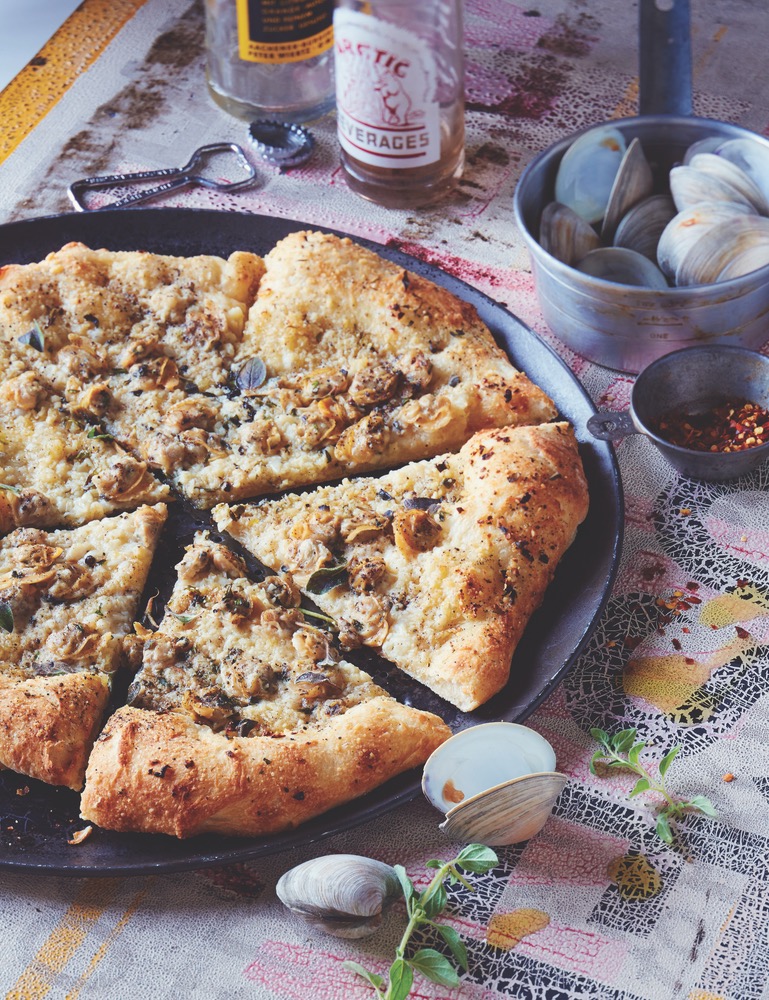 Make the pizza dough at least twenty-four hours ahead. Rest the dough on the counter until it comes to room temperature (about one hour). Move an oven rack to the lowest position. Preheat the oven to 500 degrees for thirty minutes.
Bring four cups water to a boil in a large pot over high heat. Place the clams in the boiling water for about one minute. The clams will begin to open. Transfer the open clams to a colander and run cold water over them to cool them quickly. Slide a knife in the crack and open them. Any clams that do not open wide enough to slide a knife into should be discarded. Put the clam meat on paper towels and discard the shells. Pat the clam meat dry.
Spray a fourteen-inch pizza pan with nonstick cooking spray and place it next to the shaped dough. Slide the shaped dough onto the pan. Reshape as necessary. If you've hand tossed the dough, spray the pan before you start and transfer the shaped dough to the pan. Place the clams on the pizza crust, leaving a one-inch border. Sprinkle with the Romano, oregano, pepper, and garlic. Drizzle the olive oil over the toppings.
Bake the pizza for about fifteen minutes, until the crust is deep brown and the toppings are bubbling. Check underneath with a metal spatula to ensure the bottom crust is deep brown too. Let the pizza rest for five minutes. Cut it into eight wedges and serve. Enjoy!
— V —
ARTICLE CATEGORIES