By Jordan Staggs  |  Art by Kyle Krauskopf
Kyle Krauskopf likes to joke that he came out of the womb and someone handed him a crayon. That's how long he's known he wanted to be an artist.
Growing up in Peru, Indiana—the Circus Capital of the World—with parents who both worked in the finance industry, Krauskopf was the child who was usually drawing in class instead of listening. "I have always felt older than I am," he admits. "I remember being in about the third grade and thinking, 'This is stupid. I already know this.' I was that kid. And so I was always drawing." His parents felt he needed to focus more on schoolwork and stop getting into trouble until the time for standardized tests came around—and their son aced them. "My dad went out and bought me a set of colored pencils after that," Krauskopf laughs.
He went on to pursue art at Ball State University in Muncie, Indiana, and credits one of his professors there, John Gee, with making an impact on his desire to stick with art no matter what. "I never gave up pursuing it because I can't, really," Krauskopf says. "Gee was one of those professors who's of the mind to weed out the people who aren't serious about art in the first three weeks of class, so his assignments were insanely difficult. He would really tear you apart if he saw you weren't working. And he would touch people's drawings—he had these long, bony fingers—and one day he came around to look at my work, and I just asked him not to touch it, and he stopped and looked at me, and then just nodded and moved on. I guess I passed his test."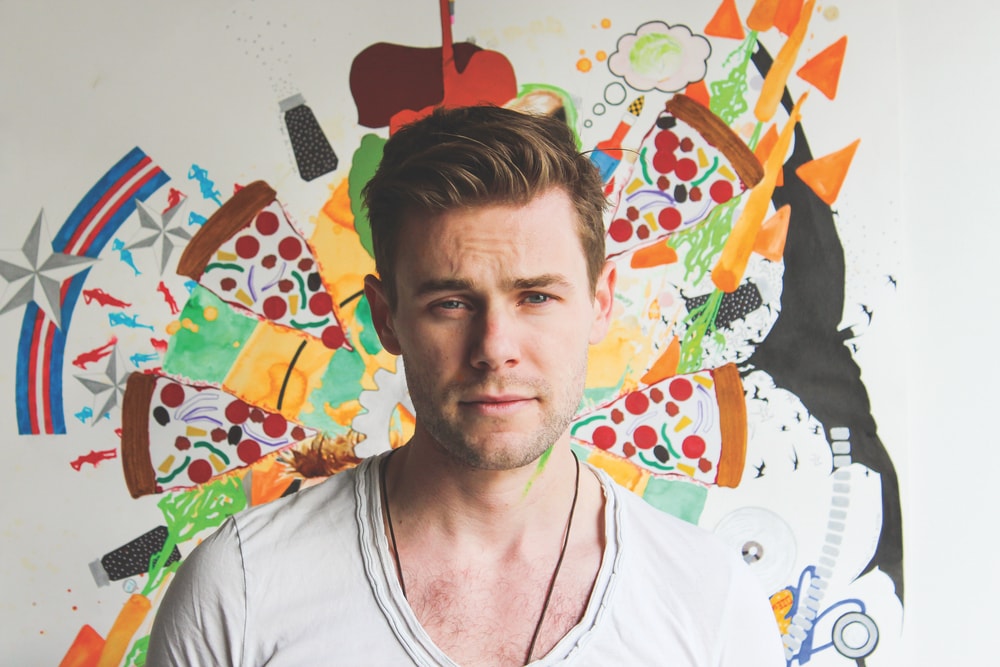 Breaking the stereotype of art school students who go on to do anything but art, Krauskopf says that it seems like now that he's reached his thirties and is still pursuing a professional art career, people take him more seriously.
"I stumbled upon this style of drawing out of frustration; it's like an exploding menagerie of things all coming from the center of the page," he explains. "I call it VV—for 'Visual Vomit.'
After graduation, he made some big moves both physically and in his art career, first heading to Seattle and later to many other places as he backpacked across Europe with a good friend. It was during that six-month journey that he realized he wasn't cut out for the nomadic lifestyle. He needed a space to create and began feeling antsy about not doing his work. Having little in the way of creative supplies and workspace, Krauskopf took to his sketchbook to vent his frustrations about life on the road. "We had just been floating around for about two months, and I guess I felt a little like I was wasting my life." The result: "I stumbled upon this style of drawing out of frustration; it's like an exploding menagerie of things all coming from the center of the page," he explains. "I call it VV—for 'Visual Vomit.' Now, the paintings feed off one overwhelming emotion at a time, so that's the basis of the central part of each one, and then the stuff that radiates out from it are relevant pictures and words and objects." So far, the VV series has produced twenty-seven watercolor and mixed-media paintings with the subject matter as wide-ranging as Krauskopf's inner monologue to his favorite movies.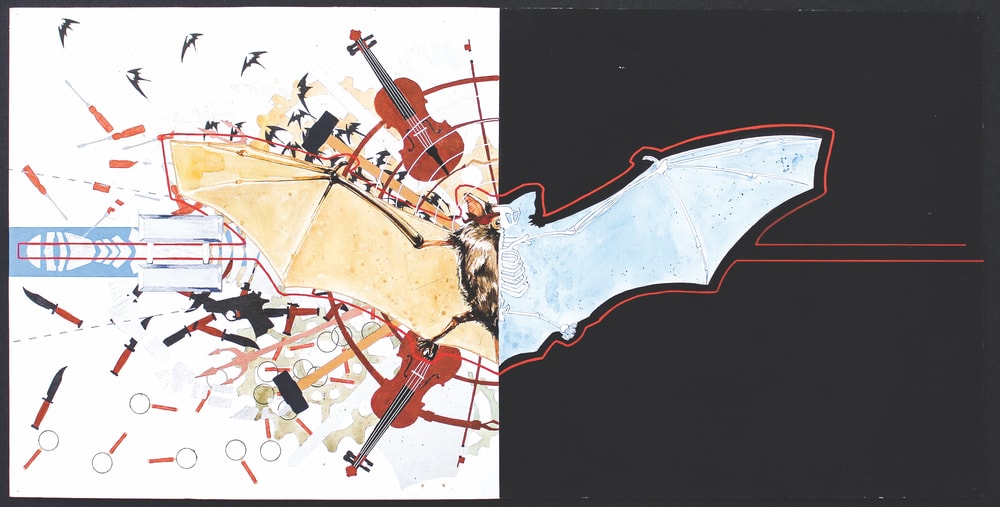 Many of Krauskopf's paintings include pop culture references from films, books, comics, and music. He has a steady flow of characters that he often paints in various iterations, many of them popular superheroes, including Captain America, Superman, Spider-Man, the Guardians of the Galaxy, and more. Krauskopf explains that those characters and others have always been role models for him. "A lot of people I look up to are completely fictional," he says. "To me, I feel if you require more of yourself than what's normally expected of a 'real' person, then maybe you can reach that higher level. If I can strive to have the courage of Captain America or the ingenuity of Tony Stark, and if I can achieve even half of what they're capable of, that's still remarkable."
That mind-set has undoubtedly led Krauskopf to some impressive achievements. His most significant project to date, which came to life about a year after his move to Seattle, is called 365 Days of Wood, an homage to his love and talent for carpentry. "When I moved to Seattle, I left my car in Indiana. My best friend was coming to visit me for New Year's, and he decided just to drive my car, so I gave him one stipulation: he had to bring my scroll saw with him." Krauskopf grew up around woodworking, as his dad was always doing projects around the house that he would help with, and he has three uncles who are carpenters, so it was "in his blood" even though they never specifically taught him anything. With his scroll saw safely in Seattle, Krauskopf decided to make something for a New Year's Eve party. "It was the Year of the Ram, so I made a bunch of little wooden rams as party favors. Everyone laughed, but they loved them, so I decided to make a different wooden animal every day for a year. And it really taught me about commitment—it showed me that I would put a commitment I make to myself ahead of most other things. At the end of it, I had never seen anything like the collection I made." The finished product is a wall of small wooden animals that Krauskopf says changed his life since it proved his dedication to his craft. It's not for sale, but he says he would be willing to make more for clients who want their own.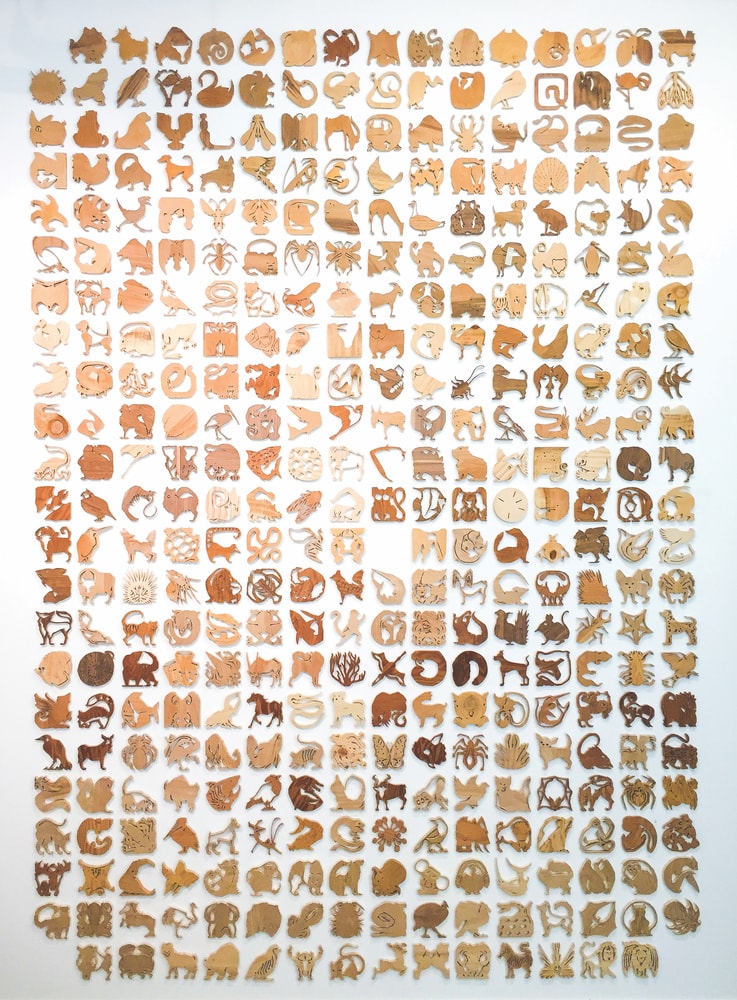 After spending almost five years in Seattle and building his audience as well as his confidence, Krauskopf recently made a move back to Indiana. "Most of the things I've gotten from Seattle have been little notches on my belt. I was born in a town of eleven thousand people, and I had a studio in Pike Place—I never dreamed that would be something I would do," he says. "I used to attend gallery shows and be in awe of how people do it, and doing it myself has kind of demystified the process. Nothing has been easy, but it's a good battle. I think if I had it any easier, I wouldn't feel as proud of it as I do."
Krauskopf's move to Indianapolis comes with a new adventure in addition to his expanding art career. He plans to help a group of his friends who are building and opening an independent movie theater in the city. "I thought building a movie theater sounds awesome—how many chances do you get to do that?" he shares.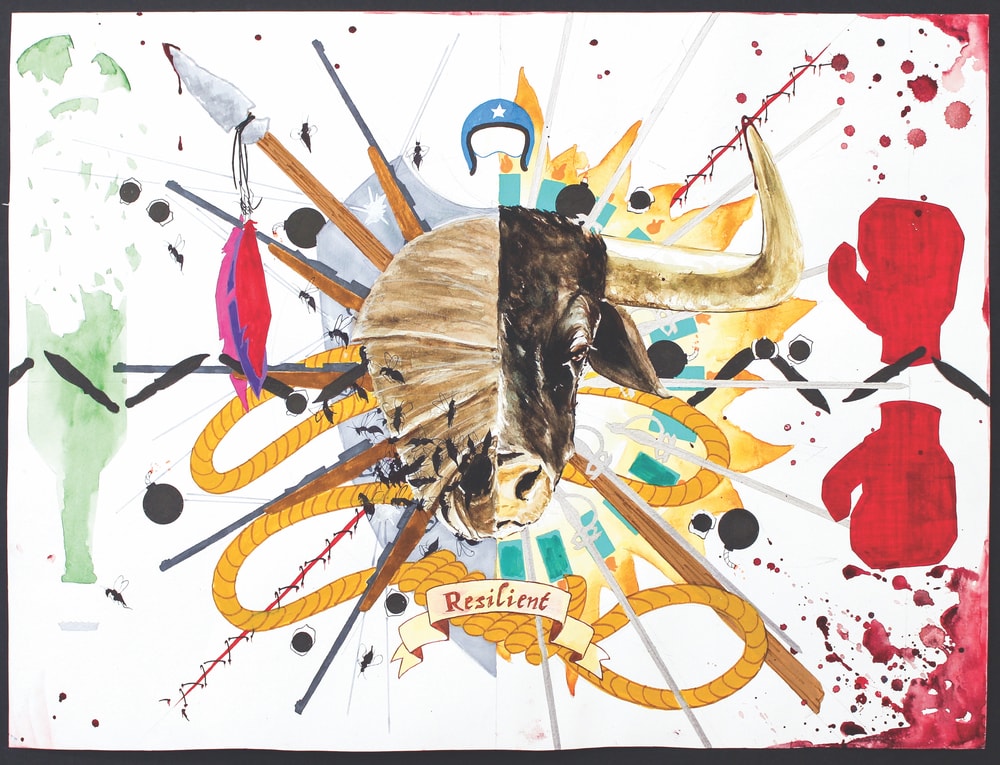 The superartist also has several other projects up his sleeve. His next VV series promises to be unlike any other, as Krauskopf plans to work with individuals that are "warriors," as he calls them: those who have gone through hardships and come out on the other side stronger than ever. "The idea is to do a portrait of the person, and then I want to create a VV of their experiences and how they want to look—we don't have to tell anyone what they mean exactly, but I want the subjects to look at this piece of themselves and think, 'Wow, I am a warrior.' Then I'd like to take the whole body, show it in each person's home city, and then at the end, they can each keep their portrait."
Krauskopf has also teamed up with twelve female artists in the Virago Art Collective, a global artist group collaborating to spotlight some of the world's most influential women. Each of those twelve Virago artists will choose a woman for Krauskopf to paint a portrait of, and then he will ship the portrait to the artist who chose that subject so they can finish the work however they see fit. Similar to the VV series, Krauskopf says the hope is to show all twelve paintings in the cities where the Virago artists live, including London, Toronto, Chicago, Seattle, and New Orleans.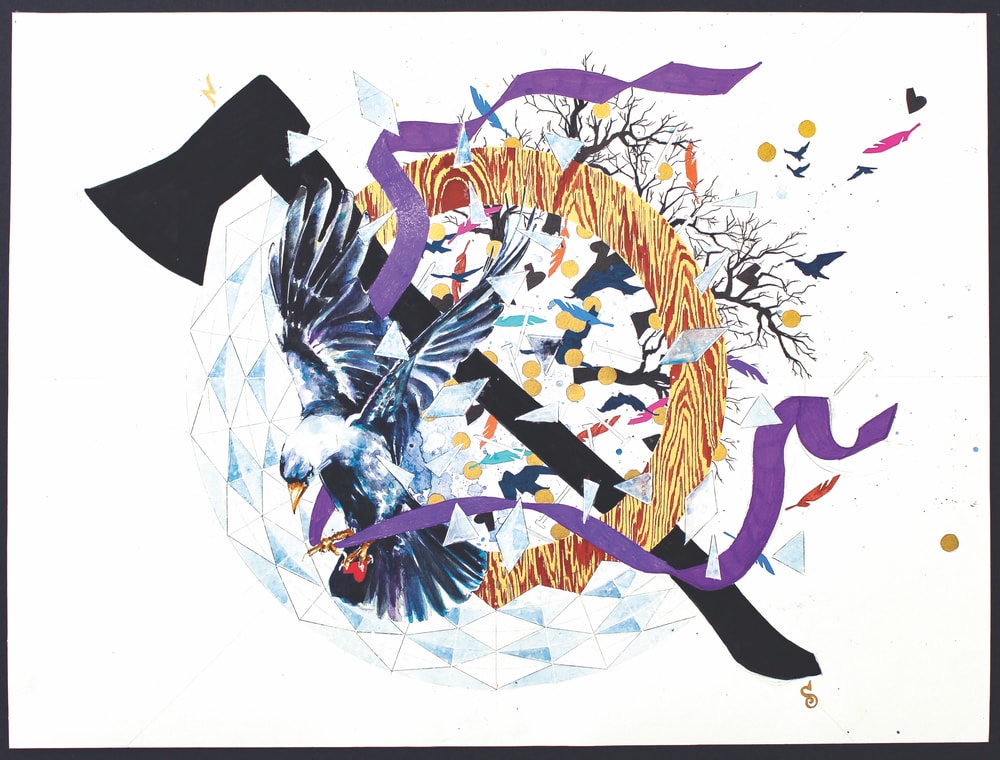 The Virago Art Collective international art collaboration has largely been made possible thanks to connections Krauskopf made on Instagram, a social media platform that he never thought would have such a big influence on his career. "When Instagram first came out, I thought, 'Why the hell would I just post pictures of me and my food and my friends? Who would want to see that?' So I decided that I had one rule when I got an account: I would only post about art. That led to following a bunch of artists on Instagram, and it became this whole online art community for me. Every time I saw someone doing a cool art project, I just tried to connect with them and tell them how much I liked their stuff. It's a great place to connect and get inspired by people who are doing good work."
Instagram has also become a platform for Krauskopf to share inspiration and wisdom through the art of words along with his creations. He often writes affirmations for others, letting them know they are valued, telling stories of goodness, and thanking people who have made a difference in his life. "I am a very empathetic person, and I don't know how many times I've felt grateful about things that have happened to me, even if they were negative, because it meant I could help someone else down the line," he explains.
For the artist who claims that a No. 2 pencil has been his most trusted advisor, his advice to others is simple: "I guess the prevailing message I have would be to think about all of the decisions that are possible for your life; don't just follow the cookie-cutter steps. Everyone's life is going to be hard, but think about what could happen if you're following your passions. Push yourself, use your time wisely, and have no regrets in the end."
— V —
---
Visit Kyle Krauskopf on Instagram @kylekrauskopf to see more of his work, make a purchase, or request a commission.
ARTICLE CATEGORIES