It seems we are all continually looking for new foods to try that are both delicious and nutritious. For this Health & Beauty Issue, VIE has gathered a few of our favorite chefs and food bloggers to share fabulous dishes that will surely taste as good as they make you feel!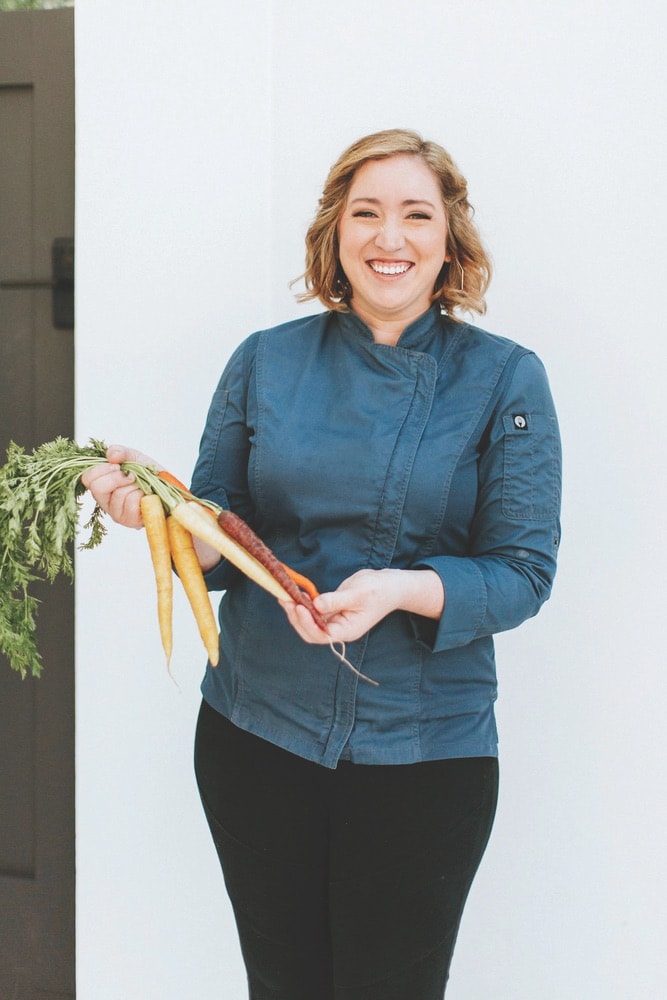 Chef Kali Davis, Plate to Plate
Offering private in-home dinners, event catering, cooking lessons, grocery stocking, and more, Chef Kali Davis of Plate to Plate takes the private chef concept to a new level. She also teams up with other amazing chefs to provide in-home private dinners to clients throughout Florida and beyond. Visit PlateToPlate.us to learn more.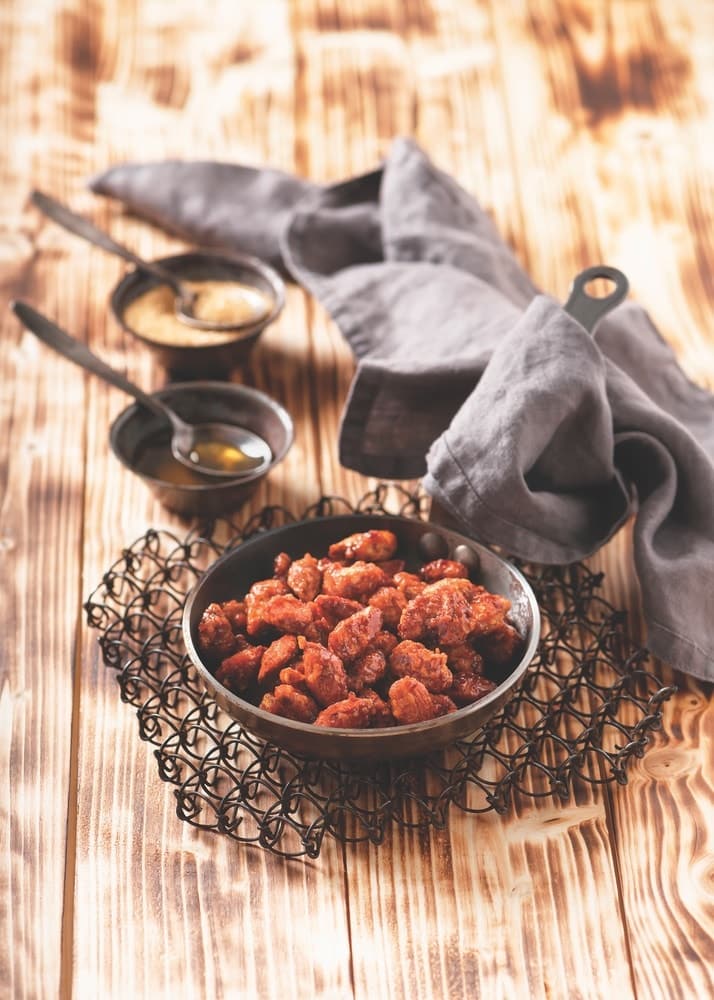 Honey-Roasted Almonds
Nuts are a great way to add variety and texture to your meal. You can use them as a substitute for breading, soak them in water and puree for a milk substitute, coat them in a little sugar and bake them for a healthy snack, or use them to top your favorite salad! Kids go bananas for these honey-roasted almonds, and they make great gifts. Just throw them in a mason jar, put a bow on top, and call it a day!
Ingredients
2 cups whole almonds
1/4 cup white sugar
1/2 teaspoon salt
1/4 cup Honey Hutch honey (a local Northwest Florida favorite)
1/4 cup water
Instructions
Preheat the oven to 400 degrees. Line a baking sheet with a Silpat baking mat (an oven-safe silicone that won't melt or let anything stick to it). Bake the almonds, occasionally stirring, until they are light tan and fragrant—about eight to ten minutes. You can usually go by the rule that when you smell them, they are almost done! While the almonds bake, mix your sugar and salt in a small bowl, then sprinkle about one tablespoon of the mixture into a large bowl.
On the stove, stir the honey and water together in a saucepan and bring the mixture to a boil. Add the baked almonds and stir until they have absorbed all the liquid—about 5 minutes. Be careful not to let the almonds burn! This glaze will be hot and will start to bubble when it's almost ready.
Transfer the coated almonds to your large bowl sprinkled with the sugar mixture. Sprinkle the remaining sugar mixture over the almonds and toss to coat evenly. Spread the almonds onto waxed paper to cool completely. Store at room temperature in a tightly covered container or plastic bag until you're ready to enjoy!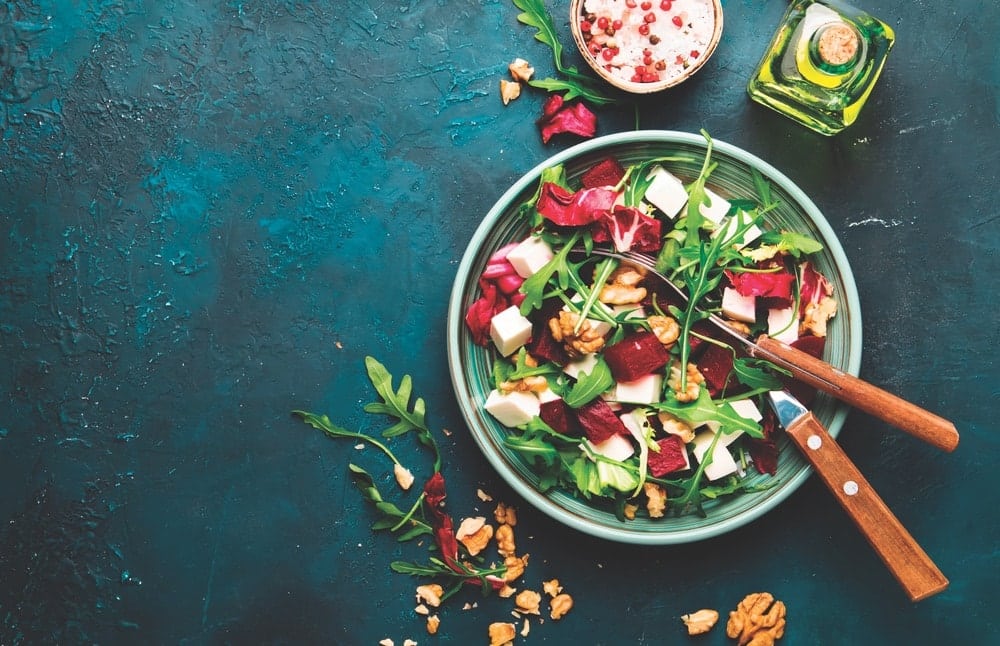 Roasted Beet Salad
Serves 4
This is a great winter dish. Beets come in some of the most beautiful sunset colors: red, golden, purple, and even candy-striped. They are low in calories and a great source of nutrients, including fiber, folate, potassium, and vitamin C. Beets also contain nitrates and pigments that can help lower blood pressure.
Ingredients
12 beets
3 tablespoons good olive oil
1 1/2 teaspoons fresh thyme leaves, minced
2 teaspoons kosher salt
Mixed greens
Goat cheese
White balsamic vinegar
Extra-virgin olive oil
Honey Hutch honey
Walnuts or pecans, chopped (optional)
Instructions
For the Beets
Preheat the oven to 400 degrees. Remove the tops and the roots of the beets. Leave the skin on and leave them whole. Place one beet (or two, depending on the size) on a piece of foil with some olive oil, thyme leaves, and salt. Wrap tightly and place on a baking sheet. Repeat with remaining beets. Roast for 45 minutes to an hour. (You can check the beets by opening one of the foil packets and piercing the beet with a butter knife. It should have a slight resistance.) Once finished, remove foil packets from the oven and let them cool slightly, then unwrap the beets. Now for the messy part! With a paper towel, "clean" the beet. The exterior skin should slide off with assistance from the paper towel. The red beets will turn your hands red, so you might want to wear gloves!
For the Honey White Balsamic Vinaigrette
Using one part vinegar and three parts extra-virgin olive oil, pour the vinegar in a bowl and use a whisk to incorporate the olive oil. The vinaigrette should have a very delicate balance of oil to acidity. Season with a little salt and a tablespoon of honey to give it a slightly sweet taste. Remember to adjust the amount of honey, depending on the amount of vinaigrette made!
For the Salad
The rest is pretty straightforward. Make sure you have fresh, crisp mixed greens. (One way to ensure quality when buying is looking at the packaging to make sure the greens have a lot of air space and haven't sunk to the bottom of the package. Turn the package over to make sure there is no green liquid residue, which would be from decaying greens.) Spread your mixed greens evenly in a large serving bowl and spoon your roasted beets evenly over the greens.
Top with a good crumbled goat cheese. One of Chef Kali's favorite brands is Humboldt Fog from California. It has a small line of vegetable ash running through the center and a brie-like texture on the outer layers of the cheese.
Drizzle your honey white balsamic vinaigrette over the top of your salad, toss on some chopped walnuts or pecans if you'd like some crunch, and serve!
---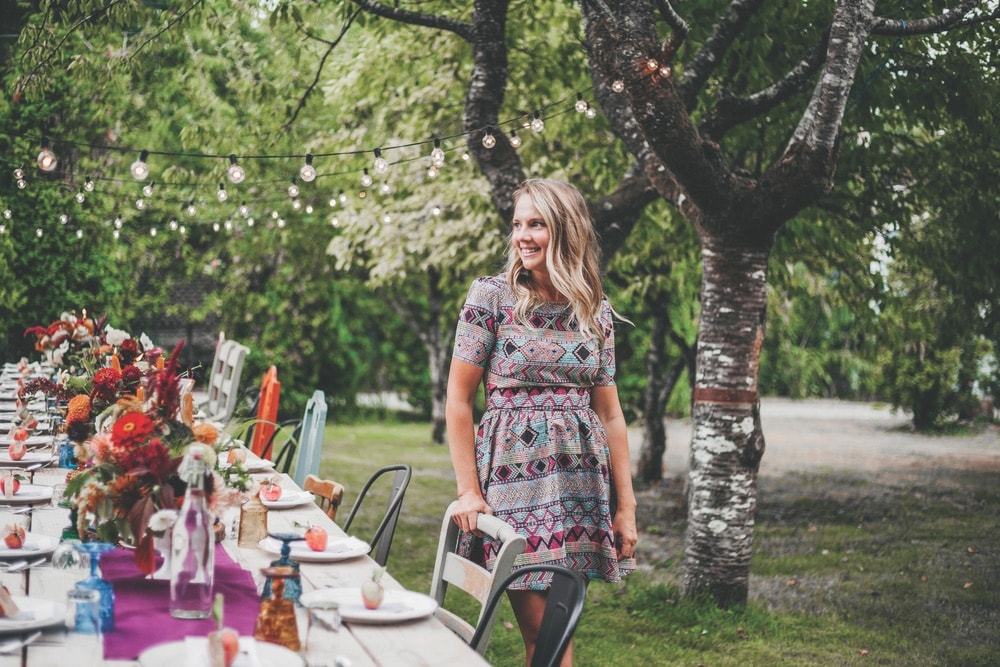 Chef Kelly Welk, Ciderpress Lane
Mother, writer, chef, expert hostess, and freedom fighter Kelly Welk founded the lifestyle blog Ciderpress Lane and is now using private dinners as a way to start conversations and raise funds to fight sex trafficking. Since their inception, these Freedom Dinners have raised over $35,000 for Rescue:Freedom International, an organization that supports women and children who are sex trafficking survivors. Learn more at CiderpressLane.com and in Welk's book Dinner Changes Everything.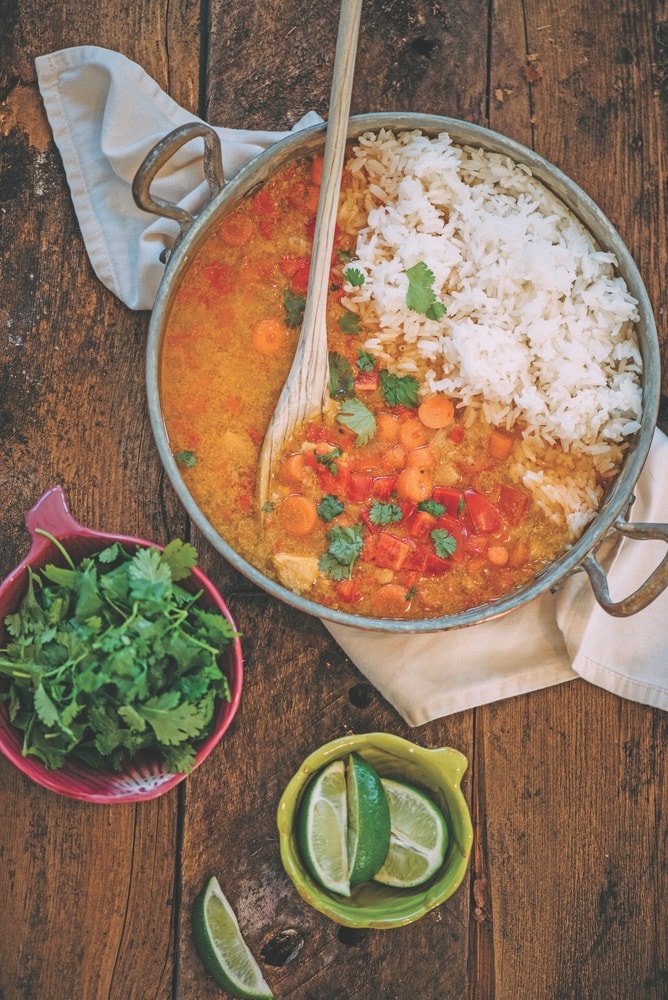 Thai Coconut Soup
A light yet filling chicken soup with a little kick! It's the perfect party dish but also great for dinner any night of the week. Chef Kelly often serves this dish with a side of spring rolls. (Although you can create spring rolls from scratch, she prefers to make it a little easier for everyone by buying her favorite ones from Costco.)
Ingredients
2 tablespoons olive oil
4 large carrots, cut into 1-inch pieces
1 small onion, diced
1 red bell pepper, cut into 1-inch pieces
1 yellow bell pepper, cut into 1-inch pieces
2 cups uncooked chicken, cut into 1-inch pieces
1 tablespoon plus 1 teaspoon red curry paste
3 cups chicken stock
2 tablespoons fish sauce
3 tablespoons brown sugar
1 can coconut cream
1/2 cup cilantro, chopped
2 cups jasmine rice, steamed according to the package directions
Garnish: 2 limes, cut into wedges; chopped cilantro; 1 jalapeño, diced
Instructions
Heat the olive oil over medium heat in a large soup pot, then add the chopped vegetables and curry paste. Sauté for a few minutes to incorporate the paste and soften the vegetables. Add in the chopped chicken, chicken stock, brown sugar, and fish sauce. Gently simmer for 20 minutes to combine flavors and cook the chicken. While the soup is simmering, steam the rice. After the soup has simmered, turn the heat down to low and add the coconut cream and cilantro; keep the heat low so the cream does not separate.
Serve the soup over a large scoop of rice with a garnish of fresh lime, chopped cilantro, and diced jalapeño for heat. If you would like a more vibrant, spicier flavor, add more red curry paste. If the soup is too spicy, reduce the heat by adding more brown sugar or a teaspoon of white vinegar.
Tip: Prep the Day Before
The longer this soup sits, the better it tastes, so go for it! Make the entire pot of soup, down to the last step of adding the coconut cream and cilantro. Slice the limes and place in small serving dishes; cover and refrigerate. Chop cilantro for the soup; cover and refrigerate. Add it to the soup shortly before serving. Chop cilantro for the garnish, place in small serving dishes, cover, and refrigerate. Prepare the rice and refrigerate.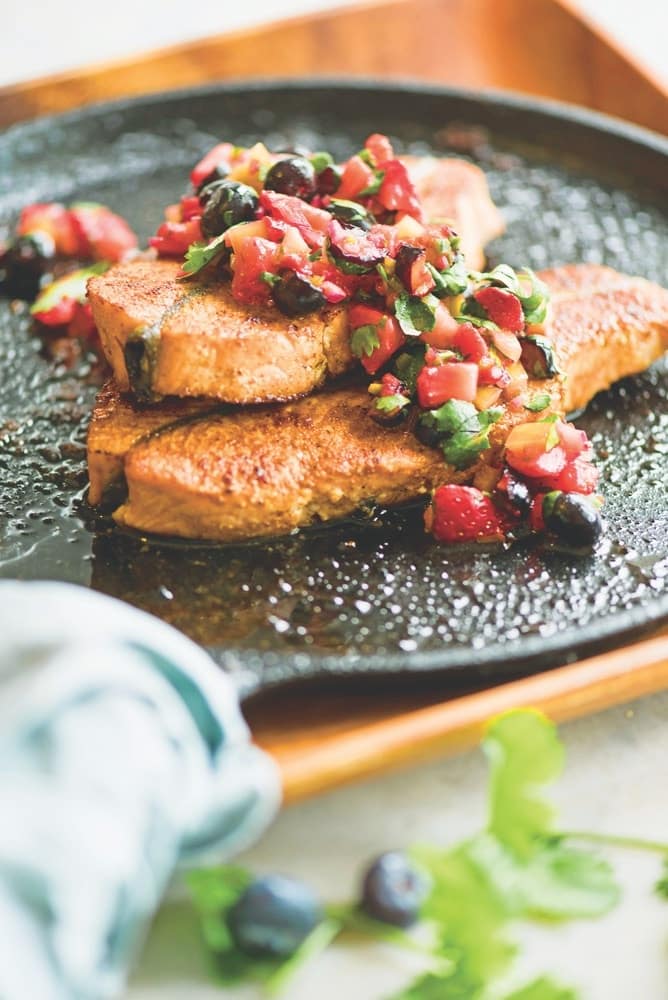 Blackened Salmon with Blueberry Salsa
Serves 8
A delicious entrée that can also be prepped the day before (leave the salsa off until ready to serve)! Give your blackened salmon a twist with a fresh, sweet seasonal salsa. This recipe also works well with white fish, such as tilapia.
Ingredients
8 four-ounce salmon fillets
olive oil
Cajun seasoning salt
For the Salsa
1 cup blueberries
1 cup strawberries (or mango if it's in season), chopped
1/4 cup red onion, minced
1/4 cup red pepper, diced
1/4 cup cilantro, chopped
1–2 teaspoons minced jalapeño (start with a teaspoon and add more if you prefer)
1 lime, squeezed
2 teaspoons sugar
Instructions
Combine the salsa ingredients in a medium bowl. Stir, cover, and set aside.
To create the salmon steaks, cut the fillet into two-inch strips. Butterfly the strips by cutting them down the middle just to the skin. Leave the skin intact! Now open the two sides like a book. The skin will fold back on itself. (If this is hard to visualize, look up a video on how to butterfly a salmon fillet). Brush both sides of the salmon steak with olive oil and season generously with the Cajun seasoning salt.
Turn your grill to high heat and place a cast-iron skillet on the rack, allowing it to heat up. Once heated, drizzle a tablespoon of olive oil onto the skillet and put on the salmon steaks. As the salmon cooks, you will be able to see the flesh change color from a bright translucent pink to a solid matte pink, starting from the bottom and rising. Cook the salmon for two to three minutes per side.
Serve the salmon on a large platter with the salsa on the side, allowing each guest to add the amount they would like.
---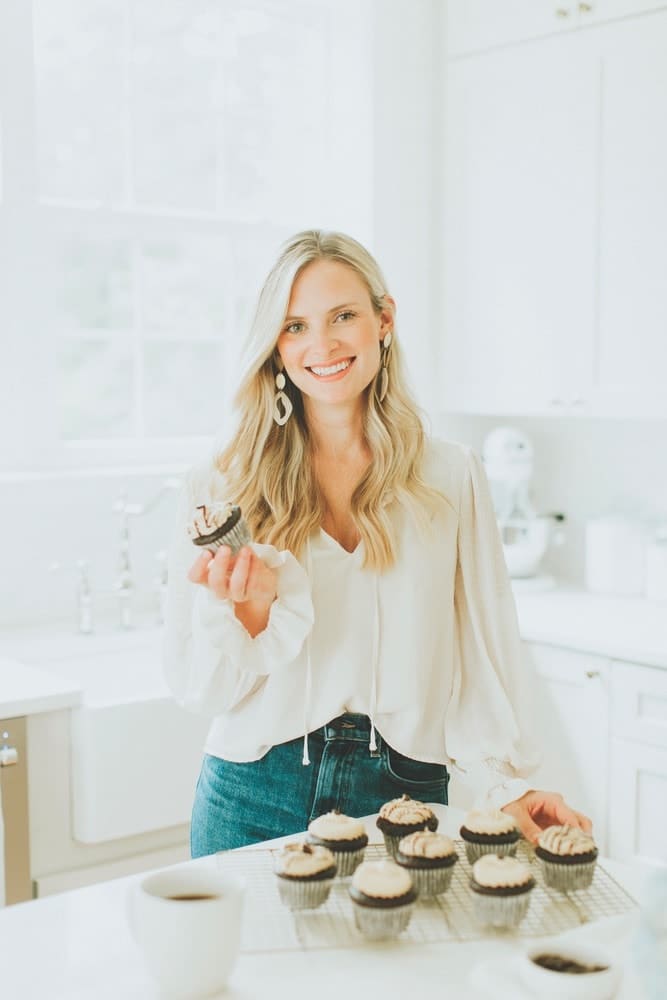 Elisabeth Farris, Elisabeth and Butter
Time for dessert! When it comes to sweet treats, baker and lifestyle blogger Elisabeth Farris has us covered. Visit her website at ElisabethandButter.com to learn more and get recipes galore, party hosting and decor tips, gift guides, and more.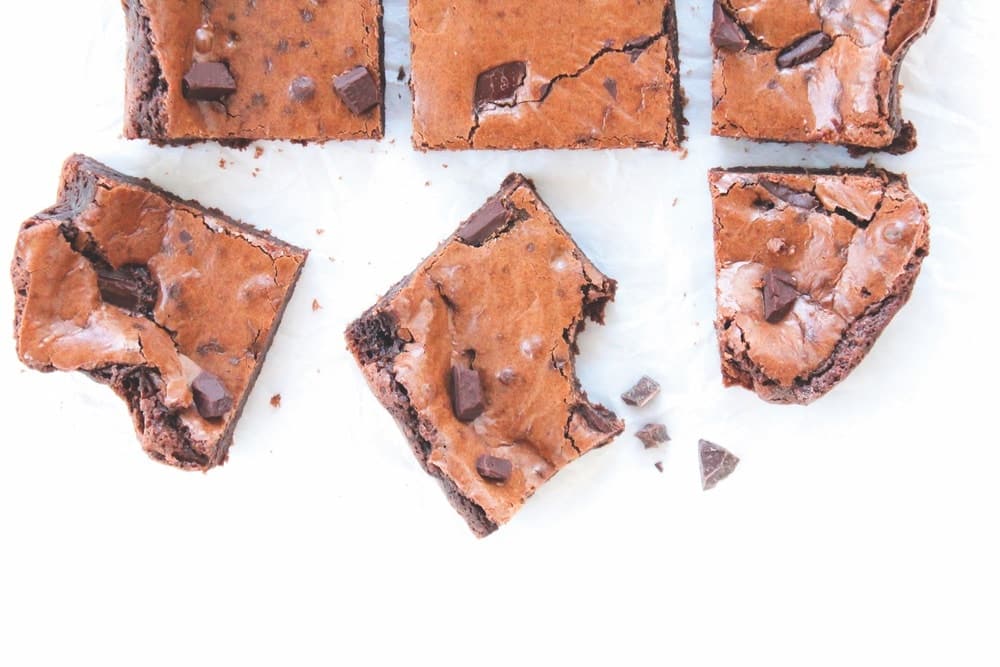 Fudgy Paleo Brownies
Yields 9–12 brownies
Using simple ingredients like coconut oil, coconut sugar, dark chocolate, and almond flour, these are the best brownies you'll ever make! Although Farris loves butter and sugar (hence the name of her blog), she says she can't eat them every single day, so she loves creating healthy alternatives.
Ingredients
2/3 cup dark chocolate chips or chopped chocolate
5 tablespoons coconut oil
2/3 cup coconut sugar
2 large eggs
2 teaspoons vanilla extract
2/3 cup finely ground blanched almond flour (such as Bob's Red Mill)
3 tablespoons unsweetened cocoa powder
1/2 teaspoon baking soda
1/4 teaspoon sea salt
1/2 cup dark chocolate chips or chunks, saving a few for the top
Instructions
Preheat the oven to 350 degrees. Line an eight-by-eight-inch baking pan with parchment paper and spray with baking spray. Set it aside. In a small saucepan, gently melt the chocolate and coconut oil over low heat. Remove from heat and set aside. In a mixing bowl, whisk together the eggs and sugar for 1–2 minutes or until smooth. Whisk in vanilla. Slowly whisk the melted chocolate and oil into the egg mixture until smooth. In a small bowl, whisk dry ingredients together. Fold the dry ingredients into the wet ingredients just until combined, and then fold in the chocolate chips/chunks. Do not overmix. Pour the mixture into the prepared pan.
Sprinkle some extra chocolate on top and bake for 20 to 25 minutes or until the edges are set but the middle is still slightly underdone. The brownies will continue to cook outside of the oven. Let the brownies cool completely and then place in the refrigerator for an hour or two before slicing. Enjoy!
Tip: You can substitute butter for the coconut oil and brown sugar for the coconut sugar if you don't want a paleo-friendly recipe.
— V —
ARTICLE CATEGORIES