By Dave Rauschkolb | Photography by Jessie Shepard
I will never forget the first time I set eyes on the course at Camp Creek Golf Club. For me, the Camp Creek opening was one of the most highly anticipated events I've experienced since moving to Scenic 30A twenty-three years ago to open Bud & Alley's Restaurant. The thought of playing on a Tom Fazio–designed course—with no homes ever to be built around it—two miles from my home, was an amazing prospect.
I had been observing the construction of the course and clubhouse for months, salivating for any information concerning the date of its opening. When I found out, I hurried to call and reserve the very first tee time for the opening day. The thought of being the first person to tee off on a virgin golf course seemed like an opportunity that should not be missed.
On that first day, I drove through the gates, along the lake, and on to the clubhouse. Even with all the newly planted vegetation, I could tell that Camp Creek would be a special golf course. Since that day, I enjoy playing Camp Creek every chance I get, and I consider it to be my favorite golf course. For me, it is hallowed ground. Do you think that I love this course? You bet I do.
Recently, I was offered an interesting challenge—to play Camp Creek from the "tips" and then to write about it. For you non-golfers, playing from the tips means playing the course from the championship tees, commonly known as the pro tees—the long tees—the god-awfully long tees! The tees from which Tiger Woods would play! I am slightly more skilled than the average golfer, but, like most golfers, I would normally never consider playing from the tips—on any golf course. Whenever I saw golfers hit from those tees, I thought: How do they do it? Well, I was about to find out.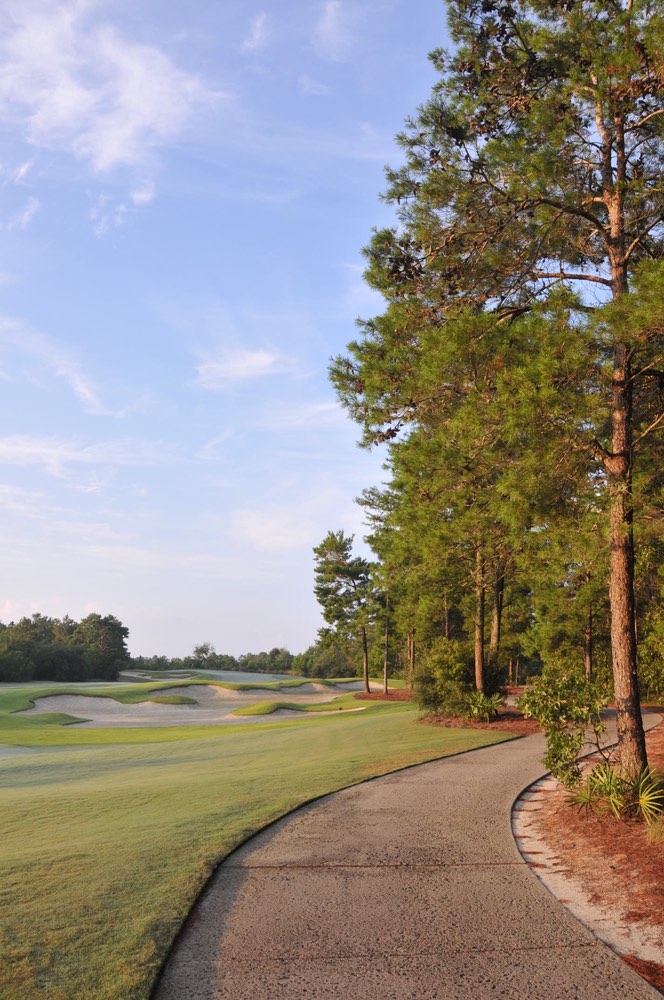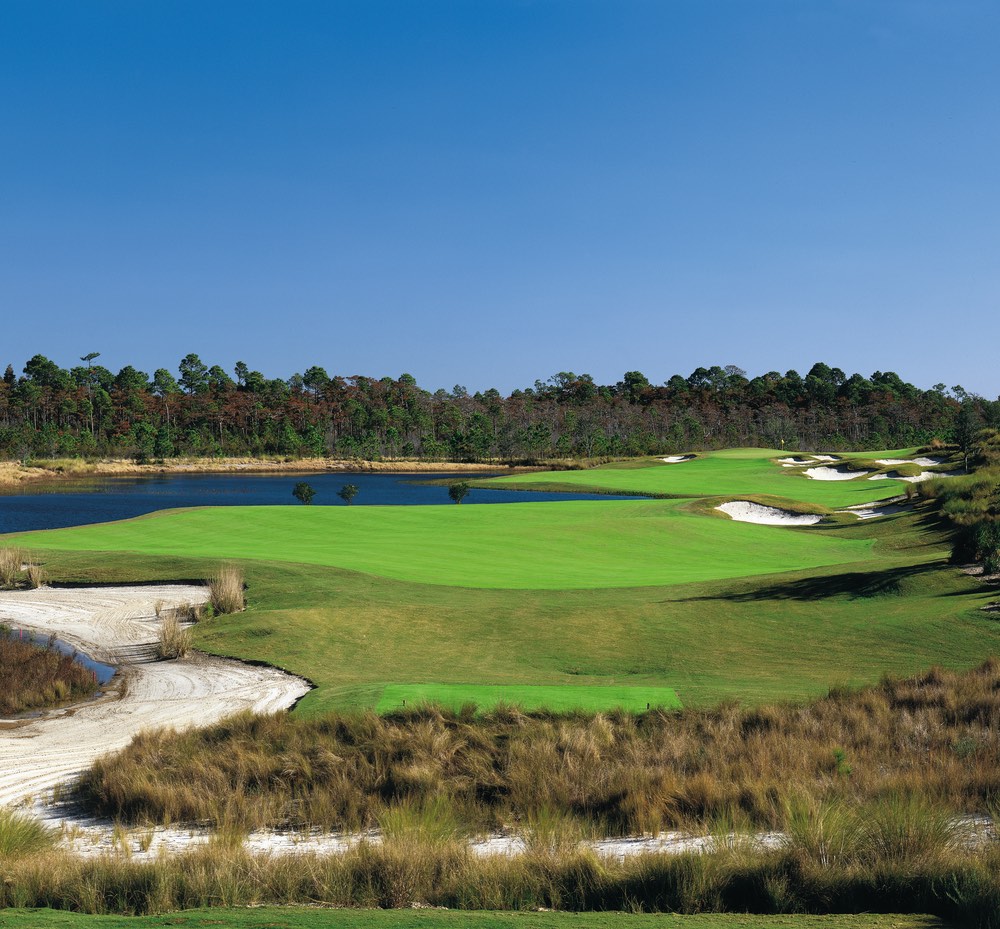 I accepted the offer with one condition—that I could pick a playing partner instead of going solo. I called local resident Phil Glen and, with one day's notice, he enthusiastically accepted. Phil is a 1967 graduate of the Air Force Academy, a veteran pilot of the Vietnam War, and an active airline pilot with Delta Air Lines. He is a hell of a nice guy and one of the most precise golfers I have ever known. At sixty-seven years of age, Phil is also the Camp Creek Golf Club champion. Because of his perspective and experience, I thought that he would be invaluable in helping me scratch and crawl my way through the course. He understands the nuances of Camp Creek as well as anyone. As you can probably tell, I was not very confident about my prospects of playing a good round of golf from the tips. I would need all the help I could get. YIKES!
I did not have any grand expectations. In golf, unless you practice a lot (which I don't), you should not expect to play very well or with any consistency. My handicap (rating as a golfer) is 16, which is slightly better than an average golfer's.  From the men's tees, I could expect to shoot a score in the low to mid-90s on average. From the tips, I figured that I would be pleasantly surprised if I shot under a score of 100. Phil's handicap is 9; he is much more competent than the average golfer.
Let's not beat around the bush; Camp Creek is a very difficult course to play from any tee. It challenges a golfer at every tee, every fairway, and every green. There is no doubt that I have become a better golfer by playing Camp Creek over the years.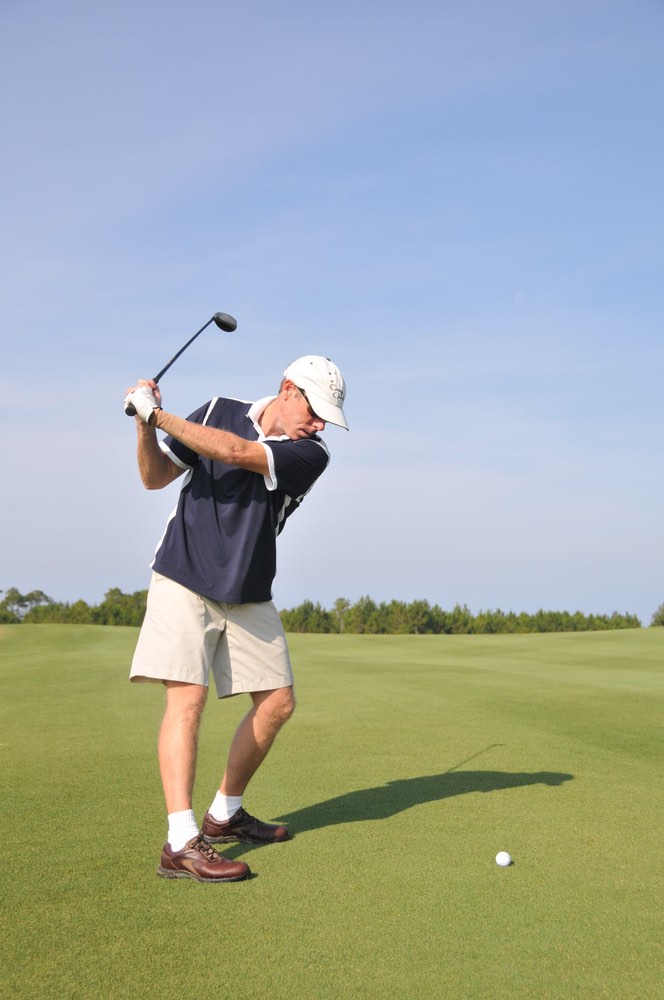 Let's not beat around the bush; Camp Creek is a very difficult course to play from any tee. It challenges a golfer at every tee, every fairway, and every green. There is no doubt that I have become a better golfer by playing Camp Creek over the years.
Our tee time for the challenge was at 7:30 a.m., and I arrived early to loosen up with a few practice balls on the driving range. Three weeks prior, I had undergone surgery on my wrist, and I wanted to see whether I could swing a club with any proficiency. Happily, I had no problems—which left me no excuses for playing below my abilities. When Phil arrived, we headed for the first tee.
The first tee is, by most standards, a short par four, at 371 yards from the tips. I usually play the blue tees, which are an average of ten to twenty yards shorter than the pro tees. This first and somewhat disarming hole is rather easy, boosting one's confidence before the real work begins. Phil and I both hit beautiful drives. Phil hit the green and two-putted for a par four; I missed the green to the right, sailed a chip over it, and then two-putted for a six.
Let's cut to the chase (I won't bore you with a description of every shot); that's pretty much the way it went all day. On a par five, Phil would hit a five, and I would get a six or seven. We both hit par on a few holes. On the par-three fourteenth hole, I hit a spectacular shot that skipped off the water and into the hill of the green, and then I followed up with a two-putt for par. I am no different from anyone else; I'll take a lucky shot any time I can get it.
Scores? Phil, the precise machine that he is, shot an impressive 83. For his age, that is truly impressive. I almost accomplished my goal of shooting under 100; I finished with 103.
"Besides the scores," you might ask, "what was it really like to play from the tips?"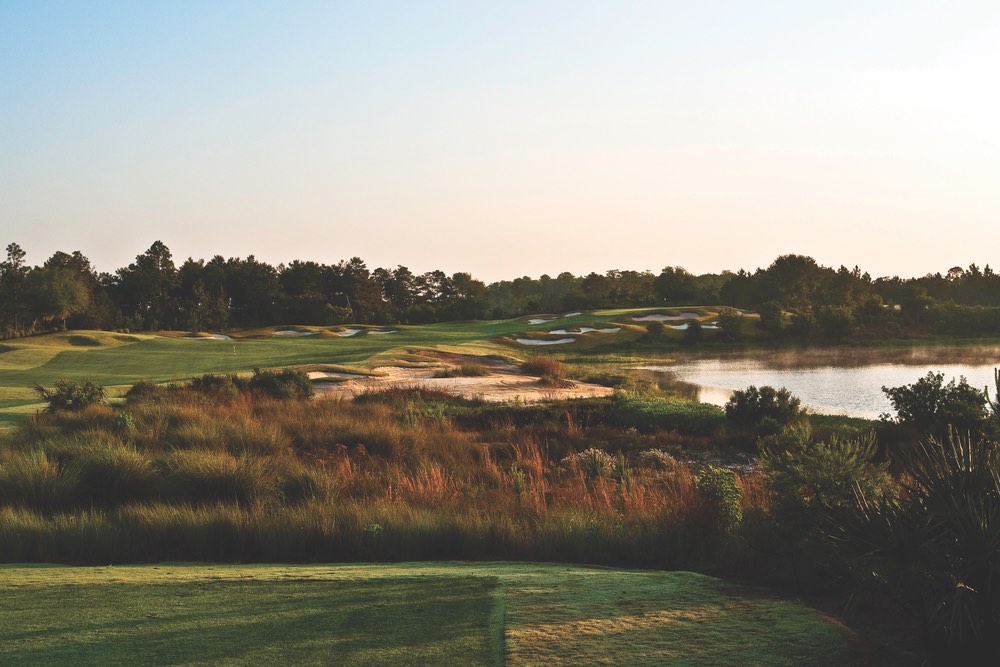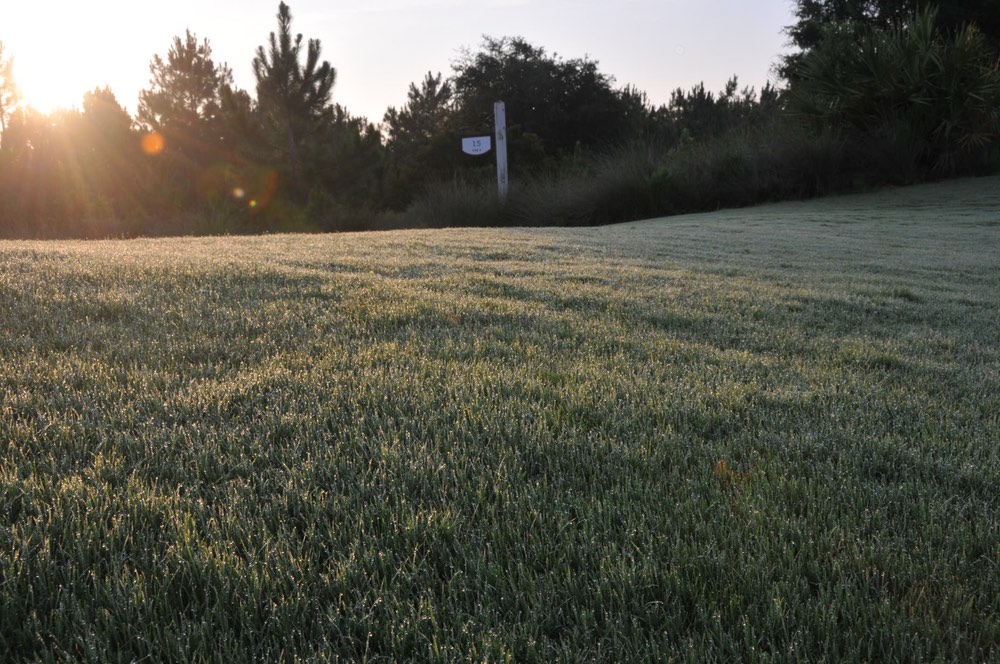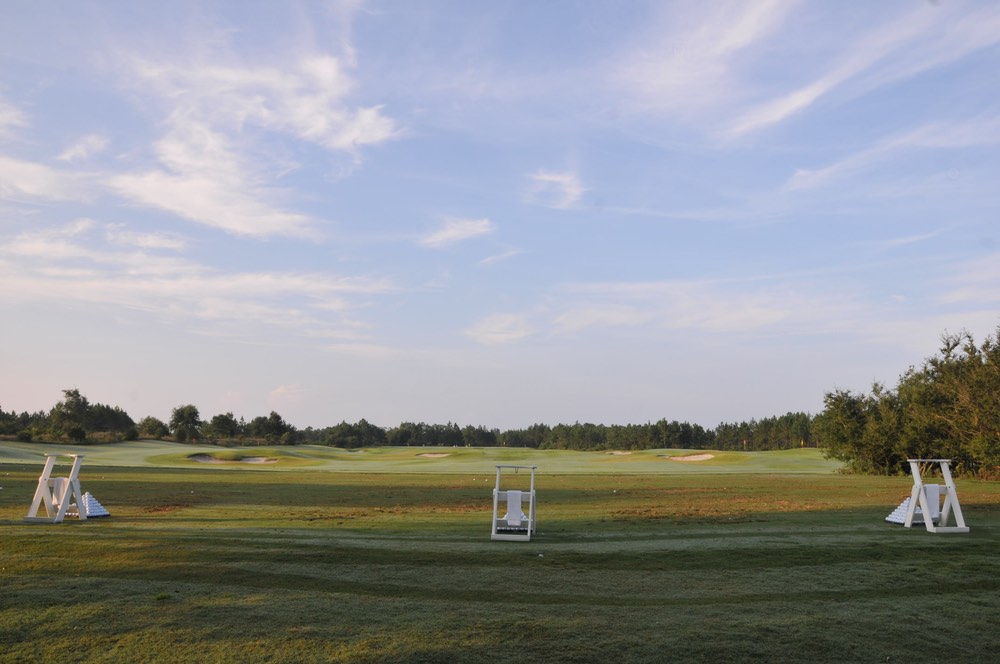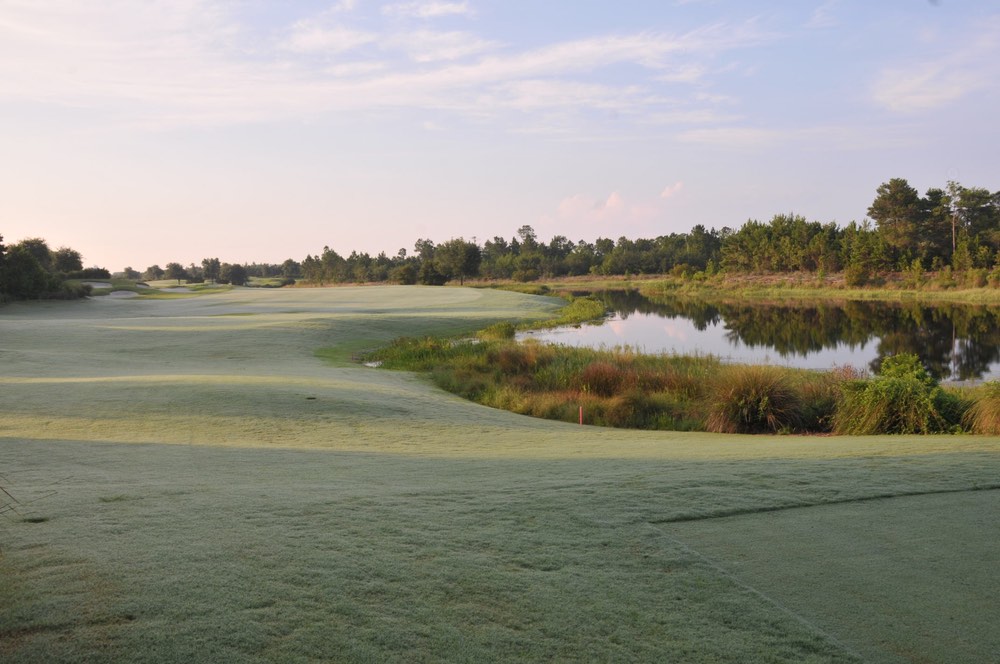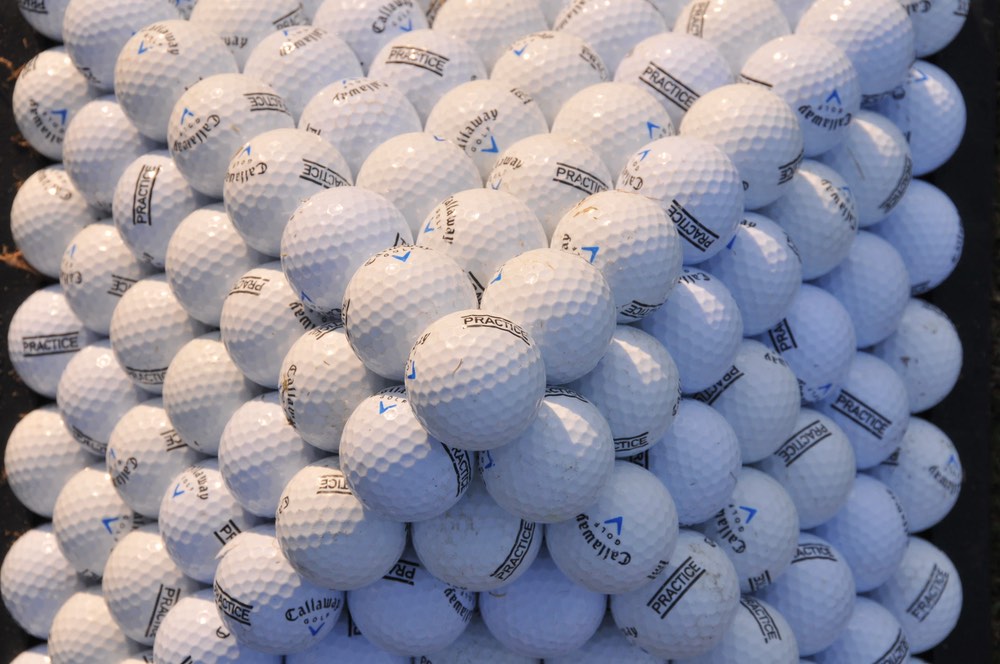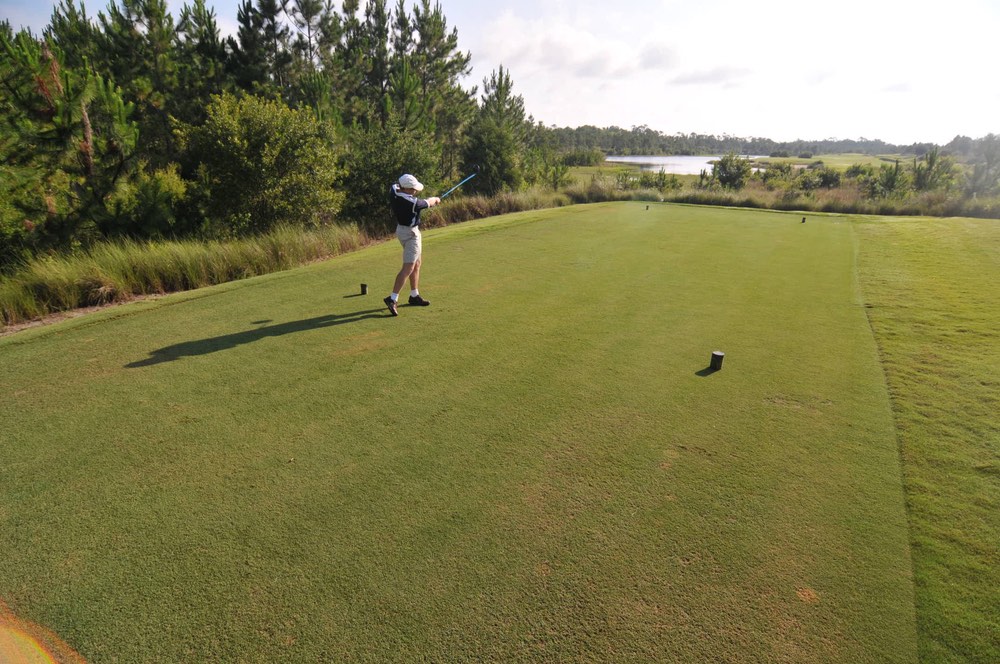 Surprisingly, we noticed that fewer hazards come into play when hitting from the tips. The course plays much more openly than it does from the closer tee boxes. Most of the traps are out of range, and the fairways are wide open. If you hit a decent tee shot, then you don't have to worry as much about your ball rolling into a sand bunker or into the water. From the blue and shorter tees, on the other hand, there is very little room for error.
Deciding which club to hit for my second shot was much easier than usual. Almost always, we needed to use a 3-wood to approach the green. Most second shots were in the 200- to 220-yard range. Playing from the tips really forces you to work on your 3-wood shots, a challenge from which all golfers could benefit. All of the par threes were approximately 200 yards into the green; again, I didn't have to worry about which club to select.
Camp Creek's design also forces a player to reach the green; more often than not, falling short of the green leaves a difficult short chip with little green to work with. The greens are fast and undulating; hence, putting is probably the most difficult element of playing Camp Creek. I love this challenge because it forces me to practice those unlevel putts. After playing Camp Creek so many times, I now almost struggle to hit a straight and level putt. The fairways also undulate, and a perfect tee shot might not land on a level playing surface. These types of factors will keep you on your toes, to say the least.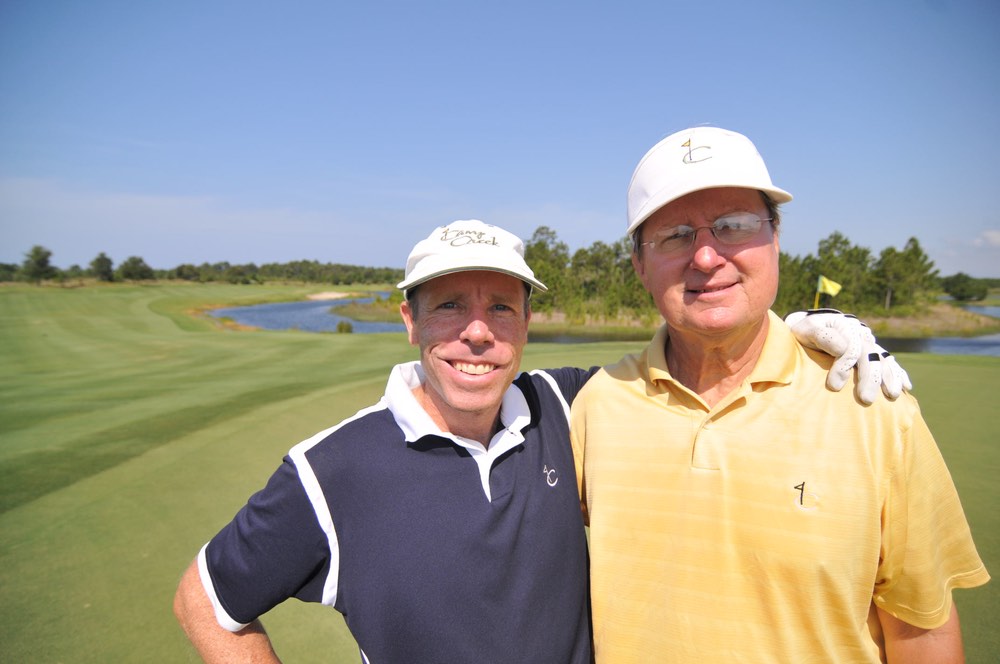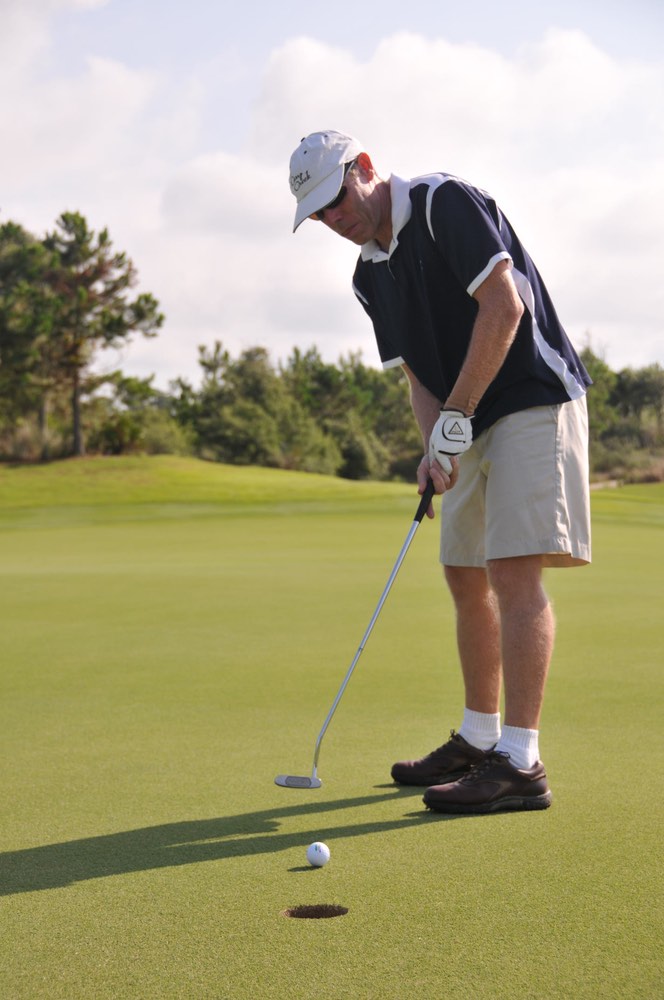 I realized from this experience that playing from the pro tees adds a different perspective to an already challenging course. It opened up my mind to the prospect of even playing from the ladies' or seniors' tees once in a while, just to practice and to get to know the course from all angles. Best of all, I no longer fear the pro tees—and I will play them again.
In addition to the playing experience it offers, Camp Creek is simply a gorgeous course. It is one of the most finely designed courses I have ever played. It is Audubon certified and contains the most amazing wildlife, and it blends into its natural surroundings as if it were meant to exist there. No homes will ever be built around it (and it was refreshing not to search for my ball in someone's yard). Golfing at Camp Creek is almost like visiting a nature preserve. I have seen bobcats, foxes, deer, bald eagles, alligators, and a large variety of snakes. One time, while playing with a gentleman and his wife, an alligator on a par three snatched the lady's tee shot and tried to take it into the water. As we approached, it dropped the ball before escaping, actually improving the placement of her ball in the process.
Camp Creek's design also forces a player to reach the green; more often than not, falling short of the green leaves a difficult short chip with little green to work with.
I can not say enough good things about the members of the Camp Creek staff, which is led by Director of Golf Will Hopkins. Most of them have worked there from day one. Camp Creek's staff shows a high level of hospitality and professionalism that is rare in any service industry. Their love for the course shines. In fact, Camp Creek might be the best-maintained course in Northwest Florida.
After our "day from the tips," Phil and I shook hands on the eighteenth tee and drove on back to the clubhouse for some post-round hot dogs and beer. As we passed by the first tee, I recalled the course's opening day, as my friend and I stood on the first men's tee box, at the very first tee time, on that perfect morning. We flipped a coin to see who would hit first; it was the honorable thing to do. Much to my pleasure, I won the toss. I looked out over the beautiful hole and nervously approached the ball. I felt more than a little pressure to deliver a good drive, but I hit the fairway with an unattractive low, left hook, thus beginning a long, challenging relationship with my beloved Camp Creek.
Just before I teed off, I thought to myself, "Well, if I lose my ball, the only ball I'll find will be mine." By now, I've lost my share of golf balls there, and I figured out a way to ensure that at least some of them will make it back to me. All of them are imprinted with the following message: "Bud & Alley's – Return Ball for a Free Drink." I only have to trust the bartenders to return them to me. Happy hunting!
— V —
---
For more information on Camp Creek Golf Club, please visit http://www.campcreekgolfclub.com. Or, for information and tee times, please call (850) 231-7600.
In addition to being a fanatic golfer, Dave Rauschkolb is the owner of Seaside eateries Bud & Alley's Restaurant, TACO BAR and PIZZA BAR. Other passions include surfing, poker, and working to preserve the scenic in Scenic 30-A. He lives with his wife, Carol, in Rosemary Beach; they are expecting their first child in October.
ARTICLE CATEGORIES